All of our tips and tricks on setting up the perfect spooky Halloween Dessert Charcuterie Board, complete with all of our favorite homemade vegan Halloween desserts. We've also included cocktail pairings, spooky snacks and more for you kid and adult friendly Halloween party!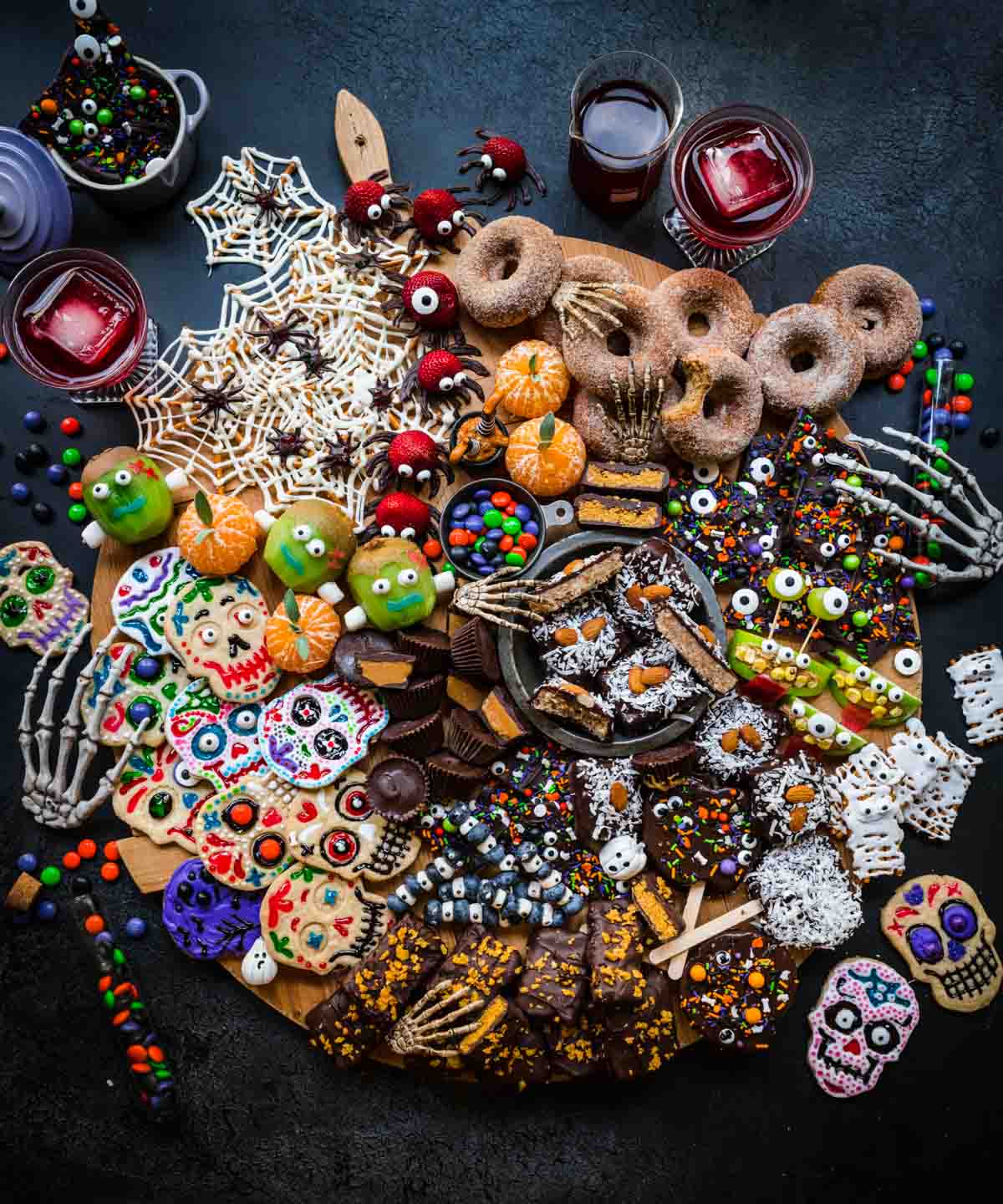 Why We Love This Halloween Charcuterie Board
Perfect for a Halloween party: hosting a Halloween bash this year? Instead of making a fancy cake, it's so much more fun to make a few different spooky desserts and assemble them charcuterie board style. It's always a huge crowd-pleaser (very Instagram-friendly!) and it's perfect for grazing. You can make just about everything ahead of time and assemble just before guests arrive.
Great for multiple diets: we love that we can customize our Halloween dessert charcuterie board with vegan and gluten free-friendly desserts, as well as more traditional options, so everyone is happy.
Kid and adult friendly: kids will love helping you assemble this Halloween dessert charcuterie board, especially when it comes to adding spooky touches like skeleton hands, strawberry "spiders" and pretzel spider webs. (Not going to lie – we don't have any kids, but we still had so much fun putting this together.)
Different components: we make several homemade vegan Halloween candy recipes, along with cookies, fruit and vegetable spooky snacks, and cocktail pairings.
Vegan Halloween Dessert Recipes
Over the last several years, we've developed several homemade vegan Halloween candy recipes. We made a few of them for our Halloween dessert charcuterie board, but you can definitely pick and choose whichever you'd like!
For the sugar cookies, use your favorite Halloween cookie cutter – a skull, pumpkin, witch, mummy, etc.
Spooky Snacks
For a few healthier Halloween snack ideas, try these recipes using fruits, veggies and pretzels.
Frankenstein Kiwi: Peel a whole kiwi most of the way, leaving some of the skin on at the top to form the head. Stick a toothpick on each side with a mini marshmallow on each hand. Pipe icing on for mouth, stitches and eyes (candy googly eyes optional).
Clementine Pumpkins: Peel a whole clementine and stick a small sprig of sage in the top.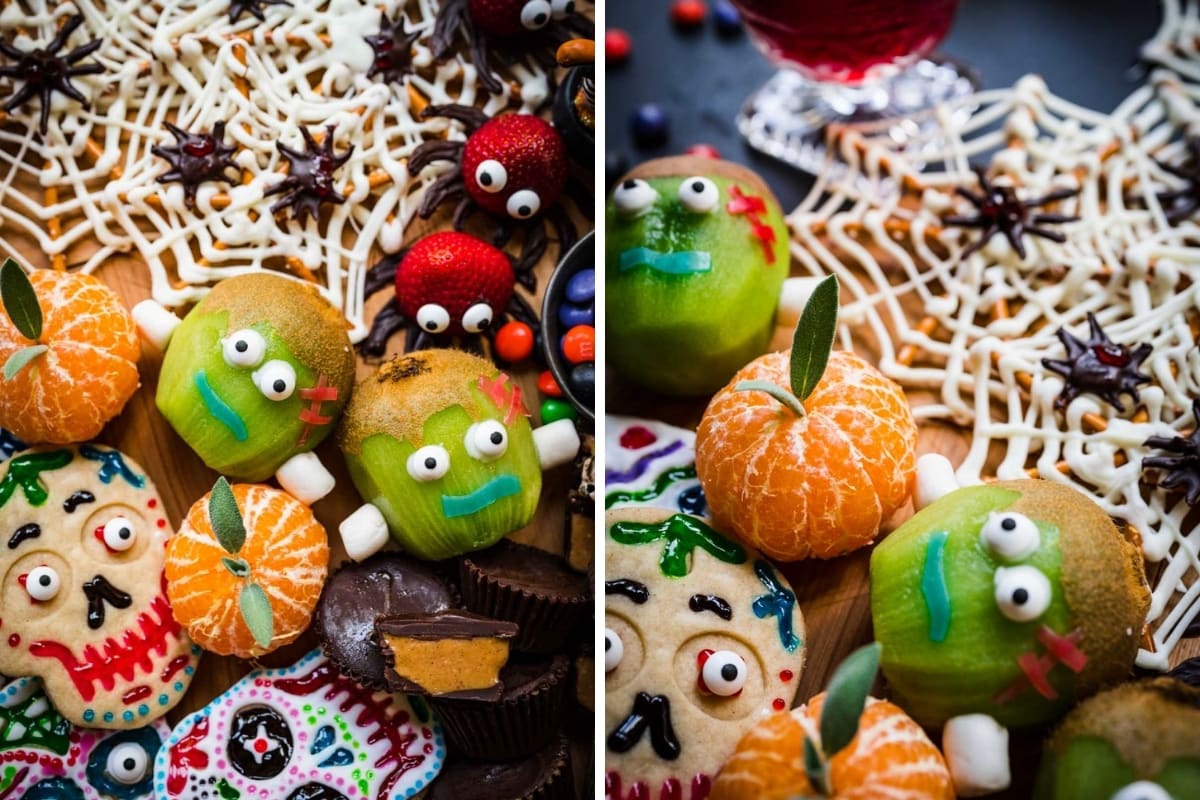 Strawberry spiders: slice the top off of each strawberry. Pipe melted chocolate onto parchment paper to form 8 legs. Place the strawberry on top, then secure candy eyes with more chocolate. Refrigerate until set.
Pretzel spider webs: Arrange 6-8 pretzel sticks in a star shape on parchment paper. Pipe melted white chocolate in spider web shape (carefully) and set in fridge. Pipe spider shape with dark chocolate.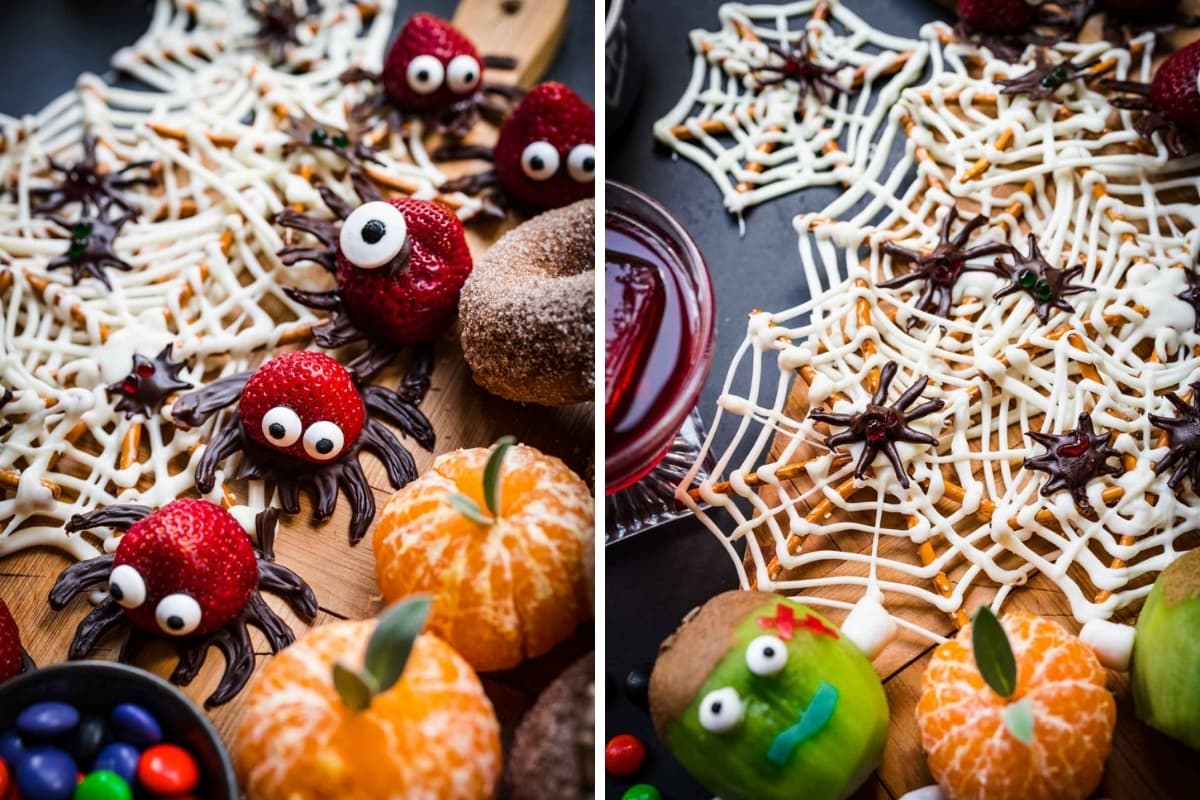 Apple Monster Faces: Slice apple into a large wedge, then use a small paring knife to carve out mouth shape. Spread peanut butter in mouth opening, then use freeze dried corn (or sliced apple) for teeth. Use fruit roll up/fruit leather for the tongue. Secure candy eyes with chocolate and refrigerate until set.
Pretzel Mummies: Place 5-6 pretzel sticks next to each other on parchment paper. Drizzle with melted white chocolate to look like a mummy. Secure candy eyes with more chocolate and refrigerate until set.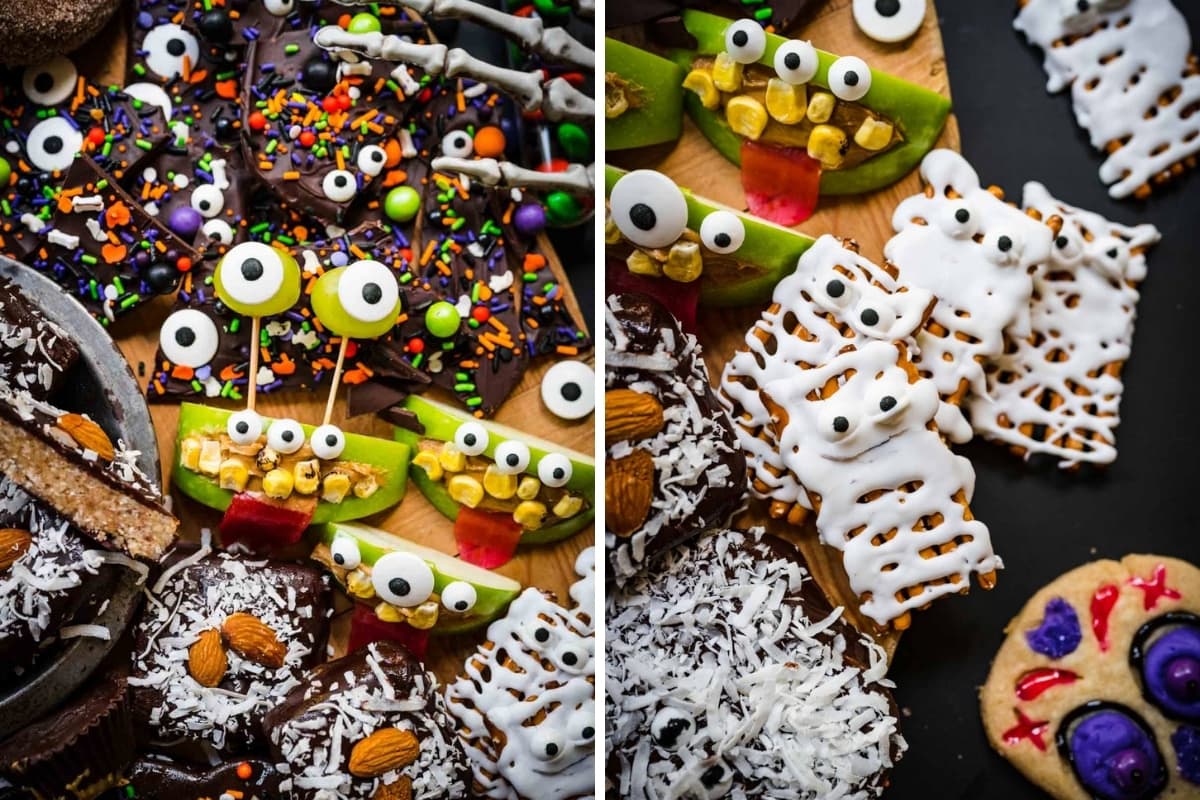 Sprinkle Chocolate Bark: Melt dark chocolate, spread onto parchment paper and top with Halloween sprinkles. Refrigerate until solid. (We get our Halloween sprinkles from here!)
Blueberry Caterpillars: On a toothpick, alternate blueberries and mini marshmallows sliced in half. Optional: pipe a small black dot on each one to create a pattern with icing.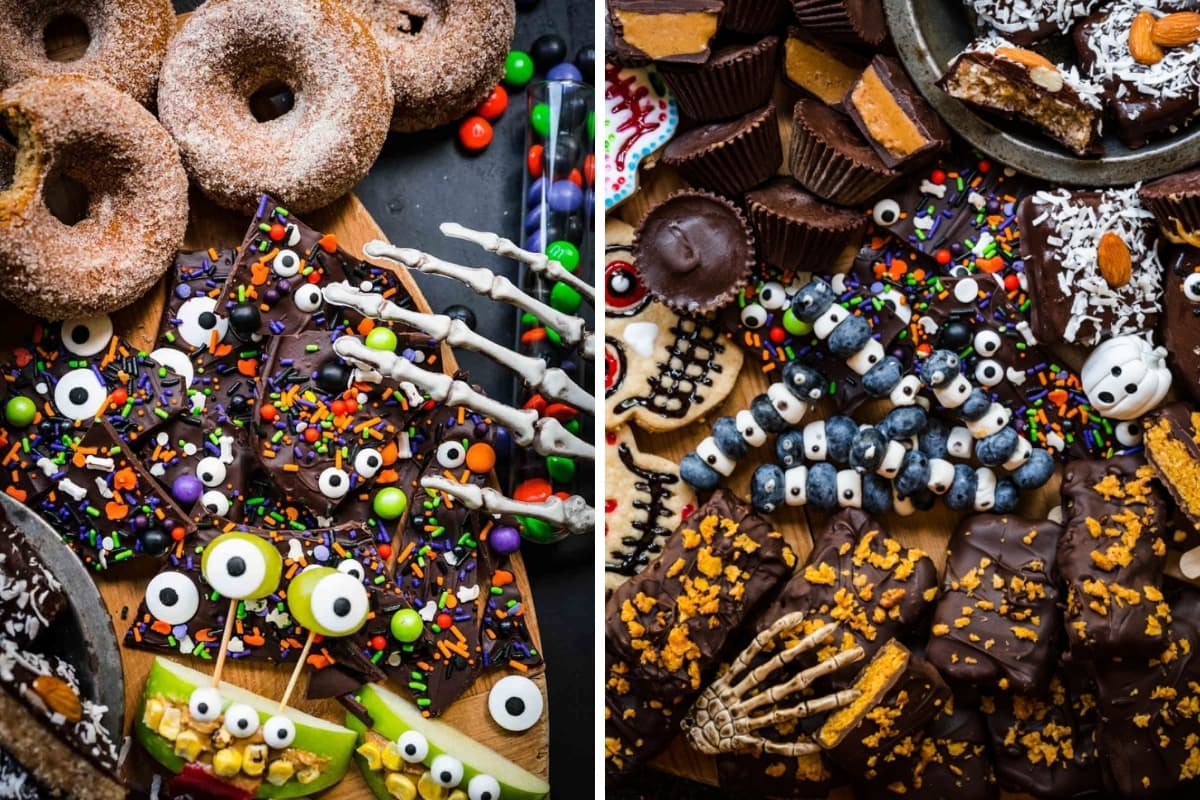 Cocktail Pairings
How to Style and Assemble
You can make most of the baked goods ahead of time, like the homemade candies, cookies, pretzel snacks and more. Wait to make the fruit-based snacks until just before serving (or a few hours before serving).
Most of the cocktails can also be made ahead of time, but be sure to mix well again before serving.
We style our Halloween dessert charcuterie board in sections. Place the largest items on the board first, then fill in with smaller items as you go.
If you have allergy issues, place little labeled notecards next to items that are allergy-friendly so everyone knows what they can and can't enjoy!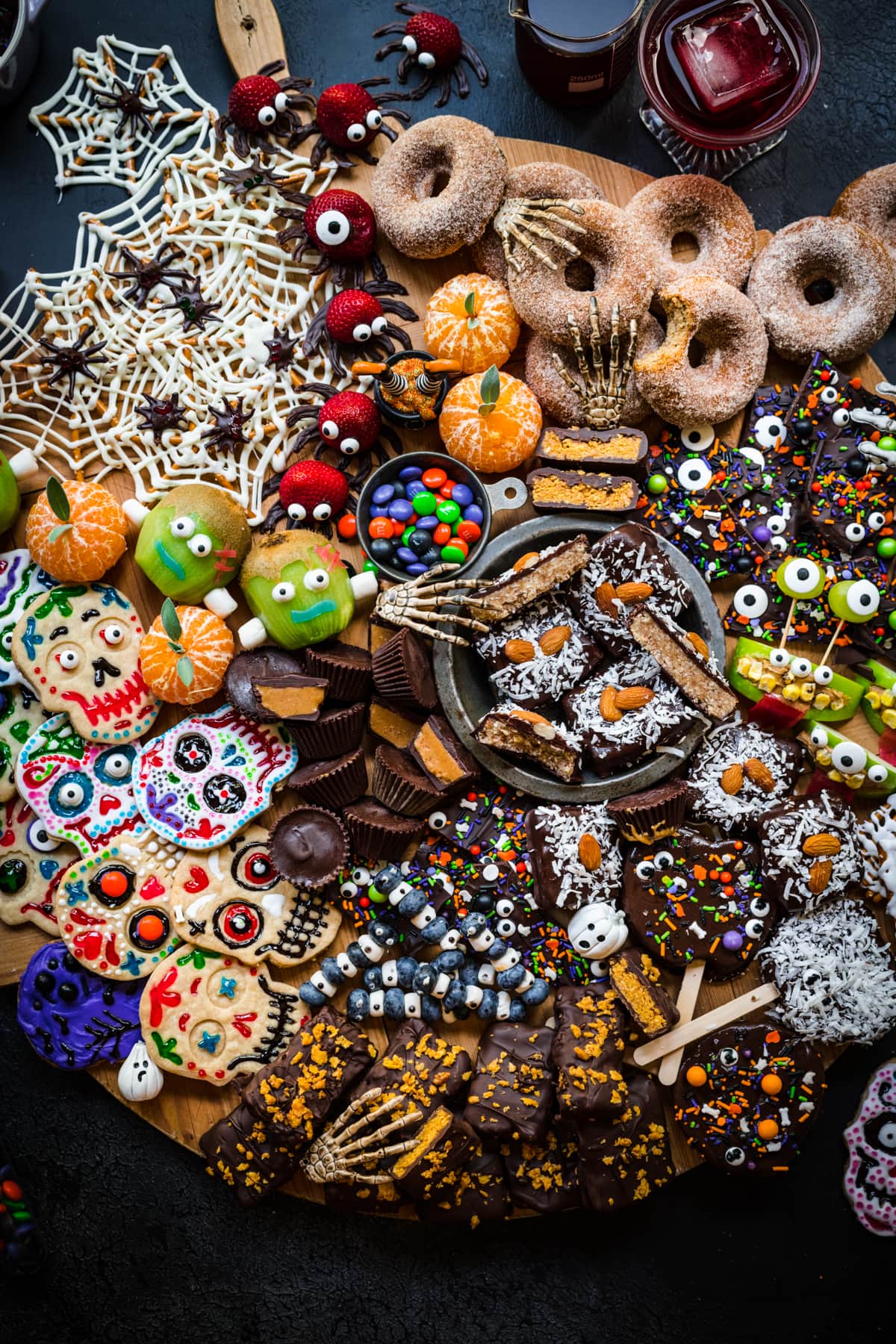 Related Recipes
Tried this recipe? Please leave a star ⭐️⭐️⭐️⭐️⭐️ rating below and/or a review in the comments section further down the page. You can also stay in touch with us through social media by following us on Instagram, Pinterest, and Facebook or by subscribing to our newsletter.