These cute chocolate-covered vegan peppermint patties are a healthier, homemade version of classic York candies. Fewer than 10 ingredients, easy to make, and the perfect addition to you Christmas cookie repertoire!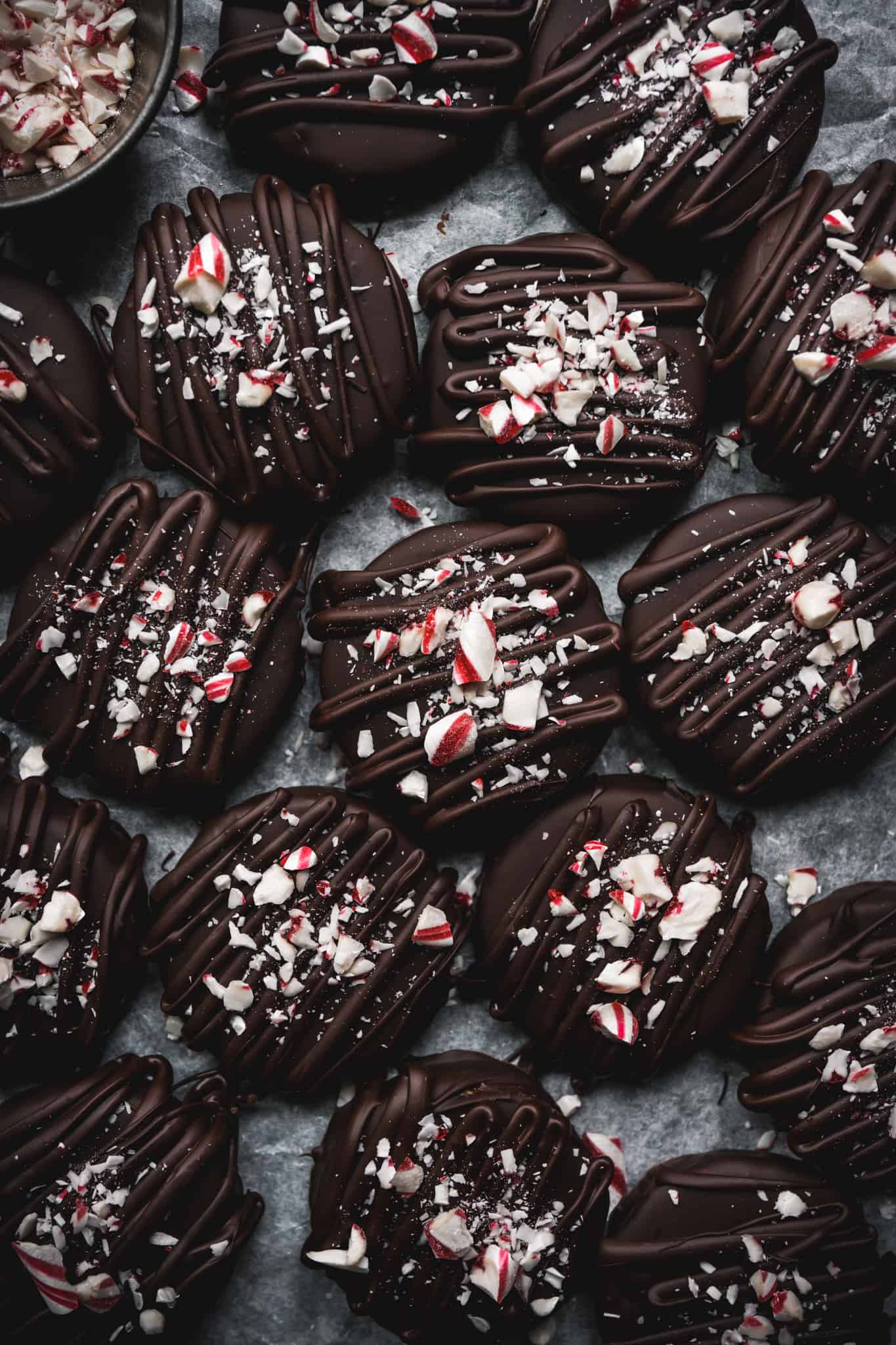 I've always been torn when it comes to York peppermint patties. To me, the first bite is pretty good. But the second, third, and (if you've got one of those huge ones), fourth bites are just too toothpaste-y.
My younger brother has always loved mint and chocolate though. I have to hand it to him, it is a pretty tasty and refreshing flavor combo. I love a cone of mint chocolate chip ice cream. Or one of those little Andes mints that restaurants sometimes have in a little bowl on the host stand.
But let's be honest, most of those minty chocolatey desserts are packed with artificial colors and flavors. (I mean, real mint extract isn't actually green!)
That's why we decided to make our own healthier peppermint patties! They happen to be gluten free, dairy free and refined sugar free. Of course, you're welcome to top yours with crushed candy canes, if refined sugar isn't a concern.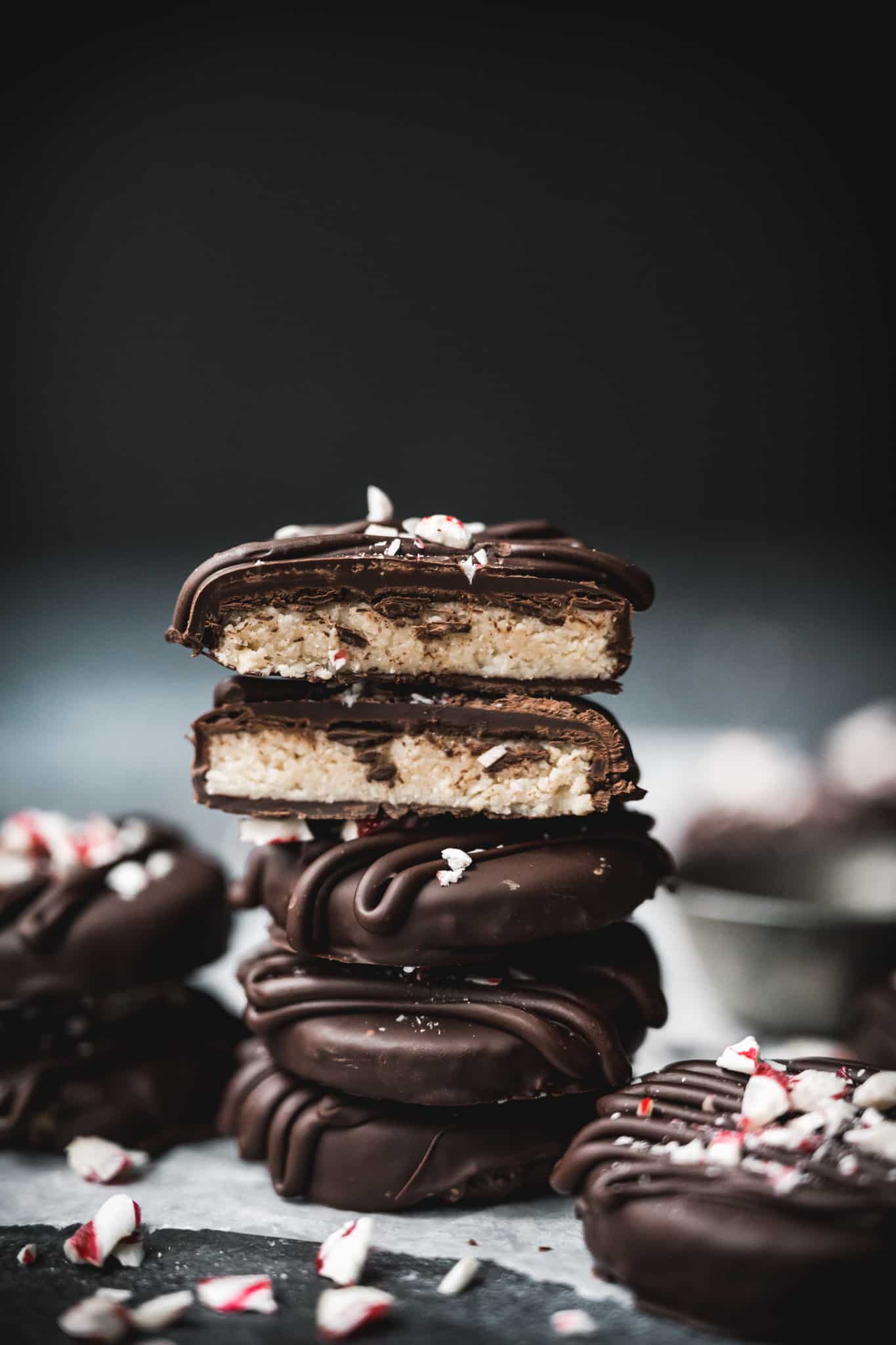 Instructions
For this homemade candy recipe, we turned to our original recipe for Vegan Almond Joy Bars.
The recipe relies on nuts for a creamy, flavor-filled center. And of course, hard dark chocolate to surround the center, like any good peppermint patty should have (vegan or not).
The best part about this healthy homemade candy recipe is how surprisingly easy it is to put together! The hands-on time for this recipe is only about 15 minutes. The rest of the time to make vegan peppermint patties is spent in the freezer, totally hands-off.
Filling
You will need a food processor for this recipe. A high-speed blender will also work, but you may need to stop and scrape down the sides a few more times than you do with a food processor.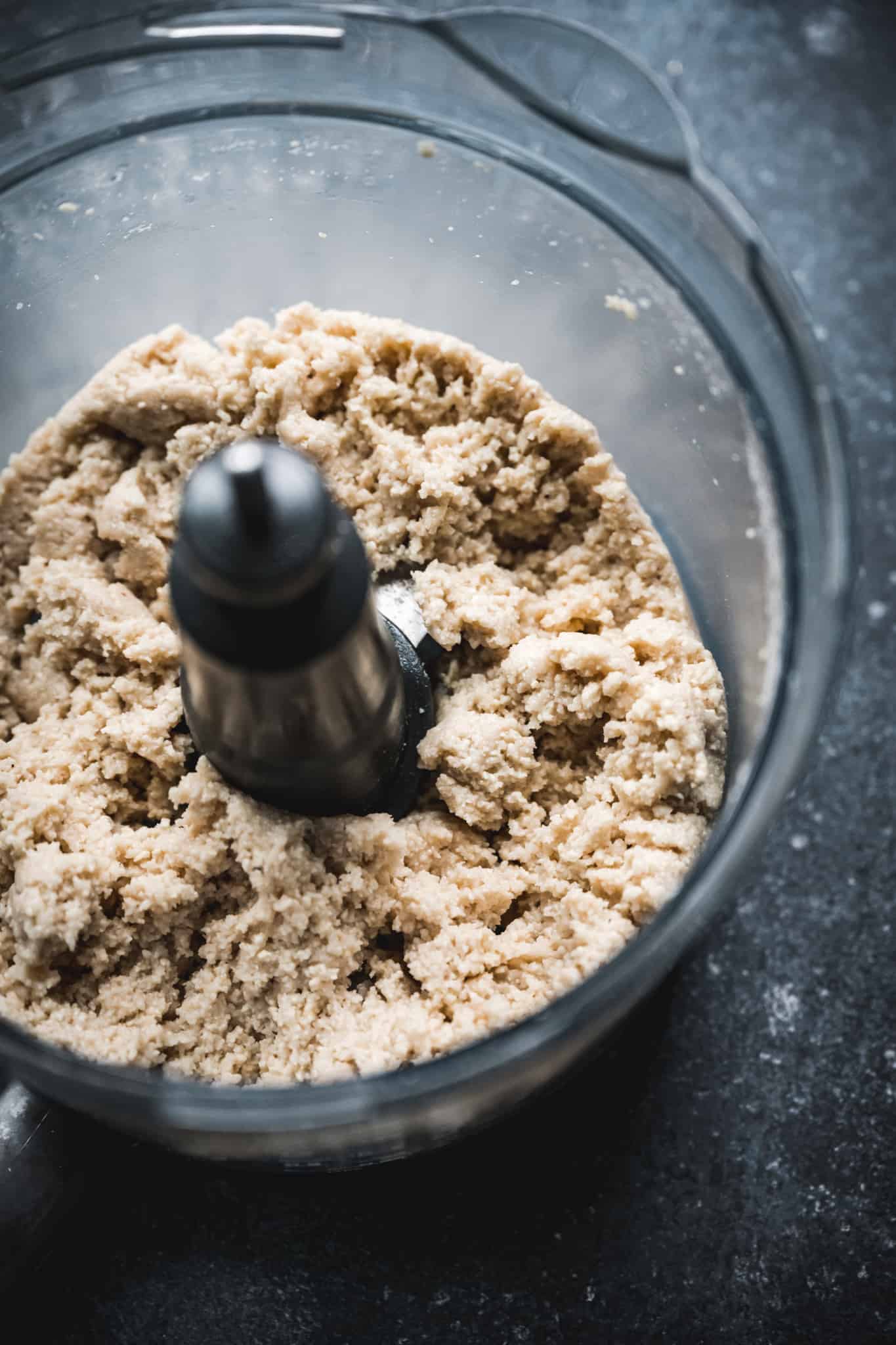 To get started making the vegan peppermint filling, blend up some nuts into a fine flour. Both cashews and almonds work well for this recipe - we tested both options. Just be sure to buy un-roasted, unsalted nuts.
Next, mix in unsweetened coconut flakes. You can use either the larger coconut shavings or small shredded coconut for the peppermint patty filling. Shredded coconut tends to blend more readily, but coconut flakes will do, too.
The coconut provides a delicious coconut flavor that doesn't overwhelm these vegan peppermint patties.
Speaking of coconut, the next addition is coconut oil. I find that it's easiest to scoop out the quarter cup of coconut oil when it's solid in the jar. Then, melt it in the microwave (it takes 30-45 seconds), which makes it easier to incorporate into the nuts in the food processor.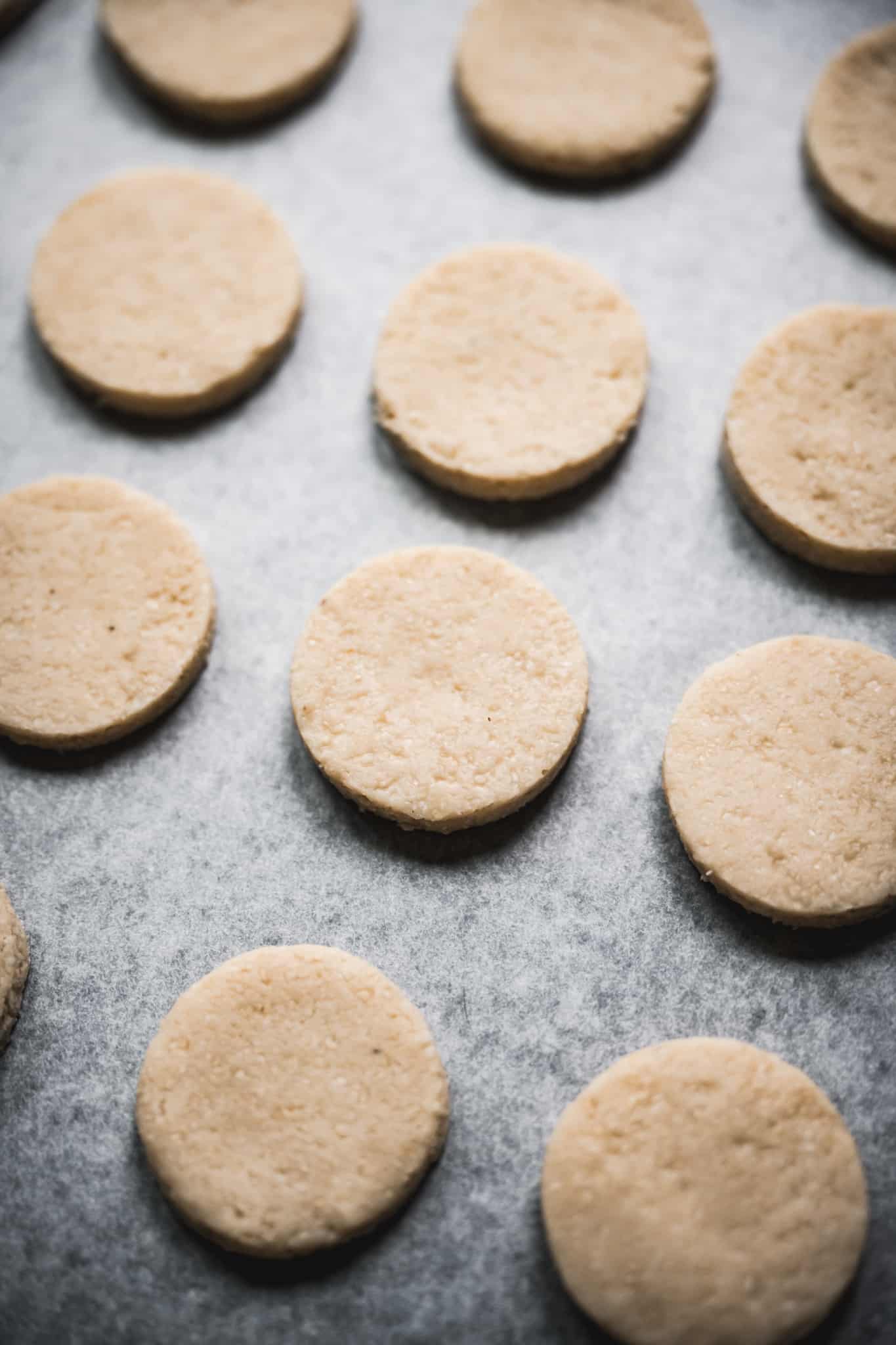 You can also mix the agave into the warm melted coconut oil to make it a little more pourable. We love agave for these vegan peppermint patties because it's a non-processed, vegan-friendly sugar that doesn't have a super strong taste. It provides a bit of sweetness (these are homemade candy, after all!) without a sugar rush.
Look for light colored agave for this recipe. The darker versions may leave a stronger agave flavor in your peppermint patties. They'll also alter the color - you want the final result to be a very light yellow. You should be able to find it easily in the baking aisle of the grocery store.
And, finally, the most important ingredient in the peppermint patty filling recipe is, of course, mint!
Freeze
Once all of the patty ingredients are in the blender, mix until a soft dough forms. It should come together in a rough ball inside the food processor.
At this point, you can transfer that soft dough to a baking sheet. We recommend lining your sheet pan with parchment paper so nothing sticks. Pop that pan in the freezer for 15 minutes so everything can set.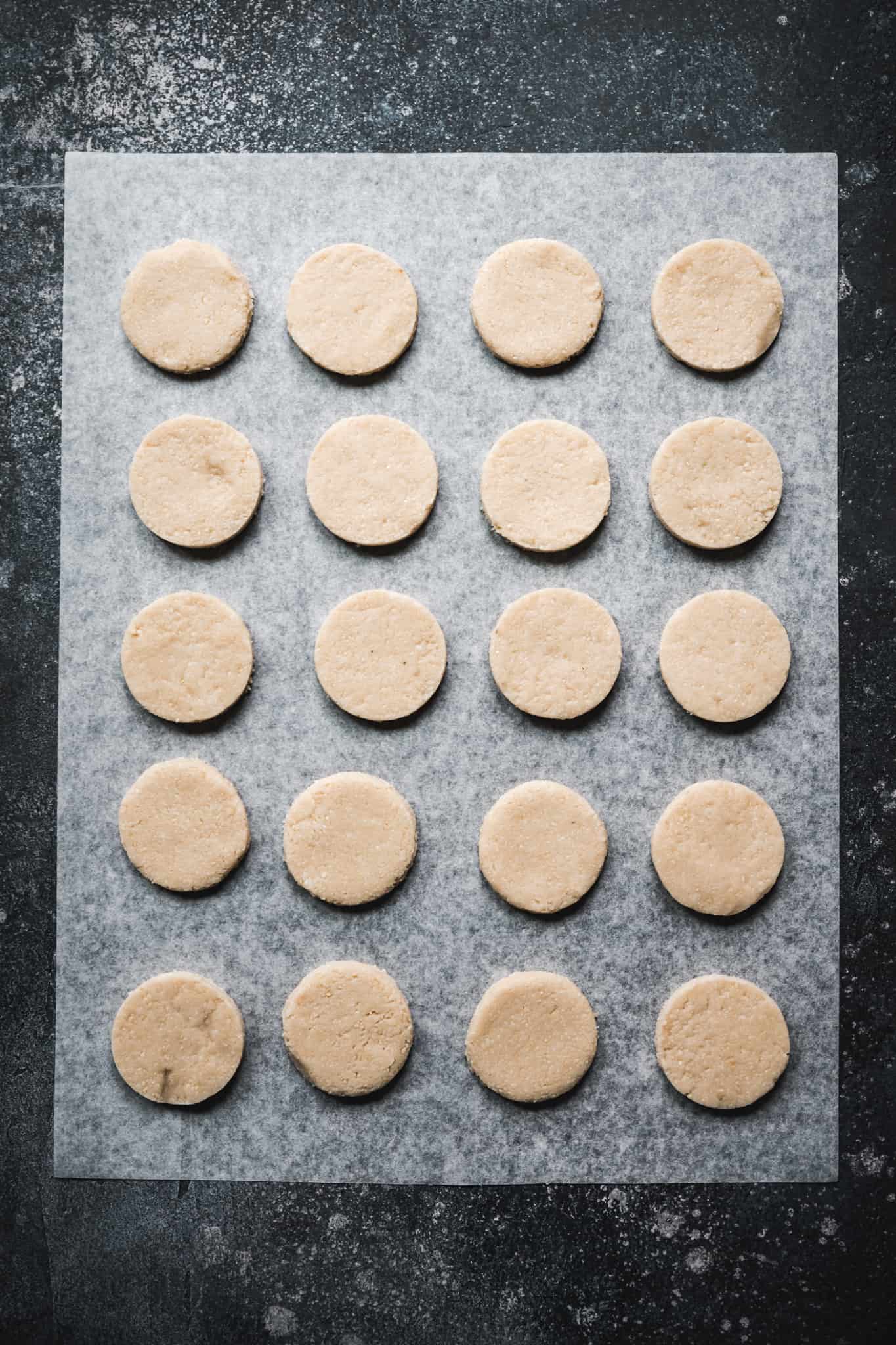 Thanks to coconut oil, which is solid at room temperature, the peppermint patty filling shouldn't take too long to become solid in the freezer. Once it's nice and firm, it's time to shape your vegan peppermint patties.
We used a small circular cookie cutter for that classic York peppermint patty shape.
Of course, if you don't have one on hand, you can always cut the dough into squares. Alternatively, you can use your hands to roughly shape these into circular patties. It does get a bit messy if you do this, so we don't suggest it.
The dough will have warmed up a bit during cutting, so it's best to stick them back in the freezer at this point. You want the bars to be nice and cold for the next step: chocolate coating! (Obviously the most important step.)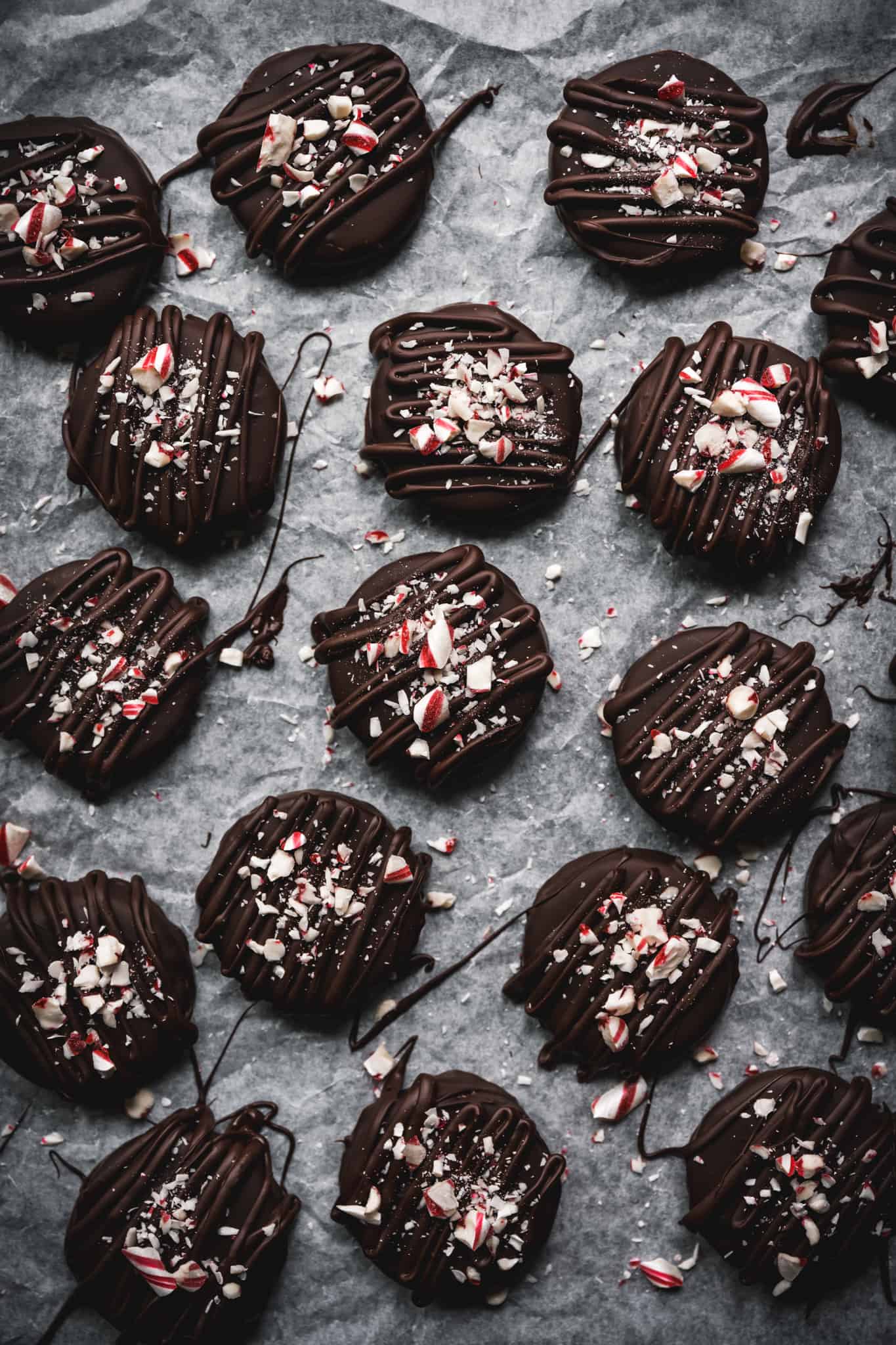 Chocolate Coating
Before removing the shaped peppermint patties from the freezer, melt down your chocolate. This part couldn't be easier.
Simply dump the chocolate chips and a bit of coconut oil in a microwave-safe bowl. Zap them in 30 second increments until mostly melted.
You can take the chocolate out of the microwave before it's fully melted, as the residual heat will get rid of any remaining clumps. It's best to take the chocolate out earlier than later. You don't want burnt chocolate!
Any high-quality chocolate chips with a high cacao content will work.
Dip & Decorate
As soon as the chocolate is nice and melty, take your patties out of the freezer.
It's helpful to have a second set of hands for this stage of the recipe, as things can get messy with all that melted chocolate. Especially if you're decorating with crushed candy canes, which we strongly recommend.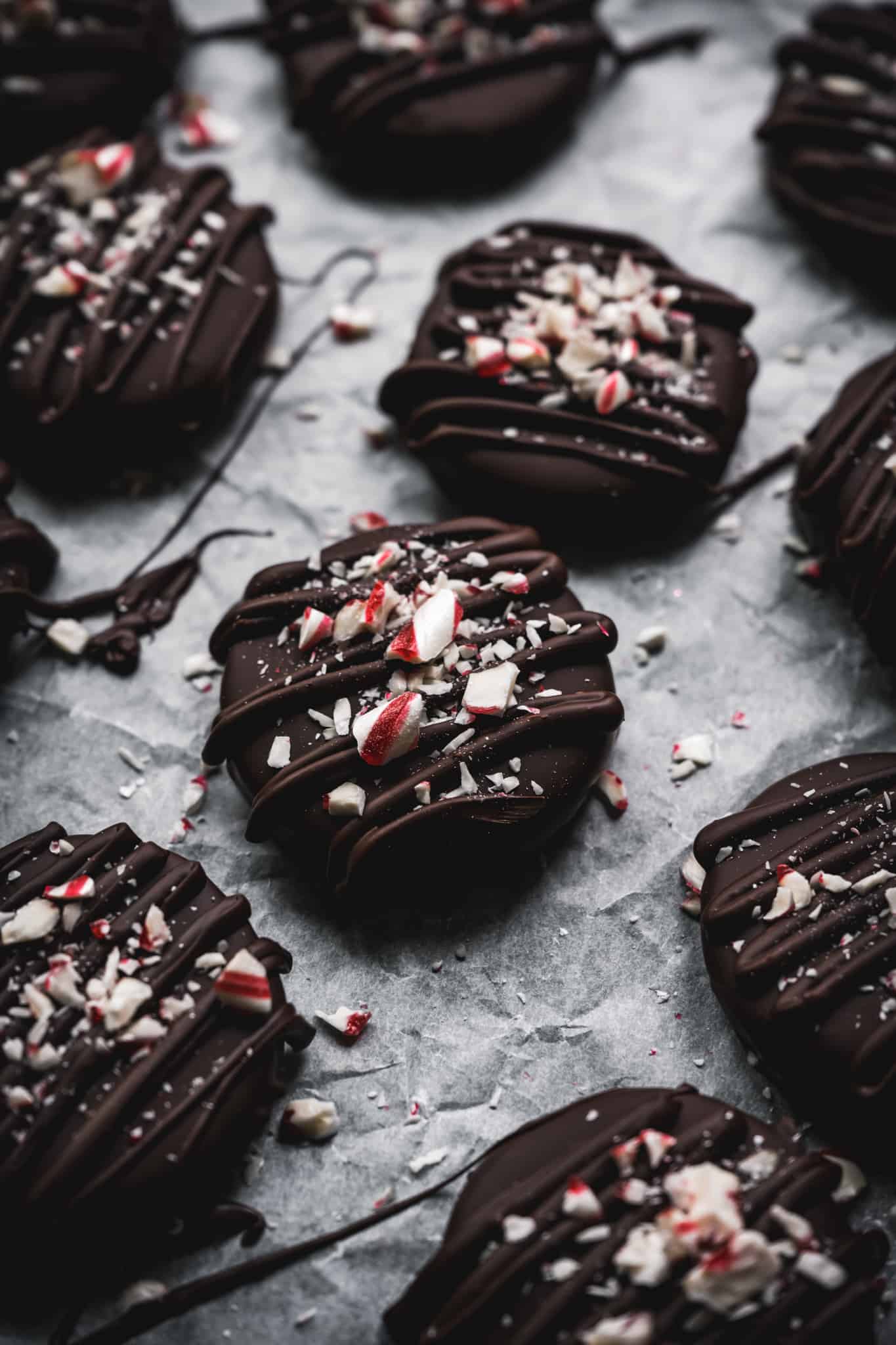 First, dip each patty in the melted chocolate, covering completely. To do so, I use two forks. One to hold the patty (it sits perfectly on the flat tines) and the other to help coat the chocolate. Lift up the fork, shake off excess chocolate for a few seconds, then transfer to a parchment paper-lined pan.
It's essential to use parchment paper. If you place them on a hard surface (like a plate), they'll definitely stick.
Next, have your helper sprinkle each patty with a kiss of crushed candy cane. The bars are cold, remember, so the chocolate will harden quickly. That's why it's important to hit them with the candy cane while the chocolate is still wet.
We added in an extra chocolate drizzle - mostly for aesthetic purposes - but feel free to skip that step. (Although extra chocolate certainly never hurt anyone!)
Once you've dipped and decorated all of your homemade vegan peppermint patties, you can stick them back in the freezer to solidify fully. It only takes about 10 minutes!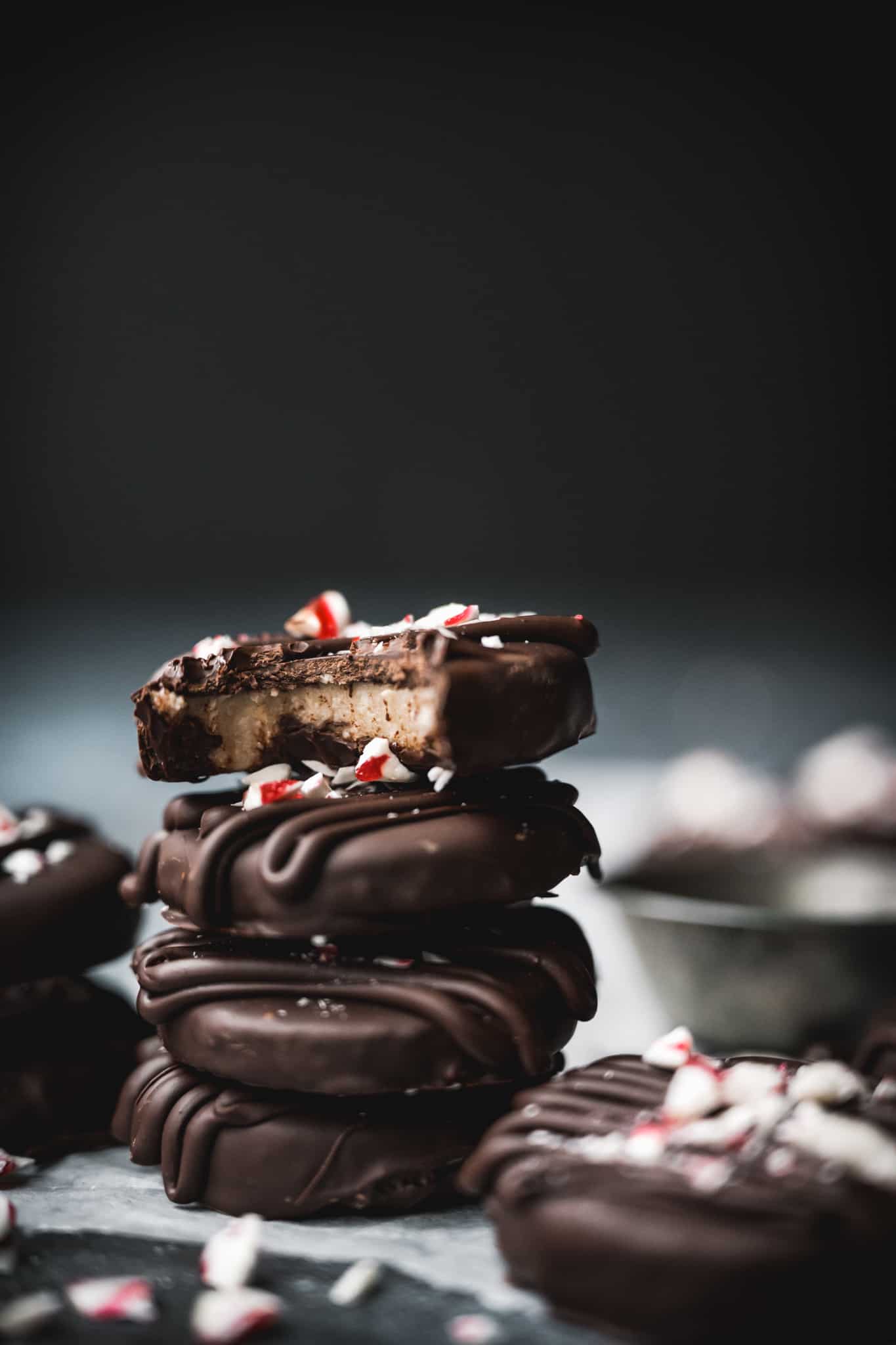 Storage
This is a great holiday cookie recipe. It's unique--who else is bringing vegan peppermint patties to their cookie swap? It's allergy-friendly, without any wheat or dairy.
And, it can be made ahead of time. These peppermint patties store beautifully in the freezer. If you don't want to serve them cold, simply let them come to room temp on the counter.
We don't recommend keeping them at room temperature for too long. The chocolate will start to melt and things will get pretty messy.
More Vegan Holiday Sweets
If you're super popular and heading to multiple holiday cookie swaps this year, here are our recs for more vegan desserts to bring:
Happy swapping!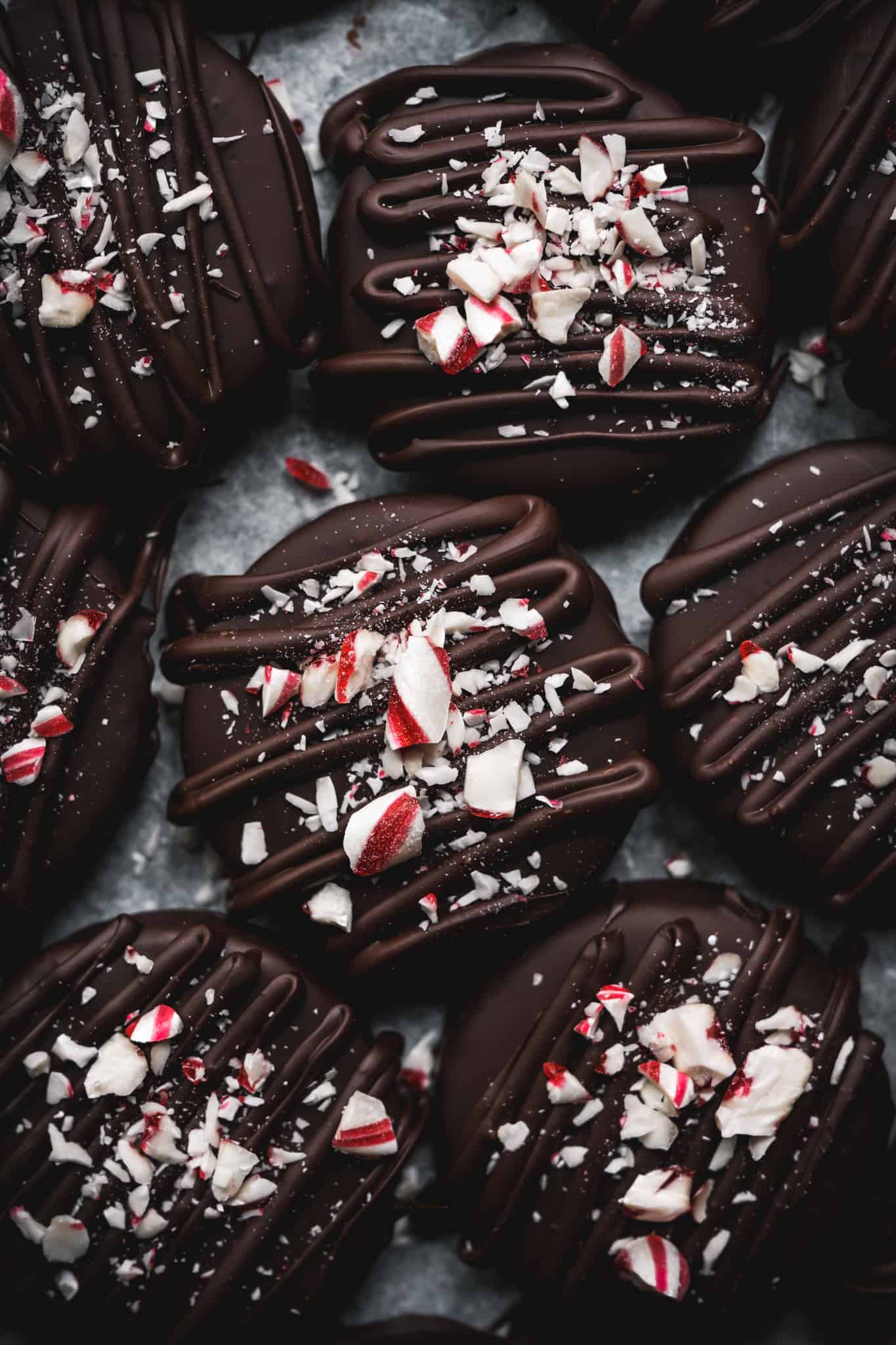 If you make these Healthy Vegan Peppermint Patties, we'd love for you to leave a comment and rating below! We also love to see your creations on Instagram – tag us at @crowded_kitchen so we can see what you've been cooking.
Print
📖 Recipe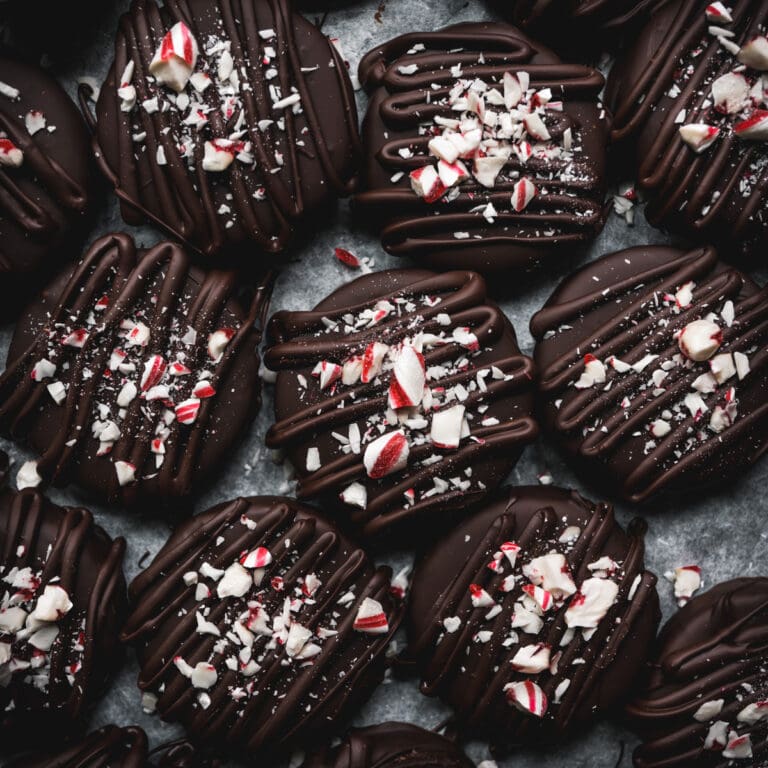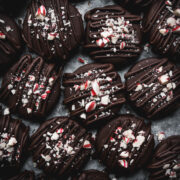 Vegan Peppermint Patties
---
Author:

Lexi

Total Time:

20 minutes, plus 45 minutes to chill

Yield:

18

-

20

patties

1

x

Diet:

Vegan
Description
These cute chocolate-covered vegan peppermint patties are a healthier, homemade version of classic York candies.
---
2 cups

raw, unsalted cashews or almonds

1 cup

unsweetened coconut flakes

¼ cup

melted coconut oil

¼ cup

 light colored agave syrup

1 tbsp

mint extract 

½ tsp

kosher salt

2 ½ cups

semi-sweet chocolate chips* (we used vegan)

1 ½ tsp

of coconut oil

2

large candy canes, crushed
---
Instructions
In a food processor, pulse the cashews or almonds until they are finely ground. Add the coconut flakes and pulse several times until the cashews and coconut are blended together well.
Melt the coconut oil in the microwave and add it to the food processor with the agave, mint extract, and salt. Pulse to combine thoroughly.  You will need to stop a few times to use a spatula to scrape the mixture off of sides and back into the middle.  Blend it until a soft dough forms.
Transfer the dough to a piece of parchment paper and press into a flat piece with your hands.  Then using a rolling pin, flatten it until the dough is about ¼ inch thick. Freeze for 15 minutes, until firm. 
Remove the dough from the freezer and use a circular cookie cutter to cut round patties  Roll out the leftover dough and continue to cut into circular shapes until you have used almost all of the dough. Spread the patties out on a baking sheet and return to the freezer for 20-30 minutes. If you don't have the right sized cookie cutter, you can also just slice the dough into squares. 
Just before you remove the patties from the freezer, add chocolate chips and coconut oil to a microwave-safe bowl. Microwave until melted, stirring every 30 seconds. 
Remove the patties from the freezer. Dip each patty into the melted chocolate and return the patties to the freezer to harden for 15 minutes.  After the chocolate has hardened, remove from freezer and drizzle more chocolate on top. Immediately top each patty with a generous sprinkling of crushed candy canes.  The chocolate hardens quickly, so you need to sprinkle the crushed peppermint right after drizzling each chocolate patty or find someone to help you with this part of the process. This will get messy, but it's worth it! 
Return the chocolate-covered bars to the freezer and freeze until fully set, another 10 minutes. Store in an airtight container in the fridge or freezer for up to 2 weeks.
Notes
*Use whatever flavor of chocolate you like! We love dark, but bittersweet would also work. Milk and white chocolate don't melt as well in the microwave, though.
Prep Time:

10 minutes

Cook Time:

10 minutes

Category:

Dessert

Method:

No Bake

Cuisine:

American
Nutrition
Serving Size:
Calories:

326

Sugar:

24 g

Sodium:

48.6 mg

Fat:

22.5 g

Saturated Fat:

11 g

Trans Fat:

0 g

Carbohydrates:

30.2 g

Fiber:

4.7 g

Protein:

5.8 g

Cholesterol:

0.3 mg
Keywords: vegan peppermint patties