These mini homemade vegan almond joy bars are the upgraded version of the candy you loved as a kid. They're raw, gluten free and filled with a creamy almond-coconut filling and dark chocolate shell. These are a great way to get your kids in the kitchen, but you might end up hiding the finished product in your own secret stash!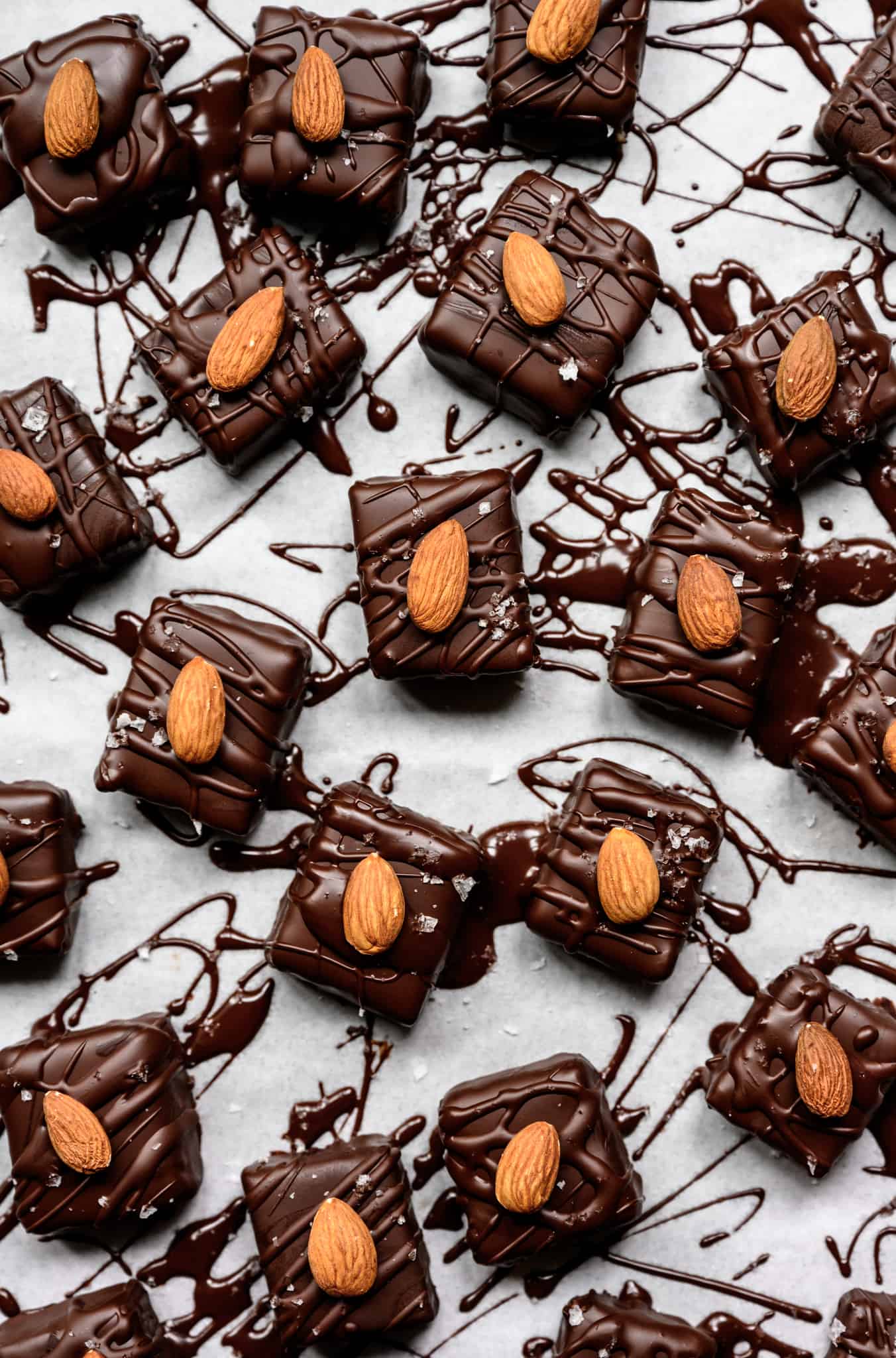 Making a batch of your own homemade vegan candy, like these healthier vegan almond joy bars, is the best way to upgrade Halloween to adult status. Once you've tried one of these vegan almond joy bars, you won't be tempted by anything in a shiny plastic package any time soon.
Instructions
Aside from the creamy filling and dark chocolate shell, the best part about these vegan almond joy bars is how easy they are to make. All you need is a food processor, a baking dish and a sheet pan.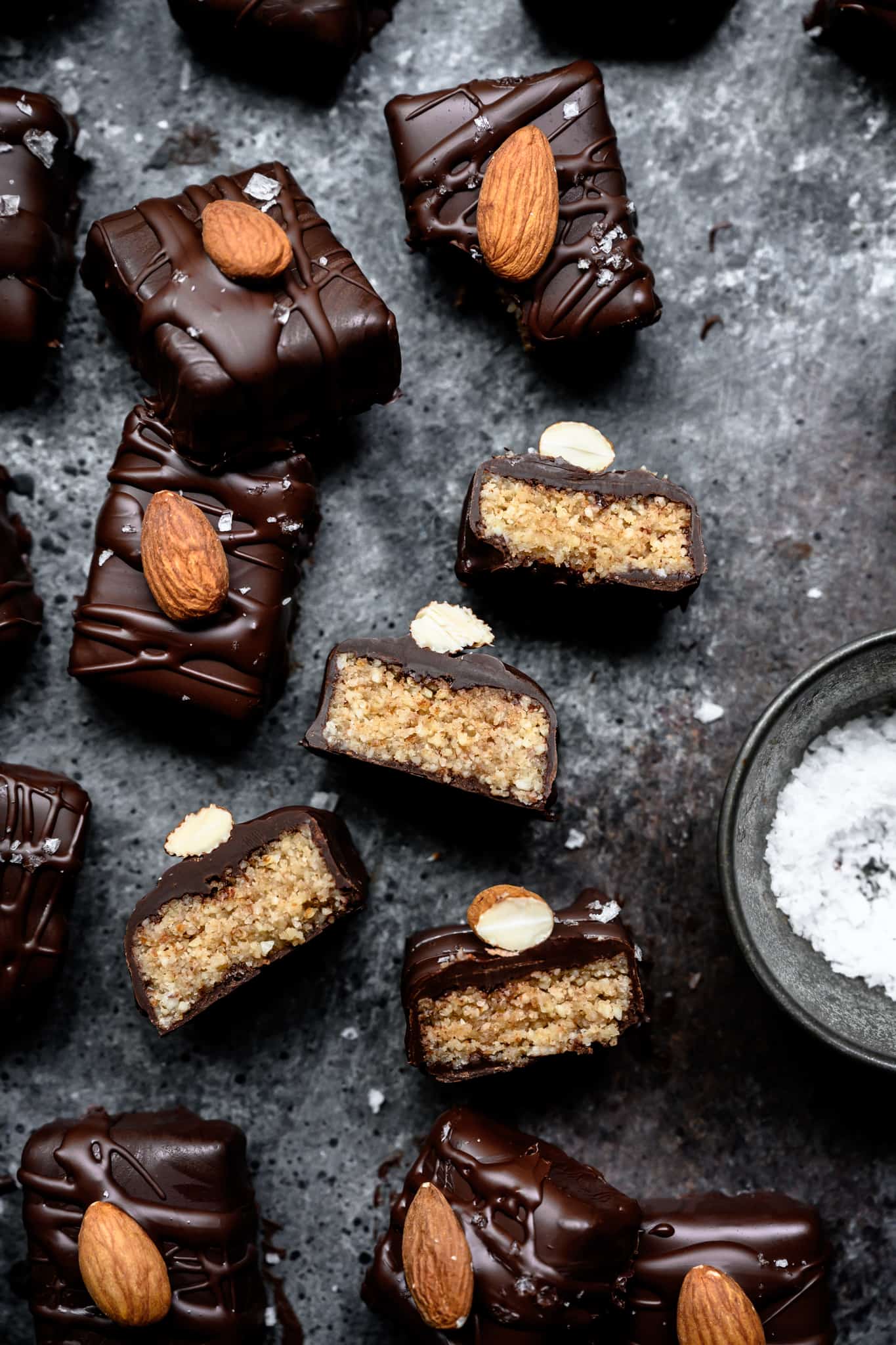 Filling
To get started, you'll make the creamy, nutty filling for these homemade candy bars. Simply dump everything into a food processor and let it do the work.
You'll start by grinding fresh whole almonds into a neat flour. This may take a few minutes in your food processor. Just let it do its thing.
Once you've ground the almonds into a fine powder, add the liquid ingredients for the almond joy filling:
Maple syrup. This provides the touch of natural sweetness any homemade candy bar needs. By using pure maple syrup, this recipe is refined-sugar free. Plus, it has a nice fall flavor!
Coconut oil. This is the key to an ultra creamy homemade almond joy filling. Melting it first will help it mix into the filling a bit better for a smoother texture. It also helps the bars set in the freezer. Coconut oil is solid at room temperature, so these bars won't turn into a melty mess as they warm.
Vanilla Extract. Make sure you're working with pure vanilla here. Yes, it's a bit more pricey, but the flavor of the real stuff doesn't compare to imitation vanilla. And since these almond joy bars are fully raw, the flavor is that much more important.
You'll process all of these ingredients, along with salt for extra flavor, into the almond flour. Next, add unsweetened coconut flakes. These wouldn't be almond joy bars without a healthy dose of coconut, after all!
Keep that food processor running until the filling becomes a soft dough. When you pick it up and press it between your fingers, it should form into a sticky ball.
Now, you're ready to let the almond joy filling set in the freezer. To do this, press the soft dough into a parchment-lined baking dish. You want a smooth top, so be sure to press firmly. You can also use a dry measuring cup to gently pat the top of the dough smooth.
Pop the whole dish in the freezer to set. This should take about 10 minutes. Once the coconut oil hardens, you're ready to cut the bars. Use a sharp knife to slice the dough into small rectangles, about an inch wide and an inch and a half long. You should get about 25 bars.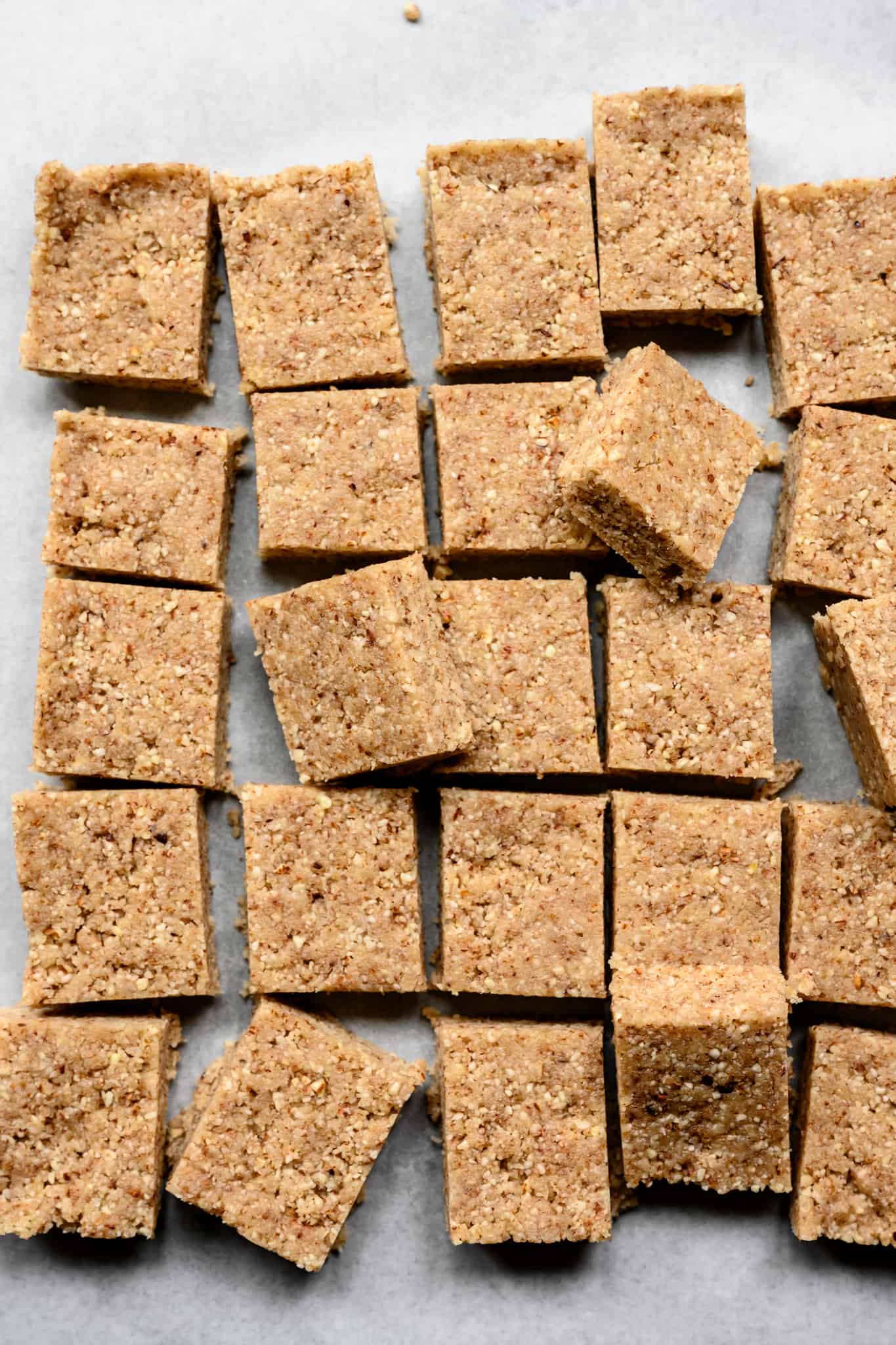 The cut bars also need to firm up a bit before you they're covered in chocolate. Spread them out on a baking sheet and stick them back into the freezer for 10 more minutes.
You want them to be nice and cold. Otherwise, when you add the warm melted chocolate, the bars will melt too.
Chocolate Layer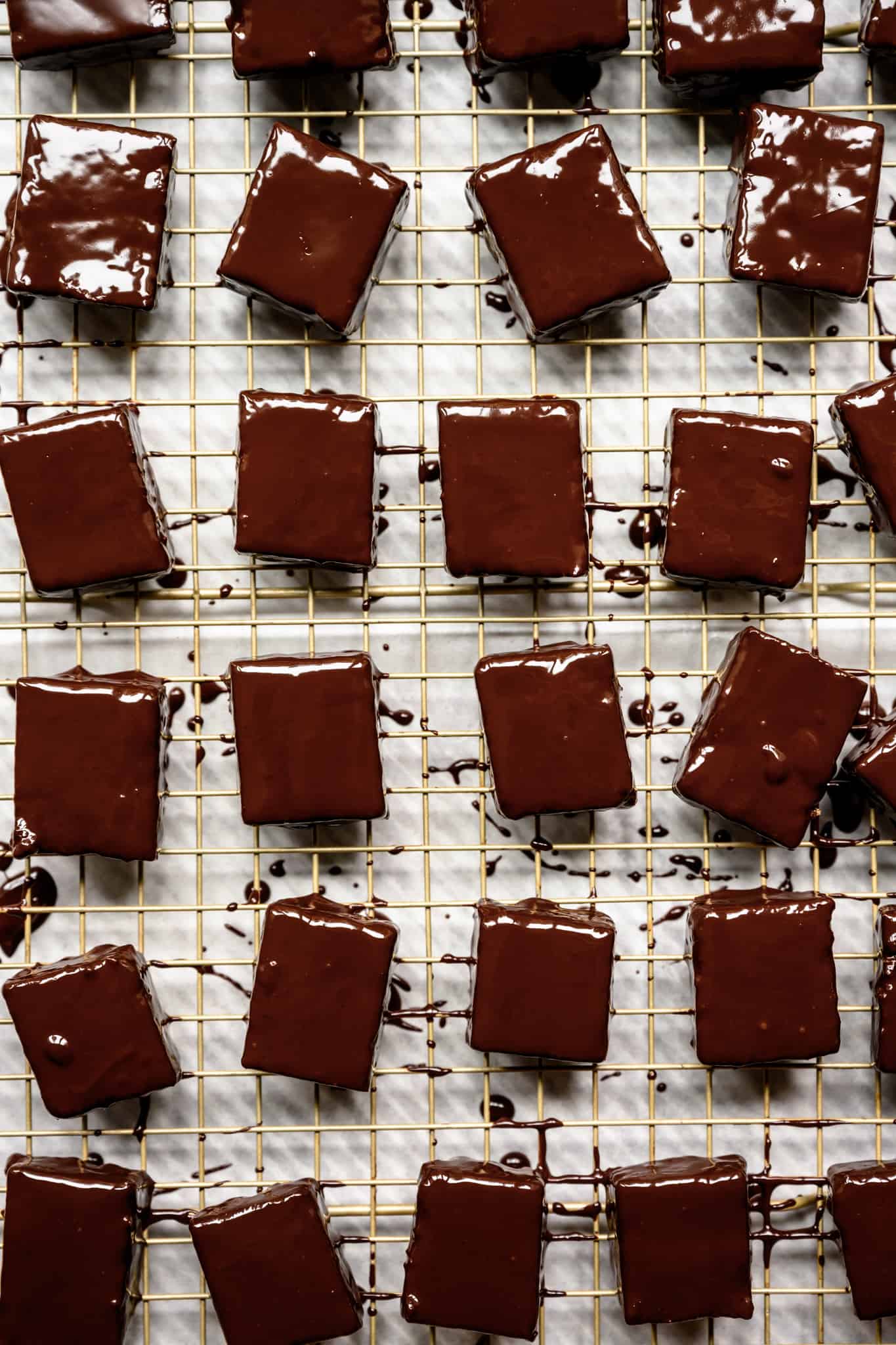 Just before your 10 minutes is up, melt the chocolate. You can melt it easily in the microwave. Just stick it in for 30 second intervals, stirring between each. To avoid burning, take the chocolate out before it's 100% melted. The residual heat will melt the remaining chips.
Feel free to use the kind of chocolate you love. We used dark chocolate. But bittersweet or milk (if you're not dairy-free) would work just as well.
Finally, to cover your almond joy bars, we recommend enlisting a helper. This can get messy. You'll want to dip each bar in the melted chocolate, covering it completely.
Then (here's where your helper comes in) quickly top each bar with a whole almond. You want to add the almond before the chocolate freezes, which happens fast! Remember, these just came out of the freezer!
And finally, have your friend kiss each almond joy bar with a sprinkle of flaky salt. This adds beautiful texture, crunch and sweet-salty flavor to these adult homemade almond joy bars.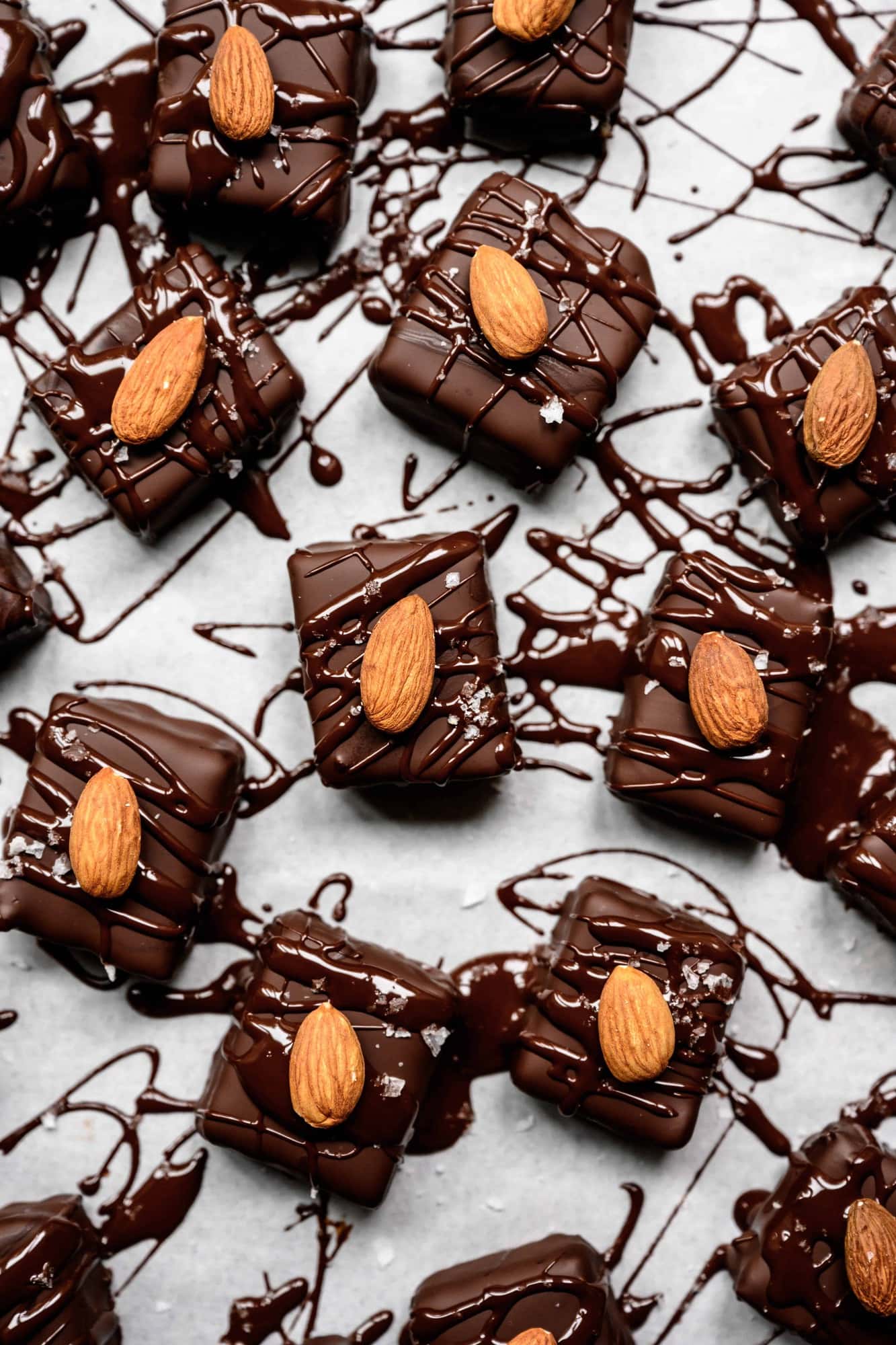 More Halloween Recipes
You've got a festive Halloween dessert down. Why not build a full vegan menu for a sophisticated Halloween get-together?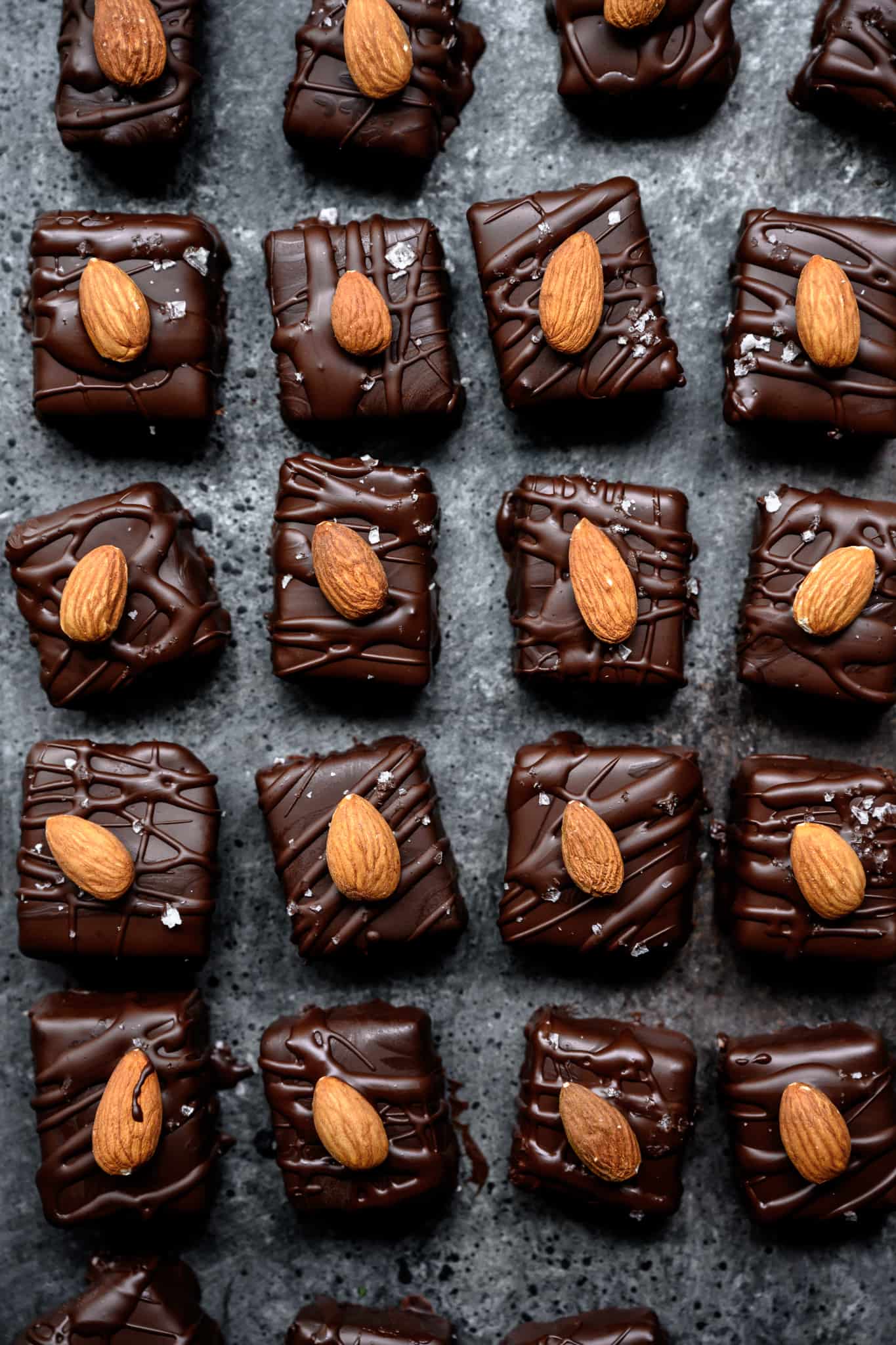 Print
📖 Recipe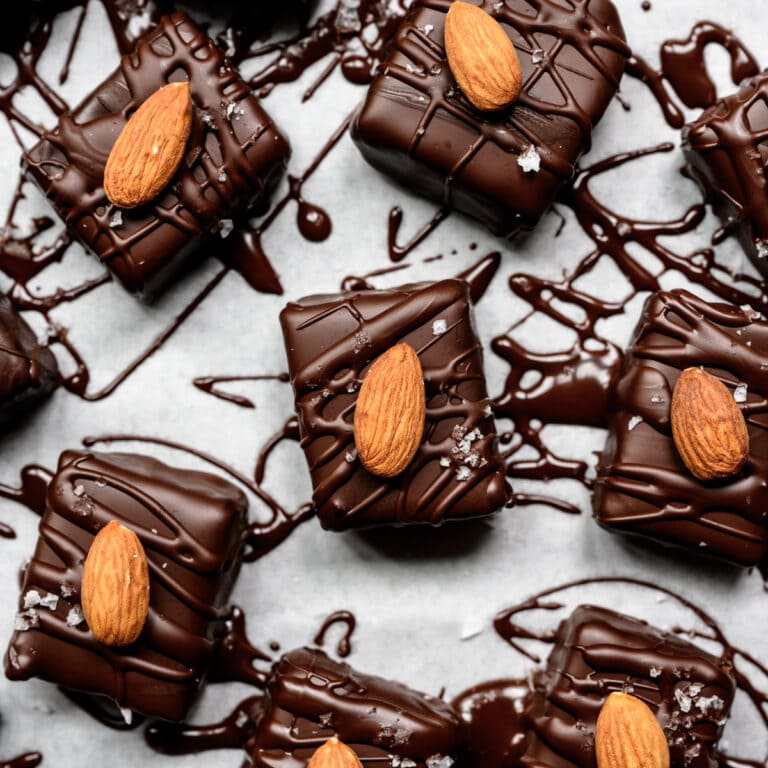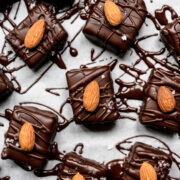 Vegan Almond Joy Bars
---
Author:

Lexi

Total Time:

35 minutes

Yield:

25

bars

1

x

Diet:

Vegan
Description
These mini homemade almond joy bars are the upgraded version of the candy you loved as a kid. Vegan, gluten free and filled with a creamy almond-coconut filling and dark chocolate shell, you won't be sharing these with the kids!
---
2 cup

almonds, plus about

¼ cup

whole almonds for topping

¼ cup

maple syrup

¼ cup

coconut oil

2 tsp

vanilla extract

½ tsp

kosher salt

1 cup

unsweetened coconut flakes

2½ cups

dark chocolate chips* (vegan)
Flaky salt, optional
---
Instructions
Line an 8x8 inch baking dish with parchment paper.
In a food processor, blend the almonds into a fine flour. This may take a few minutes. 
Melt the coconut oil in the microwave and add it to the food processor, along with the maple syrup, vanilla and salt. Pulse to combine thoroughly.
Add the coconut flakes to the food processor and combine until a soft dough forms.
Transfer the dough to the prepared baking dish. Press down to form the dough to the dish. You want a smooth top, so you may choose to roll it flat with a clean glass or press with a dry measuring cup. Freeze for 10 minutes, until firm. 
Remove the dish from the freezer and slice the dough into bars, about 1 inch long and a half inch wide. Spread the bars out on a baking sheet and return to the freezer for 10 more minutes.
Just before the 10 minutes is up, add the dark chocolate to a microwave-safe bowl. Microwave until melted, stirring every 30 seconds. 
Remove the bars from the freezer. Dip each bar into the melted chocolate and immediately top with a whole almond and sprinkle each bar with flaky salt, if using. The chocolate hardens quickly, so it's easiest to do this with a helper to place the almonds on top after you dip. This will get messy, but it's worth it! 
Return the chocolate-covered bars to the baking sheet in the freezer and freeze until fully set, another 10 minutes. Store in an airtight container in the fridge or freezer for up to 2 weeks.
Notes
*Use whatever flavor of chocolate you like! We love dark, but bittersweet, or milk would also work. 
Prep Time:

30

Cook Time:

5

Category:

Dessert

Method:

No Bake

Cuisine:

American
Nutrition
Serving Size:
Calories:

242

Sugar:

10.9 g

Sodium:

28.4 mg

Fat:

18.2 g

Saturated Fat:

8.7 g

Trans Fat:

0 g

Carbohydrates:

17.2 g

Fiber:

3.6 g

Protein:

4 g

Cholesterol:

1.4 mg