Homemade vegan natural food coloring is easy and beautiful to frost cakes, cupcakes and so much more. Dye your own with açai, matcha, charcoal and beet powder!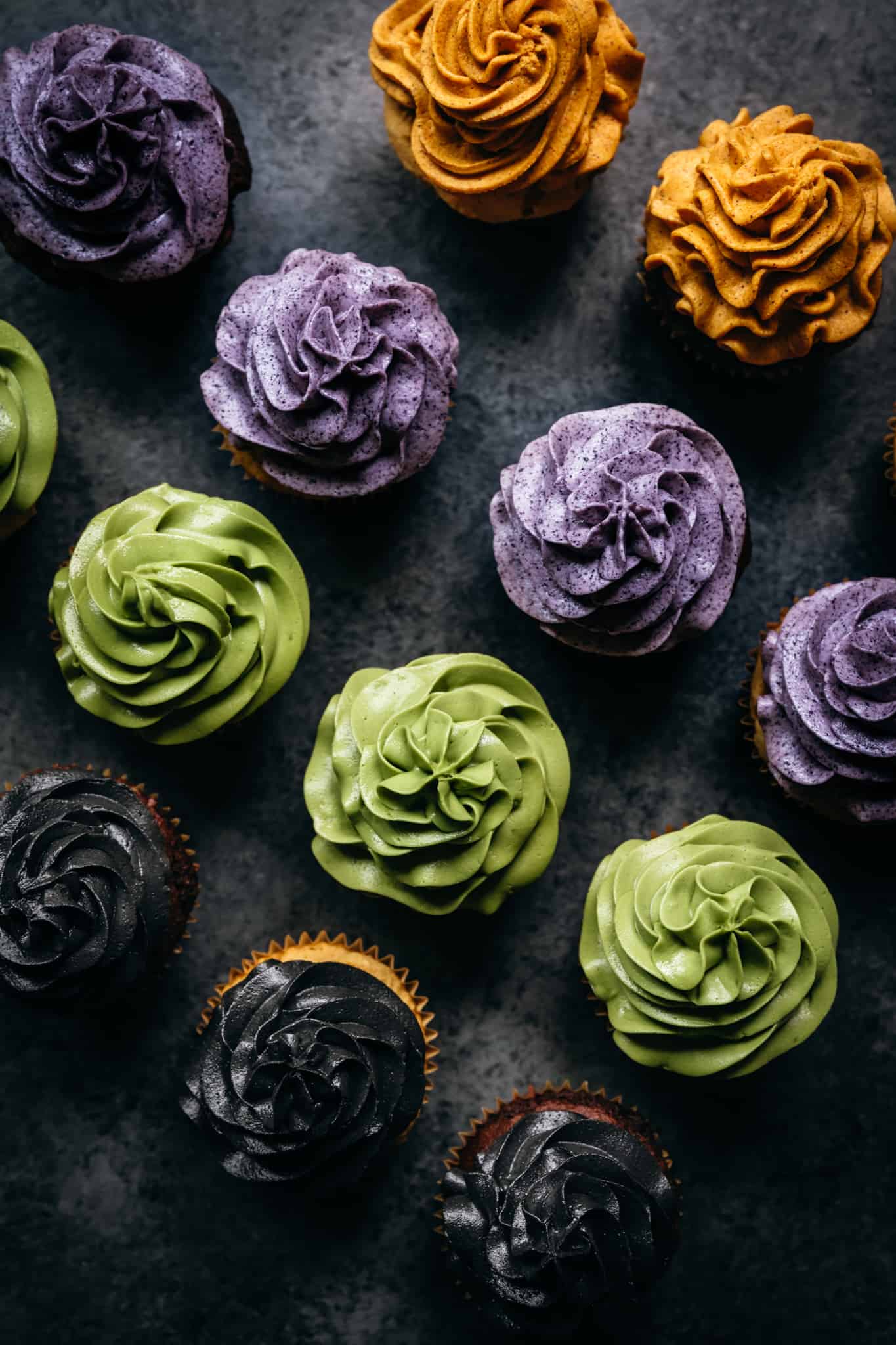 Colorful desserts are so much more fun. We always love color in our food, of course. We're always shooting for the full rainbow of produce every week. But we especially love a beautifully decorated cake or cupcake.
Of course, store-bought food dyes aren't exactly the most appetizing when it comes down to it. Who even knows what makes red food coloring red? In fact, some people are outright allergic to food dyes!
We're all for avoiding chemicals in our food, whether you're allergic or not.
But we also don't want to sacrifice beautifully colored desserts. That's why for this Halloween (and for all future food coloring occasions), we're making our own homemade natural food dyes. They're way easier than you think, incredibly beautiful and so much healthier.
Natural Food Dyes
Before you dive into that Air Head, here's a paragraph that might give you pause:
"Many believe that the use of petrochemicals, hydrocarbon derivatives and coal tar in artificial food coloring can cause such disorders. Food colorings are also believed to have an adverse effect on the immune system and male fertility, besides having association with health conditions like, asthma and allergies." (Pioneer Thinking)
Let's be honest. The fact that most commercial food colorings have numbers in their names is a little concerning. Who really considers "FD&C blue 1" food? There's certainly good reason to avoid eating processed food coloring in our diets.
Luckily, natural food coloring options are not only in fact natural, they actually pack even more health benefits. The colors on our vegan cupcakes come from matcha, beets, açai and charcoal. Are are 100% naturally-occurring ingredients that are considered superfoods.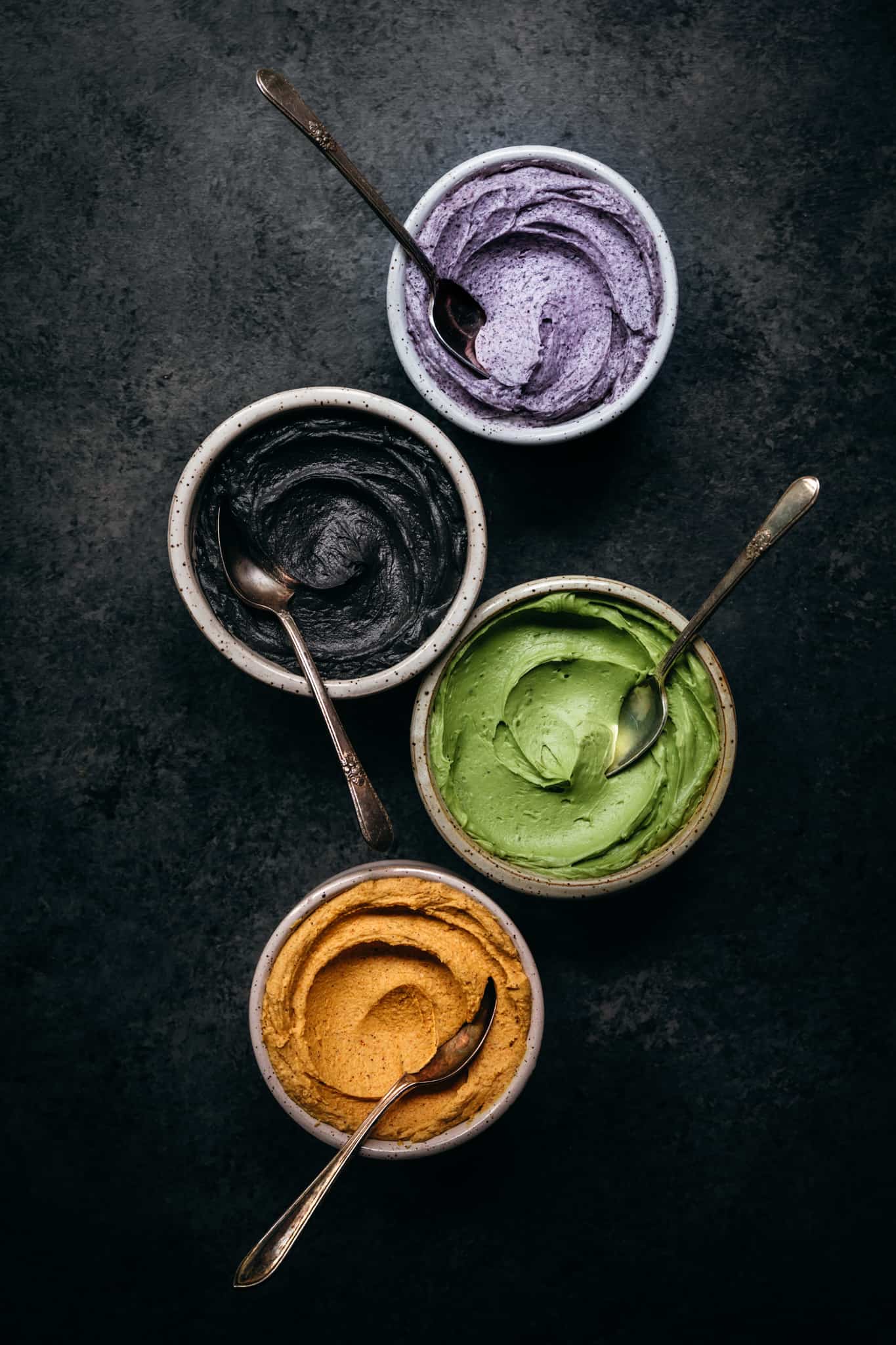 How to Make Vibrant Natural Food Coloring for Frosting
Each of these beautiful vegan frosting colors starts with our basic dairy free buttercream recipe. Just like a classic buttercream, it's easily whipped up in an electric mixer. Of course, you can also do it by hand.
And our vegan buttercream recipe is only 5 ingredients, including salt. There's really very little reason to buy store-bought frosting. But if you're in a serious time crunch, we like Simple Mills vanilla frosting.
After creaming a light and airy batch of buttercream, divide it into four bowls for each of the four natural food dye colors. Add just a few more simple ingredients to each and voila: a rainbow of vibrant naturally colored buttercream!
Homemade Purple Vegan Food Coloring
Our beautiful purple cupcakes are colored with açai powder. Açai has been enjoying a bit of a fad moment here in the states for the past few years. But it's actually a berry native to South America, especially Brazil.
Fresh, it resembles a blueberry. While we mainly get açai powder and frozen concentrate shipped up here, Brazilian have been eating fresh açai berries for centuries.
Açai is packed with antioxidants and fiber. In fact, it's one of the highest antioxidant fruits in the world. We use açai powder all the time for smoothies and smoothie bowls.
A little goes a long way. It's a bit tart, and always provides the most beautiful purple hue. That's why just a couple of tablespoons mixed into your vegan buttercream gives you a bright and vibrant purple frosting.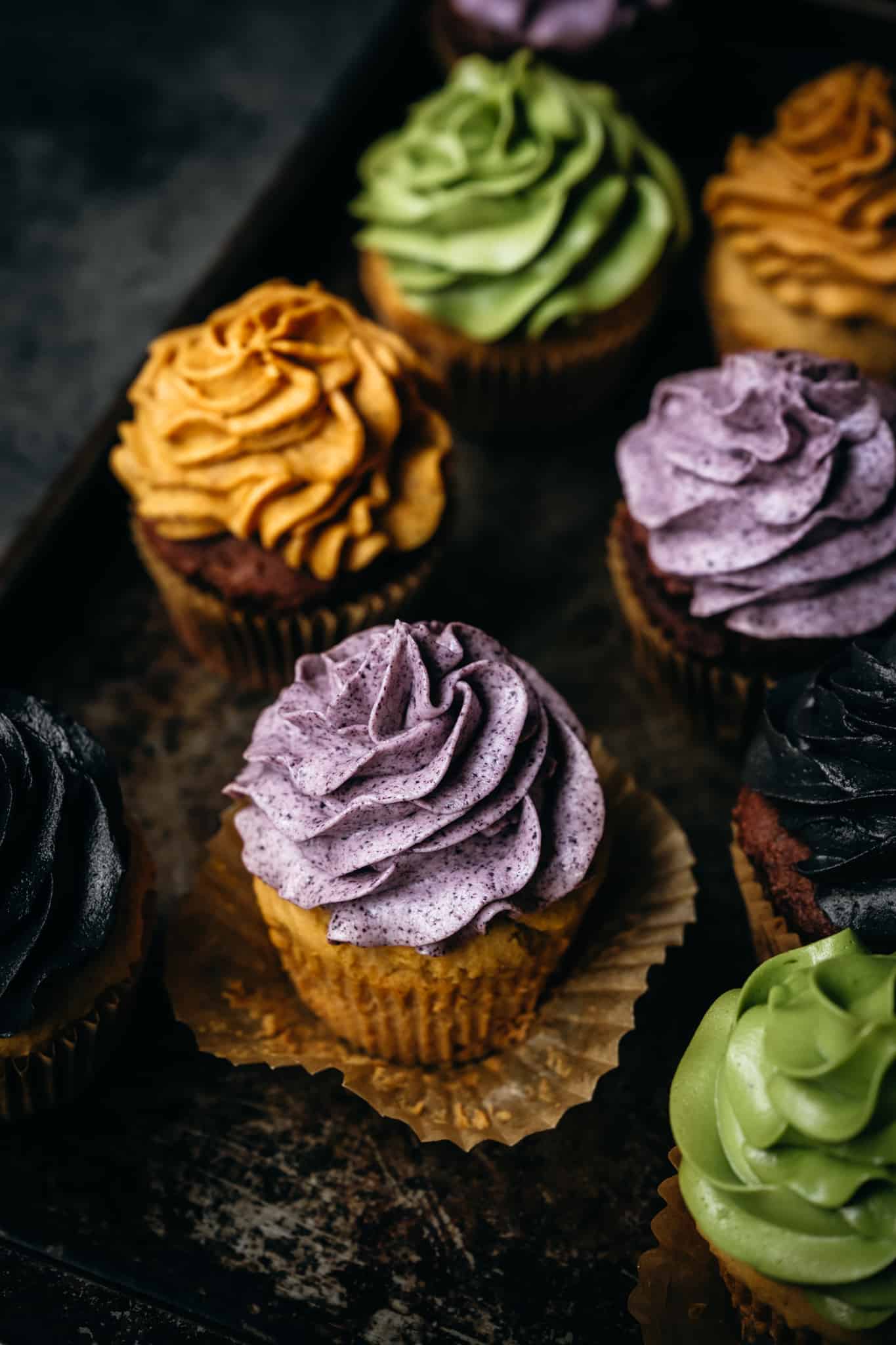 The açai powder will leave some purple flecks in the frosting that give it a wonderful texture too. I love the heathered look on these gluten free cupcakes.
Homemade Natural Green Food Coloring
We couldn't make natural vegan food coloring without including green in our palate. It's one of the most common naturally-occurring colors and we're always being told to eat more of it 🙂
The secret to our gorgeous green natural food dye? Matcha of course!
Matcha is concentrated green tea powder. Again, a little goes a long way. Its flavor can be a little more polarizing than açai. Some call it grassy. And that's why we only use a scant 2 teaspoon to color our buttercream. It's shocking how so little goes so far when you start mixing.
We also added a dash of cinnamon into this one to ensure that none of that harsh grassy flavor came through. The cinnamon won't affect the color at all. Instead, it improves the flavor of your vanilla buttercream.
If you haven't tried matcha before, I strongly recommend trying a homemade matcha latte with your leftover powder. A bit of almond milk, vanilla and sweetener of your choice makes a delicious and warming alternative to coffee.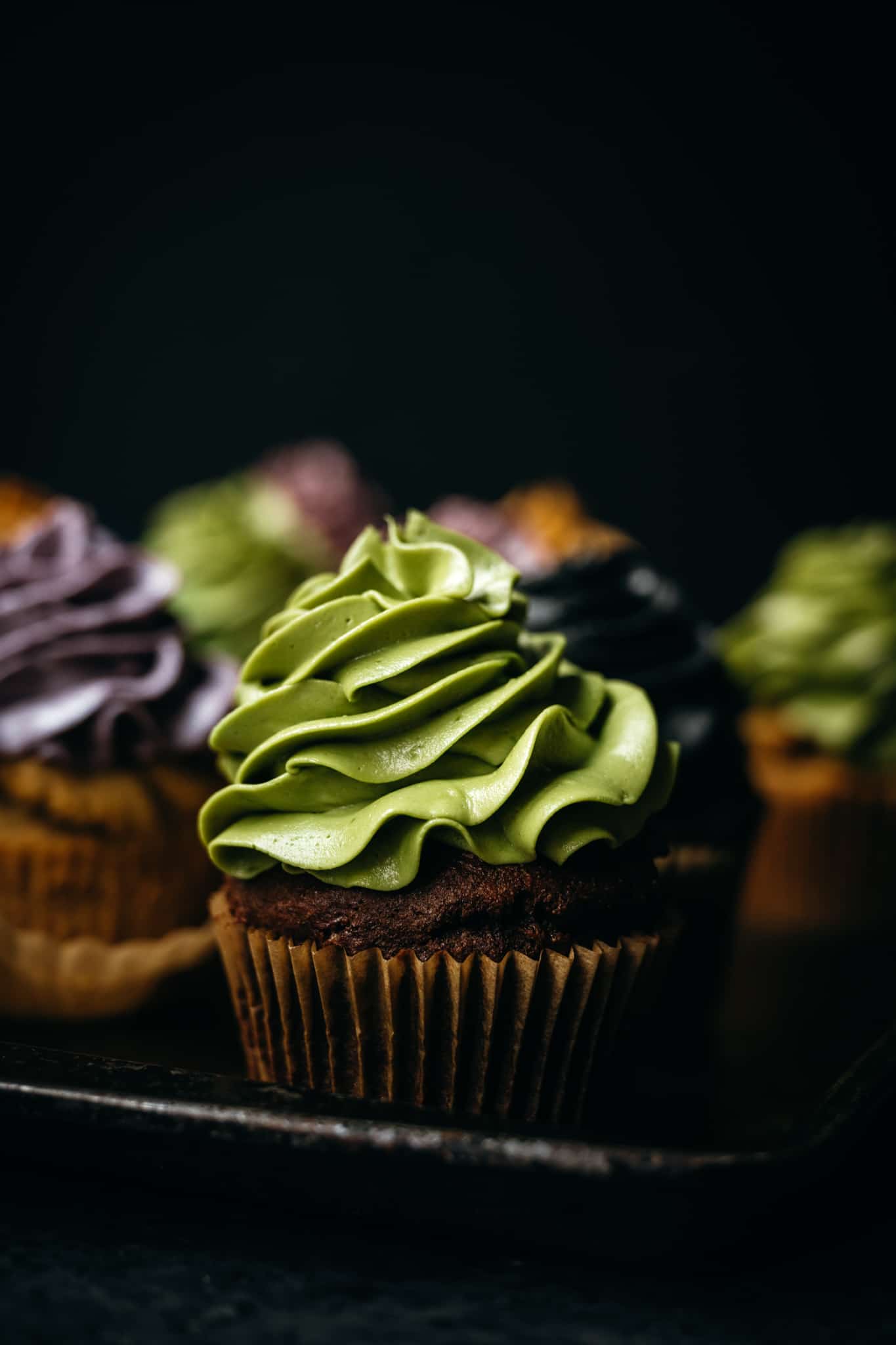 Homemade Black Food Dye
Black food dye isn't even in the usual palette you find at the grocery store. And why not? It makes such a statement on a dark chocolate cupcake. And now that it's nearing Halloween, it's time to start playing around with black-colored food.
We achieved this deep dark color with charcoal powder. This one might be a surprise. But yes, charcoal powder is 100% edible, and in fact quite healthy. Activated charcoal is the digestible kind.
Charcoal naturally attracts impurities and absorbs them. In small quantities, it's thought to help reduce toxins in the body. Many people use it to clean their teeth too! Hey, if it can remove toxins from your stomach, why not use it as a stain-remover on your canines?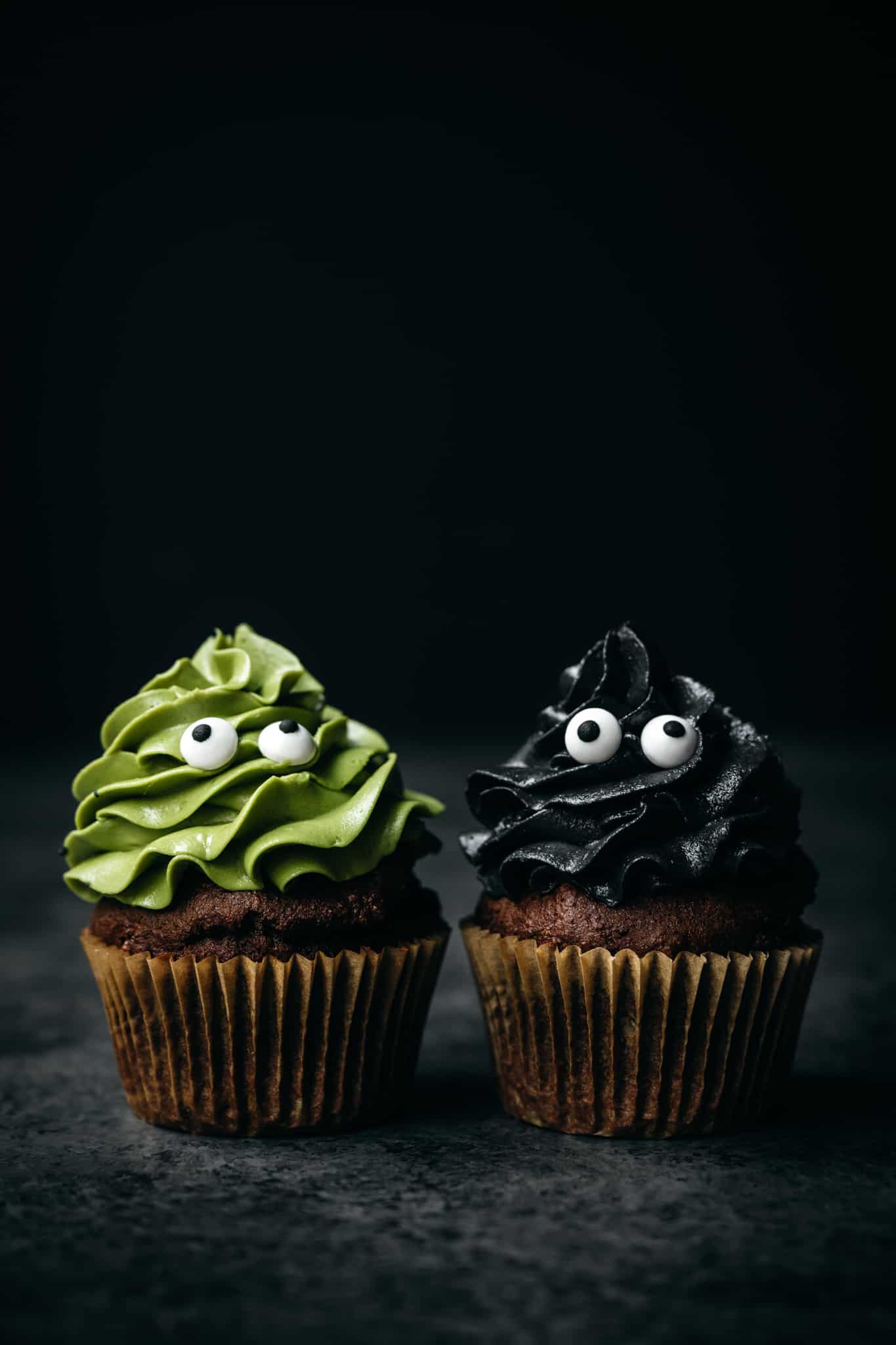 Homemade Natural Orange Food Coloring
And last but certainly not least, our orange natural food dye. This one has a couple more ingredients than the others, but the resulting shade is so worth it.
Beet juice gives most of the color. But since we didn't want to go fully red, we also added a hint of turmeric. Turmeric is a powerful anti-inflammatory food. And if you cook wit it, you may also know how much it likes to stain things yellow/orange. We used that to our advantage here.
Again, since no one wants to bite into a fresh homemade vegan cupcake and taste beet or turmeric, we called in a few extra ingredients. Cinnamon overpowers any spice flavor from the turmeric. And some extra vanilla extract ensures that you taste vanilla buttercream, not beet.
When to Use Natural Food Coloring
We're in the Halloween spirit, so we colored buttercream frosting with vibrant natural food dye for spooky cupcakes. We used our vanilla cake recipe and our classic chocolate cupcake recipe.
Both cupcake recipes are vegan and gluten free. If you go for vanilla cupcakes, see the note in the recipe for baking instructions to turn the cake into cupcakes!
There are dozens of fun ways to use these natural food dyes, however. Why not try:
Dying vanilla cupcake batter before you even frost them
Making festive pancakes for holidays. Green for St. Patty's day or Christmas would be fun!
Coloring coconut whipped cream on your strawberry shortcakes or sundaes
Turning regular vanilla ice cream into a rainbow
Dying homemade macarons for Easter, or for any other Sunday
We can think of quite a few uses come April Fool's day! Green milk with your cereal, anyone?
Let us know what other fun and tasty ways you think up for these natural vegan food coloring recipes!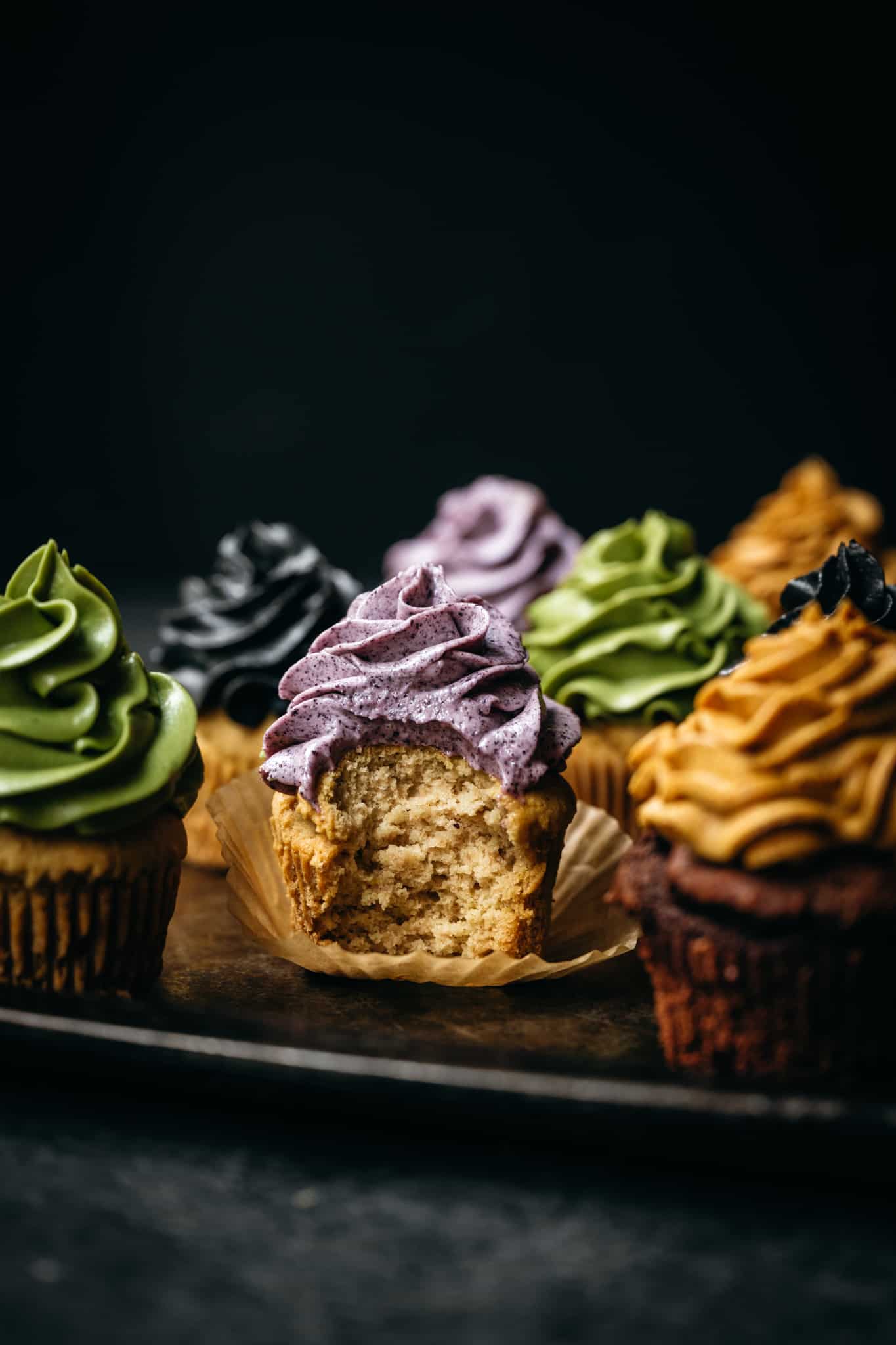 Print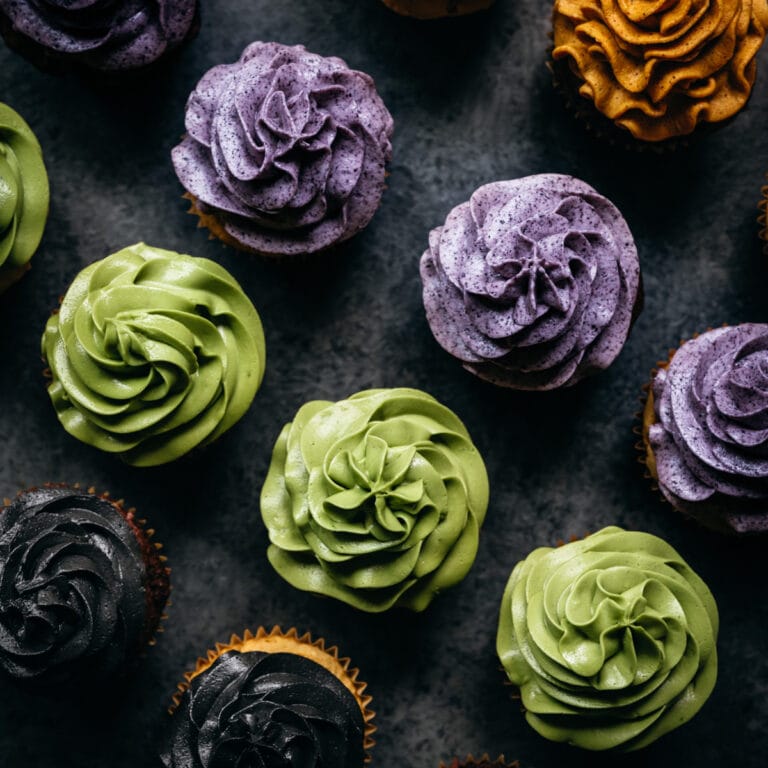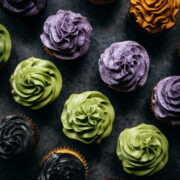 Vegan Buttercream Frosting dyed with Natural Food Coloring
---
Author:

Lexi

Total Time:

15 minutes

Yield:

Frosting for

30

cupcakes

1

x

Diet:

Vegan
Description
Homemade natural food coloring is easy and beautiful to frost cakes, cupcakes and so much more. Dye your own with açai, matcha, charcoal and beet powder!
---
Dairy Free Buttercream Frosting
½

cup

vegan butter, softened

1 ½

cups

powdered sugar

1 tsp

vanilla bean paste or vanilla extract

1 ½ tsp

almond milk or dairy free creamer
Pinch of salt
Add to above recipe for each color:
Purple:
2 tbsp

açaí

½ tsp

more almond milk
Green:
2 tsp

matcha

1 tsp

more vanilla

½ tsp

cinnamon

¼ tsp

salt
Black:
2 tbsp

charcoal

½ tsp

more almond milk
Orange:
1 tsp

beet juice

½ tsp

turmeric

½ tsp

cinnamon

½ tsp

extra vanilla
Healthy pinch of sea salt
Vanilla Cupcakes: use our Vanilla Almond Cake Recipe. See note
---
Instructions
Make a big batch of frosting by creaming the butter and powdered sugar in a mixing bowl until light and fluffy. Add in the vanilla, milk/creamer and salt and beat to combine thoroughly.
Divide the frosting into four bowls and add the ingredients for each color, mixing thoroughly until evenly colored. Adding more powders will darken the colors, if you prefer. 
Frost only fully cooled cupcakes. 
Notes
To translate our vanilla cake recipe into cupcakes, pour the dough into lined cupcake pans. Reduce bake time to 29-31 minutes, until set in the center. The recipe will make 28-30 cupcakes. 
Prep Time:

15 minutes

Cook Time:

0 minutes

Category:

Dessert

Method:

No Cook

Cuisine:

American
Nutrition
Serving Size:
Calories:

60

Sugar:

6.2 g

Sodium:

192.5 mg

Fat:

3.3 g

Carbohydrates:

6.4 g

Fiber:

0.1 g

Protein:

0.3 g
Keywords: vegan food coloring