Whether you're a runner, weight lifter, cyclist or more of a mental athlete, everybody needs recovery. These are the three best smoothies to help your muscles and mind recover from exertion.
We have a satisfying tart cherry and chocolate smoothie, a protein-packed green pineapple cashew smoothie, and a hearty blueberry hemp smoothie bowl.
Each recipe is optimized to promote muscle recovery to get you back out the door, stronger than ever!
Tart Cherry and Chocolate Recovery Smoothie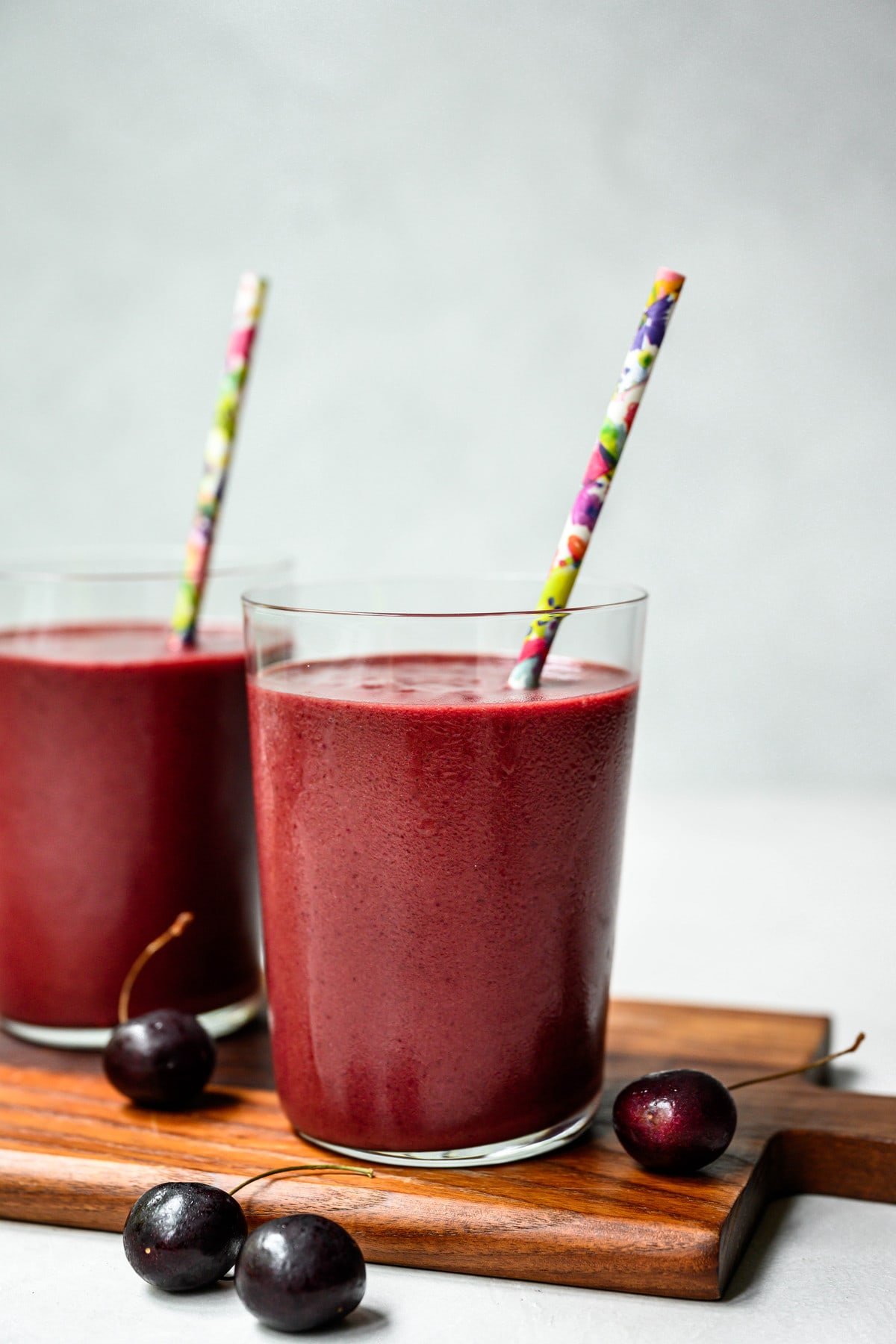 This easy tart cherry and chocolate smoothie quells deep chocolate cravings. It's also ideal for muscle recovery. This creamy post-workout smoothie is packed with superfoods. Dark sweet cherries, beetroot powder, cocoa powder and tart cherry juice pack a serious recovery punch.
Let's break down each recovery superfood.
Tart Cherries: nitric oxide for increased muscle recovery
Studies show that cherries reduce inflammation. They increase blood flow and nitric acid throughout the body. More blood reaches your fatigued muscles, allowing them to recover and heal more quickly.
Cherries also contain powerful antioxidants that may help reduce blood sugar and the risk of heart disease. We're pretty impressed by these stats, not to mention the addicting sweet taste of the fruits. So we doubled up on cherry power for these chocolaty recovery smoothies.
We added a healthy dose of pure tart cherry juice. This stuff has all the same recovery-promoting benefits of the whole fruits, concentrated into a powerful liquid.
As the name suggests, the concentrate can be fairly tart, however. That's why we rounded out this chocolate cherry recovery smoothie with banana for natural sweetness without any added sweeteners.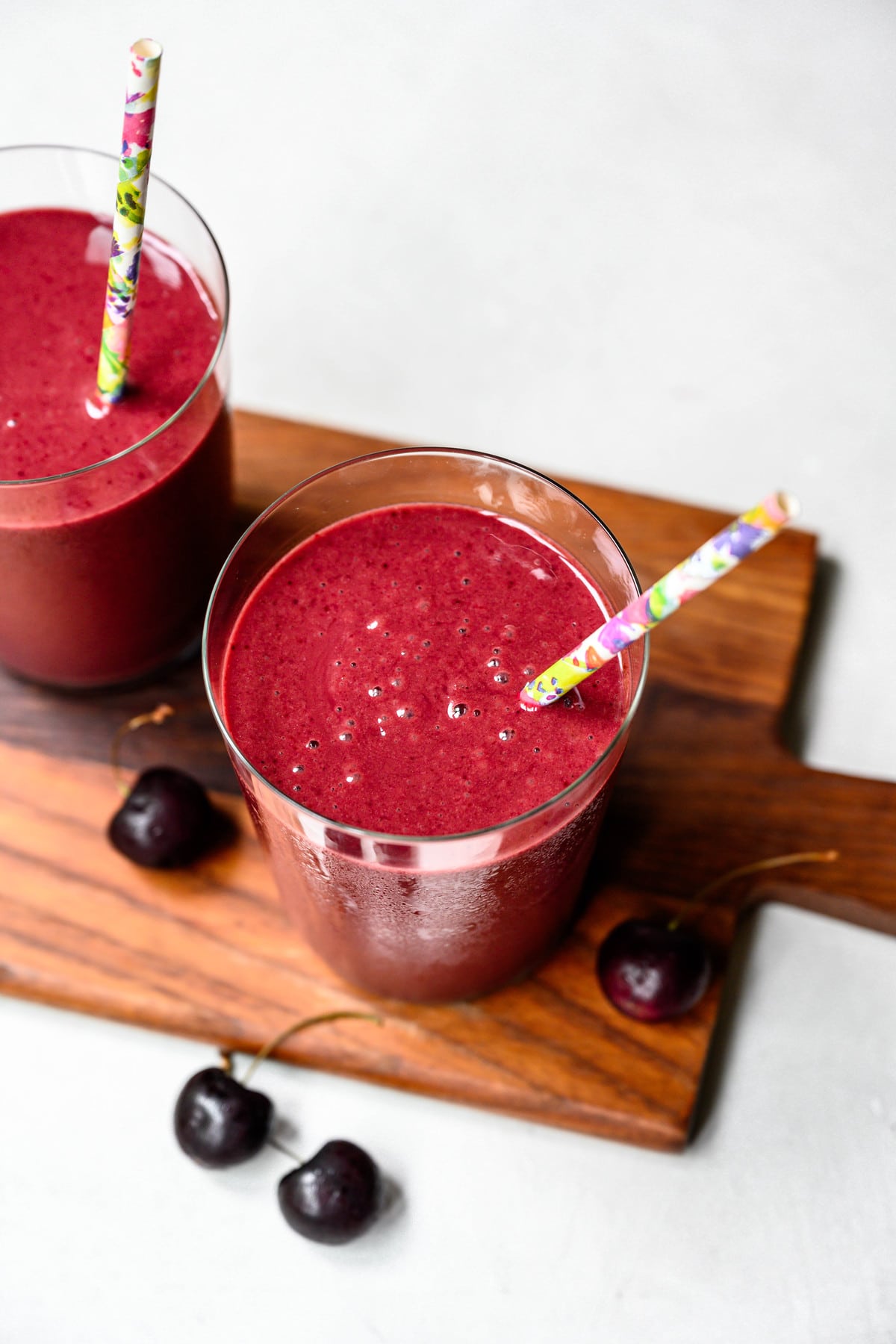 Dark Chocolate: antioxidants for improved bloodflow
For the chocolate factor in this smoothie, we had to bring in more antioxidants to fuel your recovery. We rely on FlavaNaturals to provide the high-antioxidant unsweetened cocoa powder we love.
Their unsweetened drinking chocolate packs nine times the recovery-promoting antioxidants of one regular dark chocolate bar. And without the sugar or added fat, this stuff is a must-have for any athlete's recovery smoothie needs.
Beet Powder: nitrates for better performance
And we couldn't forget to mention the beet powder in this recovery smoothie. Rather than an earthy, beety taste to this recovery smoothie, the beet powder actually sweetens things up a bit.
Beets are naturally sweet and have a lot of the same anti-inflammatory antioxidants as cherries (you can tell by their red pigment).
Beets also offer a healthy dose of nitrates. Nitrates are shown to improve athletic performance. They fuel your mitochondria, the tiny powerhouses of your cells you may remember from middle school biology. Several studies of cyclists show that beet consumption improves time to exhaustion and oxygen use of the athletes!
Pineapple Cashew Protein Recovery Smoothie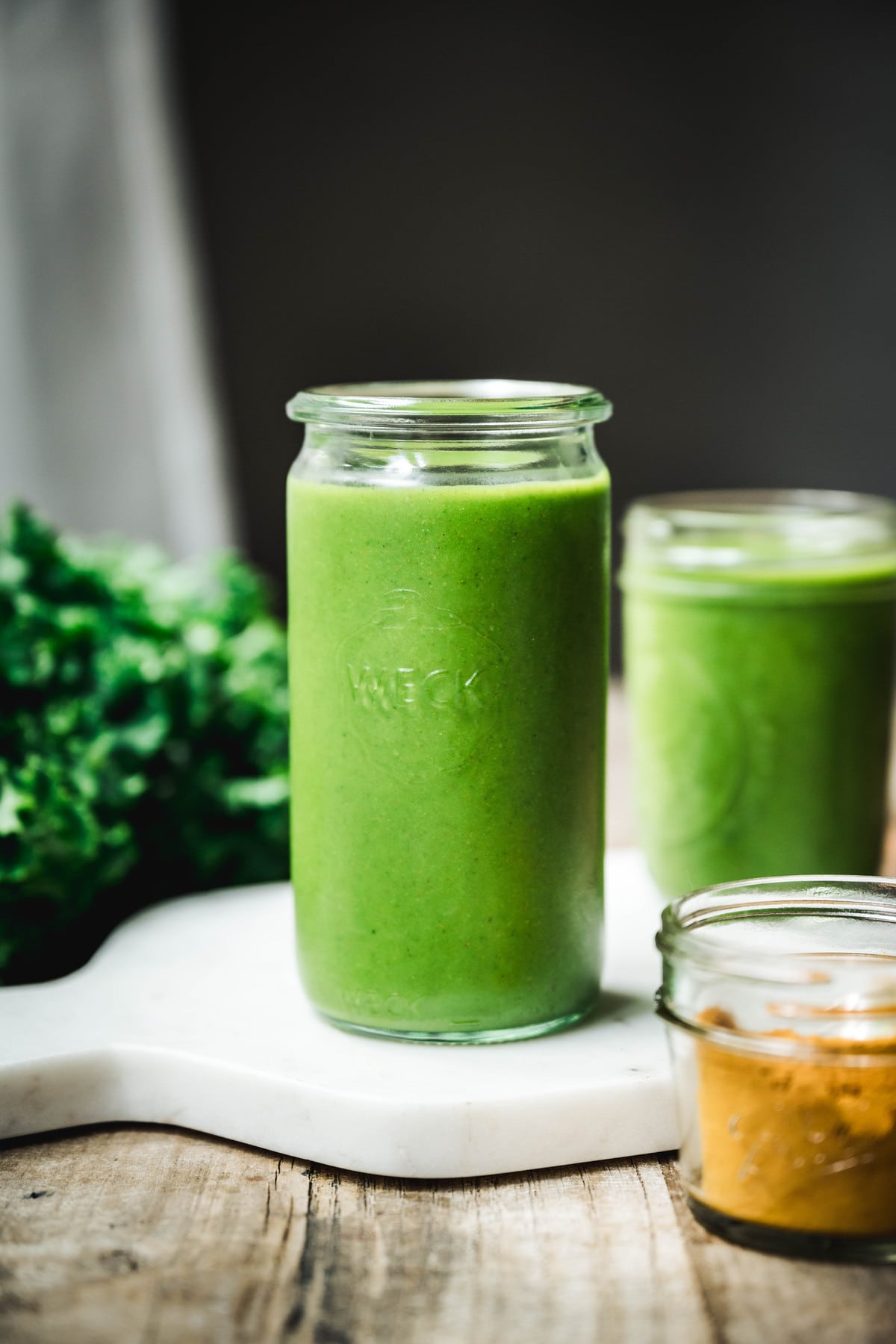 Our refreshing pineapple cashew protein smoothie is a muscle recovery home-run. It's full of hydrating pineapple, fiber-full kale, protein-rich plant-yogurt and anti-inflammatory turmeric.
Pineapple: hydration meets immune-boosting vitamin C
Pineapple is highly refreshing. Its high water content makes it an excellent post-workout choice to quell that deep nagging thirst that comes with any kind of outdoor exercise in the heat.
The fruit also packs serious vitamin C. One cup of pineapple contains over 103% of your daily vitamin C needs. And did we mention this post-workout smoothie calls for a cup and a half of the tropical fruit??
Extra vitamin C is always a good idea, and especially for athletes. Training, especially in the cold or hot weather, takes a toll on your immune system. An extra hit of vitamin C from a natural source like pineapple after a tough workout boosts your immune system to keep you healthy!
Kale: one of the most nutrient-dense plants in the world
I'm sure you've heard it before. Kale is often hailed as a superfood responsible for all sorts of life-lengthening miracles. And, well, there's a great deal of truth to those claims. The green leafy veg packs vitamins A, K, C and more. Plus, it's very low in calories.
I always try to toss a handful of kale in my post-workout recovery smoothies. You can barely taste it, especially paired with fruit. But it offers extra fiber for digestion, along with all those vitamins and minerals.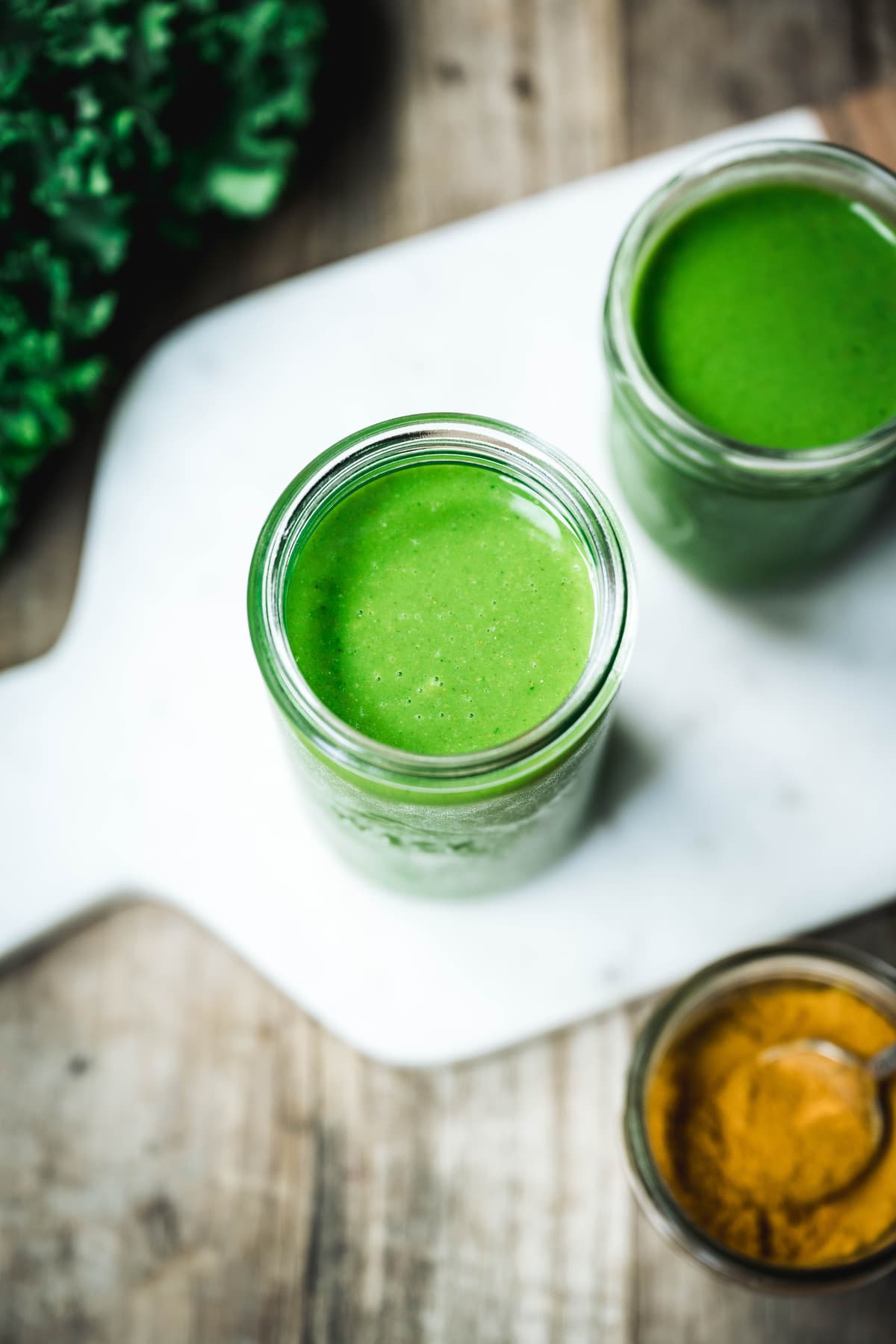 Plant-based yogurt: protein necessary for recovery
We tossed a healthy scoop of plant-based yogurt into this pineapple cashew protein smoothie. We chose oat milk yogurt because it has a relatively high protein content compared to other dairy-free options.
It also has a delicious taste that adds creaminess to the pineapple and kale in this smoothie.
Your body needs protein to rebuild muscle and recover from exercise. If you're training for an endurance event, it's especially important to fill up on healthy protein sources. Nuts and nut-based yogurts and milks, for example ensure that your muscles have enough fuel to grow and get faster!
This pineapple cashew protein smoothie is ideal for after an especially intense workout because it offers a healthy mix of carbohydrates and protein.
Studies show that consuming both protein and carbs within three hours post-workout helps promote new muscle production. So get sipping!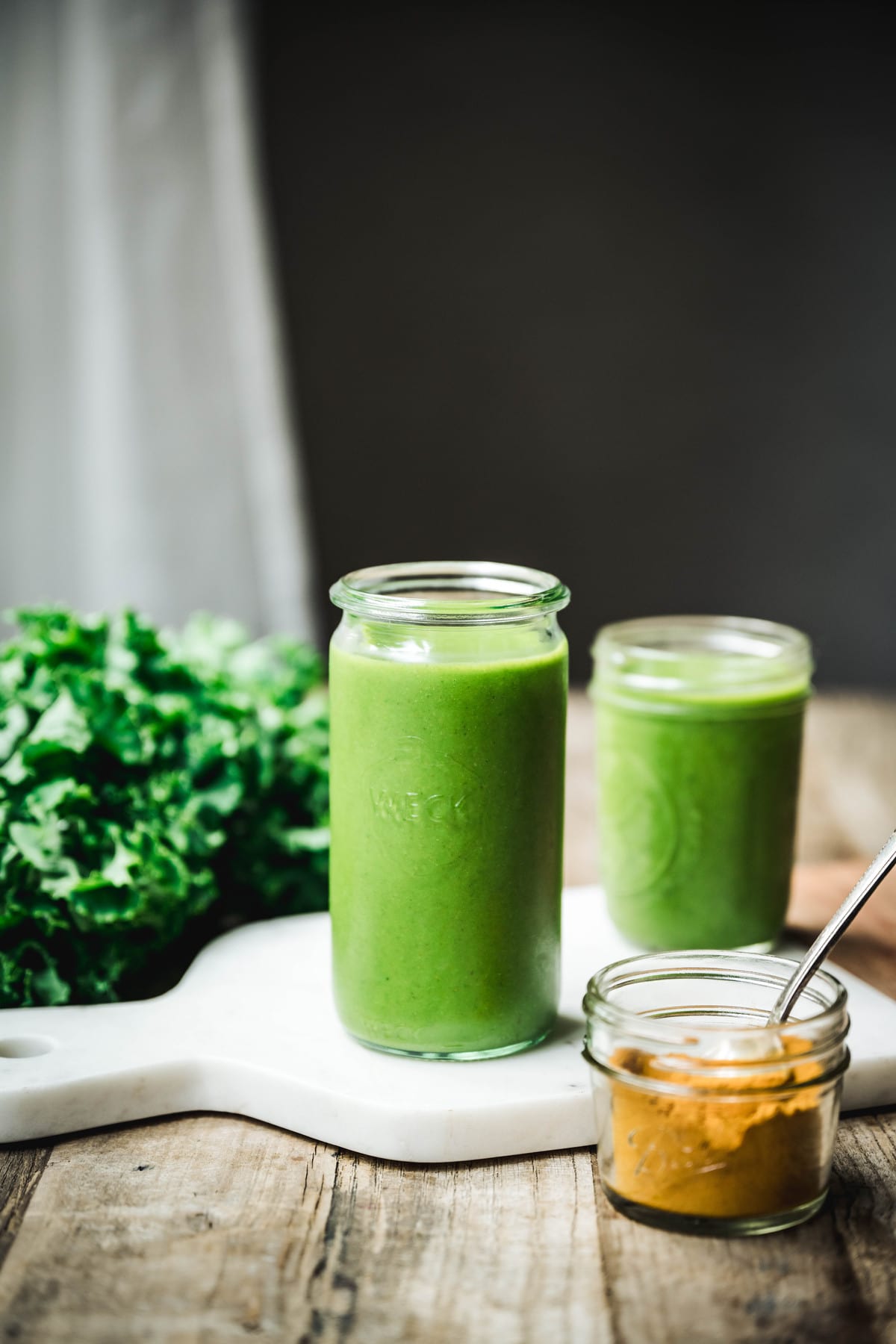 Turmeric: an anti-inflammatory bonus
The final secret ingredient to this healthy and nutritious post-workout smoothie is everyone's favorite spice: turmeric.
The yellow powder has a strong taste that's not for everyone. However, it's barely detectable blended into this protein-rich shake.
Four thousands of years, Indians have used turmeric, an indigenous spice to their country, as a medicinal herb. Curcumin, a component of turmeric, provides the anti-inflammatory antioxidants we're seeking after an intense workout.
Some studies suggest that your body best absorbs curcumin when you eat it with black pepper. While we weren't all that excited to add a crack of pep to this pineapple smoothie, feel free to add some if you're in the mood!
Or, you could always enjoy this protein-packed recovery smoothie with a side of toast topped with a bit of salt and pepper.
Blueberry Hemp Recovery Smoothie Bowl
The final best smoothie for muscle recovery is our blueberry hemp smoothie bowl. Its beautiful blue color and thick consistency makes an ideal base for your favorite smoothie bowl toppings.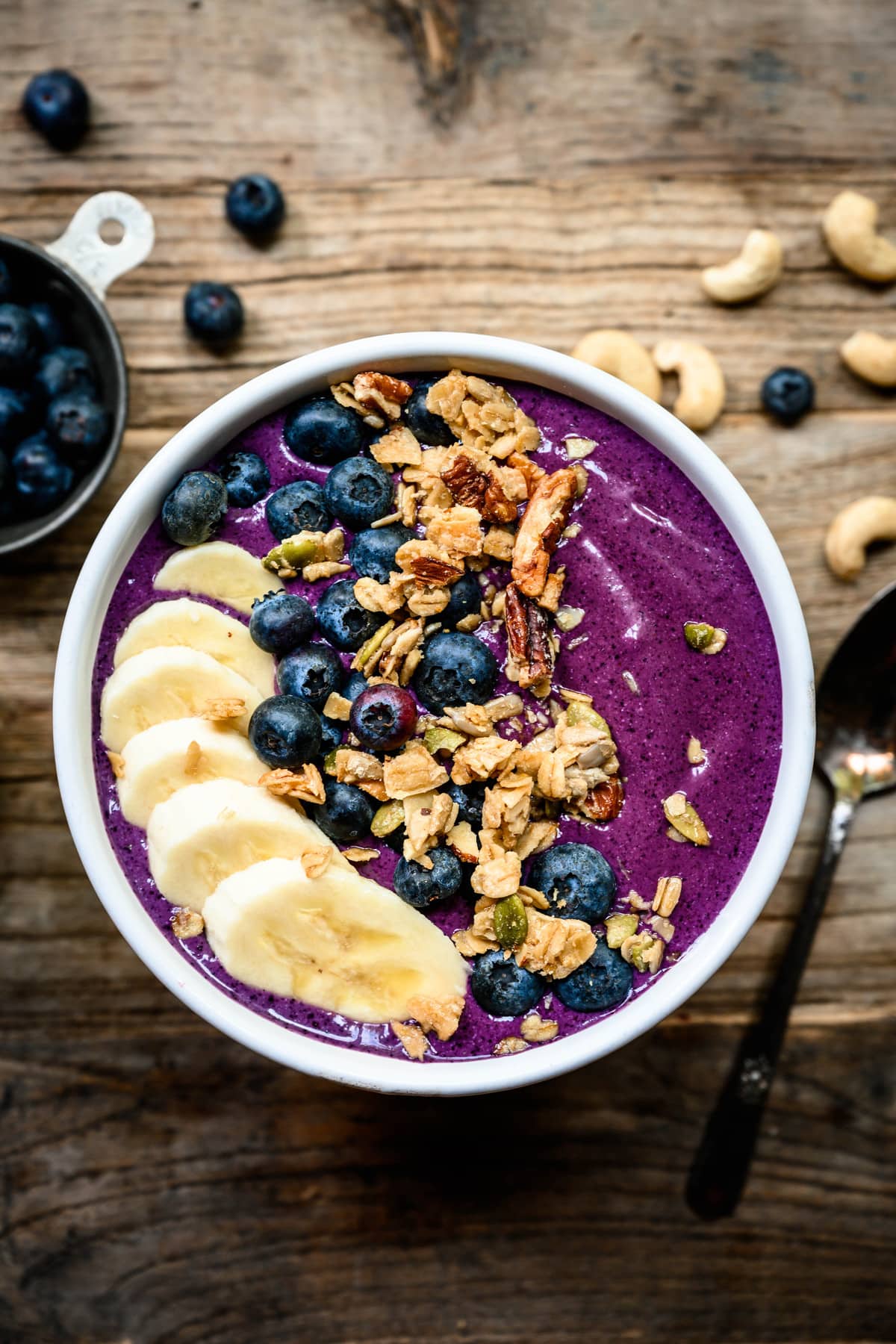 Blueberries, hemp and cashews offer the perfectly balanced post-workout meal of healthy fats, carbohydrates and protein.
Blueberries: little antioxidant powerhouses
Not only are blueberries totally addicting, they're also considered the "king of antioxidant-packed fruits". With 84 calories per cup, these berries are some of the most nutrient-dense foods you can eat.
Plus they're 85% water, so they offer the hydrate your body craves after a tough workout.
The major antioxidants in bluebs are called flavonoids. They help reduce free radicals in the body, which can reduce your risk for cancer.
All that sun exposure during outdoor workouts means we need to think about protecting ourselves a little more this time of year. Sunscreen is an important first step, of course, but the cancer protection doesn't stop there!
Fill your blender with this blueberry cashew hemp smoothie bowl, and you're well on your way to a healthy, well-recovered day.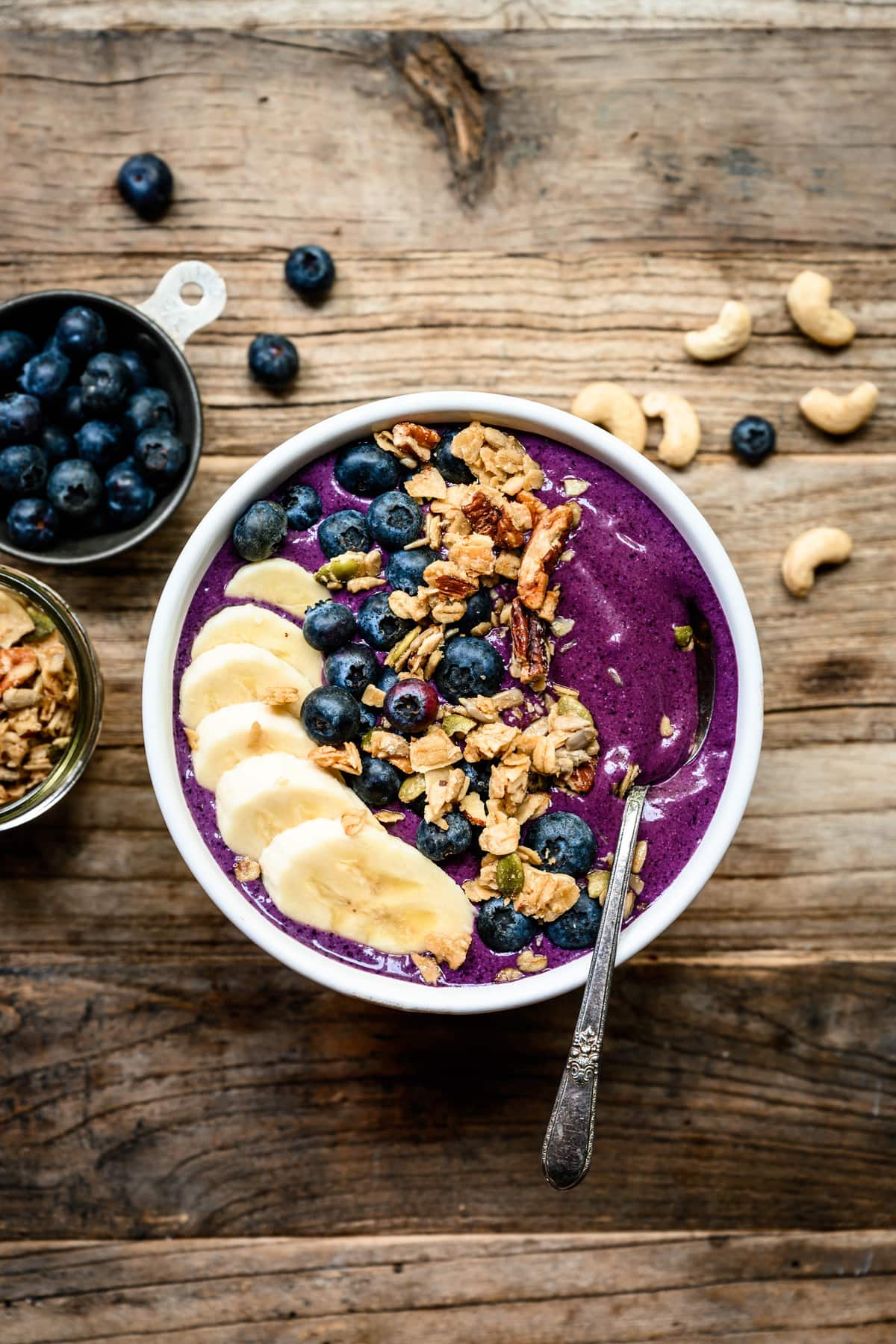 Cashews and Hemp seeds: Bring on the post-workout protein
For the same reasons we packed our pineapple protein smoothie with plant-based yogurt, we pumped this blueberry smoothie bowl full of cashews and hemp seeds. The nuts provide healthy fats, protein and delicious creaminess to this bowl.
Studies link cashews to lower blood pressure and cholesterol. This could mean a reduced risk for heart disease. That's something I doubt we need to convince you is important for athletes!
Whole hemp seeds, which we recommend for this blueberry smoothie bowl, also offer a lot of fiber. Opt for whole seeds over ground hemp because much of the fiber comes from the seeds' outer shells.
Fiber helps stabilize your blood sugar and hunger levels. So even if you're in the middle of an intense training cycle for a marathon or other event, you can avoid the constant nag of hunger by eating enough fiber.
Top this blueberry smoothie bowl off any way you like
When it comes to topping for this blueberry, cashew, hemp recovery smoothie bowl, the sky's the limit. We opted for more blueberries, banana and granola.
Here are our favorite gluten-free granola recipes to get started:
Looking for more smoothie recipes?
Here are some of our other favorite ways to drink our breakfasts all summer long: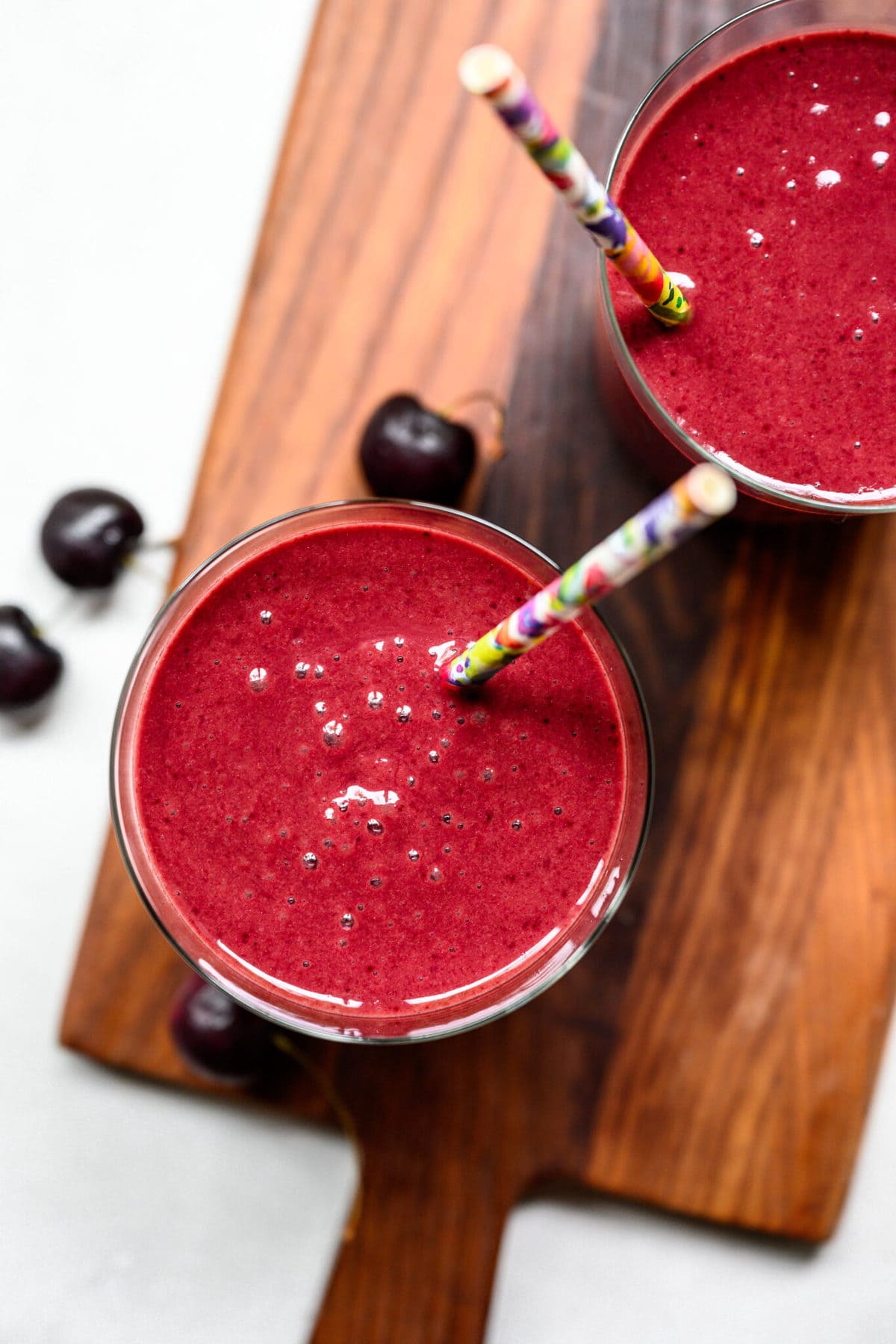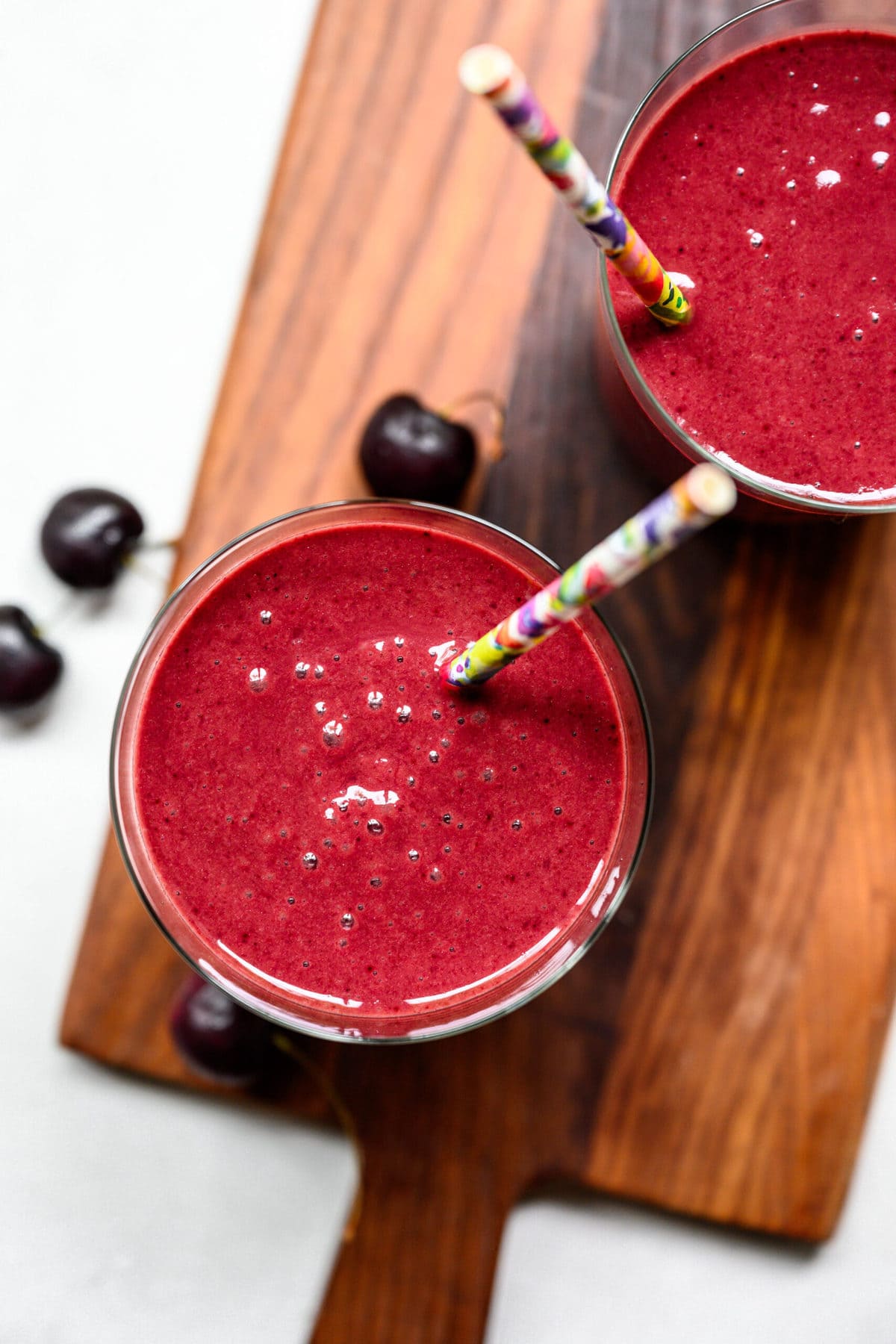 If you make these recovery smoothies, we'd love for you to leave a comment and rating below! We also love to see your creations on Instagram – tag us at @crowded_kitchen so we can see what you've been cooking.
Print
📖 Recipe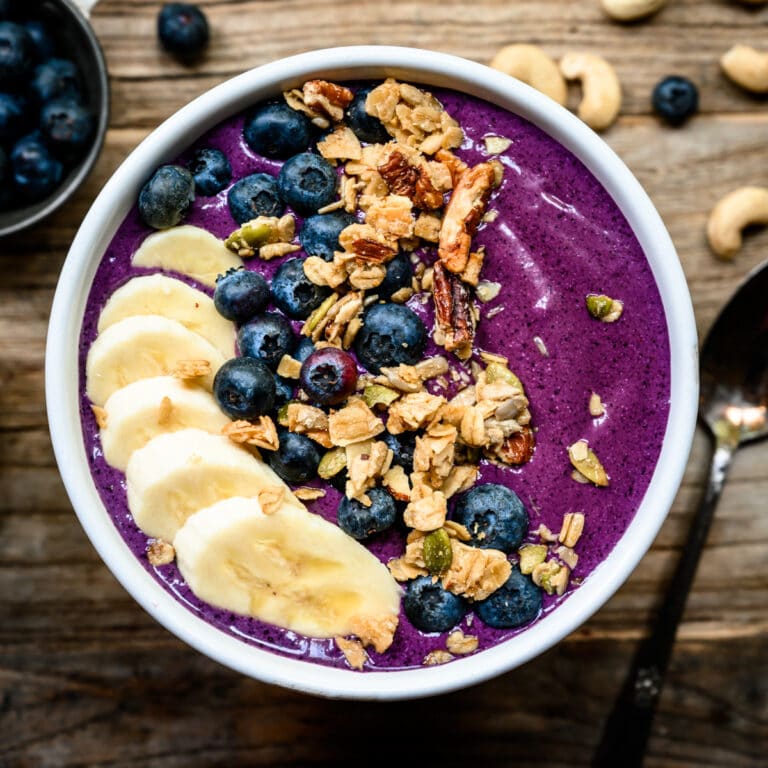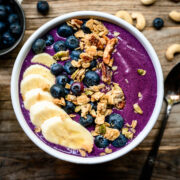 Three Easy Recovery Smoothies for Athletes
---
Author:

Lexi

Total Time:

5
Description
3 best smoothies for muscle recovery: tart cherry and chocolate smoothie, pineapple cashew protein smoothie, and a hearty blueberry hemp smoothie bowl. 
---
Chocolate and Tart Cherry Smoothie:
1.5

bananas

1.5 cups

frozen tart cherries

1 tablespoon

beet powder

1

serving cocoa powder

2 tablespoons

tart cherry concentrate

1 cup

cashew milk
Pinch of salt
Pineapple Cashew Protein Smoothie:
1.5 cups

frozen pineapple

2 cups

kale

½

-

1

cup cashew milk, depending on how thick you like it

1

5.3-oz container non-dairy yogurt (we used oatmilk)

1 tsp

turmeric
Pinch salt
Blueberry Hemp Smoothie Bowl:
2 cups

frozen blueberries

1

banana

½ cup

cashews

2 tbsp

hemp seeds 

½ cup

cashew milk
Toppings: granola, blueberries, banana
---
Instructions
For all smoothies, add all ingredients to a blender and blend until smooth. Feel free to add more or less milk, depending on your desired thickness. 
Cook Time:

5

Category:

Smoothie

Method:

Blender
Nutrition
Serving Size:

½ of Each Variety

Calories:

546

Sugar:

56.9 g

Sodium:

877.8 mg

Fat:

17.1 g

Saturated Fat:

3.3 g

Trans Fat:

0 g

Carbohydrates:

95.1 g

Fiber:

10.8 g

Protein:

15 g

Cholesterol:

0 mg
Keywords: smoothies for recovery