Time to work on your salad meal prep game! We're sharing our favorite tips on how to cook, prep and store salad materials for a week's worth of delicious, healthy meals that you'll actually want to eat.
This post is sponsored by Zwilling. All opinions are our own. This post also contains affiliate links, which means that Crowded Kitchen may make a small commission when you purchase products at no additional cost to you.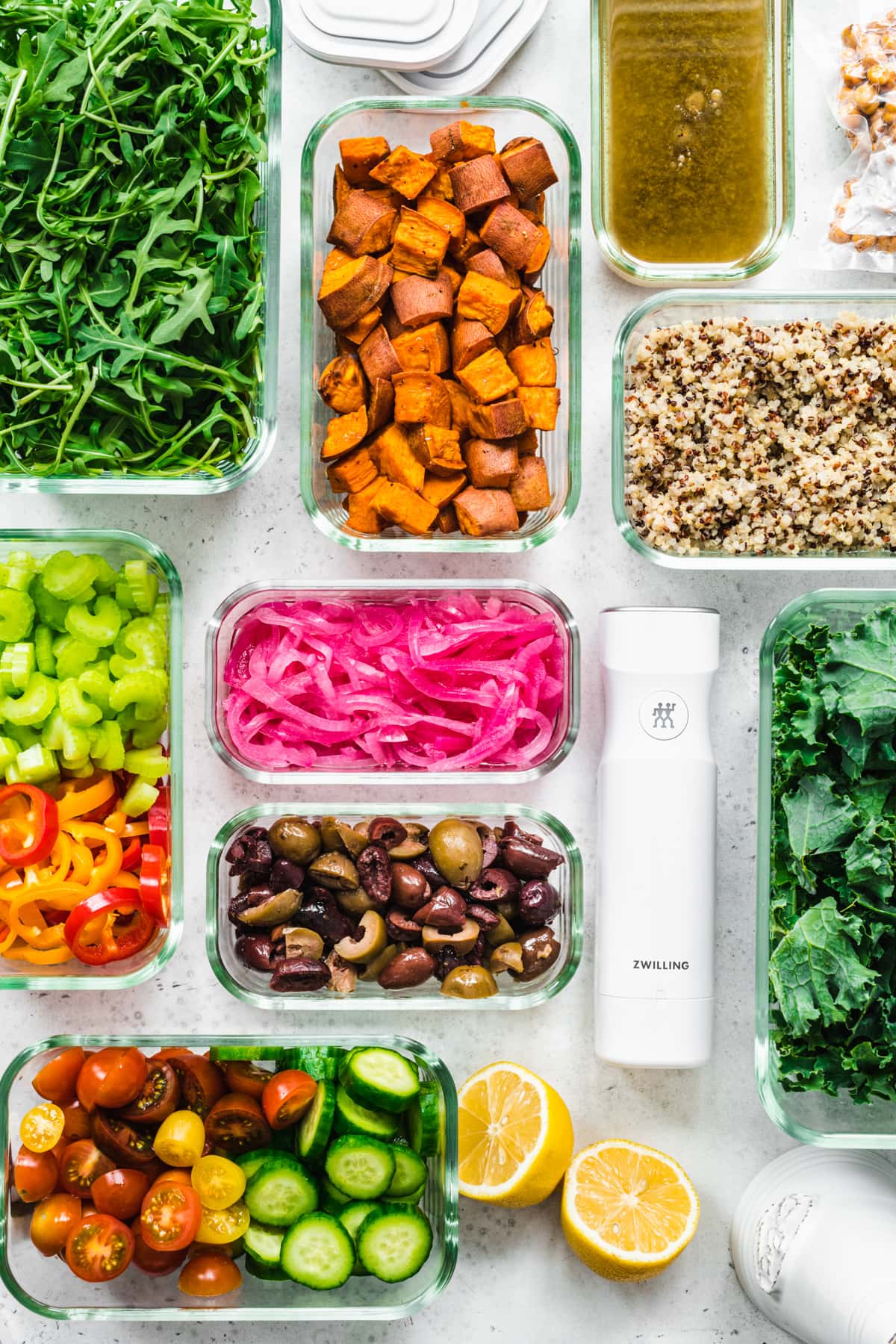 Why we love meal prepping salads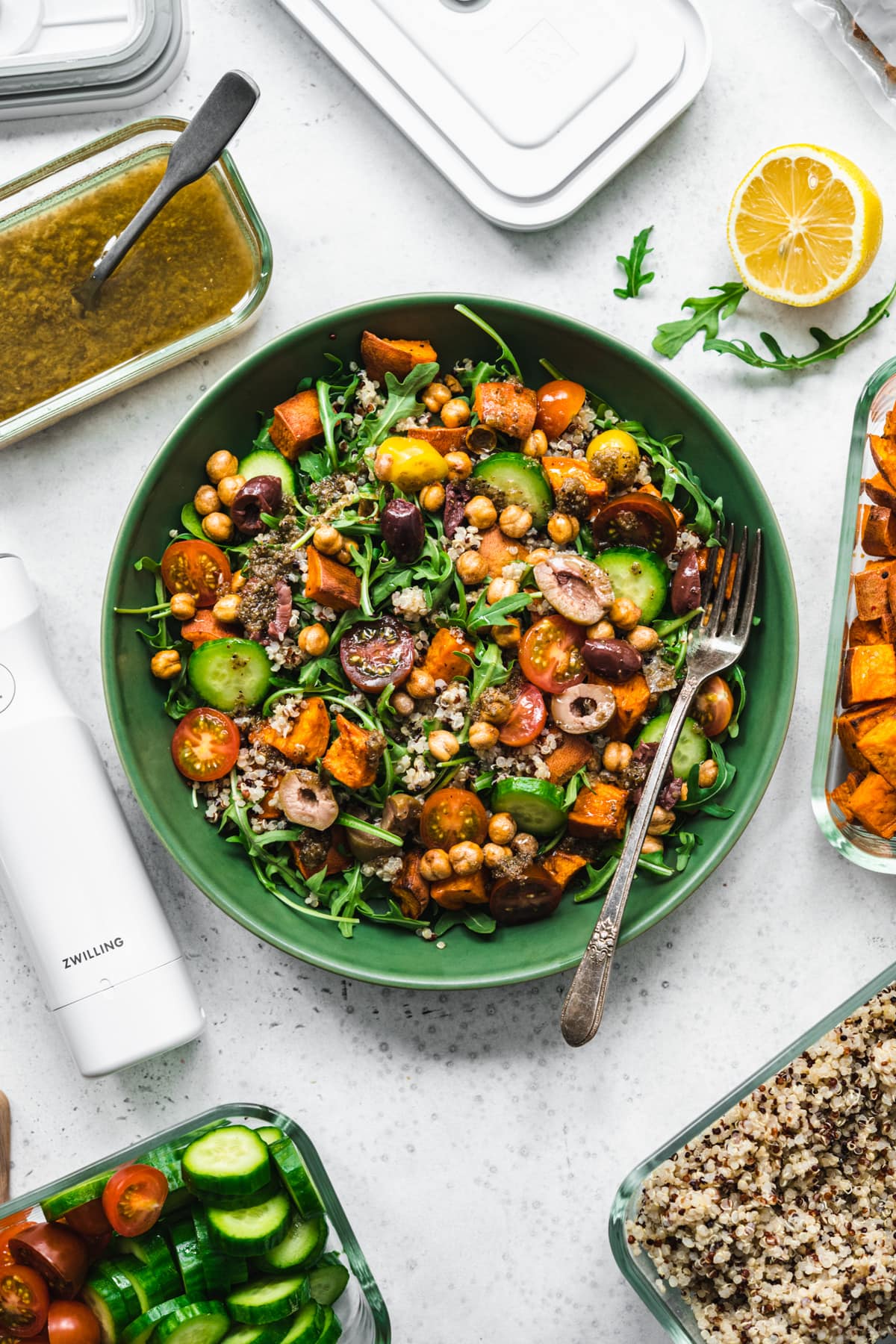 The best storage containers
If we're being completely honest, the single most important part of easy meal prep is using the right storage containers.
We've tested many meal prep containers in the last few years, and none equal our favorite Zwilling Fresh & Save vacuum sealed containers*. (*affiliate link)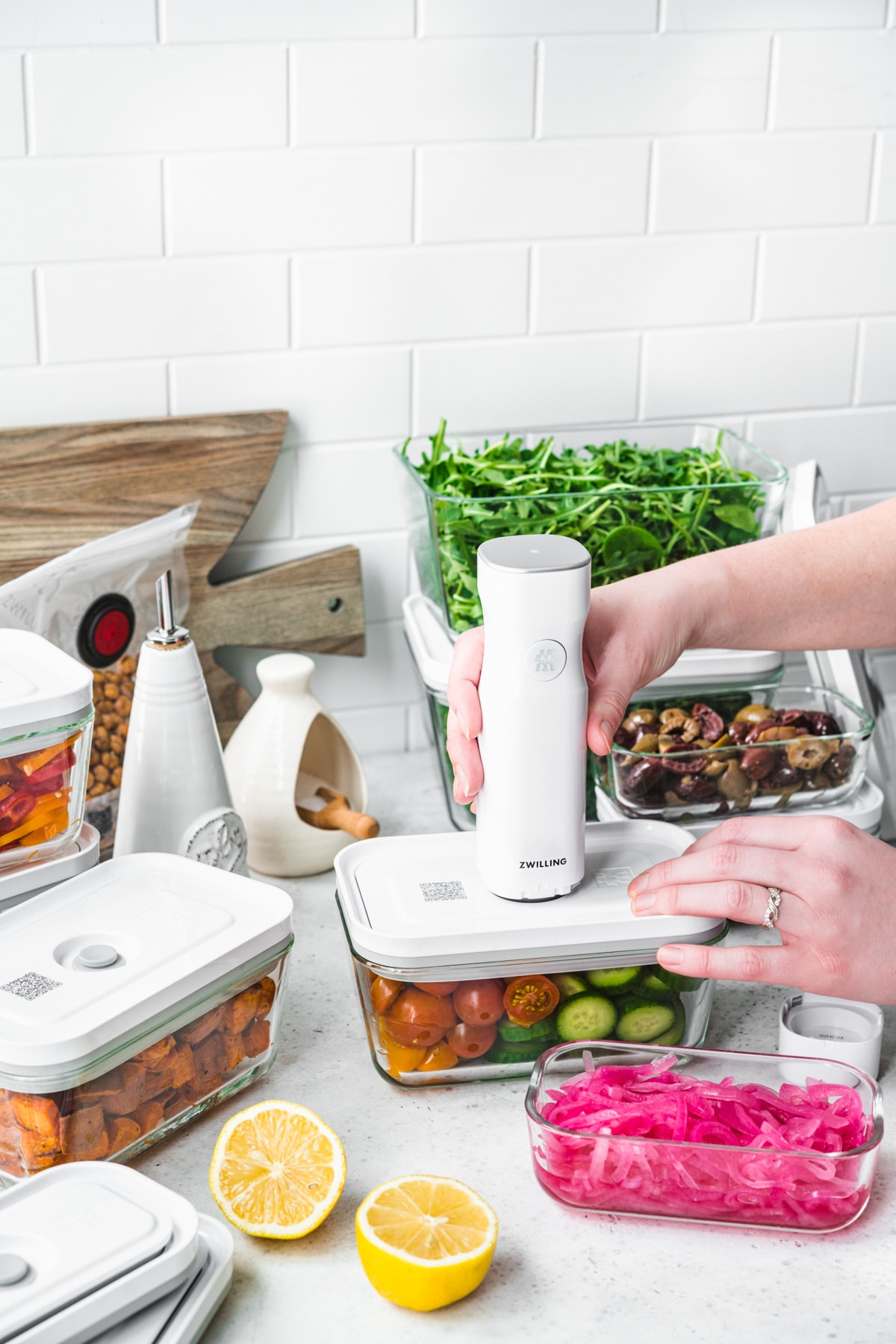 Fresh & Save containers keep food fresh for up to five times longer than non-vacuum sealed storage method. Yes, five times!
They have glass and plastic containers (both of which are freezer, microwave AND dishwasher safe), as well as reusable zip-top bags, which are perfect for snacks. The glass containers are also oven safe, which makes meal prep even more convenient!
You can store just about anything, and you can also use for sous vide cooking and marinating. (My husband has been loving the bags for sous vide!)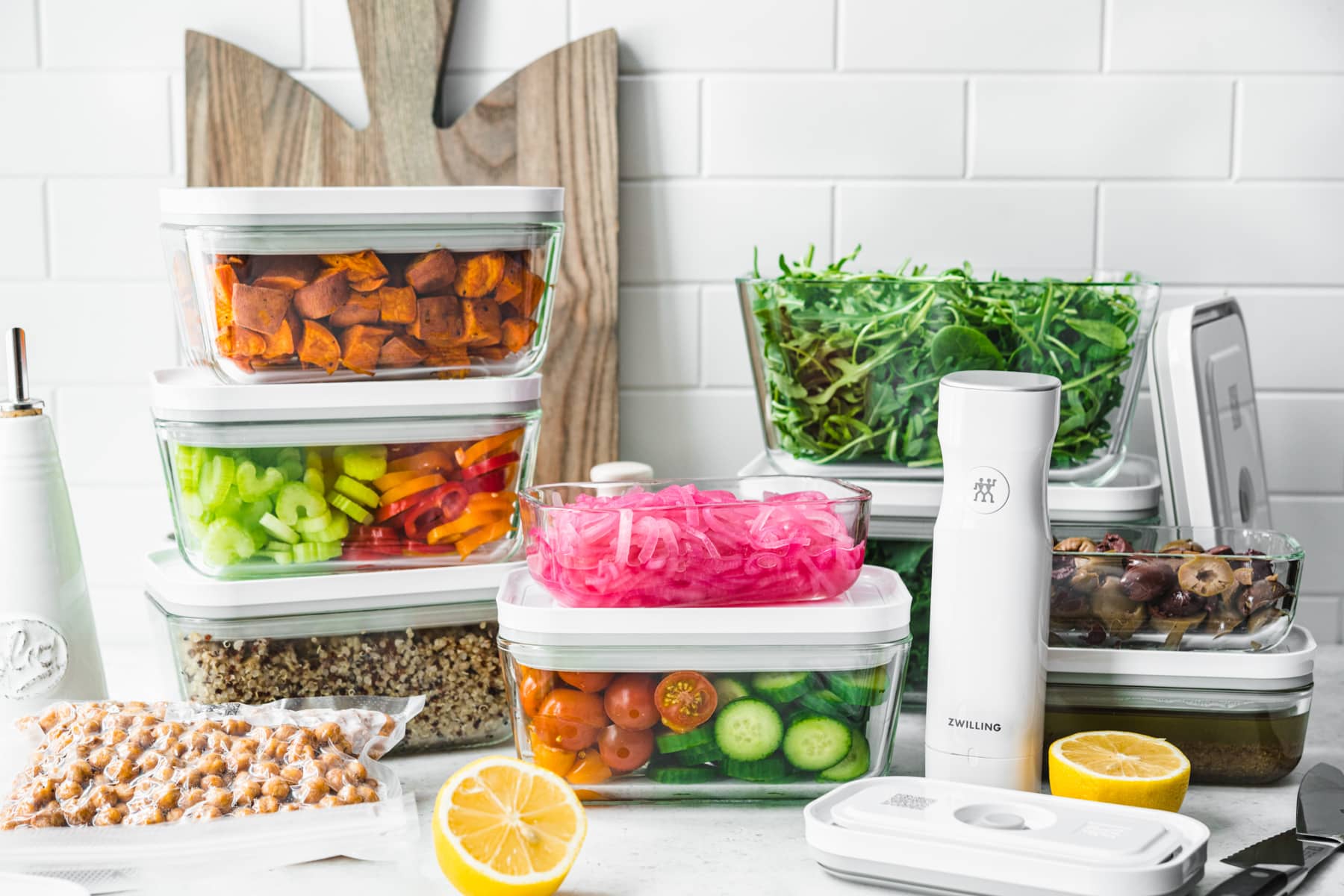 It's safe to say that I am OBSESSED with these containers. They've made my life so much easier, and they're super high quality so I know they'll last for years to come.
Plus, they're super easy to use. You simply place the vacuum pump over the seal, press the button on the pump and watch it work its magic. Even better, the lids are easy to remove (so you don't have to arm wrestle them off). Simply lift the knob on the seal and the pressure releases quickly and easily.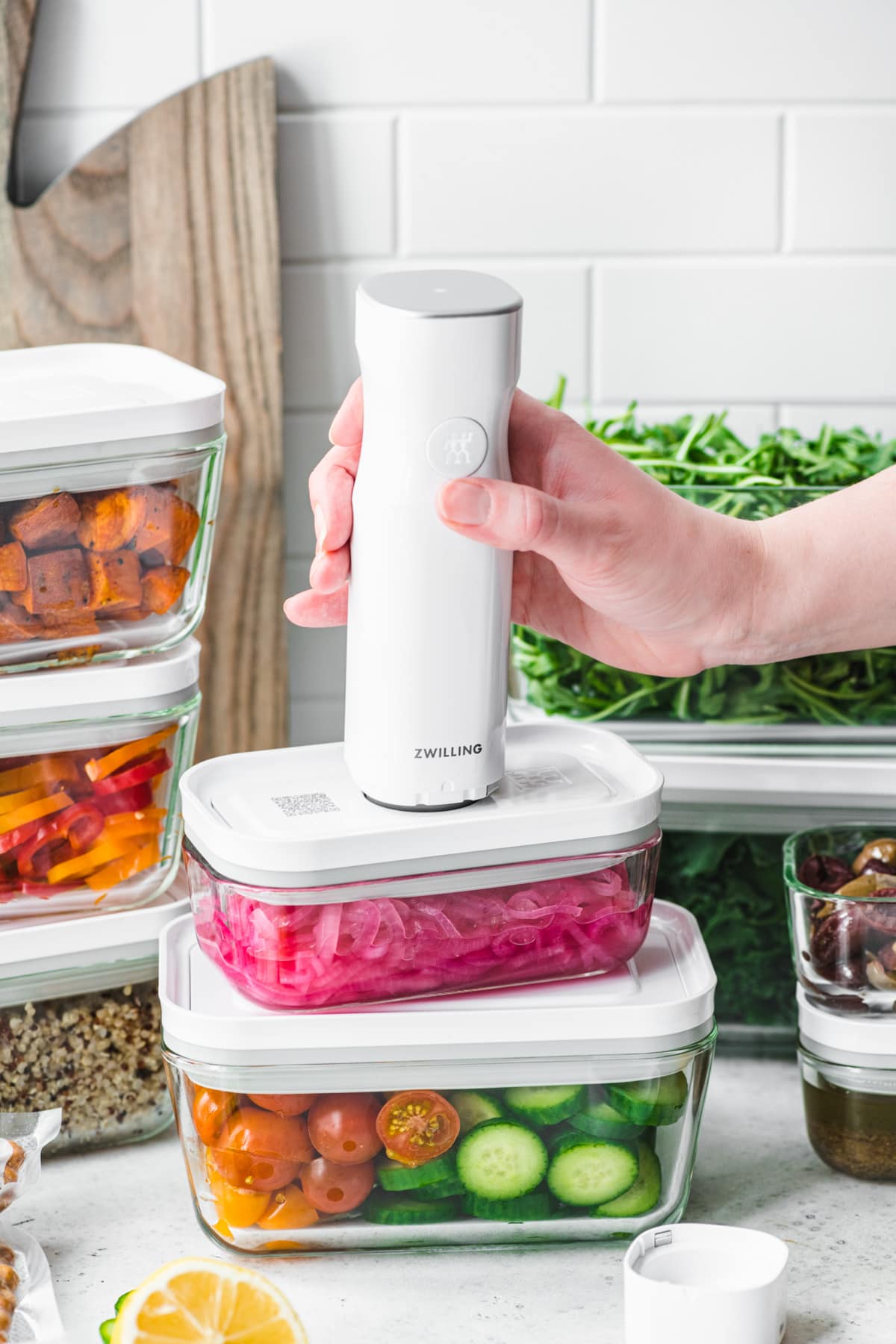 This Fresh & Save 7-piece Starter Set is perfect if you're just getting started. It comes with 1 medium and 1 large vacuum container, 2 small and 2 medium vacuum bags and 1 rechargeable vacuum pump. You can always add on more containers as needed!
Plus, we're so excited to be able offer you a special gift with your purchase! Use our code "CROWDED" when you purchase the starter set for a free small lunchbox.
You won't regret investing in these super high quality containers. It makes meal prep so much quicker and easier, and you get more bang for your buck since the food lasts much longer!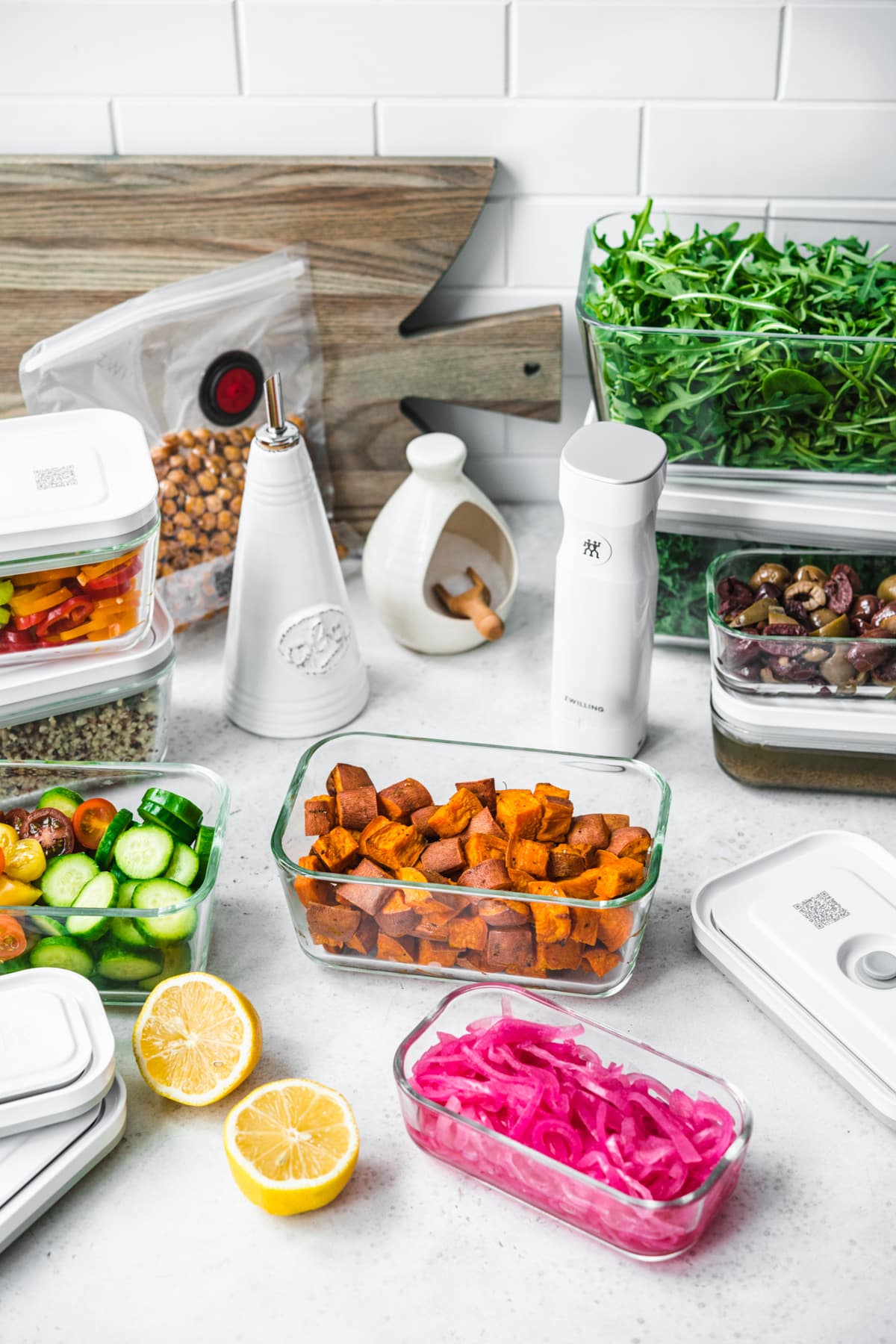 Ingredients you'll need
There really aren't many things you can't prep ahead of time when you're using vacuum sealed containers (yes, including avocado!).
Below are a few ideas to get you started:
Salad base (grains and greens)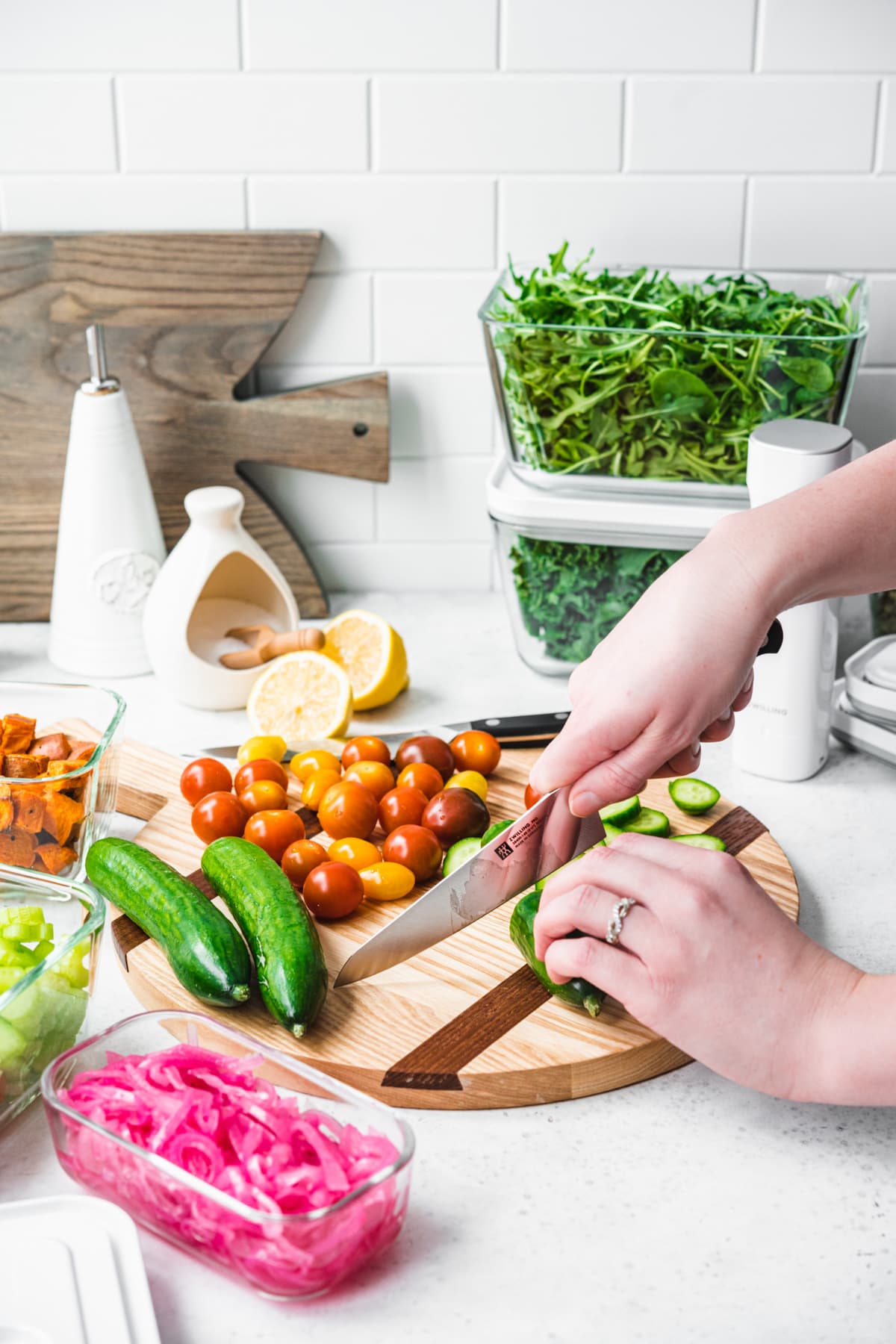 Add-ins (vegetables, proteins and toppings)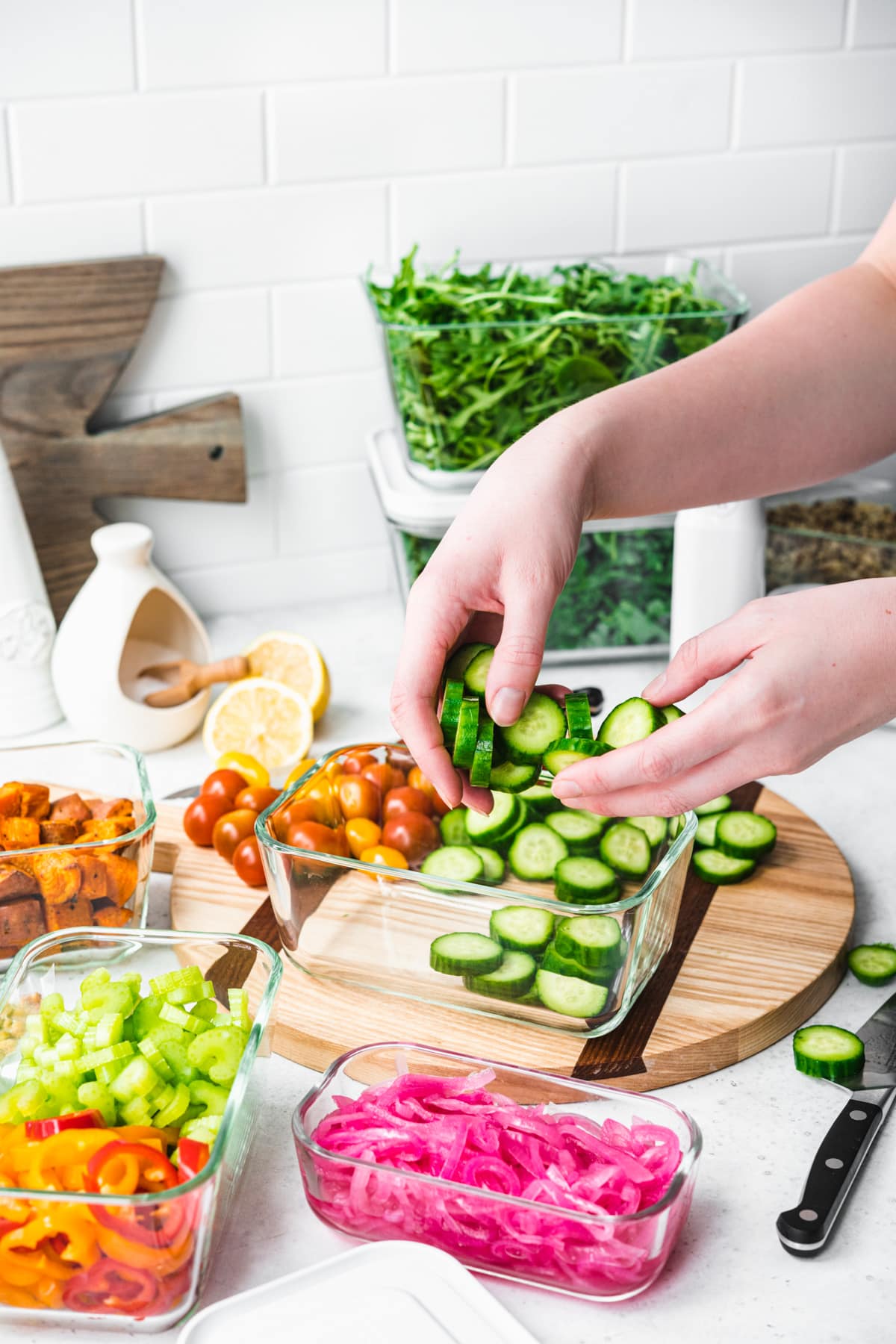 Dressings
Most dressings and vinaigrettes store wonderfully in the refrigerator for up to a week or so. Below are a few of our favorites you can prep ahead of time:
Note: most homemade dressings/vinaigrettes will separate as they sit in the fridge. Shake well or whisk before serving.
Salad recipes you can meal prep in full
If you (unlike me) are perfectly happy eating the same salad every day, you might as well go ahead and prep the entire salad instead of individual ingredients.
Here are a few of my favorite salads that are perfect for meal prep (and don't get soggy as they sit!):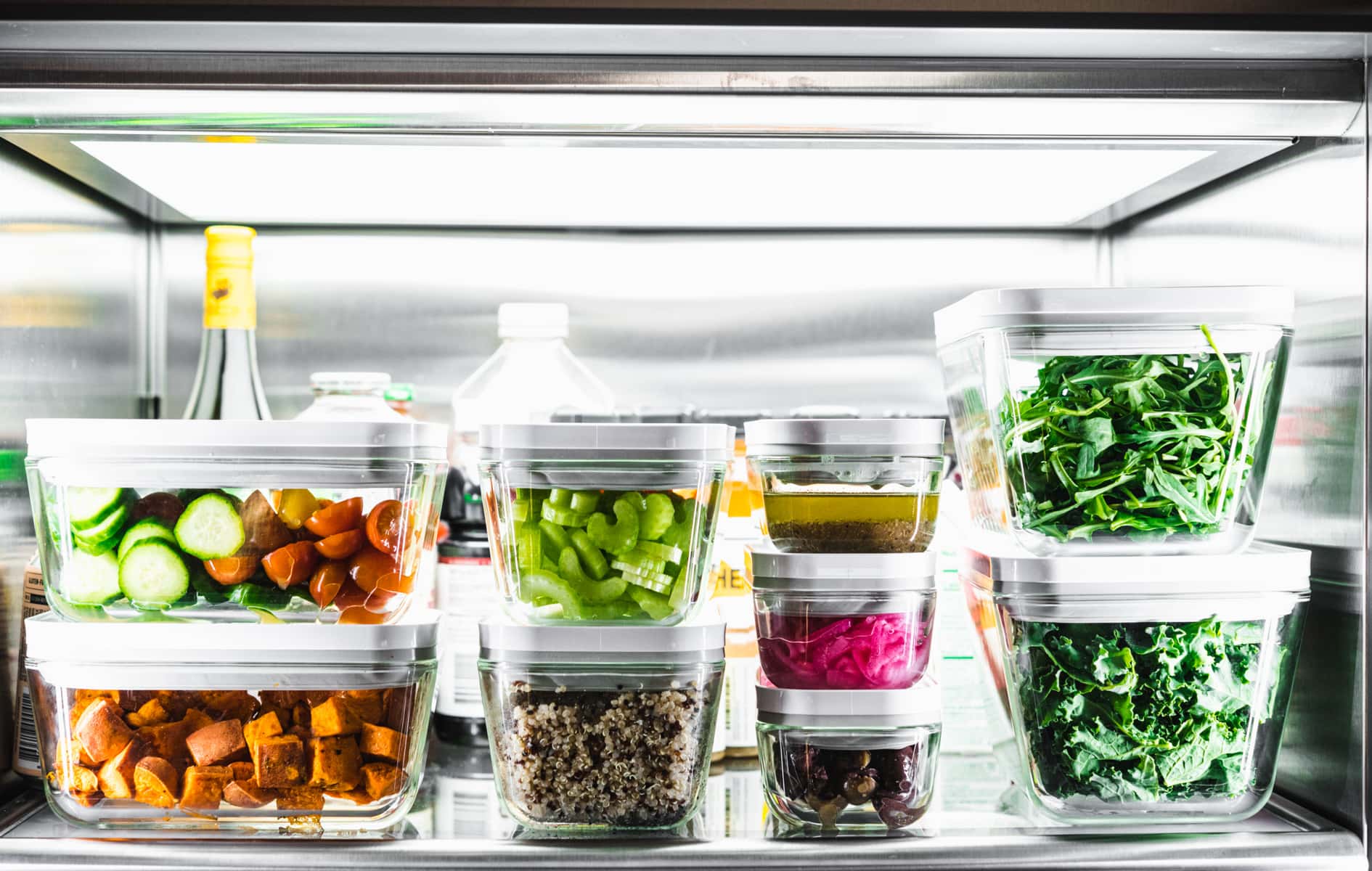 Expert Tips & FAQs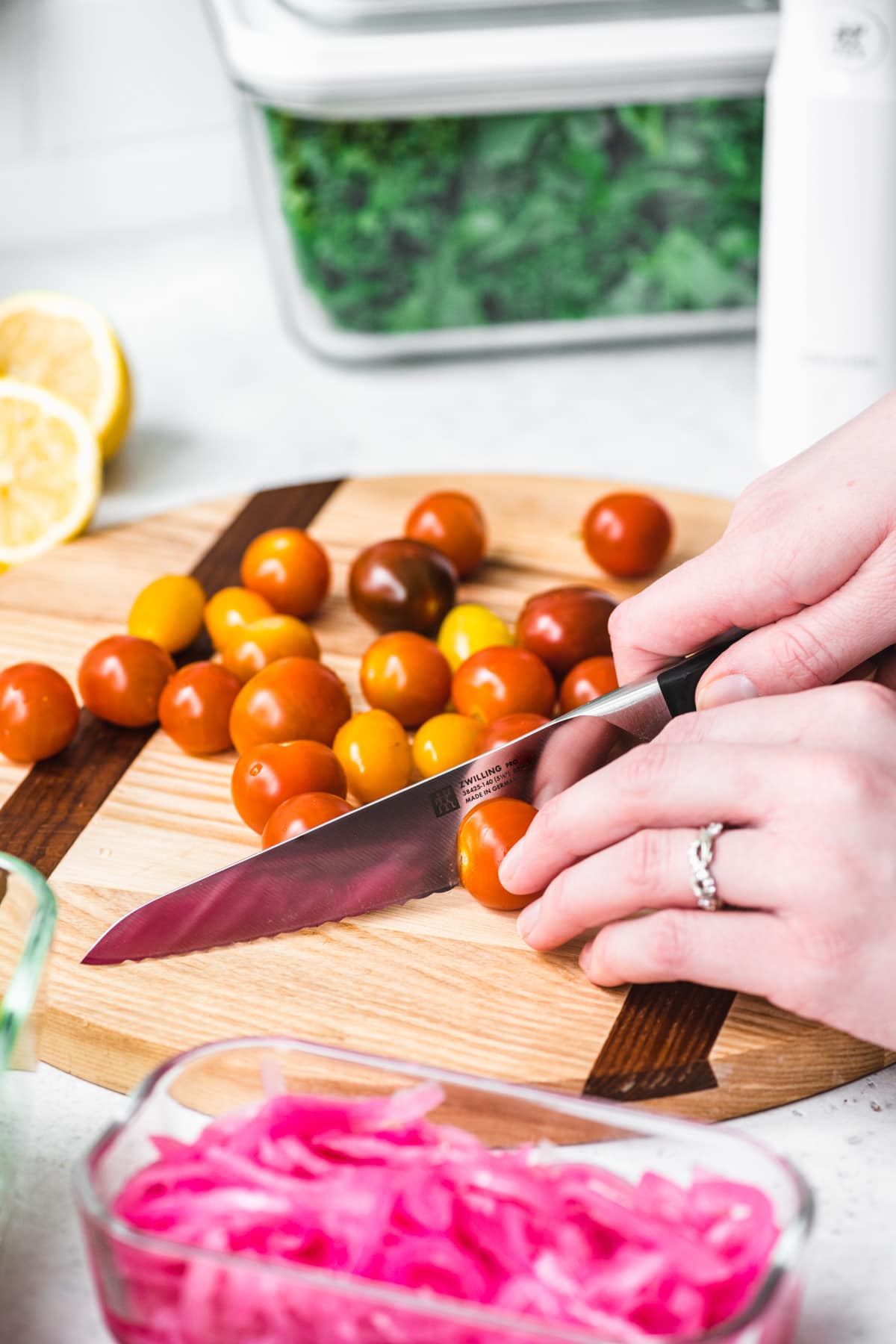 How far in advance can you meal prep salad?

With vacuum sealed containers, you can store for over a week, but if using regular containers, we suggest no longer than 4-5 days. Some ingredients last longer than others (roasted vegetables, fresh vegetables like carrot and celery, beans, quinoa, etc).
More meal prep recipes you'll love
Tried this recipe? Please leave a star ⭐️⭐️⭐️⭐️⭐️ rating below and/or a review in the comments section further down the page. You can also stay in touch with us through social media by following us on Instagram, Pinterest, and Facebook or by subscribing to our newsletter.