You need this Classic Vegan Chocolate Cupcake recipe with vegan buttercream frosting in your life. These dairy-free cakes are easy, decadent and topped with a rich vanilla buttercream frosting swirl and shaved dark chocolate. Plus, they're gluten free and have a *secret* healthy ingredient!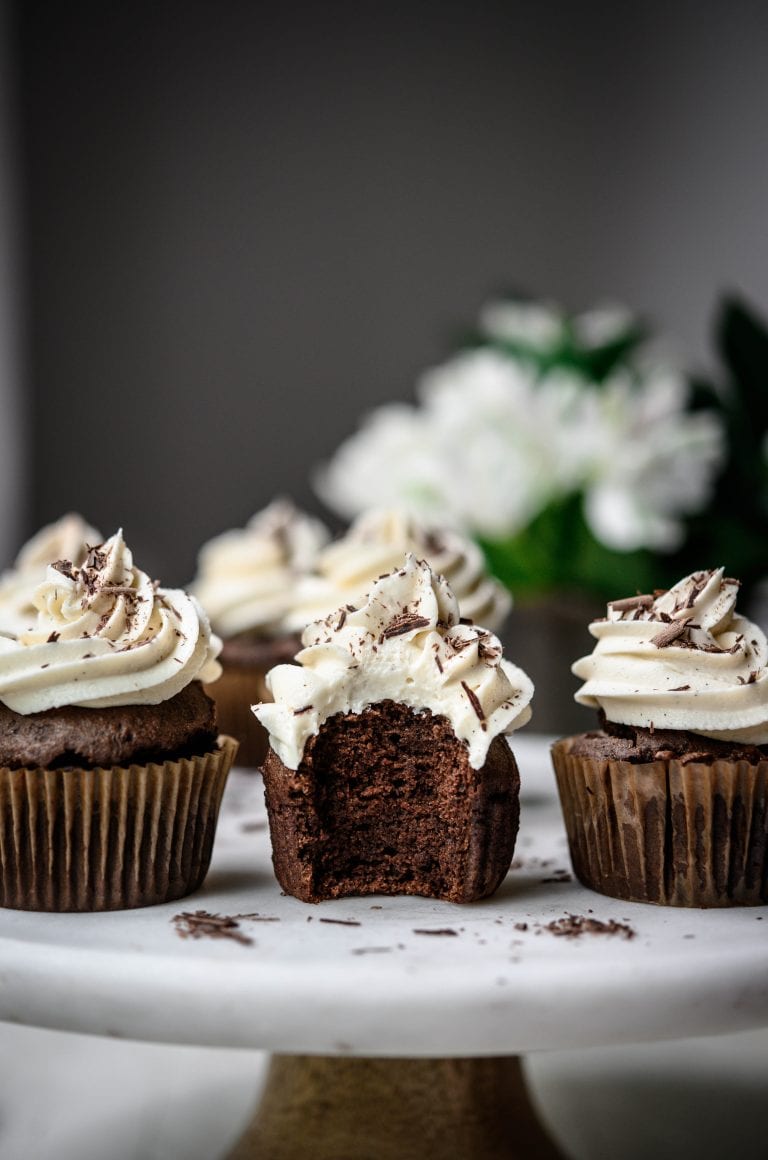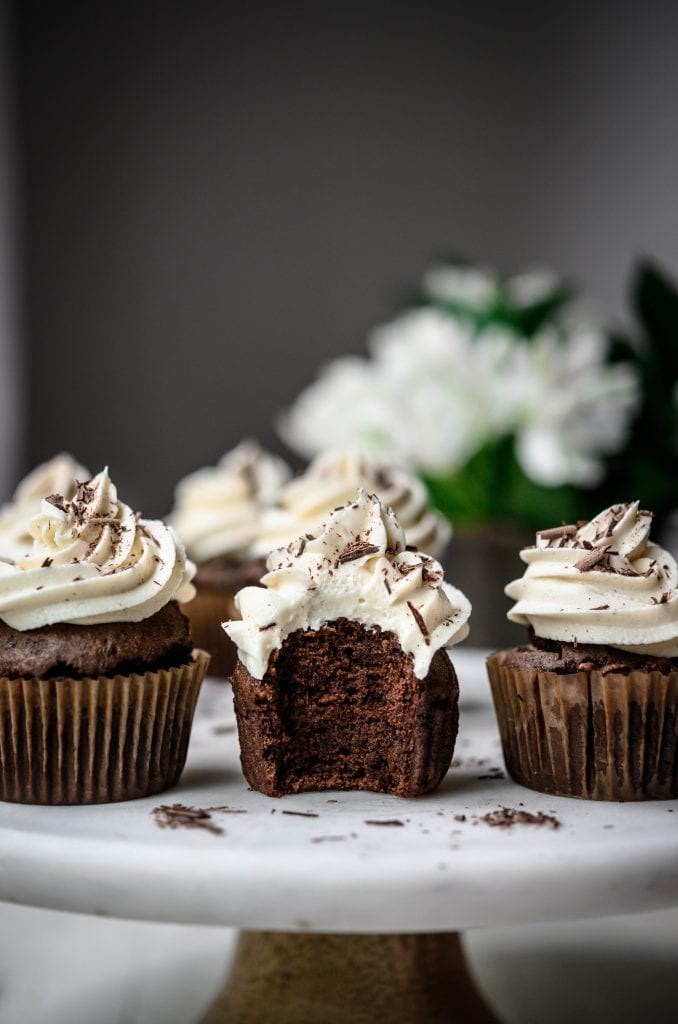 Dessert Fads: The good, the bad and the unnecessary
Do people still make cupcakes? Big question of the day.
For real though, I remember a time (about 10 years ago?) when cupcakes were the sh*t. Hundreds of bakeries popped up all over the country with a sole focus on fancy cupcakes, as if they were some novel delicacy.
There were debates about the best way to frost cupcakes – classic swirl; intricate flower petal; signature Georgetown Cupcake smooth swirl – you name it.
Then there was the phase of stuffed cupcakes. Why not dig out half of your baked cupcake and fill it with cookie dough? (My question: what do you do with the leftover cupcake filling?)
The cupcake craze nearly eclipsed the beloved cronut, which is really saying something. (Has anyone reading this ever actually tasted a cronut?)
The most hilarious part of the whole phenomenon are the articles written about the downfall of the cupcake craze. No joke, here's a whole article detailing the rise and fall of cupcakes in Business Insider. My favorite quote: "Some people say that cupcakes don't taste as good since they've gotten so big".
I don't know what that's so funny. It just is. And also kind of true–we're here for the normal, hold-in-one-hand sized rich chocolate cupcakes with a swirl of buttercream, hold the cookie dough.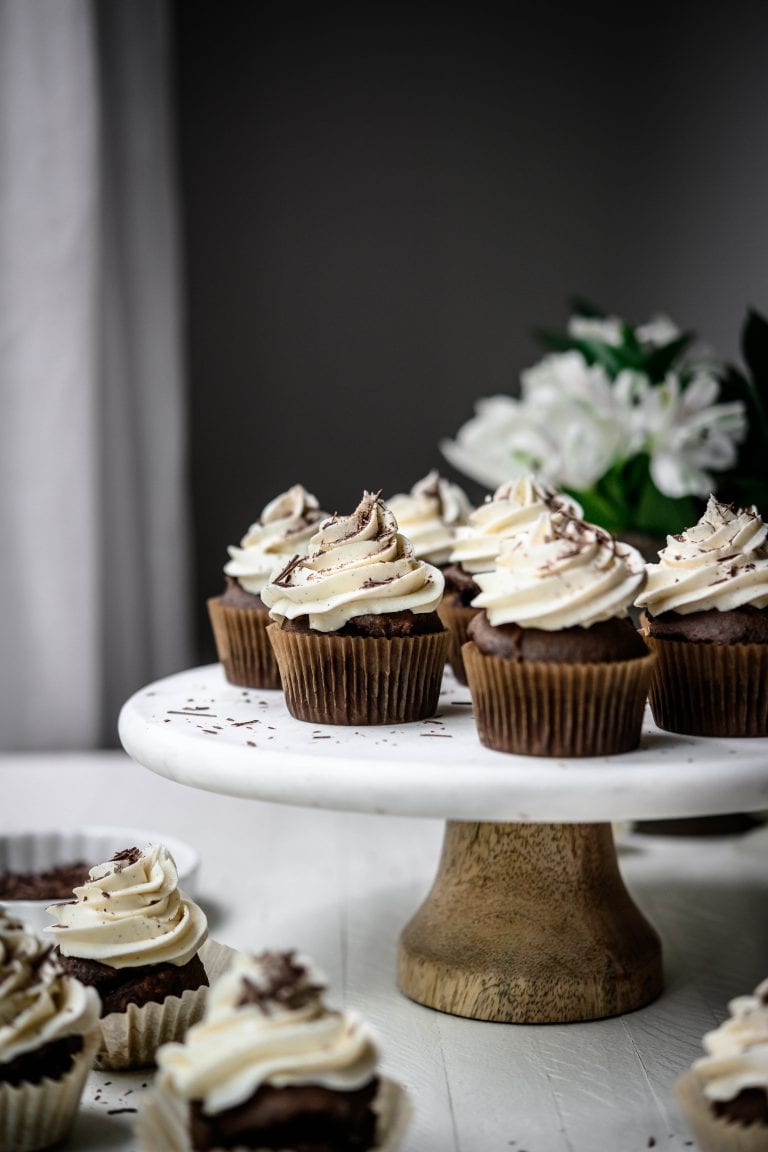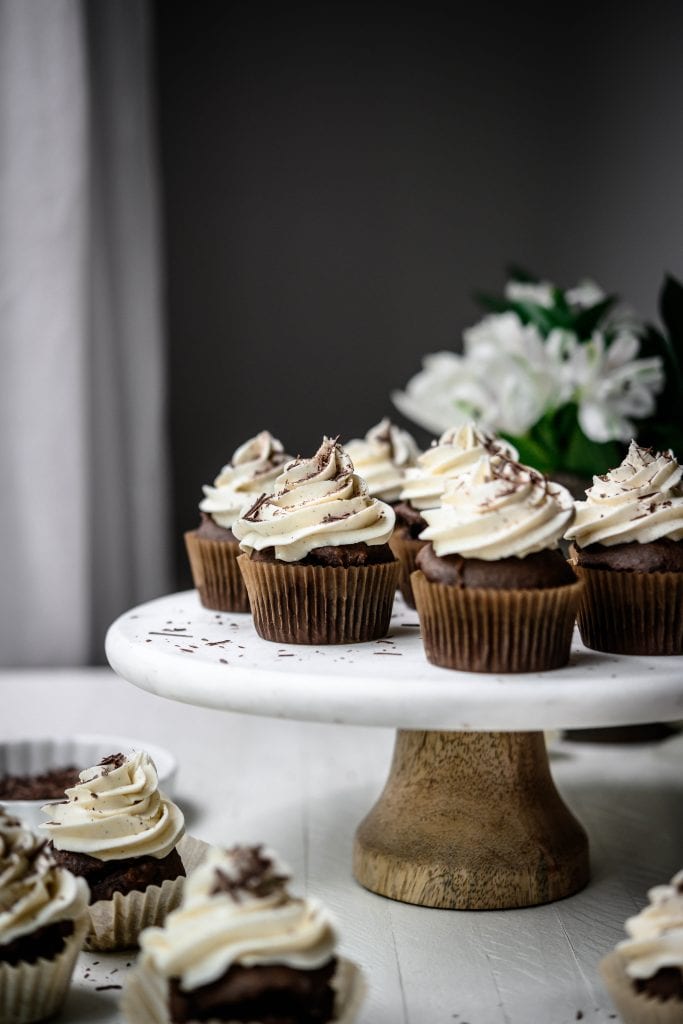 Dessert culture in the U.S. is really something. It's a cultural phenomenon that I don't fully understand.
I think we can all agree that the bursting-at-the-seams cupcake phase (and even the cronut phase) was way better than the absurdly-over-the-top milkshake phase. I cannot for the life of me understand how or why anyone would spend $20+ on a "freakshake" coated in 15 different types of candy, something called "unicorn fluff" and 30 straws.
Why? Whyyyyyy.
I may be getting slightly off topic, but stay with me. My point is, there's no reason to over-do a classic dessert.
Regular, chocolate cupcakes are just as delicious. They won't cost $5 per cupcake, you won't have to wait in a 30-minute line, and you can even preserve a sense of self-dignity.
This recipe in particular hits a happy medium by being egg-free, dairy-free and gluten-free yet flavor-full, so everyone can enjoy.
I feel like I should clarify that I have absolutely nothing against cupcakes or desserts in general. I'll just never understand why these dessert crazes are so overdone with artificial colors, flavors and highly processed candy.
Why not support a local bakery making high-quality pastries instead? Or better yet, start experimenting more in the kitchen–cupcake recipes are fun!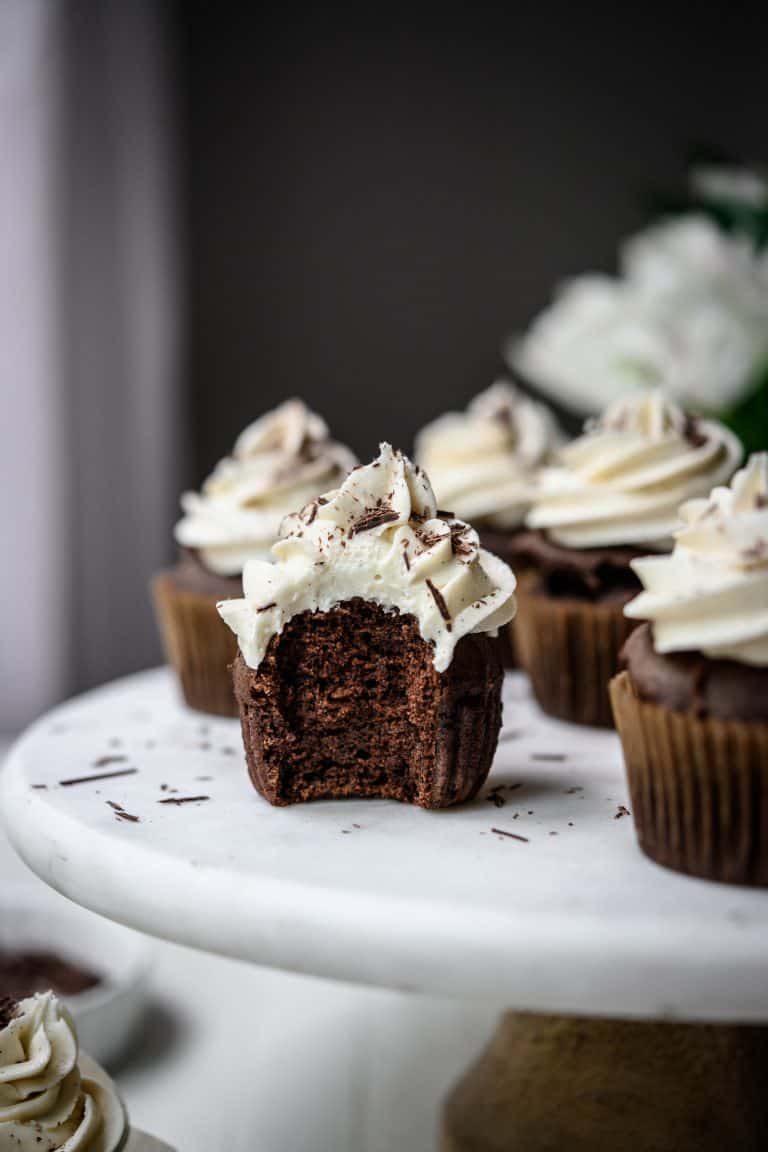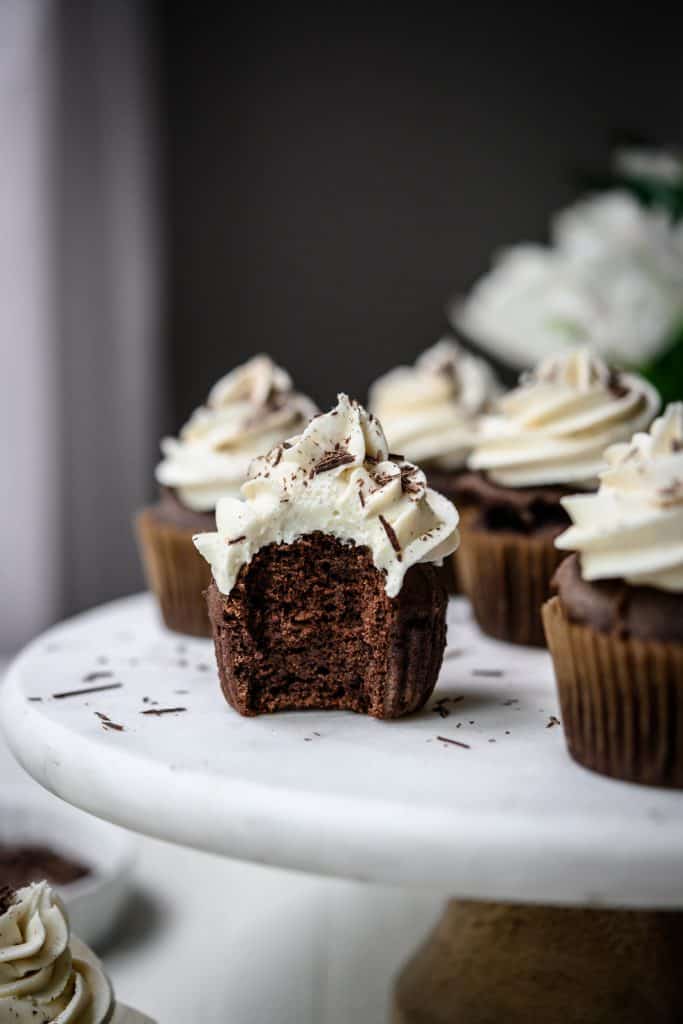 Bring back homemade desserts–especially chocolate cupcakes!
These vegan chocolate cupcakes are the perfect place to start. They're rich, chocolatey and surprisingly easy to make. These cuties are definitely easier than baking a full cake, which is why I suppose cupcakes are so popular.
Everyone needs a basic vegan chocolate cupcake recipe. Even if you're not vegan, it's the perfect allergy-friendly but tasty dessert to make for your vegan or dairy-free friend's birthday.
They'll love you forever, I promise. Seriously, vegan people get way more excited about yummy baked goods than most people.
Sometimes when I'm traveling in a big city, I literally plan my whole day around finding the best possible vegan/gluten free bakery. We don't have too many options in southeast Michigan, so it's a real treat.
(By the way, if you're ever in NYC I highly suggest making a stop at Erin McKenna's Bakery! They also have locations in L.A. and Orlando.)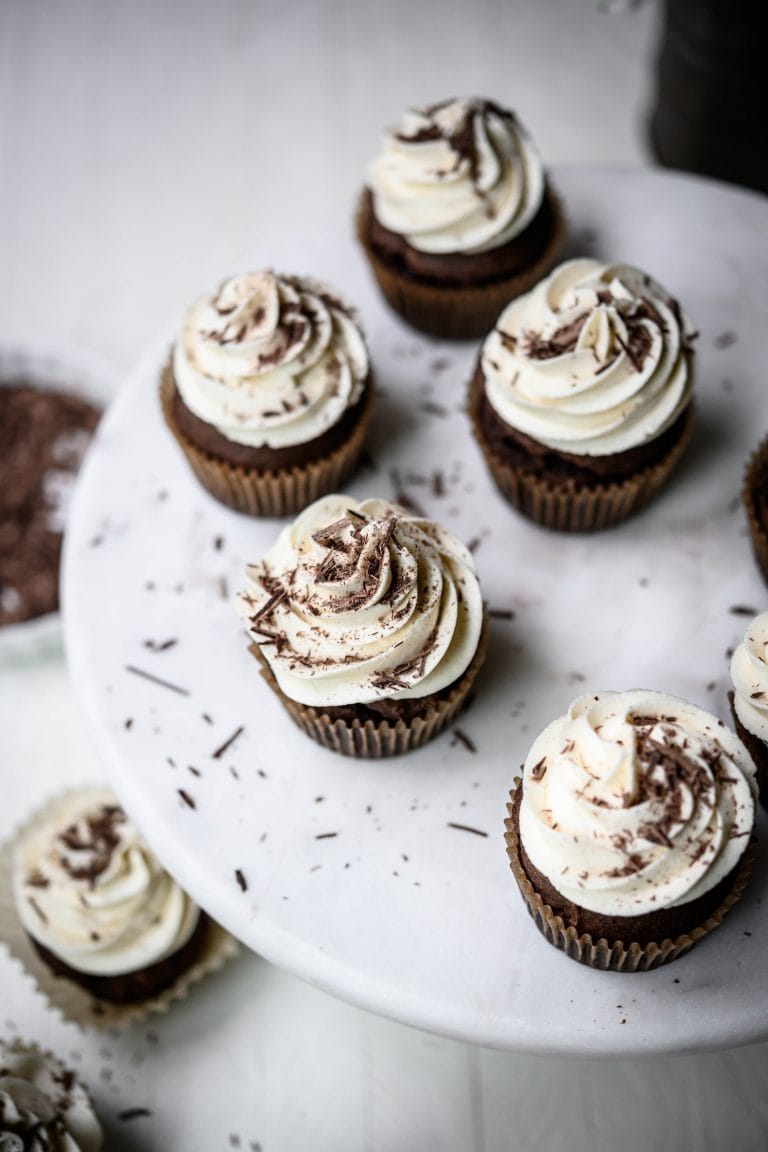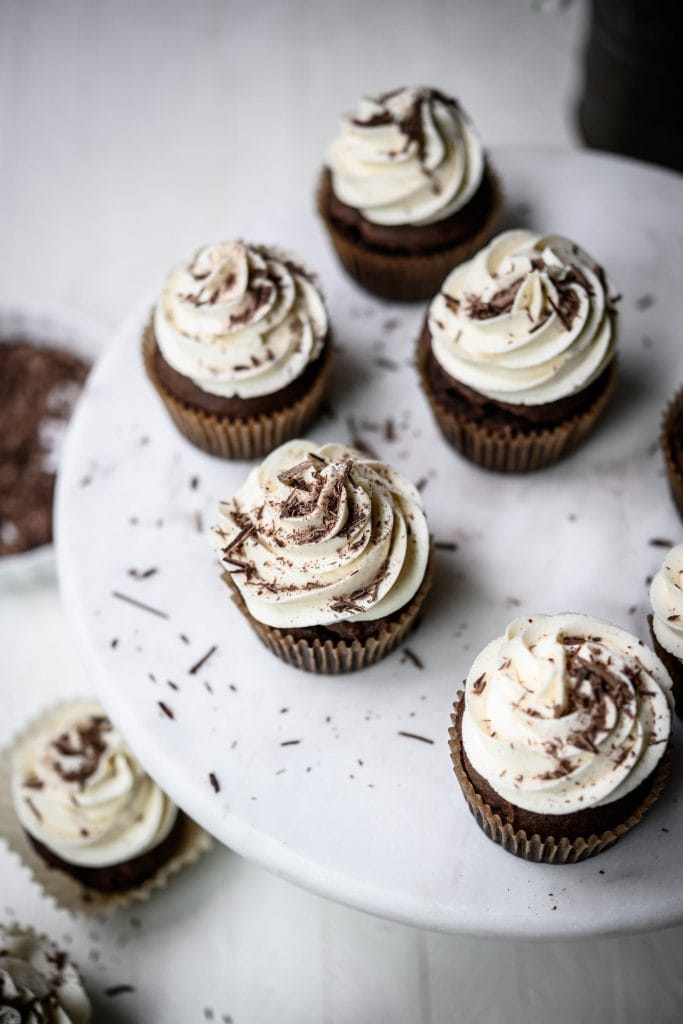 Team Frosting (read: vegan vanilla buttercream) all the way
When it comes to cupcakes, or any kind of cake, I am definitely Team Frosting.
IMO, it's the best part of any dessert. I used to be mystified by vegan buttercream frosting, but it's actually quite simple. As long as your butter is softened to room temp, the frosting is very simple to whip up.
Oh, you should also know that it's impossible to get this texture and smoothness without at least 3 cups of powdered sugar. Believe me, we've tried using less sugar (because we get that question a lot), but it just doesn't stabilize without at least three cups.
Hey, you're having dessert after all! And without dairy or eggs, why not embrace a little sugar in your buttercream?
Here's the SECRET ingredient bringing the health factor
At the beginning of this post, I mentioned a *secret* healthy ingredient.
Surprise! It's beet powder.
It's really not all that exotic, but we throw in an extra tablespoon of red beet powder for a slight nutritional boost. It also cuts down on the sweetness a bit, which isn't a bad thing considering the sugar in the vegan buttercream.
We get all of our beet products from our pals over at Love Beets – check them out here! We love the health benefits of beets so much that we've been known to throw them in everything from winter salads to summer popsicles, and now chocolate cupcakes.
One you try this recipe, we think you'll be on board with beets too!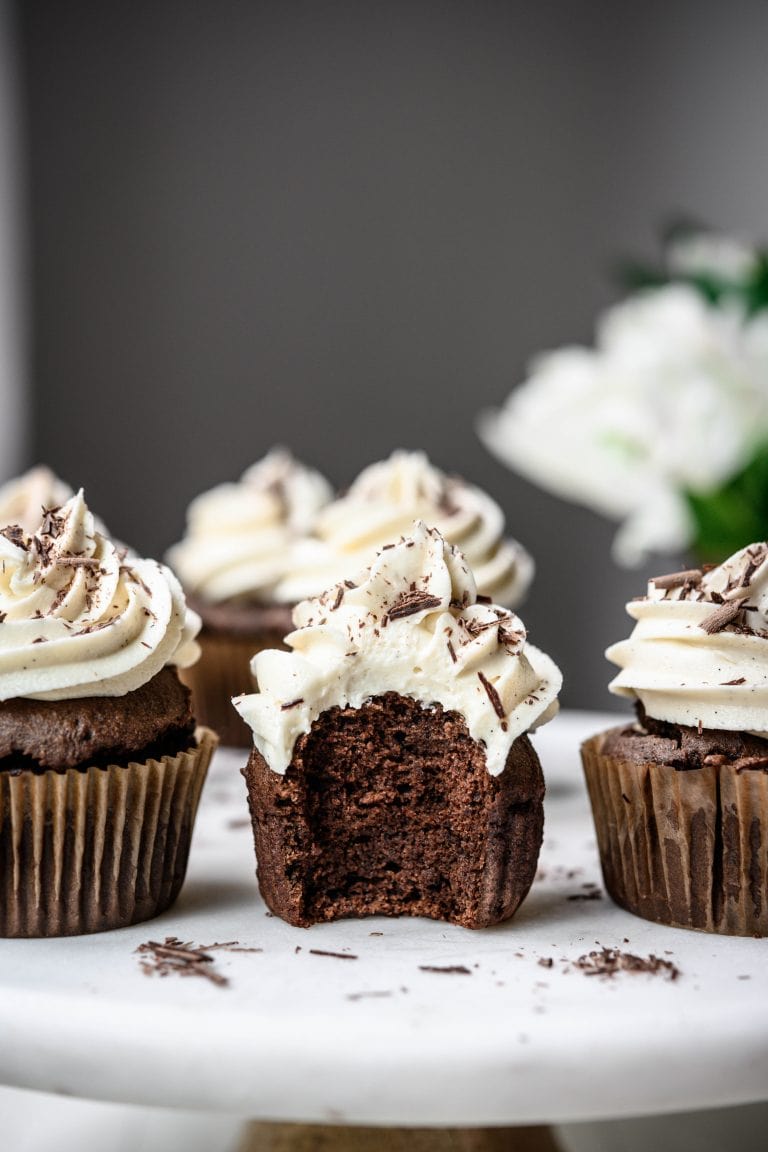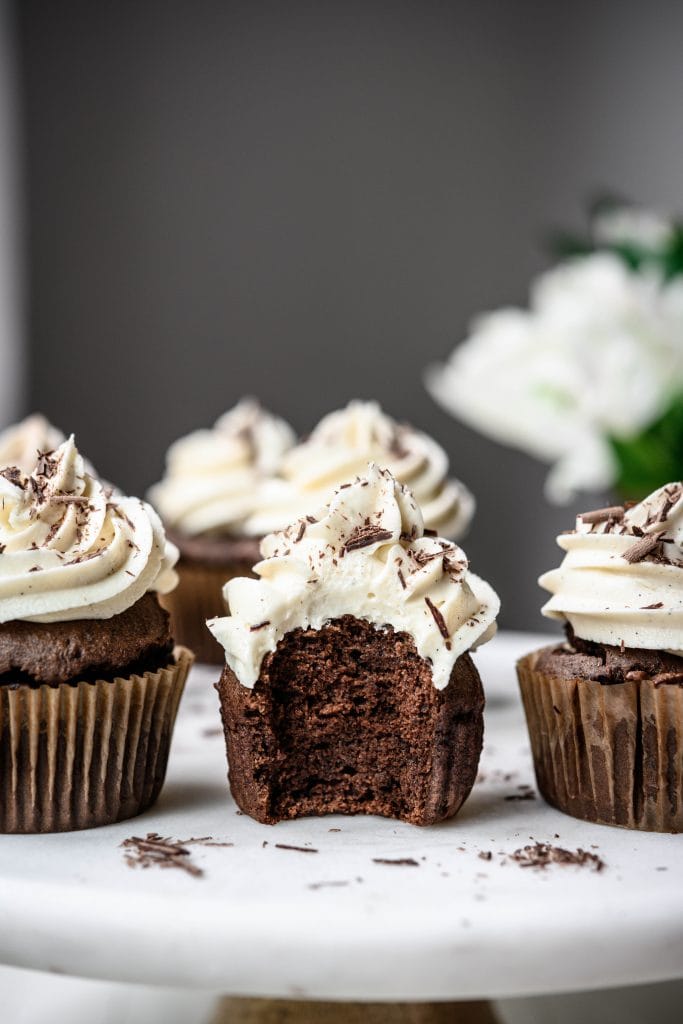 Don't stop with ONE vegan, gluten-free dessert!
Now that you've got this vegan, gluten-free chocolate cupcake with buttercream frosting recipe in your back pocket, here are a few more classic desserts to try: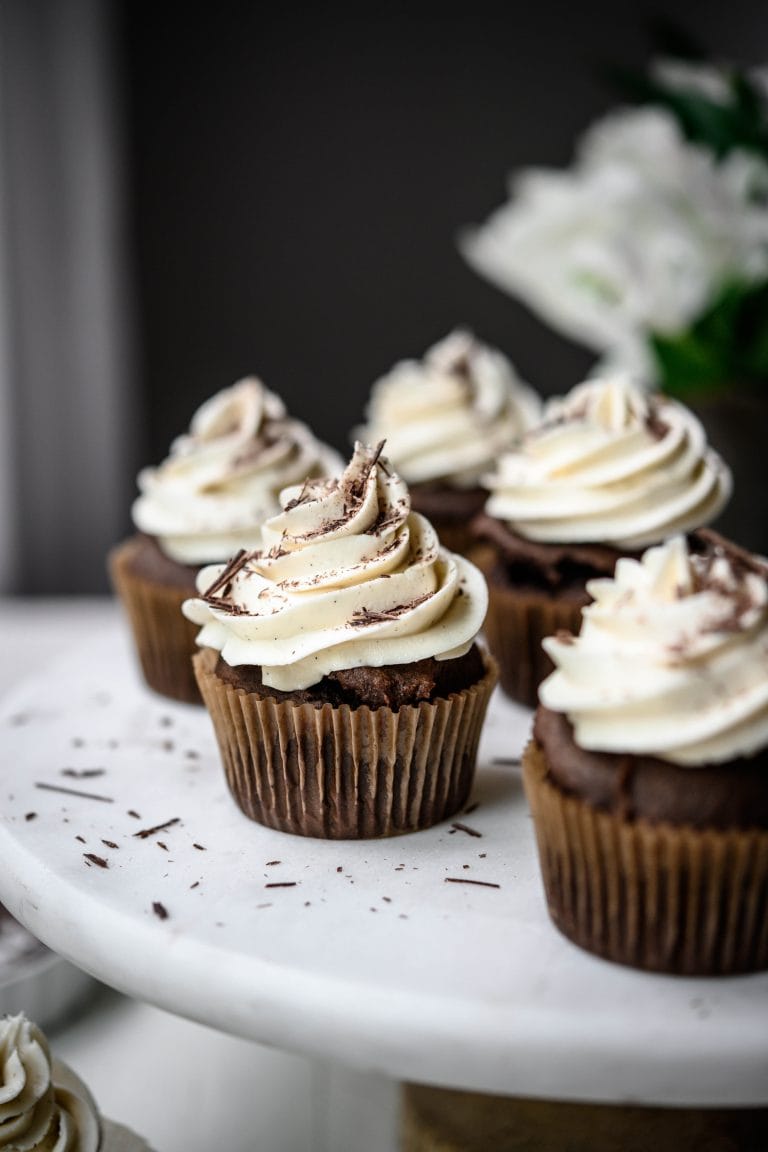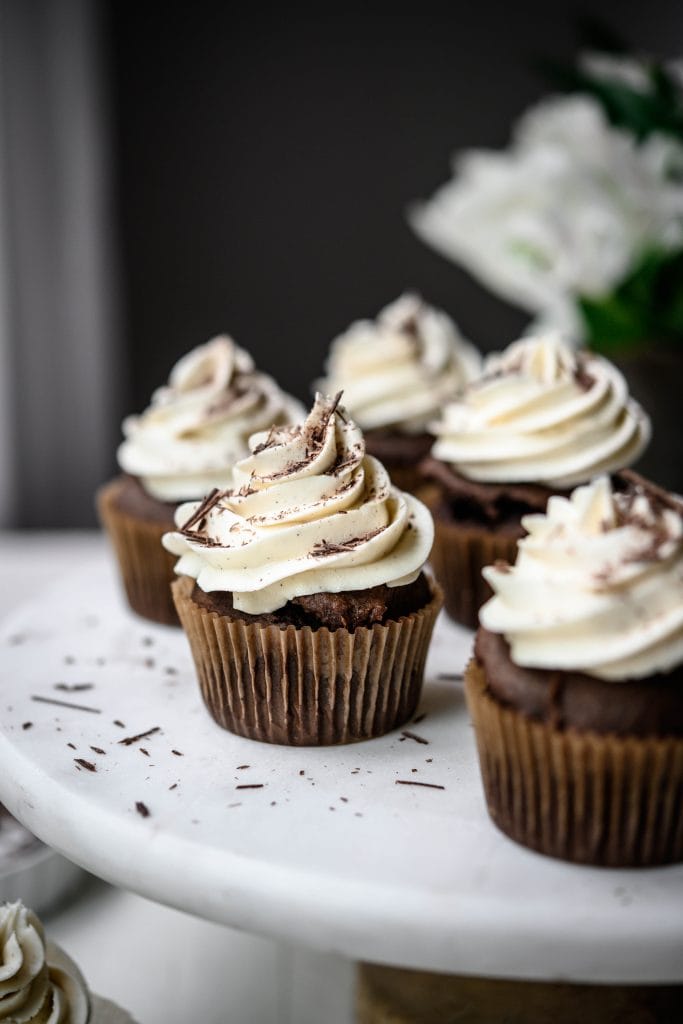 Print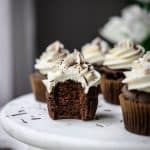 Classic Chocolate Cupcakes (Vegan)
Author:

Prep Time:

15 minutes

Cook Time:

30 minutes

Total Time:

45 minutes

Yield:

2

dozen

1

x

Category:

Dessert

Method:

Oven
---
Description
You need this Classic Vegan Chocolate Cupcake recipe in your life. They're easy, decadent and topped with a rich vanilla buttercream frosting swirl and shaved dark chocolate. Plus, they're gluten free and have a *secret* healthy ingredient!
---
Scale
Ingredients
Cupcakes:
5 tbsp

vegan butter, softened

1/2 cup

unsweetened applesauce

1/2 cup

+

2 tbsp

cane sugar

1/4 cup

maple syrup

1

  1/2 tbsp vanilla extract

1 1/4 cups

almond milk 

1 1/2 cups

+

2 tbsp

gluten free all purpose flour blend*

1/2 cup

almond flour

1/2 cup

oat flour

1/4 cup

unsweetened cocoa powder

2 tbsp

beetroot powder

1 1/2 tsp

baking powder

1 tsp

baking soda

1 tsp

xanthan gum

1 tsp

kosher salt

1/3 cup

melted vegan chocolate chips
Vegan Vanilla Buttercream Frosting:
1 cup

vegan butter, softened

3 cups

powdered sugar

2 tsp

vanilla bean paste (or vanilla extract)

2 tsp

almond milk or dairy free creamer
Pinch of salt
---
Instructions
Cupcakes:
Preheat oven to 335 F. Line a muffin/cupcake tin with liners.
In a stand mixer or a mixing bowl + hand mixer, cream together butter and sugar until well incorporated. 
Add in applesauce, maple syrup, and vanilla and continue mixing at a medium-low speed. 
In a separate bowl, whisk together dry ingredients. 
Slowly incorporate about half of the dry mixture into the wet, then slowly stream in almond milk. 
Add remaining dry ingredients and melted chocolate. Beat until smooth and creamy. 
Let batter sit for 20 minutes, and then use a cookie scoop to evenly portion batter into cupcake liners. 
Bake for 26-28 minutes. Let cool completely before frosting. 
Frosting: 
Make sure butter is completely softened. If you need to do this quickly, microwave in 7 second intervals until soft, but not melted. 
Cream butter in stand mixer or in a mixing bowl with hand mixer. 
When light and fluffy, slowly incorporate powdered sugar (about 1/2 cup at a time). 
When fully incorporated, add remaining ingredients and continue mixing until light and fluffy. 
To frost cupcakes, use a piping bag or simply use a knife or spatula. 
Optional: sprinkle frosting with chocolate shavings. 
---