These mini vegan aquafaba meringues require just three essential ingredients. Aquafaba, the liquid from a can of chickpeas, whips up exactly like egg whites for a vegan meringue alternative. The final product is light, airy, crunchy and delicious! We drizzle ours with a dark chocolate and finish with shredded coconut.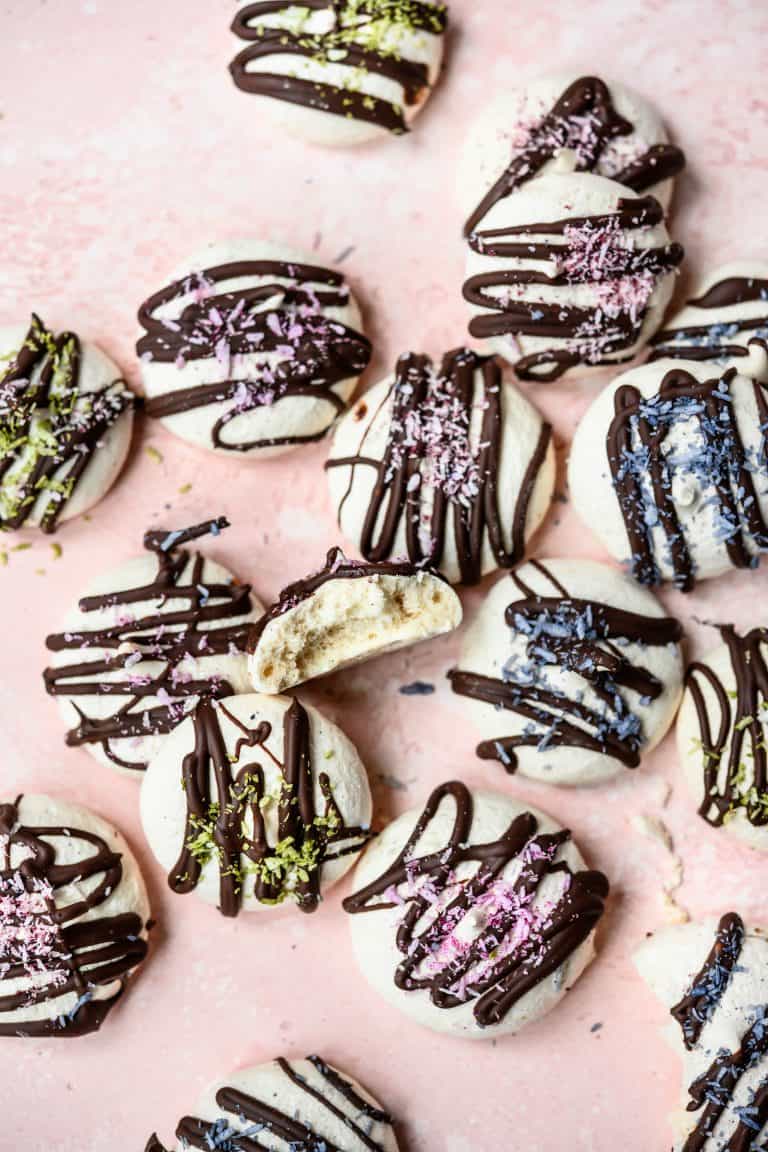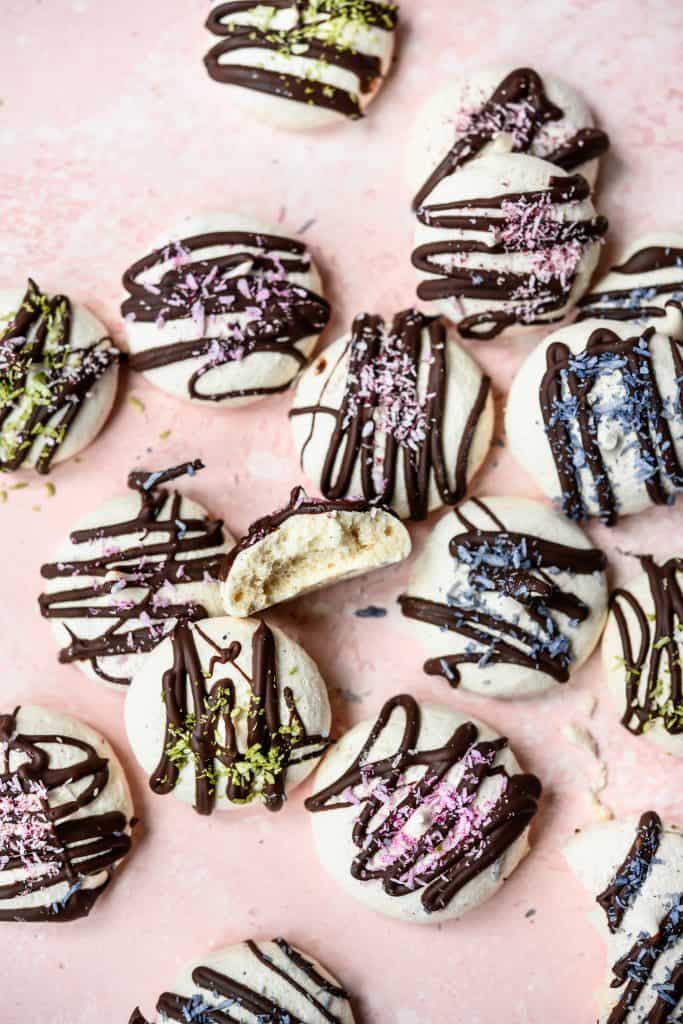 There's really no difference between these aquafaba meringues and a traditional egg white meringue. You follow the exact same instructions to whip up a light, airy, silky meringue, and then bake them at a low heat for about 2 hours. Honestly, it's one of the easiest desserts I can think of and only requires a few minutes of hands on work!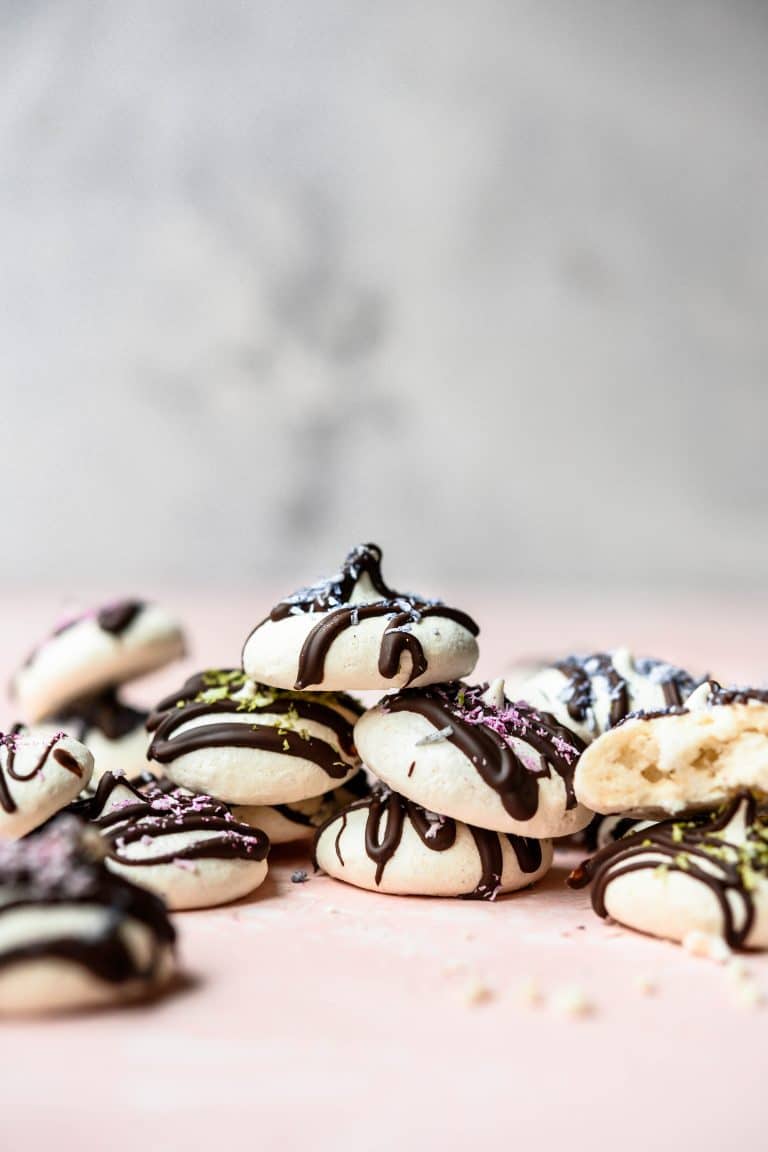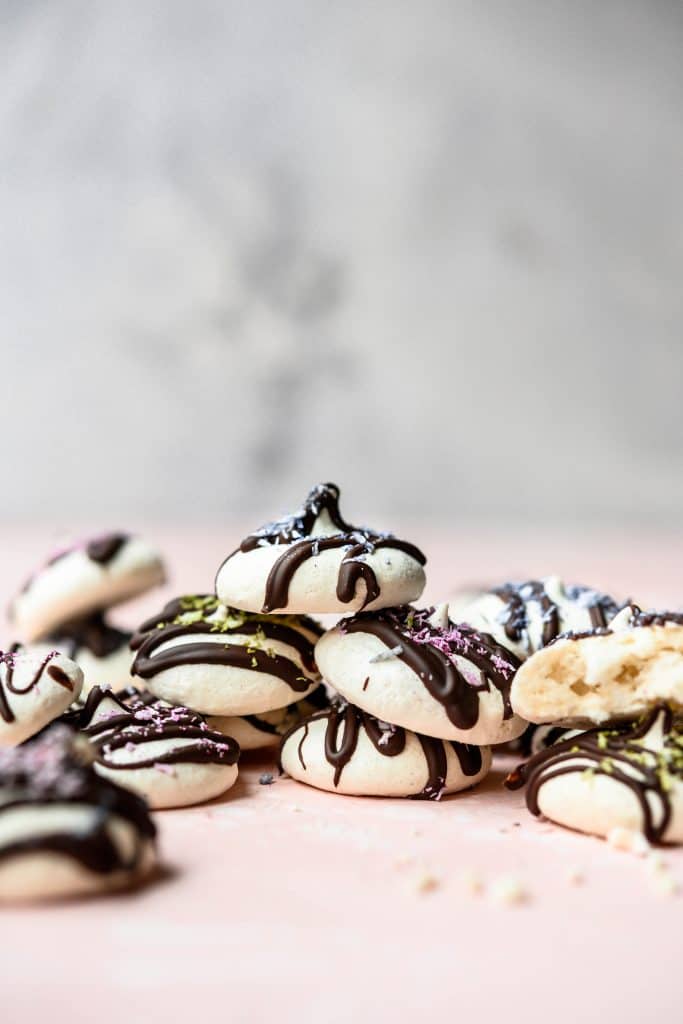 It's magical to watch the liquid from a can of chickpeas transform into a beautiful meringue. Aquafaba is one of the most brilliant vegan ingredients – we often joke about its origins (seriously, who thought to try whipping up bean liquid?!). If you haven't given it a try yet, we highly suggest doing so ASAP. You'll be amazed as you watch the liquid transform into stiff, white peaks. Don't believe us? Photo evidence below.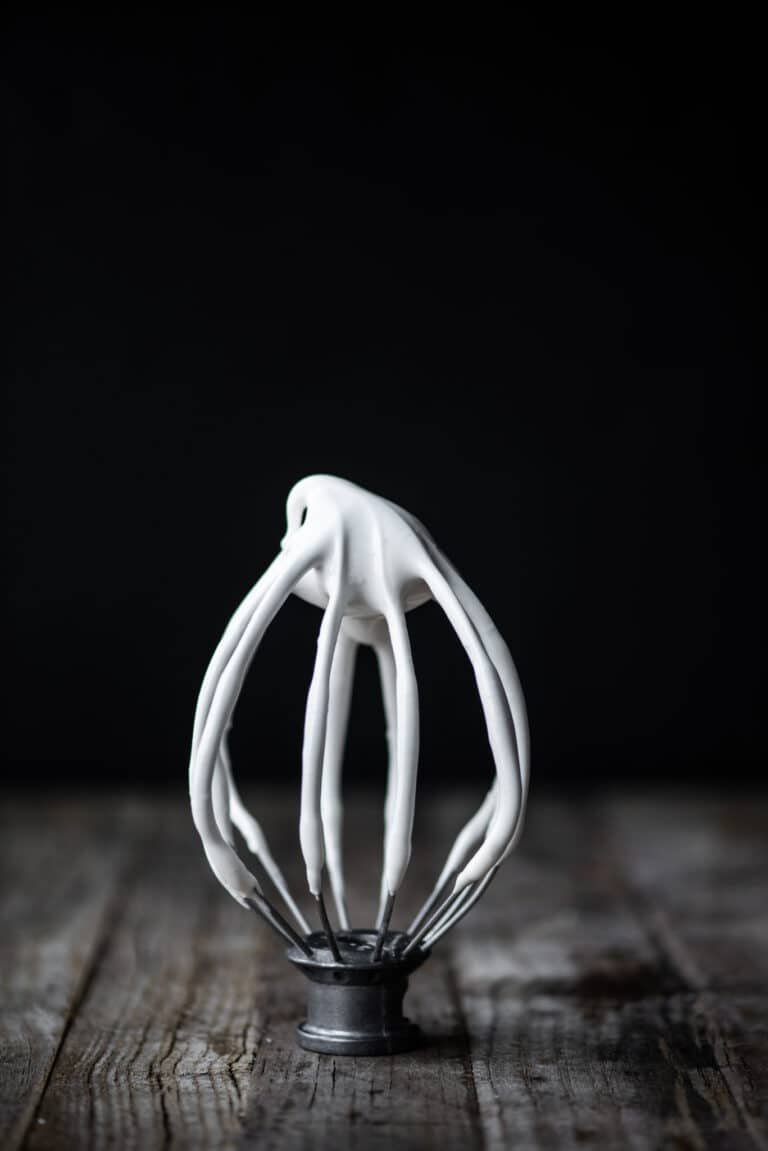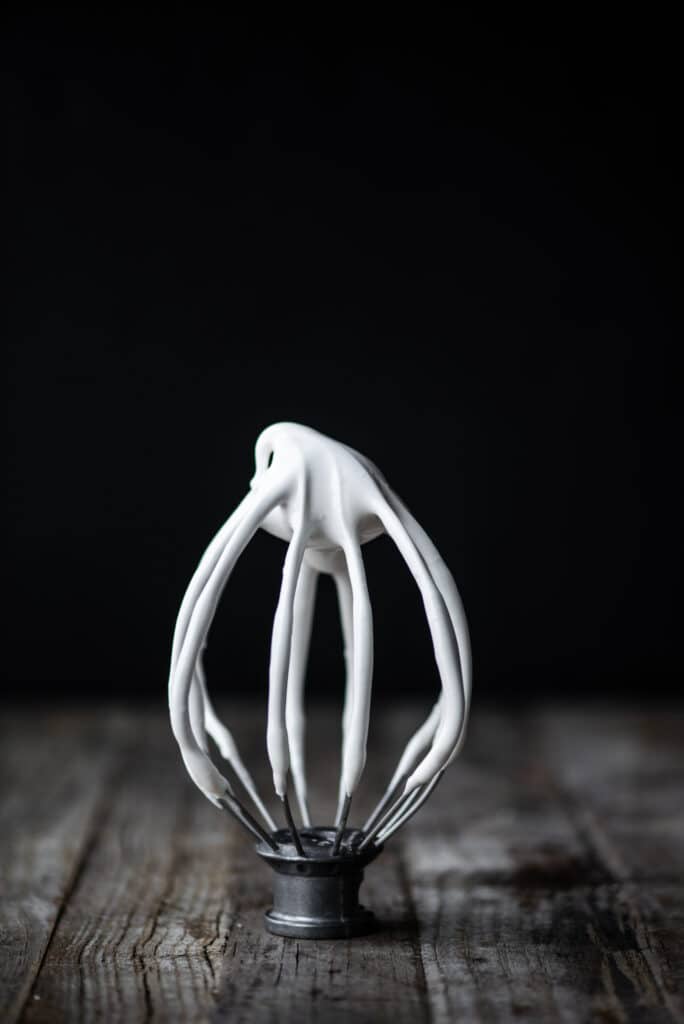 Tips & Tricks for perfect vegan aquafaba meringues:
If you have a stand mixer, use it! It can take up to 15 or so minutes for the aquafaba to reach stiff peaks, so we prefer to leave it to the stand mixer. If you're using a hand mixer instead, just be patient – it may take a bit longer than you expect.
Cream of tartar makes all the difference in stabilizing the meringue. You'll only need 1/2 tsp for an entire batch, but definitely don't skip this!
Make sure your canned chickpeas are salt-free! Seems like a no-brainer, but it's easy to miss if you're not paying attention.
Fine sugar will dissolve more readily than regular granulated sugar. If you can't find any at your local store, you can actually make it easily at home. Simply add regular sugar to a food processor and process until it's much finer. Re-measure before adding to recipe.
When it comes to baking these meringues, we've had best results with the following process: 1. Bake for 1 hour at 250 degrees, rotating pan once halfway through. After an hour, turn off the oven but leave the meringues in for another full hour. The residual heat will continue to cook them without drying them out too much.
Be careful with add-ins. We tried a few different batches in which we added in natural food coloring or other powders and they did not turn out nearly as well. Your best bet is to stick with a plain base and drizzle with chocolate + additional toppings once they're finished.
Since it's Easter weekend, we made some naturally-colored shredded coconut for sprinkling on top of these meringues. To do so, we simply stirred together unsweetened shredded coconut with various naturally-colored powders.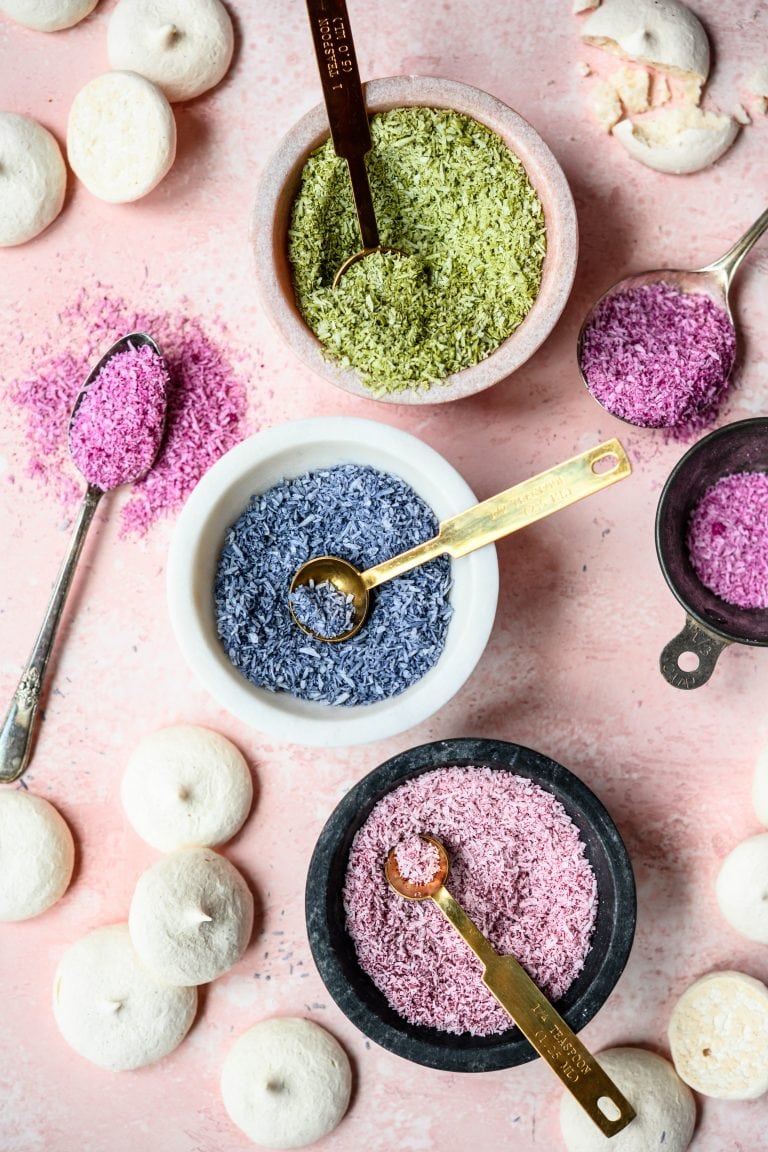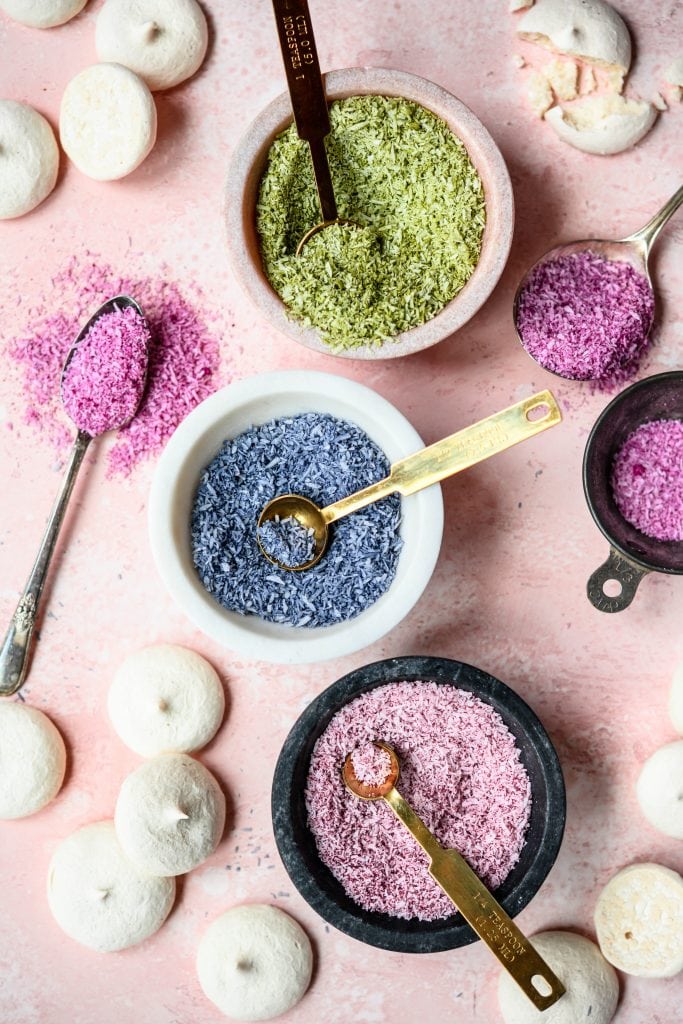 For green, we used matcha; for blue, we used butterfly pea powder, and for pink, we used pitaya powder. We get most of our superfood powders from Suncore Foods – they have an incredible selection! (If you're wondering, the powders don't affect the taste. You only need a very small amount to add tons of color!)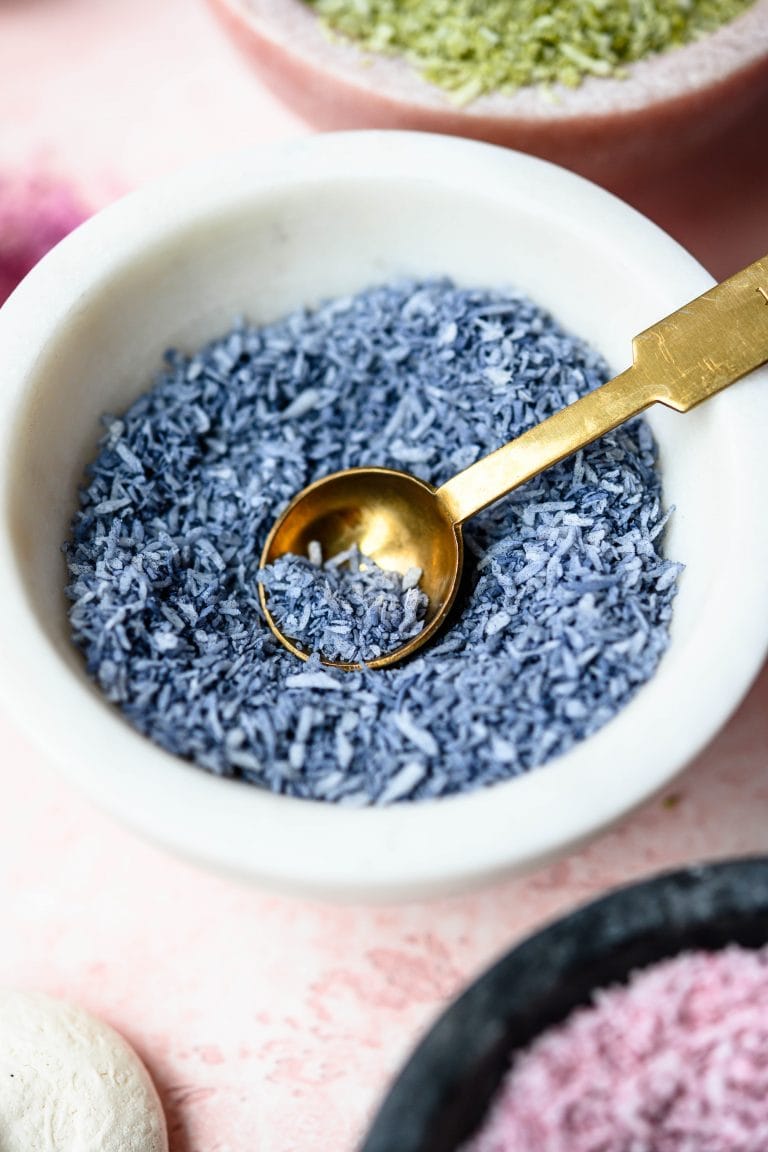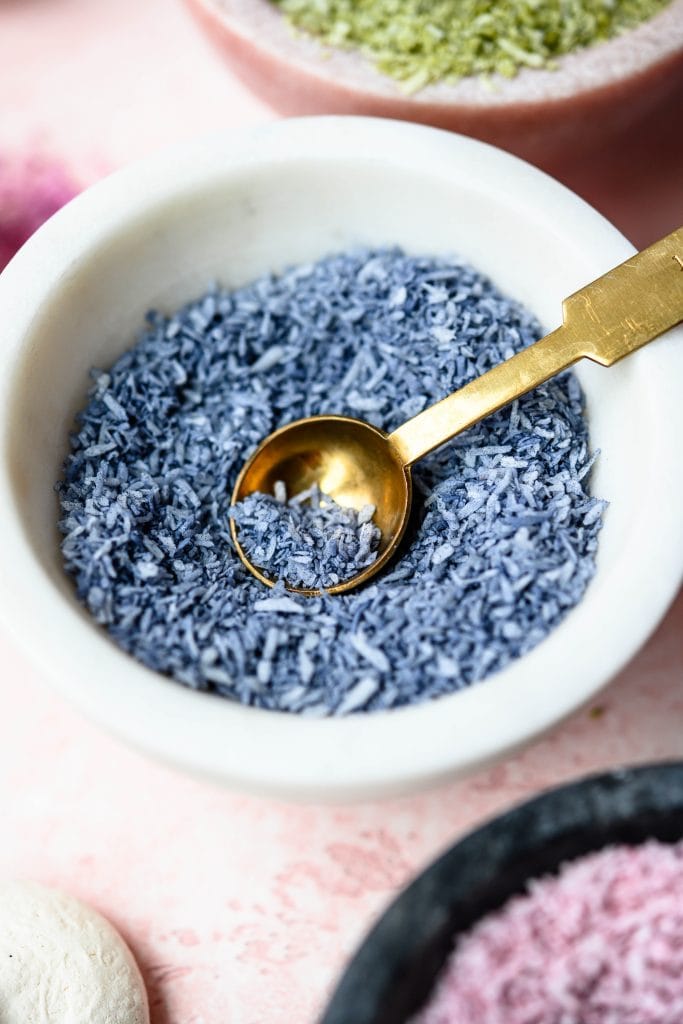 Additional uses for aquafaba:
Here are a few more of our favorite uses for aquafaba, as well as a few ways to use the actual chickpeas!
A few uses for the chickpeas leftover in the can:
This Vegan Chickpea Melt is such a great lunch (or dinner!). Prep the filling ahead of time for a quick, on-the-go lunch option.
When all else fails, make a big batch of homemade hummus. The recipe linked here contains pumpkin and sage (for a fall-inspired version), but you can omit those for a more traditional recipe!
Make this Five Bean Vegetable Soup for a cozy, healthy dinner.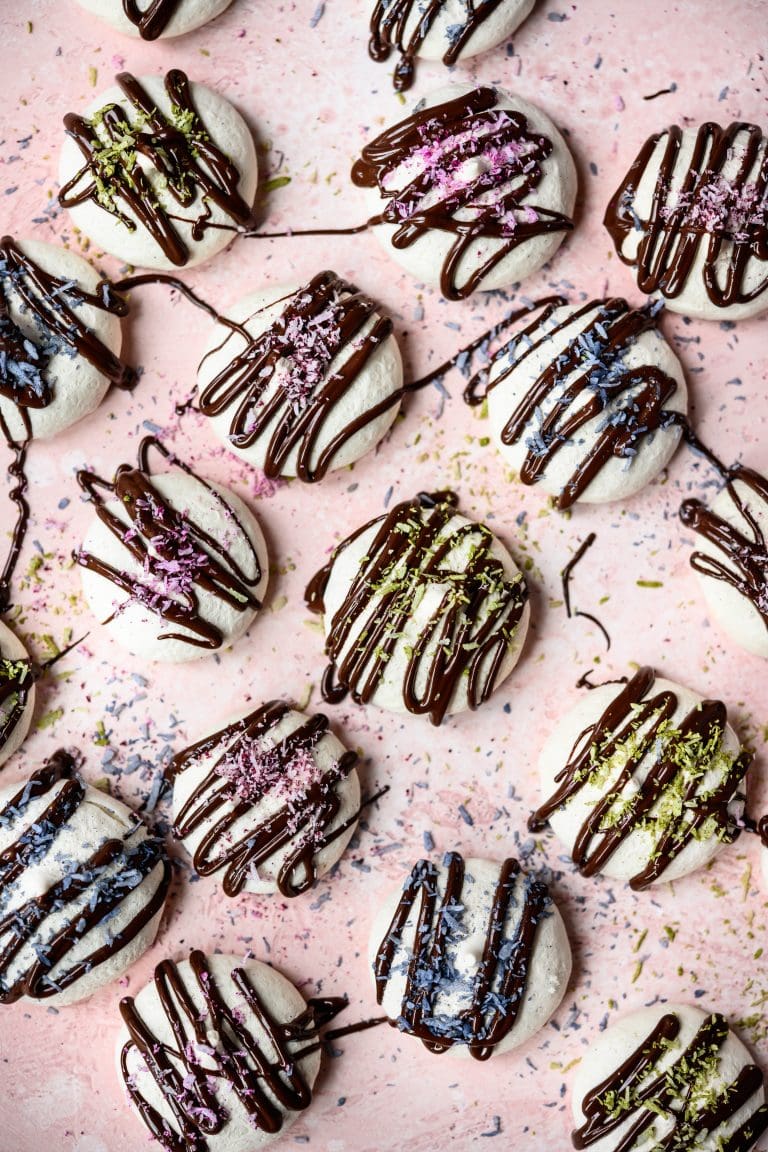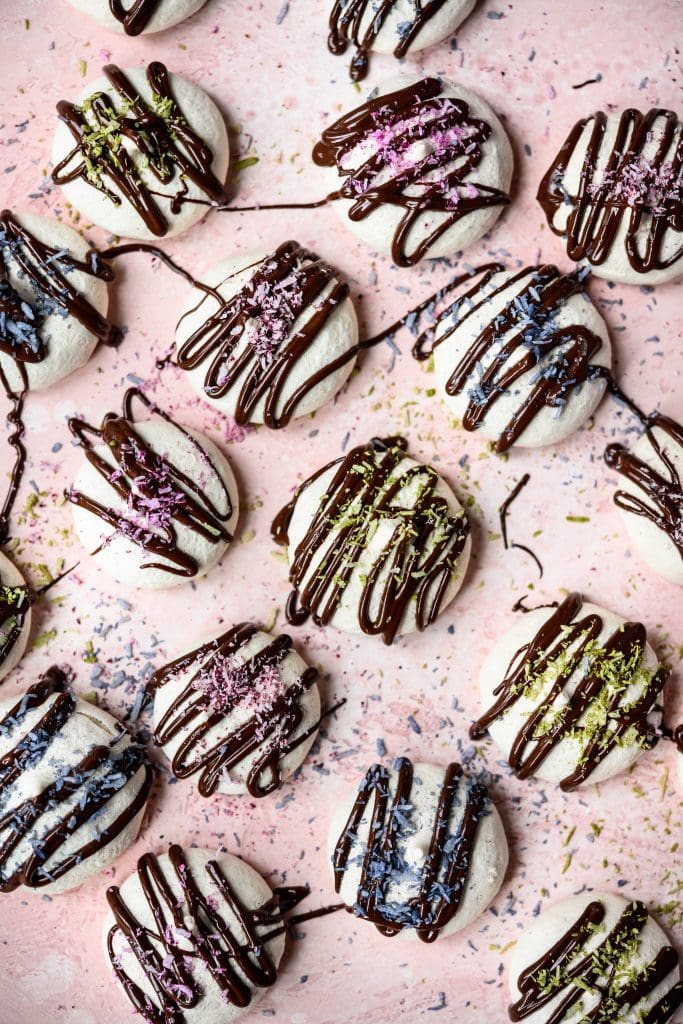 Since these vegan aquafaba meringues are also naturally gluten free and nut free, they're a great dessert option for a holiday/dinner party if you have any guests with allergies. The dark chocolate drizzle is optional, but highly encouraged. (Who's going to say no to extra chocolate?!) Give these a try for Easter, Mother's Day or any other Spring occasion!
Print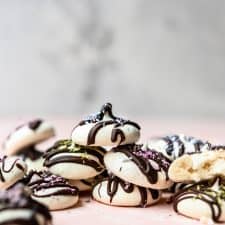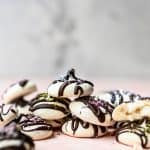 Mini Vegan Meringues
Author:

Prep Time:

25 minutes

Cook Time:

2 hours

Total Time:

2 hours 25 minutes

Yield:

2

dozen

1

x
Category:

Dessert

Method:

Oven
---
Description
These mini vegan meringues require just three essential ingredients. Aquafaba, the liquid from a can of chickpeas, whips up exactly like egg whites for a vegan meringue alternative. The final product is light, airy, crunchy and delicious!
---
Scale
Ingredients
Liquid from

one

(

15 oz

.) can of garbanzo beans (aquafaba)* 

½ tsp

cream of tartar

3/4

–

1

cup fine sugar

2 tsp

vanilla bean paste (or vanilla extract)

¼ tsp

fine sea salt

1 cup

dark chocolate chips, melted

1/2 cup

shredded coconut 
Optional: matcha powder, blue butterfly pea powder, pitaya powder 
---
Instructions
Preheat oven to 250 F and line two sheet pans with parchment paper. 
Drain beans into a bowl and pour liquid into a measuring cup. There should be about 3/4-1 cup of liquid (aquafaba). It's important to note this because the amount of sugar should be equal to the amount of aquafaba.
Add aquafaba and cream of tartar to bowl of a stand mixer fitted with whisk attachment. Beat at medium-low speed until mixture starts to foam up. Then, turn speed to high and mix until peaks start to form. This will take about five minutes.
Incorporate sugar slowly while continuing to mix at medium speed. Add vanilla bean paste and salt.  Mix at high speed for another 2-3 minutes until it forms stiff peaks.
Gently add meringue to a reusable piping bag and pipe evenly-sized meringues onto parchment paper-lined sheet pan.
Bake for 1 hour, rotating sheet pan once half way through cook time. Turn off oven, but leave meringues in oven for a full additional hour.
Remove from oven and let cool completely.
If making colored shredded coconut, divide coconut into 3 bowls and add about 1/4 tsp powder into each bowl. Stir well to coat.
Drizzle meringues with melted dark chocolate and top with shredded coconut. Let chocolate harden, then enjoy!
---
Notes
*Make sure they're salt-free. Also, don't get rid of the actual beans! Scroll up for a few ways to use them up.