These savory quinoa breakfast bowls have it all: low-sugar, high-protein and perfect for healthy breakfast meal prep!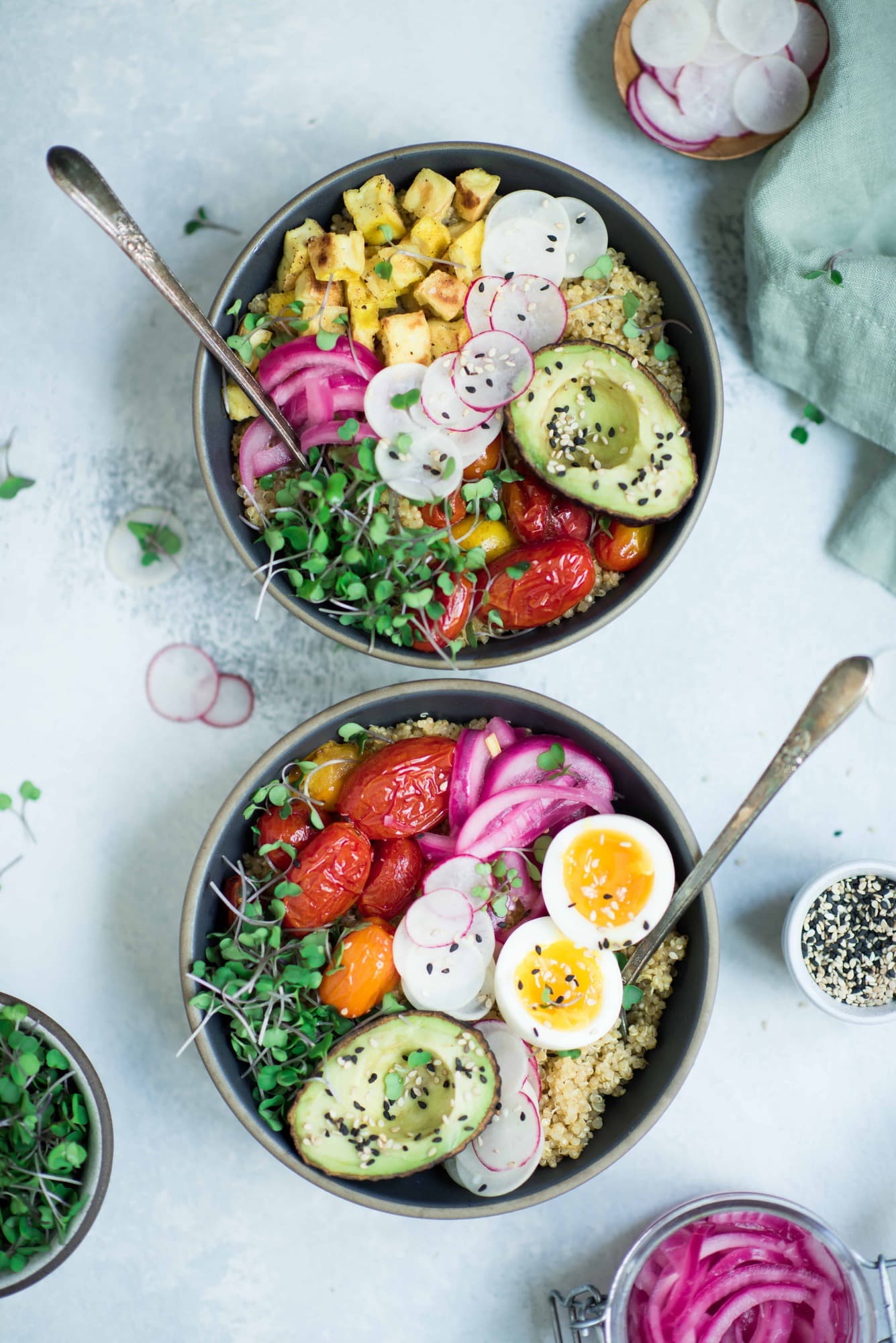 In the last few weeks, I (Lexi) have been eating less sugar to clear up my skin before my wedding in September. Growing up, I was blessed with relatively clear skin and an even complexion; I made it all the way through high school and most of college before suddenly developing acne. How annoying is that?! I've tried a wide range of solutions and have visited a handful of dermatologists in the last few years, but I have suuuuuper sensitive skin. Unfortunately, just about everything they give me causes more harm than good. (Not to mention, I really prefer to use all-natural skin care products.)
I recently delved pretty deep into the subject of gut health. If it's out of whack, can totally screw up your skin. Sugar doesn't help. It disrupts your gut microbiome and leads to inflammation. I don't eat all that much processed sugar in the first place. However, it does creep into my diet here and there and causes significant inflammation. After just two or three days without it, my skin immediately made drastic improvements (for the first time in months) and I felt better overall.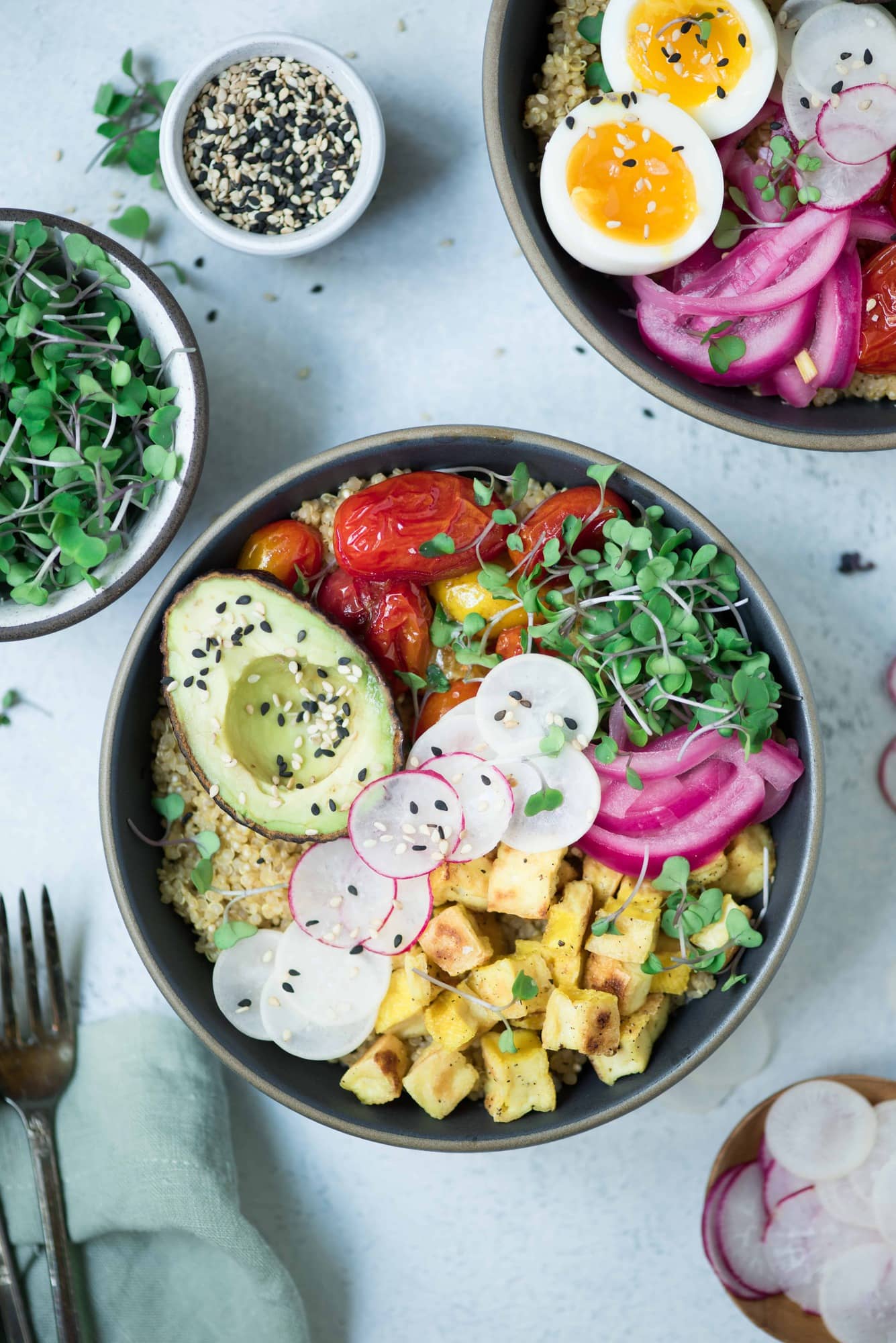 What does this have to do with a breakfast bowl, you ask? Some of the products I enjoy in the morning contain sugar. Aka: granola, leftover baked goods from yesterday's baking experiments, etc. To get the day off to a great, sugar-free start, it's better to enjoy a low-sugar savory breakfast instead. Because we're vegetarian and dairy free, our choices are a bit more limited, so this quinoa bowl is a lifesaver!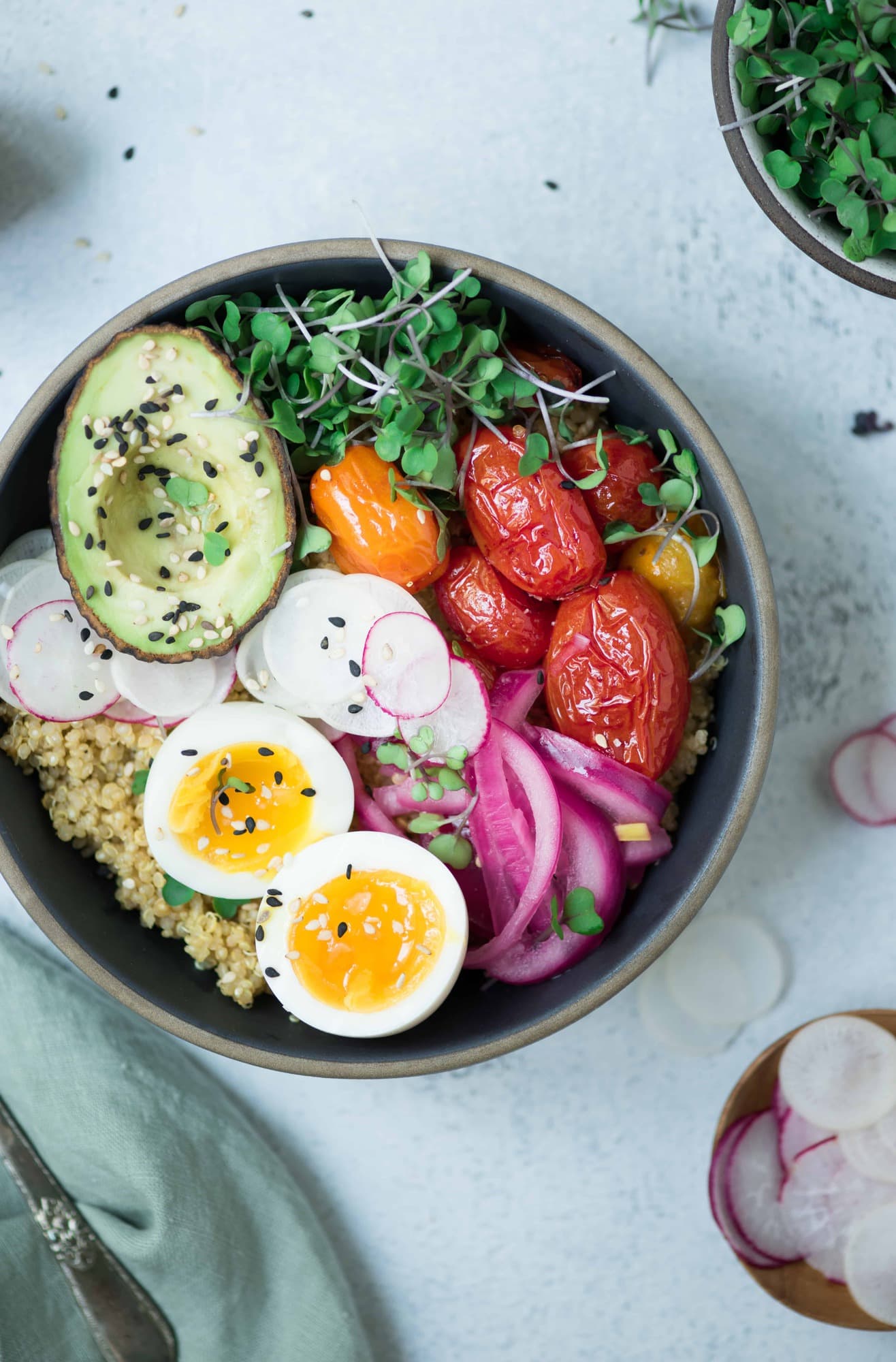 You can easily prep a big batch of quinoa. So come breakfast, all you really have to do is add some toppings. Not including the time it took to cook the quinoa, this took less than 10 minutes to throw together. We wanted to include both a vegan and non-vegan option here as most of our family does not follow a plant-based diet. And we assume if you're here reading this, you likely have a similar family situation.
In addition to perfect soft-boiled eggs, the boys in our family also like to top their bowls with some feta cheese. Our bowls include pan-fried tofu. We use amazing turmeric tofu that we usually find at Whole Foods. And we often add hummus or tahini for more healthy fat. Sugar-free isn't so bad when you wake up to a breakfast like this every morning!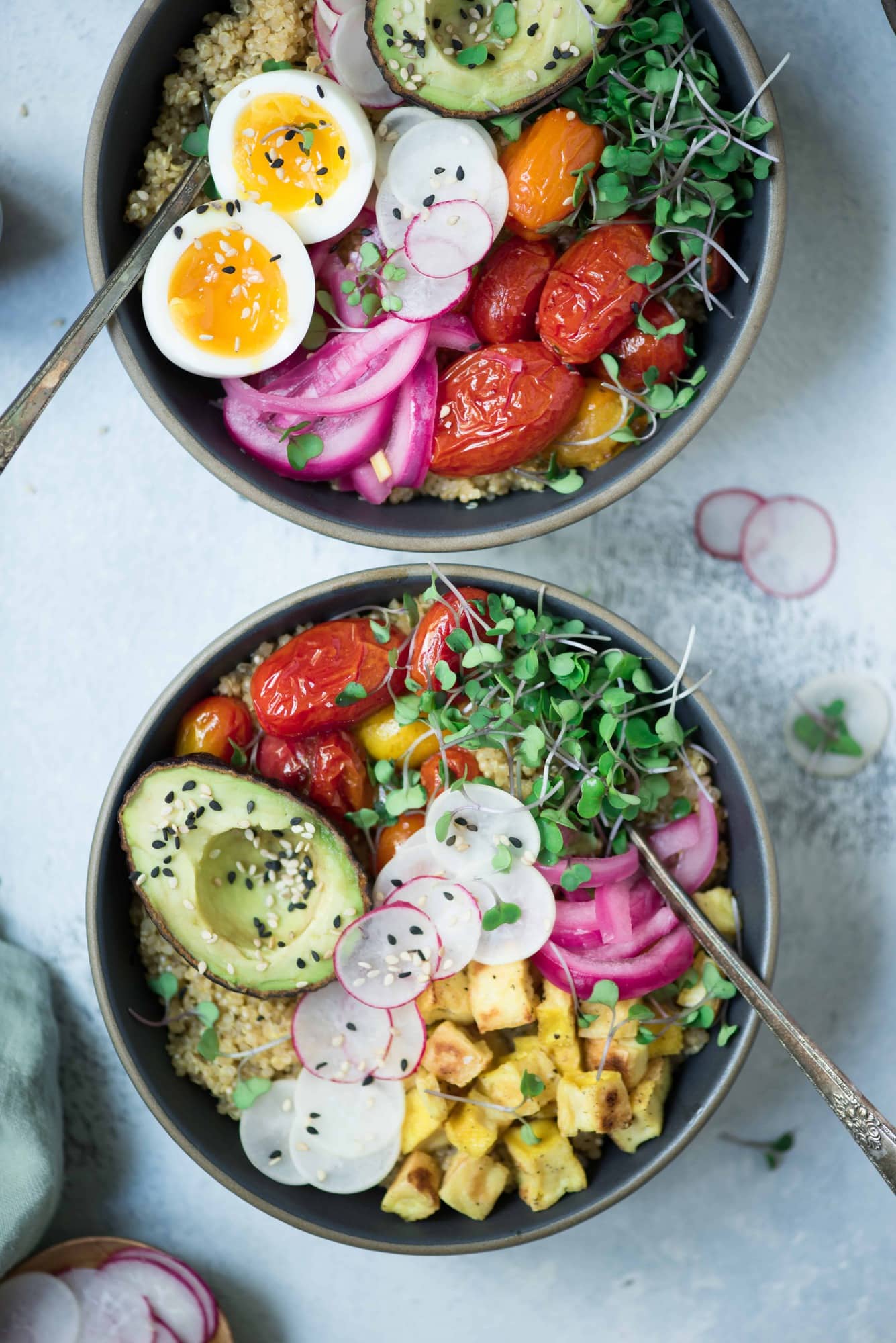 Print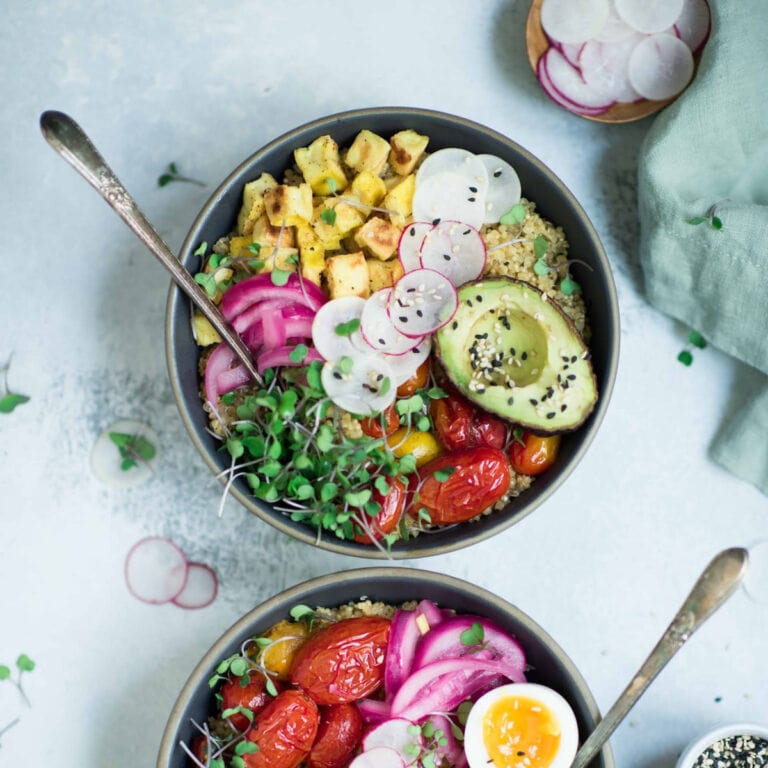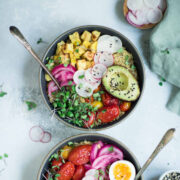 Savory Quinoa Breakfast Bowls
---
Author:

Prep Time:

20 minutes

Cook Time:

20 minutes

Total Time:

40 minutes

Yield:

4

servings

1

x
Description
If your family is anything like ours, everyone wants different topping for their breakfast bowl, which is why we've included both a vegan and non-vegan version.
---
Scale
Ingredients
4 cups

cooked quinoa (we cook ours in vegetable broth instead of water for more flavor and season generously with olive oil, salt and pepper when finished)

1 cup

cubed extra-firm tofu
AND/OR

4

soft-boiled eggs (instructions below)

1 cup

cherry tomatoes

4

thinly sliced radishes

2

avocados
Pickled red onion (optional)
Microgreens (or other leafy green of choice)
For garnish: Salt, pepper, sesame seeds, tahini, hummus, etc.
---
Instructions
Prepare quinoa according to package directions. As mentioned above, we cook ours in vegetable broth, which adds a lot more flavor. Once cooked, we season it with olive oil, salt and pepper to taste.
Tofu: Press tofu to remove as much moisture as possible. Cube into 1 inch pieces. Heat a pan to medium and drizzle with olive oil. Add tofu and cook for 7-10 minutes, stirring frequently. Don't stir too frequently - you want the tofu to get crispy (without burning, of course). Season with salt, pepper and any other spices of choice.
Soft-boiled eggs: This Bon Appétit method produces perfect soft-boiled eggs every time. We suggest reading the full article, but essentially, bring a pot of water to a boil, boil eggs for 6 1/2 mins, transfer to ice bath for 2 minutes and serve.
To blister cherry tomatoes, add to a hot pan drizzled with olive oil. Toss occasionally until blistered and softened (about 7 minutes).
Build your bowl by starting with a large base of quinoa and then garnishing. Enjoy!
---
Category:

Breakfast

Method:

Stovetop