Okay guys, we have officially jumped on the aquafaba vegan chocolate mousse train and there is no going back! This decadent, rich vegan dessert is fabulous and nobody will miss the dairy. We promise.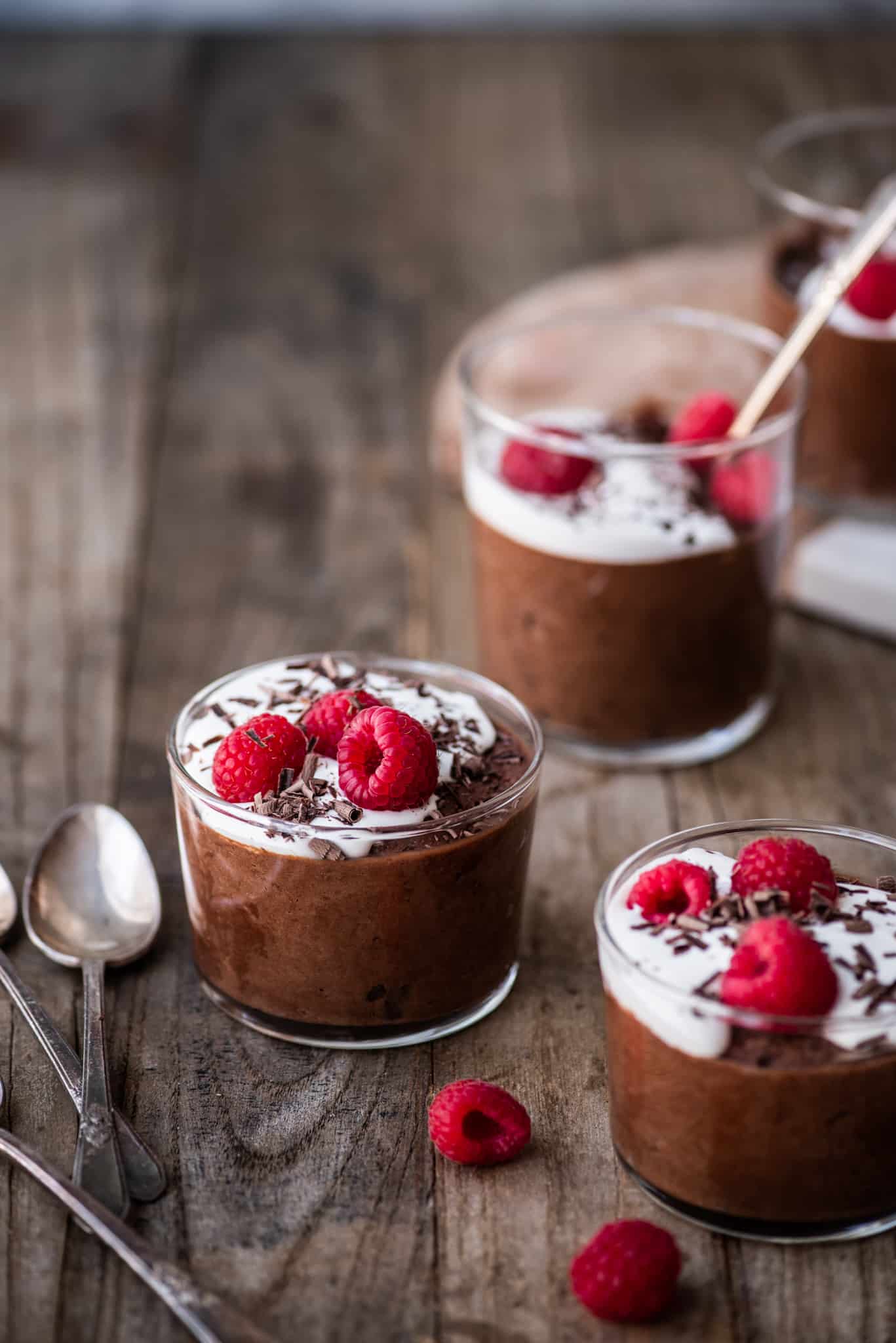 I can't think of an occasion that wouldn't be perfect for this vegan chocolate mousse. Valentine's Day? Duh. Birthday? Of course! Anniversary? Wedding? Random Tuesday Night? YESSSS. It's just the best.
I've tried all sorts of vegan chocolate mousse recipes in my day. When I was first introduced to avocado chocolate mousse years before going mostly vegan, I thought it was some kind of witchcraft. I mean, avocado? In mousse??
Avocado has become a pretty standard ingredient for most vegan mousse recipes, but I've always thought it tasted more similar to pudding than mousse. It lacks the light, airy quality that makes mousse so fantastic.
So when we set out to create our own vegan chocolate mousse recipe, we decided to switch things up.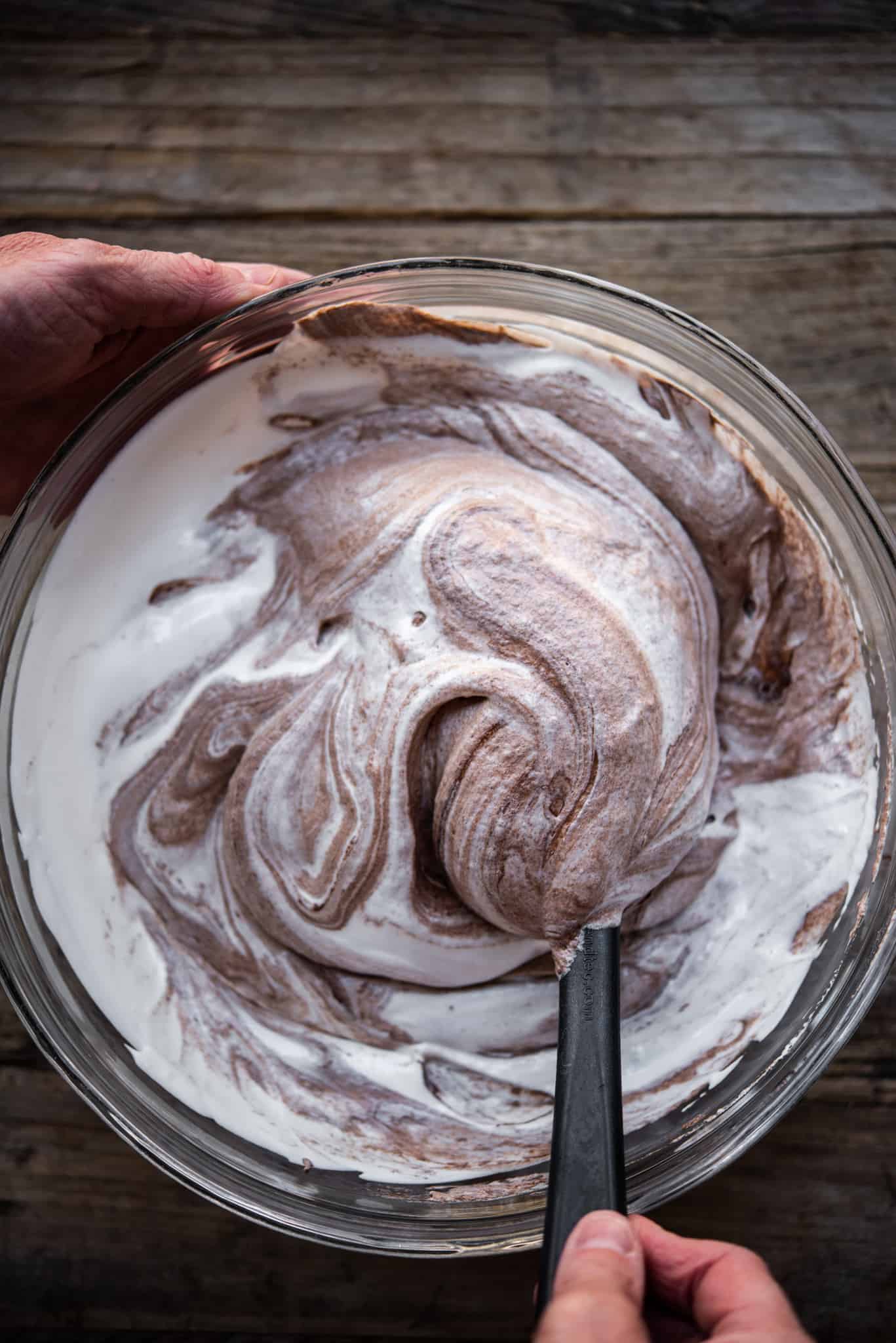 After a few less-than-ideal test runs with coconut milk, we landed on aquafaba as our secret ingredient. It makes for an unbelievably delicious. airy mousse. It's really hard not to eat the whole bowl in one sitting.
What is aquafaba?
Well, buckle up, because it's about to get a bit weird.
You know the slightly gelatinous, murky liquid that comes inside a can of garbanzo beans (chickpeas)?
Yep, that's aquafaba. And yep, we're using it in our chocolate mousse.
Before you close this browser tab in disgust, please trust us that it's actually magical and relatively tasteless. It transforms into a near exact replica of egg whites, making it a fantastic vegan egg alternative!
Don't just trust us - Google aquafaba and you'll see thousands of recipes and testimonials on aquafaba's superpowers. Alternatively, check out the photo below. That's how aquafaba looks after beating in a stand mixer for about 10 minutes.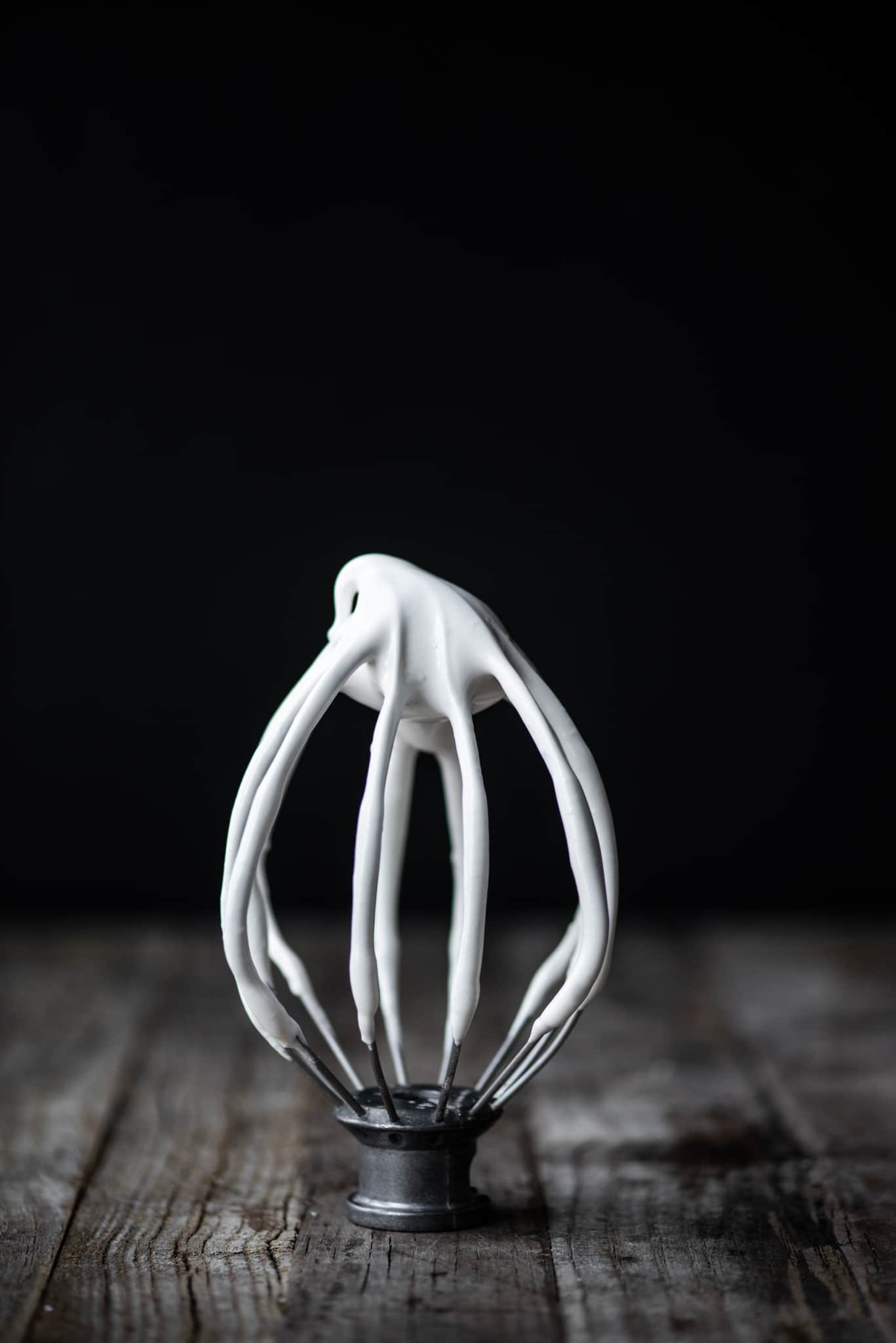 Just like egg whites, right?! It's wild. You can use this to make vegan meringue, pavlova, super fluffy pancakes and waffles, and the best vegan chocolate mousse you've ever had.
Aquafaba, like egg whites, is light and airy, which makes for a spectacular mousse texture. And in case you're wondering - no, it doesn't taste anything like beans. The chocolate completely masks any lingering flavor, so it's really just for texture.
Instructions
The recipe is surprisingly simple. It's just 6 ingredients you probably already have, plus vegan whipped cream, shaved chocolate and fresh raspberries for topping.
You'll need a stand mixer or hand mixer and some patience to make this perfect, but it's worth the effort. This is by far the best dessert you could make for your Valentine!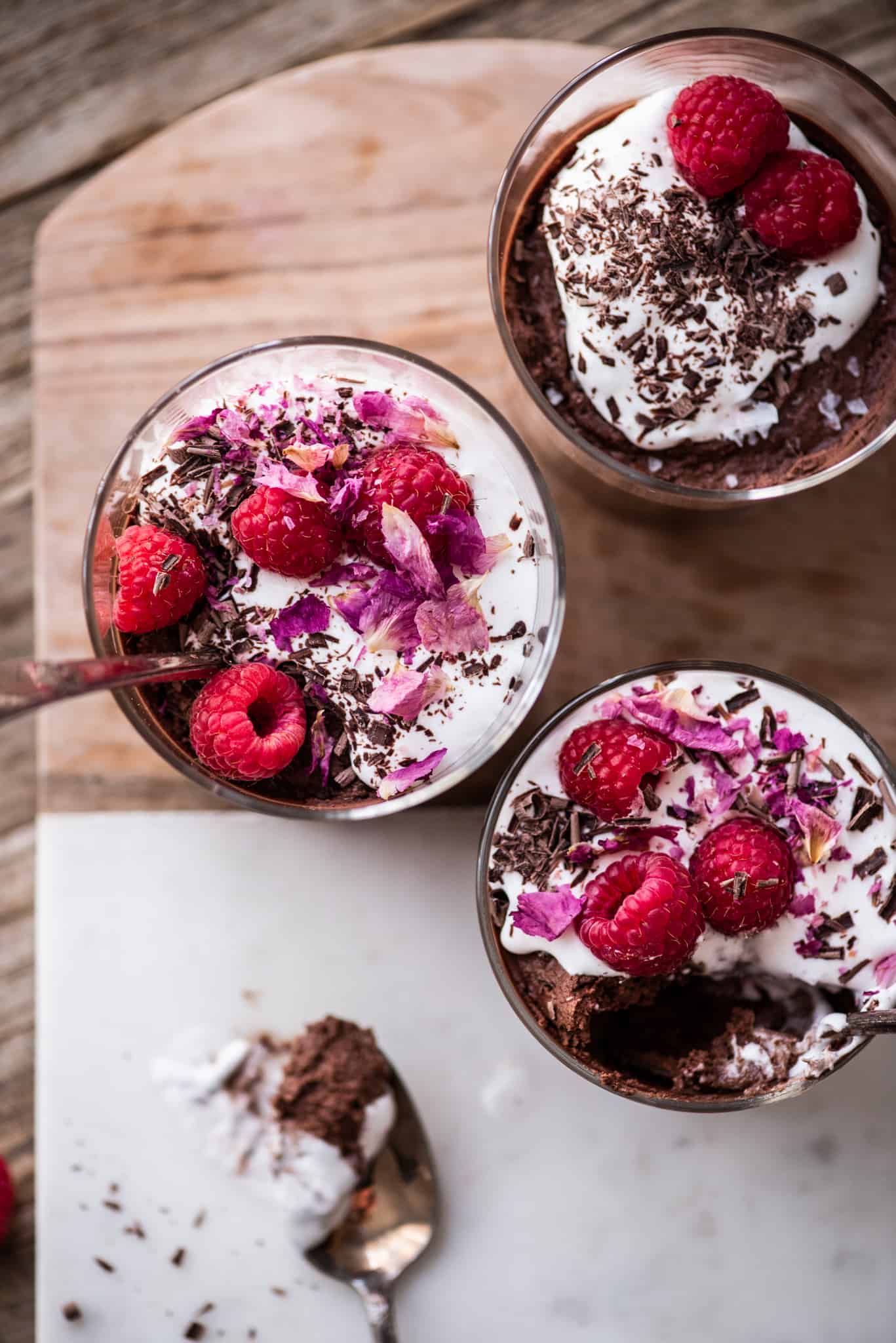 The first step is to melt some dark chocolate. Use whichever percent you'd like. We typically use semi-sweet or something around the 75-80% range.
To melt your chocolate, chop it into equally-sized, small pieces with a sharp knife. Transfer to a heat-safe bowl and microwave in 20-second intervals, stirring well between each interval. It should only take a minute or two. Be careful not to heat it for too long!
Alternatively, you can use a double boiler on the stovetop to melt your chocolate. Either way, it's important to do this first and let it cool on the counter while you start the mousse. The chocolate has to be cooled when you add it to the recipe, otherwise it will deflate the mousse.
Next, whip up your aquafaba. The process is the exact same as if you were using egg whites. Simply add the aquafaba to a stand mixer (or use an electric hand mixer), and whip on high until it forms stiff peaks. We suggest adding a pinch of cream of tartar to help speed up the process.
Add in the sugar, salt and vanilla and continue mixing until it's well incorporated. We love a bit of extra salt in this recipe to really bring out the chocolate flavor. However, if you're not a fan of the salty/sweet combo, just add a small pinch of salt instead.
Next, it's time to add the cooled, melted chocolate! To do so, use a silicon spatula to gently fold the chocolate into the aquafaba mixture. Be careful not to over-mix. Try to get it done in as few folds as possible so it doesn't deflate.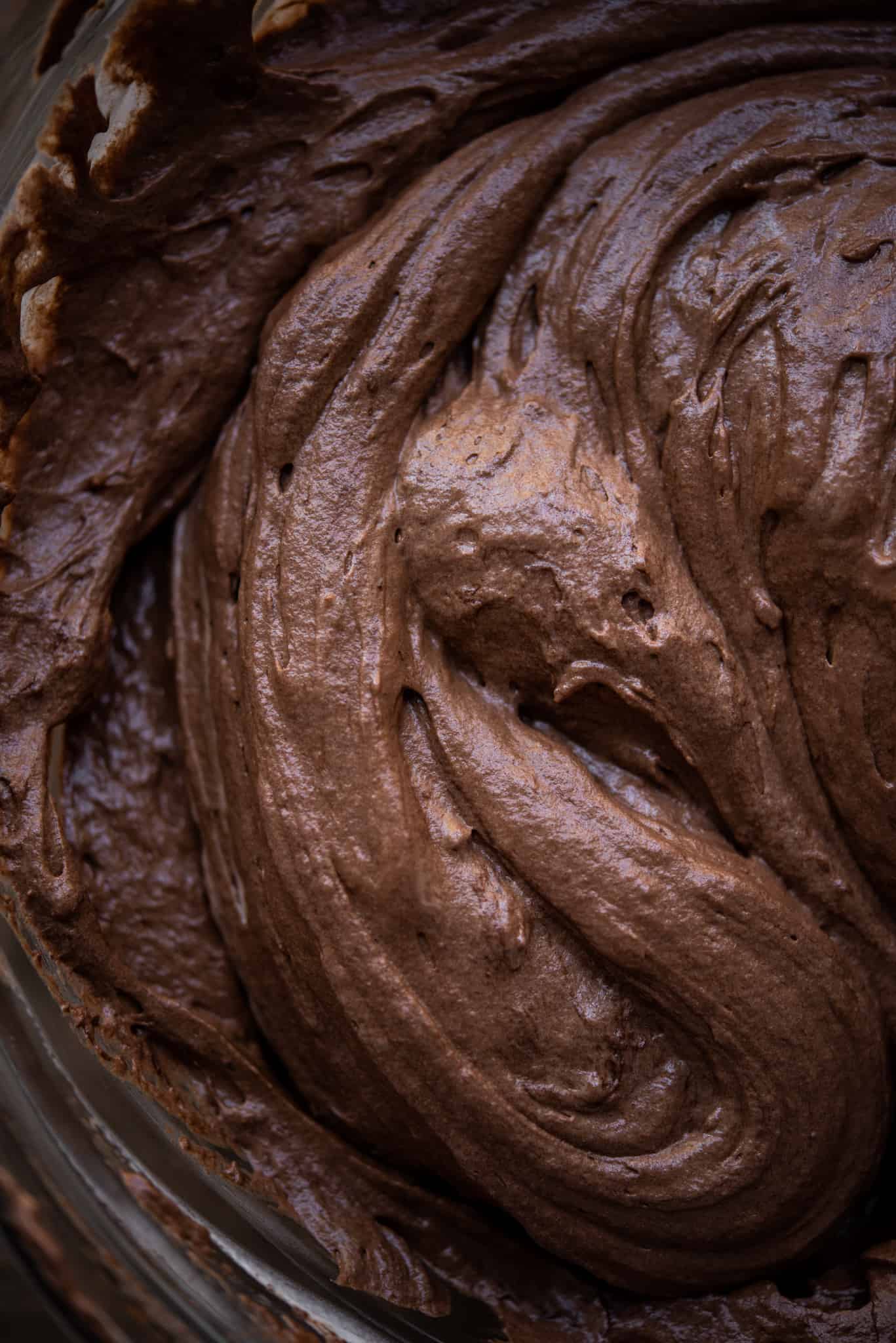 Lastly, transfer the mousse to your desired serving vessels. It will set up in the refrigerator, so it's important to do this step now. Otherwise, it will be very difficult to serve. We use small glass tumblers, but ramekins or small mason jars will work, too.
It will take 1-2 hours to fully set up in the fridge. If you're serving a crowd, we suggest making this far ahead of time so you don't have to rush last minute. It will hold up well in the refrigerator for up to a few days.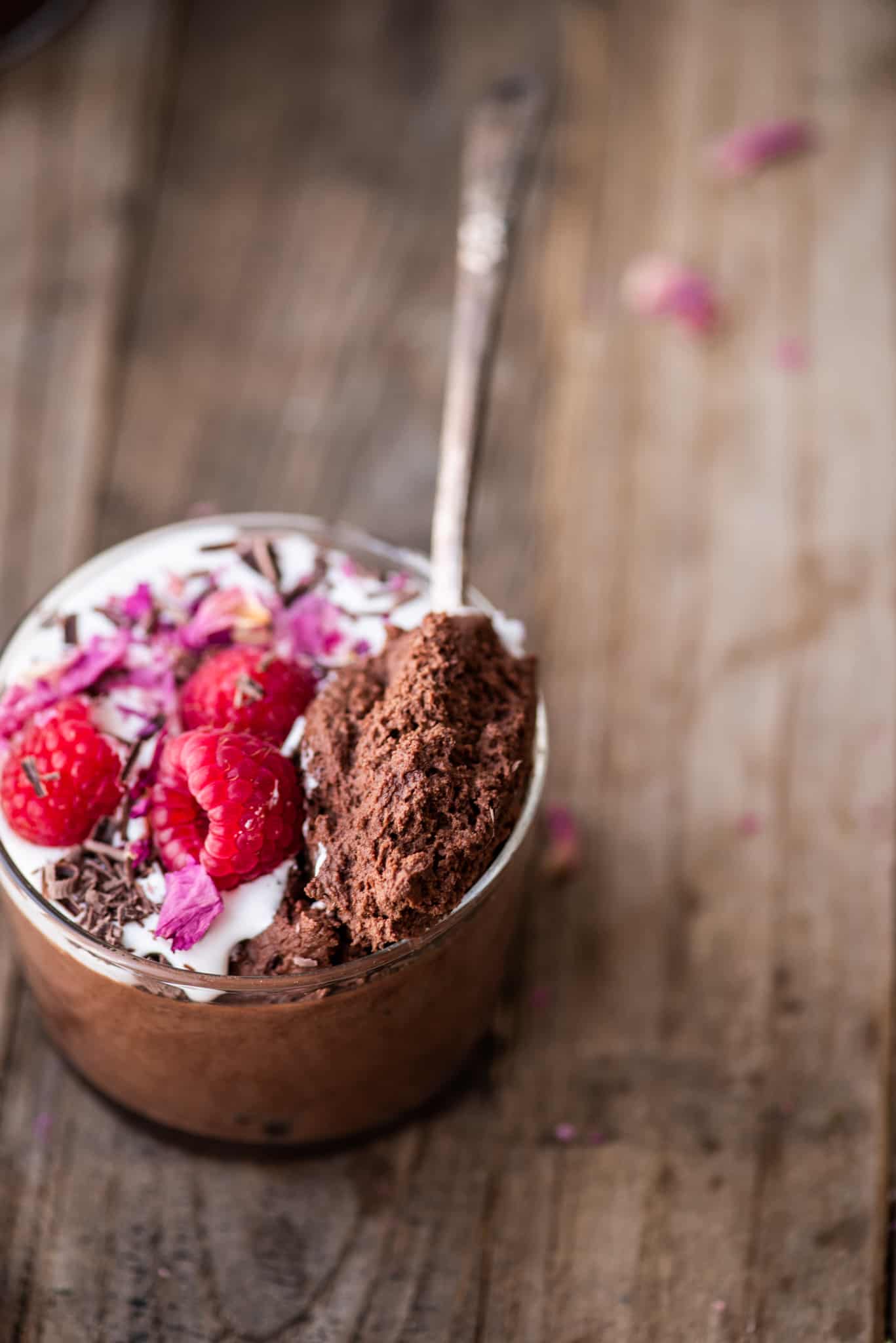 Toppings
Crushed, dried rose petals are a lovely addition for Valentine's Day, but totally optional. Aren't they pretty, though?
Whipped cream, because why not? We either use store-bought or make our own from coconut cream.
Fresh raspberries are a must, in my opinion. They're the perfect tangy, sweet, fresh counterpart to rich dark chocolate.
Chocolate shavings. There's no such thing as too much chocolate, right? Use a vegetable peeler to shave a chocolate bar into beautiful curls.
More of our favorite chocolate dessert recipes
All vegan and gluten free, all delicious!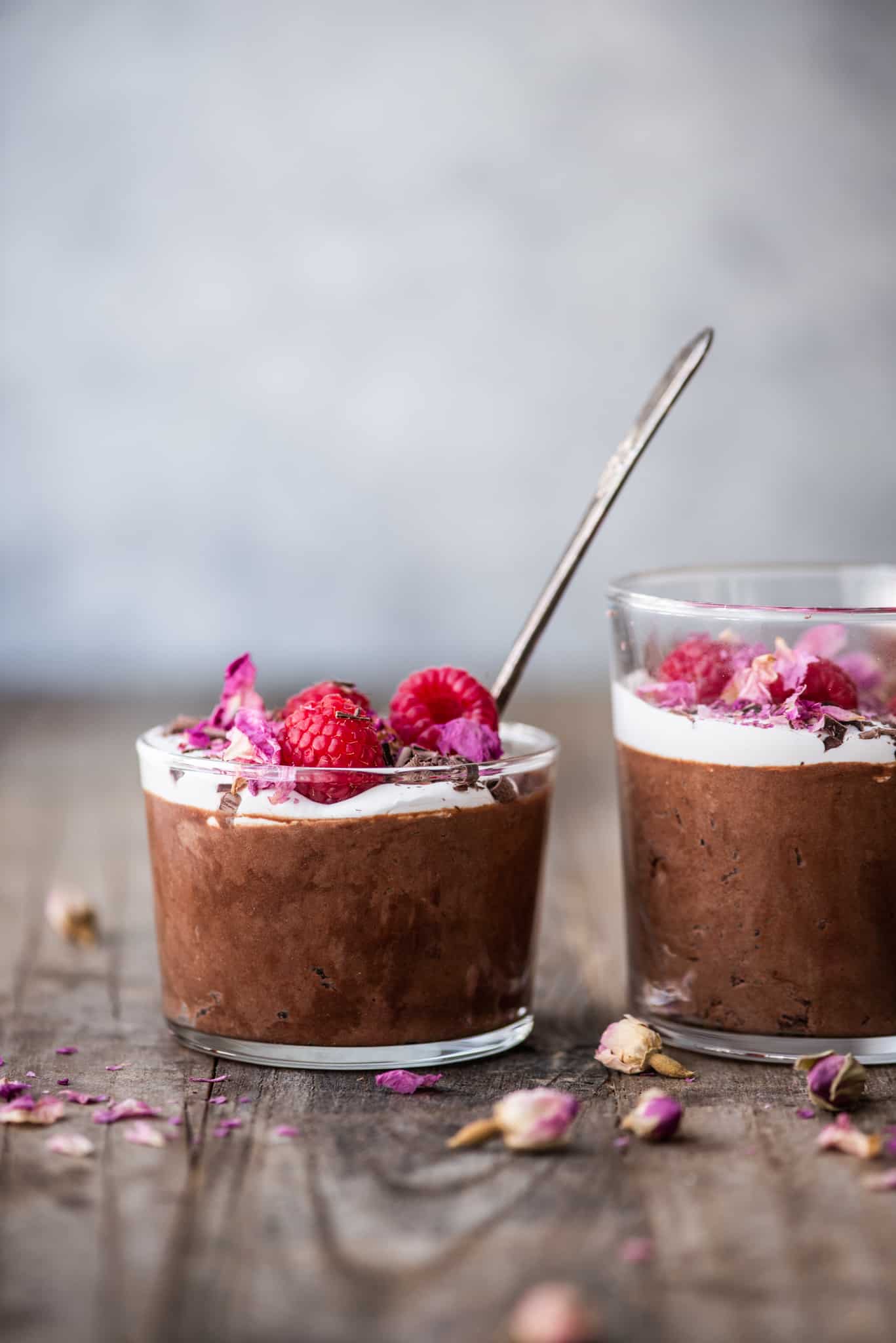 If you make this vegan chocolate mousse recipe, we'd love for you to leave a comment and rating below! We also love to see your creations on Instagram – tag us at @crowded_kitchen so we can see what you've been cooking.
Print
📖 Recipe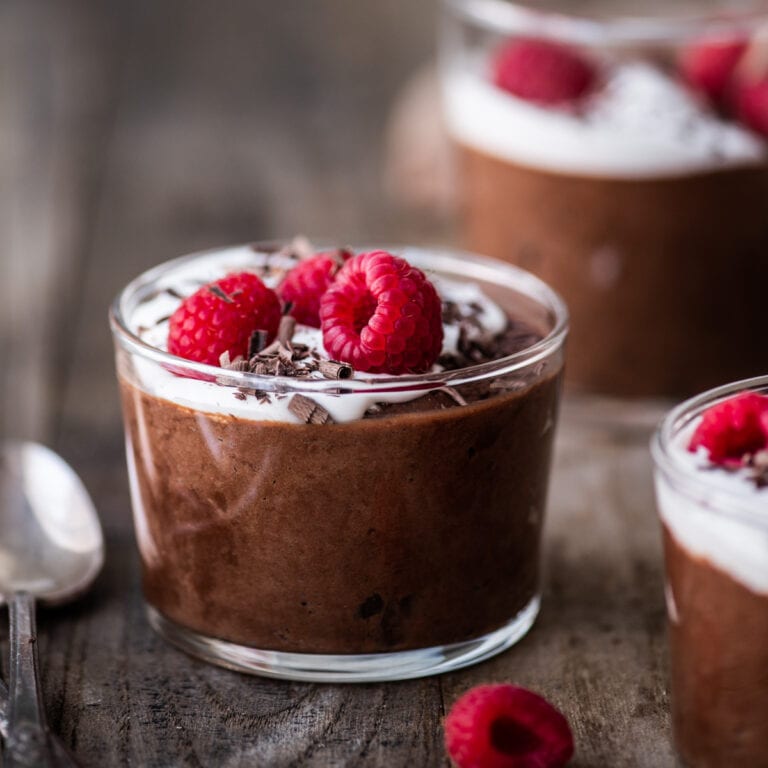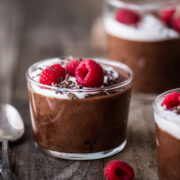 Vegan Chocolate Mousse
---
Author:

Lexi

Total Time:

2 hours 20 minutes

Yield:

Serves

4

-6

1

x

Diet:

Vegan
Description
This beautiful, luscious vegan chocolate mousse is surprisingly simple - you just need six ingredients (one of which is aquafaba!).
---
1 cup

aquafaba (liquid from a can of chickpeas)

½ tsp

cream of tartar

1 cup

caster sugar (or fine cane sugar)

¾ tsp

sea salt

1 tsp

vanilla extract (or vanilla bean paste)

13 oz

dark chocolate, melted
Topping: Vegan whipped cream, shaved chocolate, raspberries, rose petals
---
Instructions
Chop dark chocolate and transfer to a microwave-safe bowl. Microwave in 20 second intervals, stirring well between each interval, until completely melted. Set aside to cool.
Add aquafaba to a stand mixer and start beating on high. After about 5 minutes, add cream of tartar and continue beating until stiff peaks form (total, this takes about 10 minutes). Add sugar, salt and vanilla and continue beating until well incorporated.
Gently fold in cooled dark chocolate using a spatula. Don't over-mix, otherwise it will start to deflate. Transfer mousse to serving vessels and refrigerate 1-2 hours - until set.
Garnish as desired with vegan whipped cream, shaved chocolate, raspberries and rose petals (optional). Enjoy!
Prep Time:

20 minutes

Cook Time:

2 hours

Category:

Dessert

Method:

No Bake
Nutrition
Serving Size:

1 Small Cup

Calories:

655

Sugar:

63.4 g

Sodium:

446.1 mg

Fat:

35.4 g

Saturated Fat:

20.3 g

Trans Fat:

0.1 g

Carbohydrates:

78.7 g

Fiber:

7.4 g

Protein:

5.6 g

Cholesterol:

5.5 mg
Keywords: vegan chocolate mousse