We present to you: the BEST ever vegan chicken and waffles, made with crispy fried cauliflower, mashed potato waffles and hot maple syrup. Hands down the best vegan brunch you'll ever have!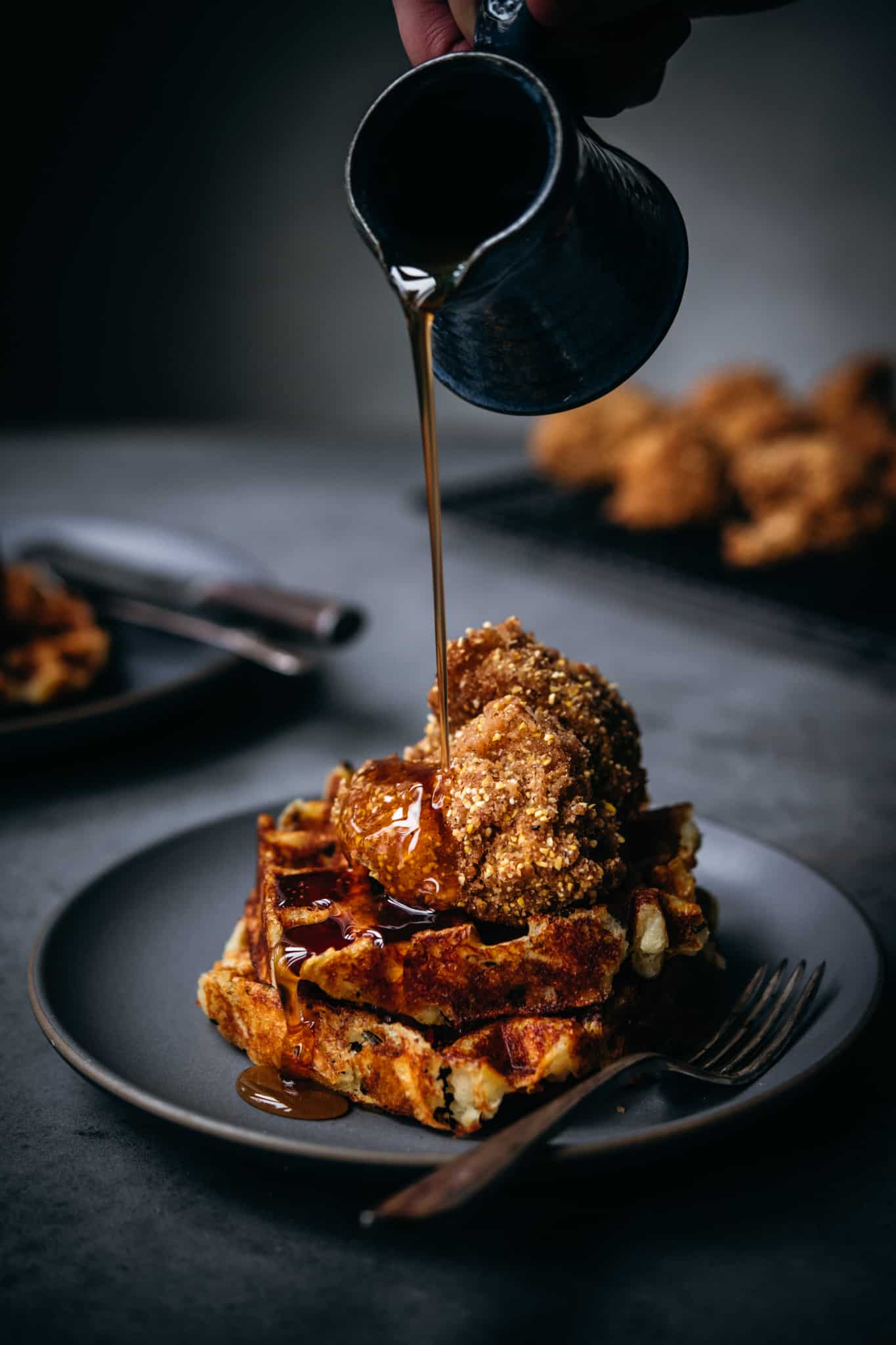 I truly don't think we've ever been more excited to share a recipe than we are to share this one.
In case ya can't tell, food makes us happy. It's our passion. We love creating and sharing recipes with you, we love hearing your feedback on our recipes, and of course, we love eating all of the food we make!
It's not always easy to make traditional recipes vegan. Fried chicken and waffles isn't particularly easy to recreate without the chicken, but we really didn't mind testing this 5+ times. Worth it for sure.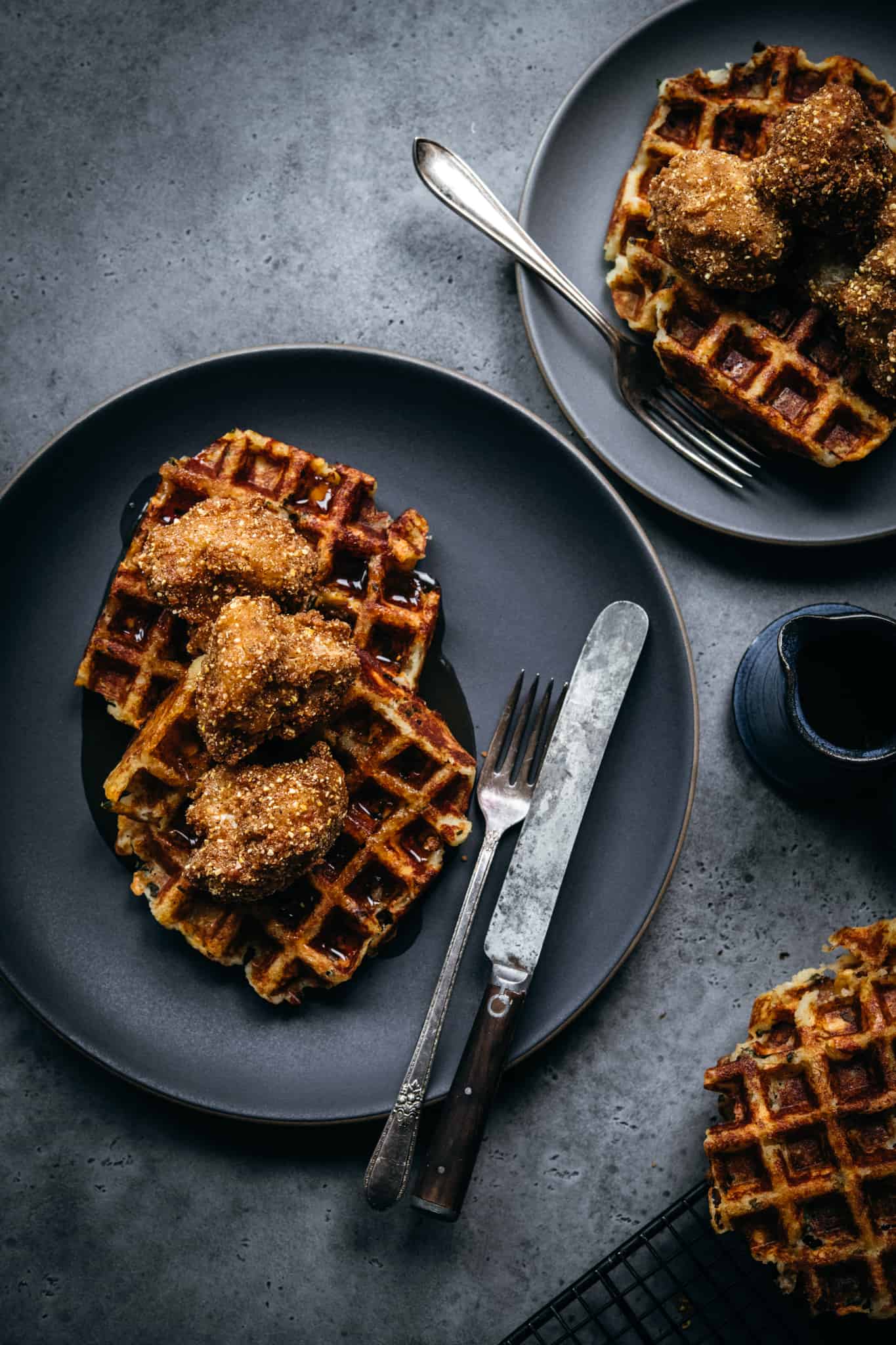 The end result is seriously delicious, you guys. What's not to like? Crispy fried cauliflower is good enough to eat on its own. Cheesy mashed potato waffles? HEAVEN. And as if that wasn't enough, we douse everything in hot maple syrup.
Swoon.
Let's break it down by each component so you can easily master this recipe at home! It's a seriously impressive recipe to cook for a loved one, or to be honest, to just enjoy on your own.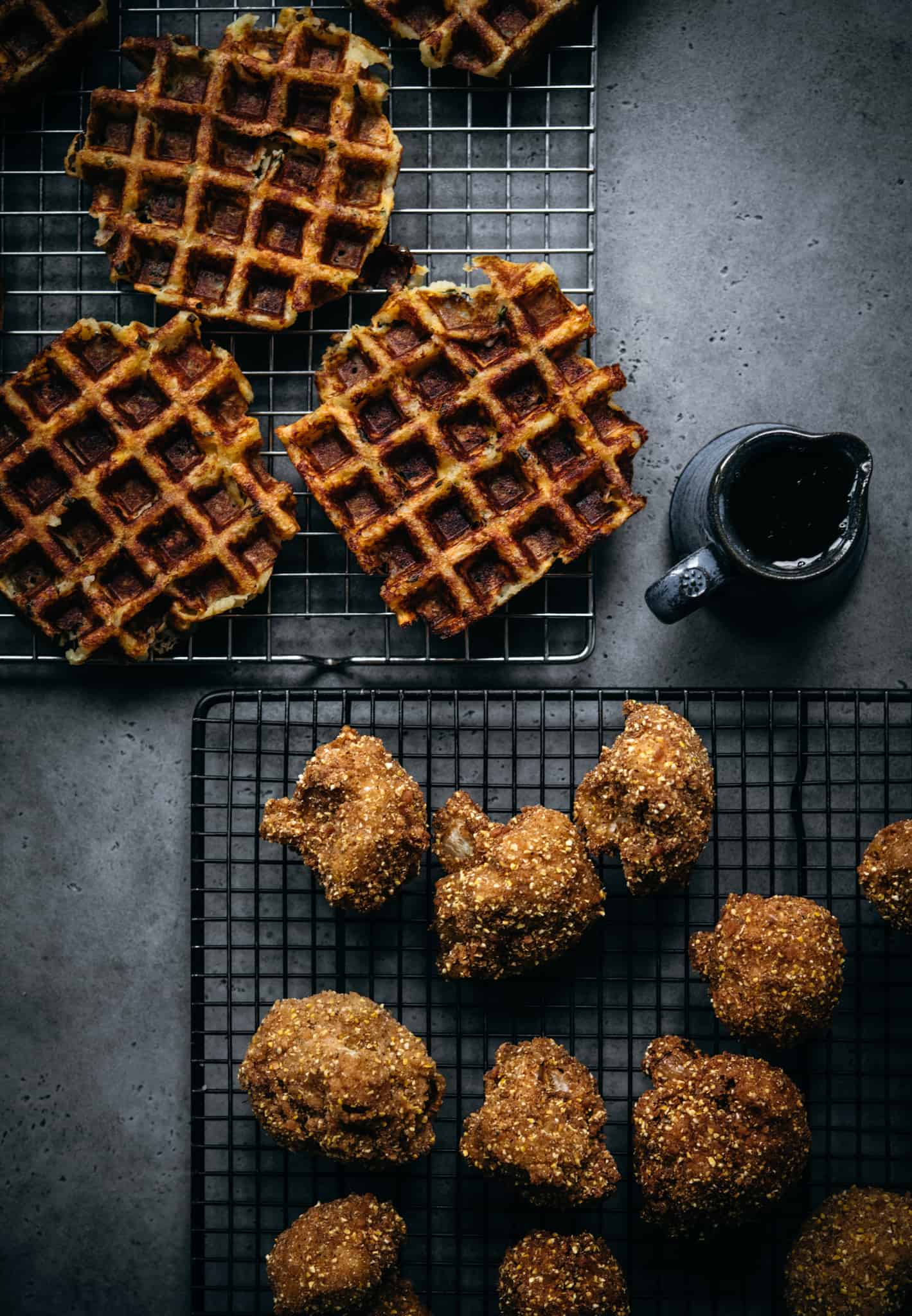 Crispy vegan fried cauliflower
To replace fried chicken, we decided on vegan fried cauliflower. I'm not sure about you guys, but I LOVE fried cauliflower. Specifically buffalo fried cauliflower. If it's on the menu at a vegan restaurant, I'm ordering it.
Cauliflower is inexpensive, easy to fry, and is the perfect shape for vegan chicken and waffles. It really, honestly looks kinda like chicken from the exterior. Right?!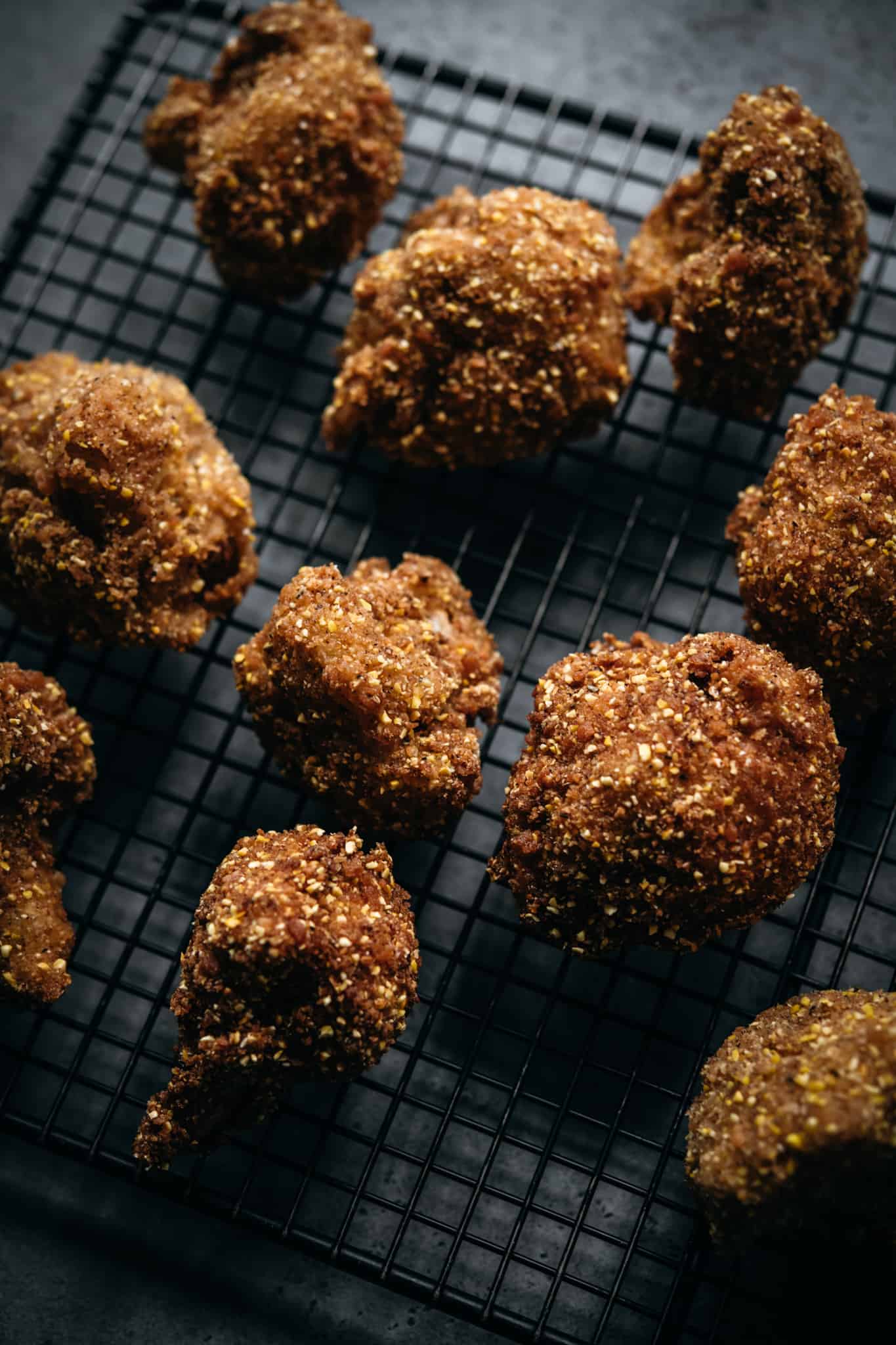 To prep the cauliflower to frying, wash and pat dry. Break the head of cauliflower into bite-sized pieces. You don't want huge chunks, or else they won't cook fully. Be sure that the pieces are evenly-sized so they cook evenly.
To add more flavor to the cauliflower, we drench it in a flavorful batter. It's made with a base of vegan cream, butter, some hot sauce and a few other ingredients for thickening.
Then, the cauliflower is breaded in a cornmeal coating flavored with various spices, including poultry seasoning.
Use a deep dutch oven to deep fry the cauliflower in a neutral, high-heat oil. Canola, vegetable or peanut oil are all great choices and won't smoke up your kitchen.
Fry the cauliflower bites until the crust is a deep golden brown. We transfer them directly to a cooling rack lined with paper towel to absorb extra oil. Voilá – the perfect vegan fried cauliflower!
Mashed potato waffles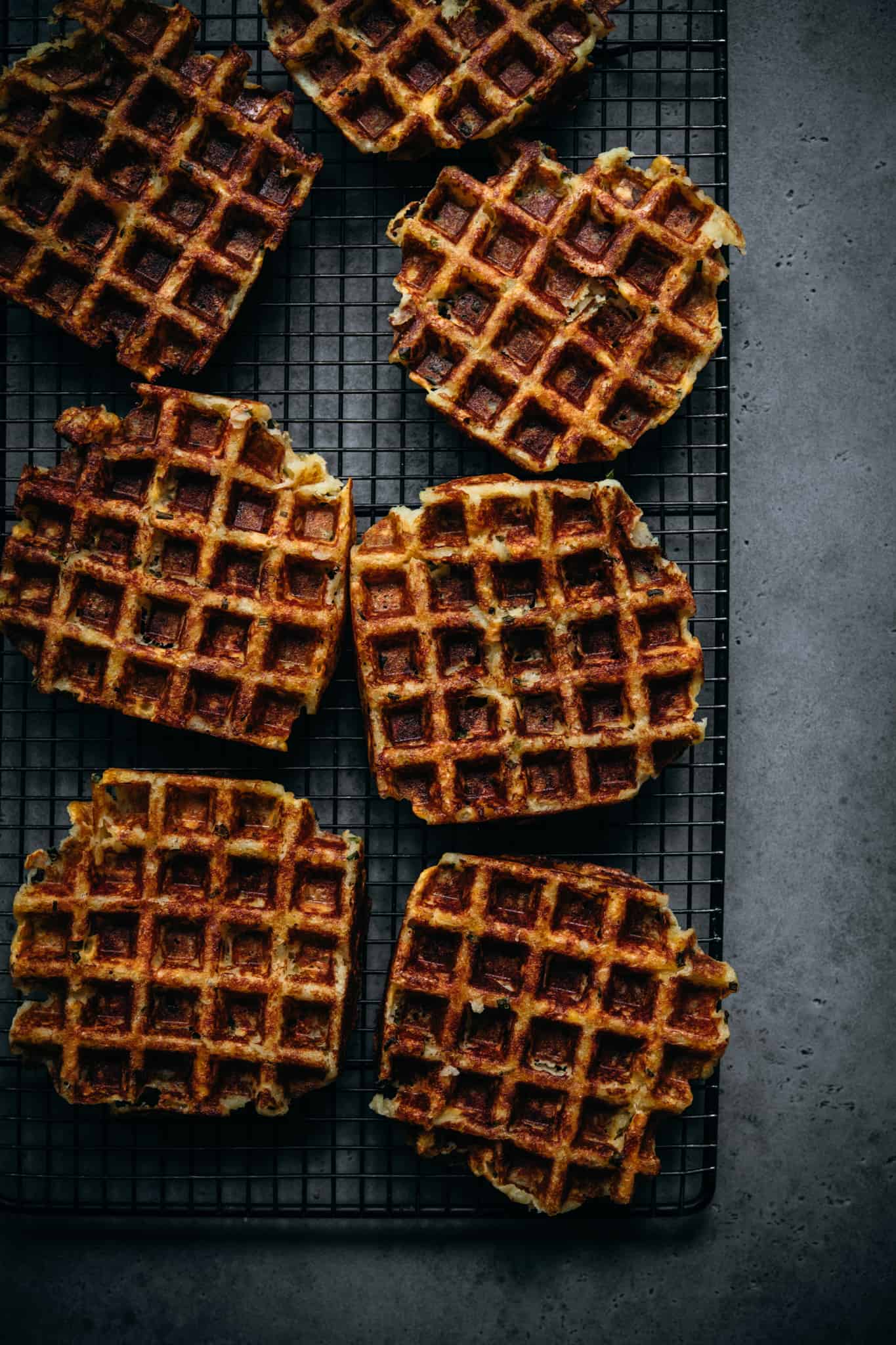 Sure, you could use regular waffles. But you could also use waffles made out of MASHED POTATOES. Is there really any reason not to?
Mashed potato waffles are one of my all-time favorite food inventions. They're quite literally mashed potatoes cooked in a waffle iron. The edges get so crispy and delicious, and the interior is fluffy, cheesy and just so good.
I can't even talk about them without my mouth watering. You need to make these!!
We're sharing a basic cheesy vegan mashed potato recipe below, but you can really use any recipe you'd like. The key is to cook them for long enough that they actually form a crispy exterior. In our waffle maker, it takes about 10 minutes for each waffle to cook.
Vegan cheddar cheese and fresh chives add so much flavor. I love a good savory waffle! Plus, mashed potato waffles are naturally gluten free, so everyone can enjoy them.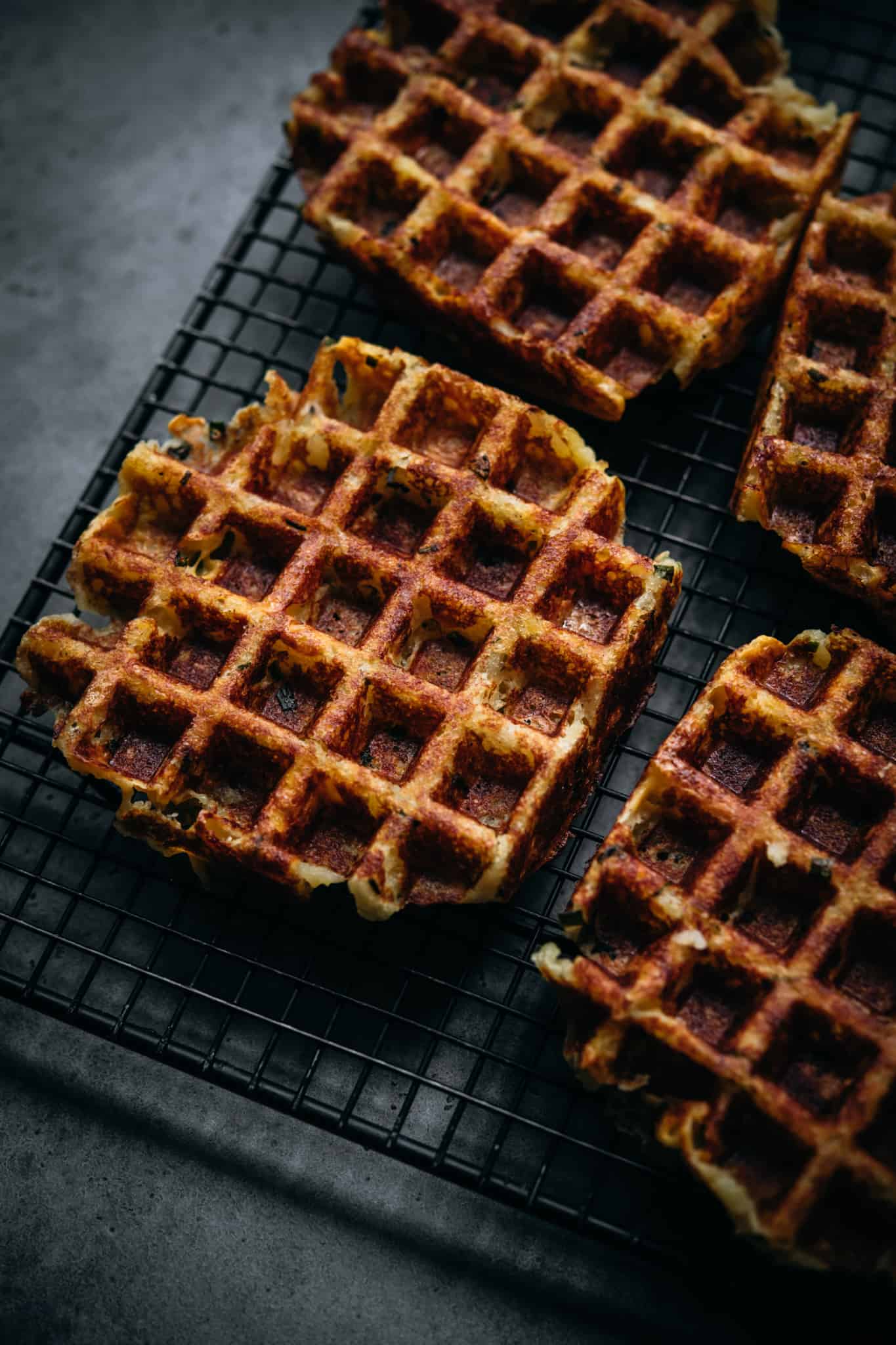 If you'd prefer to go for something more traditional, try these homemade crispy vegan waffles.
Hot Maple Syrup
If you read any food-related publications, you've probably heard of the viral phenomenon that is hot honey. It's literally just honey + hot sauce, but it's the perfect combination of sweet and spicy.
To make this delicious condiment vegan, we simply substitute honey with maple syrup.
Make sure you're using real maple syrup (not the fake pancake stuff!). Maple syrup is more nutritious than conventional sugar and has much more flavor. You can read all about it here!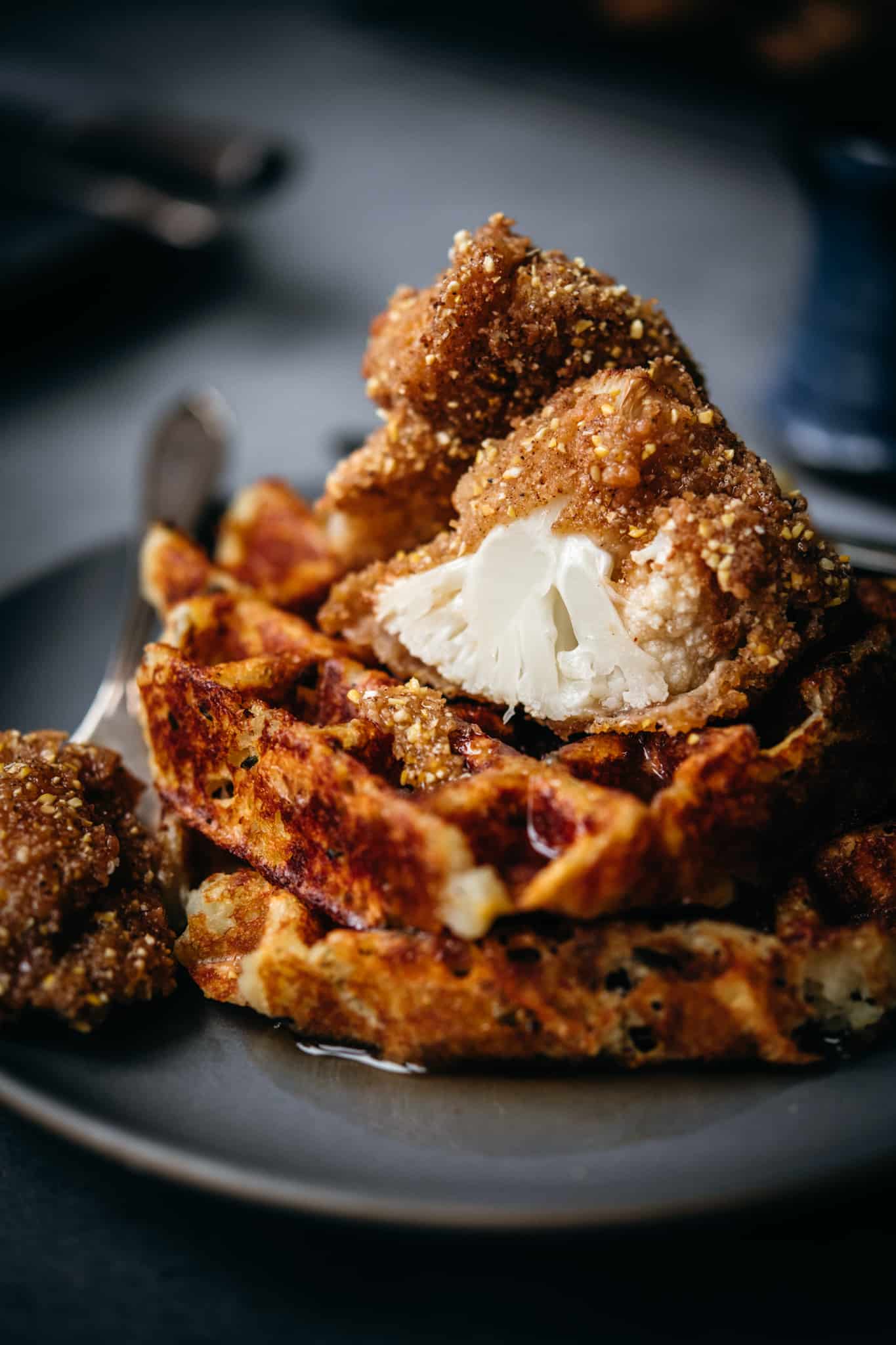 I personally prefer Frank's Red Hot as the hot sauce. You can also use Cholula, Tobasco, sriracha, or any combination of the above. Feel free to add an extra dash or two if you like things extra spicy!
I absolutely douse my vegan chicken and waffles in hot maple syrup. If you don't, you're not doing it right 😉
More vegan brunch recipes to try
Who doesn't love brunch? Instead of over-spending at an overrated restaurant that only has two vegan options, try these recipes instead.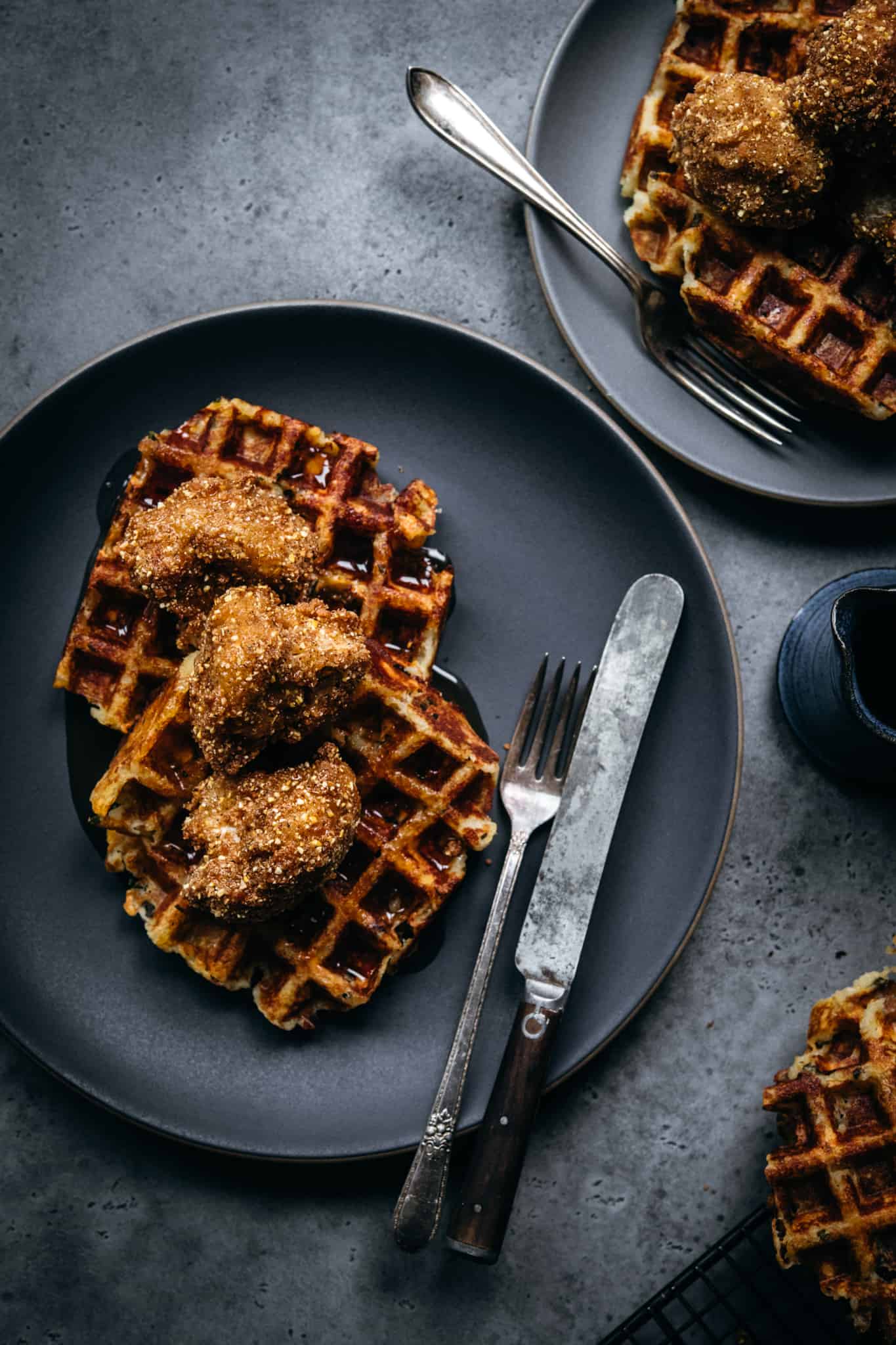 If you make this vegan chicken and waffles recipe, we'd love for you to leave a comment and rating below! We also love to see your creations on Instagram – tag us at @crowded_kitchen so we can see what you've been cooking.
Print
📖 Recipe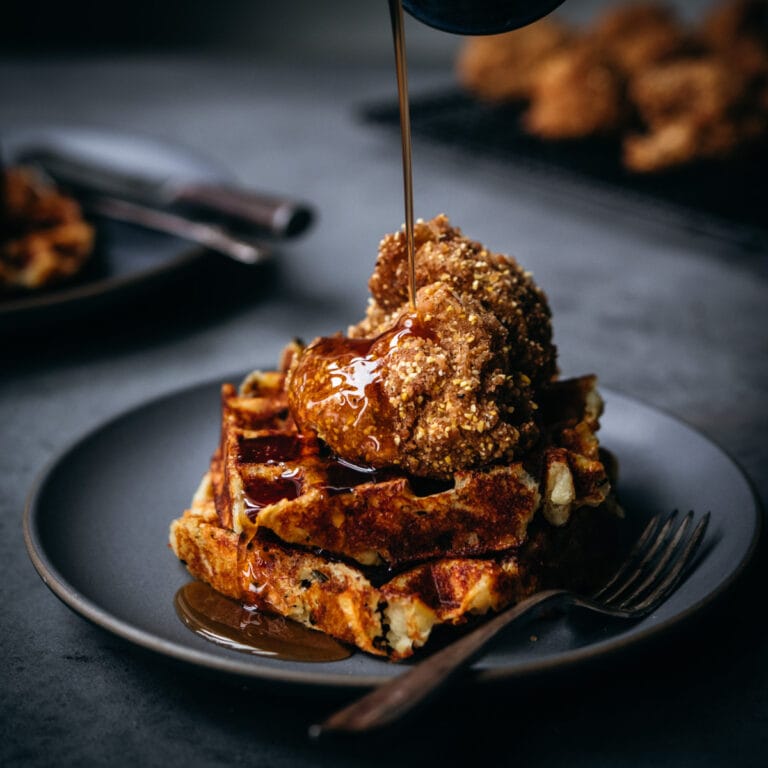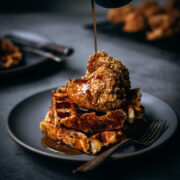 Vegan Chicken and Waffles
---
Author:

Lexi

Total Time:

1 hour

Yield:

Serves

6

-8

1

x
Description
We present to you: the BEST ever vegan chicken and waffles, made with crispy fried cauliflower, mashed potato waffles and hot maple syrup. Hands down the best vegan brunch you'll ever have!
---
Cauliflower:
1

large head of cauliflower, broken into smaller florets

6

-

8

cups of neutral, high-heat oil (vegetable, canola or peanut)
Batter:
1 ¼ cups

unsweetened vegan creamer

¼ cup

melted vegan butter

3 tbsp

dijon mustard

1 tbsp

of hot sauce*

1 tbsp

lemon juice

¾ cup

gluten free all purpose flour

1 tbsp

arrowroot starch

½ tbsp

poultry seasoning

1 tsp

salt

½ tsp

paprika
Breading:
1 ½ cups

gluten free bread crumbs

¾ cup

coarse ground cornmeal

1 tbsp

Italian seasoning blend

2 ½ tsp

salt

½ tbsp

poultry seasoning

½ tbsp

paprika

¾ tsp

garlic powder

¾ tsp

onion powder

¾ tsp

ground black pepper
Mashed Potato Waffles:
5

lb. peeled Yukon gold potatoes, diced

⅔ cup

vegan butter

2

-

2 ½

teaspoon salt

½ tsp

ground pepper

⅔ cup

finely chopped chives

1 cup

vegan cheddar cheese
Hot maple syrup:
⅔ cup

maple syrup

1 tbsp

hot sauce*
---
Instructions
Cauliflower:
Break up head of cauliflower into evenly-sized florets. 
In a deep dutch oven, heat oil over medium heat. 
Whisk together all ingredients for batter. 
Add all ingredients for breading to food processor and pulse a few times until it comes together. 
Dip cauliflower in batter, coat well, and shake off excess batter. Coat in breading, making sure to evenly coat entire exterior. 
When the oil is ready (about 350˚F), fry 5-6 pieces at a time until crispy and golden brown. It takes about 5 minutes for each batch, but it's best to just judge by the color.
Remove using tongs or a long slotted spoon and transfer to a cooling rack lined with paper towel. Repeat until all cauliflower is cooked. 
Mashed Potato Waffles:
Bring a large pot of water to a boil (12 cups water) with 1 tablespoon of kosher salt. Meanwhile, start pre-heating waffle iron. 
Add potatoes to boiling water and cook until fork tender, about 20 minutes. Drain and return to pot or a large bowl. 
Mash with butter, salt and pepper, then stir in chives and cheese. 
Add mashed potatoes to waffle iron heated to medium and cook for about 10 minutes, until the exterior is golden brown and crispy. When the waffles are ready, carefully remove and let cool on a cooling rack. 
Hot maple syrup:
In a saucepan, whisk together maple and hot sauce over low heat until just heated through. 
Pour oven waffles topped with fried cauliflower and enjoy!
Prep Time:

30 minutes

Cook Time:

30 minutes

Category:

Brunch

Method:

Frying

Cuisine:

American
Nutrition
Serving Size:
Calories:

838

Sugar:

22.5 g

Sodium:

2446.7 mg

Fat:

30.5 g

Saturated Fat:

9.1 g

Trans Fat:

0 g

Carbohydrates:

129 g

Fiber:

13.8 g

Protein:

13.7 g

Cholesterol:

14.9 mg
Keywords: vegan chicken and waffles