This summery white bean vegetable soup is loaded with flavor and has a special ingredient. This soup is perfect for an easy, delicious weeknight dinner that also happens to be vegan.
This post is sponsored by Coombs Family Farms. All opinions are our own.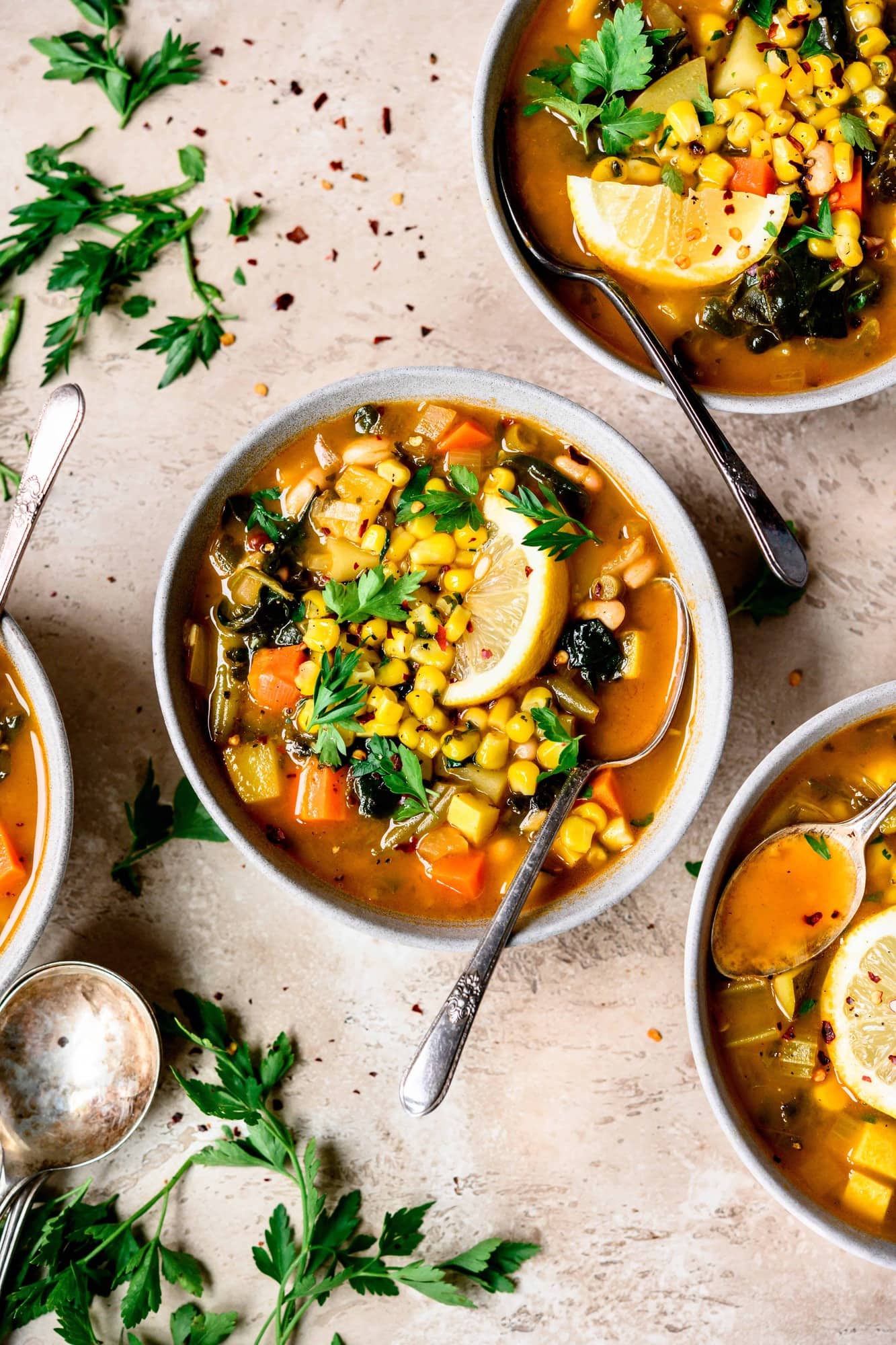 Last month, we traveled to New Hampshire to visit the Coombs Family Farms team for Maple Weekend. Coombs is one of the nation's largest producers of maple syrup.
They source from over 3,000 small family farms throughout the Northeast. In our house, we've used Coombs' maple products for years, so we were thrilled to meet the team and learn more about their maple syrup production. It was a fantastic educational (and tasty!) experience.
We're now excited to share it with you.
Scroll down to grab the recipe for this white bean vegetable soup!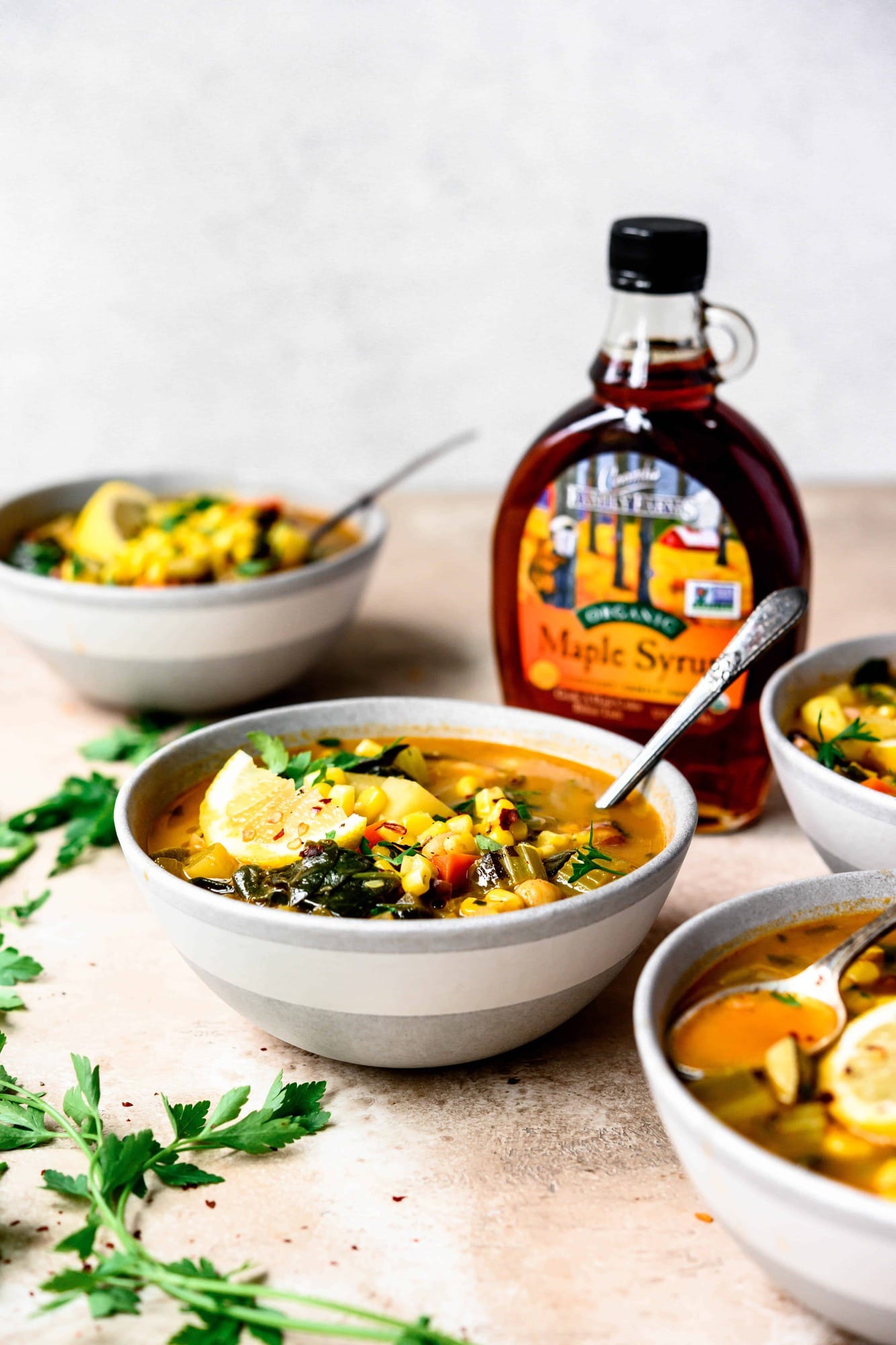 How is maple syrup produced?
Let's start with a fascinating fact. It takes 40 gallons of maple sap to make 1 gallon of maple syrup. 40 gallons! If you've ever had the chance to tap a maple tree, you'll appreciate this even more. The sap drips out of a tree at an almost painstakingly slow rate. Harvesting enough sap to make gallons of syrup every year requires incredible coordination and a whole lot of maple trees.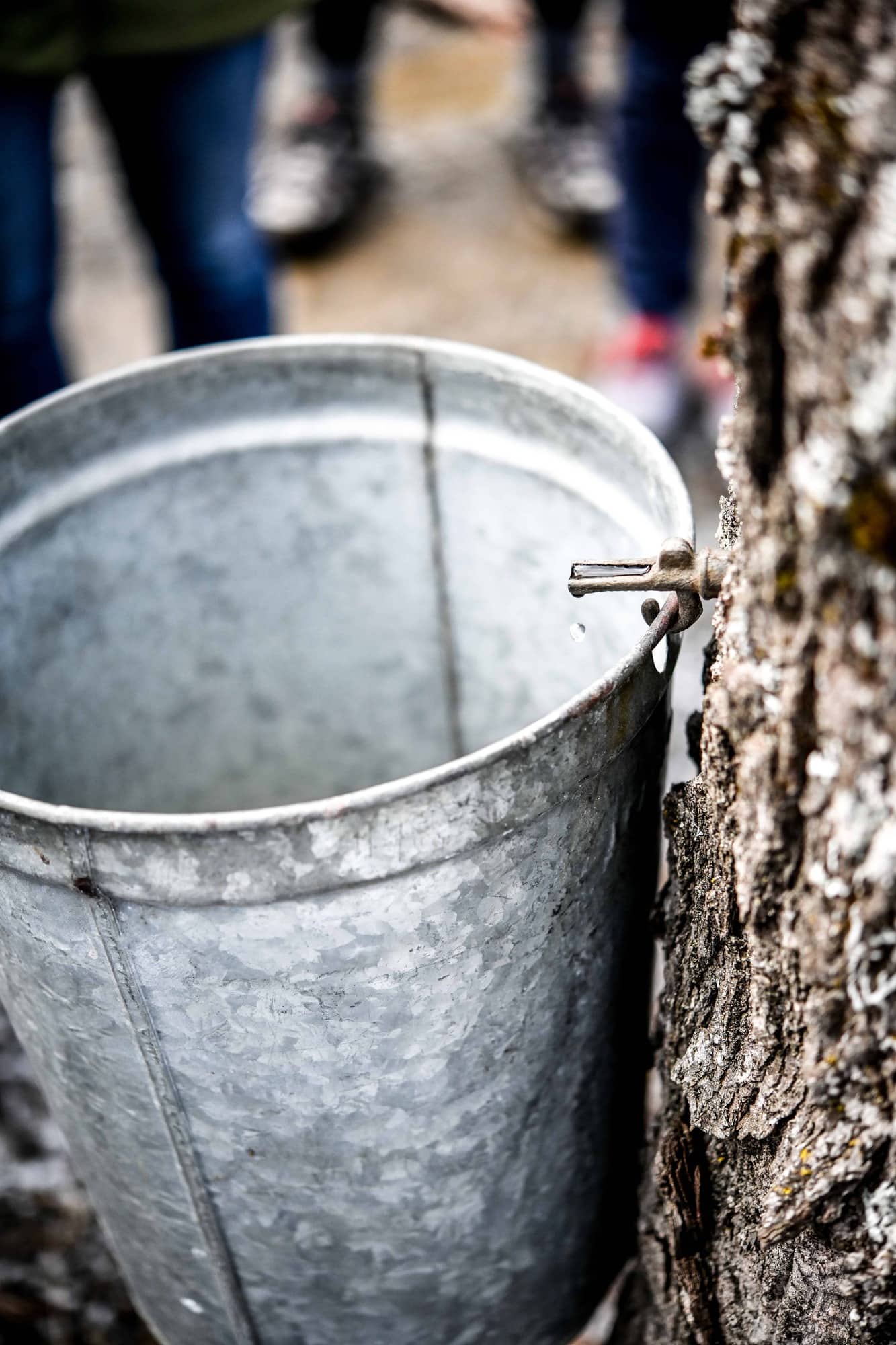 Even more impressive: the average maple season only lasts between 4 and 6 weeks. Cold (below freezing) nights and warm sunny days are ideal conditions for maple flow. Harvesters have to take advantage of days like these, and adapt to weather patterns each year. Depending on the year, the season could last only a few weeks. Oh, and it takes 40 years for a maple tree to grow big enough to tap.
During our trip, we had a chance to visit a small family farm in Vermont. We each tapped a maple tree. The process involves drilling a small hole in a suitable tree (angled upward), placing the tap in the hole, and hanging a covered bucket below the tap to collect the sap.
Sometimes, the sap immediately started flowing in a steady drip. Other times, it took a few minutes to get going, or it didn't flow much at all. It's mind-boggling to imagine the number of trees required to produce the gallons of syrup that Coombs does every season!
After collecting the sap, the Coombs team transports it to the Sugarhouse, where they boil it down into syrup. At a small farm like the one we visited, boiling happens in a tiny building with a large evaporator.
A wood-burning firebox heats the whole system. As the water evaporates from the sap, sugar caramelizes and thickens. The sugarmaker continuously tests the viscosity of the syrup in the vat. The syrup is finally ready when it comes off the edge of a metal scoop in a single sheet, rather than droplets.
We later visited a much larger production facility in New Hampshire. There, workers boil the sap in much larger state-of-the-art facilities. Once the syrup is made, it gets filtered and graded for color and flavor.
What's the difference between maple syrup grades?
Another interesting fact: maple syrup is graded by flavor, not quality! In fact, all maple syrup grades were recently changed to grade A to cut down on confusion. Still, if you ever find yourself confused at the store, follow this simple guide:
Grade A Light Amber: Light colored syrup with a delicate taste.
Grade A Medium Amber: This grade is a slightly darker color (amber) and richer in taste.
Grade A Dark Amber: This grade was formerly Grade B. It's simply darker in color than amber and more robust in taste.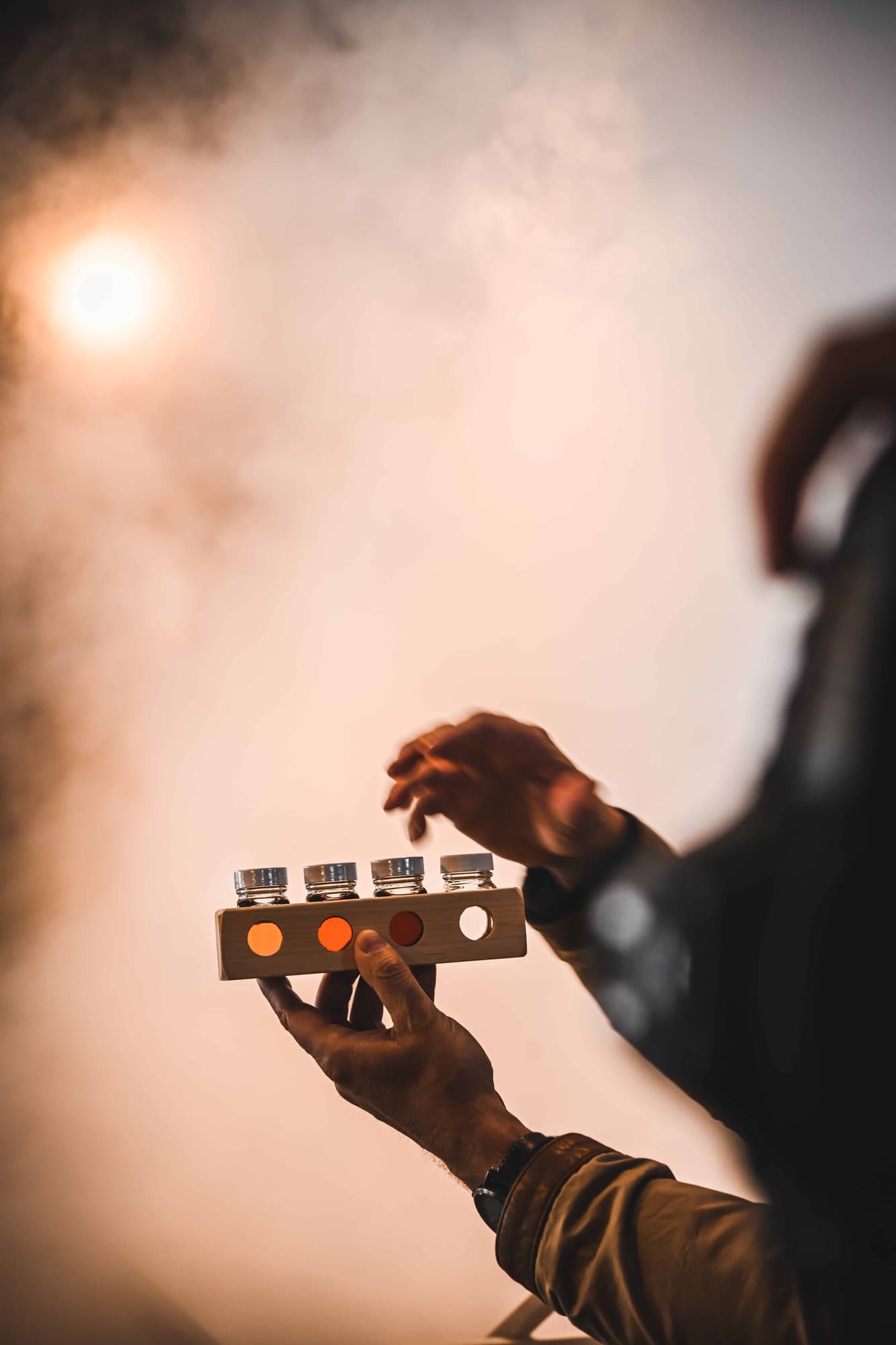 We personally prefer grade A dark amber for its rich flavor, but all three are delicious!
Is maple syrup good for you?
First things first. Please, PLEASE note that pure maple syrup is entirely different than pancake syrup (Aunt Jemima's, etc.). Pancake syrup is NOT maple syrup and contains no real maple. It contains high-fructose corn syrup and artificial colors and flavorings.
Real maple syrup is more expensive, but it's worth the price when it comes to both flavor and nutritional quality.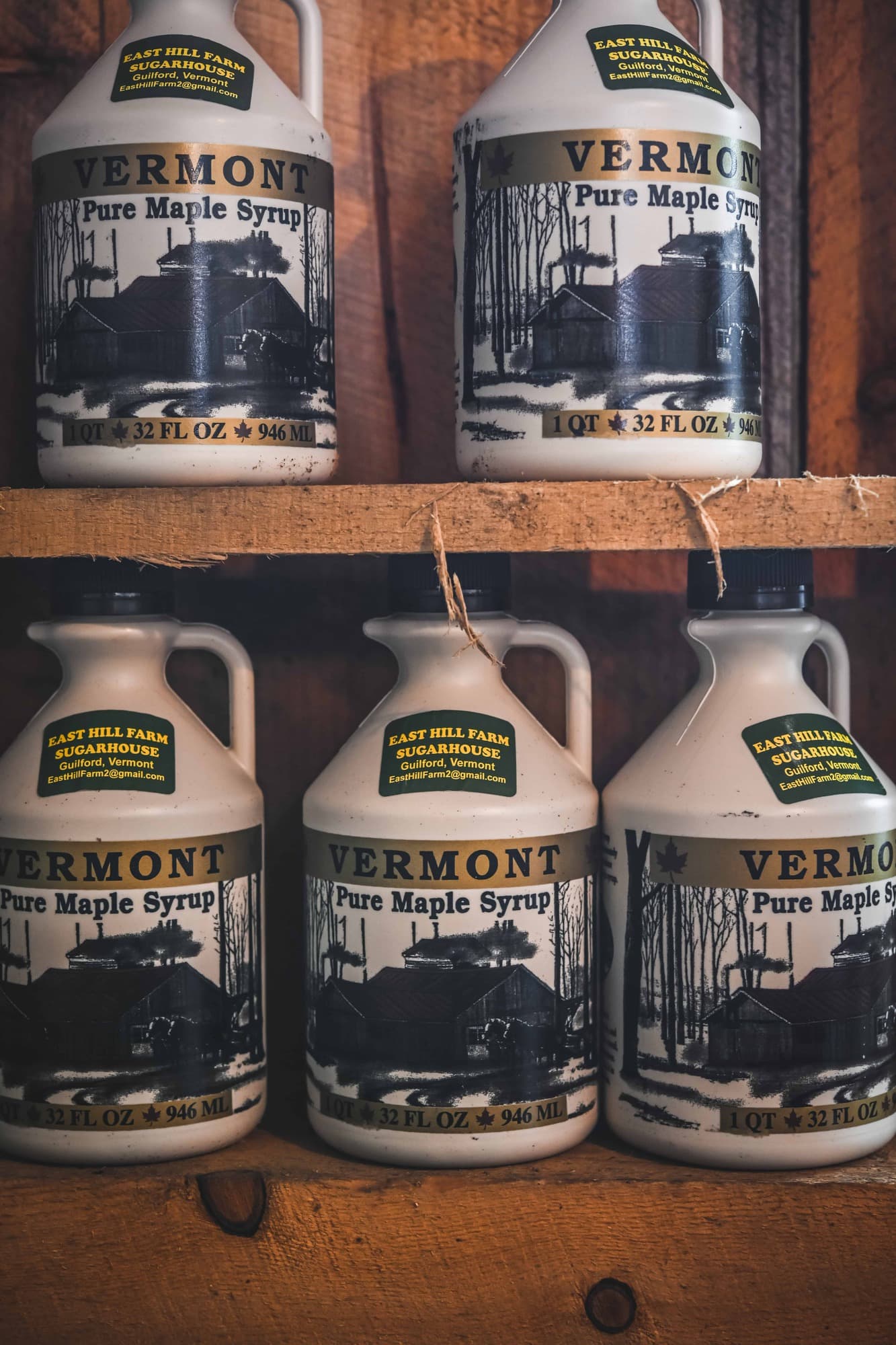 One of our favorite parts of the trip was a presentation about maple syrup nutrition led by University of Rhode Island professor Navindra Seeram. Dr. Seeram has researched the nutritional benefits of maple syrup for years, and his findings are impressive.
First of all, maple syrup is a natural, minimally-processed sugar compared to most conventional cane sugars. While maple syrup contains a comparable amount of calories to other sweeteners, it is significantly lower on the Glycemic Index than regular sugar and honey. This means that maple syrup affects blood sugar less than other sweeteners.
Dr. Seeram found that maple syrup contains a wide range of important phytochemicals and antioxidants. Maple syrup also contains significant amounts of manganese, riboflavin, zinc, magnesium, calcium and potassium.
Interestingly, Dr. Seeram actually discovered a new phenolic compound that's only present in maple syrup (and not sap), which suggests that the processing (boiling) of sap may actually enhance the nutritional benefits of maple syrup.
When you consider all of these benefits compared to other sweeteners, it's pretty clear (in our opinion) that maple is the best choice.
How to use maple syrup in daily recipes
We've used maple syrup as a go-to sweetener for years. For healthier dessert options, we use maple syrup instead of regular sugar in this banana bread, these homemade peanut butter cups and this peanut butter mousse tart (among many more).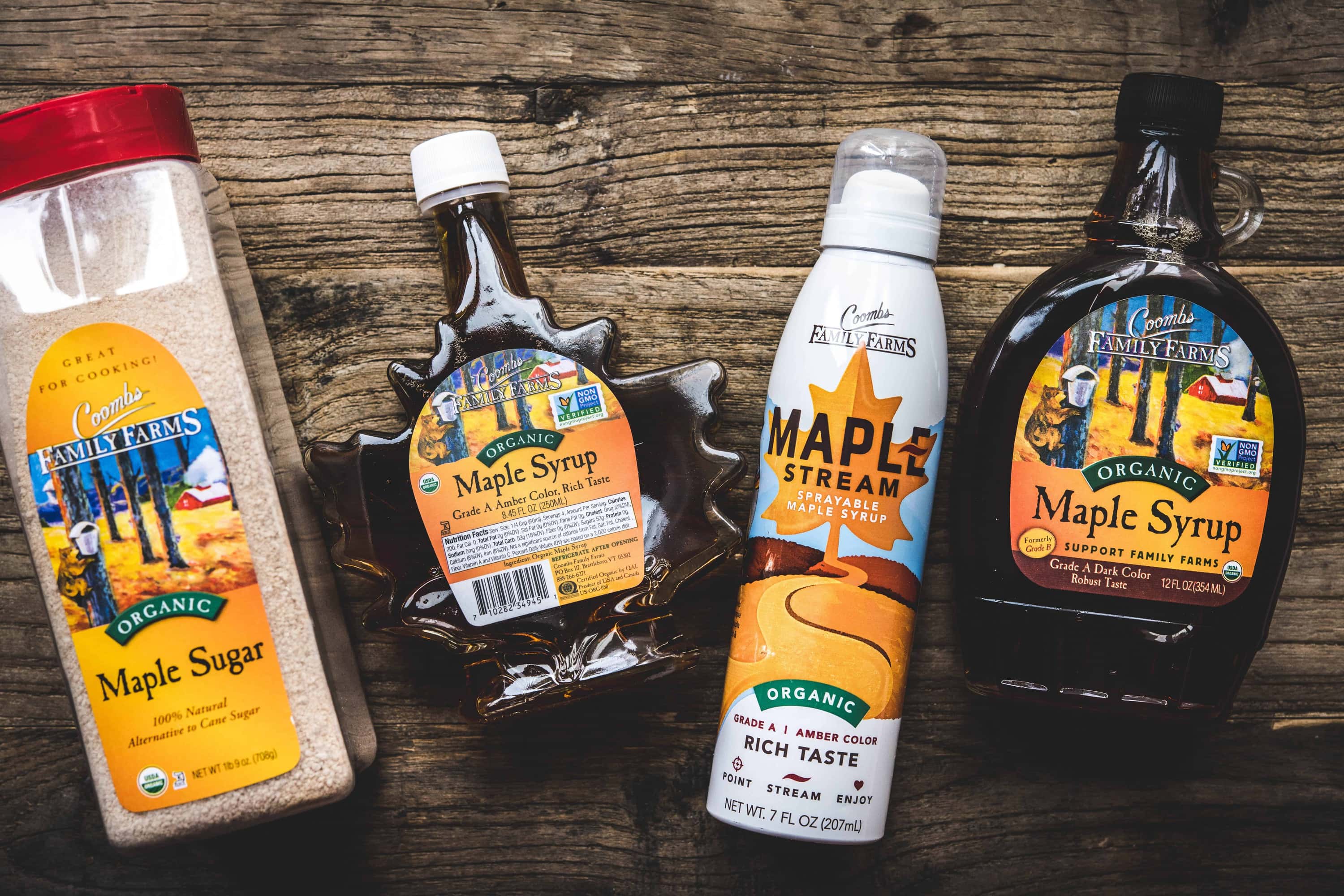 We also often use maple syrup to sweeten breakfast recipes (and not just for pancakes & waffles). Add a touch of maple syrup to your next batch of chia pudding, or bowl of oatmeal (instead of brown sugar). One of our favorite uses of maple syrup is this Maple Bourbon Apple Cider Cocktail. So delicious!
Plus, there's no need to limit maple to sweet recipes. We often add a bit of maple syrup to savory dishes to balance flavors, which brings us to this white bean soup.
A touch of maple syrup pairs perfectly with savory white beans, poblano peppers, fresh herbs and summery vegetables. It adds that extra bit of *oomph* that makes this a uniquely delicious weeknight dinner.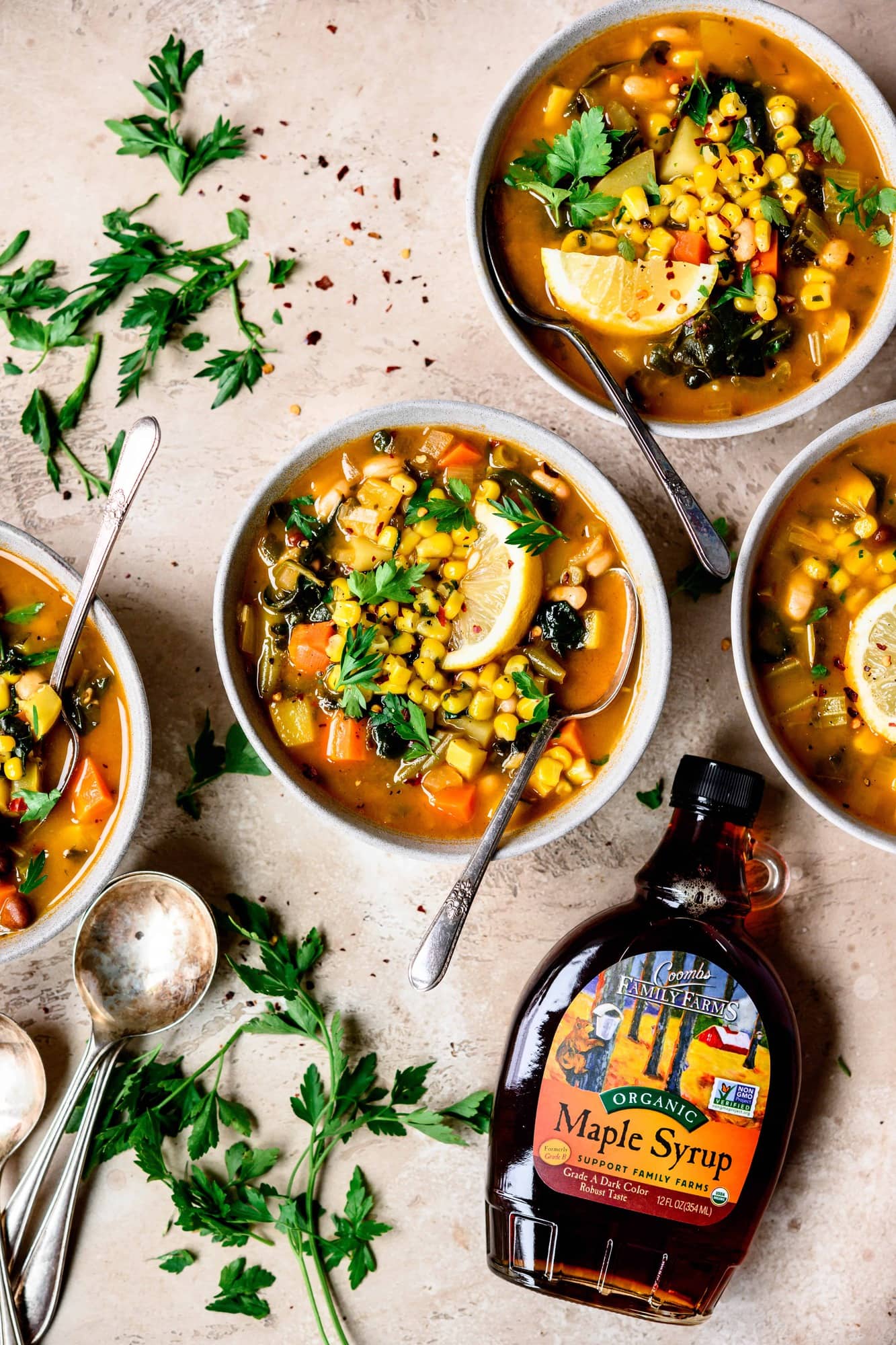 We love making small ingredient swaps in traditional recipes like bean soup. We also love adding a bit of maple syrup into homemade chili. It complements the smoky, rich chili flavors and adds a great depth of flavor. We also think maple is delicious on roasted carrots (and other roasted root vegetables).
Head to the Coombs website to see where you can find their products in stores near you!
How do you use maple syrup? We'd love to hear more ideas in the comments!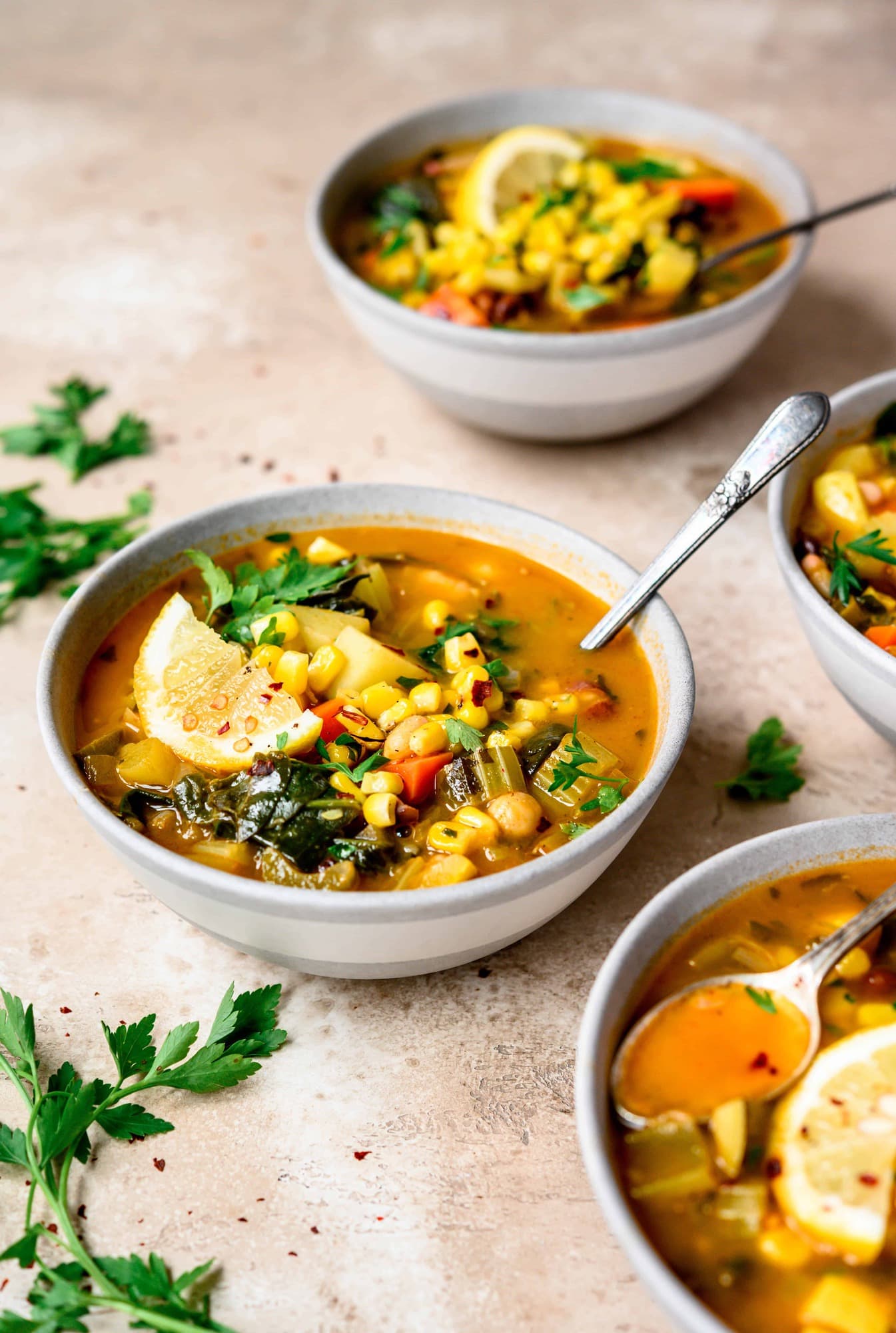 Print
📖 Recipe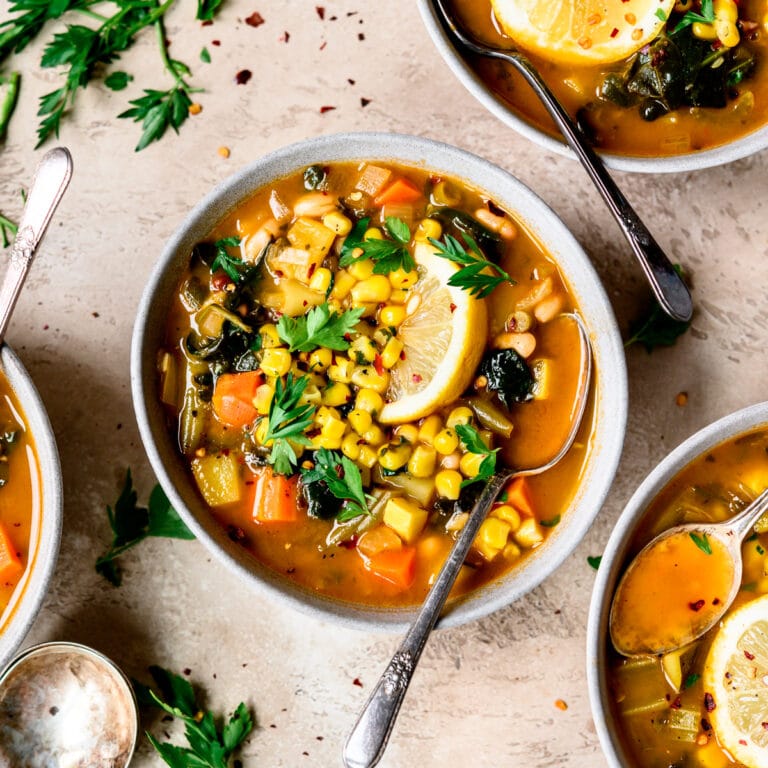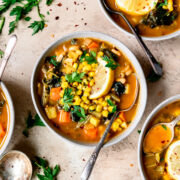 White Bean Vegetable Soup
---
Author:

Lexi

Total Time:

55 minutes

Yield:

Serves

4

-6

1

x

Diet:

Vegan
Description
This summery white bean vegetable soup is loaded with flavor and has a special ingredient. Perfect for an easy, delicious weeknight dinner.
---
4 tbsp

vegan butter

1

yellow onion, diced

¼ cup

minced poblano pepper

4

cloves garlic, minced

1 ¼ cups

diced yellow potatoes

1 ¼ cups

diced yellow squash

1 ¼ cups

diced zucchini

1 cup

celery, sliced thinly

1 cup

green beans (frozen or fresh), sliced in thirds

1 cup

diced carrot

½ cup

corn

½ cup

finely chopped fresh parsley

¼ cup

finely chopped fresh cilantro

1 ¾

-

2

teaspoon fine sea salt

½ tsp

red pepper flakes

5

-

6

cups low sodium vegetable broth

¼ cup

Coombs Maple Syrup

2 tbsp

tomato paste

2

  tablespoon freshly squeezed lemon juice

1

15 oz can cannellini beans, drained 

1

15 oz can pinto beans, drained

6 cups

fresh spinach
---
Instructions
Heat large stock pot over medium and add butter. 
Add onions and sauté for 3-5 minutes, until slightly softened. Add poblano pepper and garlic and continue to cook for 5 minutes, stirring often. 
Add potatoes, squash, zucchini, celery, green beans, carrots, corn, parsley, cilantro, sea salt, and red pepper flakes. Stir well and cook for 3-5 minutes.  
Add broth, maple syrup, tomato paste, and lemon juice and bring to a boil. Reduce heat to medium low, cover with lid and let simmer for 30 minutes.  
Add beans and spinach. Cook over medium low heat for another 10-15 minutes until greens have slightly wilted. Taste and adjust spices if necessary.  
Prep Time:

10 minutes

Cook Time:

45 minutes

Category:

Soups

Method:

Stovetop

Cuisine:

American
Nutrition
Serving Size:

1 Bowl

Calories:

356

Sugar:

14.5 g

Sodium:

1489.2 mg

Fat:

8.5 g

Saturated Fat:

5.6 g

Trans Fat:

0 g

Carbohydrates:

60.1 g

Fiber:

13.6 g

Protein:

14.6 g

Cholesterol:

0 mg
Keywords: white bean vegetable soup
This post is sponsored by Coombs Family Farms. All opinions are our own. Thank you for supporting the brands that support us!