This gorgeous and colorful hummus appetizer platter is the perfect way to start your next dinner party or holiday! We always add vegan and gluten free options for dipping so everyone has something to enjoy.
Thanks, Kelly, for hosting this fantastic weekend, and thank you to Sabra for sponsoring this post! As usual, all opinions are our own.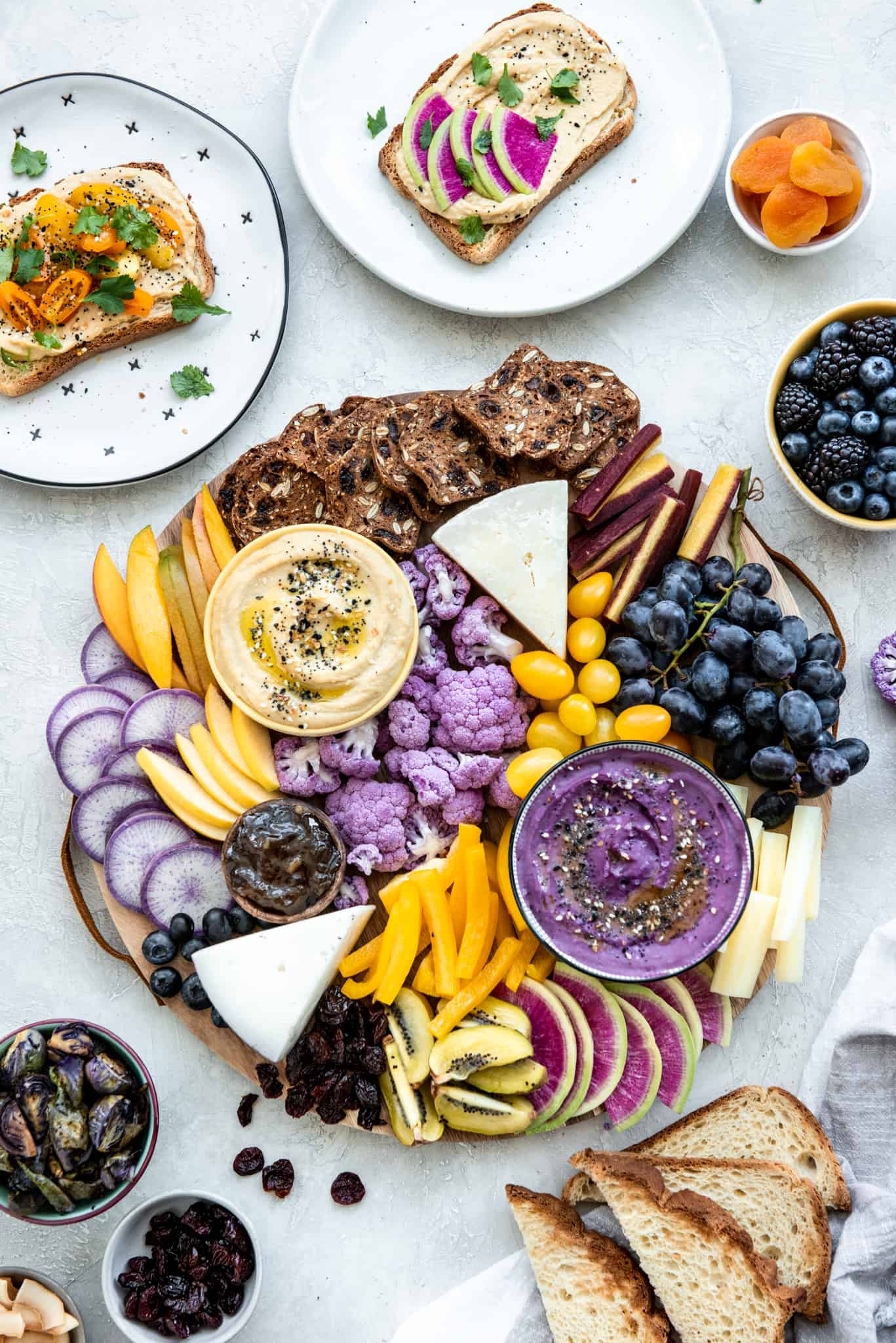 A few weeks ago we headed to Denver, Colorado for a #TeamNosh retreat hosted by the lovely Kelly of Nosh and Nourish. Kelly has built an incredible team of contributors.
There are currently six of us (see below) and we had a fantastic weekend together. We spent lots of time chatting, learning from each other, and at the end of the day, eating and drinking everything in sight.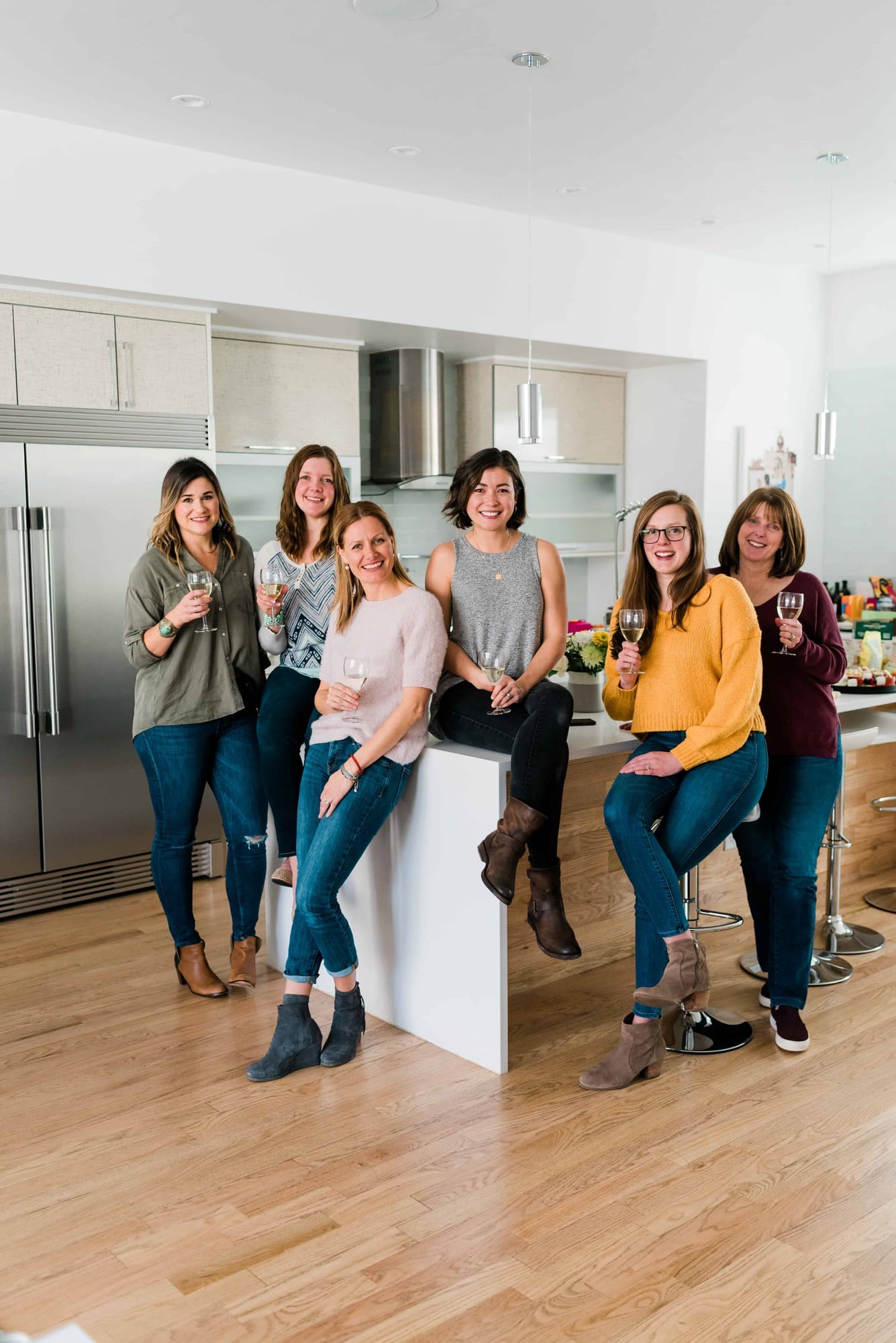 Ultimately, we were sad to leave at the end of the weekend. It was wonderful to connect with like-minded women and develop friendships in real life! This career can be lonely at times, so it was refreshing to spend time with people who understand how much work goes into all of this.
It felt like we didn't stop talking and laughing the entire time. Luckily, Kelly is already planning our next event (yay!) for next fall and we can't wait.
One of our favorite parts of the weekend was assembling, shooting and then devouring this beautiful purple and yellow hummus appetizer platter! Kelly stocked a HUGE fridge full of all of our favorite snacks and produce.
The highlight was plenty of Sabra Hummus for dipping and spreading on toast. (Move over avocado toast...we think hummus toast is the next big thing!) I can assure you we did not go hungry (or thirsty) for a moment of the trip.
We entertain often at home. From family birthday celebrations to parties for 70+ people, we always make a huge snack platter for an appetizer. Because our family has so many different dietary restrictions and requirements, we try to include something for everyone. Here are a few helpful tips for building a beautiful and delicious platter:
The more color, the better! Vibrant, unique produce is always a conversation starter and encourages people to eat more fruits and veggies. No sad veggie platters here! Look for watermelon radishes, purple carrots, purple or orange cauliflower and other interesting produce to spice things up.
It's all about the dips! You'll need something delicious to complement all of those raw vegetables. Our first choice is always hummus because it's a crowd-pleaser and goes well with just about anything.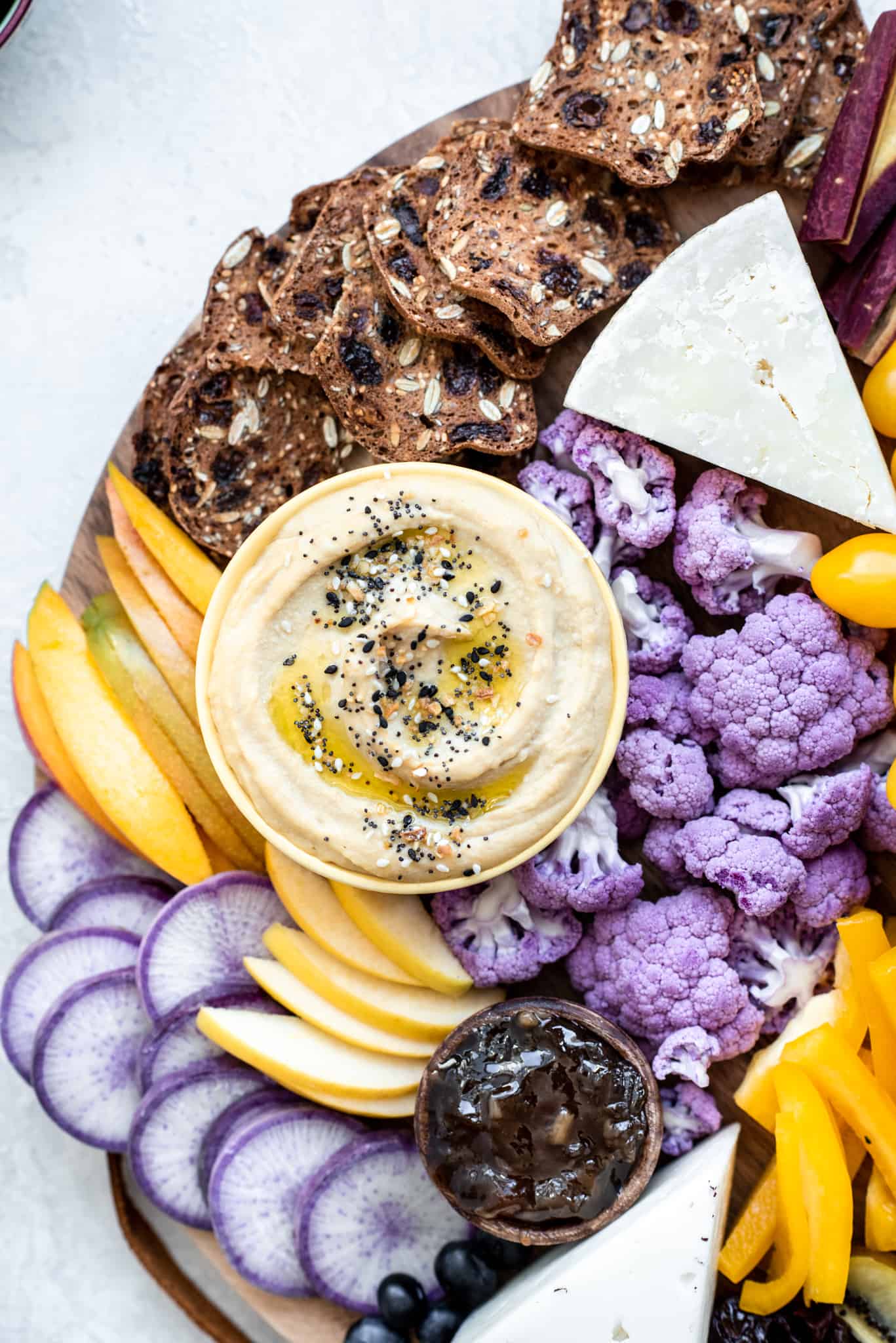 Pair produce with crackers and baguette or toasted bread. We also like to add cheese. Usually, we add a few dairy options and then a few vegan cheeses so everyone can enjoy.
When it comes to assembly, we prep everything first and then assemble by color/texture/flavor pairings. It's helpful to see everything laid out before it goes on the board.
Sabra has unique hummus flavors, which is always fun. We loved trying this Organic Roasted Garlic Hummus. Their Greek Inspired Hummus is also delicious! If you haven't tried spreading some of your favorite hummus on toast, you need to give it a try.
Check out this Yellow Ombre Hummus Toast from Nosh and Nourish and this Tex-Mex BBQ Hummus Toast from My Diary of Us for toast inspo!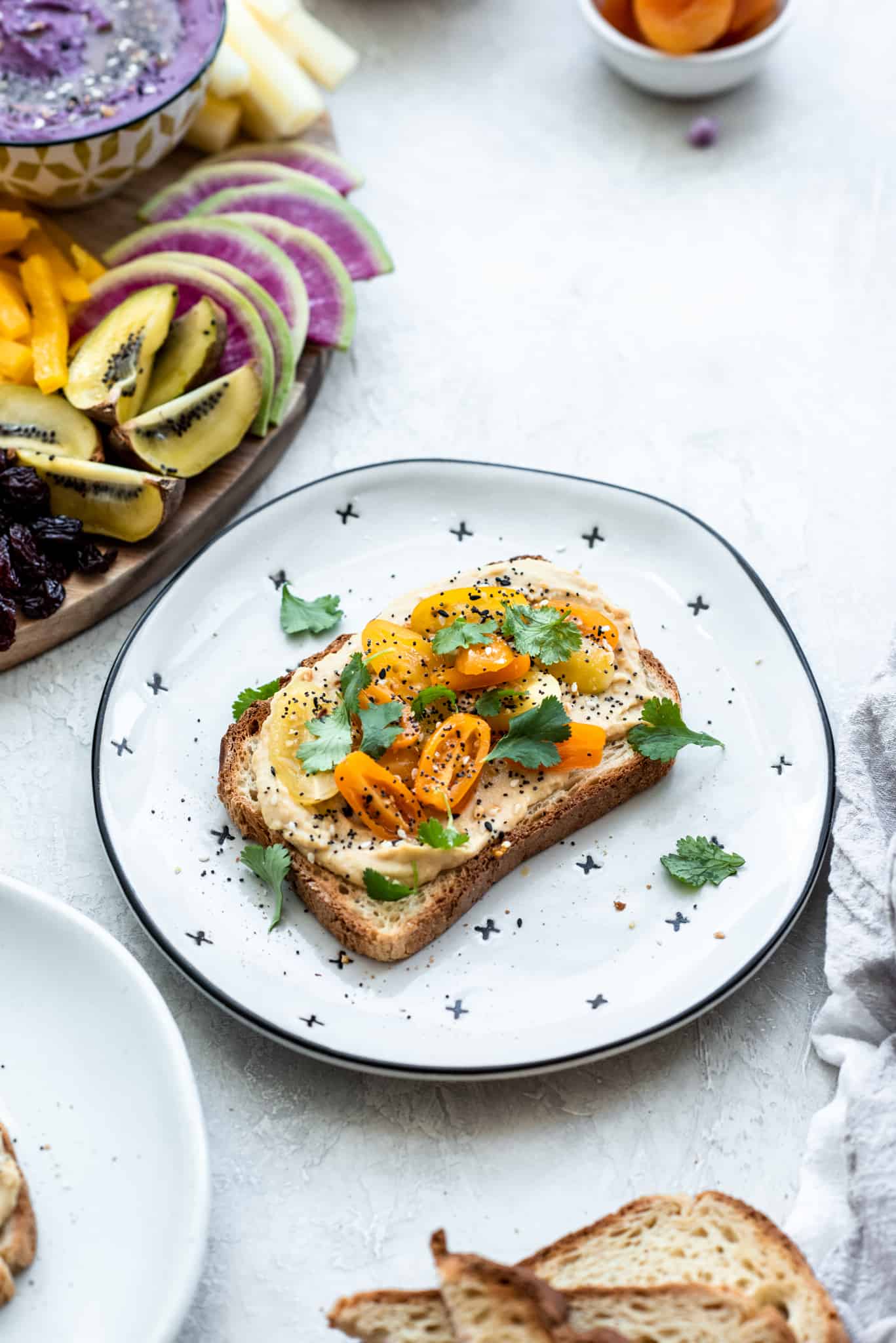 In addition to hummus, try the purple sweet potato white bean dip pictured below, our homemade vegan caramelized onion dip, roasted eggplant carrot tahini dip, or this crowd-pleasing vegan queso.