Ready to try the BEST creamy, rich, delicious vegan mashed potatoes? They're easy to make, made with easy-to-find ingredients and nobody will miss the dairy! We're also sharing a few ways to make these dairy free mashed potatoes extra fancy for the holidays.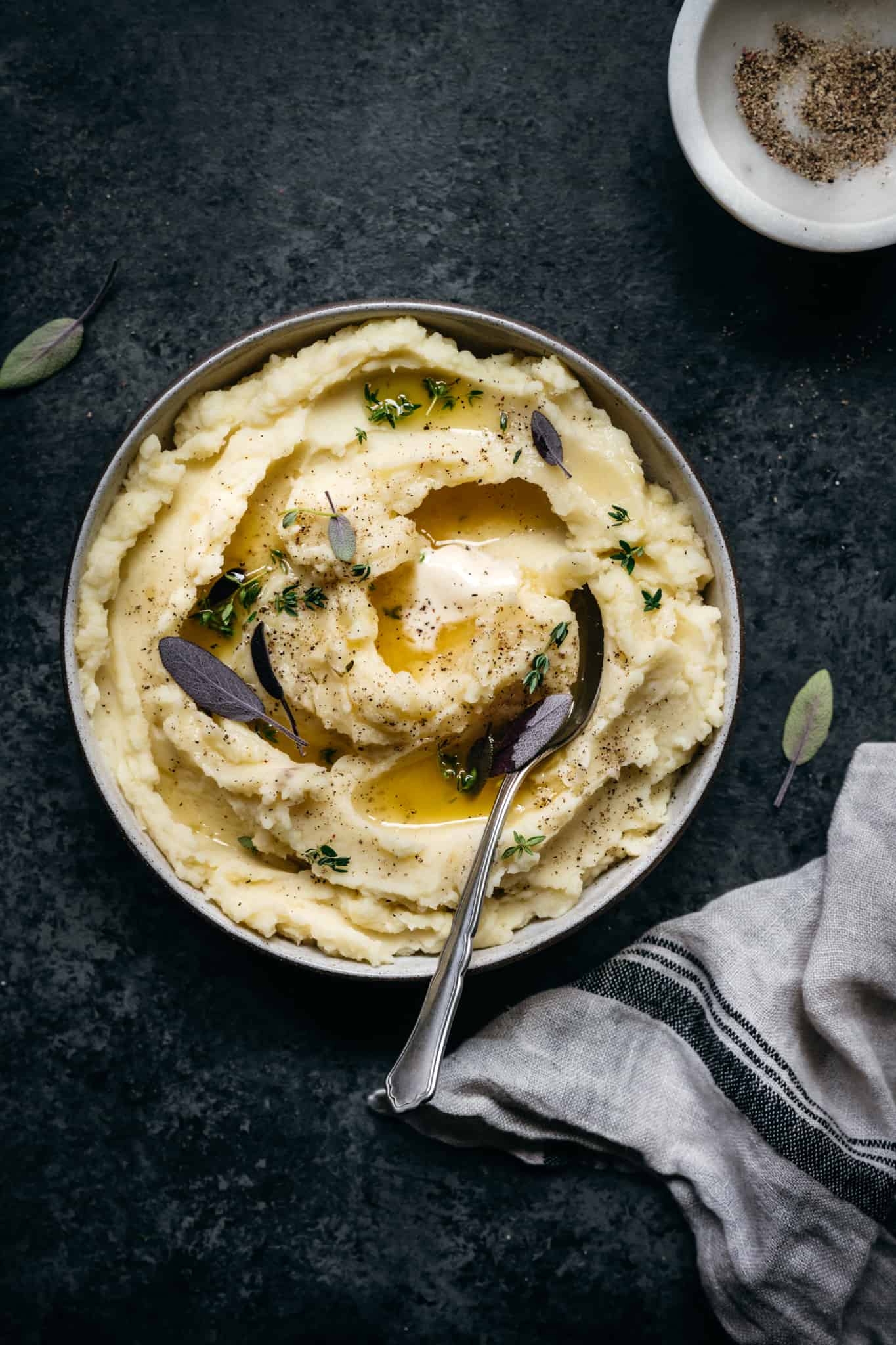 Have you ever met someone that doesn't like mashed potatoes? I think I'd have to unfriend them. What's not to love? Fluffy, creamy, salty, buttery...okay, you get it. I'm potato-obsessed.
The good news is, vegan mashed potatoes can be just as delicious as their traditional counterparts. After quite a few years of holiday recipe testing, we've come up with the perfect formula for the best, easy vegan mashed potatoes you'll ever make.
Ready? Of course you are. Look at that swirl!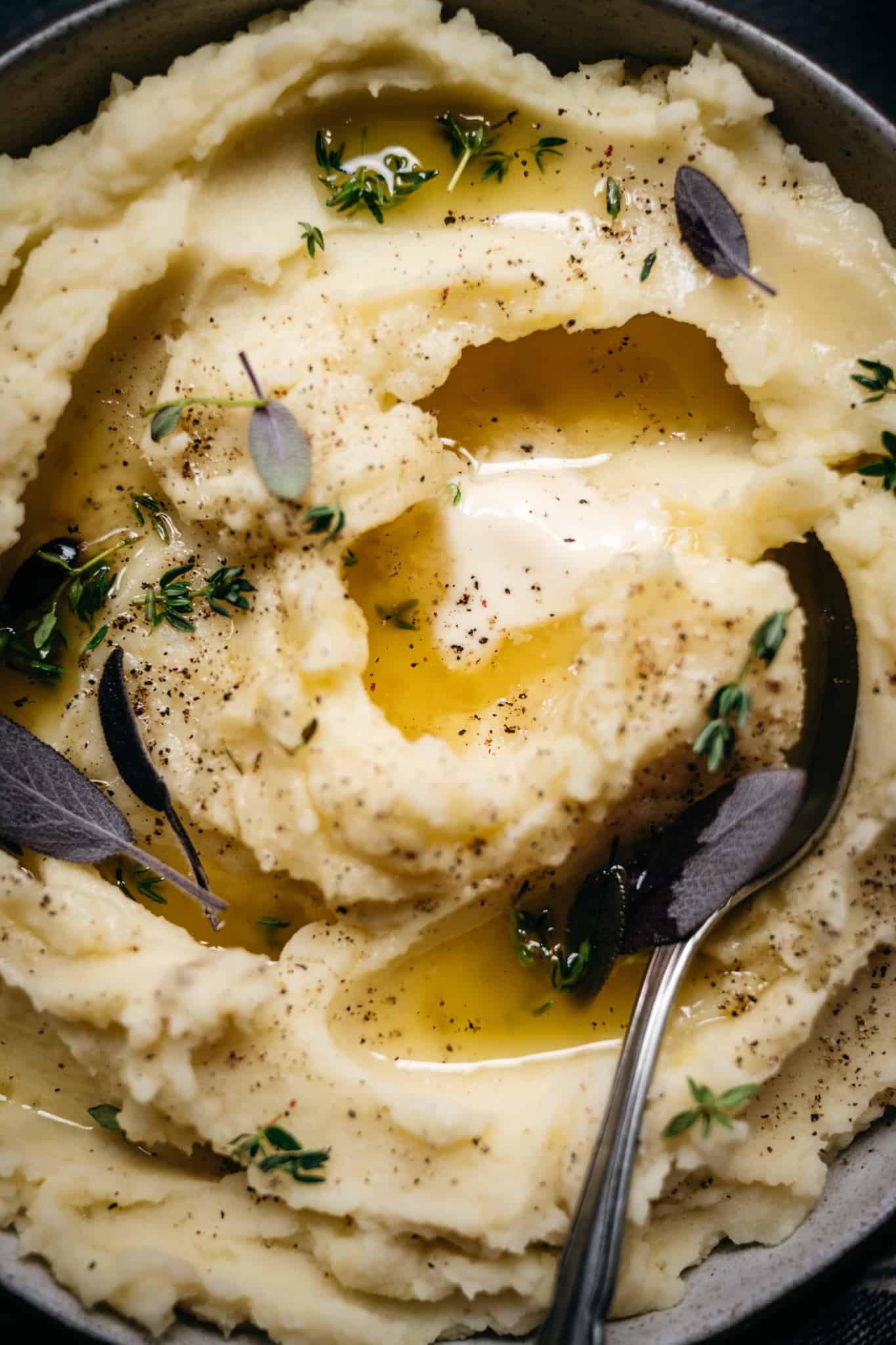 What potatoes should I use?
Want to make delicious vegan mashed potatoes? The most important step is choosing the right variety of potato.
Although russet potatoes are a popular pick, my top choice is Yukon Gold or similar yellow potatoes. Yellow potatoes are denser and less starchy than russets. When boiled, the interior gets super creamy and buttery, which lends well to mashed potatoes. Russet potatoes (while not my top choice) are still a great option.
Potatoes to avoid include waxier varieties like red- or white-skinned potatoes. Save those for roasting with skin on. Also avoid fingerling and other smaller, heirloom varieties. They're not best for mashing, and they would be a pain to peel!
Which brings us to...
To peel or not to peel?
If you're aiming for the creamiest, dreamiest, fluffiest possible potatoes, definitely peel. If you want more rustic, lumpy mashed potatoes, feel free to keep the skins on.
Either way, be sure to give your potatoes a thorough rinse before using. Since potatoes grow in dirt, they can't get pretty, well, dirty. Rinse the potatoes in room-temp water.
To remove as much dirt as possible, you can use a vegetable scrubbing brush.
Instructions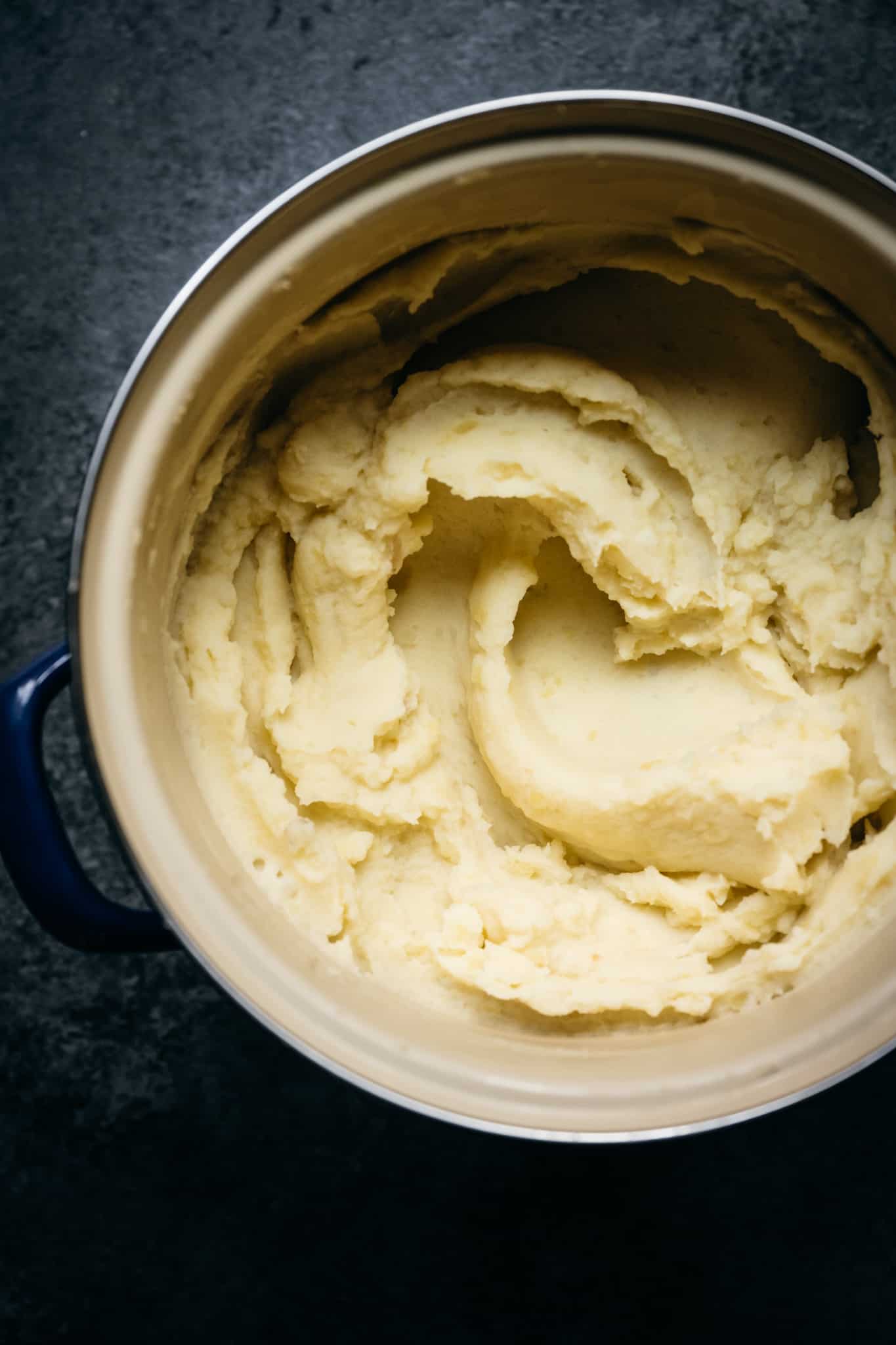 Here are a few of the steps we follow to make the best possible vegan mashed potatoes. They're all simple, but make a big difference!
Salt your water
Adding a hefty pinch of kosher salt to your potato-boiling water makes a HUGE difference. The potatoes will soak up some of the salt while boiling, which means much more flavor.
How much salt should you add? To be honest, it's always going to be more than you think you should add. As a general rule of thumb, we suggest at least 1 heaping teaspoon per 4 cups of water. (If you add more, that's fine too!)
Don't worry - even if you think you went overboard on adding salt, you probably didn't. Most of the salt will go down the sink when you drain the potatoes.
Boil until fork tender
Bring the salted water to a boil, then add the potatoes. It will take anywhere from 15-25 minutes for your potatoes to cook, so start testing at 15 minutes. When the potatoes are perfectly fork tender (they should yield to little pressure), they're ready to drain.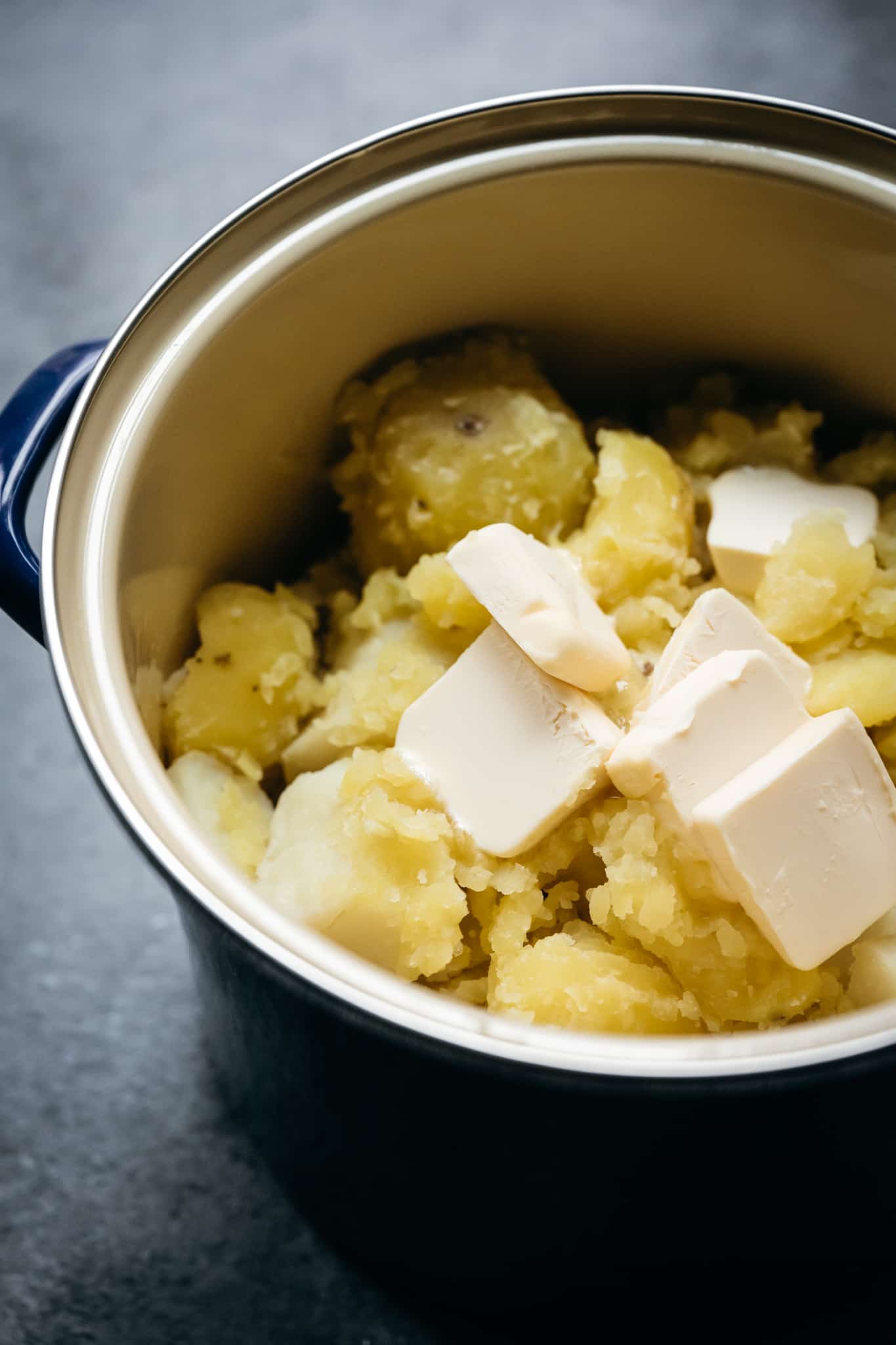 Which tools are best for mashing potatoes?
No matter what grandma's recipe says, avoid using a food processor or blender, which will turn your mashed potatoes into a gluey mess. In my opinion, the same goes for electric mixers, but to each their own.
To make super fluffy potatoes, opt for a potato ricer (my favorite option!). For creamier potatoes, use a food mill. For more rustic, lumpy (sorry for the gross word) mashed potatoes, a regular masher works perfectly.
Vegan cream/milk
Once your potatoes are mashed, it's time to add the vegan butter, milk, and extra seasoning. We opt for a dairy free creamer instead of milk, which makes the mashed potatoes much creamier.
Many vegan milk alternatives are a bit watery, while creamers are thicker and richer. More fat = creamier potatoes.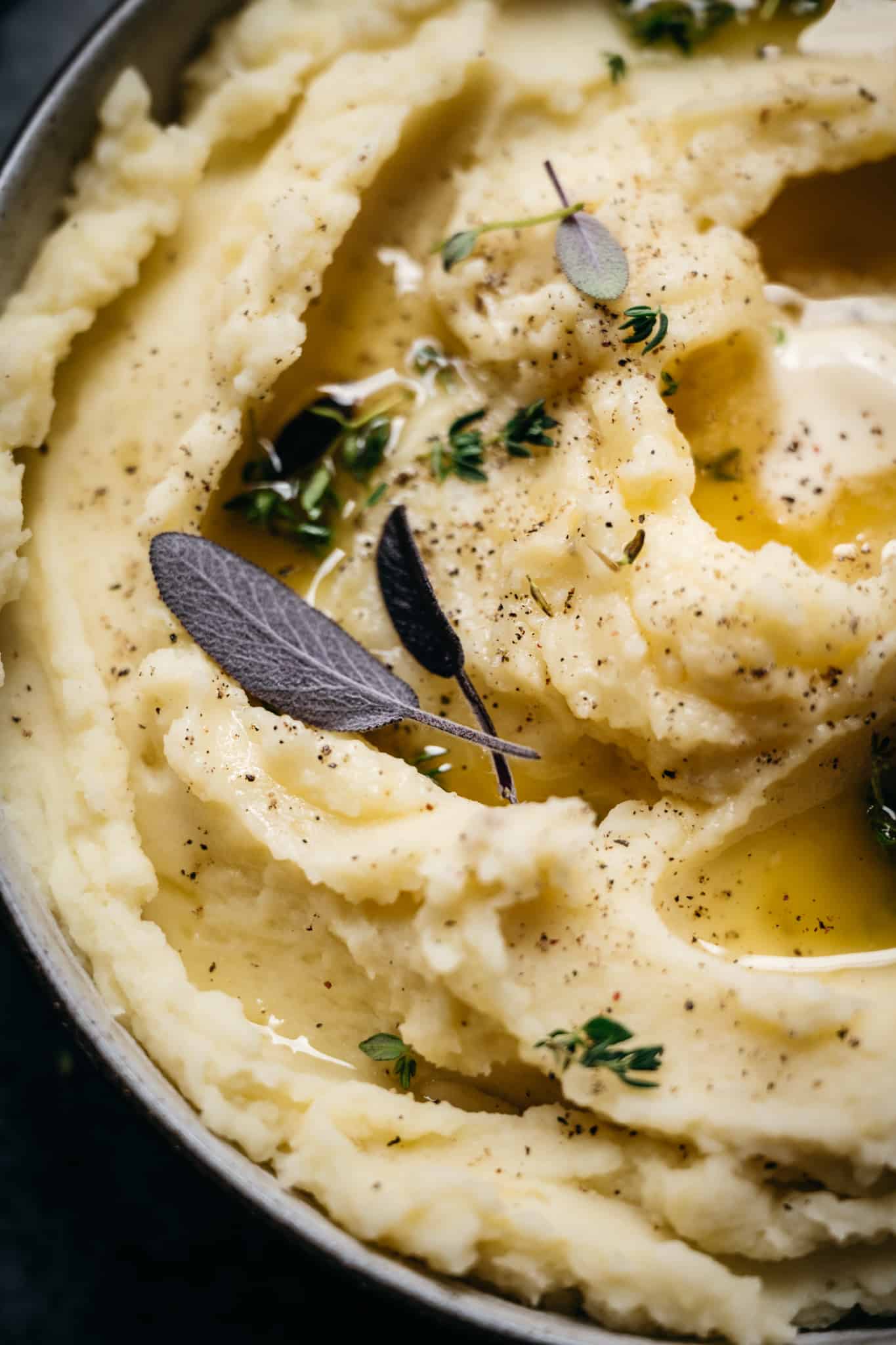 The most important thing to note is the type of dairy free milk. Coconut milk, while creamy and thick, will make your potatoes taste like coconut. No bueno. Opt for something a bit more neutral, like a nut blend. And make sure to double-check that it's unsweetened and NOT vanilla-flavored.
We swear by Nutpods creamers. This original blend is perfect for vegan mashed potatoes (we used it in this recipe). It's a blend of almond and coconut, so the flavor isn't overwhelming, but it's still super creamy. (Not sponsored, we just love this product!)
For a lower-fat option, you can substitute creamer for vegetable broth. The mashed potatoes won't be quite as rich, but that's perfectly fine!
Add-ins
Want to take your dairy free mashed potatoes to the next level? Here are a few ideas for making them extra flavorful!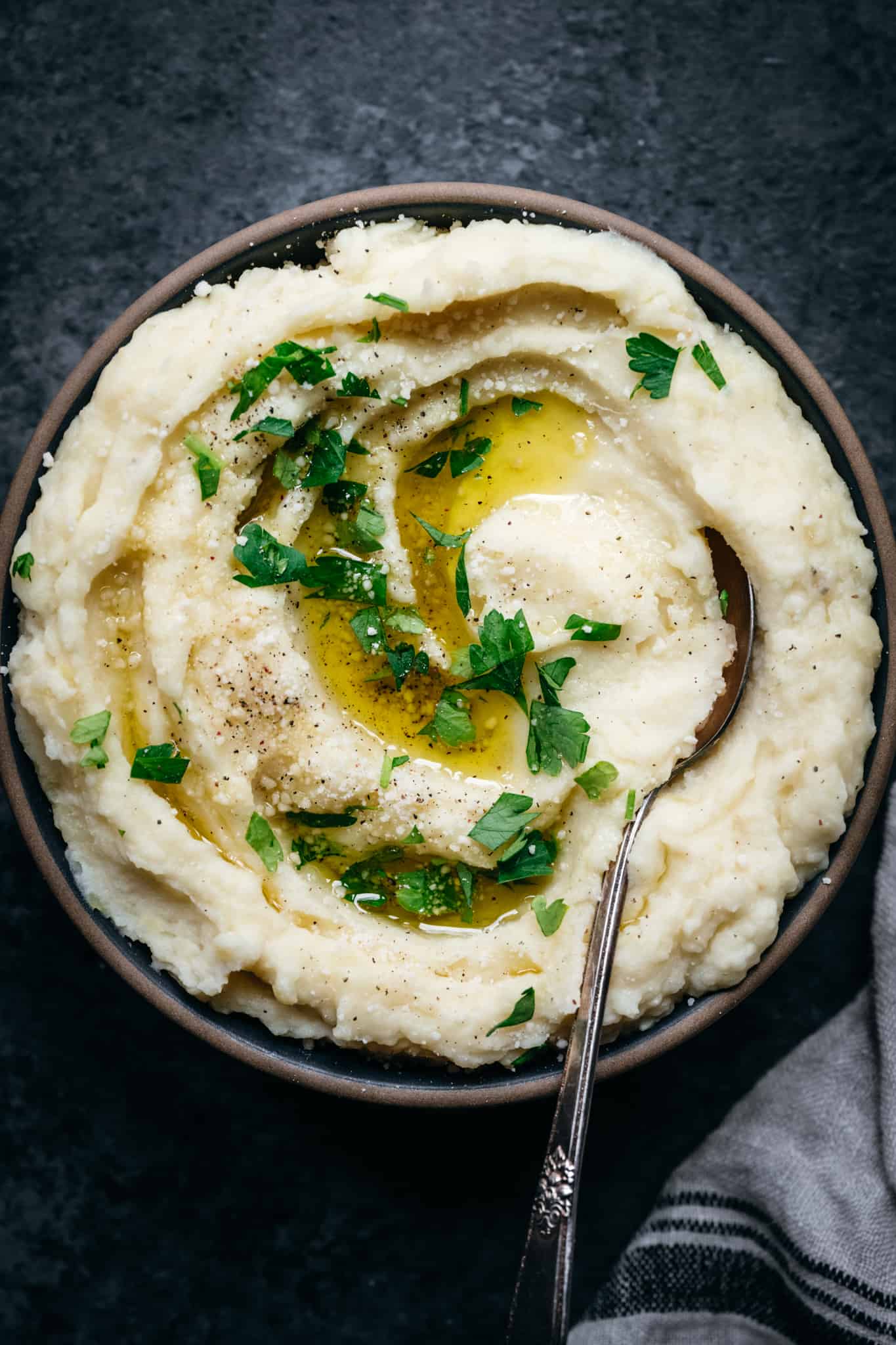 Roasted Garlic and Parmesan
Add 6-8 cloves of mashed, roasted garlic and ½-2/3 cup vegan parmesan to the base recipe.
Roasted garlic has a sweet, caramelized flavor that adds so much depth to mashed potatoes. Vegan parmesan is easy to find in most grocery stores, but you can also leave it out if desired.
To roast a whole head of garlic, start with an entire head of garlic. Turn on its side and slice the top off, just enough to expose the cloves. Drizzle with olive oil, salt and pepper (optional), wrap in aluminum foil and roast at 400F for 30-35 minutes, until golden brown and tender.
Let cool for a few minutes, then use your fingers to squeeze the garlic out of each clove. Use the back of a fork to mash it into a paste before adding to mashed potatoes.
Super Herby Mashed Potatoes
Add 1 tablespoon of finely chopped parsley, ½ tablespoon finely chopped thyme and ½ tablespoon finely chopped rosemary to a small saucepan with 1 ½ tablespoon butter. Let infuse at a low heat for a minute or two, then add to base recipe.
Fresh herbs like parsley, rosemary, thyme, chives, sage, etc. add freshness and flavor to your mashed potatoes. Simmering them in butter takes the edge off the raw flavor, so they blend in perfectly.
Caramelized Onion and Feta
Slice one onion thinly and add to a pan over medium-low heat with a bit of oil and salt. Sauté at a very low heat for at least an hour, stirring frequently and deglazing with a splash white wine as the onions dry out. When finished, transfer to a cutting board and dice. Add to base mashed potato recipe with ½ cup vegan feta.
The key to perfect caramelized onions is TIME. Let them cook over low heat for at least 45 minutes-one hour. Check out this post for more tips. Vegan feta can be hard to find, but if you do, it's worth adding.
Sour Cream and Chives
Add ½ cup of vegan sour cream and 3 tablespoon finely chopped chives to base recipe.
We love this spin on a classic baked potato combination. Vegan sour cream is easy to find and surprisingly delicious. We like this one! Fresh chives are a must for delicate onion-y flavor and brightness.
More Vegan Holiday Recipes
Serve up these creamy mashed potatoes with a few more of our favorite holiday recipes: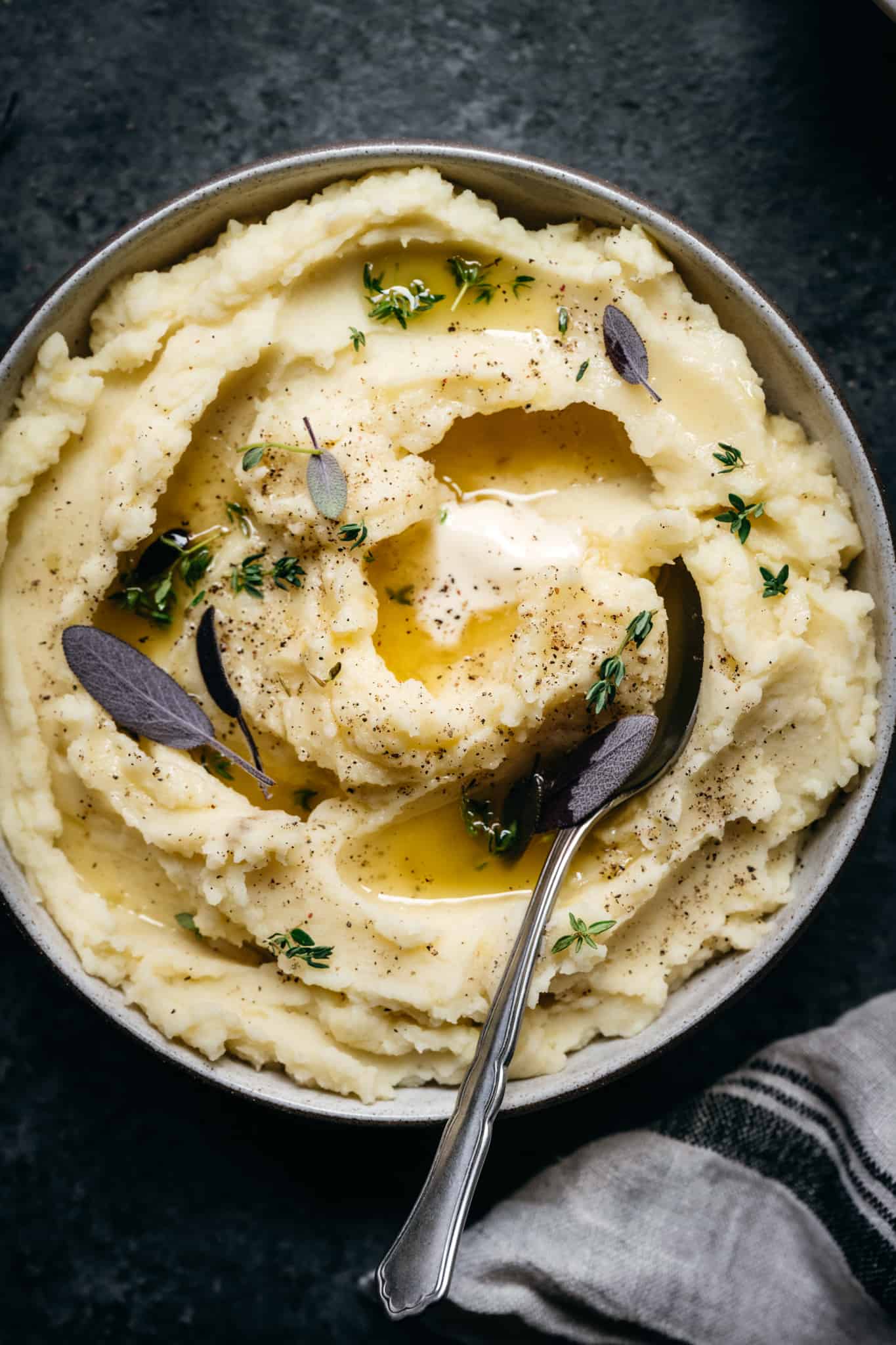 Now that you're armed with all of the tools to make the best vegan mashed potatoes, get mashing!
If you make this recipe, we'd love for you to leave a comment and rating below! We also love to see your creations on Instagram – tag us at @crowded_kitchen so we can see what you've been cooking.
Print
📖 Recipe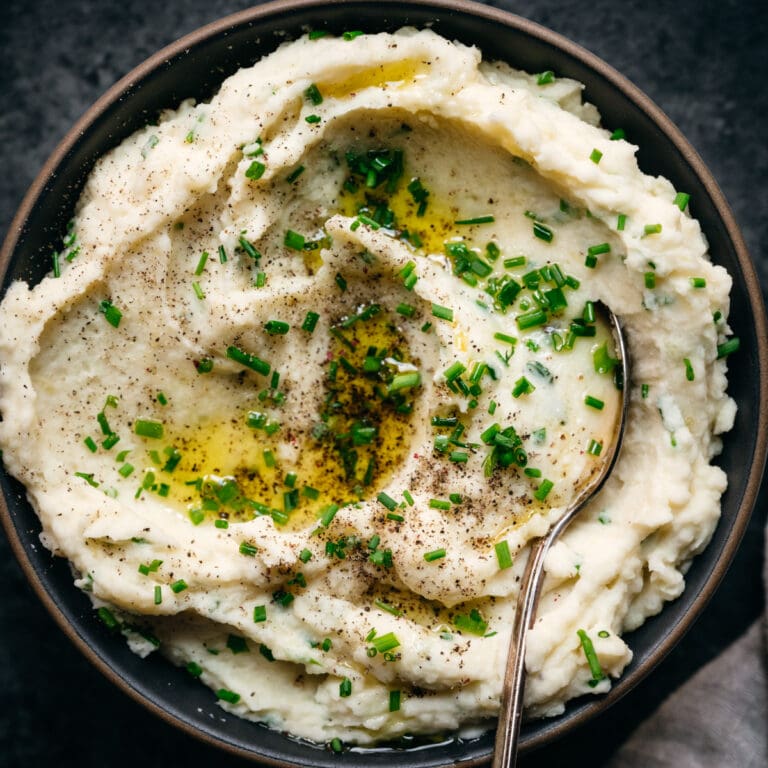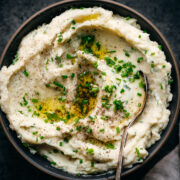 Best Vegan Mashed Potatoes
---
Author:

Lexi

Total Time:

30 minutes

Yield:

Serves

4

-6

1

x

Diet:

Vegan
Description
Ready to try the BEST creamy, rich, delicious vegan mashed potatoes? They're easy to make, made with easy-to-find ingredients and nobody will miss the dairy!
---
2

-

2 ½

lbs. Yukon gold potatoes (about

6 cups

mashed)

⅓ cup

 

(5 tbsp) vegan butter

⅔ cup

unsweetened dairy free half & half or creamer*, warmed

1 tsp

salt
Pepper to taste
---
Instructions
Wash and peel potatoes. Put in a large pot, cover with water, add a hefty pinch of salt (about 2 tsp) and bring to a boil. 
Lower heat and let simmer for about 20 minutes, until fork tender.
Drain potatoes and return to pot. In a separate small saucepan, heat dairy free milk/creamer just until warmed.
Mash potatoes using a potato ricer, a food mill, or a traditional potato masher. Stir in butter, warmed creamer, salt and pepper (optional). Stir well, then taste. If you want them to be creamier, add more milk. To make them richer, add more butter. Feel free to add more salt to taste - it may depend on how much salt you use when you boil the potatoes. 
Serve with an extra pat of butter and fresh herbs. 
Notes
*Make sure the dairy free creamer you choose is unsweetened, not vanilla flavored, and relatively neutral (not coconut milk!).
Notes on mashing technique in blog post. 
Read blog post for a few ideas for vegan add-ins, including caramelized onion + feta, roasted garlic + parmesan, sour cream and chives, and super herby mashed potatoes.
Prep Time:

10 minutes

Cook Time:

20 minutes

Category:

Side Dish

Method:

Stovetop

Cuisine:

American
Nutrition
Serving Size:
Calories:

303

Sugar:

1.9 g

Sodium:

712.7 mg

Fat:

15.4 g

Saturated Fat:

10.7 g

Trans Fat:

0 g

Carbohydrates:

40.3 g

Fiber:

4.9 g

Protein:

5 g

Cholesterol:

0 mg
Keywords: vegan mashed potatoes