These vegan gluten free carrot zucchini muffins are the best quick on-the-go healthy breakfast for busy back-to-school mornings.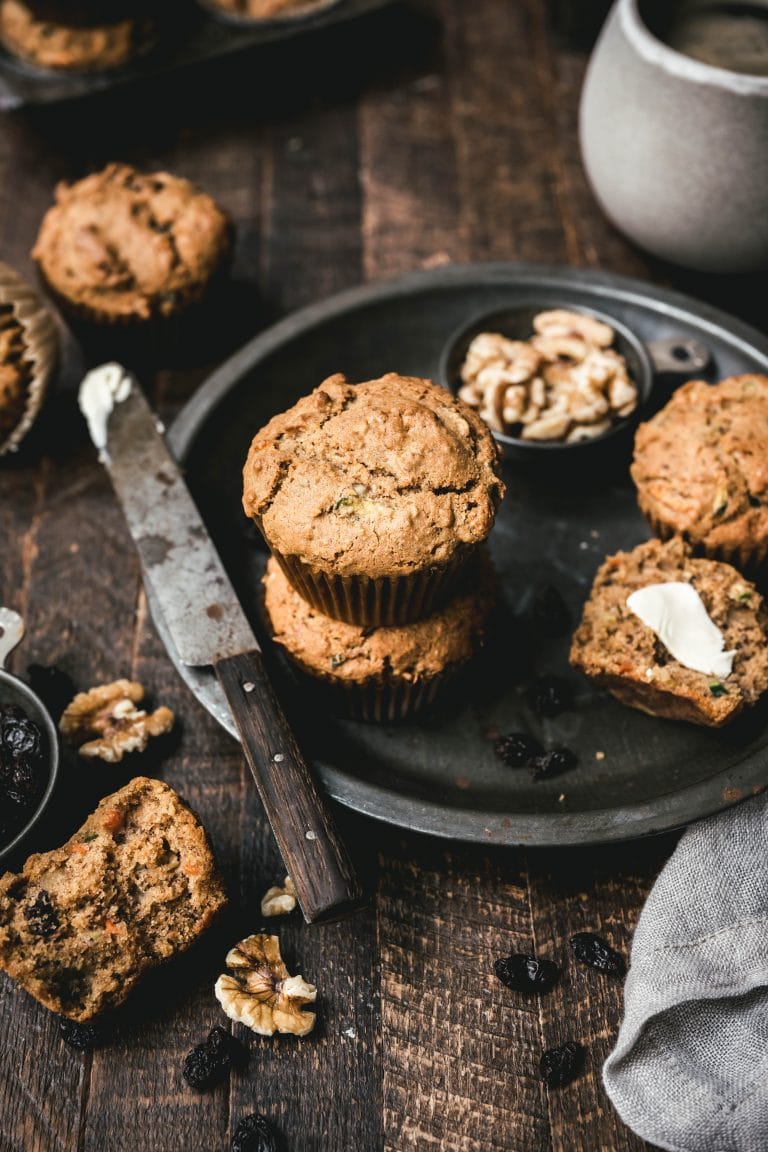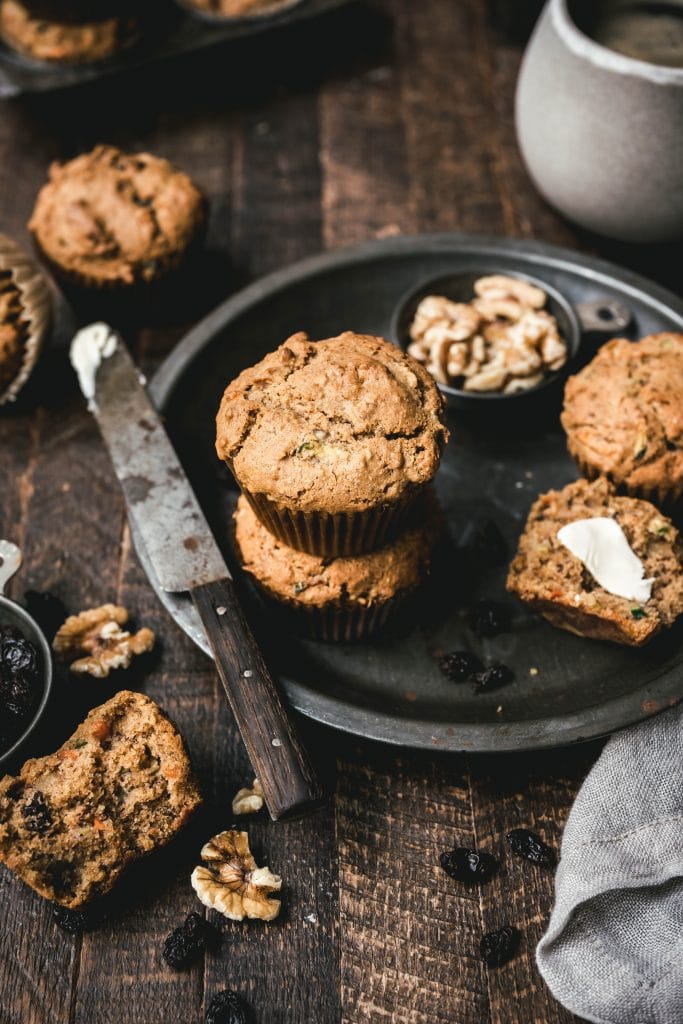 I'm usually a do-it-yourself yogurt or oatmeal kinda gal. If I've gone for a run, sometimes I'll make a smoothie. Especially one of our recovery smoothies for athletes.
However, when I'm on more of a morning time crunch, I like to have something in the freezer to heat up, slather with butter, and take on the road.
If you're also looking for an easy, healthy and delicious breakfast option to meal prep in this busy back-to-school season, look no further. These vegan gluten free zucchini muffins, packed with walnuts and carrots, are full of nutrients and low on sugar.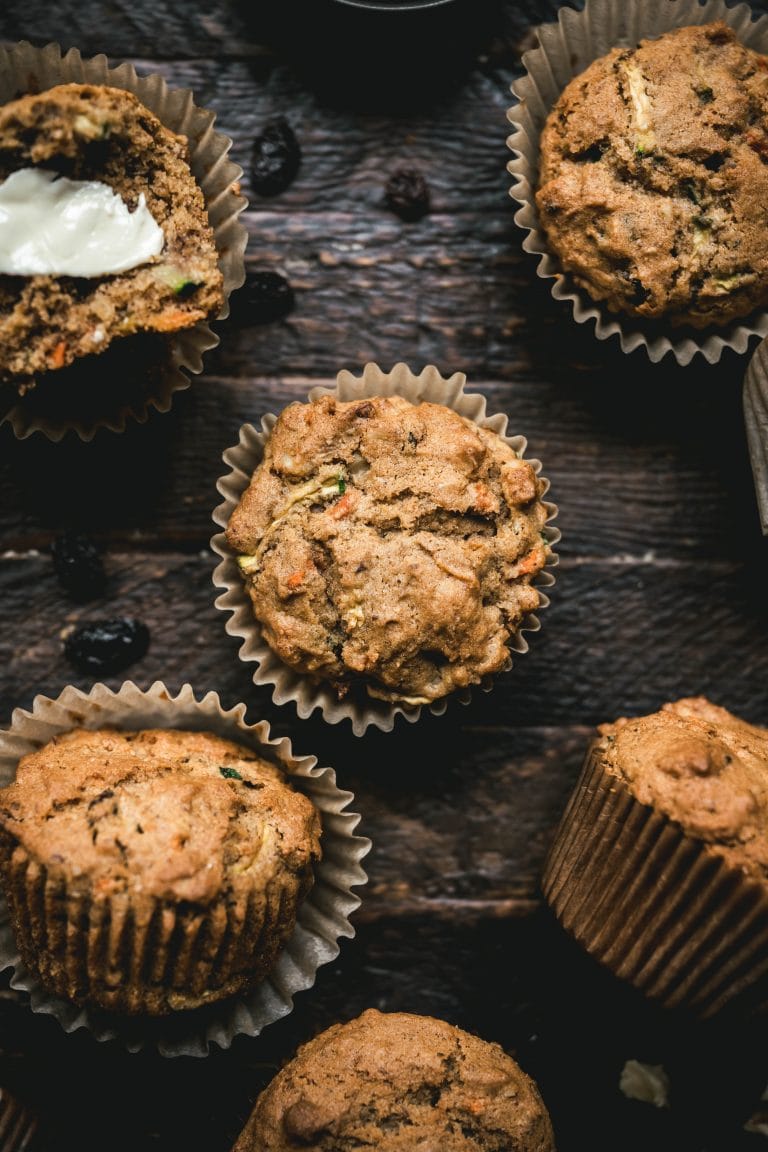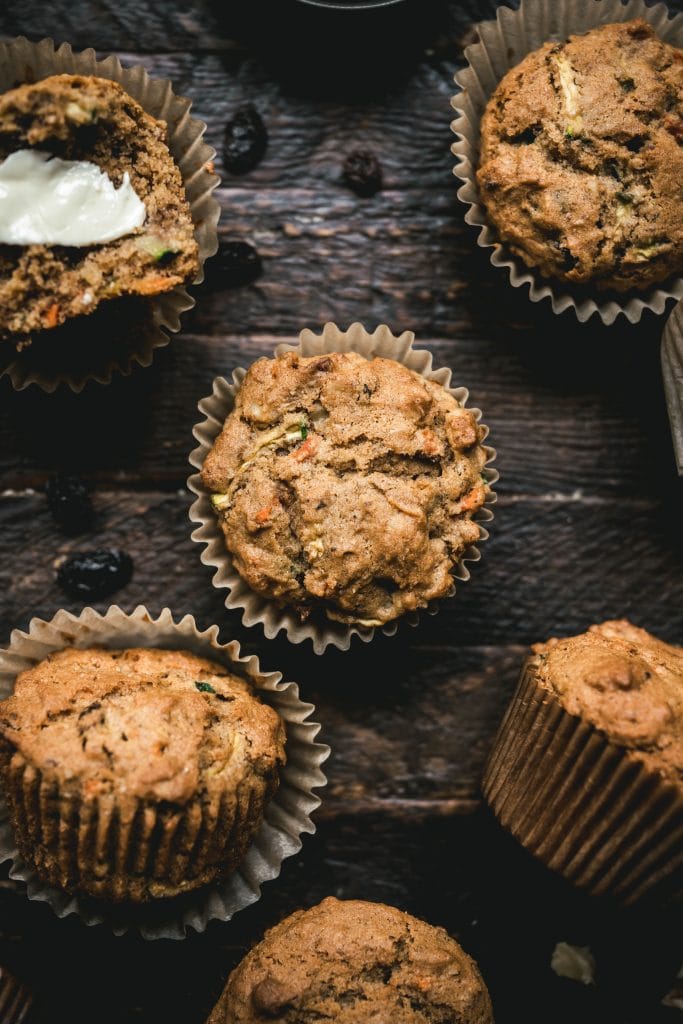 How to make simple carrot zucchini muffins
Not only are these vegan muffins easy to grab on your way out the door, they're also super easy to make. Like most muffin recipes, you'll start by creaming the butter and sugar.
We use a bit of unsweetened applesauce as well. It provides natural sweetness and moisture without adding more processed sugar. For the rest of the sweetness in these healthy muffins, we use a combination of cane sugar and coconut sugar.
Why use coconut sugar?
Coconut sugar has a lower glycemic index than regular sugar. Therefore, it won't cause a bump in your blood sugar. That's a major bonus when it comes to breakfast.
You've probably experienced a sugar rush (and crash) from a super sweet pastry or cereal in the morning. Thanks to the applesauce and coconut sugar in these zucchini muffins, you'll maintain a healthy and stable blood sugar all morning.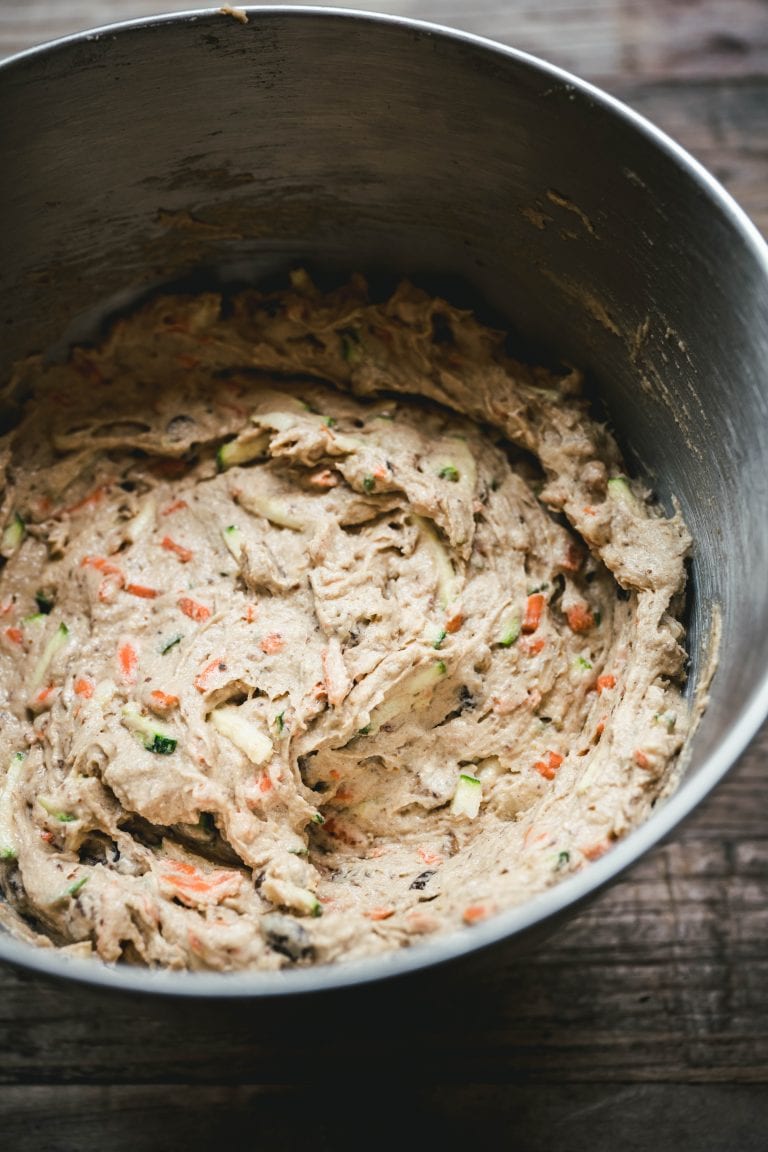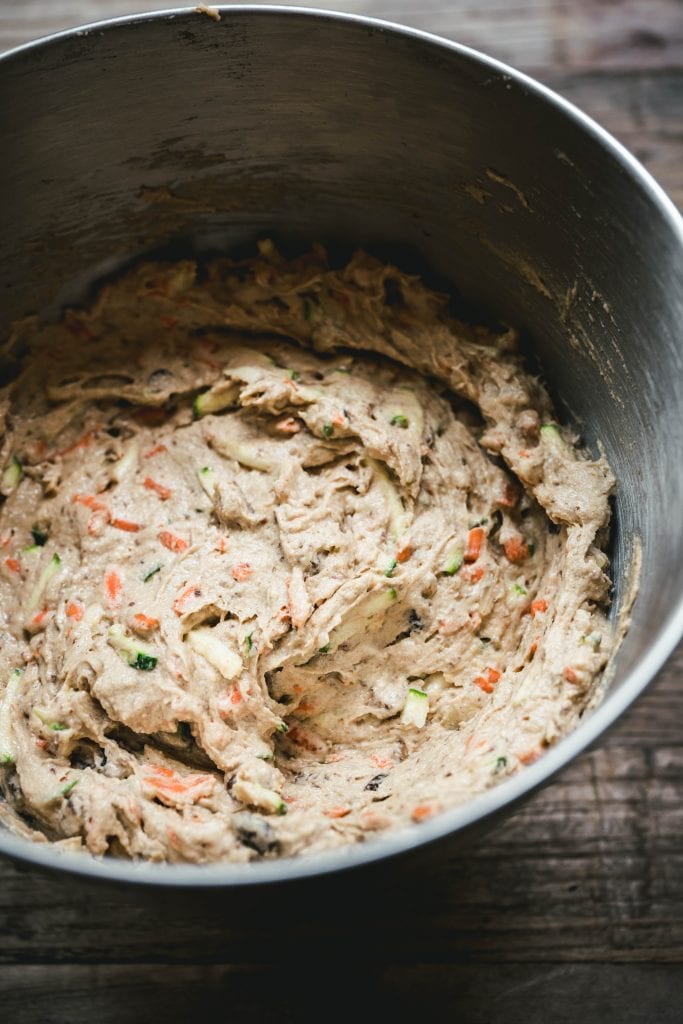 What kind of flour makes the best gluten free muffins?
If you're looking for a wheat-free, celiac-friendly muffin recipe, this is for you. There are dozens of wonderful gluten free flours for baking. We often use a combination of two flours for our favorite gluten free recipes. For these zucchini muffins, we use gluten free all purpose and almond flour.
You can easily make a batch of gluten free all purpose flour at home with this recipe.
It stores well too, so we like to keep a big container on hand for when the baking craving strikes. Most recently, it's been for these carrot zucchini muffins and our vegan strawberry shortcake. Ah summer…
Why use almond flour for healthy zucchini muffins?
We also added a cup of almond flour to these vegan muffins. Almond flour can be dense, so you probably don't want to use it exclusively to bake. However, it's also more moist and flavorful than regular flour.
It provides heft and protein to these breakfast muffins. Since they're egg-free, the almond flour, along with flax meal, gives these muffins the structure and heartiness they need to keep you full all morning.
When it comes to buying the best almond flour for gluten free baking, texture is important. Various almond flours are ground differently. That means that they may be courser or finer depending on the brand.
We like Bob's Red Mill almond flour. It's very finely ground, almost to the texture of powdered sugar. That makes it lighter and helps the flour absorb better into the rest of the muffin batter.
What does flax meal do for vegan baking recipes?
And speaking of that flax meal, it's a central ingredient to vegan baking. When you're making egg-free baked goods, you still need a binder to keep everything together. The best binders have some fat and are also gel-like in consistency. Read our in-depth guide to flax eggs for more on that subject.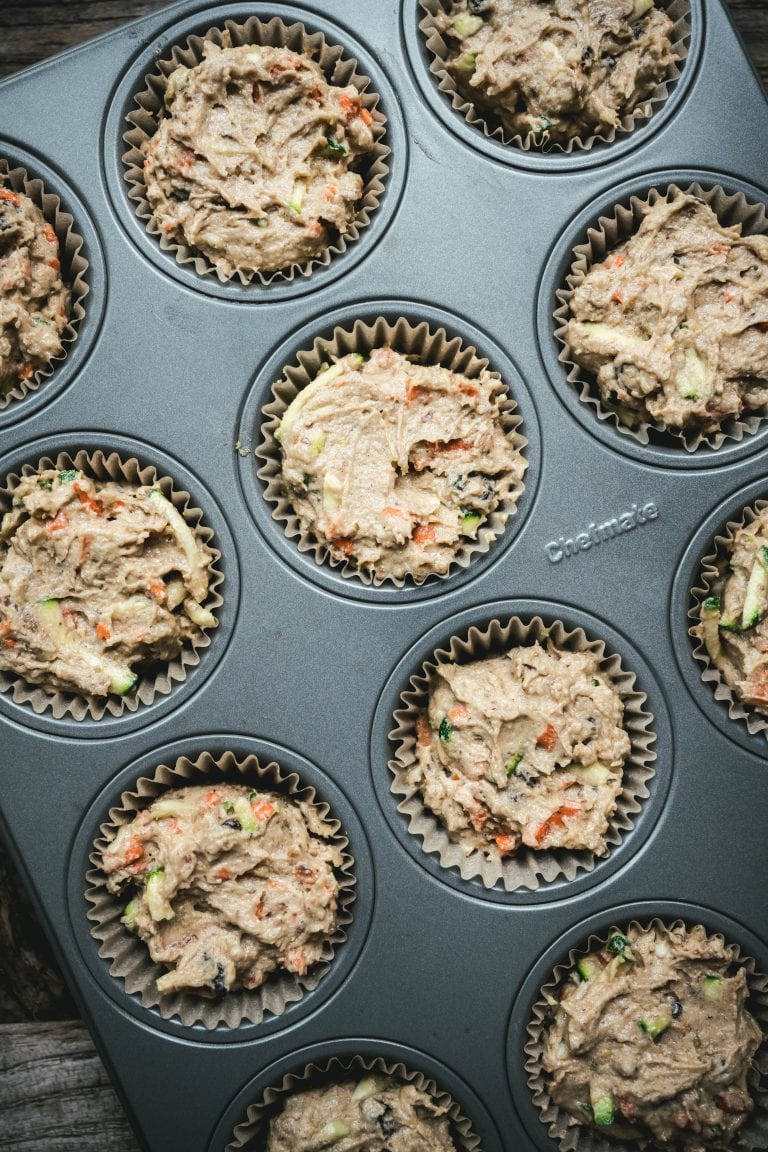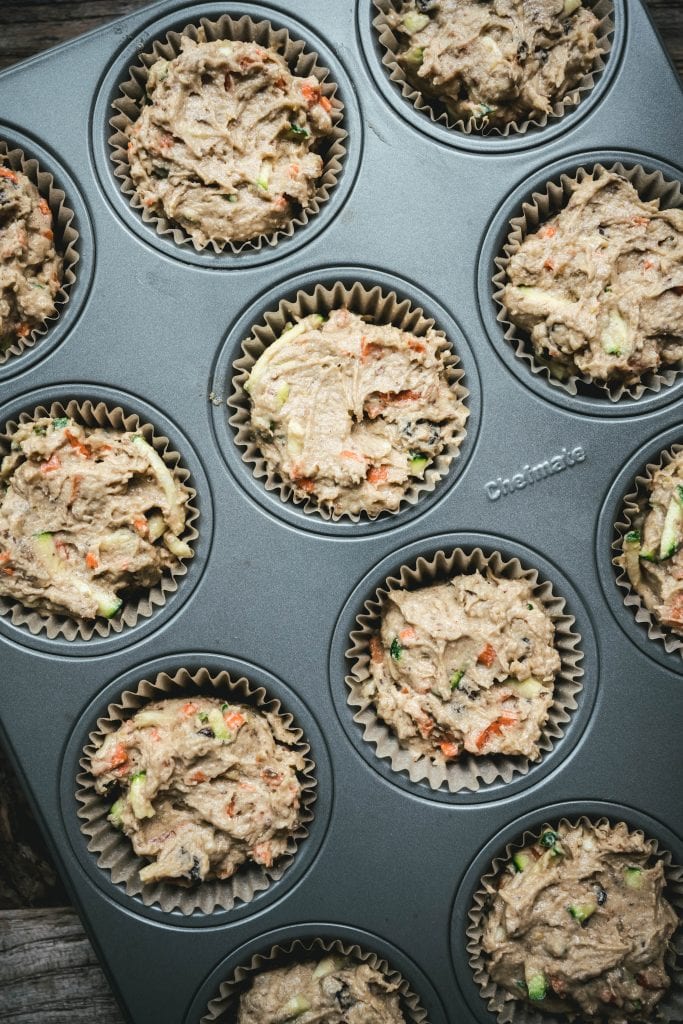 What to sub for dairy in vegan muffin recipes?
To keep these vegan zucchini muffins completely dairy-free, we use almond milk. Almond milk still offers the same moistness as regular milk. Yet it's lighter and won't weigh these healthy muffins down.
It also adds a wonderful almond flavor to the finished product. Along with the almond flour, these vegan muffins get a nice almondy background flavor that's not overwhelming.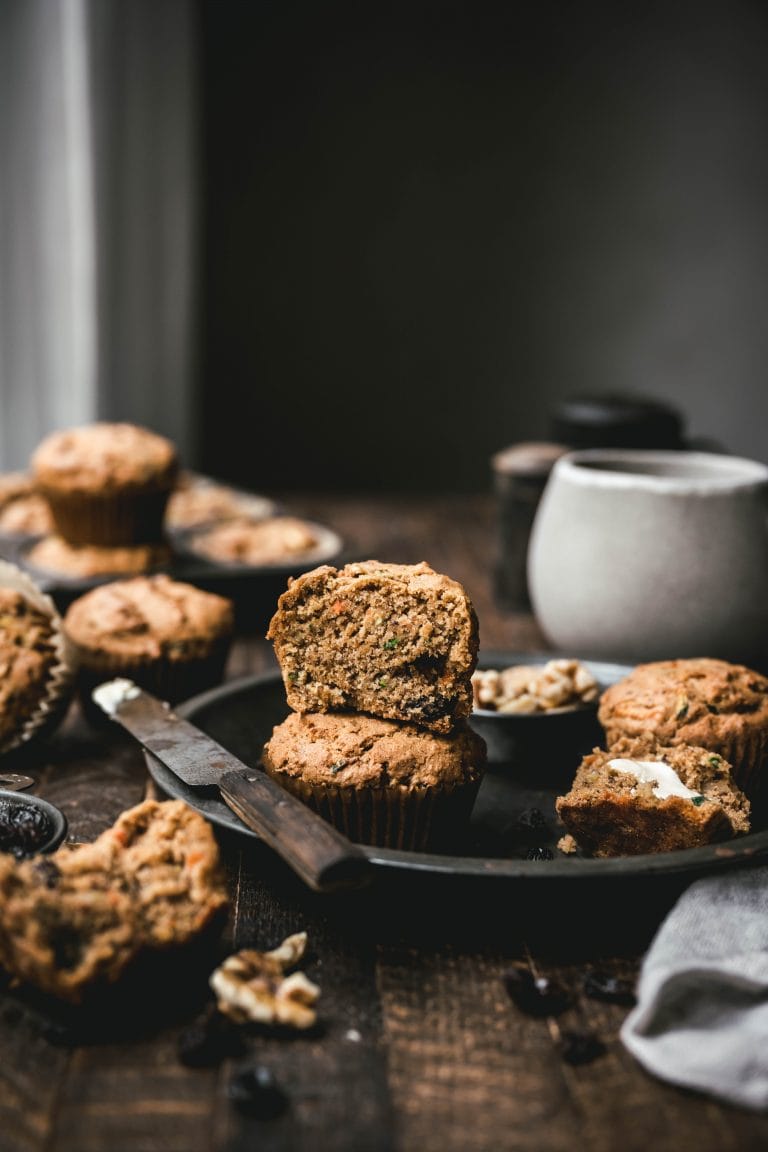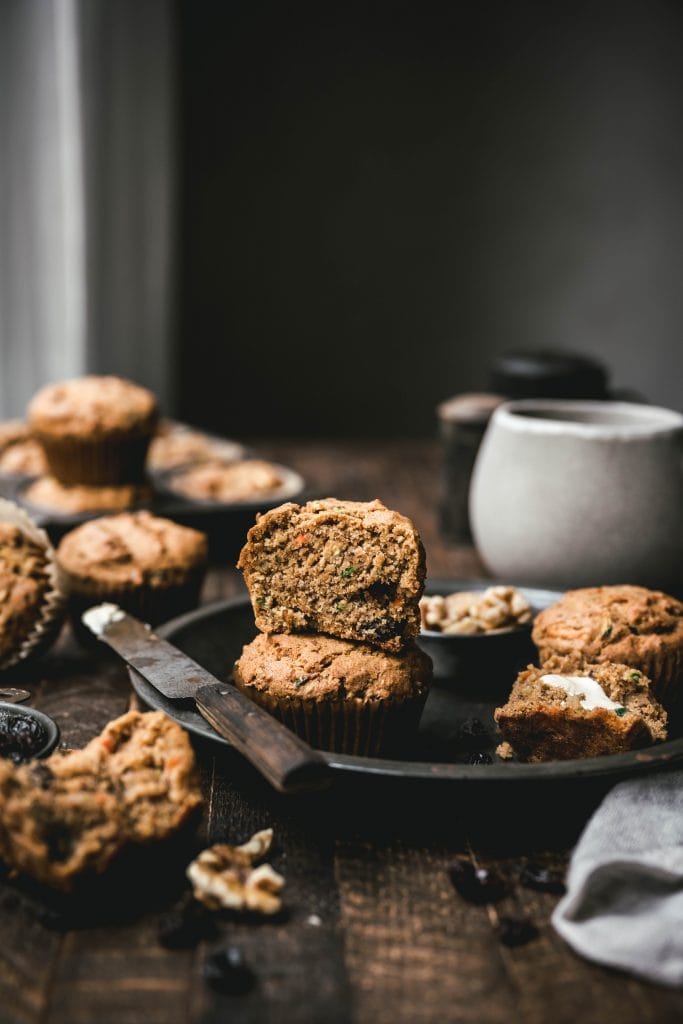 Fillings for Vegan Zucchini Muffins
When it comes to zucchini muffins and bread, we think some crunch is in order. Just like with ice cream, I'm all about the chunks and crunch mixed in. That's why my favorite is our vegan cookie dough ice cream.
For these healthy gluten free & vegan breakfast muffins, we may have stayed away from cookie dough globs, but we didn't skimp on fillings. Walnuts offer that satisfying crunch throughout each muffin.
Yet they're healthy, with tons of satisfying fats and protein. Plus walnuts don't increase the sugar content at all.
How to Store Vegan Muffins (and other baked goods)
Here's another bonus to cooking without eggs or dairy. These muffins, like other vegan baked goods, last a long time. We always recommend storing anything you bake in an airtight container. This keeps them from drying out.
You can keep these muffins in the fridge for easy access every morning. Or, you can freeze them to last longer. They'll keep for several months frozen.
To enjoy, simply pop one (or as many as you'd like) in the microwave for a minute or so. Or if you have a little foresight, you can put a muffin in the fridge for yourself the night before. That kind of thing never occurs to me, even though I do admittedly often fall asleep thinking about breakfast.
If you do end up microwaving a frozen muffin, I recommend toasting it too. The microwave will dry things out slightly, and I'm all about that crispy toasted texture. Of course, if that's not your thing, you do you.
More Delicious Vegan and Gluten Free Muffins to make This Fall
I hope these vegan gluten free zucchini muffins have you in the baking mood. How about the muffin mood? Here's what else we think you should make this fall: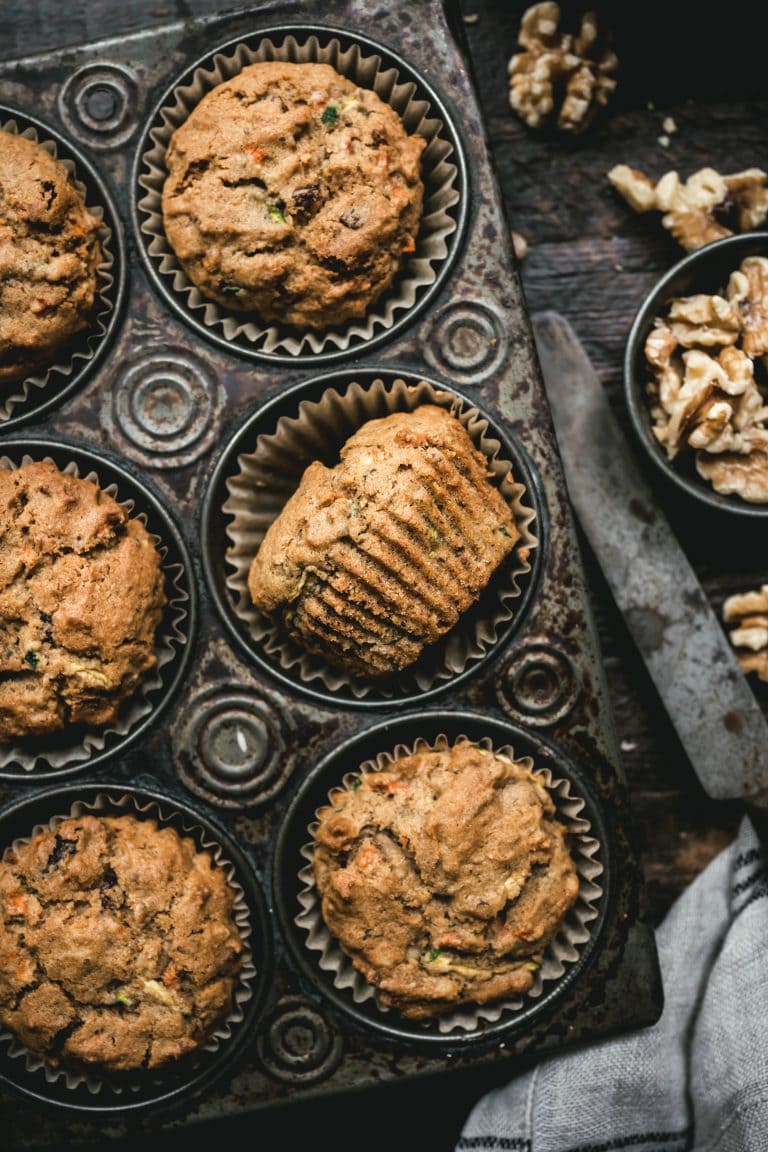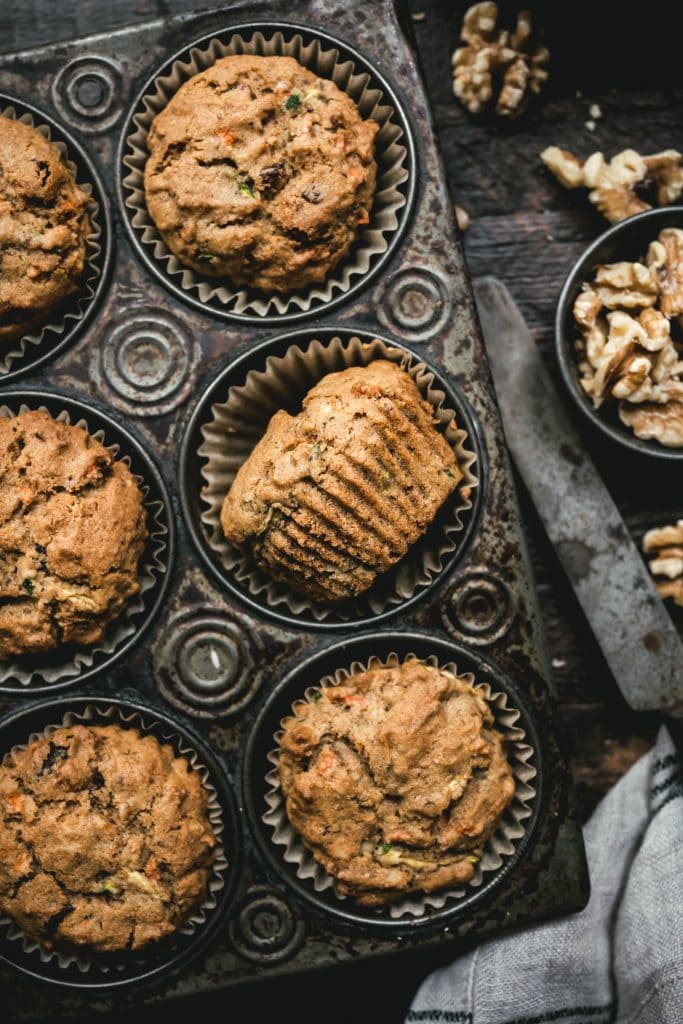 Print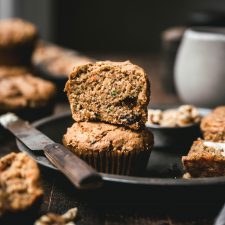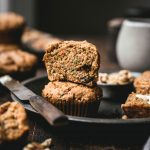 Vegan Gluten Free Zucchini Muffins with Walnuts
Author:

Prep Time:

25 minutes

Cook Time:

35

Total Time:

1 hour

Yield:

16

–

18

muffins

1

x
Method:

Oven

Cuisine:

American
---
Description
These vegan gluten free carrot zucchini muffins are the best quick on-the-go healthy breakfast for busy back-to-school mornings. 
---
Scale
Ingredients
½ cup

vegan butter

½ cup

unsweetened applesauce

1 cup

cane sugar

½ cup

coconut sugar

1 tbsp

vanilla extract

¼ cup

flax meal 

¼ cup

almond milk

2 cup

s all purpose gluten free flour (homemade or store-bought, we use King Arthur)

1 cup

almond flour

1½ tsp

cinnamon

½ tsp

ground ginger

¾ tsp

baking soda

¾ tsp

baking powder

½ tsp

xanthan gum (no need to add store-bought blend already contains it)

½ tsp

kosher salt

1 cup

chopped walnuts

1 cup

shredded carrots

1 cup

shredded zucchini

½ cup

golden raisins
---
Instructions
Preheat the oven to 335°F. In an electric hand-held or stand mixer, cream the butter, applesauce, cane sugar, coconut sugar and vanilla extract until light and fluffy.  
Mix in the flax meal and almond milk. In a separate mixing bowl, combine the gluten free flour, almond flour, cinnamon, ginger, baking soda, baking powder, xanthan gum (if using), and salt. Add the flour mixture to the bowl with the creamed butter and sugar, ½ cup at a time, mixing continuously until well combined.
Gently minx in walnuts, carrots, zucchini, and raisins.  Let the mixture sit for 15-20 minutes. 
Line a muffin pan with paper liners, fill them to the top with batter, and smooth out gently. Bake until firm all the way through, 30-33 minutes.
---
Keywords: vegan gluten free zucchini muffins, zucchini carrot muffins