Homemade spiced sweet potato fries are the perfect vegan/vegetarian side dish or snack. We've also included a tip below on how to make them extra crispy – without frying!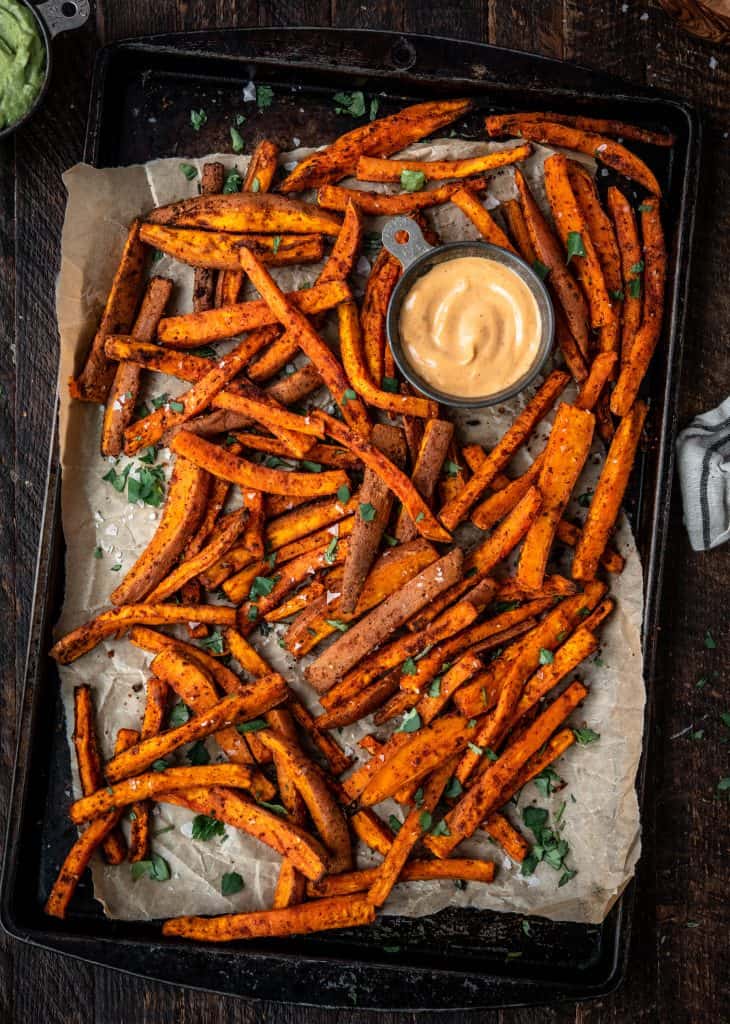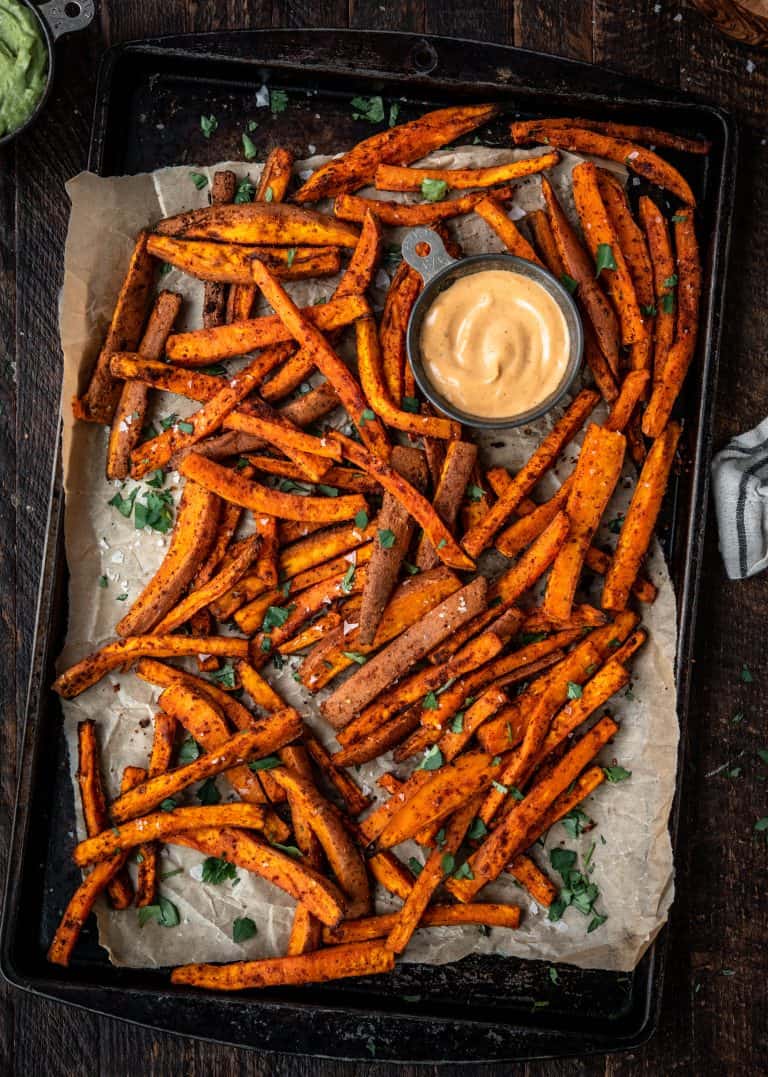 I call these "spiced" sweet potato fries instead of "spicy" because they don't have all that much heat, but rather a smoky/sweet/addictive flavor that I didn't know how to describe other than with the word "spiced". Oh, and they're baked, not fried!
I realize this is not a very relatable problem, but sometimes I have such a difficult time choosing a title for a recipe. We recently made a Green Curry Coconut Rice with stir fried veggies (coming to the blog soon) and I literally spent 10+ minutes deciding on a title; is it essential to note that the rice is flavored with green curry and coconut instead of the veggies? Do I need to make it clear that "veggies" = mushrooms, chickpeas, broccoli and bok choy?? How do I let people know it's vegan and gluten free without adding 5 more words to the title?!?
Do I sound insane? Yes, probably. These are the things I worry about! As work continues to pile up (not a bad thing!), I'm trying to be more efficient in all areas of my life, so from now on, I'm going with my gut feeling when it comes to writing titles (and blog posts, which are more labor intensive than you might think, especially for someone that struggles with decision making). LONG STORY SHORT, that's why we call these "spiced" sweet potato fries.
Okay, now that I spent three paragraphs on the title, let's talk about these beauties.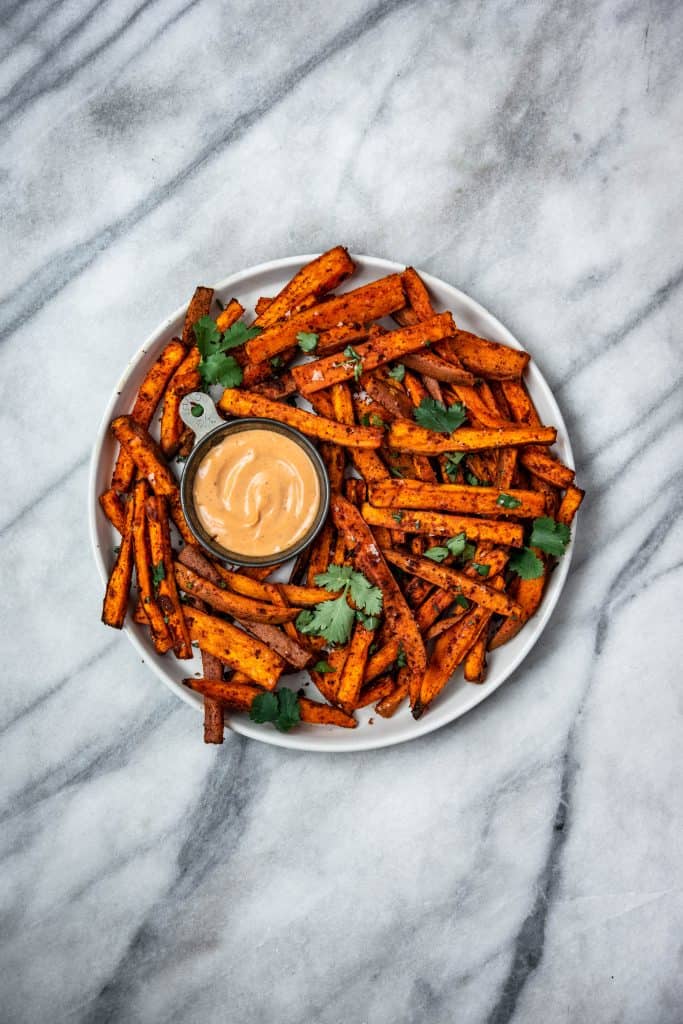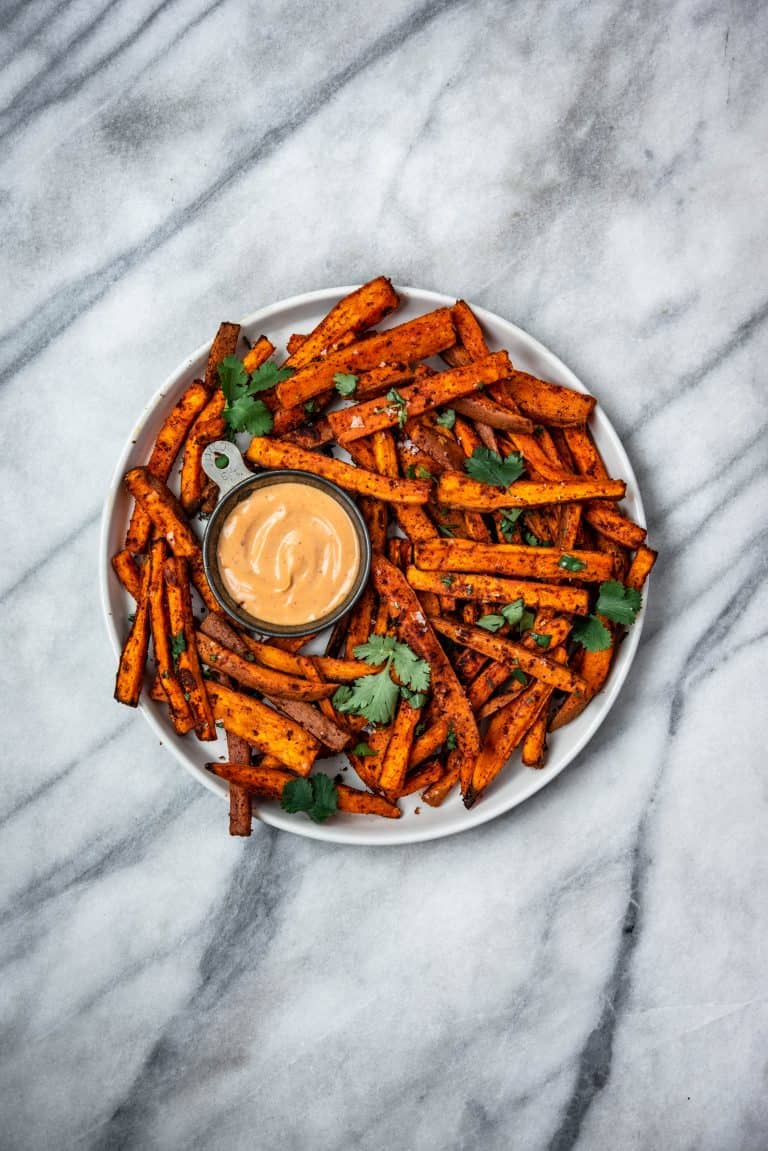 In recent years, my once dominant sweet tooth has significantly subsided; I find myself craving salty food far more often, and fries are easily the best way to satisfy that craving. Interestingly, this switch happened to coincide with going vegetarian, which I suppose makes sense as I'm probably consuming less salt. That's a completely unfounded hypothesis, though, so if you're a dietitian or nutritional expert and want to drop your opinion/facts in the comments, go for it.
Without a doubt, I'll almost always go for regular fries in place of sweet potato fries if I'm eating at a restaurant, but these baked sweet potato fries are a favorite at home. They're easy to throw together, and I often have leftover sweet potatoes in my pantry, so it's a win-win.
When we posted a teaser of these last week on IG, a few of you inquired about crispiness. We won't deny the fact that it's incredibly difficult to make crispy baked sweet potato fries (the fryer does wonders that an oven can't match). However, from our many trials, we've determined that corn starch makes a big difference. You don't need much – just about a tbsp for this whole batch – but they're far better than without.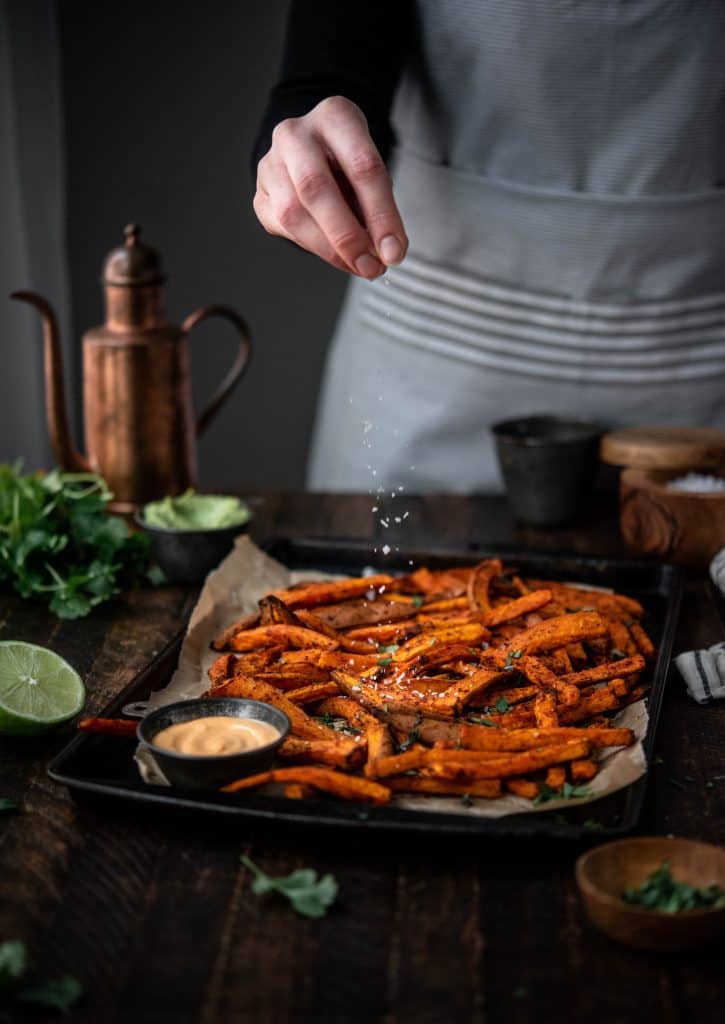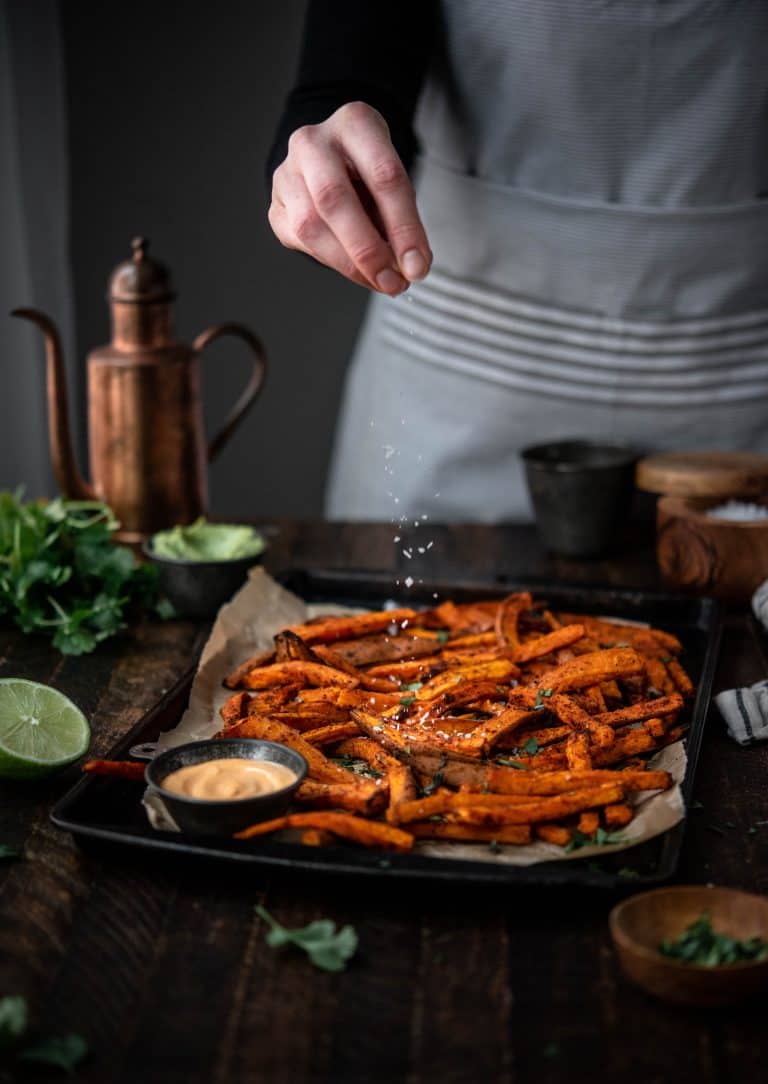 Another note – we always toss with more salt after they come out of the oven. Salt is a touchy subject amongst some, but we're firm believers that if you're eating a well-rounded, healthy-ish diet and preparing most of your food at home, you're probably doing just fine on salt intake. If you have specific health issues that require you to limit your salt intake, ignore this. For the rest of the population, a little extra salt never hurts.
Dips: I'll never turn down plain ol' ketchup, but I'm currently loving this chipotle vegan mayo (Fabanaise) from Sir Kensington's. It's made from aquafaba, or as we call it, "magical chickpea liquid", and it's truly delicious. This is not at all sponsored, we just like to share products that we really love and use! We also serve these with some smashed avocado seasoned with salt & lime. Whatever you dip these into, we're sure the whole tray will get eaten. Enjoy!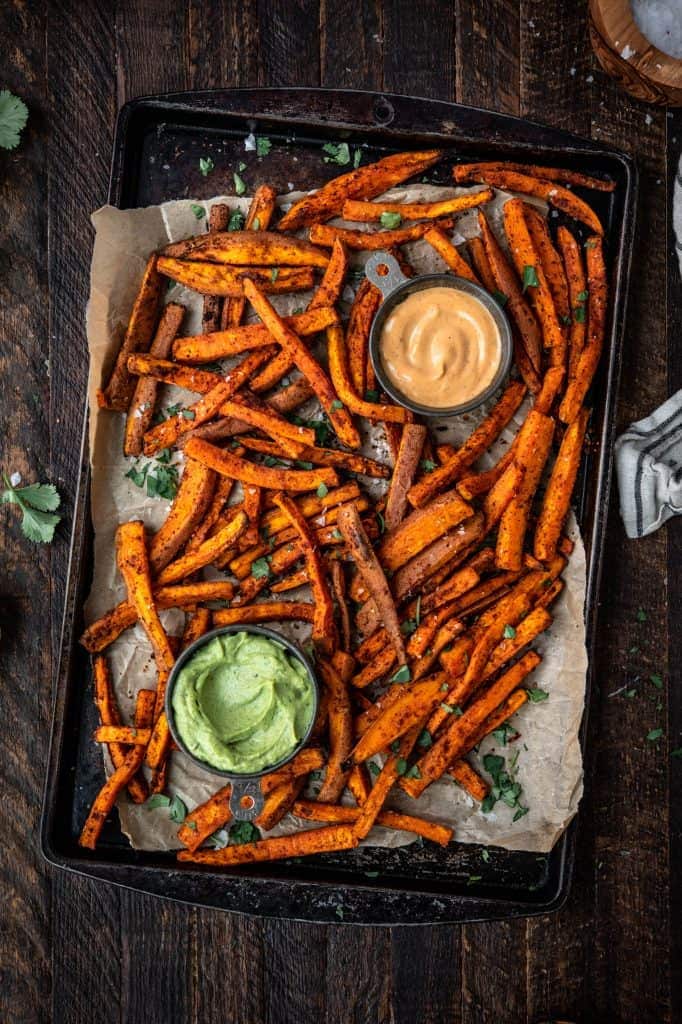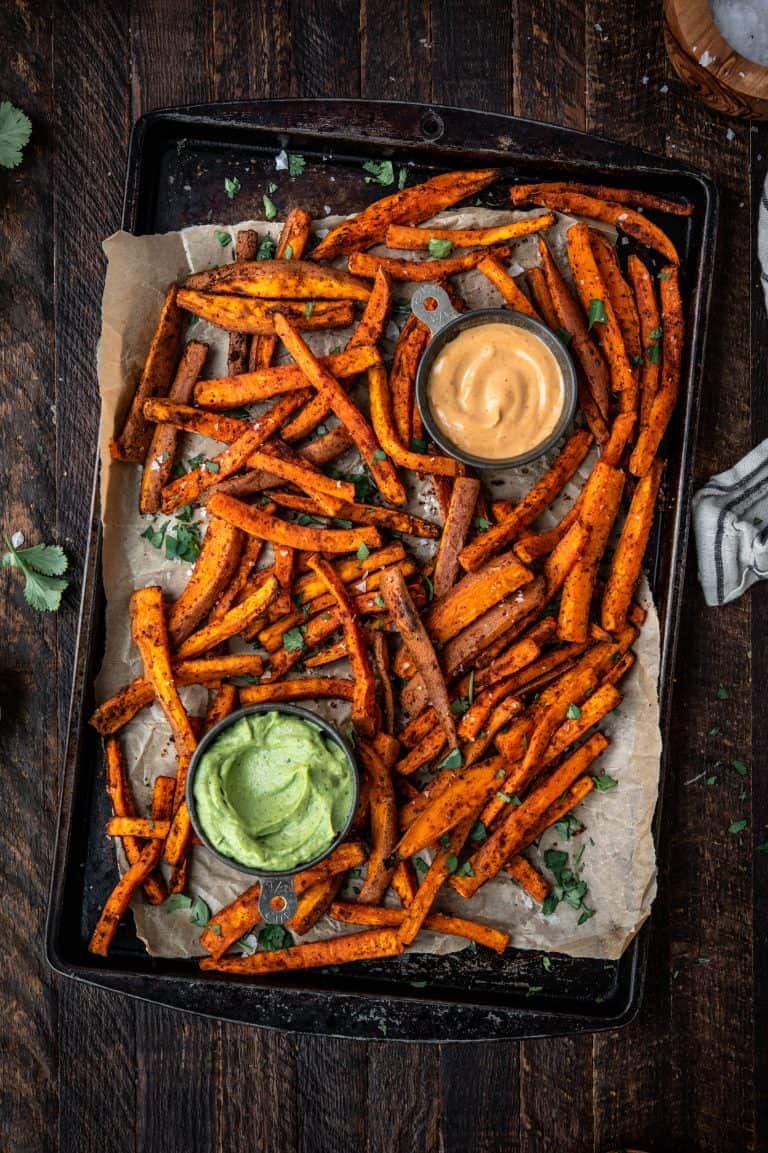 Looking for more delicious potato recipes? Try these Crispy Smashed Potatoes.
Print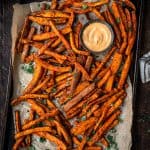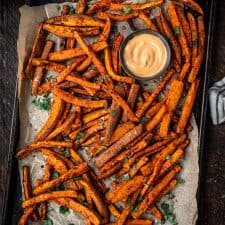 Spiced Sweet Potato Fries
Author:

Prep Time:

10 minutes

Cook Time:

15 minutes

Total Time:

25 minutes

Yield: Serves

4

–

6

1

x
Category:

Side Dish

Method:

Oven
---
Description
Smoky, sweet, addictive – these sweet potato fries are life changing! Corn starch is the secret to making these crispy on the exterior and fluffy on the interior.
---
Scale
Ingredients
2

lbs sweet potatoes

2 tbsp

neutral high heat oil (we used sunflower)

1 tbsp

cornstarch

2 tsp

smoked paprika

1/2

–

3/4

tsp chili powder

1/2 tsp

garlic powder

1 tsp

granulated onion

1 tsp

mesquite powder (optional)
Pinch cayenne

1 1/2 tsp

salt + more after they come out of oven

1 tsp

coconut sugar (optional)
---
Instructions
Preheat oven to 425 F.
Wash potatoes well, pat dry and slice into even-sized sticks.
Whisk all spices together and toss fries in oil and spices. Optional: add everything to a large plastic bag, seal and shake well to coat evenly.
Spread on baking sheet and cook for 15-20 minutes, until crispy and tender. Remove from oven and toss with more salt to taste. Serve with dips of choice.