Healthy oven fries made from scratch can be just as crispy as your favorite deep-fried restaurant offerings. We're sharing the best tips for getting super crispy oven fries without using the fryer!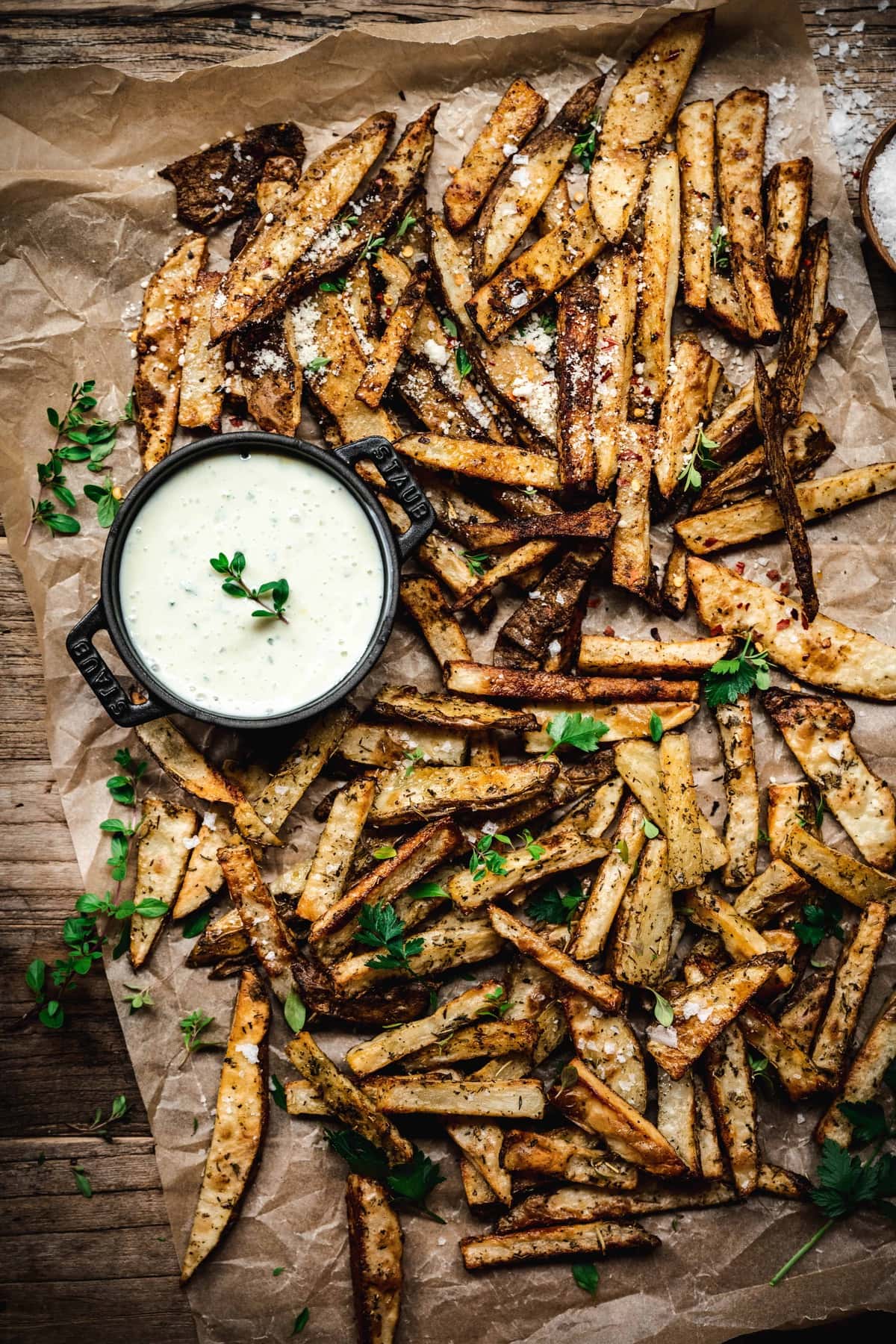 French fries: an ever-important topic that's surprisingly polarizing.
There's the thick-cut steak fry camp, the thin and crunchy fry fans, and even the (IMO) hard-to-understand crinkle cut lovers. But when it comes down to it, good fries are simple, and the best fries are extra crispy.
That's why we sought out to find the secret to crispy golden-brown oven-baked fries to make at home.
We wanted to keep things simple, without cornstarch, flour or anything that takes away from the pure potato flavor we love. We did discover a few easy tricks to achieving that sought-after crisp factor.
Instructions
Step 1: Slice
The first step to super crispy homemade oven fries is cutting your potatoes. You may choose to peel your 'taters, but it's not necessary. The skin actually provides an extra hit of fiber and some nice texture.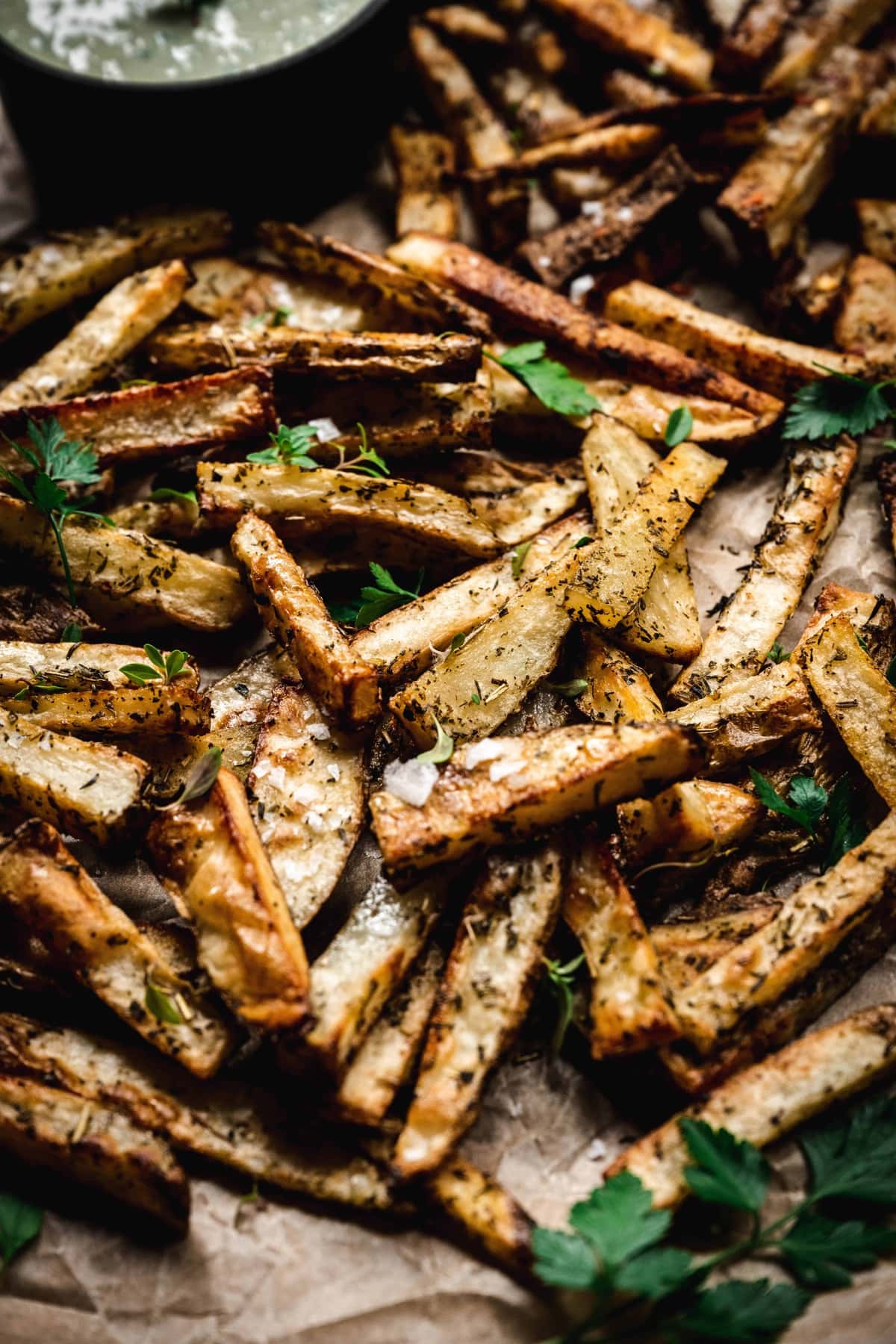 Whether skinned or not, the important first step here is cutting your tubers. We chose longer white potatoes for these fries. Their oblong length lends themselves well to slicing into a uniform fry shape.
For extra crispy fries, you want your fries to be of similar length and thickness. We like to first slice each potato in half, then slice each halve lengthwise into wedges about ¼ of an inch thick.
If your potato is especially long, you can then halve these slices widthwise.
Step 2: Soak in cool water
After you've broken down your potatoes into uniform fry shapes, the next trick for perfectly crispy oven fries is, surprisingly, adding water!
You're right that water would usually crush the crisp. However, in this case, we soak the potato slices in cool water to remove excess starch.
You want to soak your potatoes for at least half an hour, and up to four hours if you have time. The longer they soak, the more starch will come off. If you do opt for a longer soaking time, you may also want to change the soaking water a couple of times.
Removing the potato starch is a trick to getting extra crispy oven fries. It helps the fries dry out faster in the oven, and dryness leads to crispiness!
Step 3: Dry thoroughly
Of course, after all that soaking, you'll need to fully dry your potato slices before they bake in the oven. We use a couple of clean dish cloths.
First, we drain the soaking potatoes. Then, simply dump them onto a dish cloth or two, cover, and press down to remove as much liquid as possible.
Step 4: High heat
Once your fries are dry, it's time to dress and get roasting. You'll want to preheat your oven to 450 F. The high heat helps the potatoes release their internal moisture faster.
We've said it before, and we'll say it again: dryness leads to crispiness!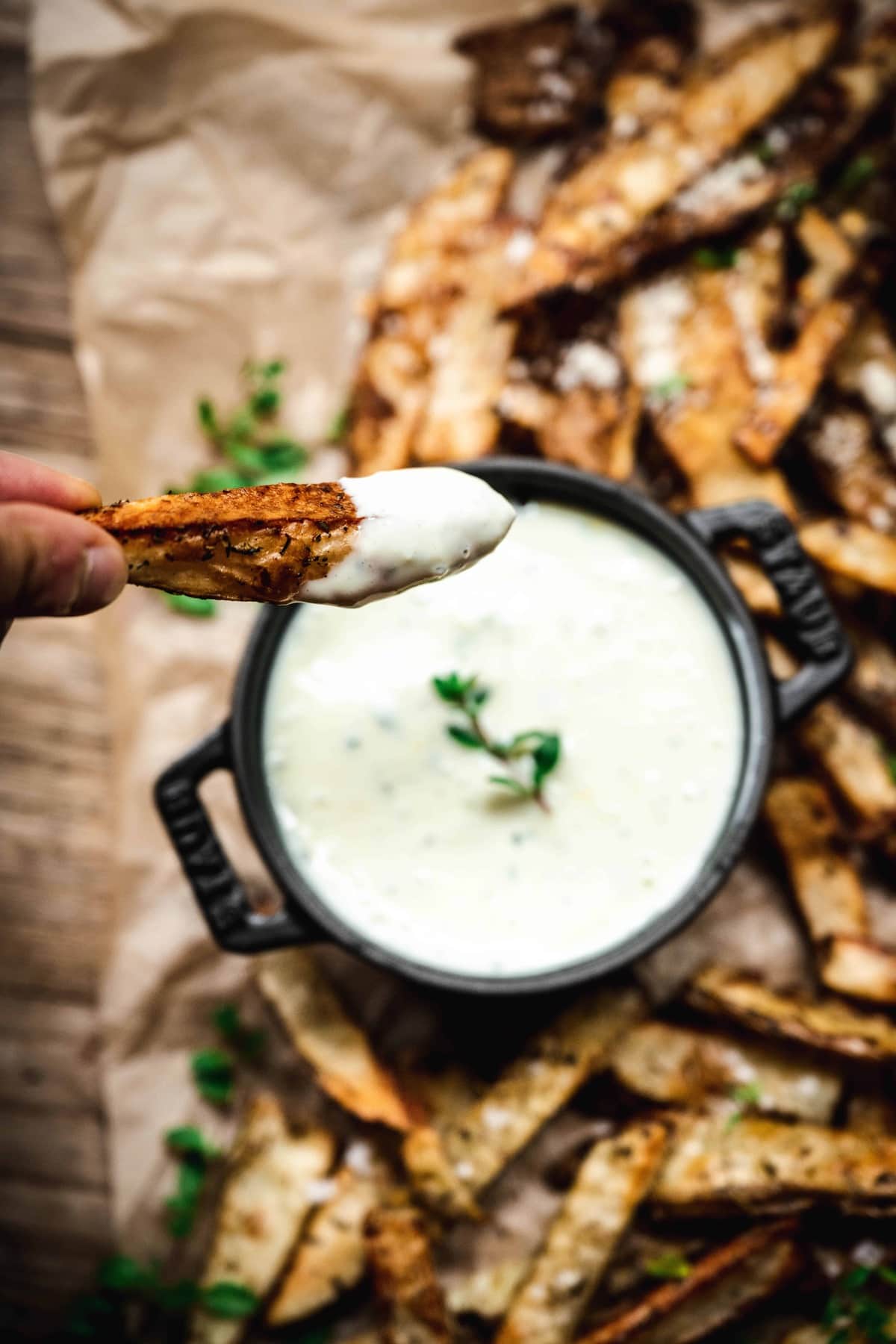 The second key here to those extra crispy oven fries is to give each little spear plenty of room in the oven. Spread your fries out evenly on as many sheet pans as it takes to avoid crowding.
When the fries are close together, all that moisture they release in the oven gets trapped between them and creates steam. That steam in turn kills your crisp.
Side note: we love baking up these oven fries as a delicious side dish. However, avoid the temptation to share the oven. Putting other items in the oven with these fries will also create steam, which, you guessed it, will wilt those 'taters faster than you can scarf them down.
We recommend using your stovetop for your entree.
Nothing goes better with crispy fries and vegan aioli than burgers. These smoky beet veggie burgers are perfect! Or, if you're in a lunch mood, a vegan caprese panini with pesto and avocado pairs deliciously with crispy fries and vegan aioli.
Step 5: Seasoning
There are dozens of delicious ways to flavor your homemade oven fries. This recipe includes two of our favorite spice combinations. Because this recipe is so simple, it's also a great time to offer multiple different spice options to offer something for every palate.
This recipe includes a classic herb spice blend with Italian seasoning that includes basil, oregano, thyme and rosemary. We also include instructions to make your own seasoning blend that's a bit spicier. This option includes chili flakes and chili powder as well as garlic powder for the signature fry flavor.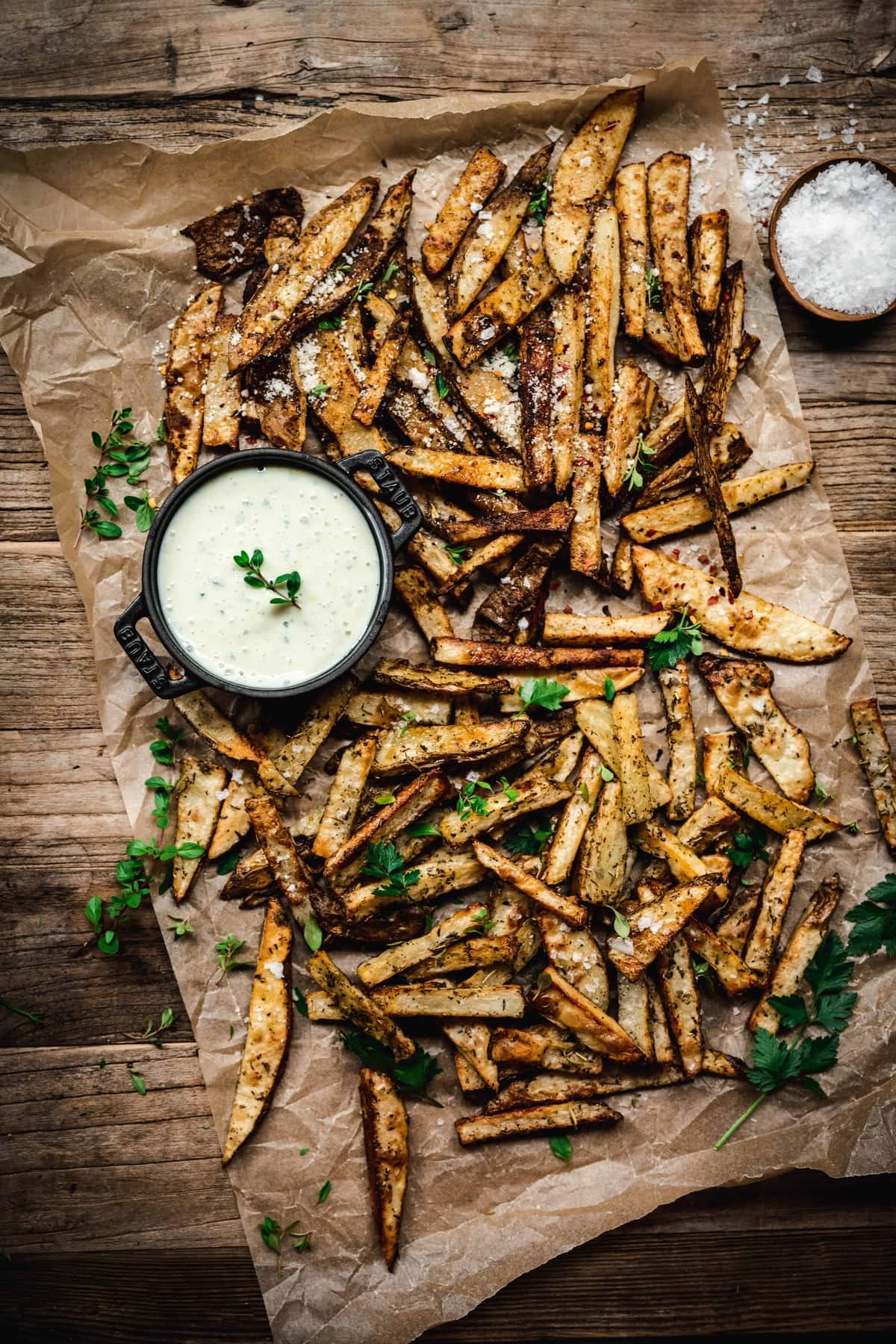 Of course, feel free to add your own spin on the spice blends. If you have a favorite premade blend, toss it on! The one piece of advice I'll share is to remember to include a healthy pinch (or two!) of salt before and after baking.
The best crispy fries need salt!
Once you've mixed up your favorite flavor combinations, you'll toss the fries with their spices and a healthy glug of extra virgin olive oil on their sheet pans, and get roasting.
Step 6: Roast and Rotate
While roasting your oven fries, be sure to rotate them for even cooking. Once you put them into the pre-heated oven, set a timer for 15 minutes. By then, they should have just the beginnings of golden brown on one side.
Remove the sheet pans from the oven and carefully flip each fry over. This allows for even browning.
Return the sheet pans to the oven, switching racks and rotating the sheet pans so they're in the opposite position as before. Again, it's all about that even crispiness on your fries. Then set your timer for another 7 minutes.
They may take up to another 15 minutes after you flip, just check every 2-3 minutes to avoid overdoing the crispiness.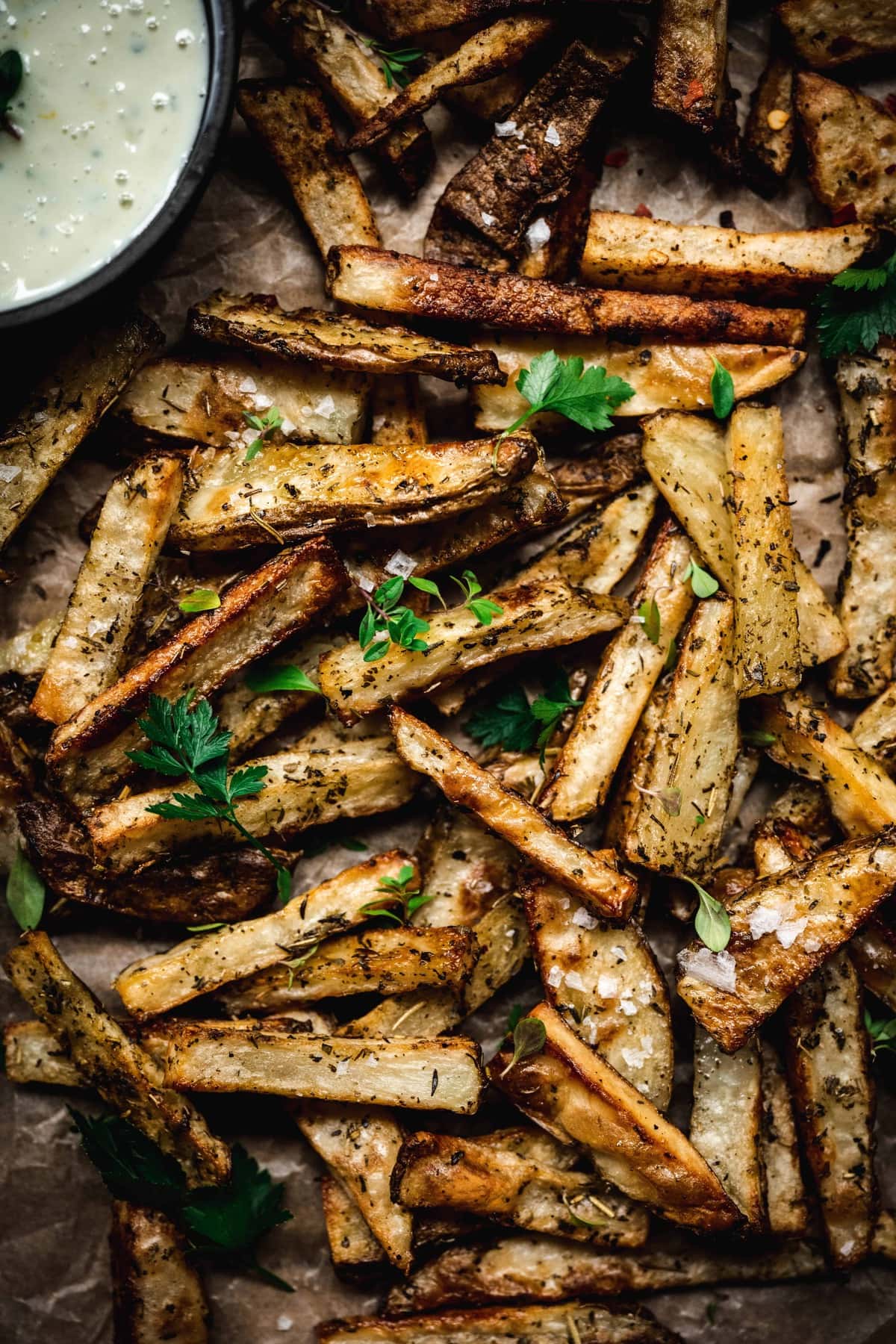 Step 7: Enjoy with your favorite dipping sauce!
Once the fries are crisped to your liking, remove the sheet pans from the oven and let the potatoes cool on the pans for a few minutes. You can transfer them to a cooling rack if you're patient. Otherwise, we recommend digging in while they're hot and dipping them into some wonderfully garlicky vegan aioli.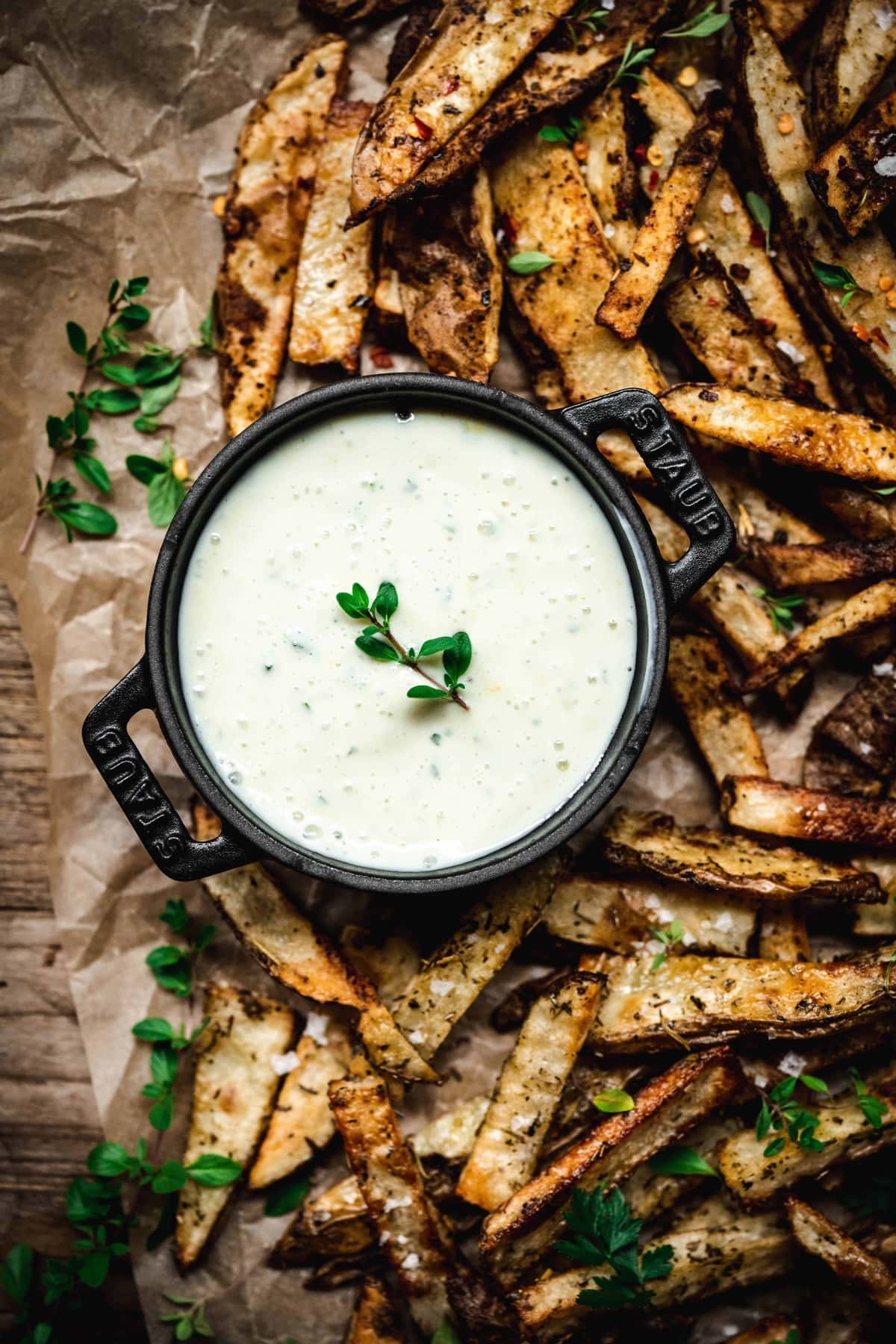 For this vegan aioli recipe, we turned to one of our trusted vegan products for creamy consistencies: silken tofu.
Silken tofu is often overlooked in the tofu section. We say, give the silky stuff the attention it deserves! It's a miracle when it comes to creamy vegan sauces and dips like this smooth aioli.
It whips up nicely into an airy and light version of the popular garlicky dip. You certainly won't miss the heaviness of regular aioli from eggs yolks and oil.
Not a fan of aioli? Try dipping these fries into spicy mayo, pesto, vegan ranch, marinara, or just plain ol' ketchup.
By now, you're a pro when it comes to perfectly crispy oven fries from scratch. Not to mention the perfect vegan dip to pair your newfound go-to potato side dish with. Go forth and get crisping!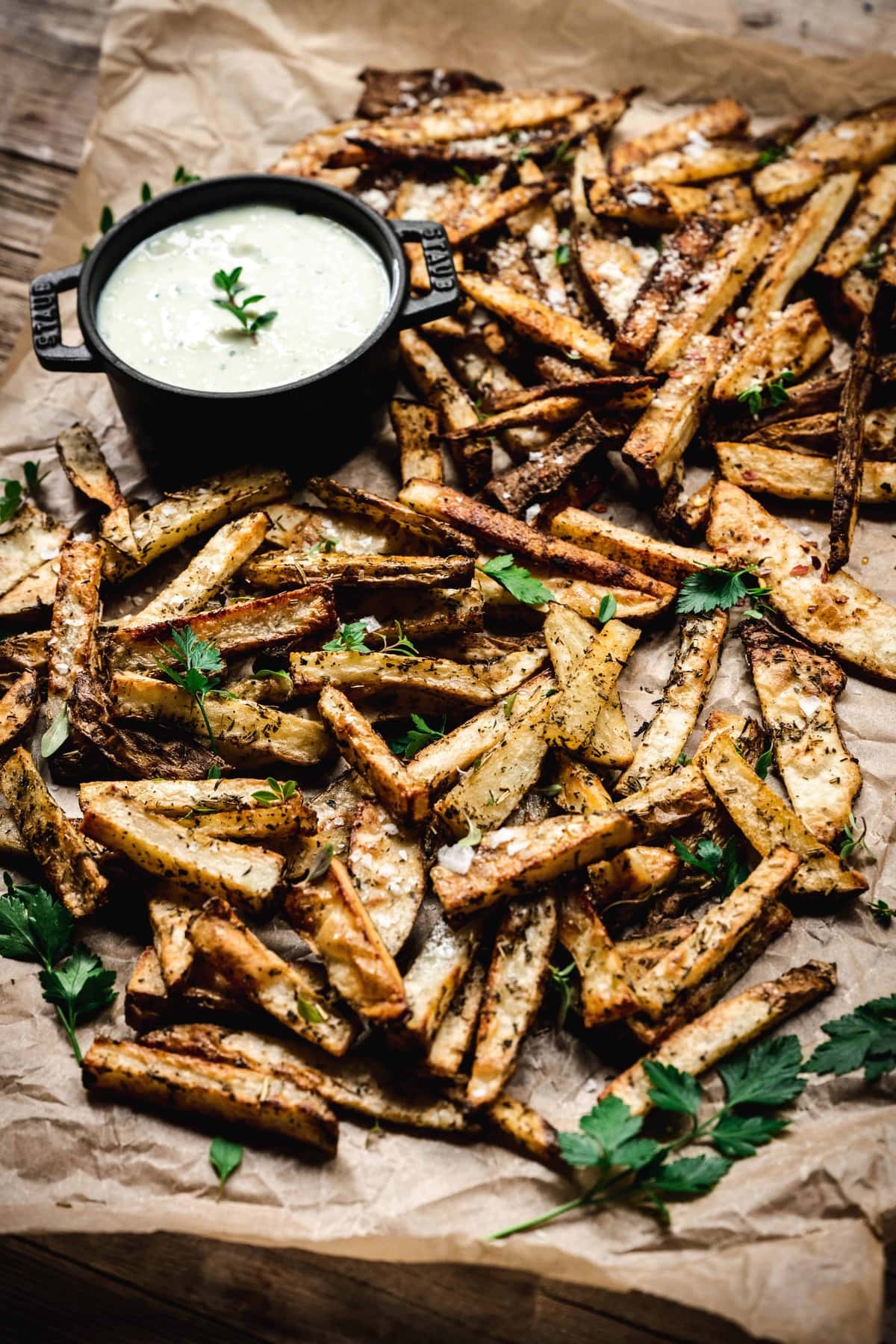 Fry obsessed? Try these Oven-Baked Sweet Potato Fries or these Polenta Fries next!
If you make these homemade crispy oven fries, we'd love for you to leave a comment and rating below! We also love to see your creations on Instagram – tag us at @crowded_kitchen so we can see what you've been cooking.
Print
📖 Recipe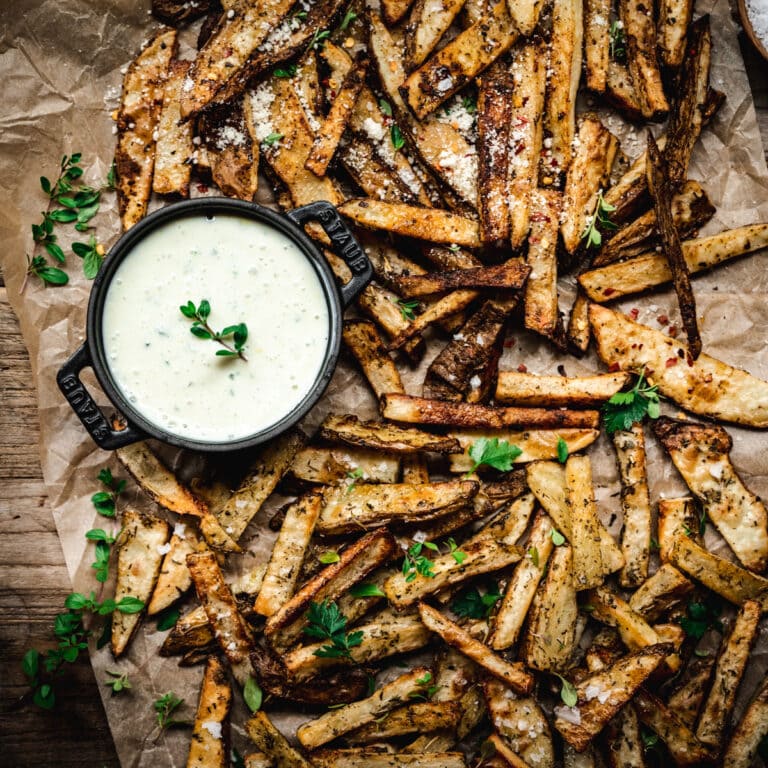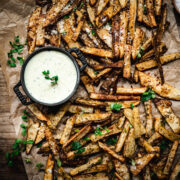 Super Crispy Oven Fries with Vegan Aioli
---
Author:

Lexi

Total Time:

55 minutes

Yield:

4

Servings

1

x

Diet:

Vegan
Description
The best tips for getting super crispy oven fries without cornstarch or anything added. Except, of course, luscious and creamy vegan aioli for dipping!
---
For the crispy oven fries:
Four medium white potatoes (we used russet)

2 tablespoons

olive oil

2 tsp

chili powder

2 tsp

garlic powder

1 tsp

red chili flakes

2 tsp

dried basil

1 tbsp

Italian seasoning
Salt and pepper
For the vegan aioli:
1

lb. package silken tofu

2

garlic cloves

1 ½ tsp

salt

1

lemon, zested

2 tsp

Dijon mustard

¼ cup

packed fresh herbs, such as chives, basil, oregano, and/or thyme
---
Instructions
Slice potatoes lengthwise into fry shapes of equal thickness and width. Add to a large bowl and cover with cold water. Let the potatoes sit for at least half an hour and up to 4, changing the water a couple of times to keep it fresh. This allows the potatoes to release some of their starches and crisp up better.Preheat the oven to 450 F. Line two baking sheets with parchment paper. 
Meanwhile, prepare the seasoning blend by combining the chili powder, garlic powder, chile flakes, dried basil and a large pinch of salt in a small bowl. 
After soaking, drain the potatoes and add them to a clean dish towel, or two. Press to dry as much as possible, and divide the fries between your prepared baking sheets. Drizzle with olive oil.
Sprinkle the spicy seasoning blend on one tray of potatoes and toss well to combine. Sprinkle the other tray with Italian seasoning and a generous pinch of salt and toss well. 
Spread the fries out on each baking sheet, avoiding letting any of the fries touch. Once the oven is preheated, put your sheet pans in and roast for 15 minutes. 
After 15 minutes, remove the sheet pans and flip each fry over to ensure even roasting. Return to the oven and roast for 7-10 minutes more. As soon as you remove them from the oven, sprinkle each sheet pan of fries with another pinch of salt and pepper. Allow to cool for a few minutes to finish crisping, and enjoy hot with aioli!
To make the aioli, add all ingredients to a food processor and blend until smooth.
Prep Time:

30

Cook Time:

25

Category:

Side dish

Method:

Oven

Cuisine:

American
Nutrition
Serving Size:
Calories:

182

Sugar:

2.6 g

Sodium:

1579.1 mg

Fat:

10.4 g

Saturated Fat:

1.5 g

Trans Fat:

0 g

Carbohydrates:

17.6 g

Fiber:

3.1 g

Protein:

7.3 g

Cholesterol:

0 mg
Keywords: Crispy oven fries