These easy and delicious pan seared wild mushrooms are full of umami. They make the perfect vegan and gluten free side dish for a holiday or weeknight meal!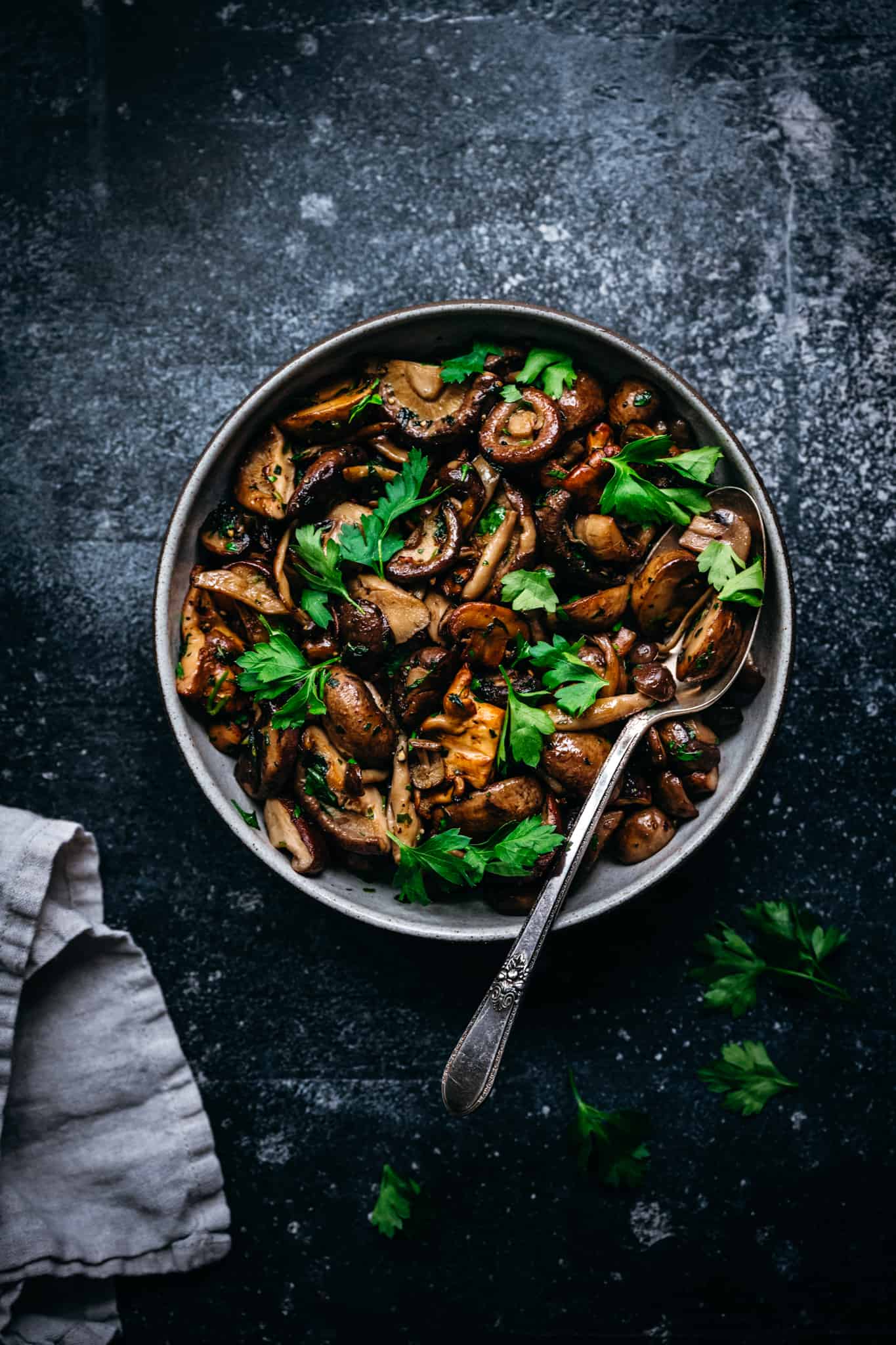 If you've been following the blog recently, we've been on a serious mushroom kick.
They're one of our favorite vegetables (fungi?). And I bet that a lot of vegans and vegetarians can relate (carnivores too of course). There's something so meaty and umami about mushrooms that we're always craving.
Mushrooms are also incredibly versatile. Here's how we've been enjoying them recently:
These are the vegan recipes that will have even the most dedicated meat-eaters in disbelief. Especially that BBQ sandwich - give it a try if you don't believe us!
All About Wild Mushrooms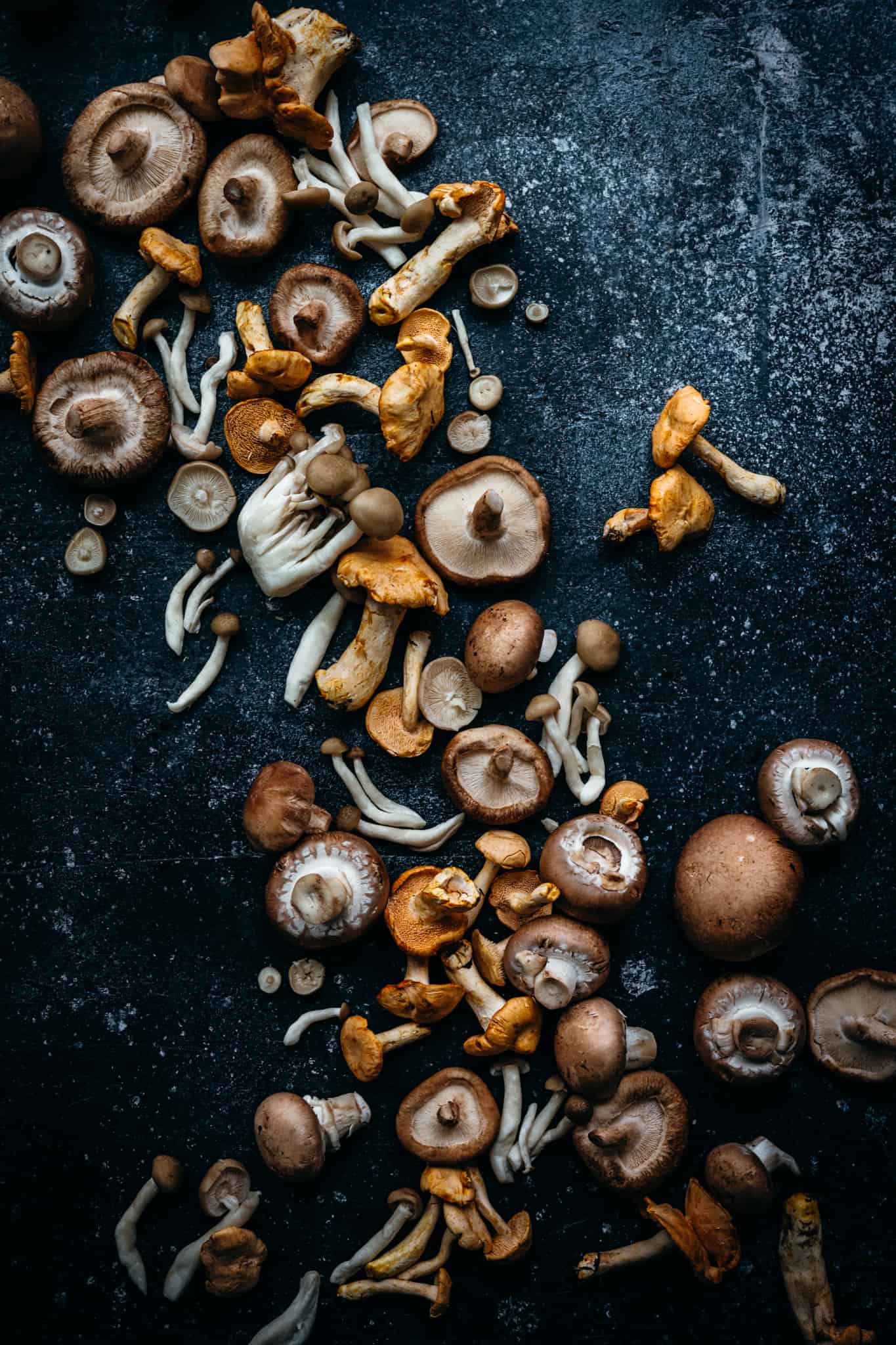 This quick and easy vegetarian side dish highlights all the different, delicious kinds of mushrooms out there. And, I'll be honest, the options can be overwhelming. Just think that the choices in the grocery store are only a fraction of all of the mushrooms in the world. Did you know there over 50,000 varieties out there?
Really only about 20 mushrooms are edible and tasty though. Let's cover some of our favorite mushroom varieties to use in this plant-based recipe.
Chanterelle Mushrooms
These are some of the most common wild mushrooms. They're a light gold color and fan-shaped. They also tend to break easily. For this pan seared mushroom recipe, we like to keep chanterelles in tact.
Don't worry if they break up a bit during cooking. They shrink down so much you really don't need to cut them smaller beforehand. Chanterelles are often foraged, as they grow in the wild throughout the pacific northwest in the US.
Shiitake Mushrooms
Shiitakes have a strong flavor and a woody stem. Be sure to remove that stem, it's not too tasty. The easiest way to prepare shiitake mushrooms for cooking is to snip off the stem with kitchen shears. Of course, a knife works too.
Like chanterelles, you don't need to cut the shiitake caps any further. They're already nice and bite-sized for this recipe.
Shiitake mushrooms are also often dried. These can add a lot of flavor to mushroom stock and other soups. They can be a bit pricey, but they pack a ton of deep, delicious flavor that you really can't get elsewhere.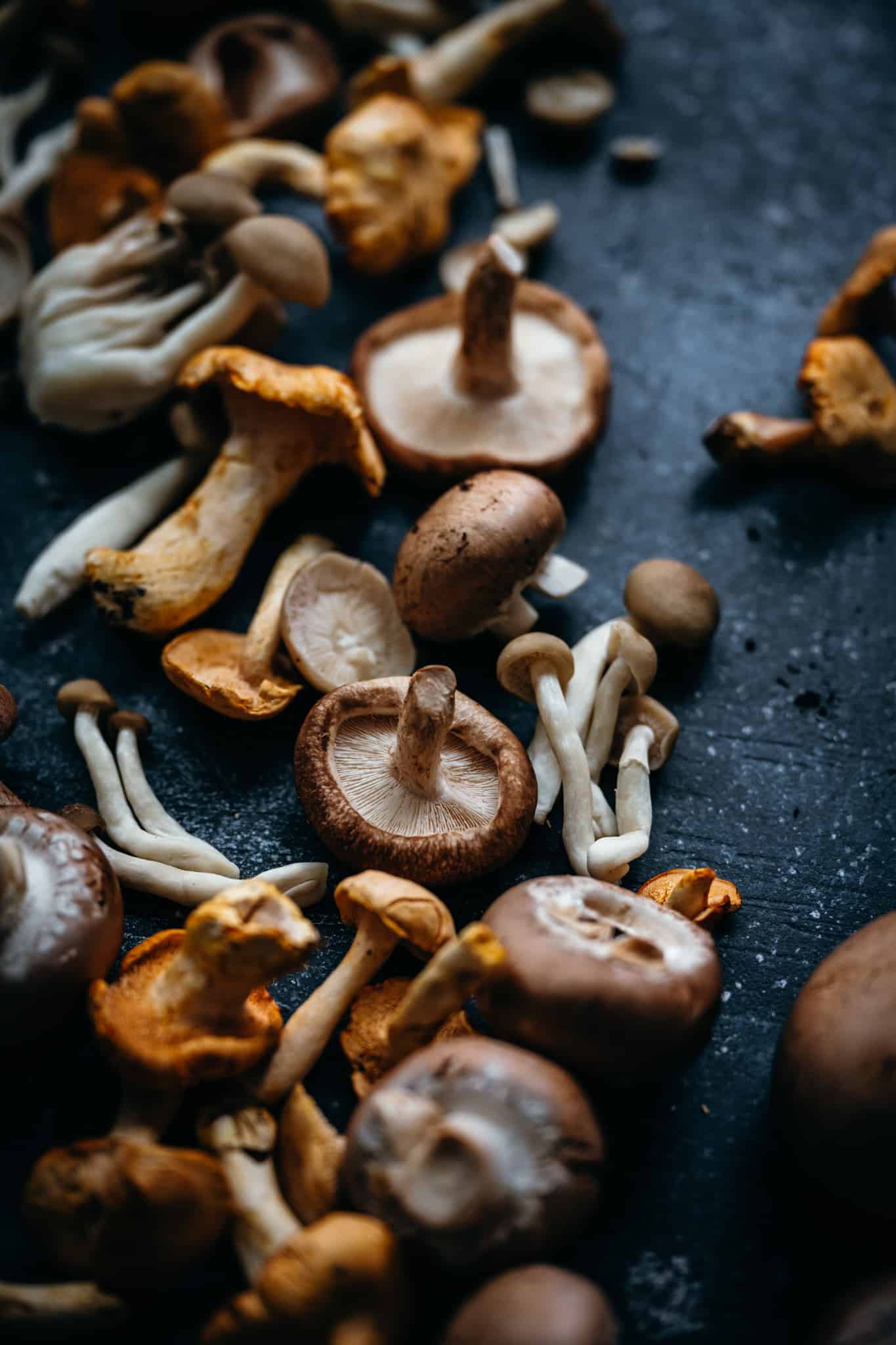 Button Mushrooms
Also known as white mushrooms, these are the most mild flavored. They're also the most common. Because button mushrooms lack a strong mushroomy flavor, we like to pair them with their more powerful siblings for dishes like pan seared wild mushrooms.
Oyster Mushrooms
These are the 'shrooms that steal the show in any dish, in my opinion. They're large but delicate, with satisfying texture and flavor. To prepare oyster mushrooms for this easy side dish, you may need to slice them a bit.
It's easiest to slice oyster mushrooms lengthwise. They have a natural grain that they'll break easily along. It's also fun to leave oyster mushrooms whole for the textural change in your dish.
Enoki Mushrooms
These little white mushrooms grow on fruit trees in cute clumps. You can easily pull apart the thin stems, but we also like to leave some of the fam in tact. Enokis are delicate in flavor--you can even eat them raw.
Trumpet Mushrooms
Thick stems and little umbrella caps characterize trumpet mushrooms. If you're using trumpets in your pan seared wild mushrooms, we recommend slicing them in half lengthwise. The flat surface will sear up nicely.
How To Clean & Prepare Wild Mushrooms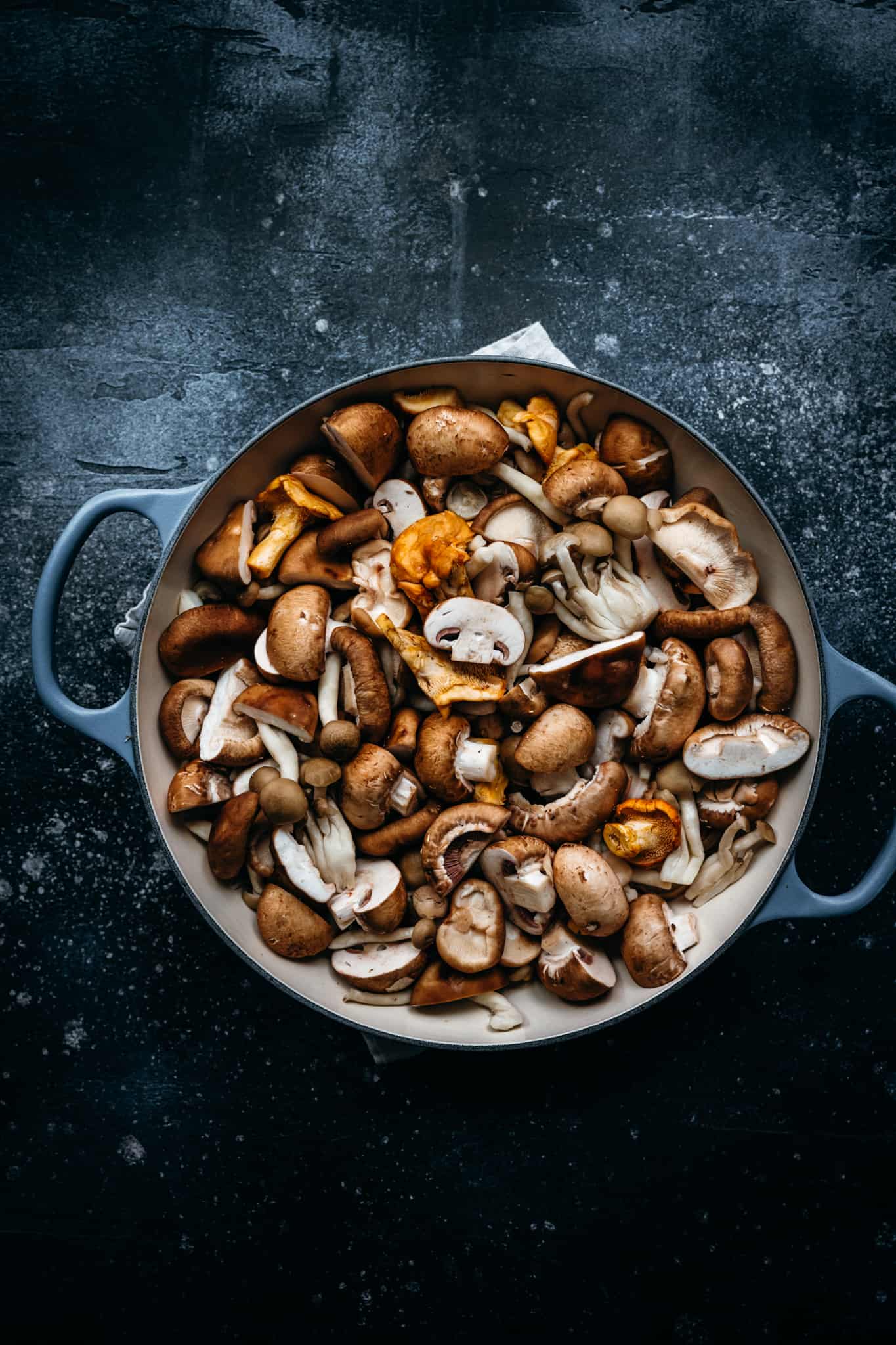 Different cooks have all sorts of different ways to clean and prep mushrooms. Most cultivated mushrooms (the kind you pick up at the supermarket) come with a good bit of dirt.
The best way to remove that coating is to take a damp paper towel or cloth and gently wipe your shrooms clean. You want to avoid submerging mushrooms in water or rinsing them directly under the faucet, which causes them to break down faster.
If your mushrooms aren't especially dirty, you may not need any water at all. If you can get away with a dry brush or towel to remove loose dirt, go for it.
When it comes to cutting mushrooms, you can play with different shapes and sizes. We like a mixture for our pan seared wild mushrooms. It adds more visual and textural interest to the dish.
For the larger mushrooms that you do want to cut, look for the vegetable's natural grain. Slice along the mushroom's natural fibers for easiest slicing. For some varieties, like oysters, you can also pull them apart with your hands.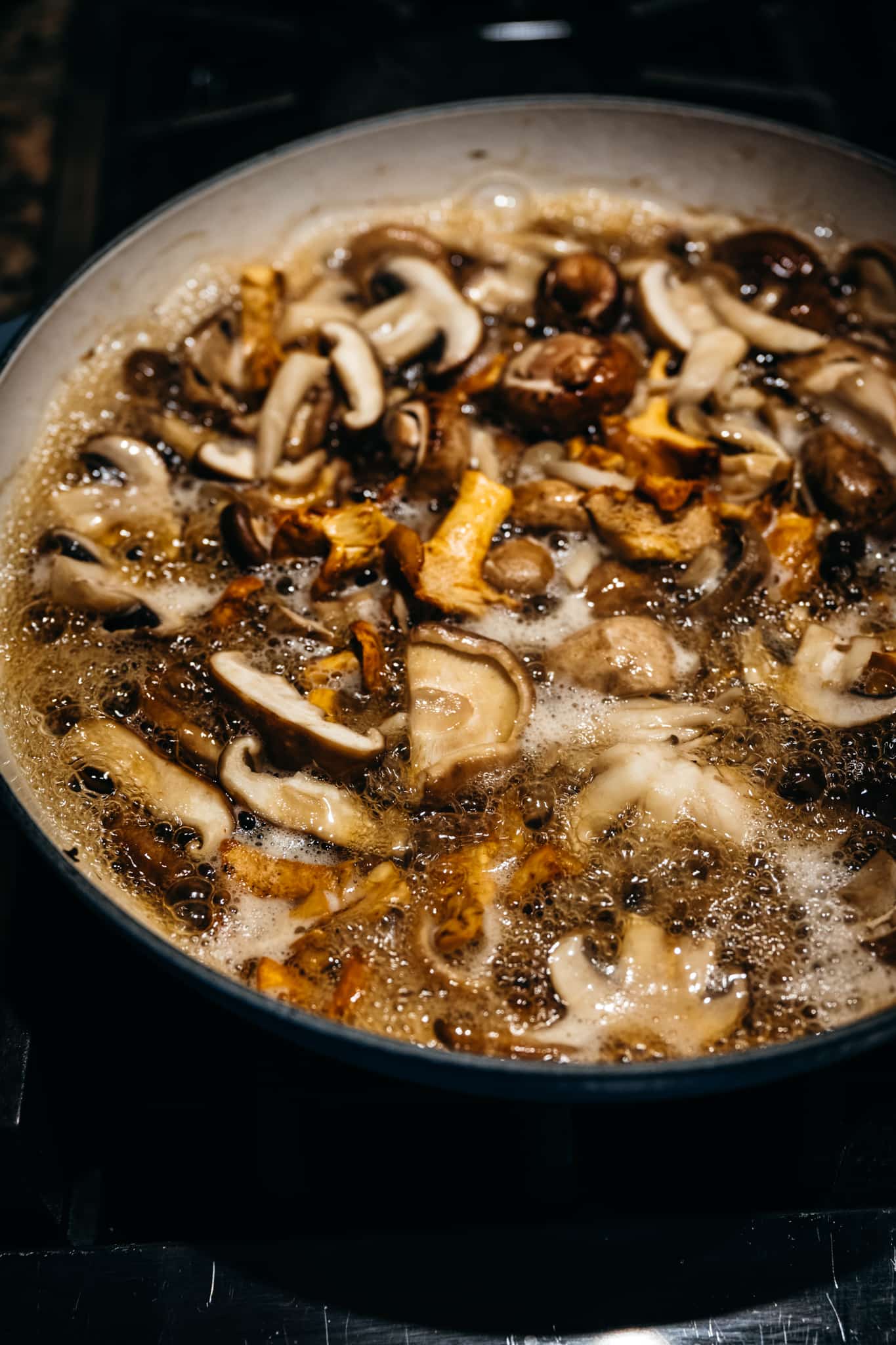 Instructions
After cleaning and preparing your wild mushrooms, you're ready to start this quick and easy recipe.
The first step is to get as much moisture out of the mushrooms as possible. Mushrooms contain a ton of water. If you want crispy edges in your final dish, you'll need to get it all out.
Heat a dry skillet and add the mushrooms. They'll bubble and squeak a bit, that's normal. Let them cook over medium heat for a while, up to 15 minutes, until they release all their water. There should be a good amount of liquid left in the pan. Then, simply pour that water out.
We like to flavor the mushrooms with a classic combo of white wine, garlic and parsley. You'll add the wine directly to the drained mushrooms.
While the mushrooms are breaking down, heat some garlic and vegan butter to flavor the pan seared mushrooms. Finally, add the pre-cooked mushrooms in their wine sauce to the skillet with garlic and parsley.
Let all of these flavors cook together for another 5 minutes, and your pan seared wild mushrooms are ready to enjoy!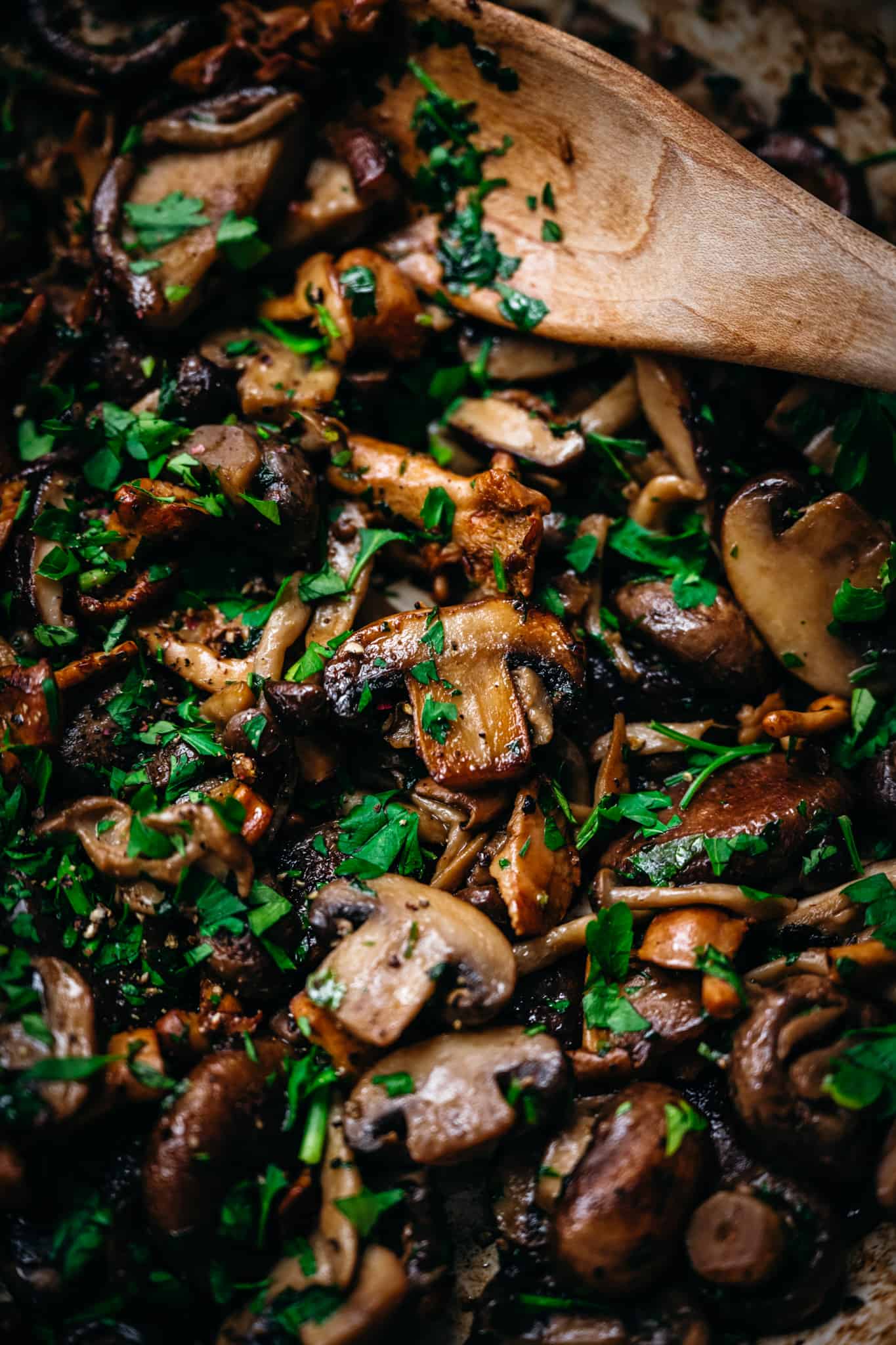 Print
📖 Recipe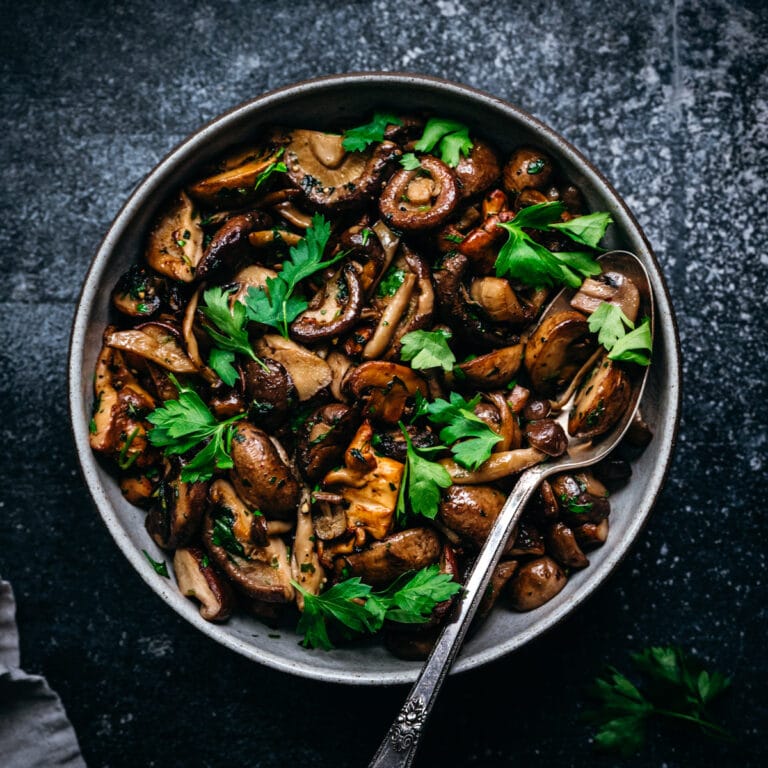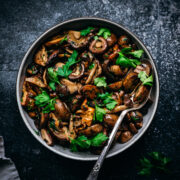 Quick & Easy Pan Seared Wild Mushrooms
---
Author:

Lexi

Total Time:

35 minutes

Yield:

4

servings

1

x

Diet:

Vegan
Description
These easy and delicious pan seared wild mushrooms are full of umami. They make the perfect vegan and gluten free side dish for a holiday or weeknight meal. 
---
3

lbs assorted fresh wild mushrooms (chanterelles, button, shiitake, oyster, baby portobello, enoki, mataki, trumpet, etc.)*

¼ cup

dairy-free butter 

2

-

3

cloves of garlic, minced 

½

  cup dry white wine

¼ cup

+

1

-

2

tablespoon chopped fresh parsley

1 tsp

salt
Pepper to taste
---
Instructions
Rinse the mushrooms to remove any dirt.  See info in blog post for removing/trimming stems. We left small or petite mushrooms whole, halved the medium sized ones, and quartered the larger ones.  Most of the chanterelles we left intact with the exception of a few very large ones. 
Heat a large sauté pan over medium-high heat. When the pan is hot, add all of the mushrooms. Cook the mushrooms, stirring frequently, until they release all of their water, 10-15 minutes.
Meanwhile, heat the butter over medium heat in a small sauté pan. Once melted, add the garlic and cook, stirring a few times, until softened, about 5 minutes. Add the parsley and cook for 2-3 minutes more. 
Once the mushrooms have released their liquid, drain off any water in the pan. Add the wine, ¼ cup at a time, stirring well between additions. 
Add the garlic to the mushrooms and season with salt and pepper.  Cook everything for an additional 5 minutes or so, taste, and adjust seasoning if necessary.  
Notes
*If you are using shiitake mushrooms, be sure to remove the tough, woody stems with kitchen shears
Prep Time:

5 minutes

Cook Time:

30 minutes

Category:

Side Dish

Method:

Stovetop

Cuisine:

American
Nutrition
Serving Size:
Calories:

173

Sugar:

8.6 g

Sodium:

679.5 mg

Fat:

12.2 g

Saturated Fat:

8.2 g

Trans Fat:

0 g

Carbohydrates:

14.3 g

Fiber:

4.7 g

Protein:

7.4 g

Cholesterol:

0 mg
Keywords: pan-roasted wild mushrooms