Quiche is an excellent way to start any day. It's ideal for brunch with a crowd. This vegan quiche with a gluten free pie crust makes a perfect breakfast meal prep recipe. It even works for a satisfying vegan dinner! Creamy, savory and topped with a colorful ring of cherry tomatoes, it's sure to be a hit.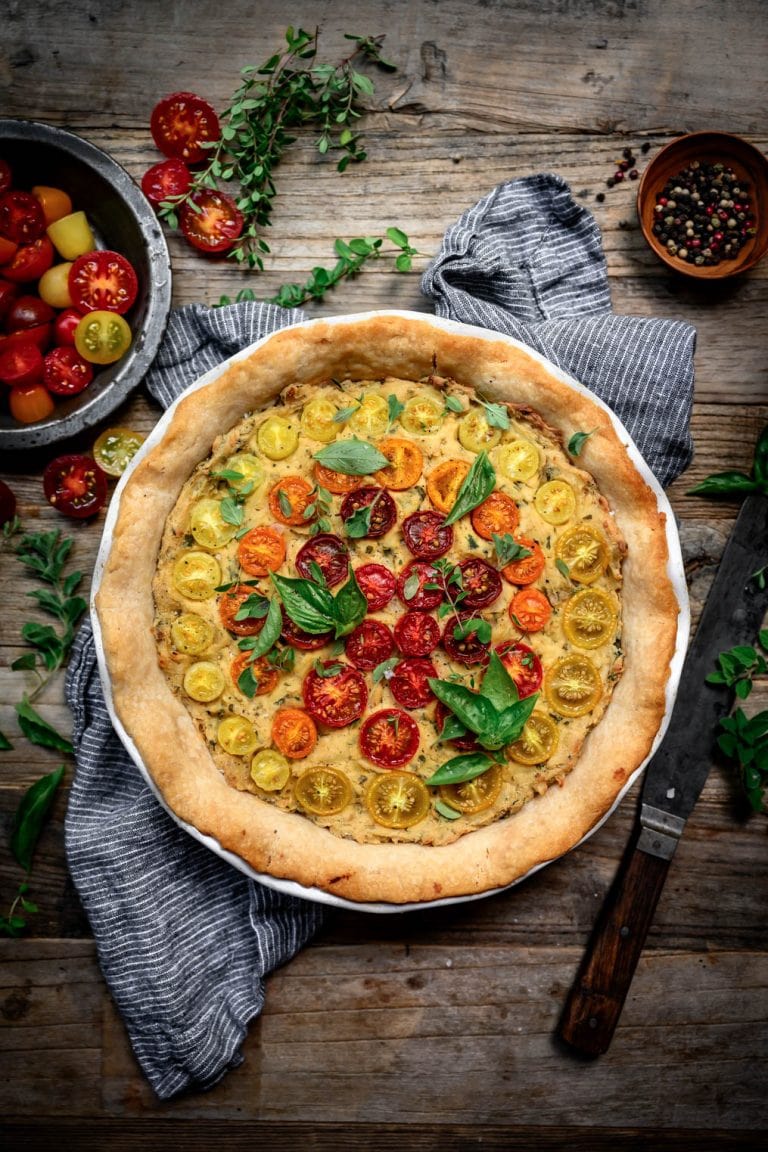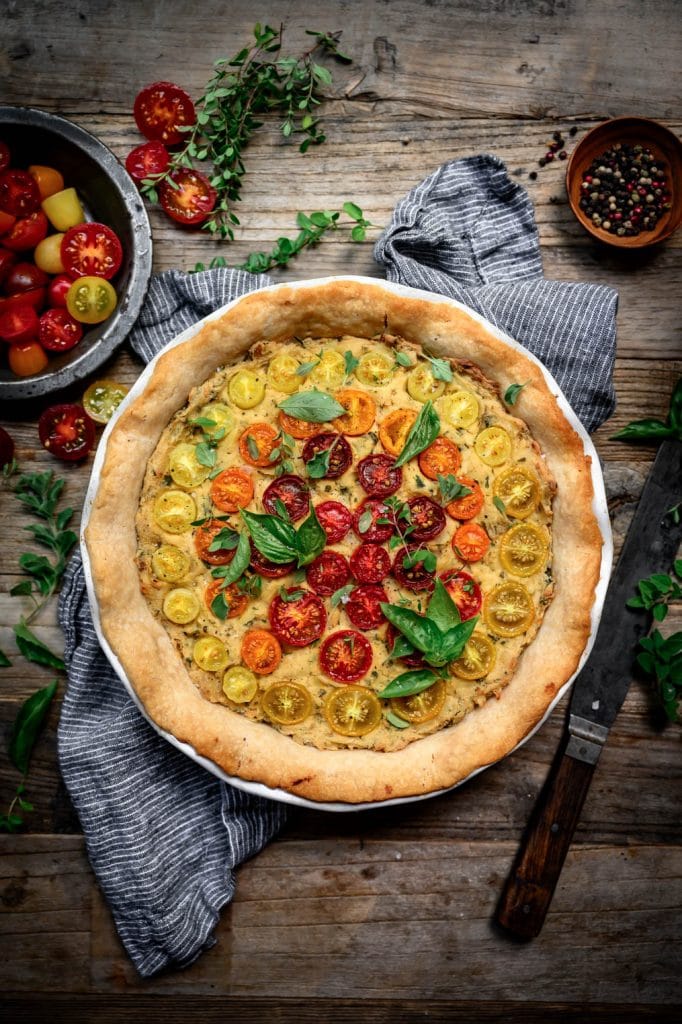 How to make a simple gluten free pie crust
The first step to any vegan quiche is a flaky and buttery crust. After dozens of tests, we've mastered the crispy, buttery gluten free pie crust recipe. It starts with our homemade gluten free flour blend. Of course, if you're short on time, you can use store-bought all-purpose gluten free flour. This is our favorite brand for all gluten free baking recipes.
The rest of the ingredients in this simple gluten free and vegan quiche crust recipes are the standards. A bit of sugar–just 2 teaspoons–add an undernote of sweetness that compliments the savory tomato quiche filling. Xanthan gum, if you're familiar with gluten free baking, is a standard ingredient. It helps mimic the gluten in regular wheat flour, adding body to this gluten free pie crust.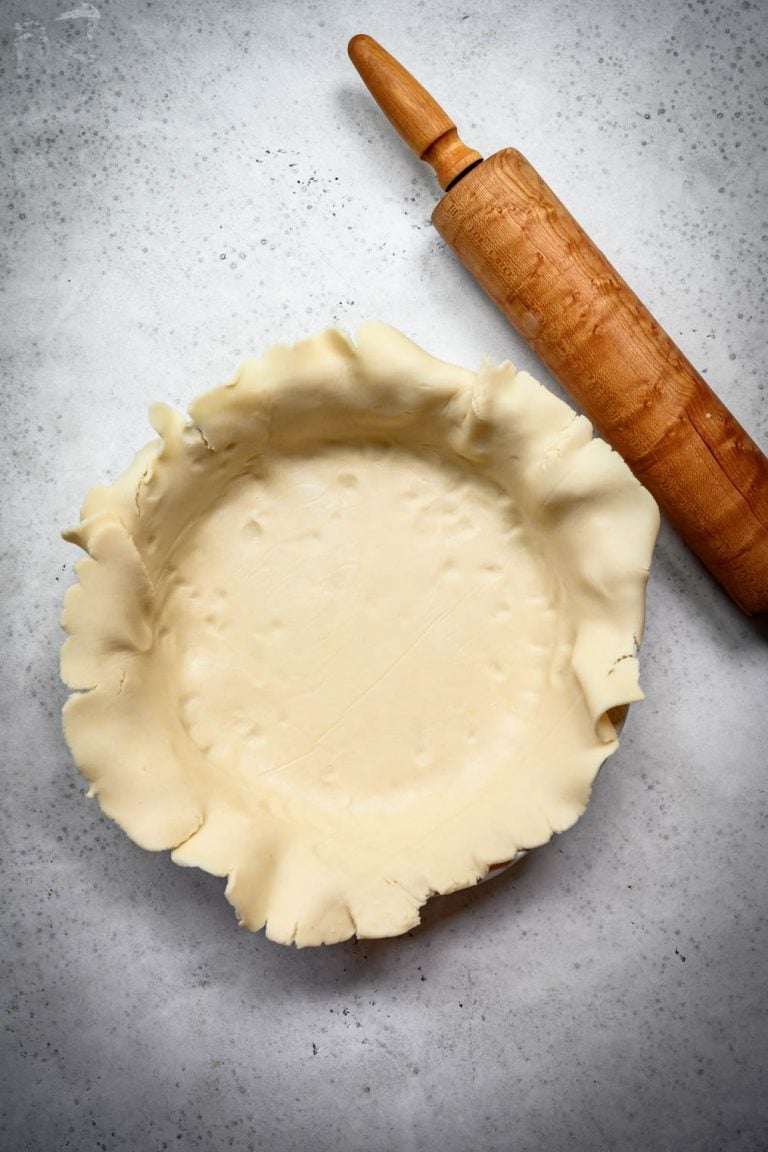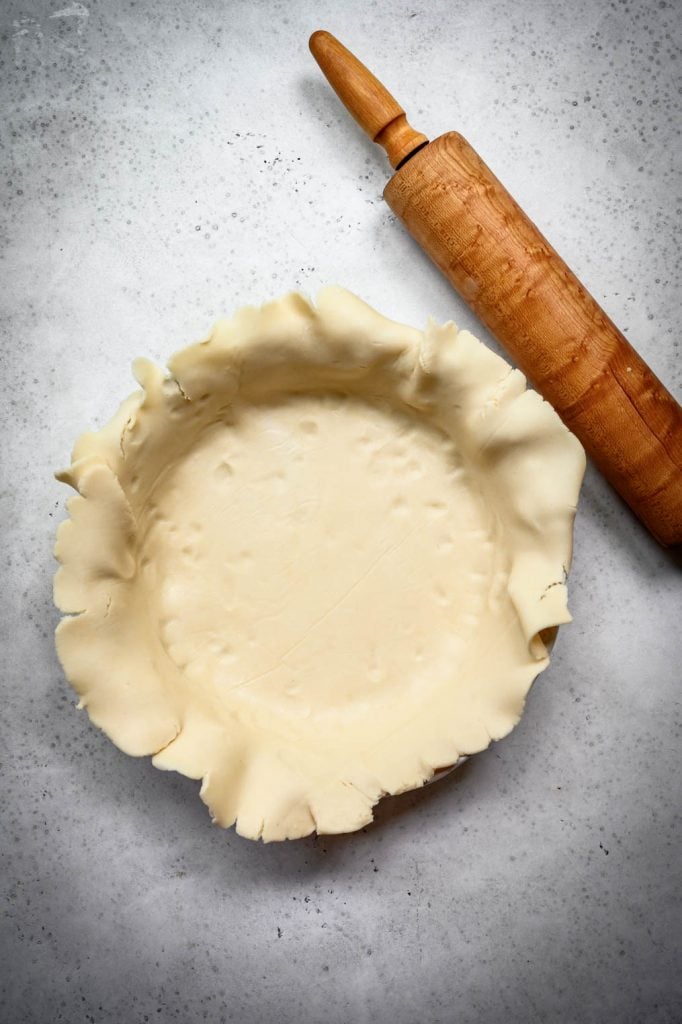 Of course, you can't have a delicous flaky pie crust without butter! The key is to use chilled butter. We suggest dicing it up, then putting it in the freezer for a few minutes until you're ready to add it to the dry ingredients. All that dicing can warm the butter up again, so re-chilling it is a good strategy.
The ice water, like the cold butter, is another key to creating those delicous flakes everyone expects from a pie crust. It helps the dough form a cohesive ball too. Without enough liquid, your crust could crumble!
When to use this recipe for gluten free pie crust
This pie crust recipe is truly versatile. You can use this gluten free pie crust as an all-purpose, go-to recipe for all your pie and tart needs, from sweet to savory. It goes way beyond this vegan tomato quiche. Double the recipe to make a simple and delicous berry pie, filled with fresh fruit hit with a bit of sugar.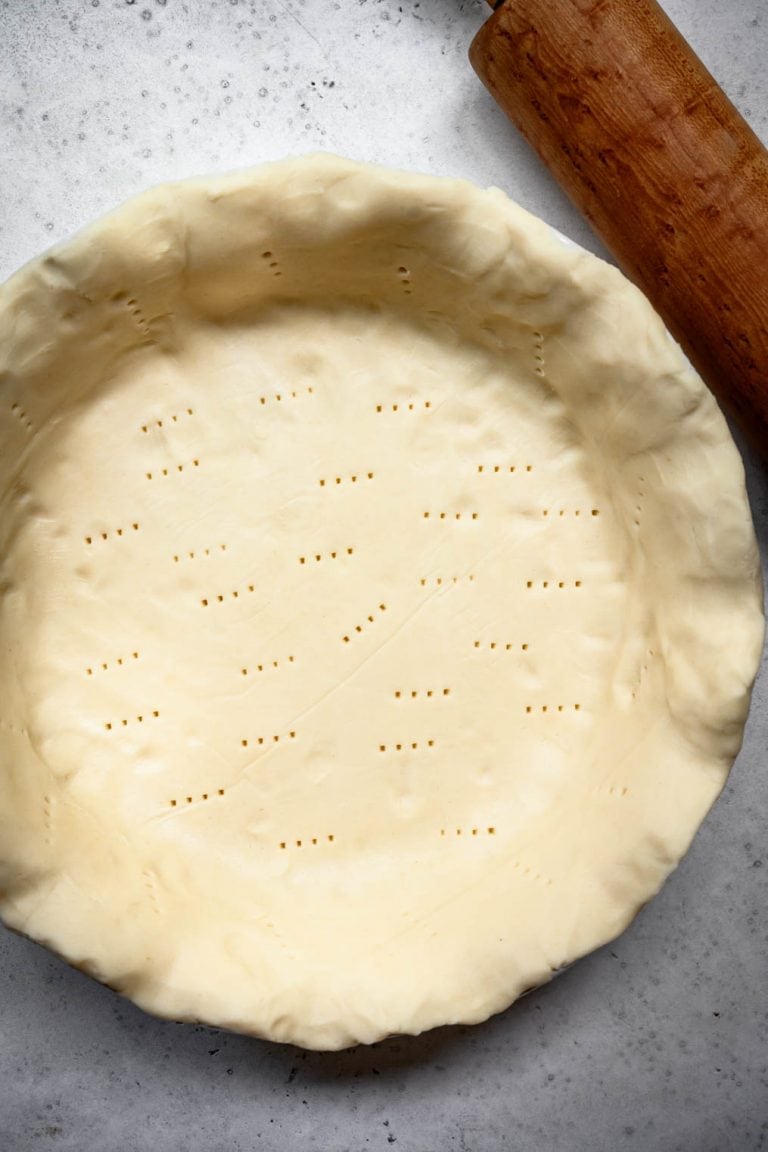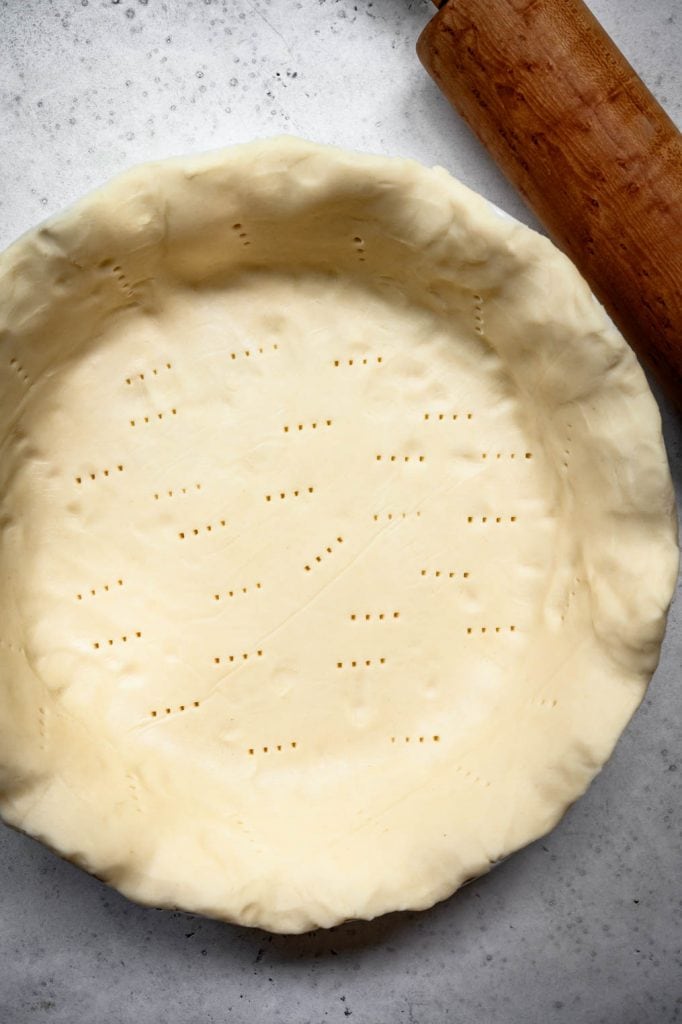 This gluten free pie crust would also work for other savory vegan tarts. Try it as the base for this vegan ricotta and asparagus tart. Or, add a layer of sliced fresh tomatoes for an eye-catching tomato tart like this one from Well Vegan.
How to make delicous vegan quiche filling
Once your gluten free pie crust is baking, it's time to start mixing up your vegan tomato quiche filling. Tofu makes the perfect base for a delightfully light vegan quiche filling. We use firm tofu, and press it between paper towels for 40 minutes to remove some of that extra liquid. This pressing helps firm up the tofu a bit more, without drying it out completely, which would make it challenging to blend.
In addition to the firm pressed tofu, the base of this vegan tomato quiche filling is lots of vegetables and cannellini beans.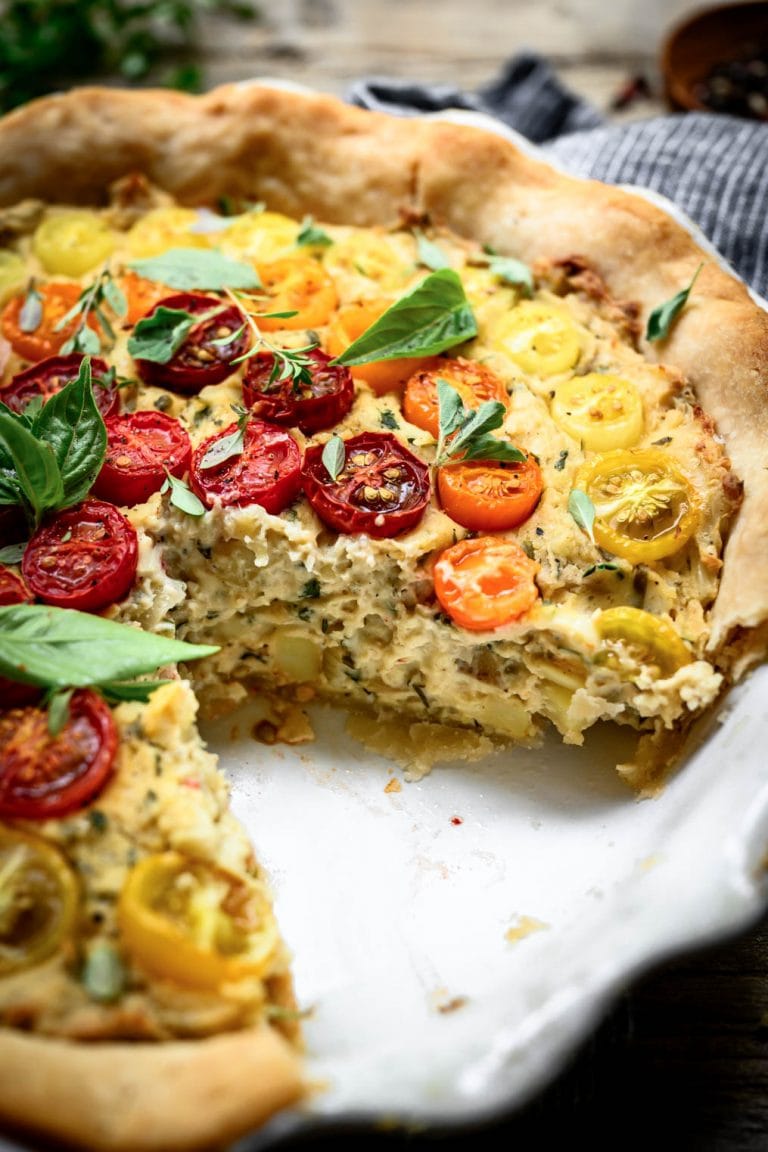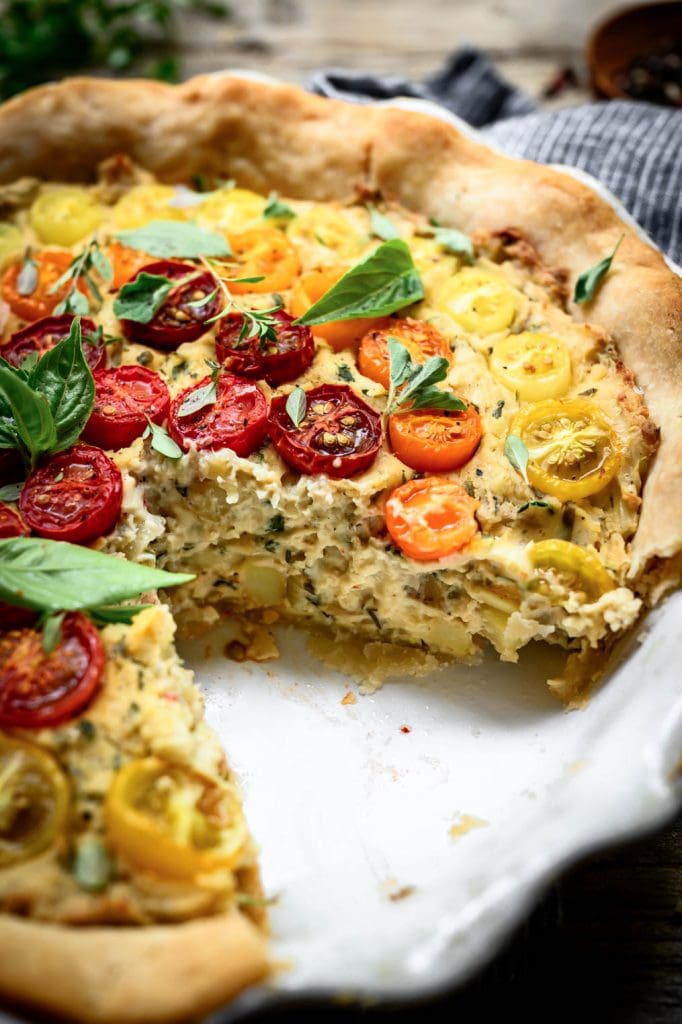 To build flavor, we start with sauteed onions and garlic. You'll than add some diced white potato. The potato provides extra structure to your vegan quiche. And finally, cannellini beans help everything stay together well. You don't need eggs or cream to achieve a dense and firm vegan quiche!
Another great thing about this vegan quiche filling recipe is that you don't have to limit it to tomatoes. You can mix up the flavors depending on what's in season. In fall, a bit of cubed butternut squash or sweet potato would add a nice twist. Or in the spring, why not try fresh peas or artichoke hearts in the mix? The possibilities are endless when it comes to mixing up this vegan quiche filling with gluten free pie crust.
What makes this vegan tomato quiche extra cheesy and savory?
Once you have the base of protein-packed tofu, flavorful aromatics and hearty potatoes, it's time to add that cheesiness everyone expects from a good quiche. We kept things dairy-free and a bit healthier by leaving out cream and other high-fat dairy products.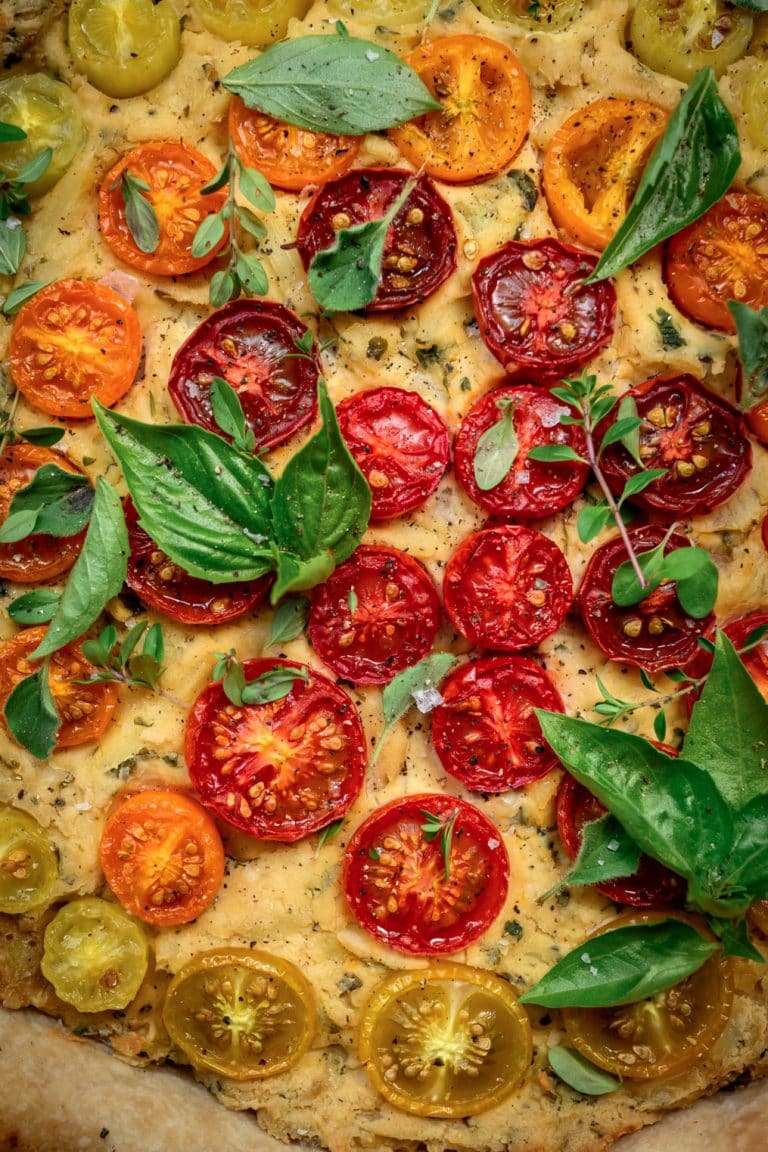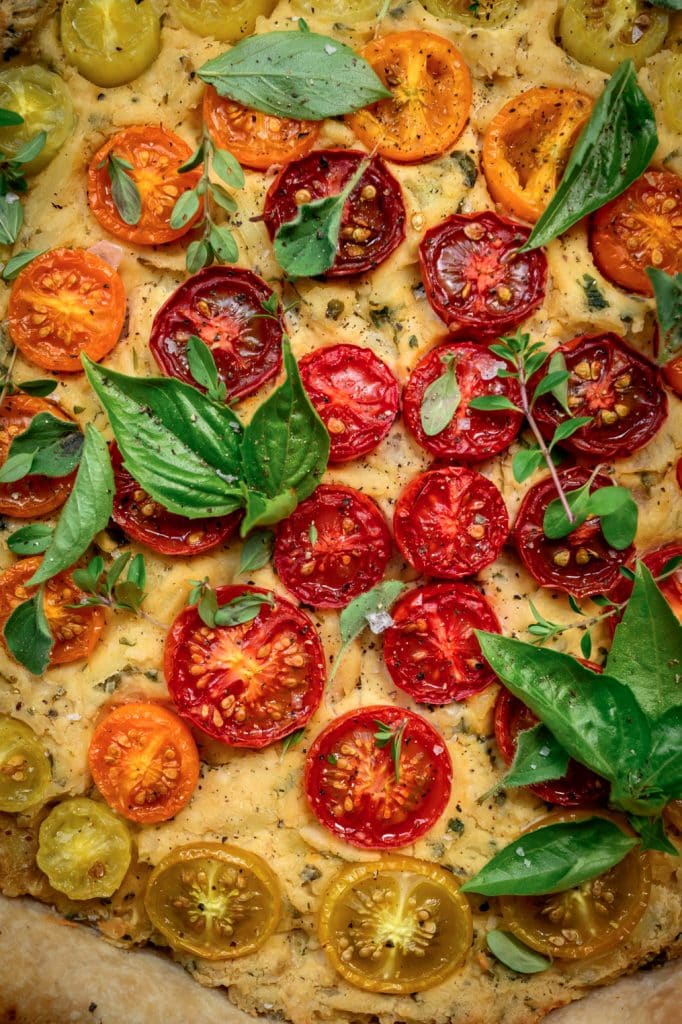 To get our vegan tomato quiche extra cheesy, we started with nutritional yeast. This is every vegan's best friend. It's not only high in B vitamins, which may be low in a diet that doesn't include animal products. It also has such a savory, cheese-like taste.
We didn't stop there, of course. We added vegan parmesan and mozzarella to this vegan tomato quiche. We love Follow Your Heart brand for vegan parm and Miyoko's vegan mozzarella. And finally, a bit of Dijon mustard rounds out the flavors while also giving that nice eggy yellow color.
Where to get all the pantry staples for tomato quiche and gluten free crust
This recipe is truly full of staples in a gluten free and vegan pantry. We keep ours stocked with our go-to brand of nutritional yeast, xanthan gum, and even cannellini beans, with regular orders from Thrive Market.
The prices are much, much lower than our regular grocery stores. Plus, it's so easy to find everything you need online and delivery is super fast. They're always having amazing deals and will include all kinds of fun samples and free products to try, so it's incredibly easy to make up the membership fee with just a few orders.
Plus, you get 25% off your first order by signing up with this link!
More of our favorite vegan & gluten free brunch recipes
Not sure about you, but in my mind, there's no such thing as too many brunch recipes. It's by far the best meal! Here are a few of our vegan & gf favorites to serve with this vegan quiche for your next big brunch gathering: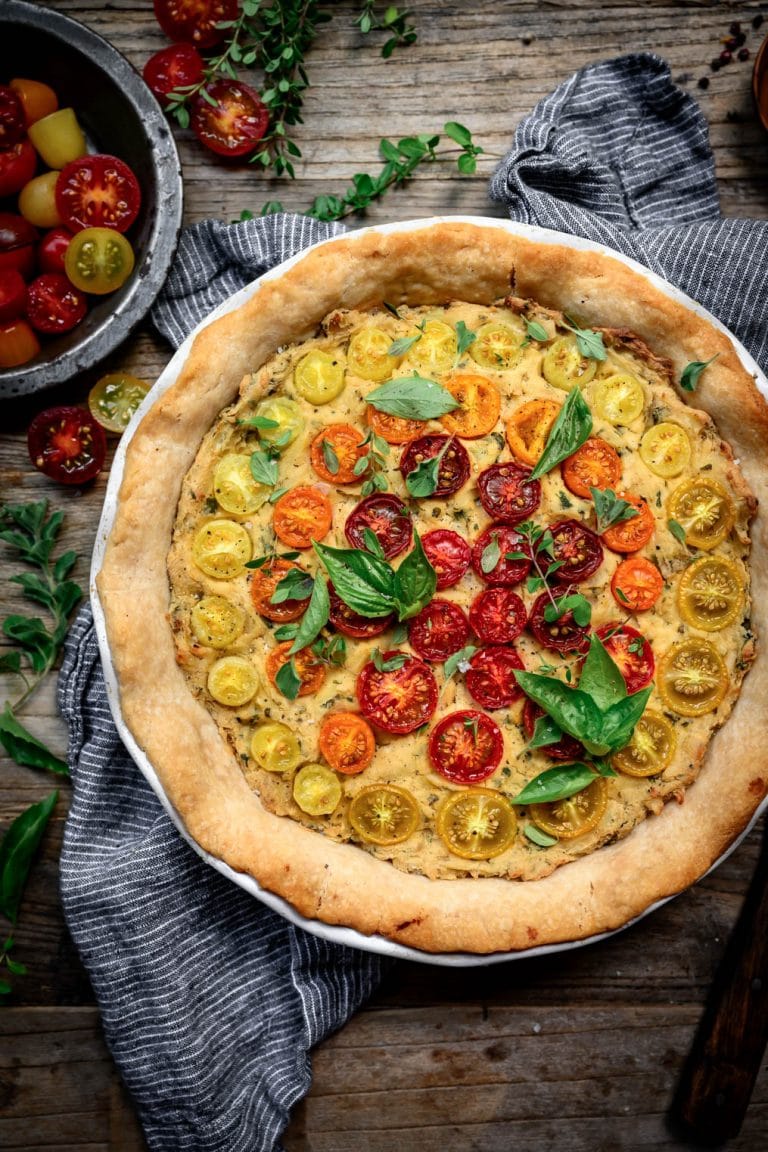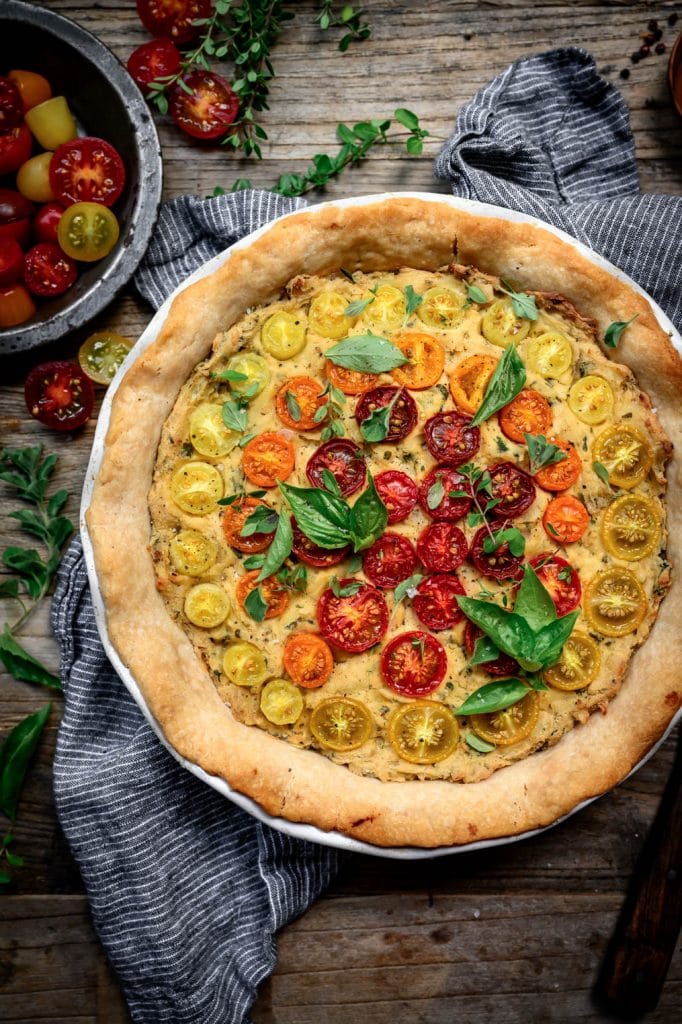 Print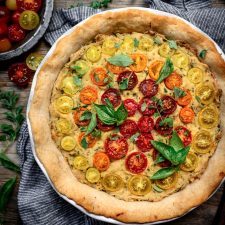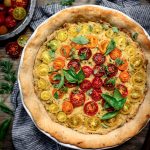 Vegan & Gluten Free Tomato Quiche
Author:

Prep Time:

45 minutes

Cook Time:

50 minutes

Total Time:

1 hour 35 minutes

Yield:

Serves

6

–

8

1

x

Category:

Brunch

Method:

Oven

Cuisine:

American
---
Description
This gluten free vegan tomato quiche is creamy, savory and topped with a colorful ring of cherry tomatoes. It's sure to be a hit at breakfast, brunch or dinner!
---
Scale
Ingredients
For the gluten-free pie crust:
For the vegan tomato quiche:
1

14-oz package firm tofu

1/4 cup

vegan butter

1 1/4 cups

yellow onion, diced

1 tbsp

garlic, minced

1 1/4

–

1 3/4

  tsp kosher salt

1 tsp

black pepper, divided

1 1/2 cups

yellow potato, finely diced

1/4 cup

fresh parsley, chopped

1/4 cup

fresh basil, chopped

1

15-oz can cannellini beans, drained and rinsed

2 tbsp

nutritional yeast

2 tbsp

lemon juice

1 tbsp

Dijon mustard

3/4 cup

shredded vegan mozzarella 

1/2 cup

grated vegan parmesan

1 pint

heirloom cherry tomatoes, halved 
---
Instructions
To make the pie crust, preheat the oven to 375 F. 
Combine the flour, sugar, salt, and xanthan gum in a mixing bowl. Add butter pieces and use your hands to mix the dough. When the dough starts to come together, add ice water and continue mixing with your hands until the dough comes together into a ball.  
Form the dough into a round flat disc and wrap in plastic wrap. Store in refrigerator for 30 minutes. 
While the dough chills, press the tofu. Drain the tofu and slice it in half lengthwise and again into 1 inch cubes. Lay several layers of paper towels over a cutting board. Place the cubed tofu onto the paper towels, and cover with a few more paper towels. Place a heavy plate or skillet on top and let the tofu sit for 40 minutes.
After the dough chills, roll it out on a lightly floured work surface and transfer into a pie pan. Press the dough into the pan. Pierce the dough several times with a fork (this ensures that the crust doesn't bubble while baking). Bake for 11-13 minutes, until cooked through.
While the crust bakes, prepare the quiche filling. Heat a nonstick skillet for 5 minutes over medium heat and add ¼ cup butter. Once butter is melted, add onions and garlic. Sauté, stirring several times, for 5-6 minutes.
Add potatoes to the skillet and sauté for about 10 minutes, until vegetables are softened. Add ½ tsp salt and ½ tsp pepper as well as the parsley and basil and cook for an additional 5 minutes, until herbs are wilted. 
Meanwhile, add the tofu and beans to a blender with the nutritional yeast, lemon juice, and Dijon mustard. Add ¾ tsp kosher salt, ½ tsp pepper. Blend until smooth and creamy. Taste and add additional salt ½ tsp of salt ¼ tsp at a time if needed.
Pour tofu mixture over the vegetables in a large bowl. Add mozzarella and parmesan and stir well.
Pour quiche filling into the baked pie crust. Smooth out with a spoon and place cherry tomatoes in a circular pattern, seed side up, pressing each tomato into the quiche.  
Bake for about 50 minutes, until solid in the center. Let cool for 20 minutes before serving or cool completely, put in the fridge, and serve cold. 
---