Vegan shakshuka made with tofu, dairy-free feta, plenty of veggies and spices is the easy & delicious plant based dinner you've been missing.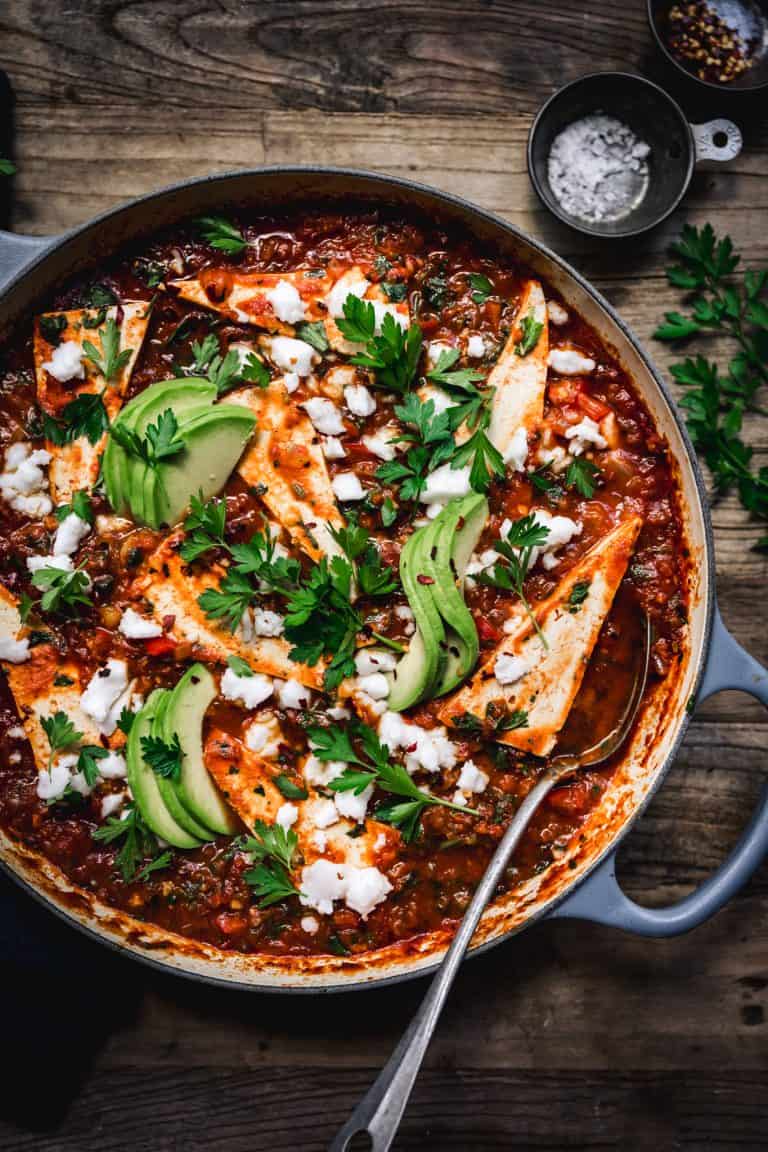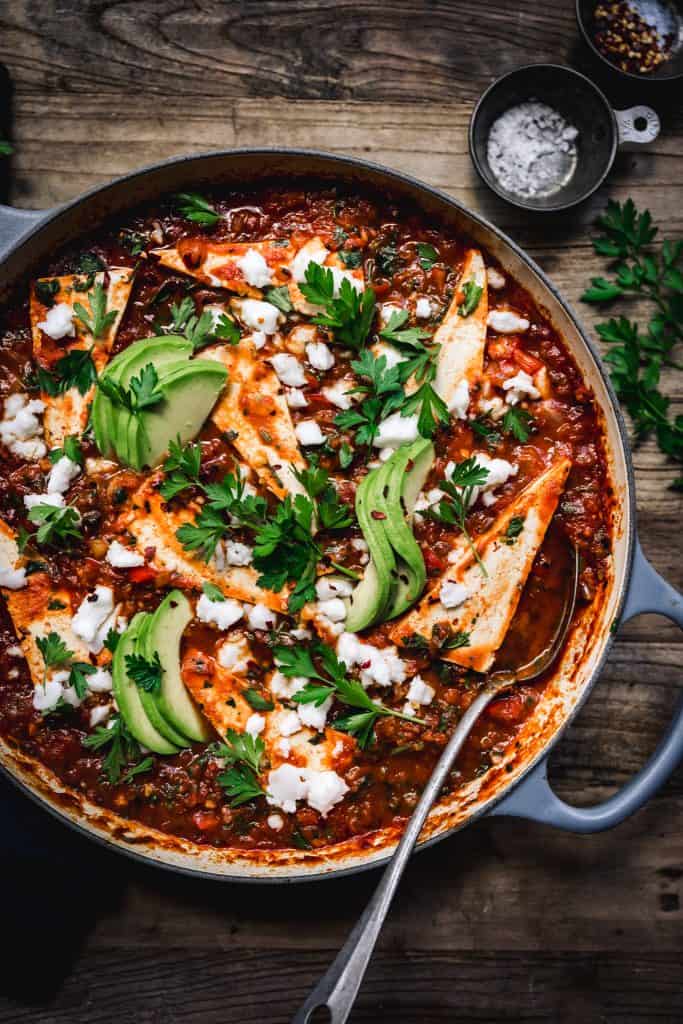 A few weeks ago, Lexi visited me here in Boston. I had to take her to one of my favorite restaurants. Tatte, which is local to Boston, is a fantastic Middle Eastern all-day cafe. It's my go-to spot for brunch. So naturally Lexi and I ate two of the three meals we had in Boston there. It also happens to have an extensive gluten-free menu, (including beautiful pastries).
Lexi had their shakshuka for breakfast, and we were both inspired. Everything is delicous at Tatte, but they take their shakshuka to a new level. We knew we had to experiment with our own vegan version, and here we are, just a few weeks later!
What is Shakshuka?
It's unclear exactly where shakshuka came from. But variations on this saucy dish of eggs, tomatoes, peppers and spices have been enjoyed throughout the Middle East for centuries. Some believe it was first served in Spain, others claim Morocco, and still others cite Israel.
Whichever lucky person dug into this dish first, we're just glad it's become so popular. At its core, shakshuka (sometimes spelled shakshuka, from the Arabic) is a very simple dish. Traditional shakshuka consists of a base of softened peppers and onions. A saucy tomato base fills the rest of the pan, which is topped with softly cooked eggs.
Shakshuka can be enjoyed any time of day. It's delicous for breakfast, makes a fun brunch dish to share with friends. It's also a super easy and satisfying family dinner to make on a weeknight. Served piping hot straight from the pan with crusty toasted bread, shakshuka truly warms the soul.
Our vegan spin on classic shakshuka maintains the delicious Mediterranean flavors, minus the eggs.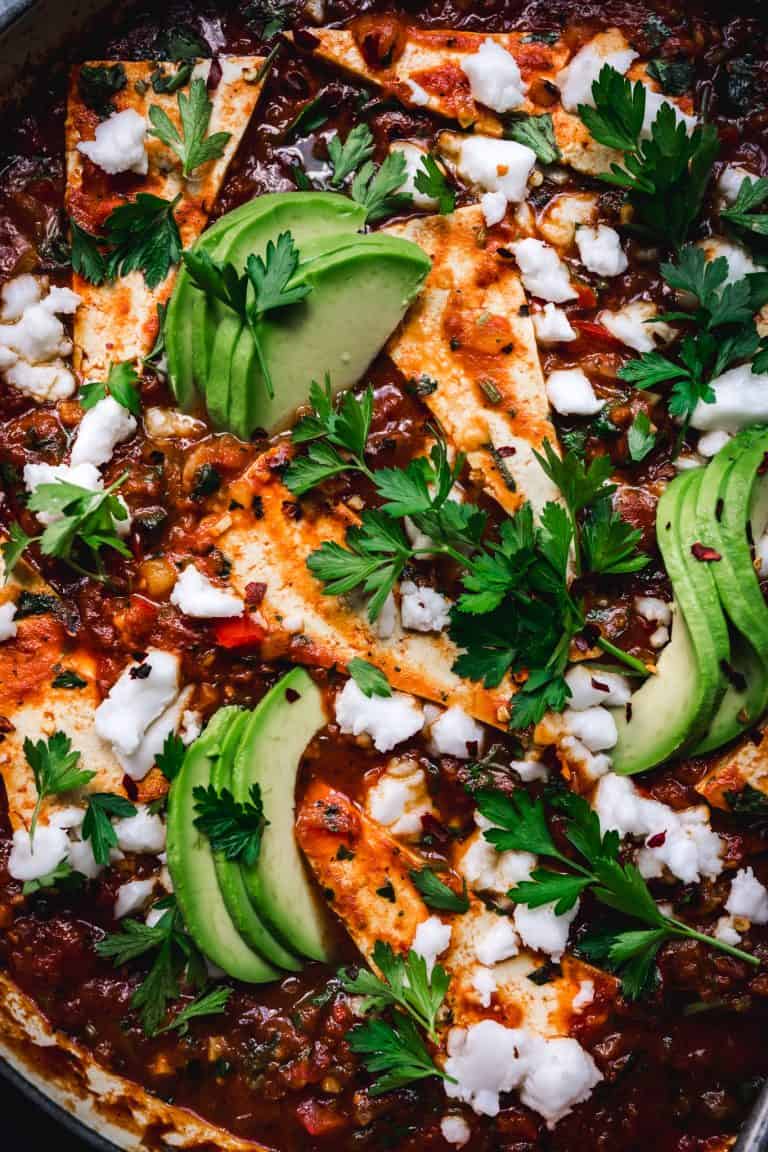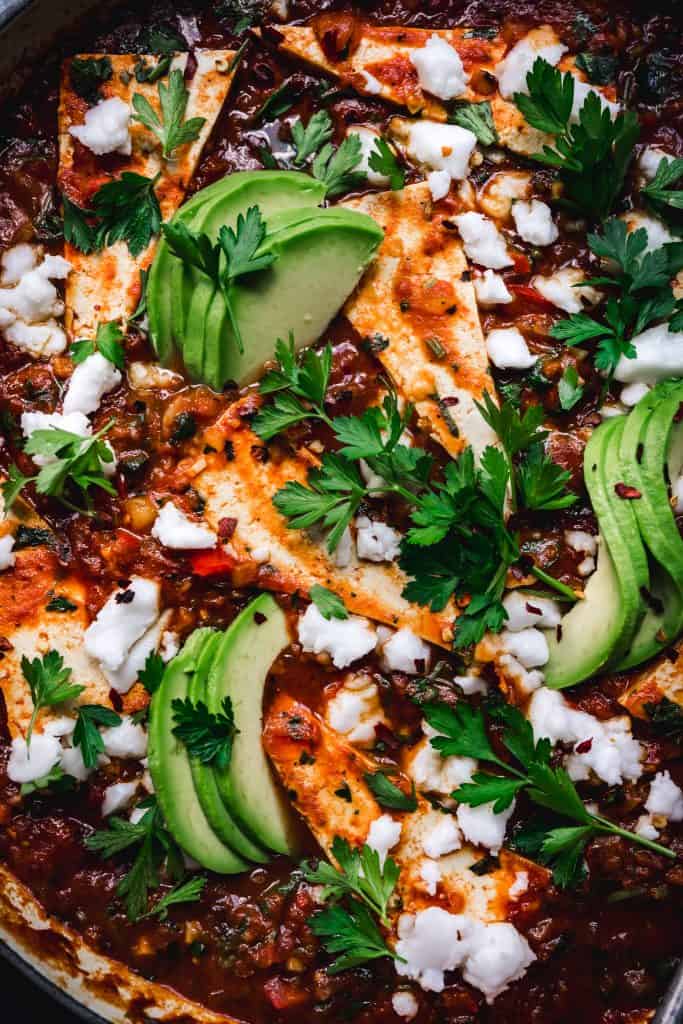 How to make vegan shakshuka
Instead of eggs, to keep this dish fully vegan, we turned to trusty tofu. Tofu absorbs flavors so well, which makes it perfect for this simmered dish.
First, you'll want to press your tofu. With some paper towels and a heavy object, you'll press out most of the moisture for 30 minutes. This helps firm up your tofu even more. And it will now absorb all the delicous tomato-y flavors and spices better.
Other than the tofu, the remaining ingredients in this vegan shakshuka are pretty traditional. We start with softened onions, garlic and bell pepper. These classic veggies build the shakshuka's deep flavor profile.
Spices are very important in this vegan shakshuka recipe. To get the full flavor experience, don't skimp on your cumin, coriander and smoked paprika. Together, these three create a classic Middle Eastern palate. This vegan recipe especially makes the most out of the spices. First, we toast them with the veggies to let their flavors bloom. Then, they're simmered in the tomato sauce. As a result, all those flavors and oils release to create the richest tomato sauce around. The result is an incredibly flavorful, not too spicy, dish.
Then, fire roasted tomatoes add the umami-rich tomato sauce that's signature of shakshuka. We like fire-roasted tomatoes because they pack more flavor than regular canned tomatoes. Of course, if you can't find fire-roasted, that's totally fine. Regular diced tomatoes will still work well.
If you're really in a pinch, whole canned tomatoes will also work. Just press on them a bit with the back of your spoon to burst them open. They'll release their juices. However, the sauce might not be quite as juicy as usual.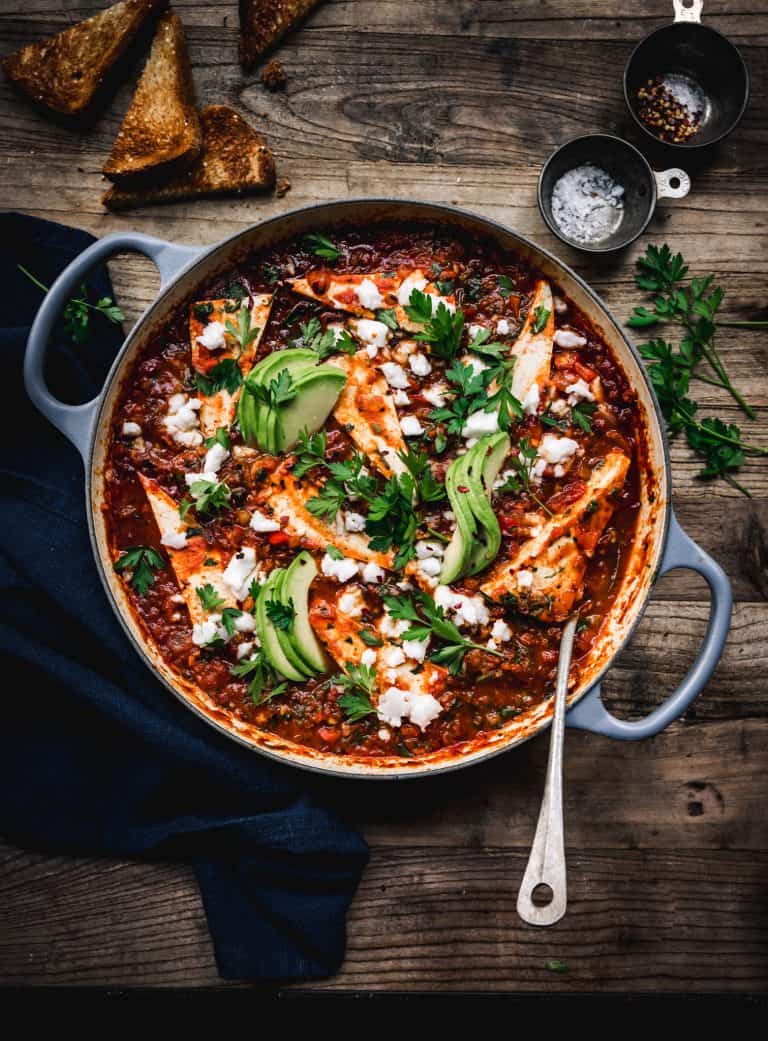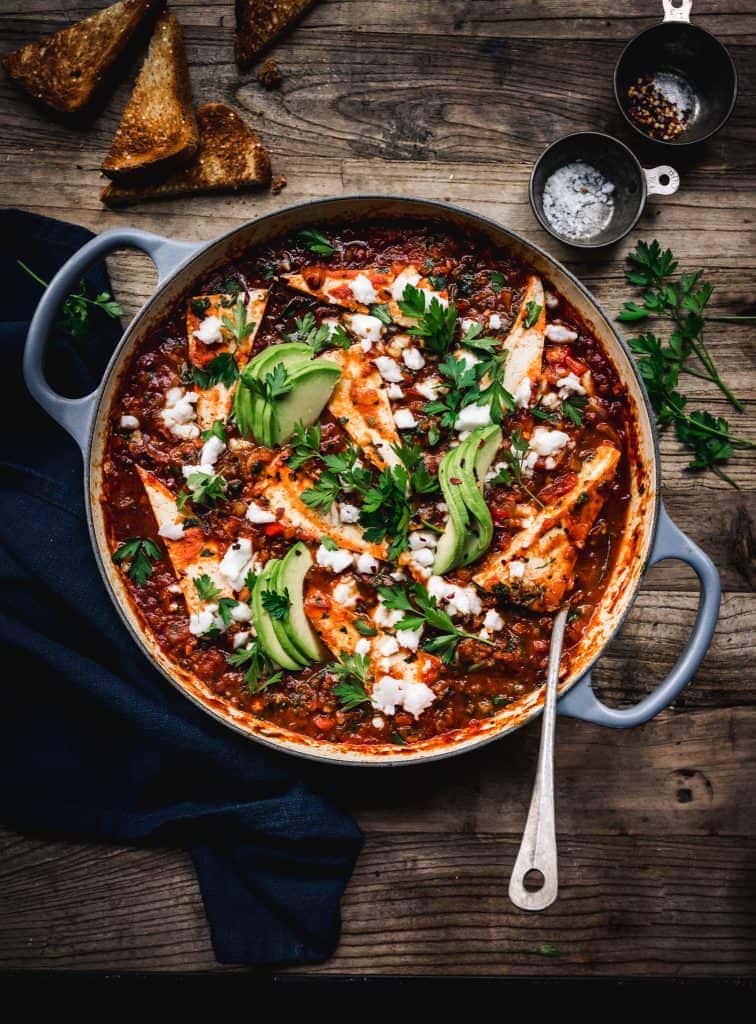 To puree or not to purée?
After adding your ingredients, the rest of this recipe is mostly hands-off. If you like a really juicy tomato sauce in your shakshuka, you may purée it a bit. Take a look after you've simmered the dish for 10 minutes. If you like the texture, feel free to leave it as-is. Just remember that you're adding tofu, which will absorb some of the liquid.
If you're looking for a saucier vegan dinner, get out than immersion blender. Carefully blend the sauce right in the pot until you've broken down all the chunks you want. If you're in the market for a great immersion blender, I love this one from KitchenAid.
There are few kitchen tools I feel as passionate about as an immersion blender. I promise you won't regret this purchase. Just think. No more transferring a hot puréed soup into a regular blender, then back into the pot, only to increase your clean-up by a whole blender!
Anyway, back to egg-free shakshuka. Now you've puréed (or not) to your desired texture. It's time to add your tofu and let the sauce do the work. If you prefer a softer consistency on your tofu, pop the whole pan into your oven. This will help cook everything fully without crisping. Into the crisp? You can leave your oven off and cook the pot on the stove for 10 minutes.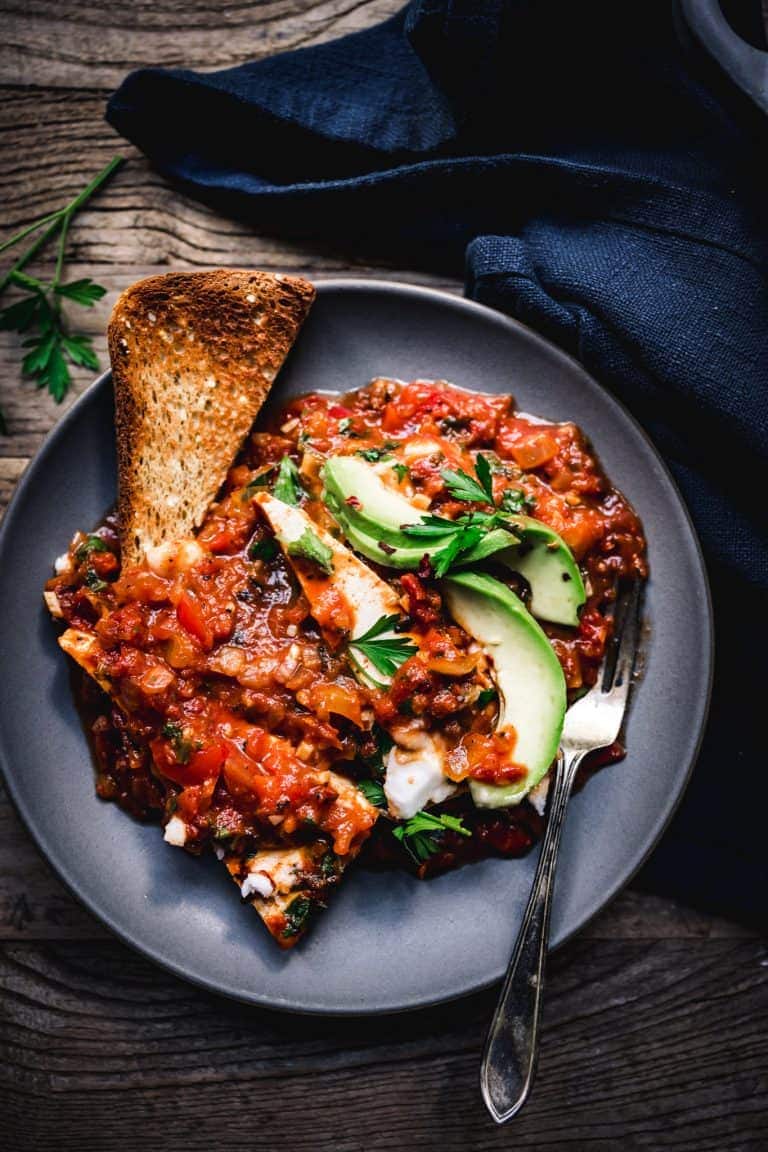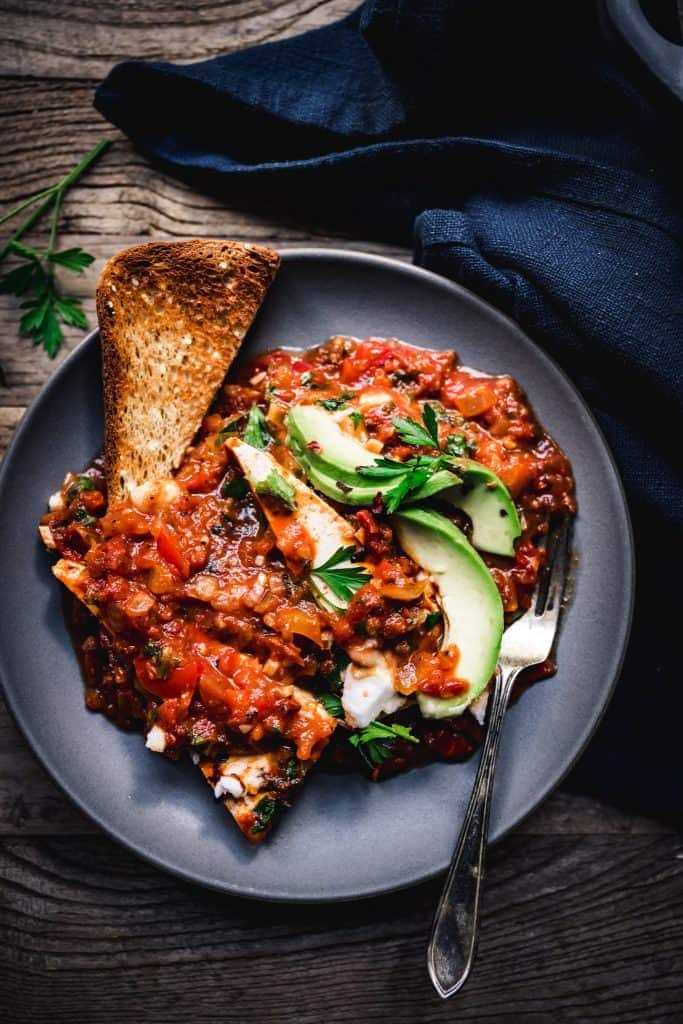 How to Garnish and Serve Vegan Shakshuka
When it comes to topping our shakshuka, we like a mix of fresh herbs, melty cheese and creamy avocado. You can mix and match toppings to your preferences too.
If you're serving this egg free shakshuka to a crowd, feel free to DIY it. Let everyone top their own bowl. Here are some more fun ideas to decorate your shakshuka:
A mix of fresh herbs like cilantro, parsley, mint and basil
Extra vegan cheese. We use dairy-free feta, but you could experiment with mozzarella or other grated cheeses.
Pumpkin seeds would add a nice crunch, especially if they're roasted first.
Extra red pepper flakes and hot sauce for the spice lovers in the group
Plain, unsweetened vegan yogurt or sour cream. This would be nice and cooling and provide a nice creaminess to the sauce, if you stir it in.
Whatever you do, don't forget the all-important side of bread. Every saucy shakshuka needs a thick and crusty side of toast to soak up all that flavor.
Variations to Make this Shakshuka Recipe Work for You
What we love about shakshuka is that it's a nearly fool-proof recipe that's also quite forgiving. It can be a great way to use up leftover vegetables. And it can be customized according to taste buds. The spice level is totally up to you, for starters.
Carnivores. They love shakshuka too. To keep any meat-eaters happy, you could toss some cooked sausage on the side for their bowls.
Extra carbs. If you're looking for a heartier dinner option, serve this shakshuka over a bowl of cooked grains. Farro would be delicious. Or, for a gluten free option, try quinoa or brown rice.
Extra protein. To pump up the protein in this vegan shakshuka, add a half to a full can of chickpeas. Our Za'atar Spiced Crispy Chickpeas would make an especially delicous topping.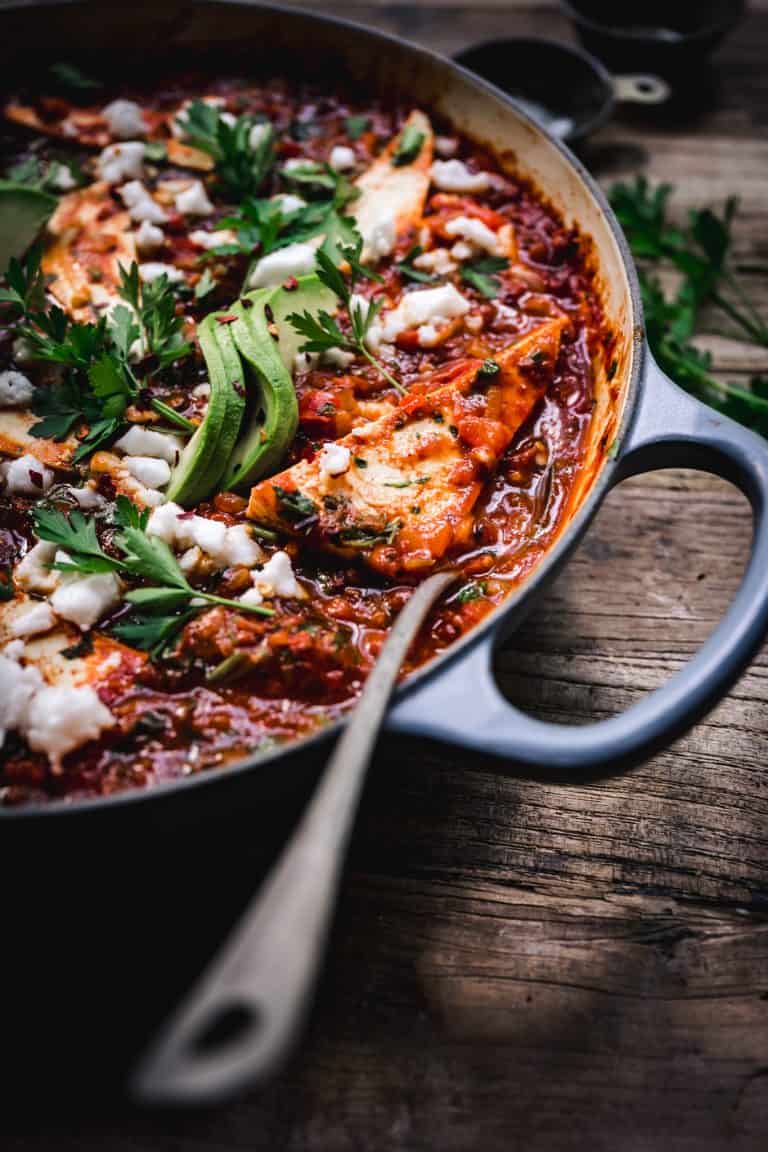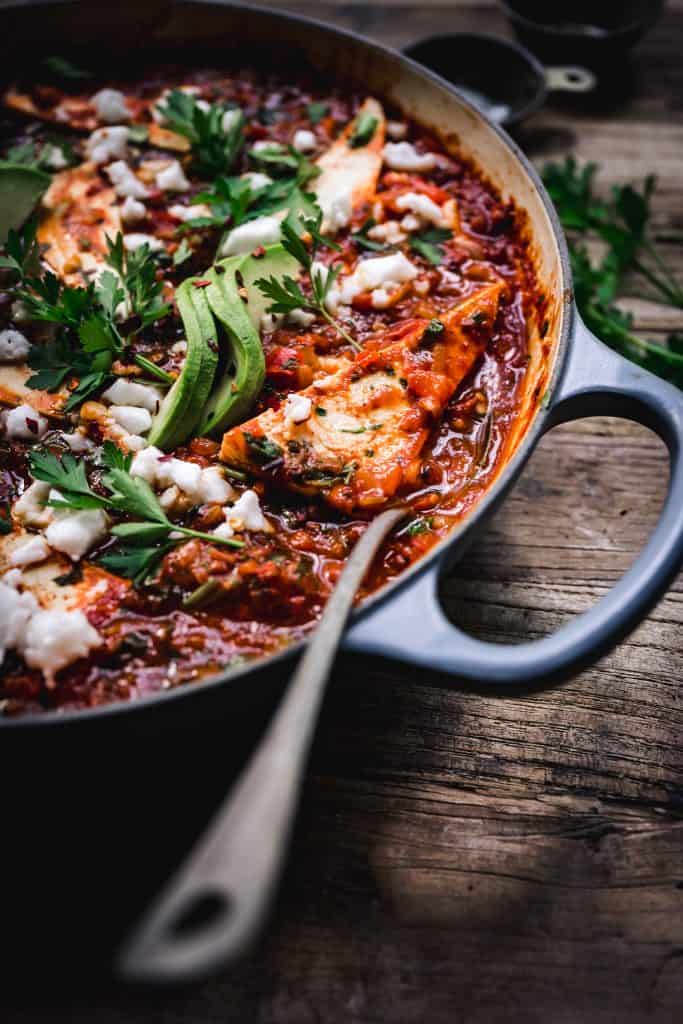 This post contains affiliate links, which means that Crowded Kitchen may be compensated for purchases at no additional cost to you.
Print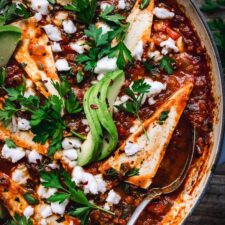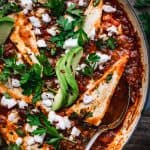 Vegan Shakshuka
Author:

Prep Time:

30 minutes

Cook Time:

35 minutes

Total Time:

1 hour 5 minutes

Yield:

4

Servings

1

x

Cuisine:

Israeli
---
Description
Vegan shakshuka made with tofu, dairy-free feta, plenty of veggies and spices is the easy & delicious plant based dinner you've been missing. 
---
Scale
Ingredients
1

14-oz container extra firm tofu, cut in half lengthwise then cut into

8

triangles

3 tbsp

olive oil

1

yellow onion, sliced thinly

2

garlic cloves, minced

1

red pepper, diced

1 tbsp

tomato paste

2 tsp

paprika

1 tsp

ground cumin

½ tsp

ground coriander

½ tsp

kosher salt

28 oz

diced fire roasted tomatoes

⅓ cup

fresh cilantro, chopped

⅓ cup

curly parsley, chopped 

½ tsp

red pepper flakes

4 oz

dairy free feta, divided

1

avocado, thinly sliced, for garnish (optional)

4

slices of thick bread or baguette, toasted
---
Instructions
Line a plate with several layers of paper towels. Drain and place tofu on top, cover with more paper towels, then with a second plate, and something heavy, like a pot, on top. Press the tofu like this for 30 minutes. 
Preheat the oven to 375°F*.  Heat a large oven-safe skillet over medium heat with the olive oil. Add the onions and cook, stirring occasionally, for 3-4 minutes.  Add the minced garlic and red pepper and cook, stirring frequently, until softened, about 10 minutes. 
Add the tomato paste, paprika, cumin, coriander and salt and stir well to coat the vegetables. Add the fire roasted tomatoes, cilantro, and parsley, reserving 2 tbsp of parsley for garnish. Stir well and simmer for 10 more minutes.  
If you like a less chunky sauce, use an immersion blender to purée the tomato sauce a bit, keeping a few chunks.
Add the pressed tofu and sprinkle with half of the vegan feta. Place the skillet in the oven and bake for 10 minutes.* Remove the pan from the heat and top with the remaining feta, chopped parsley, red pepper flakes and avocado. Serve with toasted bread on the side.  
---
Notes
*If you don't care if your tofu is a little crispy, leave the pan on the stove over medium-low heat and cook, covered, for 8-10 minutes. 
Keywords: vegan shakshuka, egg-free shakshuka, shakshuka