This vibrant and colorful Fruit and veggie snack platter is the perfect tasty treat for a night in with close friends and family. Everyone will be raving for weeks to come about this beautiful platter!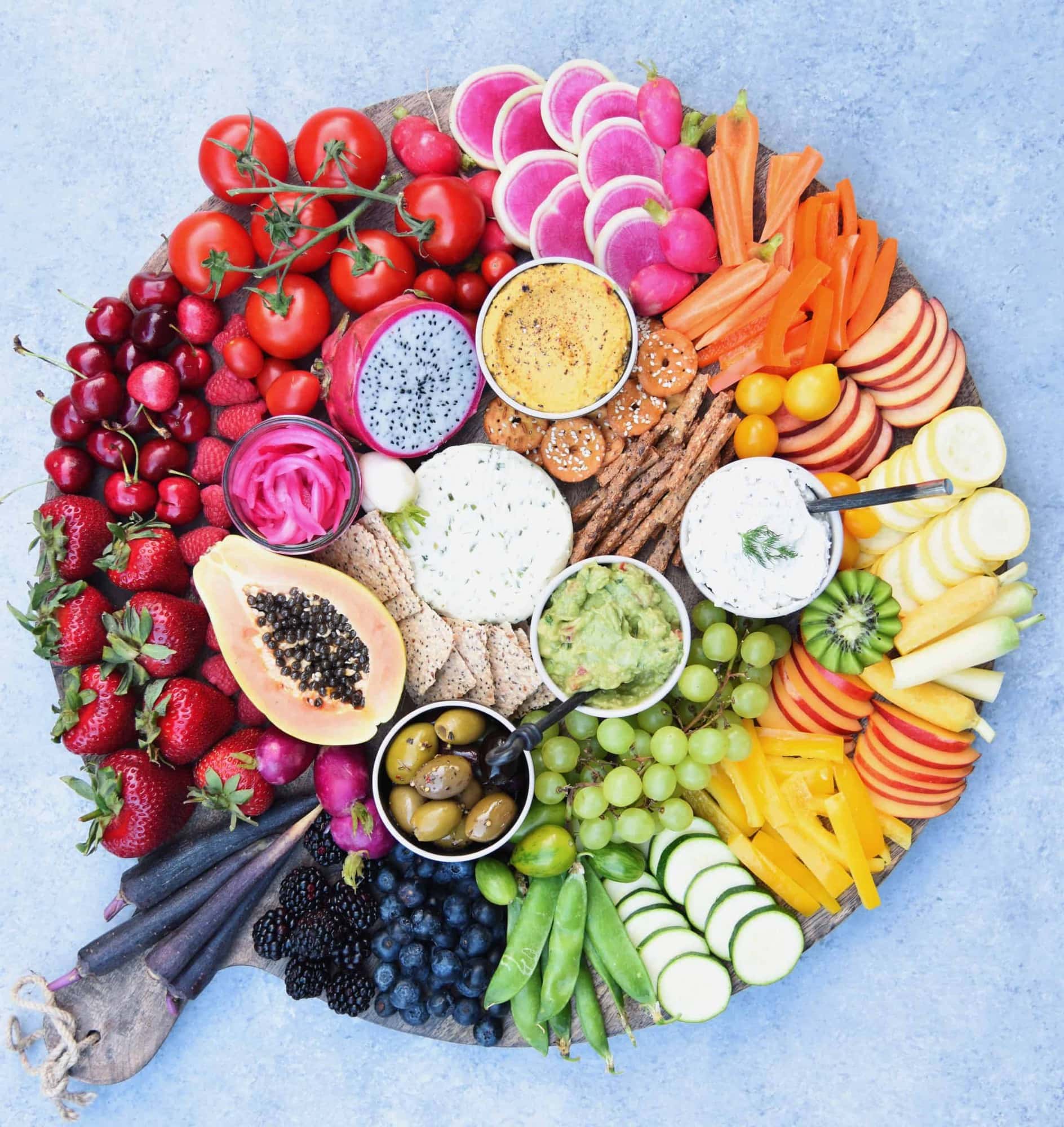 Entertaining this weekend? We do a lot of that around this house, so instead of prepping five different appetizers each time, we just make a giant platter of SNACKS! All you'll need to make your own stunning platter is a sizable round or rectangular board, a variety of colorful fruits and veggies, your choice of dips, crackers, cheeses (vegan or regular) and other small bites, and a really great grocery store where you can get everything in one place!
Our store of choice is Plum Market! Conveniently located 5 minutes from our home, it's our go-to for finding everything we could ever need and more, which is not always a given for those who follow a plant-based diet. As a Michigan-based store, Plum Market carries plenty of local produce and other Michigan-produced grocery items, which has made it easy for us to support local businesses and expose us to some amazing new products along the way.
It's always easy for us to find high-quality organic & seasonal ingredients at Plum Market, so we decided to pick up some of our favorites for a colorful Memorial Day platter. Grouping ingredients by color is an incredibly simple way to create a show-stopping platter, yet it's also important to think seasonally. Winter produce offers an array of vibrant reds, oranges and yellows, but it doesn't necessarily make sense to pair citrus with late spring and summer produce, like peaches, plums and cherries.
For Memorial Day, we're celebrating the start of summer, which means fresh berries, tomatoes on the vine, zucchini and summer squash, peaches, nectarines, watermelon radishes and more. We've paired those produce items with light & refreshing dips and vegan cheeses, including an herbed almond-based cream cheese, spicy hummus, guacamole, and a garlic herb vegan cheese that's particularly reminiscent of fresh goat cheese. Quick pickled onions and olives add a tangy element, and there's plenty of salty/crunchy action from seedy crackers & pretzels. Voilà! The perfect Memorial Day snack board.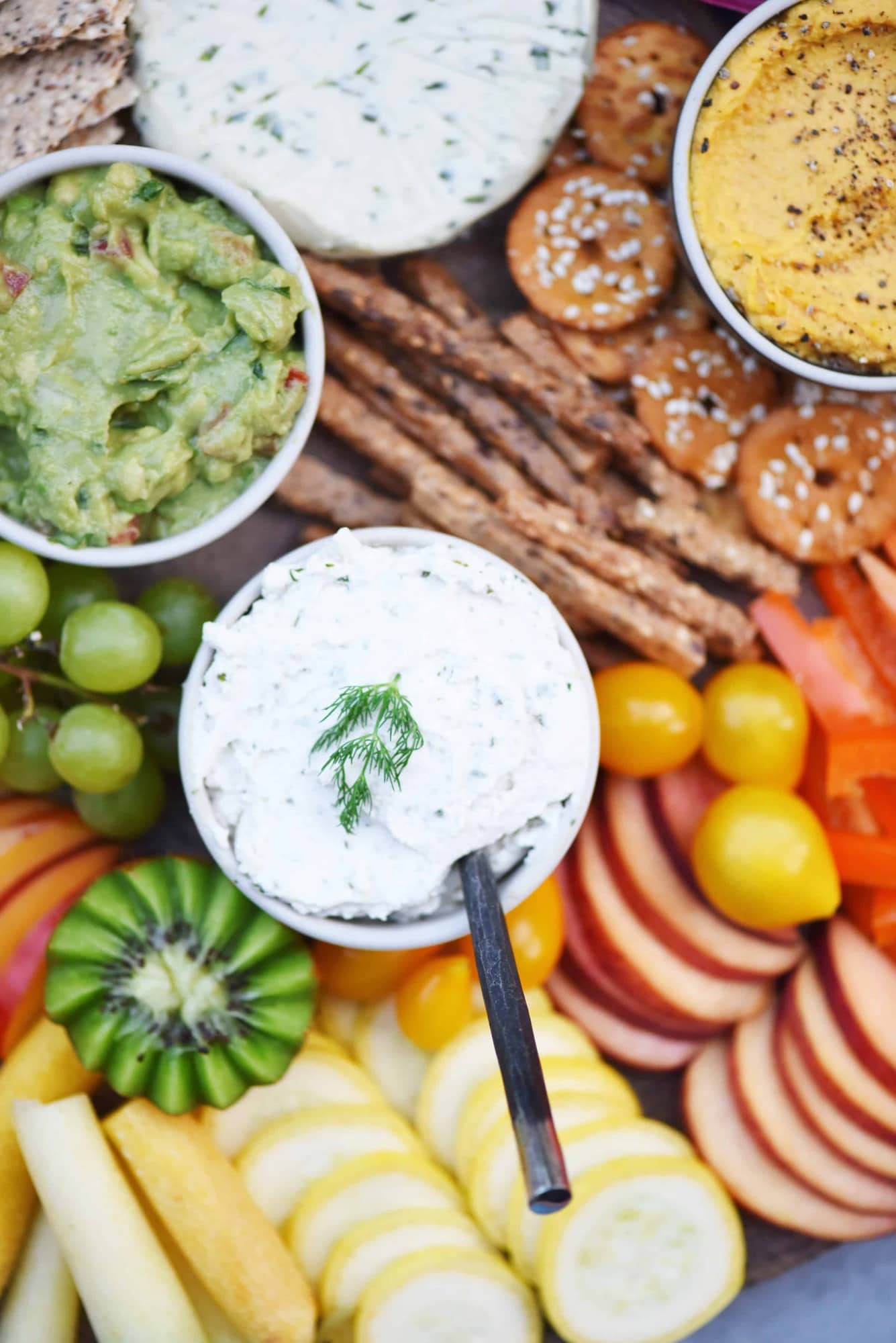 Can you believe this cheese spread is vegan?!
We've also found that interspersing veggies with fruits and other elements makes us (and the rest of the family) more likely to gravitate towards them than we would if the platter were solely composed of vegetables. You know those sad vegetable platters we're talking about… the ones with dried-out carrots, shriveled broccoli, bland celery and the crowning jewel: ranch dressing. (Yuck.) If you do prefer to make a vegetable-only platter, be sure to add some salty and tangy elements. These could be olives, pickles, salted nuts, crispy roasted chickpeas and creamy spreads.
It's also always fun to add an element of surprise; a fruit or veggie that's not commonly seen is a great conversation starter and convinces guests to try something new! Our favorites are dragon fruit, watermelon radishes, blood oranges, passion fruit, star fruit and purple cauliflower. Another way to make your platter more interesting is cutting produce in unconventional ways. Slice cucumbers into spears instead of rounds, cut carrots at a diagonal, open peas instead of leaving them closed, and leave tomatoes on the vine.
Below are a few of our favorite snack platters we've made this year. We hope to inspire your next weekend get together!