This Chai-spiced Vegan Crème Brûlée is seriously incredible. Completely free from dairy and eggs, it still has a perfect, soft, custard-like filling that's just like the real thing.
This post is sponsored by Arbor Teas. All opinions are our own.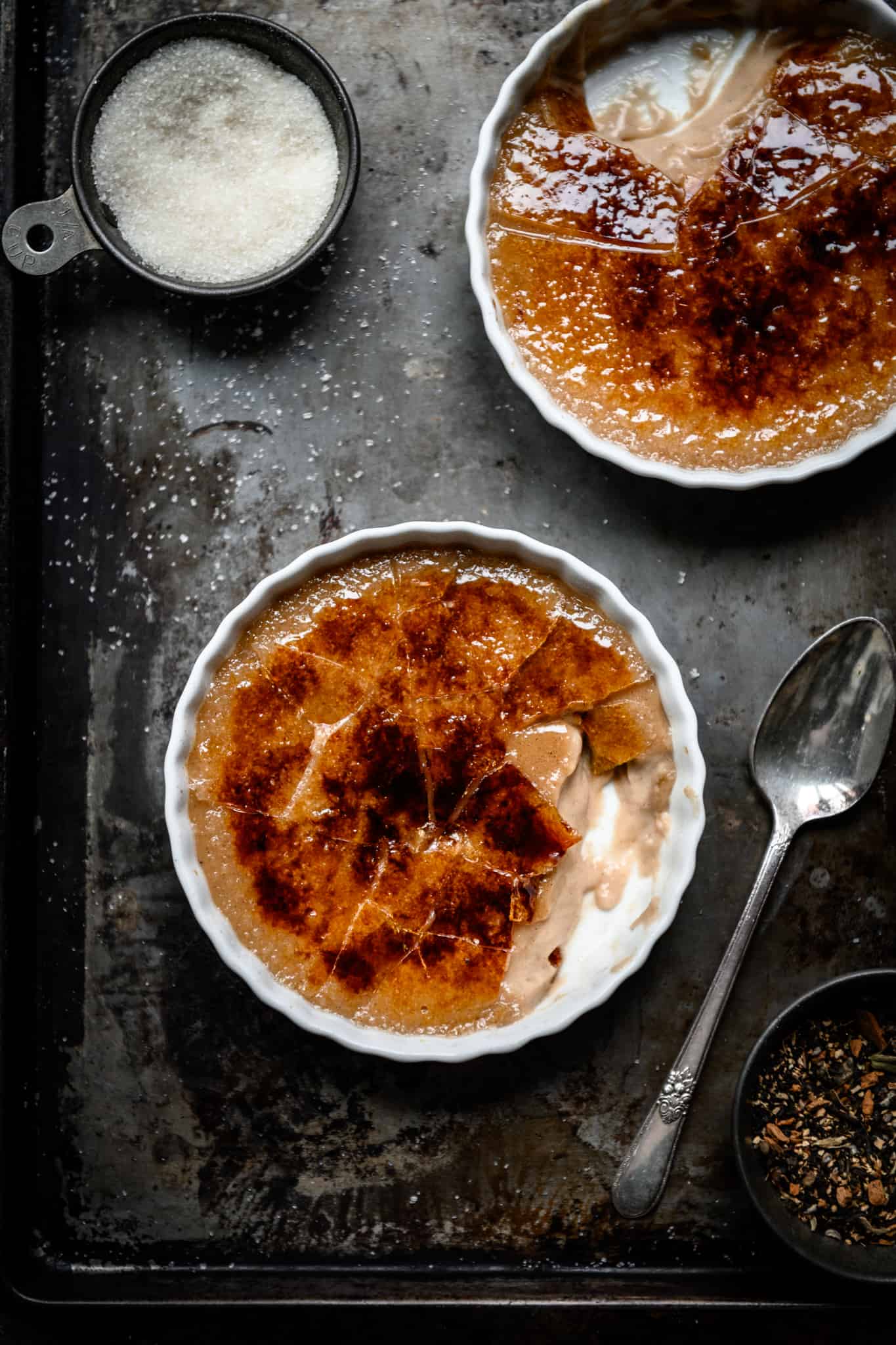 We're so, SO excited to share this recipe with you. It's one we've been wanting to make for quite a while. It took many rounds of testing (and more than one butane refill for our culinary torch), but the result is well worth it.
I won't lie - perfect vegan crème brûlée takes some effort. Traditional crème brûlée is almost exclusively made with eggs and dairy, so it's not easy to replicate that texture with vegan ingredients.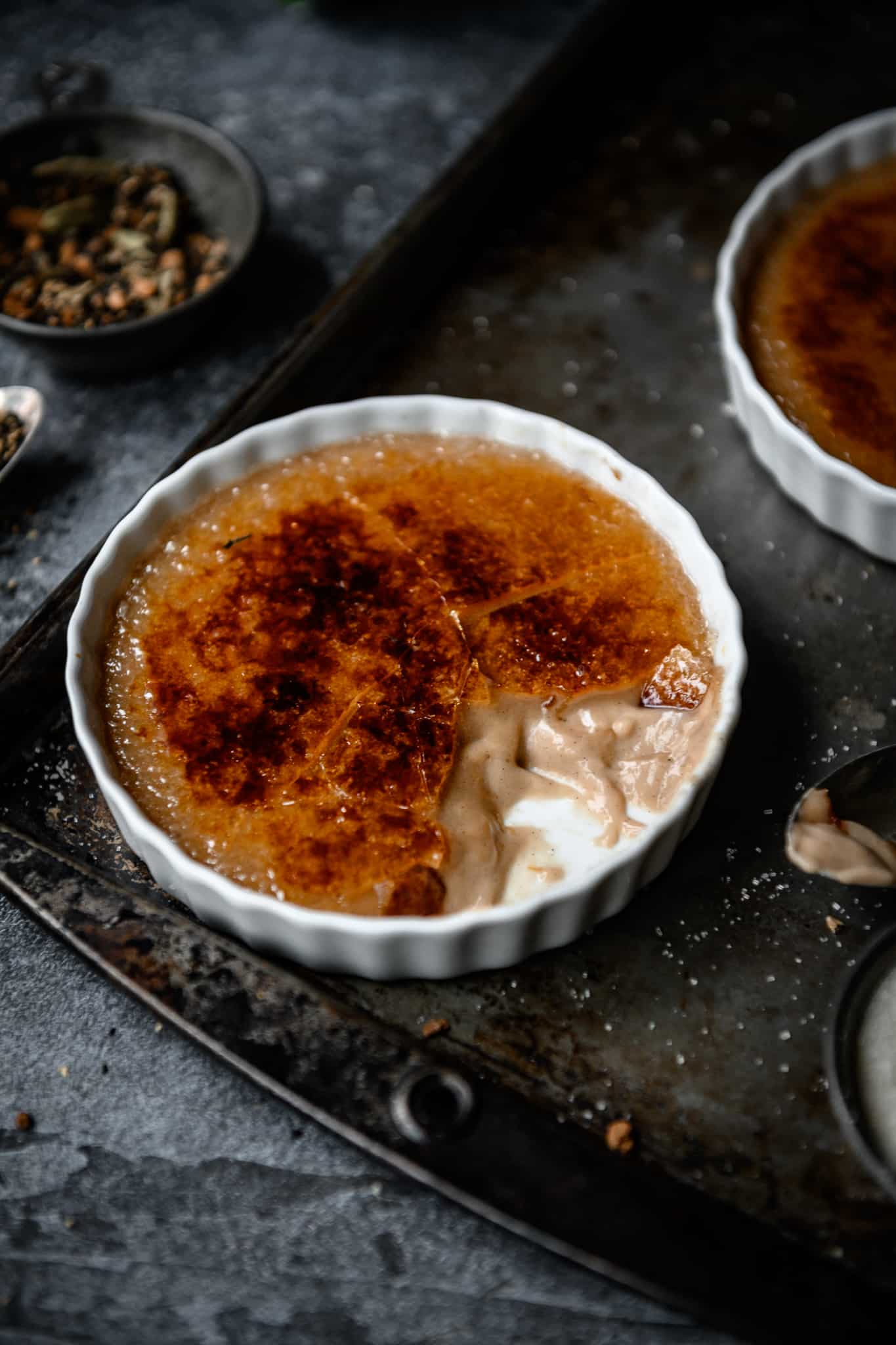 To help make the process as smooth as possible for you, we highly suggest reading through this blog post for some helpful tips.
Before we get to the nitty gritty recipe details, let's chat about the flavor profile. We infused this vegan crème brûlée with Arbor Teas Masala Chai Tea for incredible depth of flavor. It really adds a lot, and doesn't take much extra effort.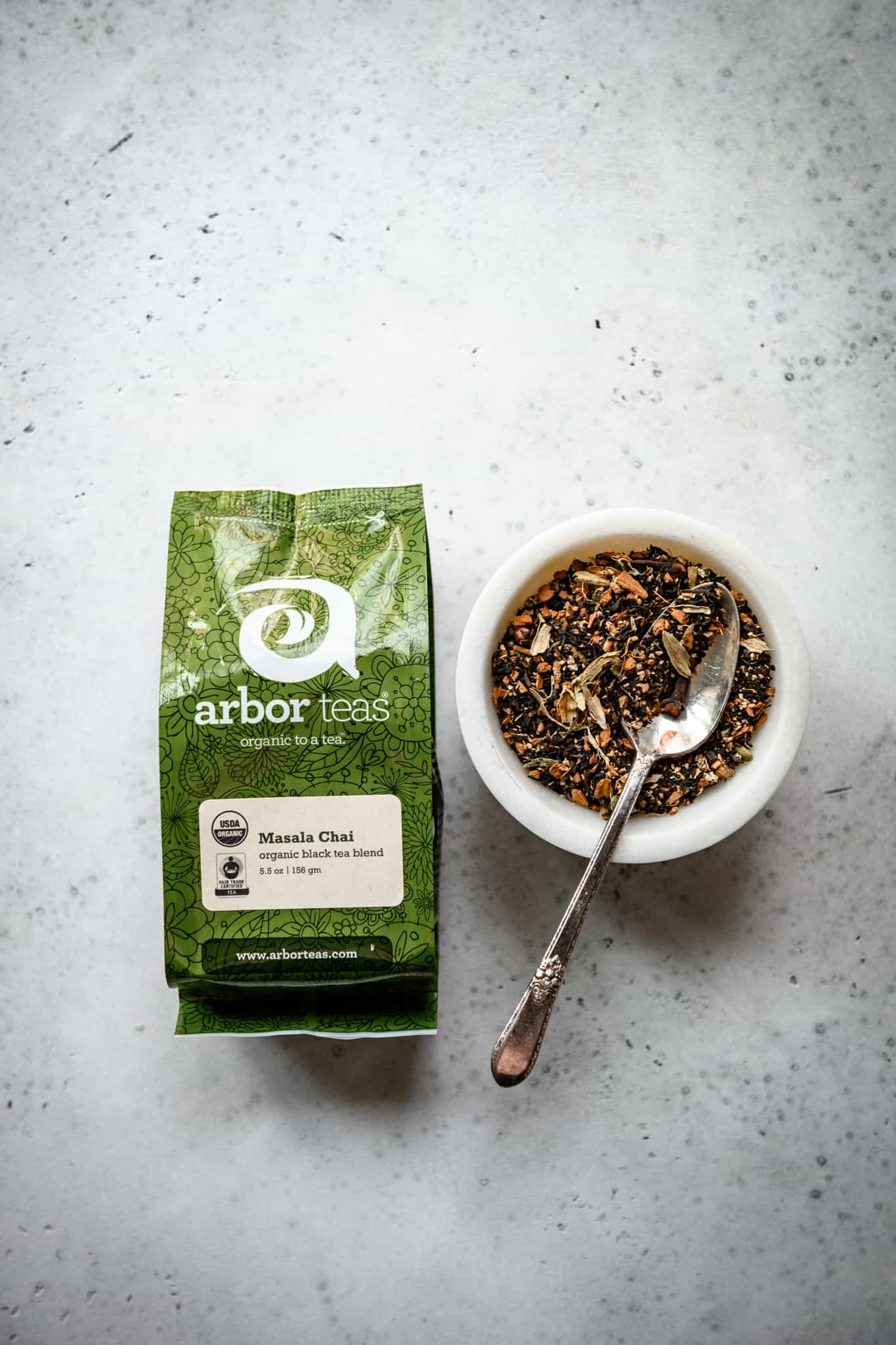 If you're not familiar with Arbor Teas, they're a local (Michigan) tea company. Their products are fantastic and high quality (and all USDA-certified organic!).
In addition to sourcing the best possible tea, they're extremely committed to sustainability. Their facility is solar-powered (how cool!?), they compost as much as possible (even their packaging is backyard compostable!), and they consider sustainability at the forefront of every decision.
We love using their tea both in recipes and on its own, brewed hot or cold. They have such an incredible range of products (see here), and we've had a lot of fun experimenting with different blends in our kitchen!
I particularly love the Masala Chai Black Tea that we used in this recipe. It's so flavorful, and packed with warming spices like cardamom, cinnamon, ginger, clove and black pepper. It's the perfect pair for this vegan crème brûlée!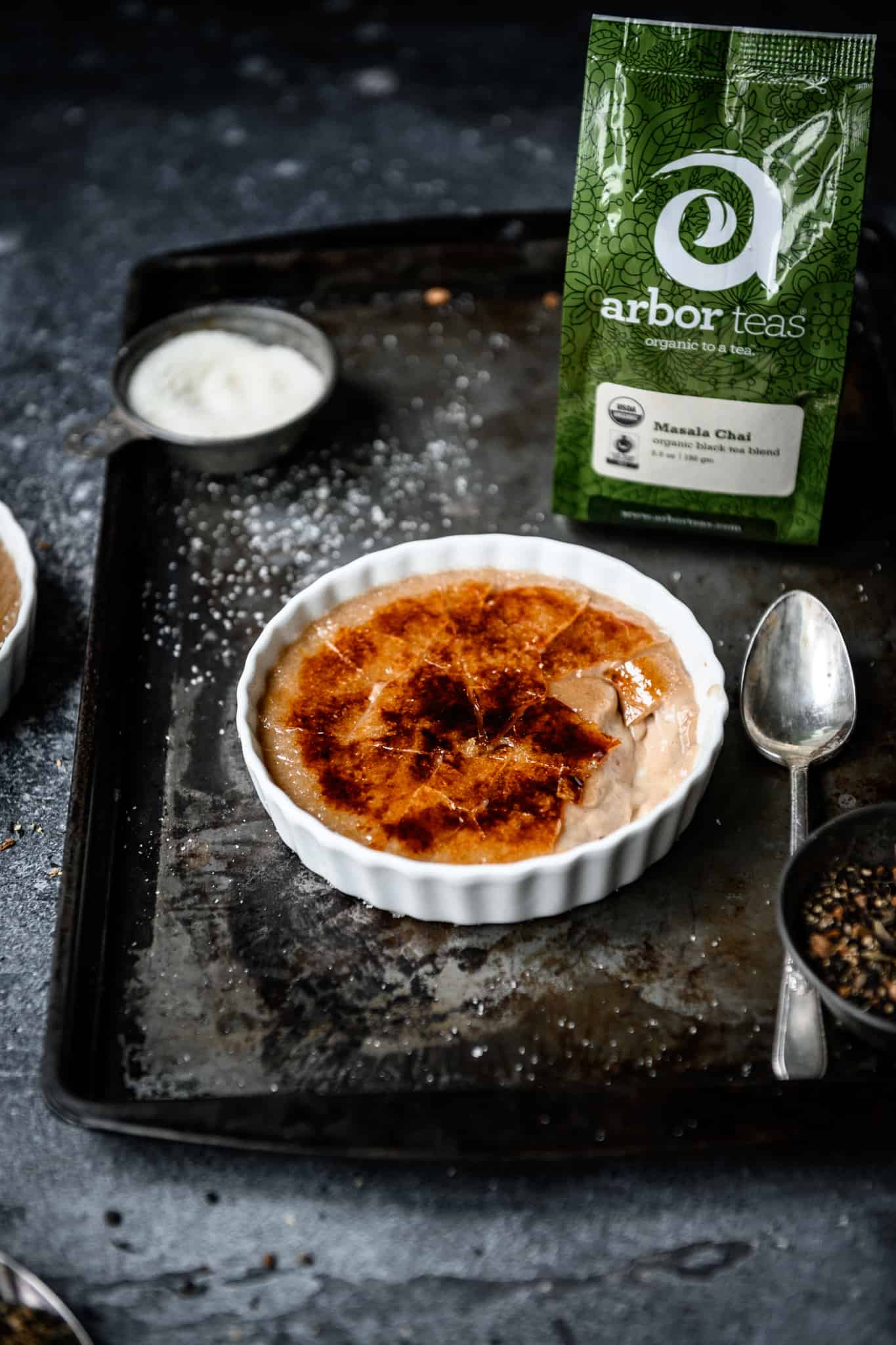 Ingredients
Most of the ingredients for this vegan crème brûlée are familiar and probably even in your pantry. You will, however, need a few less common ingredients, like arrowroot starch and superfine caster sugar.
Arrowroot starch
Also known as arrowroot powder, this starchy root is a pretty common ingredient in gluten free baking. It's the key ingredient for this vegan crème brûlée. Arrowroot acts as a thickening agent. When prepared correctly in this recipe, it mimics the texture of a regular custard.
You should be able to find arrowroot at most specialty grocery stores these days. If not, you can always order online.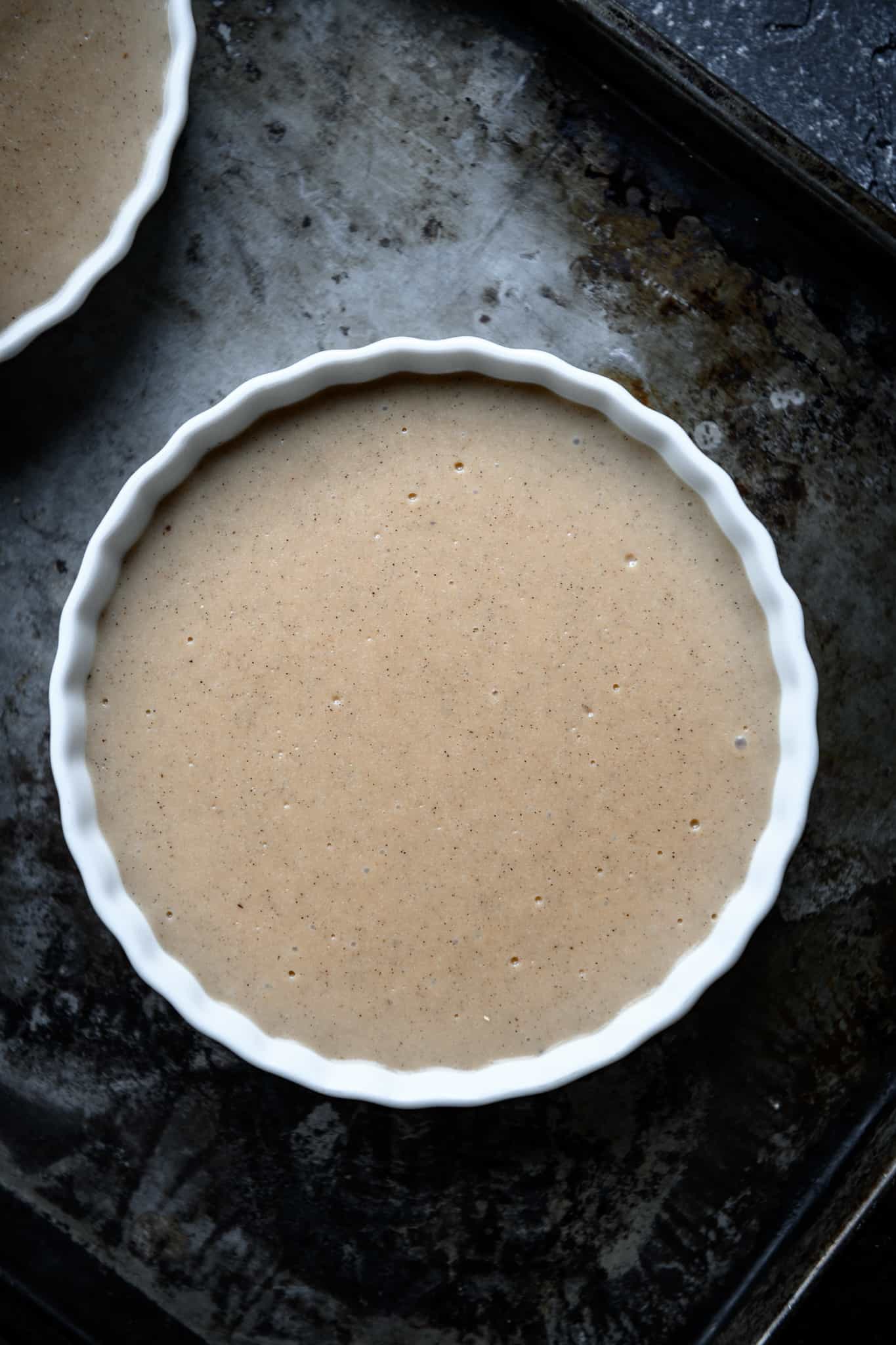 Caster Sugar
Caster sugar, also known as superfine sugar or baker's sugar, is a sugar that is ground to a consistency between granulated and powdered sugar. It really makes a difference in the texture of this vegan crème brûlée.
If you can't find caster sugar, the next best alternative is just regular old white granulated sugar.
Tea-infused
The first step to your chai-infused vegan crème brûlée is to infuse the main liquid (coconut milk) with tea. simply heat the coconut milk in a saucepan and steep the tea for 15-20 minutes before straining. We use a fine mesh sieve to remove any residue.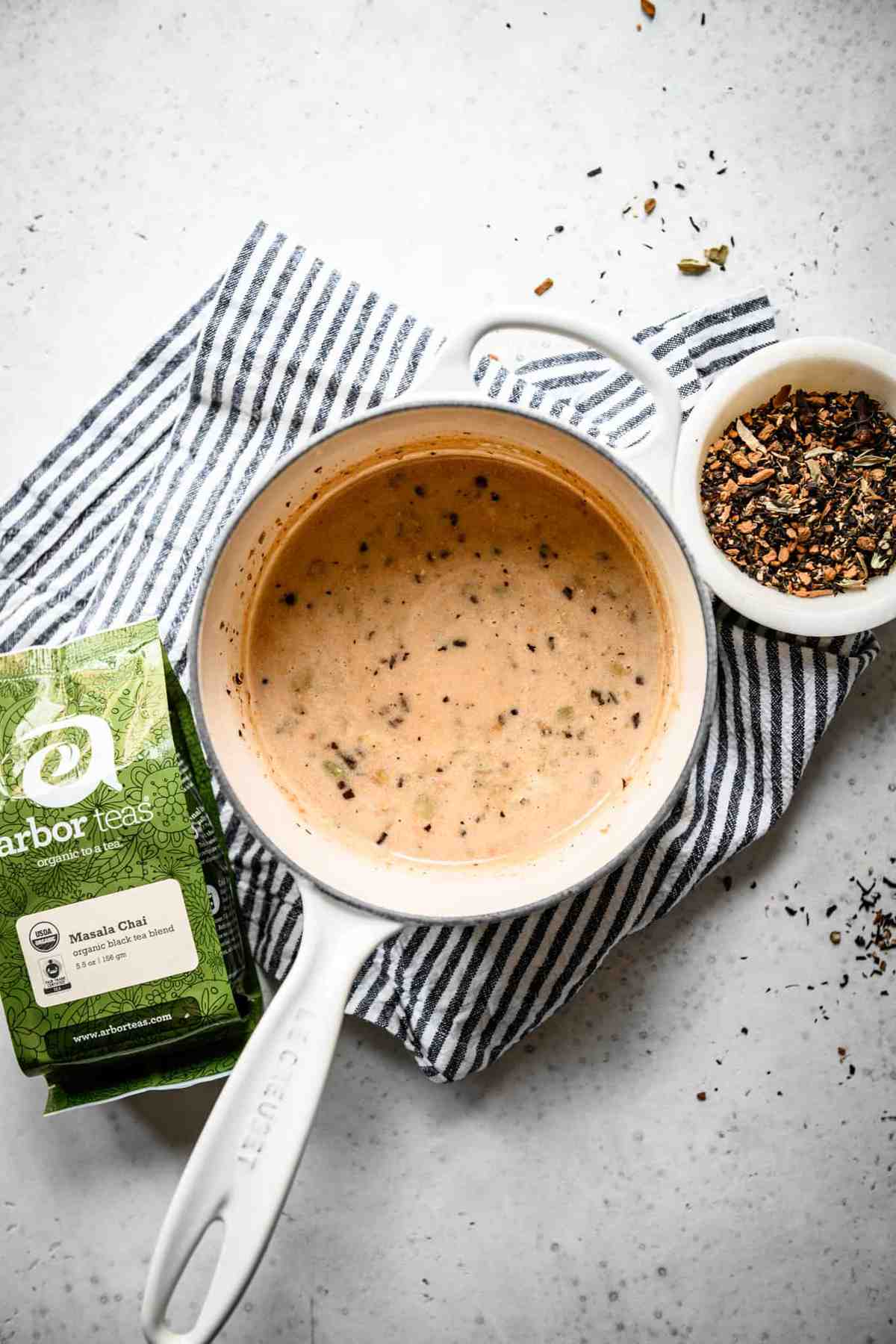 This recipe works with just about any variety of tea. If you'd prefer to go with a variety other than chai, you may want to alter the steep time. It really depends on the strength of the tea. Note that you'll be adding more ingredients, so even if it seems strong, the flavor will be toned down significantly.
How to thicken
Once the coconut milk is infused, use a blender to combine all of the remaining ingredients. We've found that blending is the best way to ensure all of the ingredients are well incorporated, which means the texture will be better.
The next step (and the most important) is pour the mixture into a saucepan and heat over medium-low until it starts to thicken. Be sure to closely monitor this process, whisking frequently to prevent burning.
It may take anywhere from 10-20 minutes for the mixture to thicken. See below for what it should look like when it's done.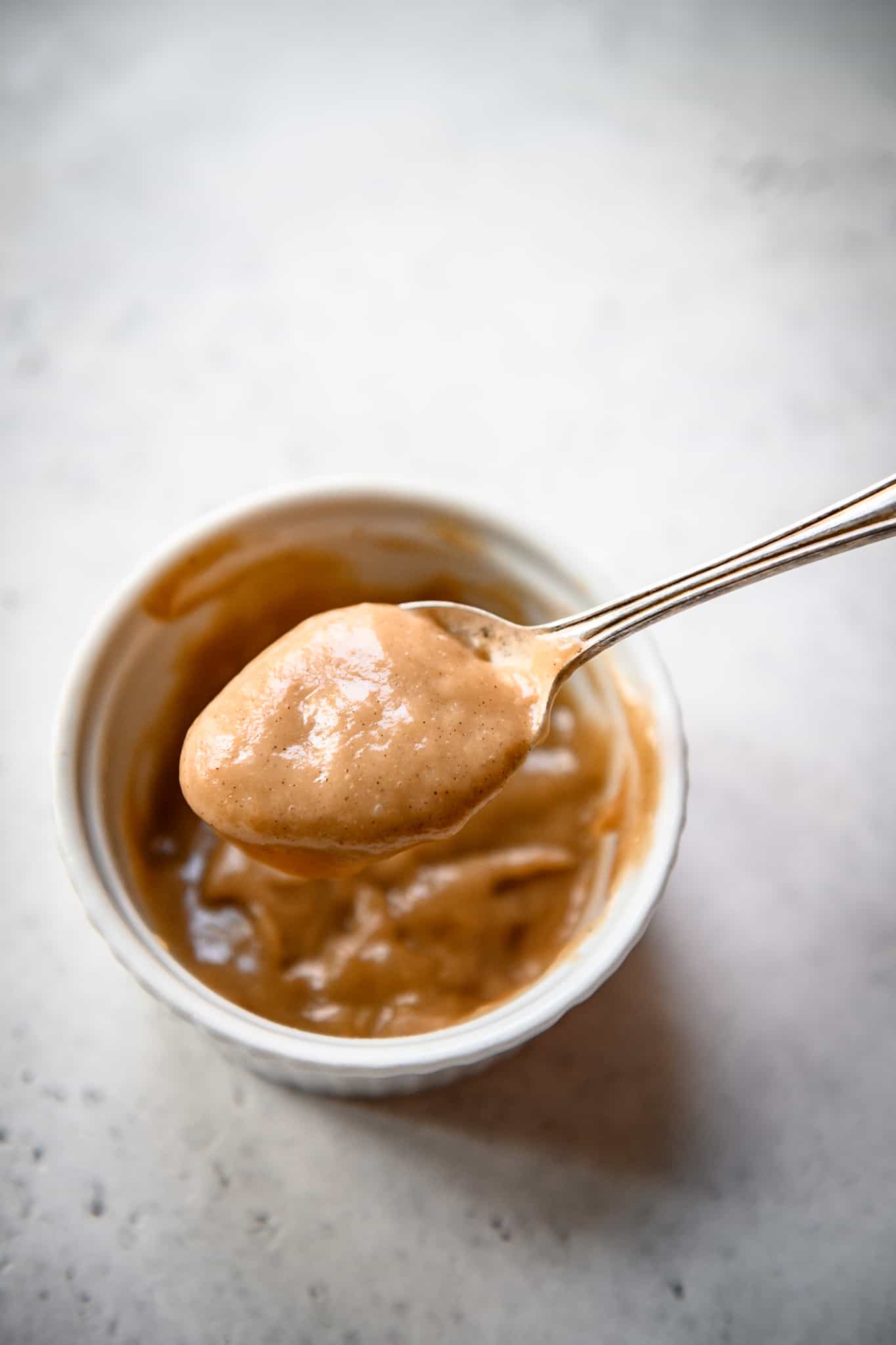 The texture should be somewhere between pudding and a loose custard. Not particularly appealing, I know. But after a few hours in the refrigerator, it firms up and tastes amazing!
That brings us to the next most important step: chilling. Once the mixture has thickened, immediately transfer to ramekins and chill for at least 4 hours, but preferably 6-8. It really needs time to set, so give yourself plenty of time if you're making this for a special occasion.
How to make the caramelized sugar topping
Let's be honest here. The best part of any crème brûlée is the crunchy, caramelized, delicious sugar topping. It's an absolute necessity, and as long as you have the right tools, it's easy to accomplish.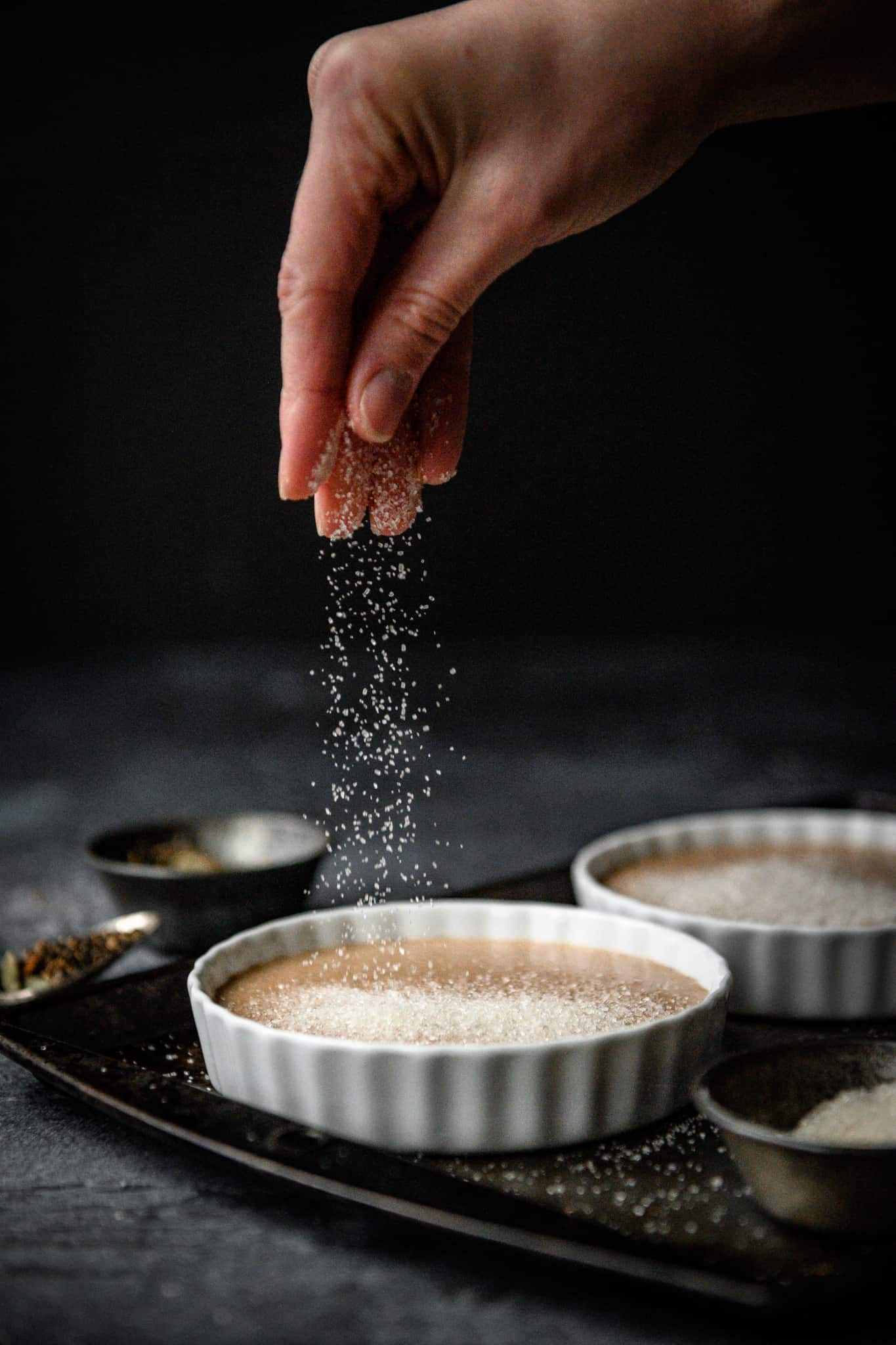 A propane blowtorch is by far the easiest way to achieve the perfect topping. You can find them at most kitchenware stores, as well as hardware stores. Or, of course, grab one online. And while you're at it, stock up on a few propane refills so you don't run out halfway through a batch of crème brûlée.
Technically, you can also accomplish the same thing with the broiler in your oven, but we do not recommend it for this recipe. The vegan custard mixture is more fragile and heat-sensitive than traditional dairy, so we don't want to risk it falling apart.
When you're ready to torch the topping, spread an even layer of sugar across the top of the vegan crème brûlée. Superfine caster sugar works really well. Since it's so fine, it caramelizes quickly.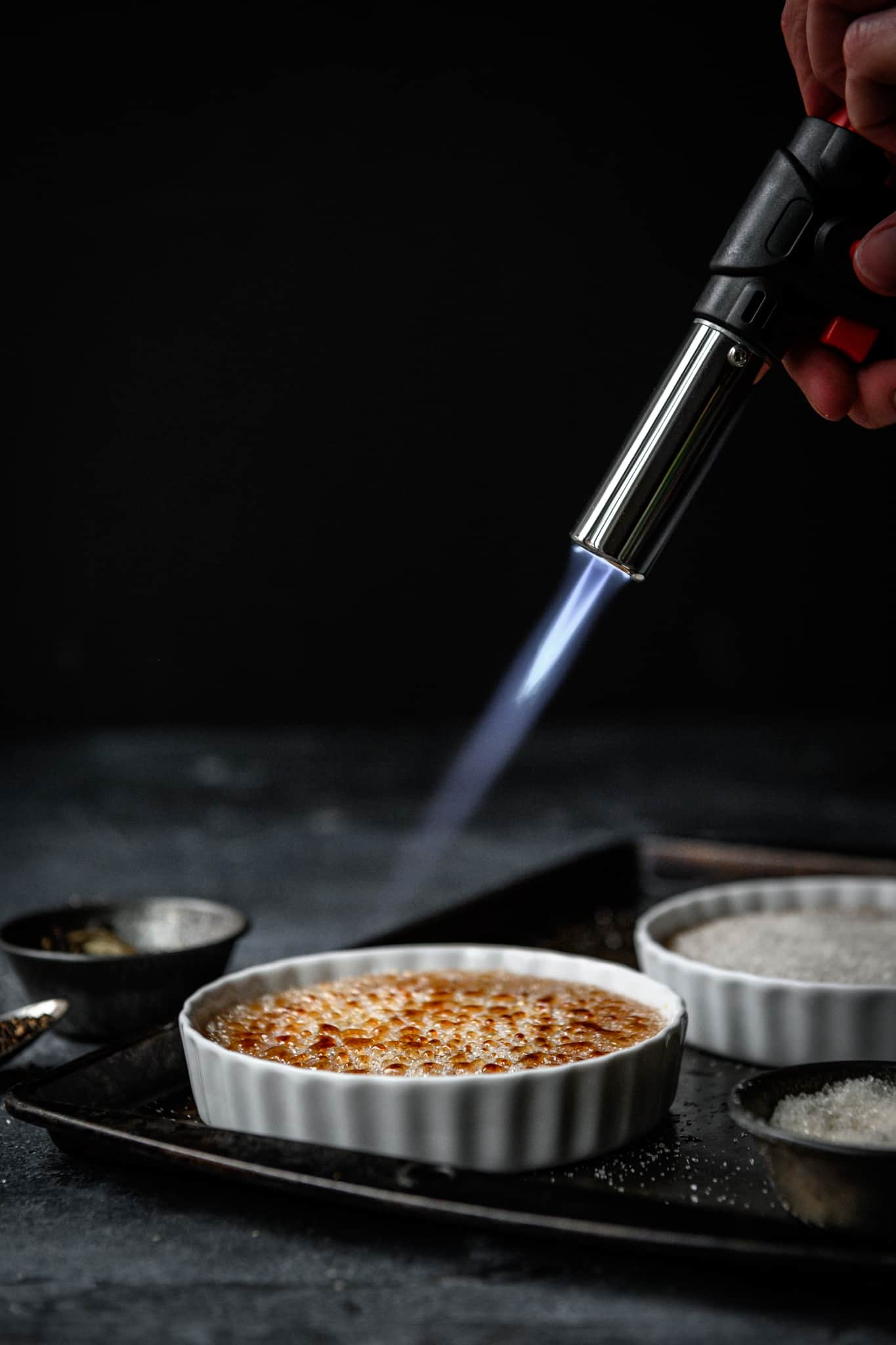 Regular granulated sugar works well, too. It just may take a bit longer to caramelize, and you may end up with some darker spots. (That's perfectly fine with me!). Brown sugar works, too. And although we haven't tried it, we'd be willing to bet coconut sugar would do in a pinch as well.
Once the sugar has caramelized, it will harden up very quickly. Then, crack it with a spoon (so satisfying!!) and enjoy!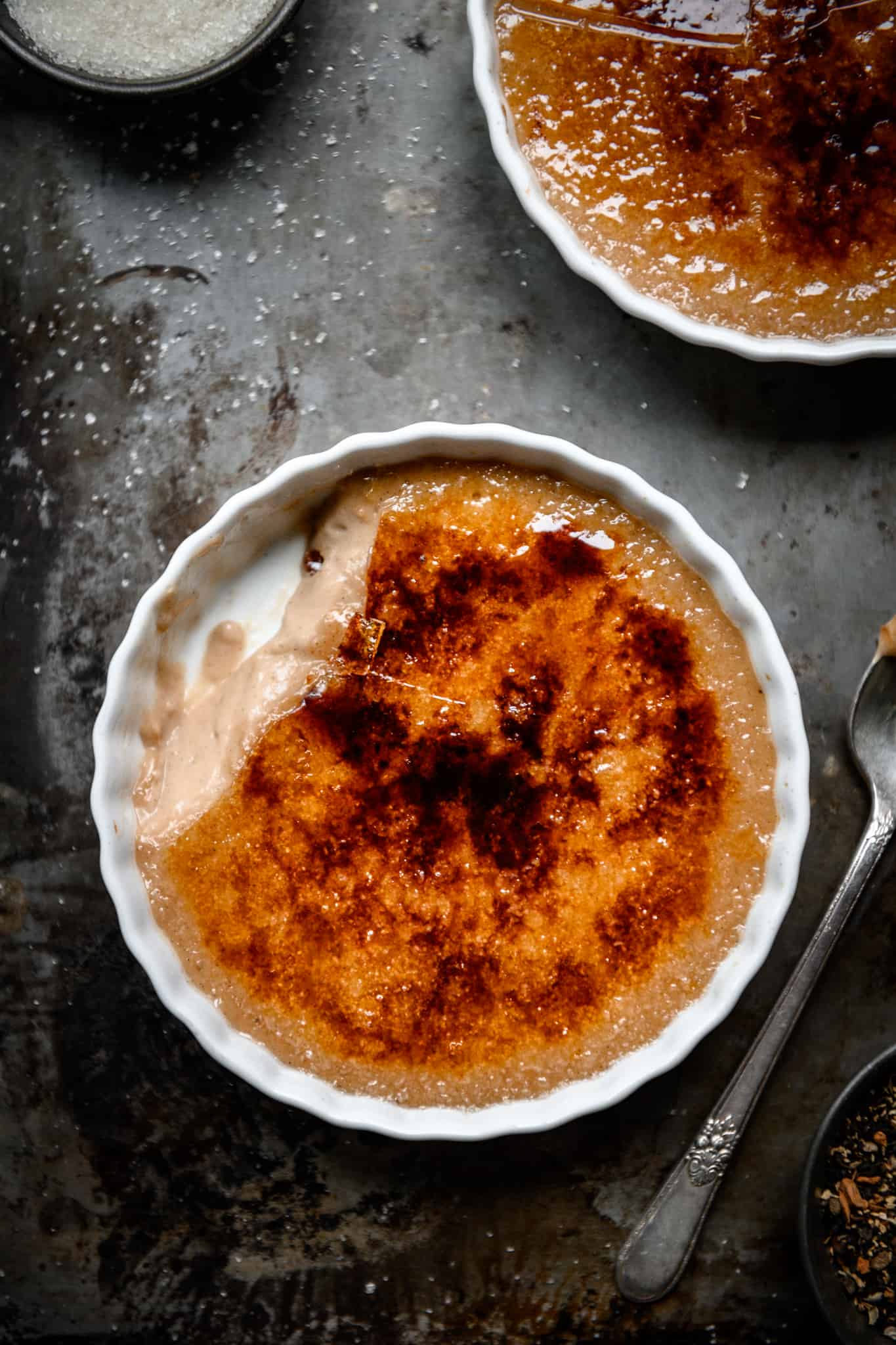 If you make this vegan crème brûlée, we'd love for you to leave a comment and rating below! We also love to see your creations on Instagram – tag us at @crowded_kitchen so we can see what you've been cooking.
Print
📖 Recipe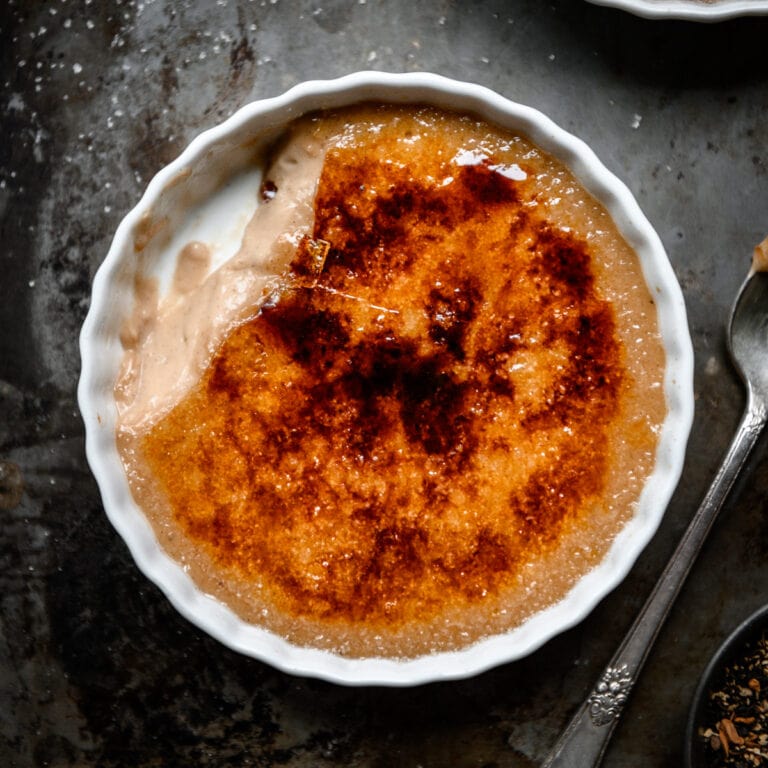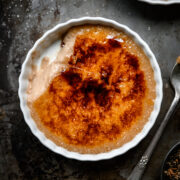 Vegan Crème Brûlée
---
Author:

Lexi

Total Time:

4 hours 20 minutes

Yield:

4

servings

1

x

Diet:

Vegan
Description
This Chai-spiced Vegan Crème Brûlée is seriously incredible. Completely free from dairy and eggs, it still has a perfect, soft, custard-like filling that's just like the real thing. 
---
1

13.5oz can full fat coconut milk

2 tbsp

Arbor Teas Masala Chai Tea

½ cup

canned coconut cream

¼ cup

almond milk 

1 tbsp

vanilla bean paste or extract

½ cup

caster sugar, divided

¼ cup

maple syrup

¼ cup

arrowroot powder
Pinch sea salt
---
Instructions
Pour coconut milk into a saucepan over medium-low heat. Add tea, stir and simmer at low heat for 15-20 minutes. Remove from heat, strain and let cool.
When cooled, add to a blender with coconut cream, vanilla, ¼ cup of caster sugar, maple syrup, almond milk, arrowroot and salt. Blend until well combined. 
Pour into saucepan and heat over medium. Let mixture thicken (it will take about 10-20 minutes over heat), stirring frequently to prevent burning. When the mixture is somewhere between a pudding and a loose custard (see post for visual guide), remove from heat. 
Immediately transfer to ramekins. Chill in refrigerator for at least 4 hours, preferably 6-8. 
When finished chilling, remove from refrigerator and top with an even layer of remaining sugar. Use a blowtorch to caramelize sugar until it forms a solid layer. Enjoy!
Prep Time:

20 minutes

Cook Time:

4 hours

Category:

Dessert

Method:

Stovetop

Cuisine:

French
Nutrition
Serving Size:
Calories:

617

Sugar:

28 g

Sodium:

613 mg

Fat:

33.8 g

Saturated Fat:

24.4 g

Trans Fat:

0 g

Carbohydrates:

40.1 g

Fiber:

0.9 g

Protein:

8.8 g

Cholesterol:

37.5 mg
Keywords: vegan creme brulee