This vegan sweet potato risotto is a seasonal take on one of my favorite classic dinner recipes. Served with sautéed kale, toasted hazelnuts and herbs, it serves as a great main course for a special occasion or a weeknight dinner!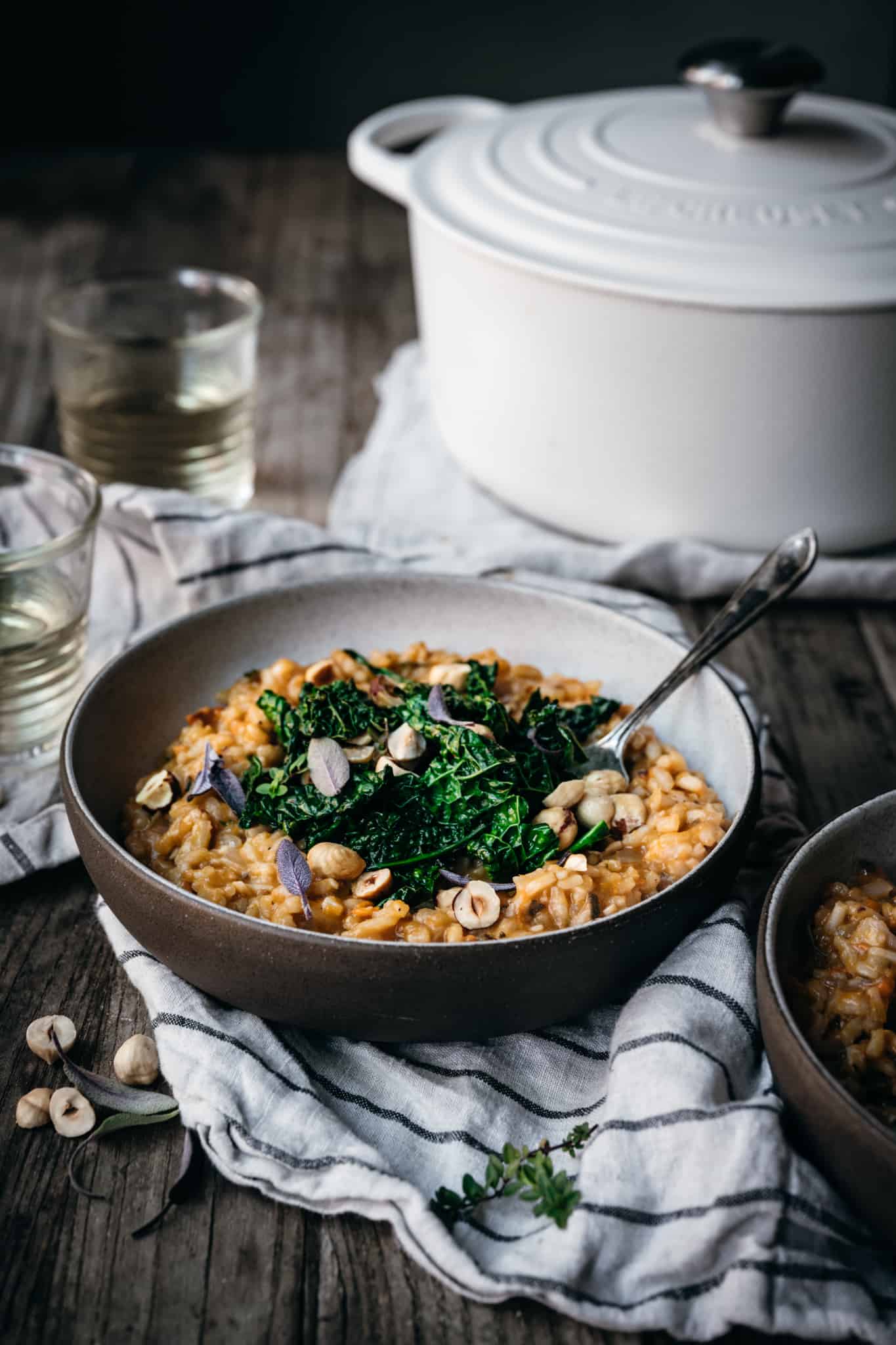 If someone were to ask me what my go-to entertaining recipe is, I'd have to say risotto. It's surprisingly easy to make, only requires a few ingredients, yet it makes for an impressive (and delicious!) dish.
I credit my mom for everything I know about making risotto. Growing up, she often made risotto when we had company for dinner. Since risotto requires patience and attention, I typically took over stirring duties. (Fun way to get your kids involved!)
After making it 30+ times, I finally memorized a recipe for classic risotto and have been making it ever since! Classic risotto doesn't need much. It's essentially butter, onion, wine, rice, broth, cheese and more butter. Sounds pretty good, right?
Our version substitutes vegan alternatives for the dairy and chicken broth. We've also added a seasonal twist with roasted sweet potatoes, verdant kale and crunchy toasted hazelnuts. Why not consider serving this at the holidays this year?
Once you master the process of making risotto, you won't even need a recipe. But if you're just getting started, there are a few helpful tips and tricks you should know!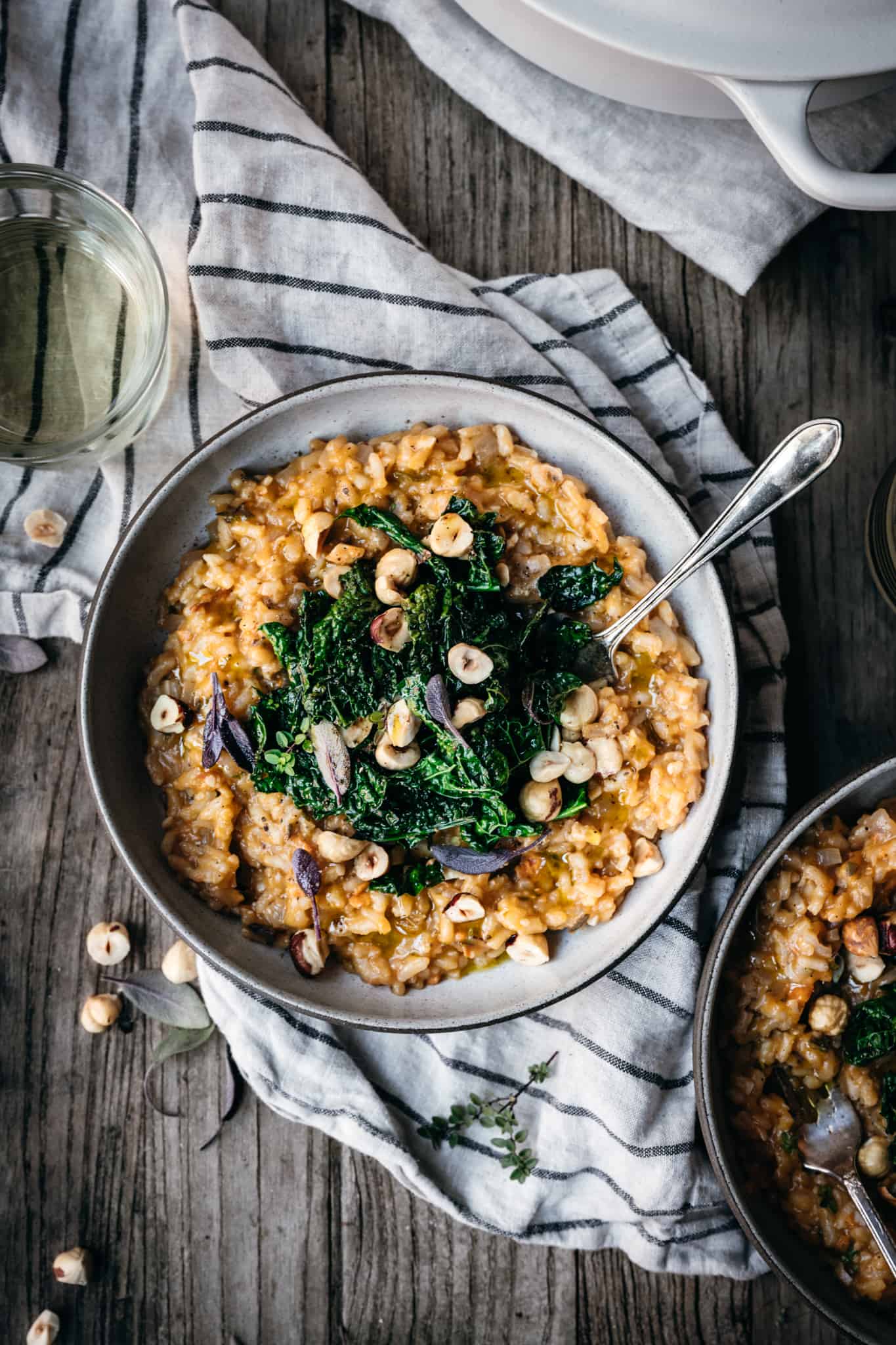 What kind of rice should I use for risotto?
Most classic risotto recipes call for Arborio rice, an Italian variety of short-grain rice. Other varieties, like Carnaroli and Vialone Nano rice, are also used, but Arborio is the most commonly available option.
Since short grain rice has a higher starch content, it absorbs liquid slowly. The final product is a creamy, yet not soggy rice. It's always helpful to briefly toast the rice in the pan with the butter and onions before adding liquid. This helps prolong the absorption of liquid even more, and allows for even cooking of each grain.
Although many varieties of rice need to be rinsed before using, arborio is NOT one of them. Just add it straight from the box to the pan!
Can't find any of the Italian rice varieties listed above? Technically, any short-grain rice will do in a pinch. My first choice would be sushi rice. Just don't try to sub a long-grain rice - it won't get creamy at all.
What kind of wine should I use in risotto?
After sautéing finely diced onions in butter (or olive oil) and toasting the rice for a minute or two, the first liquid you'll be adding is wine. Opt for a dry white wine, like Pinot Grigio or Sauvignon Blanc.
Once you add the wine, let it simmer until it evaporates before adding any broth. This does not mean you should skimp on wine quality. Always opt for a wine that you would actually drink - it makes a huge difference in flavor! Plus, since you're only using ¾ cup, you can drink the rest for dinner.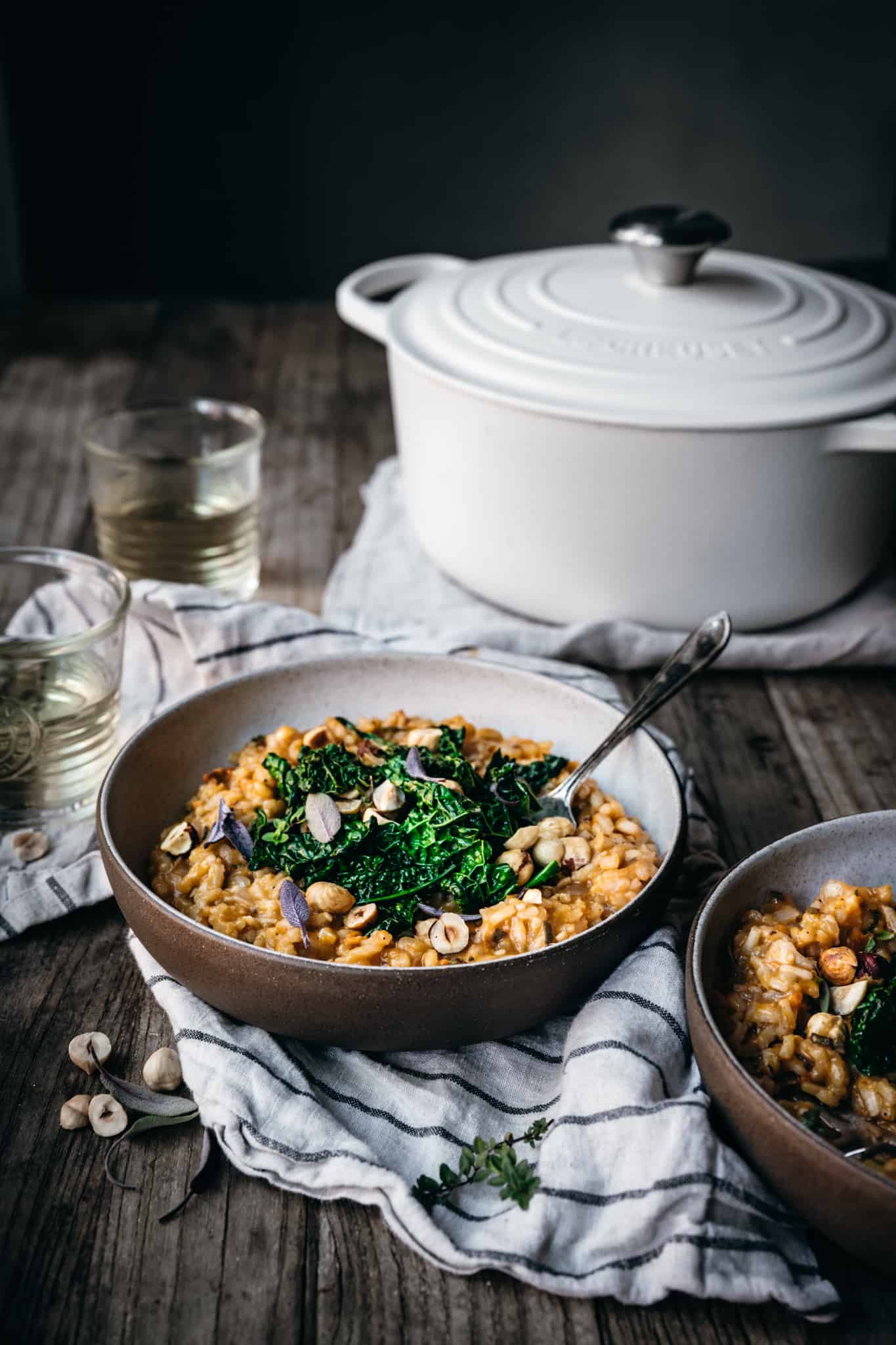 Instructions
I know it sounds obvious, but how and when you add the broth makes all the difference. Unlike other rice dishes, you don't want to add the liquid all at once. Instead, you'll add it ladle by ladle, letting the rice absorb each batch of liquid before adding more.
Set up a second stock pot next to your risotto pot, fill it with broth and heat over low. By the time you start adding it to your sweet potato risotto, it will be the perfect temperature.
Each time you add a ladle of broth, stir well, then let it absorb for a minute or two, stirring once or twice. To check if it's ready for more broth, run a wooden spoon through the risotto. If the risotto parts and doesn't immediately run back together, it's ready. Visual guide below!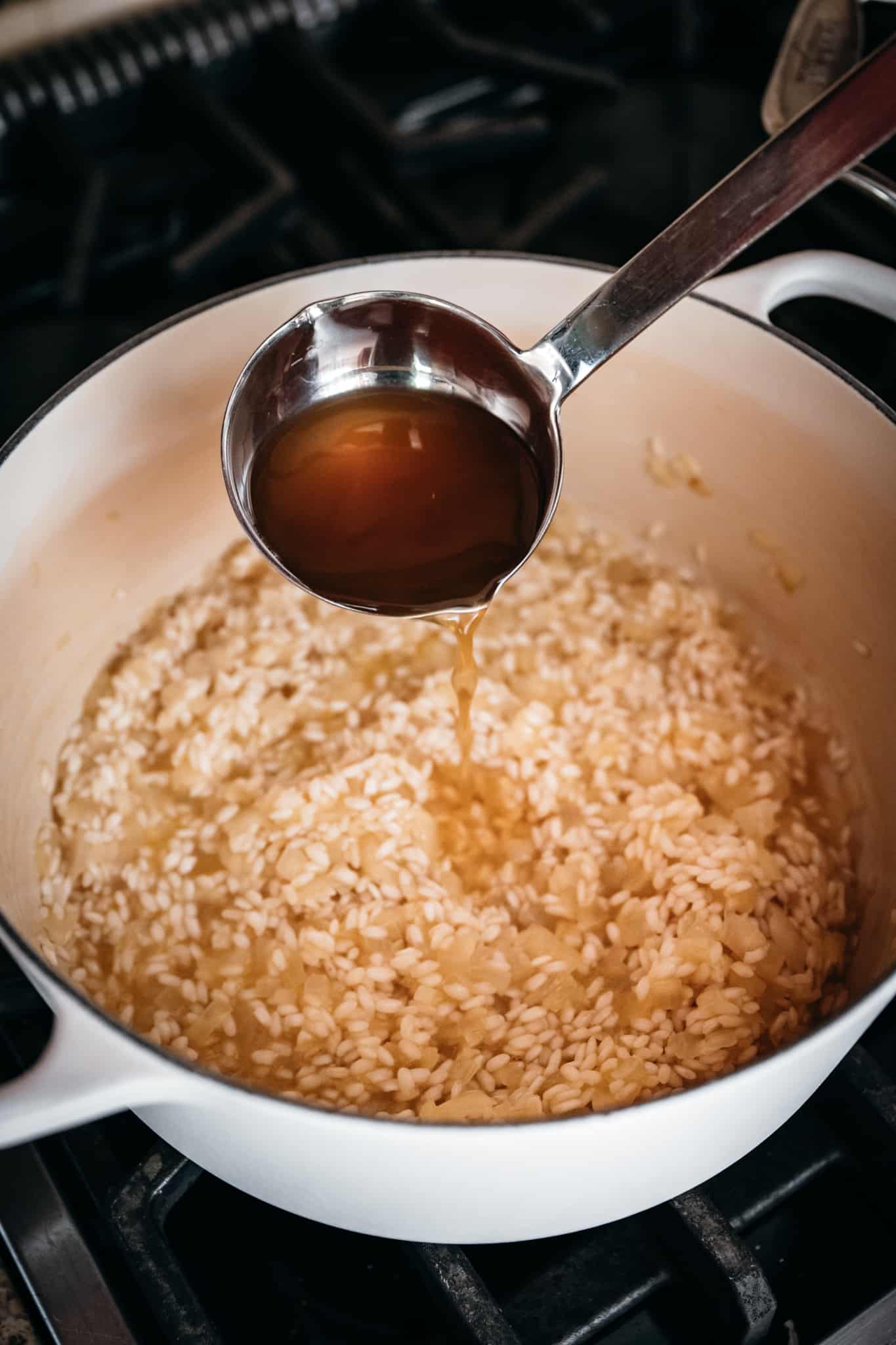 Repeat the process, and start tasting the rice for doneness about 15-20 minutes in. You'll need to stay close to the stove. If you're working on something else, designate another family member as risotto stirrer.
Although this recipe calls for a specific amount of broth, don't feel that you have to stick to it exactly. Risotto isn't always an exact science - sometimes it needs more broth, sometimes it needs less. The best thing you can do it taste it and decide for yourself. When the rice is al dente (soft, but still has a slight chew), it's ready.
Add-ins
Before you even get the vegan risotto started, chop up a sweet potato and roast it. You can peel or leave it unpeeled -it's up to you and how much texture you want. If you want a super smooth risotto, peel the potato.
When the sweet potatoes are tender, remove from the oven and mash. You'll add them to the risotto once you've finished adding the broth.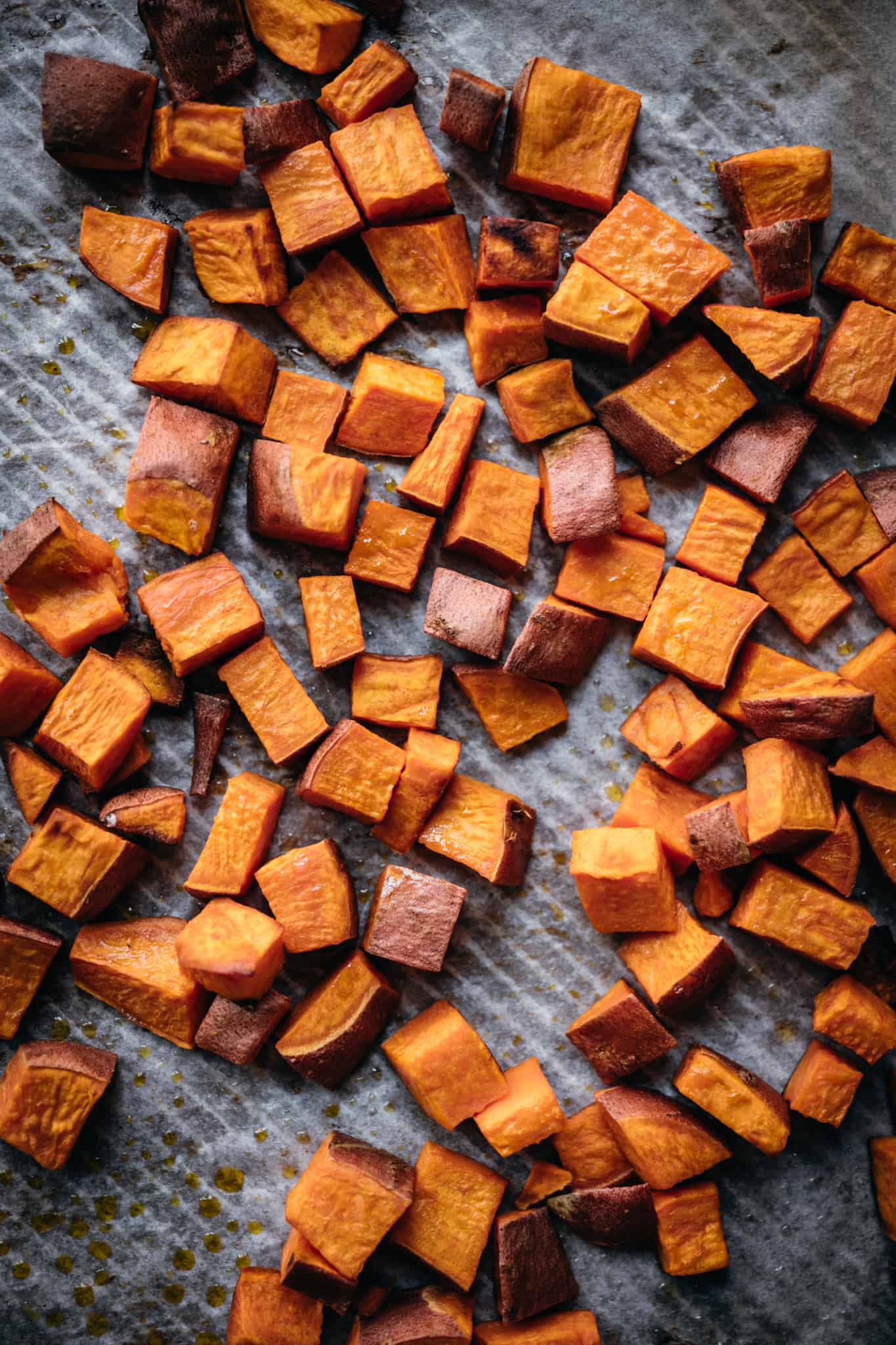 When the potatoes are out of the oven, reduce the heat to 350 for the hazelnuts. To toast hazelnuts, spread them whole in a single layer on a sheet pan. Roast for about 10 minutes, stirring once.
When you remove them from the oven, the skins will be dark brown (bitter and burnt), so you'll need to remove them. To do so, wrap the hot hazelnuts in a clean dish towel and rub together. The skins should easily come off. Then, chop and add to your recipe!
The final add-in is simple sautéed kale. I like to crank up the heat in the pan so the kale gets a bit crispy instead of soggy. You can use either regular curly kale or lacinato. I prefer lacinato in this recipe.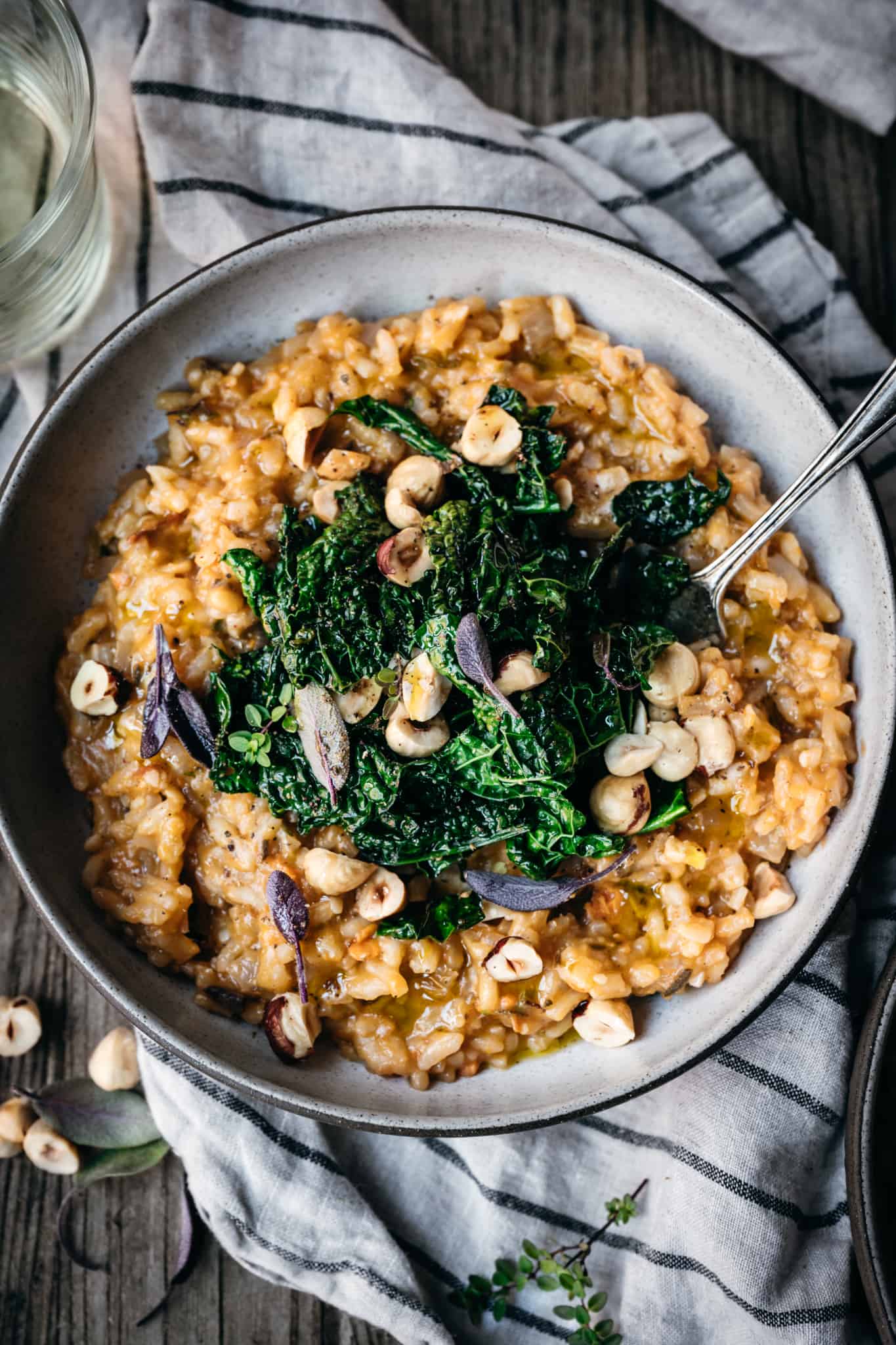 More vegan risotto recipes you'll love:
Now that you've mastered the art of risotto, here are a few more recipes to try!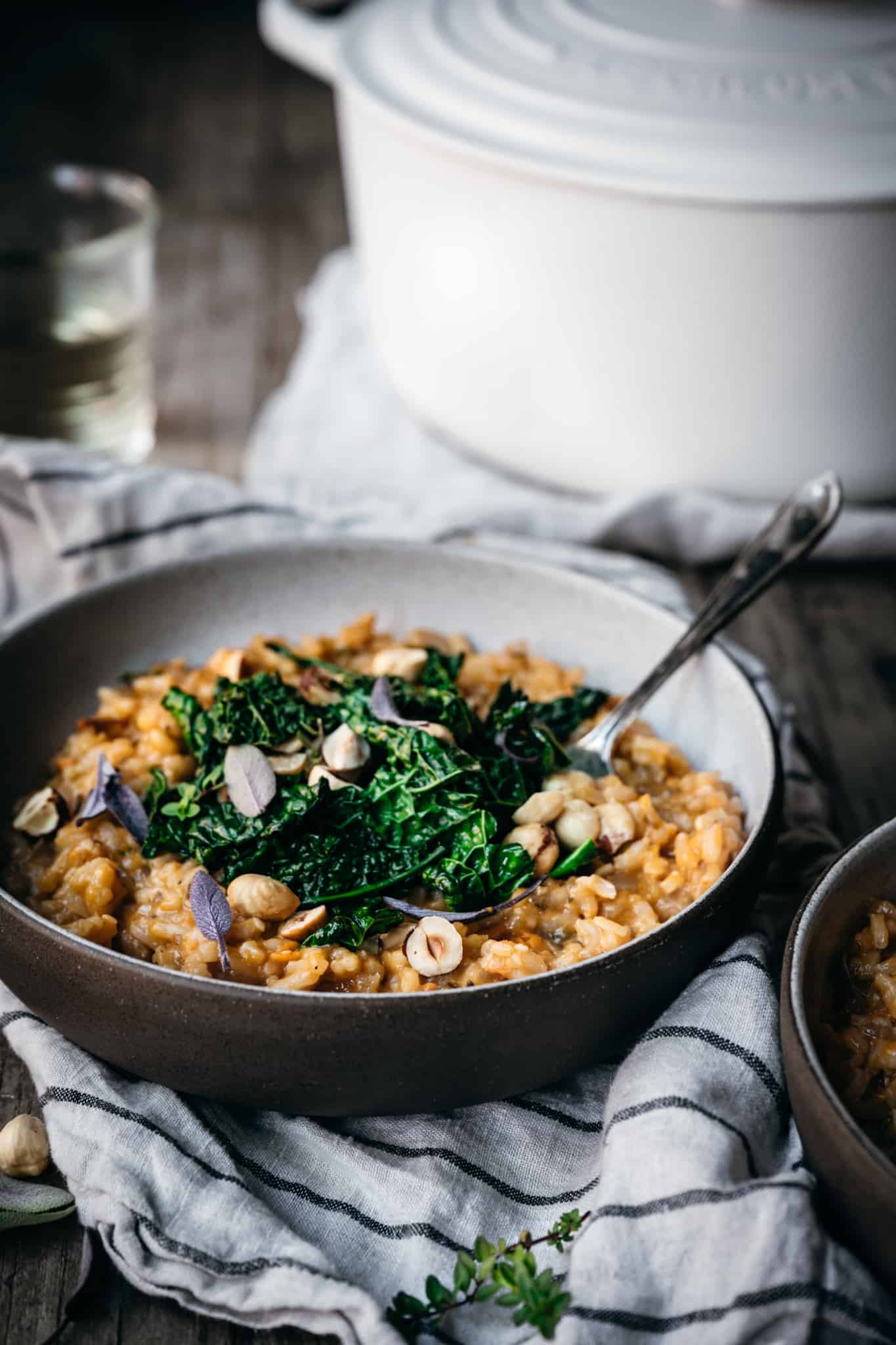 If you give this vegan sweet potato risotto recipe a try, we'd love for you to leave a rating and review below! We also love to see your creations on Instagram – tag us at @crowded_kitchen so we can see what you've been cooking.
Print
📖 Recipe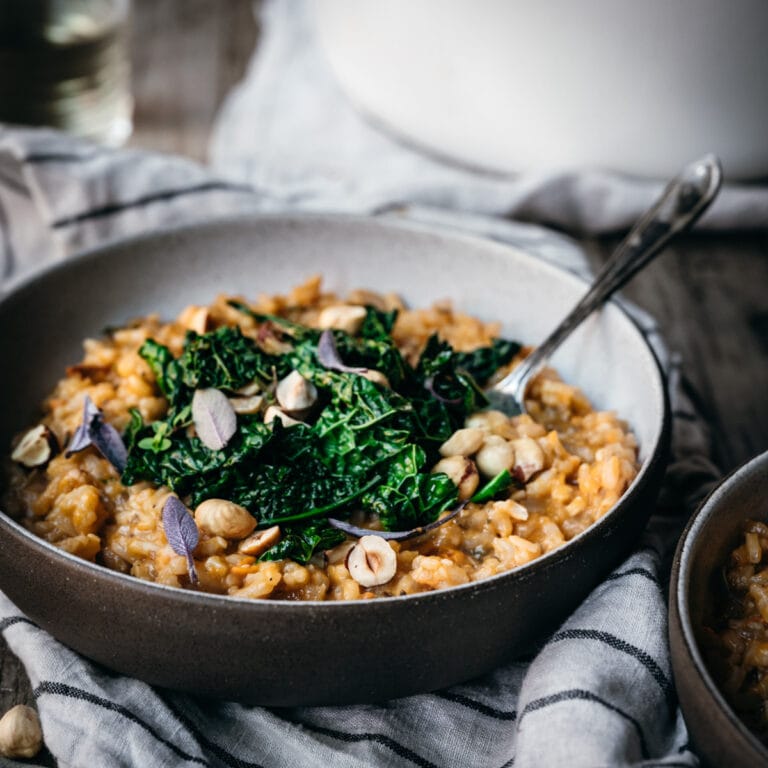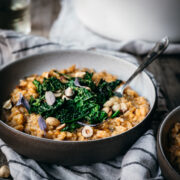 Sweet Potato Risotto
---
Author:

Lexi

Total Time:

55 minutes

Yield:

4

servings

1

x

Diet:

Vegan
Description
This vegan sweet potato risotto is a seasonal take on one of my favorite classic dinner recipes. Served with sautéed kale, toasted hazelnuts and herbs, it serves as a great main course for a special occasion or a weeknight dinner!
---
1

large sweet potato, diced (

3 cups

)

2 tbsp

olive oil, divided

2 tsp

salt, divided

¼ cup

vegan (or regular) butter

1

yellow onion, diced finely 

2

cloves garlic, minced 

1 ½ cups

arborio rice

¾ cup

dry white wine

4 ½

-

5

cups low sodium vegetable broth

¾ cup

shredded vegan (or regular) parmesan

1

head lacinato kale, de-stemmed and chopped

2 tbsp

fresh sage, finely chopped

1 tbsp

fresh thyme, finely chopped

½

-

1

tablespoon balsamic vinegar
Pepper to taste

1 cup

hazelnuts, toasted (instructions below)
---
Instructions
Preheat oven to 400 F and line a baking sheet with parchment paper. 
Dice sweet potato (peeling optional) and toss with 1 tablespoon olive oil and ½ teaspoon salt. Transfer to baking sheet and roast for 25 minutes, stirring once or twice. Remove from oven and set aside. 
Meanwhile, heat a large pot to medium and add butter, onions and 1 teaspoon salt. Sauté 5-7 minutes, stirring occasionally, until softened. 
In a separate saucepan, heat vegetable broth over medium low.
Add garlic to onions and continue cooking for 2-3 minutes. 
Add arborio rice and stir well to coat in the butter and onions. Let toast for a minute or two, stirring often to prevent burning. Pour in wine and cook until reduced. 
Start adding vegetable broth, one ladle-full at a time. Don't add the next ladle of broth until the previous one has been almost fully absorbed. You'll have to stir often and keep a close eye on the risotto to prevent it from burning/drying out. Check the risotto for doneness once you've used up about ¾ of the broth. 
Meanwhile, mash the roasted sweet potatoes into a smooth paste, either using a potato masher or even a blender or food processor. 
In a separate sauté pan, heat 1 tablespoon of olive oil over medium-high and add chopped kale and a pinch of salt. Sauté until tender - about 5 minutes.
When the rice is finished cooking, stir in the mashed sweet potato, fresh sage and thyme, vegan parmesan, balsamic and more salt and pepper to taste. Top risotto with sautéed kale and toasted hazelnuts (directions below). 
Toasted hazelnuts:
Preheat oven to 350 F. 
Spread whole hazelnuts in an even layer on sheet pan. Roast for 10-12 minutes, stirring once. Remove from oven. 
When cool, wrap nuts in a towel and gently rub to remove the skins. Chop and add to recipe.
Notes
If you don't have arborio rice on hand (or another Italian short-grain alternative), another short-grain rice (like sushi rice) will do. 
Prep Time:

15 minutes

Cook Time:

40 minutes

Category:

Dinner

Method:

Stovetop

Cuisine:

Italian
Nutrition
Serving Size:
Calories:

570

Sugar:

7 g

Sodium:

2086.3 mg

Fat:

41.1 g

Saturated Fat:

13.1 g

Trans Fat:

0 g

Carbohydrates:

47 g

Fiber:

5.3 g

Protein:

7.4 g

Cholesterol:

0 mg
Keywords: vegan risotto, sweet potato risotto