These hearty vegan lentil meatballs get savory flavor from dairy free parmesan, Italian seasoning and crispy breadcrumbs. Serve them with your favorite pasta sauce and pasta or vegetable noodles for a new weeknight favorite!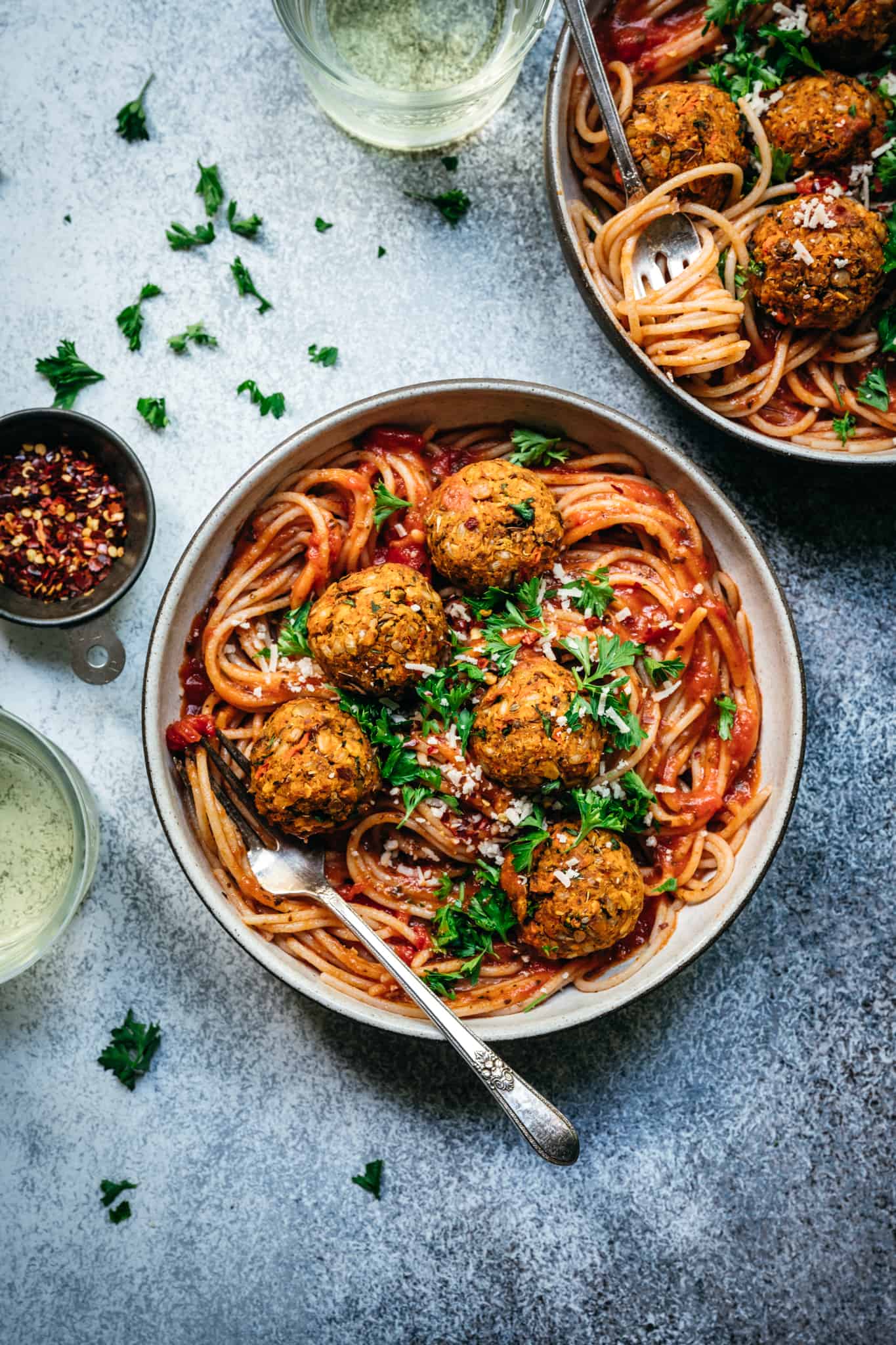 Spaghetti and meatballs is such a classic, comforting dinner. In high school, it was always my go-to meal before a track or cross country race. I certainly wasn't one to miss an opportunity for carbo-loading!
Luckily, going vegetarian, vegan, gluten free and/or dairy free doesn't have to mean an end to hearty spaghetti dinners. You don't need to pile your pasta high with ground meat to enjoy a protein-packed, incredibly savory and healthy meatball dinner.
There are a few wonderful things about this recipe for vegan lentil meatballs.
First of all, they're protein-packed and super satisfying, thanks to the cooked lentils. This is certainly a plant-based dinner that will not leave you hungry.
Secondly, you can make these meatballs ahead of time. They store quite well, which makes them a great vegan meal prep recipe. You could double the batch and enjoy healthy lentil meatballs all week long for lunch!
And finally, the meatballs pair with any kind of pasta or sauce. Choose your favorite pasta sauce, whether it's homemade marinara or store-bought alfredo, and dress up these lentil balls (lol) however you like.
The same goes for the pasta. This recipe for vegan meatballs pairs just as well with whole wheat spaghetti as it does with fresh pasta as it does with zucchini noodles!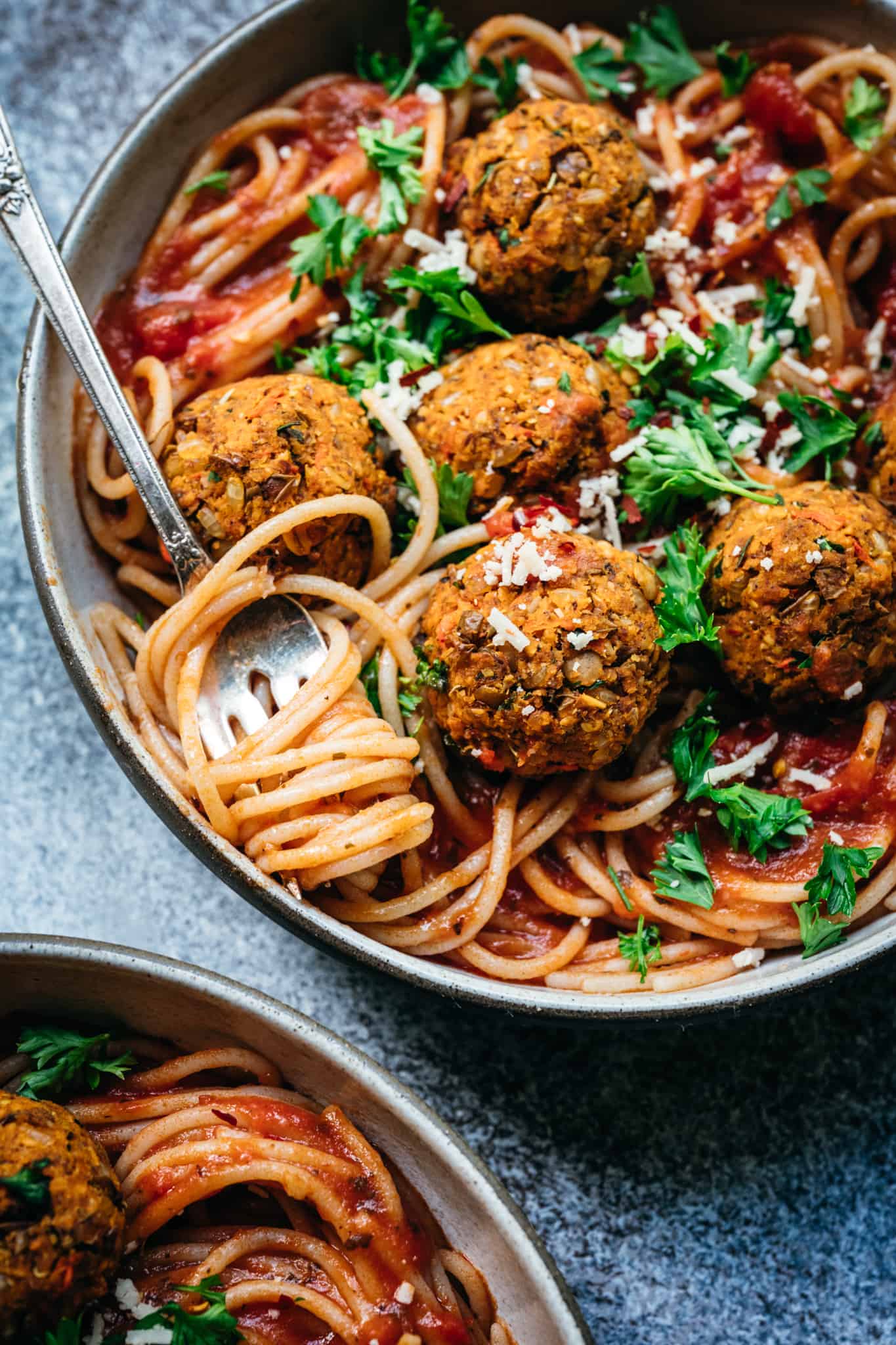 Dinner pairings
For our mid-week dinner, we went with the classic combo of savory marinara sauce and spaghetti under our meatballs. We used gluten free pasta.
Of course, we like to keep things interesting around here. So here are some more delicious flavor combinations to enjoy with these vegetarian lentil meatballs:
How did you enjoy these lentil meatballs? Let us know in the comments!
Instructions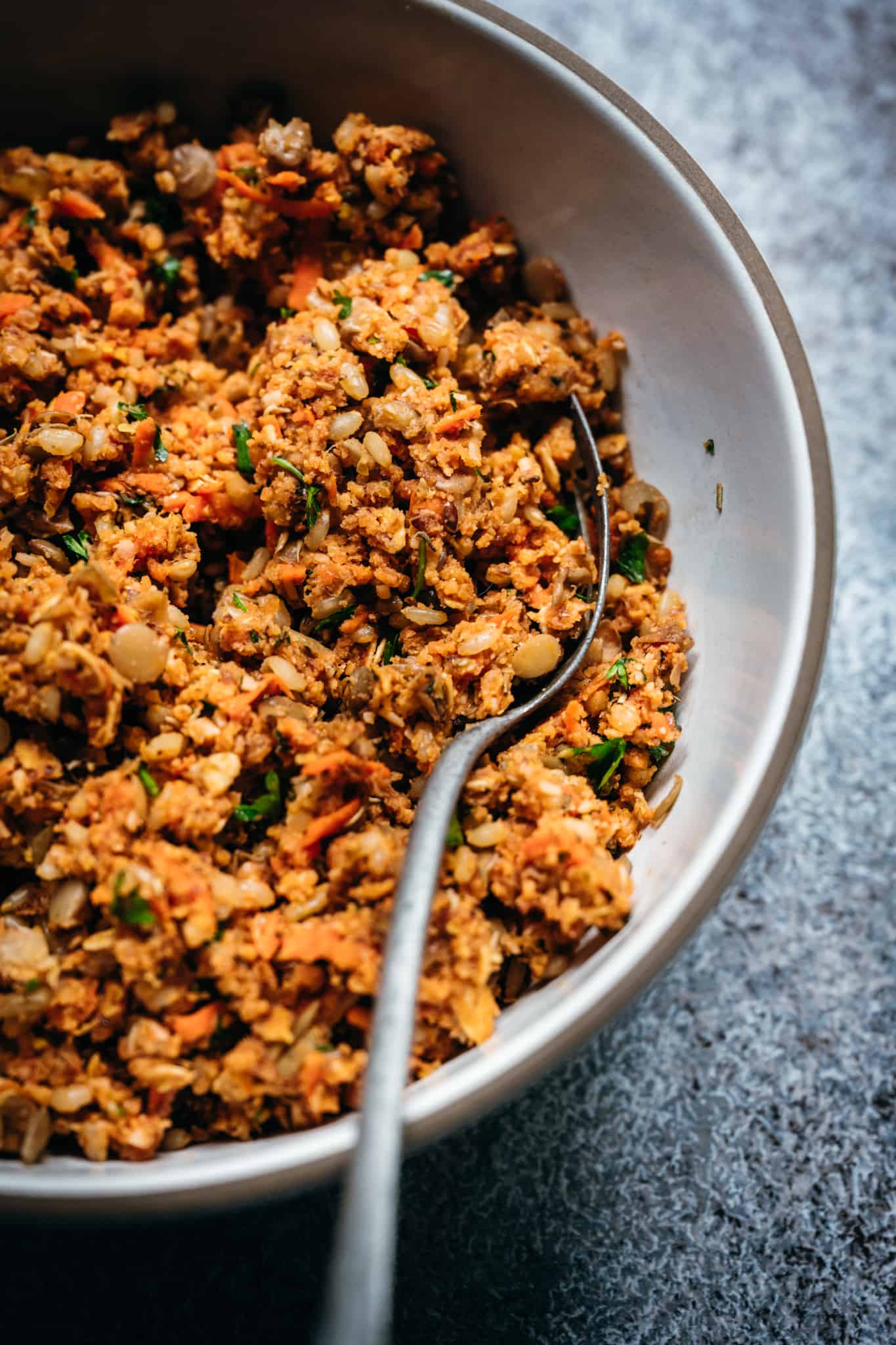 Though this meatball recipe is fully vegetarian and dairy free (and gluten free if you like), many of the ingredients are the same as classic meatball recipes. Minus the meat, of course.
To replace the meat, we use cooked brown lentils and short-grain rice. These healthy grains add plenty of bulk to the meatballs. And you can pack them with flavor by cooking them in vegetable broth ahead of time.
We like to keep some homemade veggie broth on hand in the freezer to use for all kinds of recipes. It's also a great way to cut back on food waste. Stick vegetable scraps like leek tops and carrot peels in the freezer as you cook. Eventually, you'll have enough to make a flavor-packed stock!
The great thing about vegetable stock is that it takes a fraction of the time of meat-based stocks. Since you don't have to extract flavor from bones, you can simmer up a powerhouse of a vegetable stock in under an hour.
Note on the lentils: be sure to choose brown or green lentils over red or yellow. They're larger and sturdier, which means they won't turn to mush. Since the lentils will be cooked twice in this recipe, you need something sturdy.
The rice adds wonderful texture to your lentil meatballs. It also keeps them light, but hearty.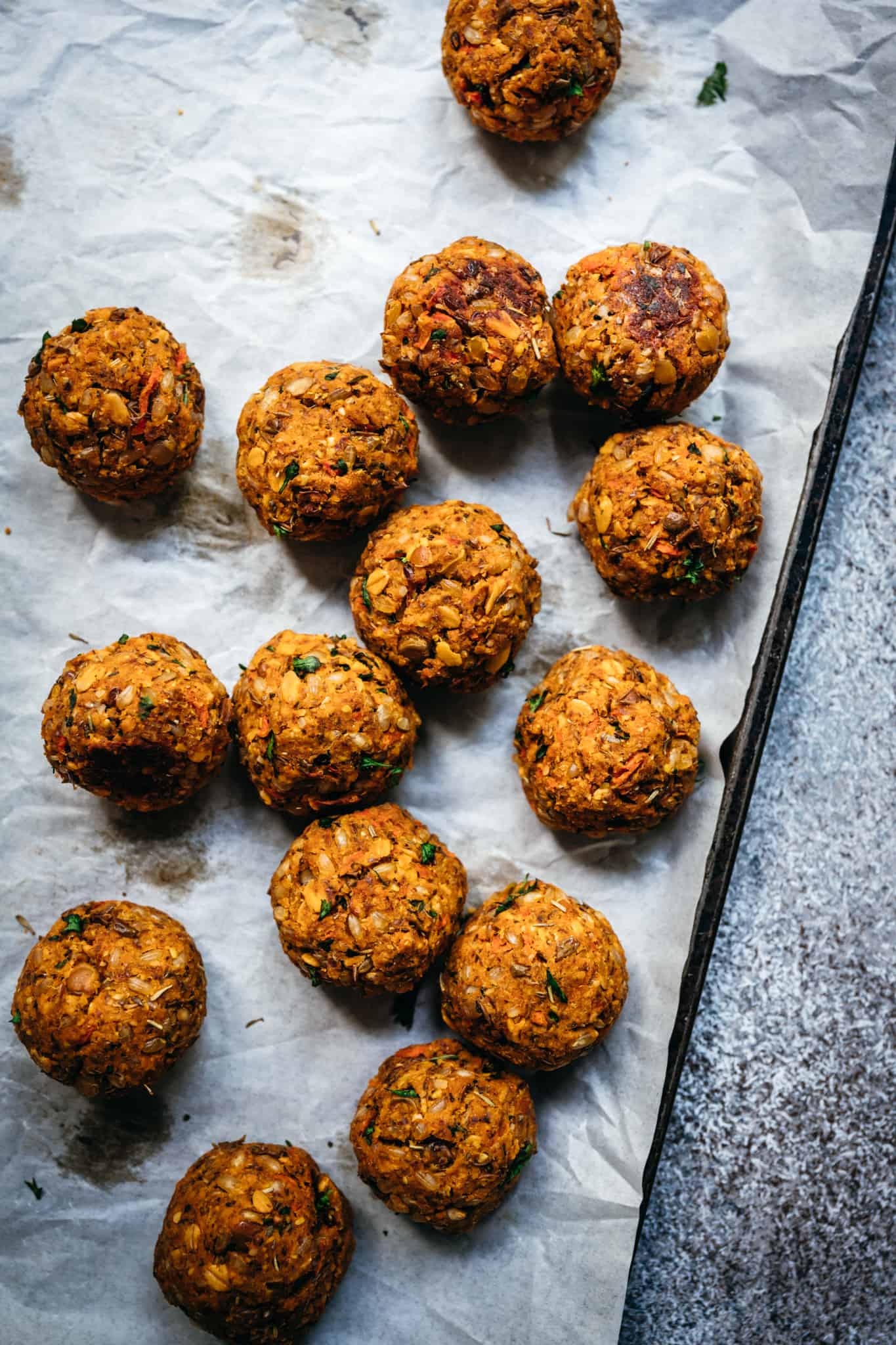 Like any good meatball recipe, we bind our lentil balls with breadcrumbs. Again, we use gluten-free, but regular bread crumbs will work well too. It's also up to you, and what you can find, when it comes to seasoning.
Both Italian seasoned and plain bread crumbs will work for this recipe. Either way, we'll add more Italian seasoning!
We also added some oats to our lentil mixture. These pack more fiber and whole grains into the meatballs. They also expand when you let the meatball mixture sit.
The oats soak up any extra moisture in the dough, so they won't come out gloppy and wet. Opt for old-fashioned oats over quick-cooking, as the larger grains are more absorbent.
The flax meal acts as a flax egg to bind the meatballs. We've written a whole guide to using flax in vegan baking, if you want to know more.
Because there's plenty of moisture in the dough from the cooked lentils, rice and carrots, you don't need to add water to the flax meal for this recipe. Usually, we'd let it gel into an egg-like consistency before adding it to our dough.
Spices & seasonings
Finally, we flavor these plant based lentil meatballs with Italian seasoning, garlic and onion powders, fresh parsley and tomato paste. Shredded carrots give these balls their color, crunch and carotenes.
The tomato paste also adds nice color. Plus, it helps your meatballs caramelize in the oven. The natural sweetness will brown up beautifully for crispy meatballs.
How to Shape Vegan Meatballs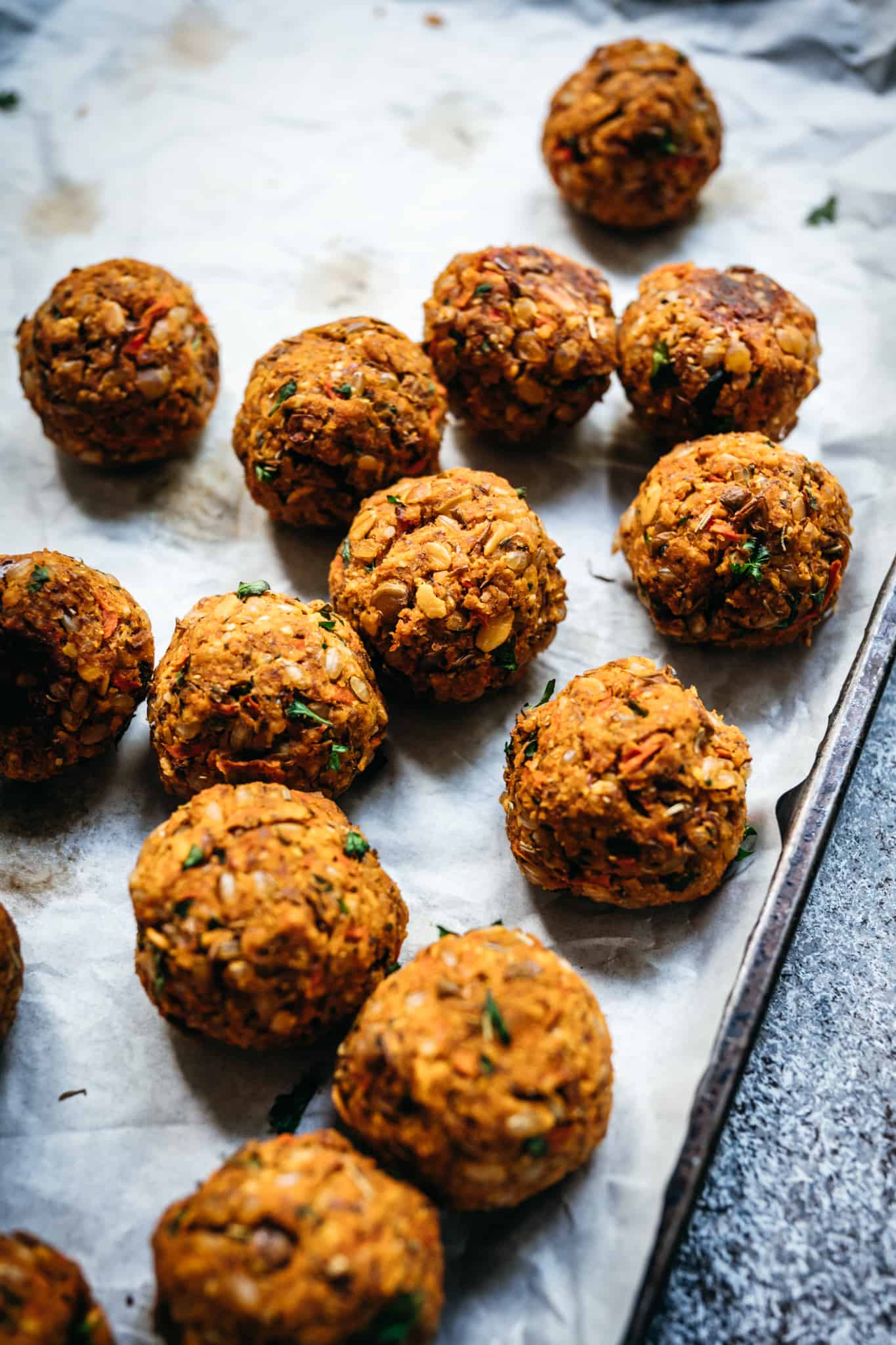 Be sure mix up your homemade meatball dough thoroughly. We like to do this by hand, as it's the best way to ensure that everything is fully combined. Since there's no flour in these vegan meatballs, you don't have to worry about over mixing the dough.
Then, let it all rest. This allows the oats and breadcrumbs to soak up any water. Also, the meatball flavor will develop a bit more.
After about 30 minutes rest, it's time to shape your vegan lentil meatballs. You can use a handy tablespoon measure or a melon baller to scoop equal portions. Then simply roll them into balls, and they're ready to bake.
Rolling is a great time to get kids involved in this recipe, if you have any young helpers at home. Since this dough is egg-free and vegetarian, there's no risk of contamination from raw ingredients.
Bake your vegan meatballs until they're set and browned on the outside. They'll be crunchy and caramelized on top, with a soft and light interior.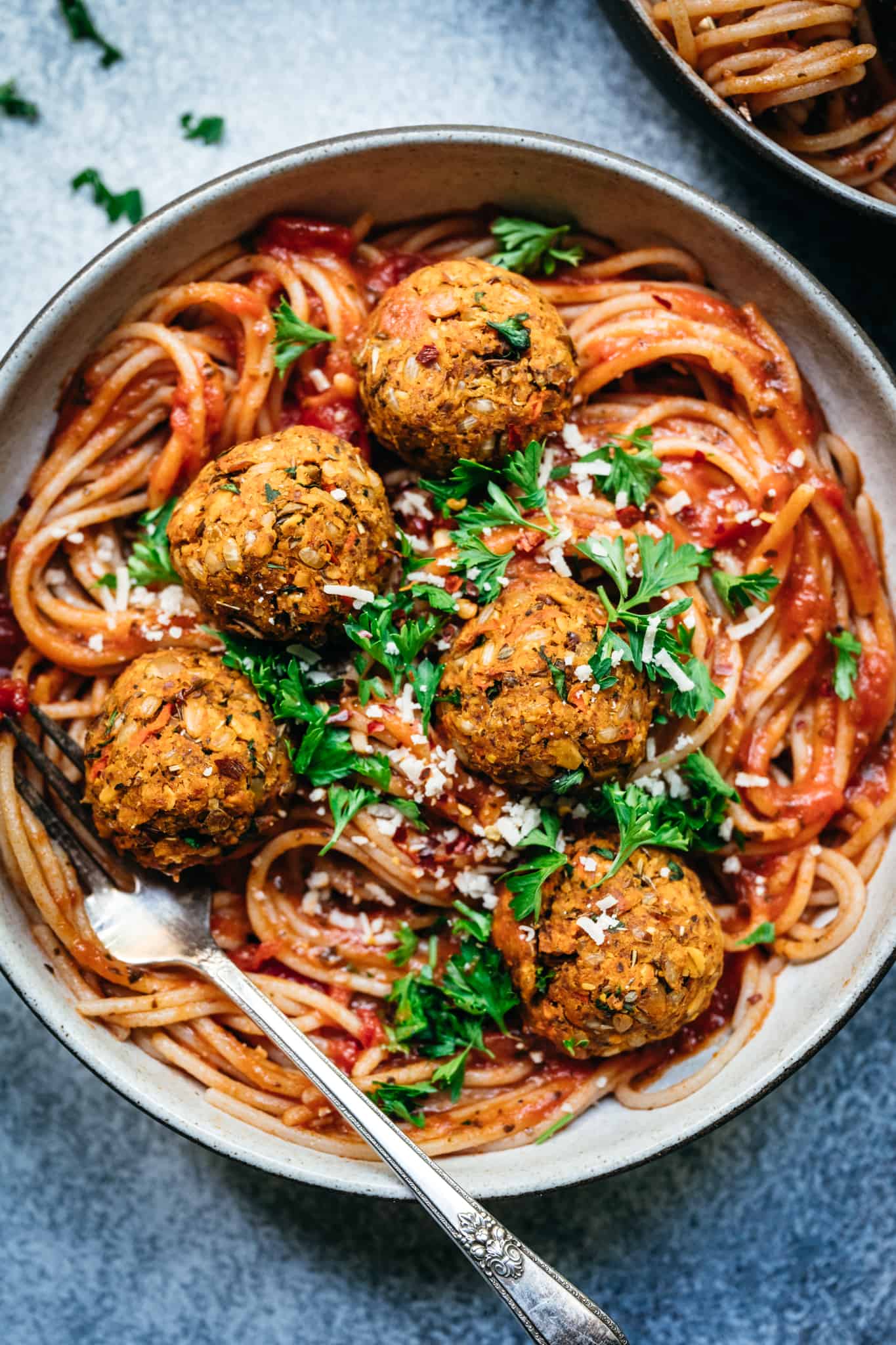 Print
📖 Recipe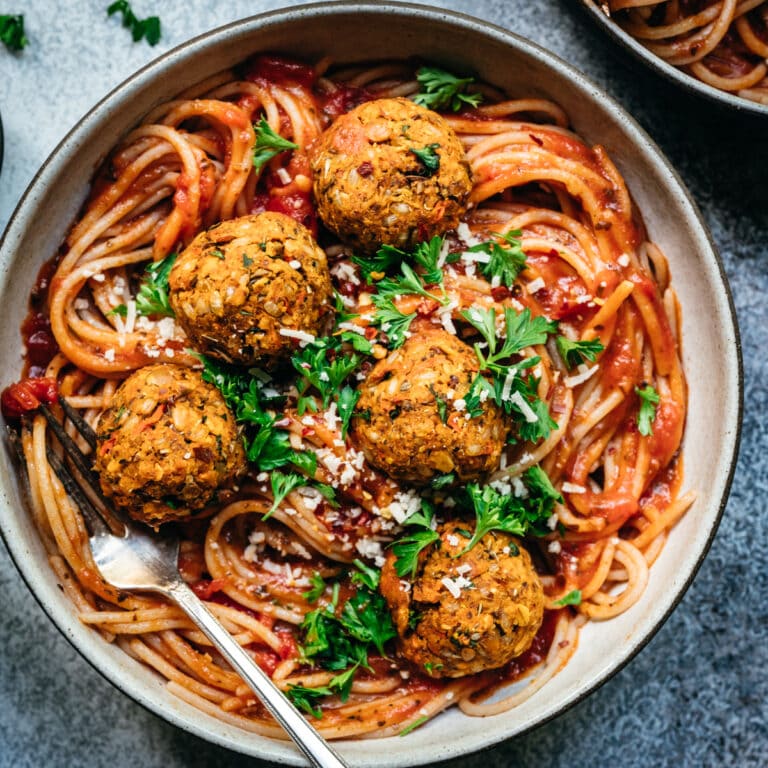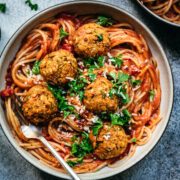 Vegan Lentil Meatballs
---
Author:

Lexi

Total Time:

1 hour

Yield:

12

-

14

meatballs

1

x

Diet:

Vegan
Description
These hearty vegan lentil meatballs get savory flavor from parmesan, Italian seasoning and crispy breadcrumbs. Serve them with your favorite pasta sauce and pasta or vegetable noodles. 
---
¾ cup

dry brown lentils, cooked according to package directions

⅓ cup

dry short grain rice, cooked according to package directions

½ cup

breadcrumbs (we used glu

ten

free)

¼ cup

rolled oats

½ cup

shredded vegan parmesan

3 tbsp

flax meal

2 tsp

Italian seasoning blend

1¼ tsp

salt 

½ tsp

pepper 

½ tsp

garlic powder

½ tsp

onion powder

3 tbsp

fresh parsley, chopped

3 tbsp

olive oil

2 tbsp

tomato paste

2 tsp

red wine vinegar

½ cup

shredded carrots 
For Serving:
Pasta sauce of choice
Pasta or vegetable noodles of choice
Shredded parmesan for topping
Fresh parsley, chopped, for topping
---
Instructions
Preheat oven to 350F.  In a medium saucepan, cook the lentils (in vegetable broth or water) according to package directions. In a separate saucepan, cook the rice (in vegetable broth or water) according to package directions. 
Drain the cooked lentils of any excess water. Add the lentils and rice to a large mixing bowl, along with the breadcrumbs, oats, parmesan, flax meal, Italian seasoning, salt, pepper, garlic powder, onion powder, parsley, olive oil, tomato paste, red wine vinegar and carrots. Mix well with your hands until the mixture comes together when pressed. Let it sit for 15-20 minutes. Line a baking sheet with parchment paper. 
After resting, give everything one more mix. Using a tablespoon or cookie dough scoop, scoop the mixture into equal portions and roll them into evenly sized meatballs. Lay them on the prepared baking sheet. Bake for 25-30 minutes, until golden brown (check the bottom for browning first), rotating the sheet halfway through.
Serve over pasta with spaghetti sauce. Top with cheese and fresh parsley if desired. 
Prep Time:

30 minutes

Cook Time:

30 minutes

Category:

Dinner

Method:

Baked

Cuisine:

American
Nutrition
Serving Size:
Calories:

213

Sugar:

2 g

Sodium:

479.1 mg

Fat:

8.9 g

Saturated Fat:

2.5 g

Trans Fat:

0 g

Carbohydrates:

27.2 g

Fiber:

3.7 g

Protein:

6.2 g

Cholesterol:

0.2 mg
Keywords: vegan meatballs