That's right, the secret ingredient for these vegan meatless 'meatballs' in herbed tomato sauce is vegetable juice pulp! (Specifically, carrot and beet juice pulp.)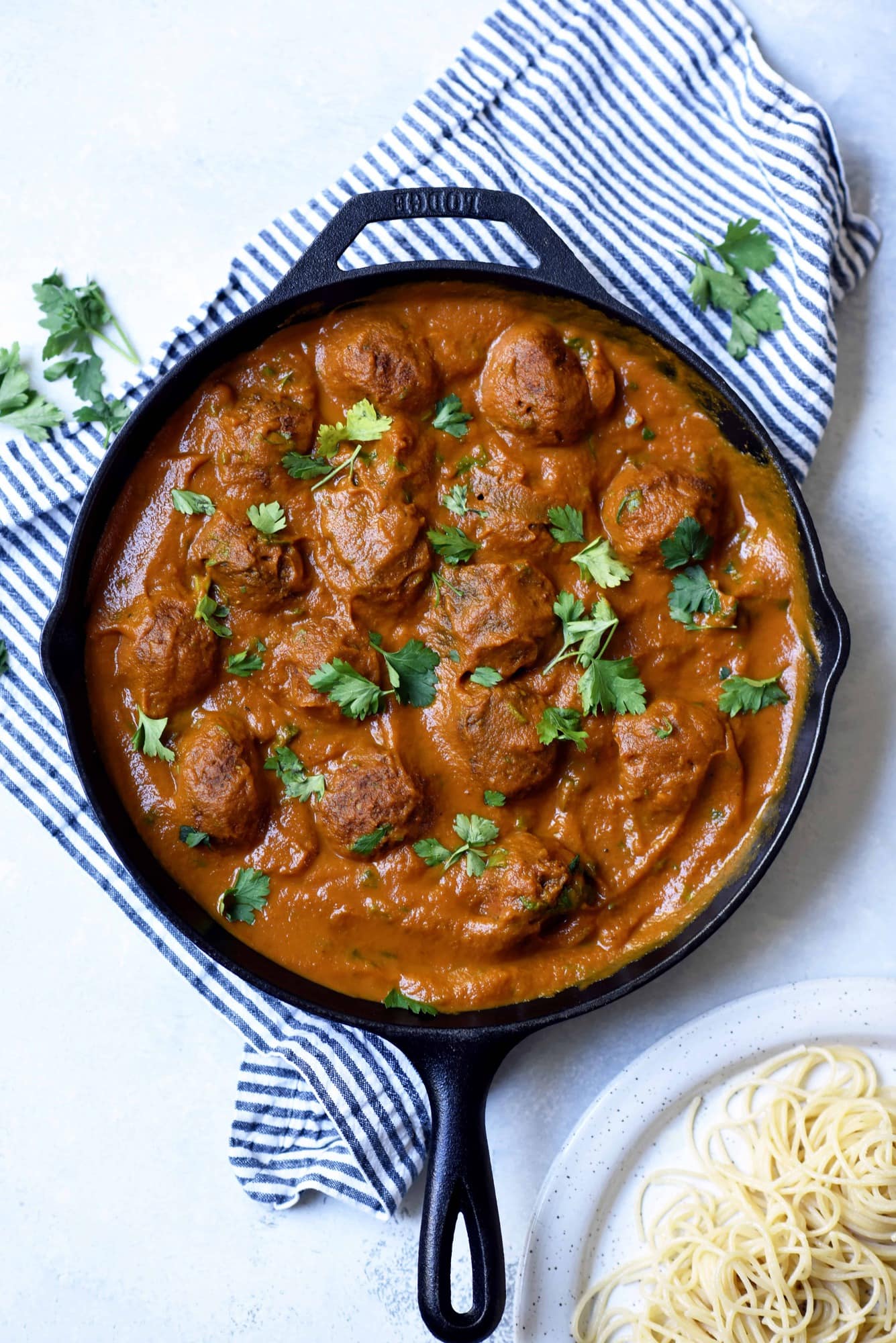 Cooking with Juice Pulp
We bought new juicer a few months ago and have since been juicing just about everything. But one thing we don't love about juicers is the amount of perfectly usable pulp they create. We've been working on some creative ways to repurpose that pulp, one of which obviously includes these vegan juice pulp meatballs!
Some pulps are not quite as useful as others. We have yet to find a use for citrus or berry pulp (let us know if you have any ideas). However, other juice pulps, like beet pulp, are easy to incorporate into recipes. We're currently working on a beet pulp "red velvet" brownie recipe and thus far, it's fantastic!! Fibrous vegetable pulp, like carrots, beets and leafy greens, is ideal for vegan meatballs because it's not too moist and binds well.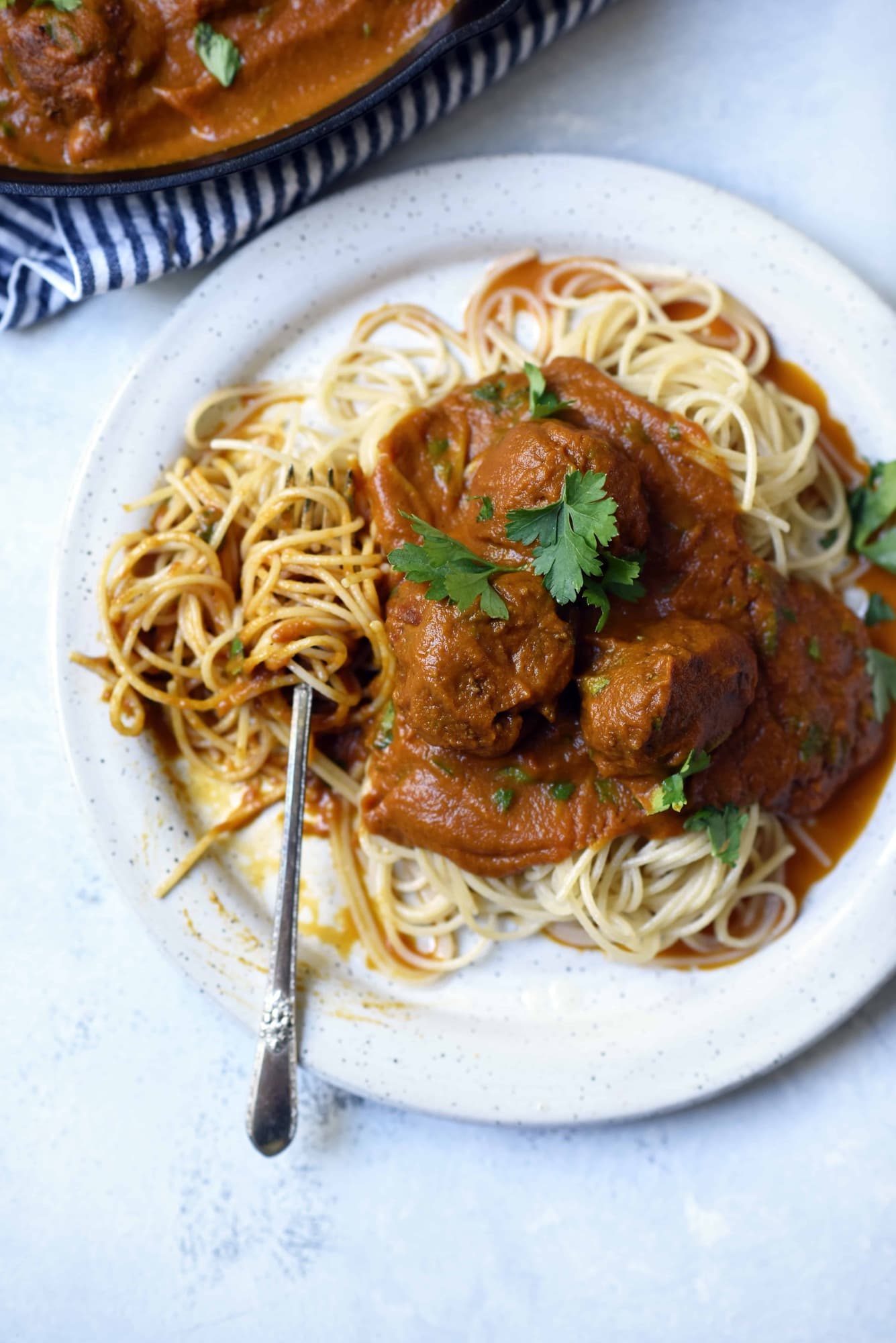 Side note: if you often juice vegetables, a simple way to use carrot and other dog-friendly pulp is to add it to your dog's regular food. Both of our dogs go absolutely crazy for vegetables (weird, I know), so it's a real treat for them. Be sure to read up on dog-friendly produce before you do this. Tomatoes, grapes, avocado, some stone fruits, and rhubarb are all toxic to dogs.
In addition to vegetable pulp, these 'meatballs' are full of nourishing plant-based ingredients, like mushrooms, leeks, garlic, lentils, walnuts, nutritional yeast, and plenty of herbs and spices. We've also included the recipe for our homemade herbed tomato sauce, which is a perfect complement to spaghetti and 'meatballs'.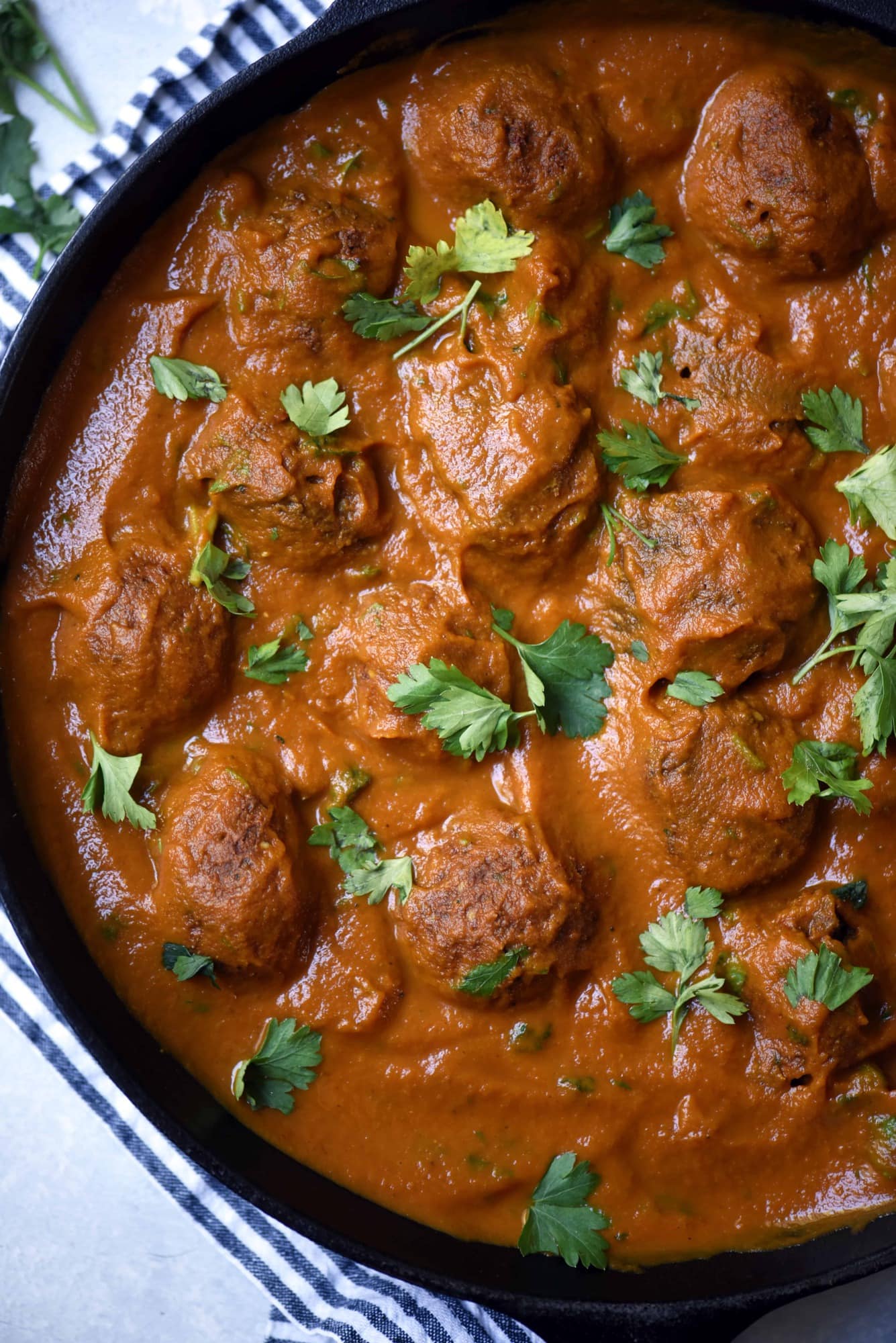 Eating Root to Stem
As we mentioned in our post the other day, we've been working on reducing food waste this year. We originally juiced carrots (and beets) for a cocktail. Then we used the carrot tops for this homemade vegan pesto. And Finally, we're using the leftover juice pulp for these meatballs. At the end of the day, we used the whole bunch of carrots from root to stem. Of course, it's not always easy or practical to do so, but it can be fun to challenge yourself to get the most out of your produce!  
A Few Cooking Notes
Please note that these most definitely work best when oven-baked. Although you traditionally cook meatballs on the stove, these juice pulp meatballs are a bit more fragile in their uncooked state and can fall apart when cooked in a pan. While the mushroom mixture adds an extra step to the recipe, it's worth the time spent. Mushrooms contribute that rich, umami flavor that helps mimic meatiness. The homemade tomato sauce is, of course, optional. If you're pressed on time, use your favorite store-bought version instead.
And for our complete how-to guide on cooking with flax eggs, see here!
Print
📖 Recipe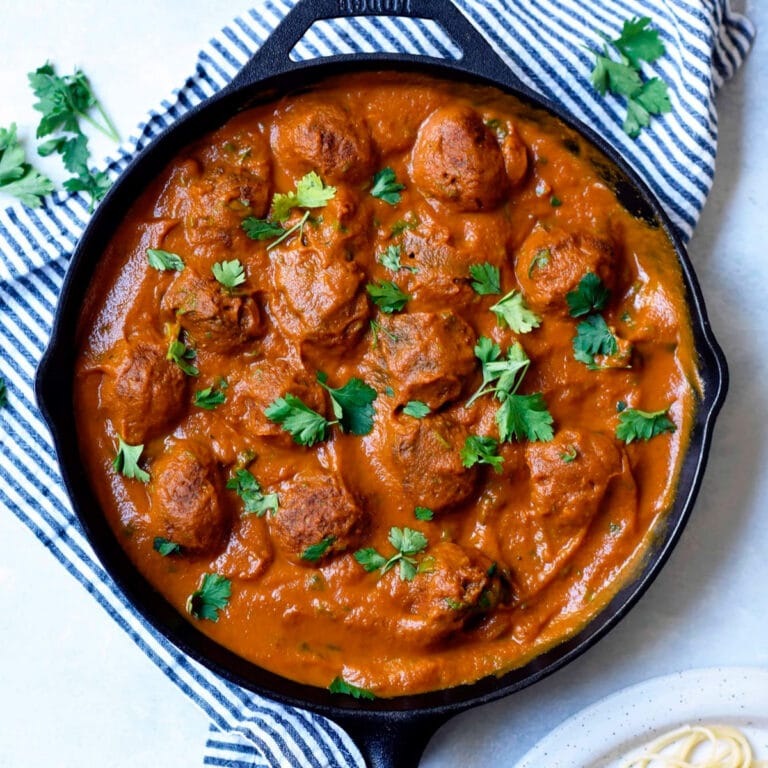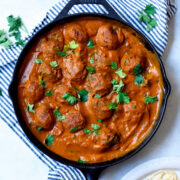 Vegan (Juice Pulp) 'Meatballs'
---
Author:

Lexi

Total Time:

1 hour 30 minutes

Yield:

Serves

4

-6

1

x

Diet:

Vegan
Description
These meatless juice pulp meatballs (what else are we supposed to call them - veggie balls?) are made with leftover vegetable juice pulp and served in a homemade tomato sauce.
---
Mushroom mixture:
¼ cup

olive oil

3

cloves garlic, minced

1

leek, washed very well and diced

1 cup

shiitake mushrooms, thinly sliced

1 cup

button mushrooms, thinly sliced

1

fennel bulb, sliced

¼ cup

chopped fresh parsley

½ tsp

salt

¼ tsp

pepper
Meatballs:
2

flax eggs (For each egg:

1 tbsp

flax meal to

2 tbsp

water)

¾ cup

cooked lentils

½ cup

carrot pulp

½ cup

beet pulp

½ cup

walnuts

5 tbsp

nutritional yeast

½ cup

breadcrumbs (we used these chickpea breadcrumbs)

3 tbsp

sweet rice flour

2 tbsp

hemp seeds

2 tbsp

flax meal

1 ½ tsp

salt

1 tsp

pepper

1 ½ tsp

dried basil

1 ½ tsp

dried oregano

2 tsp

lemon juice

½ tsp

turmeric powder

⅛ tsp

cayenne
Tomato Sauce:
3 tbsp

olive oil

1 cup

yellow onion, finely diced

3

cloves garlic, minced

2

stalks of celery

2

carrots

3

26 oz canned or boxed whole tomatoes

2 tbsp

tomato paste

⅓ cup

chopped parsley +

3 tbsp

reserved for end

2 tbsp

fresh basil

1 ½ tsp

dried oregano

1 ¼ tsp

salt

½ tsp

turmeric

½ tsp

pepper
Pinch cayenne pepper

1 ½ tsp

agave syrup

1 ½ tsp

lemon juice

¼ cup

dry red wine

3 tbsp

chopped parsley
---
Instructions
Mushroom mixture:
Heat oil over medium heat and sauté leek and garlic for 5-6 minutes or until translucent.
To prep fennel, trim off the fennel stalks, cut in quarters, and remove any wilted outer layers. Slice thinly and add to pan with leek and garlic. Cook additional 5 minutes, stirring occasionally.
Add mushrooms, parsley, salt, and pepper.  Cook until fennel and mushrooms are softened, about 10 minutes. Remove from heat and set aside.
Meatballs:
Spread pulp out on paper towel-lined tray to soak up some moisture while preparing the rest of your ingredients.
Heat oven to 350 F and line a large cookie sheet with parchment paper.
Cook lentils according to packaging and drain.
Prepare flax eggs and let thicken for 15 minutes, stirring several times.
Add all of ingredient, including the mushroom mixture, to food processor. Pulse several times and use a spatula to scrape down sides. Repeat this process as many times as needed until well mixed.
Using a cookie scoop to ensure similar sizing, form into 'meatballs' and place on parchment-lined baking sheet. Bake for 25-30 minutes until they brown a little on bottom, harden on outside, and firm up in the middle.
Sauce:
Heat olive oil in stock pot over medium heat.
Add onions, garlic, celery, and carrots and cook for 7-9 minutes, or until softened and translucent.
Add all additional ingredients with exception of extra parsley.  Simmer over medium-low heat for 45-50 min.
Remove from heat and (carefully) transfer sauce to blender). Depending on the size of your blender, you may need to blend in two portions.
Once well blended, return sauce to pan and add remaining 3 tablespoon of fresh parsley.
Add 'meatballs' to pan and lightly toss to coat. Serve over spaghetti or other pasta of choice.
Notes
If pressed on time, skip the homemade sauce and use your favorite store-bought version.
Prep Time:

30 minutes

Cook Time:

1 hour

Category:

Dinner

Method:

Oven, Stovetop
Nutrition
Serving Size:
Calories:

546

Sugar:

19.4 g

Sodium:

1436.6 mg

Fat:

27.9 g

Saturated Fat:

3.6 g

Trans Fat:

0 g

Carbohydrates:

62.1 g

Fiber:

14.9 g

Protein:

18.6 g

Cholesterol:

0 mg