There's nothing better than homemade ice cream. This homemade Vegan Oatmeal Cookie Dough Ice Cream really takes the (ice cream) cake, and it's also gluten free! Not ashamed to say I could easily eat this whole batch in one sitting…anyone else?!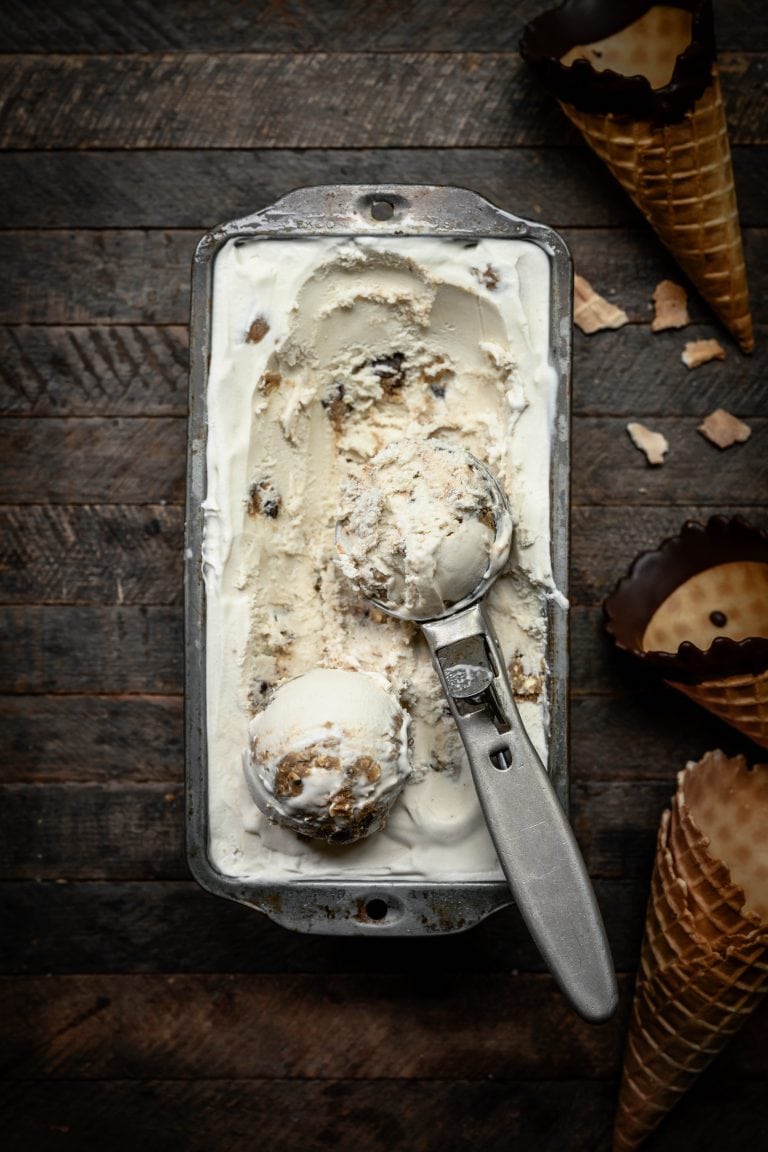 Ice cream will always and forever hold the #1 spot in my heart in the best desserts category. Cookies come in a close second, so cookie dough ice cream is perhaps not surprisingly my favorite ice cream flavor. Cookie dough has always been my favorite; growing up, I probably chose it 8 out of 10 times. Although my tastes have somewhat broadened, I'll still choose cookie dough at least twenty-five percent of the time.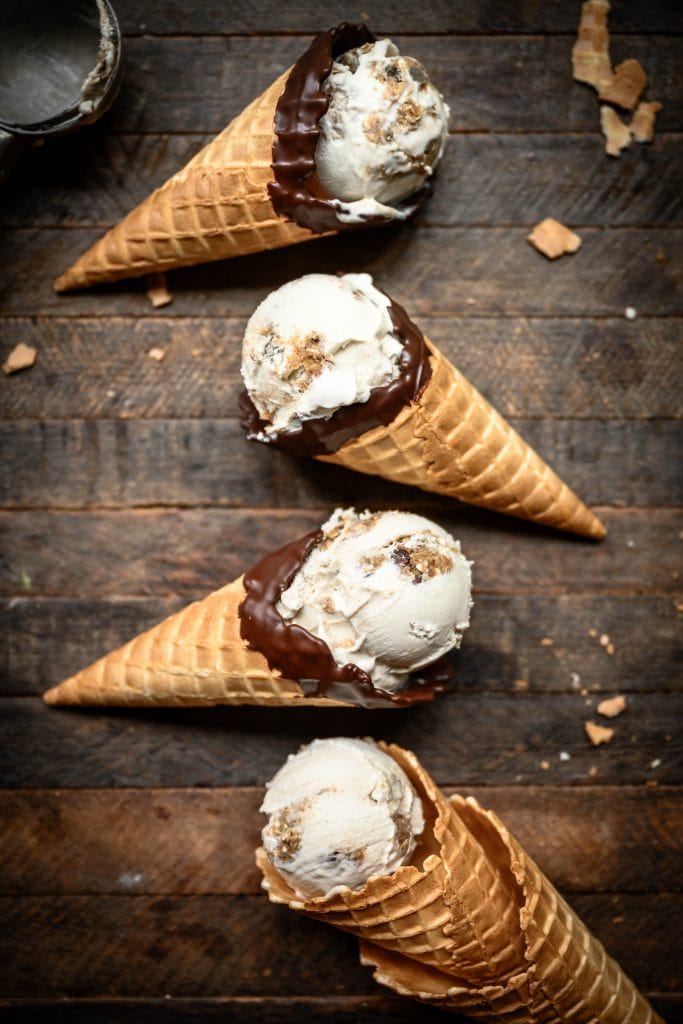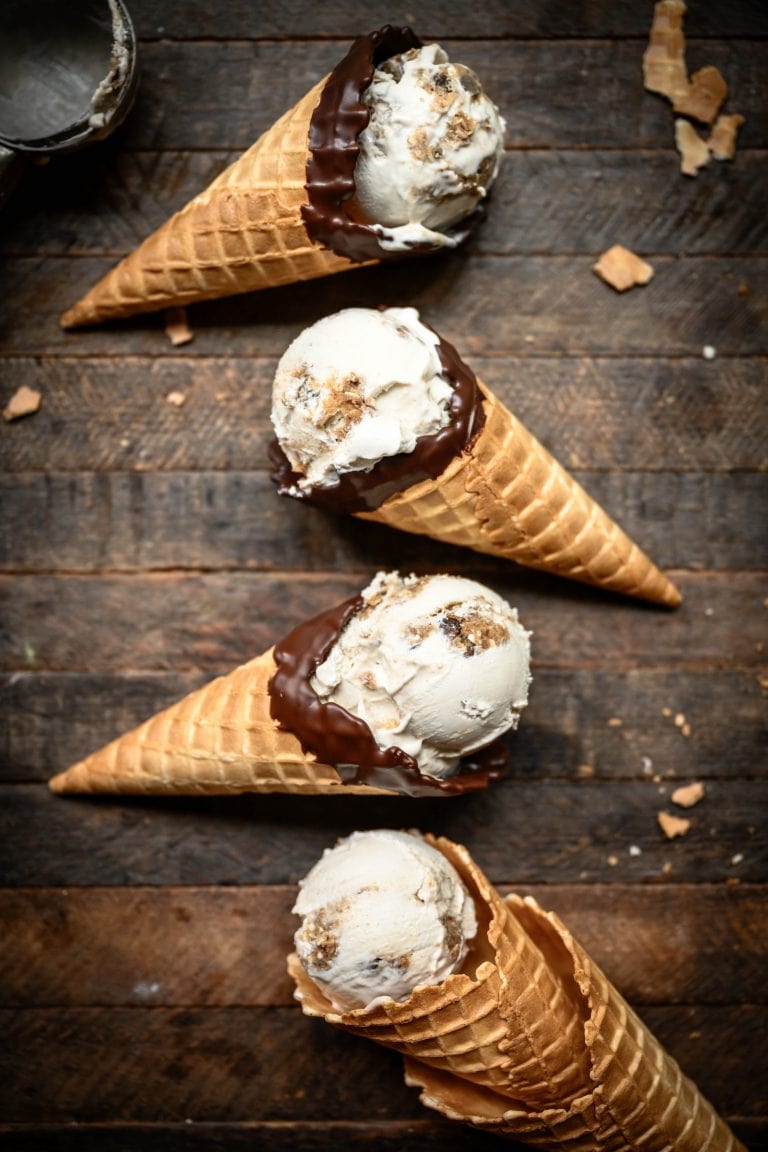 Our top picks for store-bought vegan ice cream
Because there aren't very many vegan/gluten free ice cream shops in southeast Michigan, we usually prefer to make it on our own. That being said – there are some really fantastic store-bought vegan/gluten free ice creams. You can definitely trust my opinion on these – every time I see a new brand hit the shelves, I try it immediately. (Hey, I'm a dedicated ice cream enthusiast!) Here are a few of my favorites (not at all sponsored, I just feel obligated to spread the ice cream love):
Luna + Larry's Coconut Bliss – I adore their entire line of vegan and gluten free ice creams. So creamy, rich, delicious and made with high-quality ingredients!
Cado Ice Cream – these avocado-based ice creams are a new favorite in our house. They contain fewer calories and less sugar than standard ice cream and the texture is unbelievable! You can find my husband scarfing down an entire pint of their chocolate flavor in one sitting, while I'm partial to their Java Chip.
So Delicious Oatmilk Ice Cream – I love all So Delicious ice cream products, but I'm really loving their new line of oatmilk ice cream in particular. They actually have this same flavor (oatmeal cookie dough), so if you're feeling lazy but still craving this ice cream, I'd suggest picking up a pint!
If you're reading this, you're probably considering making your own vegan ice cream from scratch, so let's chat about that.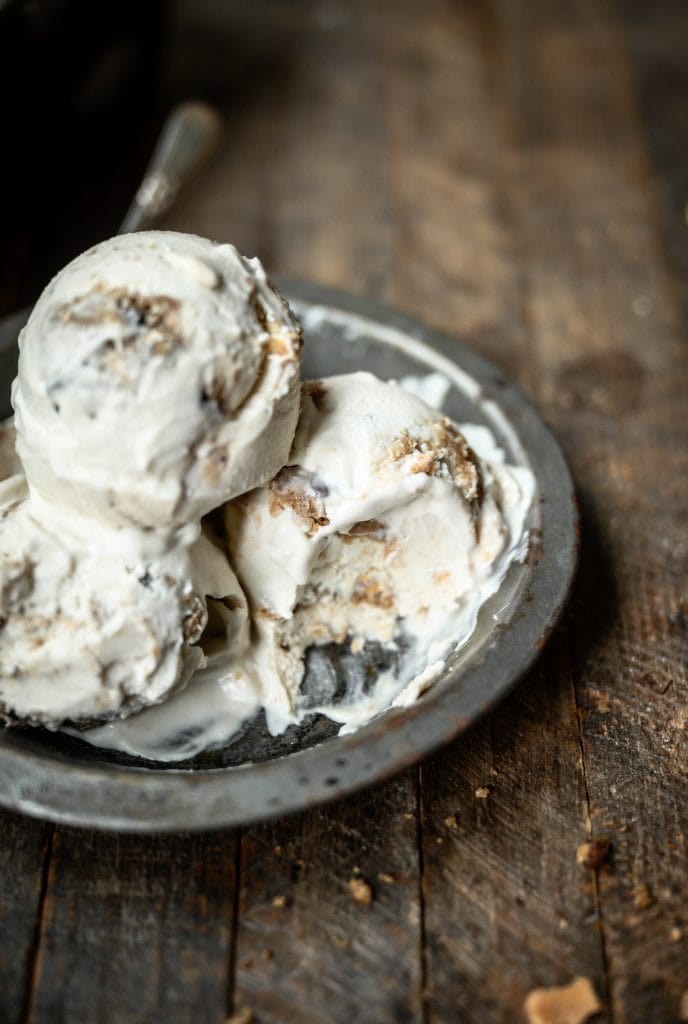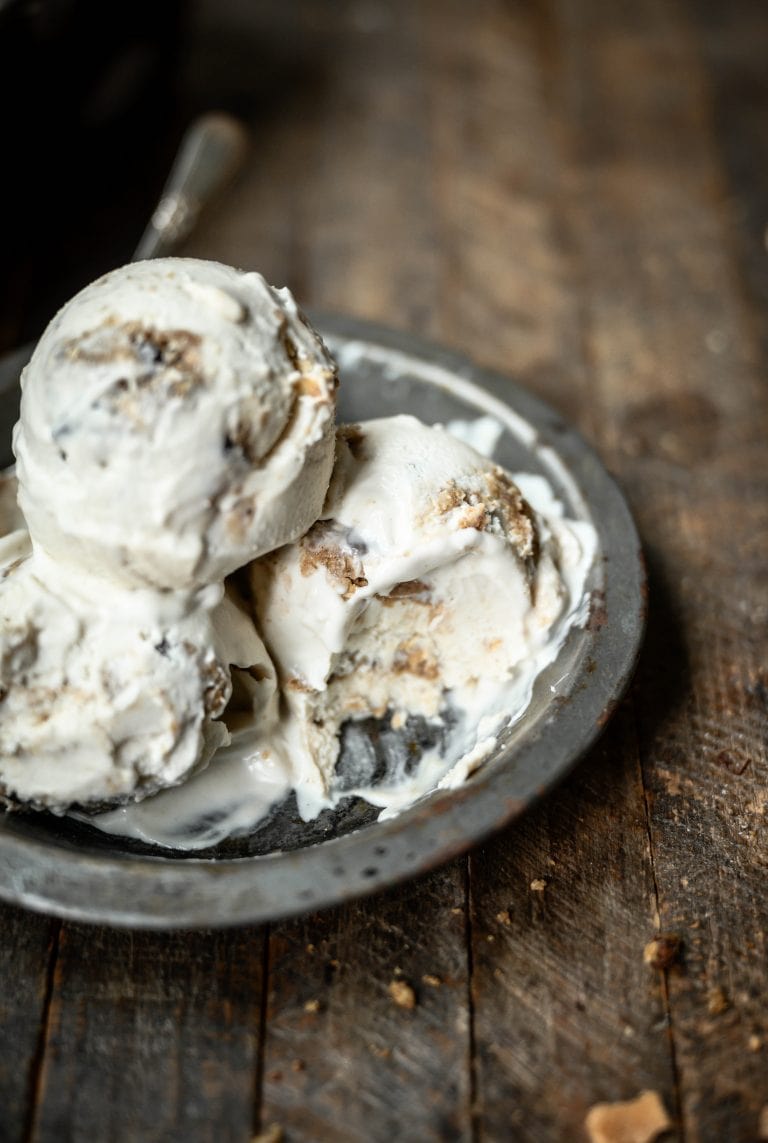 How to make homemade vegan cookie dough ice cream
If you want to keep it super simple, you can make just about any vegan ice cream base with a can of full fat coconut milk, sweetener and some add-ins. For an extra creamy texture, we add in soaked cashews in addition to full fat coconut milk. The final result is a luxuriously smooth, mousse-like ice cream – it's especially creamy in a soft-serve state. For sweetener, we typically opt for maple syrup. You can also use agave nectar, date syrup,, coconut sugar, etc. The only other base ingredients are a touch of *good vanilla* (said in the voice of Ina Garten) and a pinch of salt.
To prepare the base, we simply blend everything until smooth and creamy in our high speed blender. Then, simply pour into your ice cream maker and let it do its thing. We use this Breville ice cream maker; it's a little pricey, but we make ice cream so often that it's well worth the price tag. There are plenty of more affordable options under $100. Just make sure you do your research & read reviews before purchasing – some really do not work well.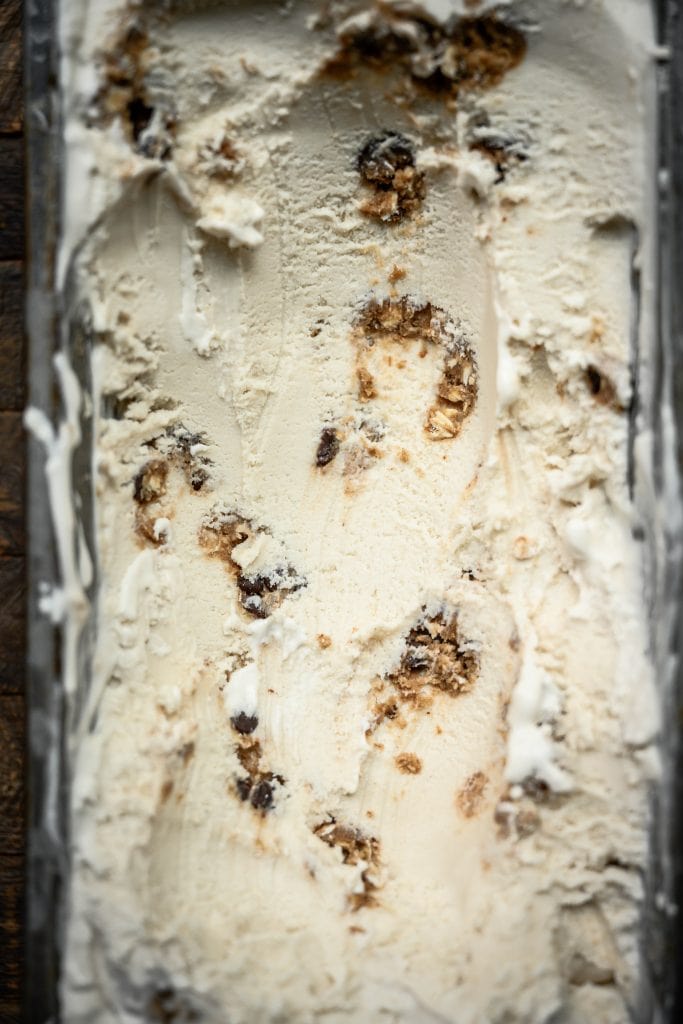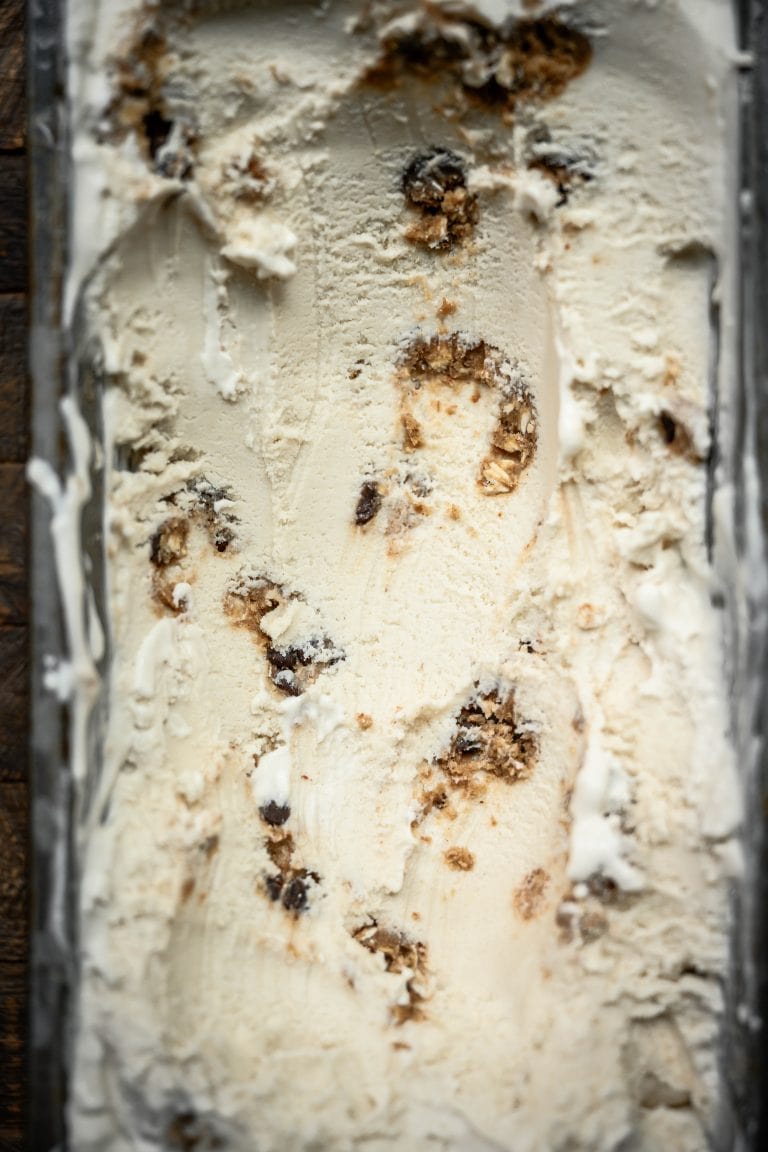 Fold in your cookie dough bites
Now onto the most important part of the recipe: COOKIE DOUGH. To make things super easy, we whipped up a batch of our favorite oatmeal chocolate chip cookie dough. Since it doesn't contain any eggs, you can eat it raw without any issues. It's the perfect texture for rolling into balls (see below), which is how we prep it for this ice cream. We suggest making a half batch of the dough, but if you make a full batch, simply bake any leftovers into regular cookies. (Hint: they make for a great ice cream sandwich!!)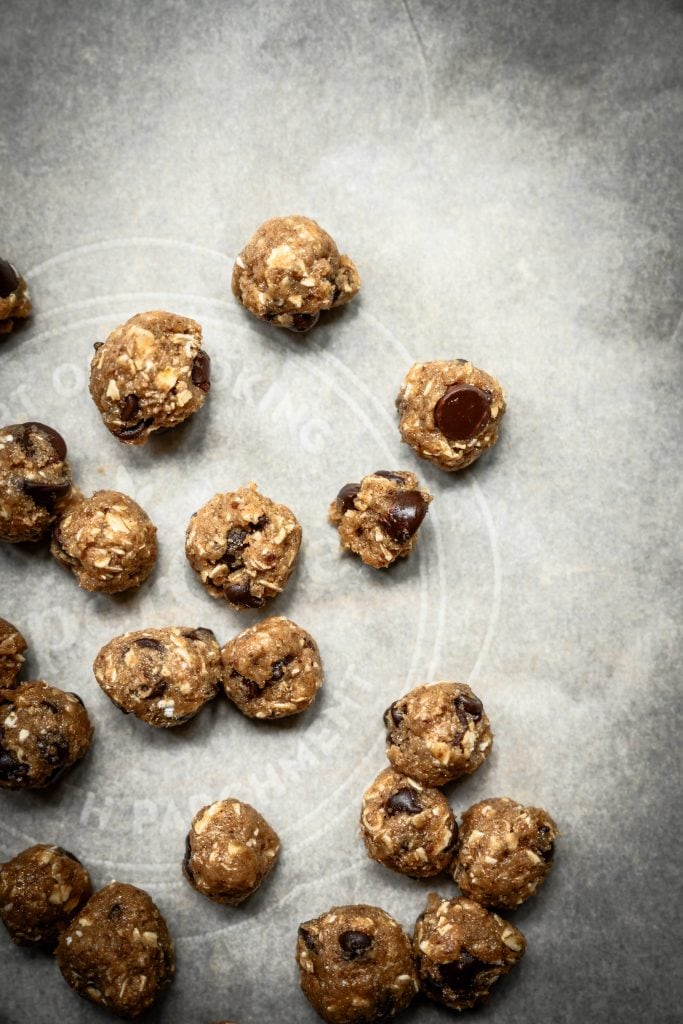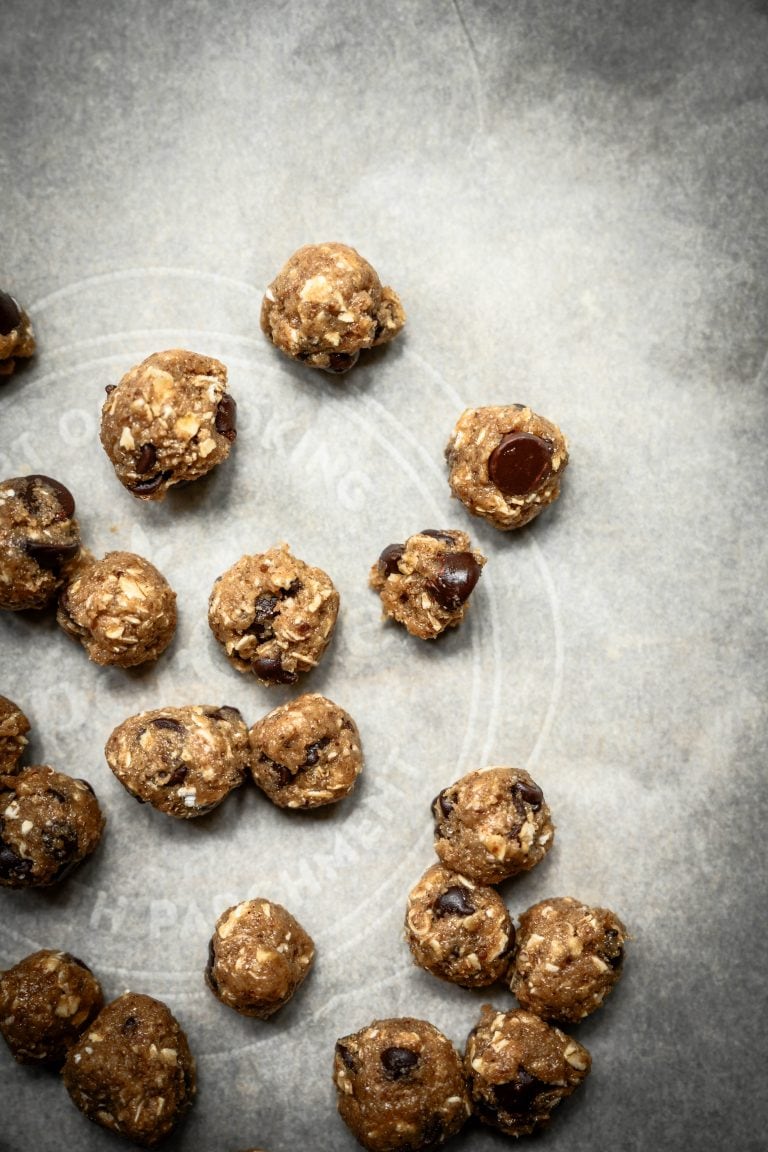 Roll the cookie dough into small balls with your hands. They can be slightly different sizes – it doesn't really matter. Then, freeze them for 15-20 minutes (while the ice cream is churning). Most ice cream makers will instruct you to add the cookie dough in while it's still churning, but we prefer to fold it in afterwards. I usually transfer the churned ice cream to a bowl, fold in the cookie dough bites with a spatula, then transfer to the freezer container. The folding technique means you'll end up with larger bites of cookie dough, which is obviously the best part of cookie dough ice cream.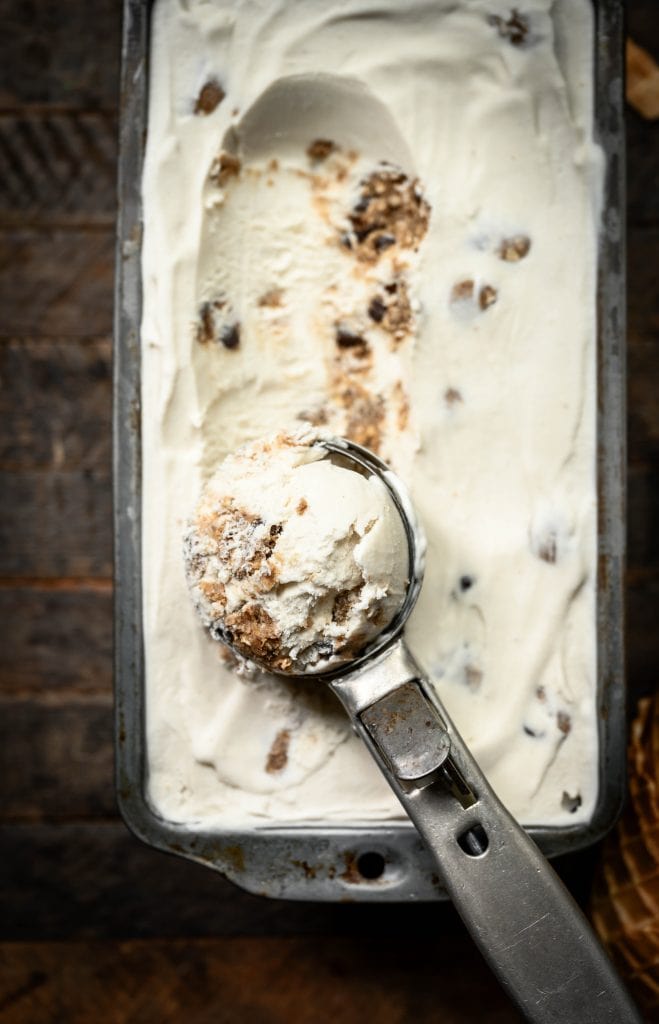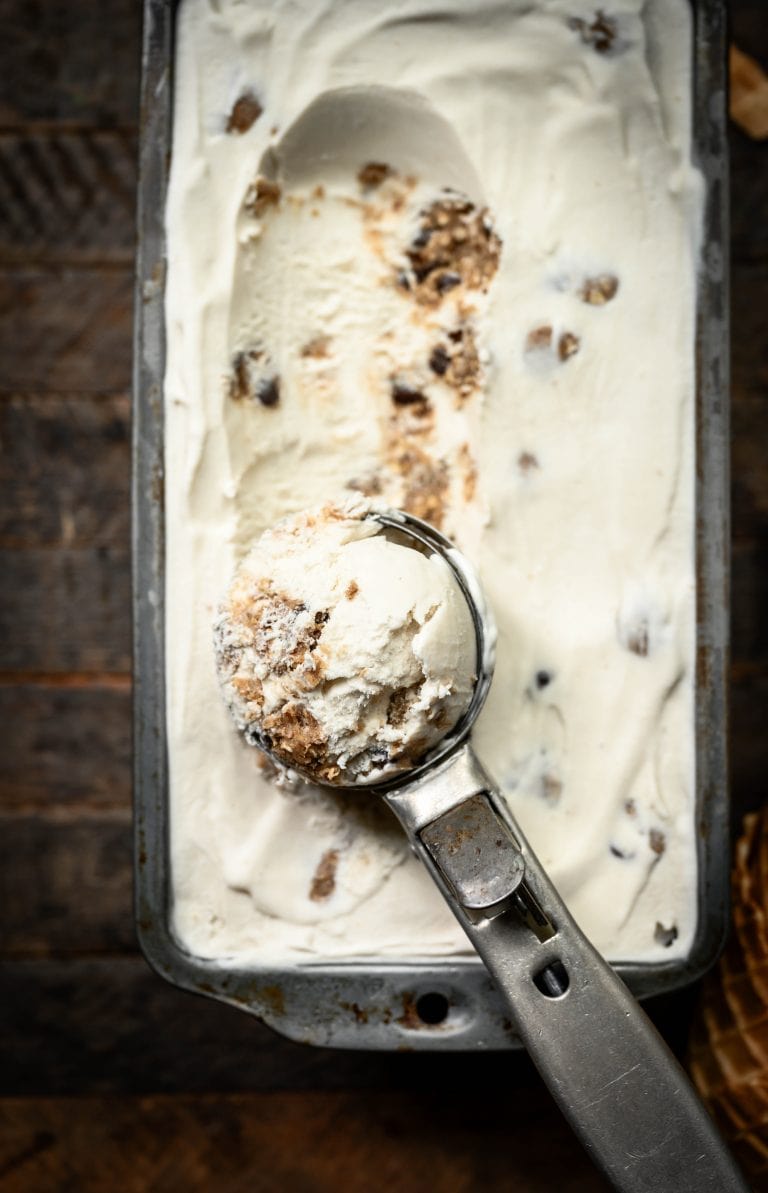 Our favorite vegan ice cream recipes
Now that you have everything you need to whip up a batch of homemade vegan cookie dough ice cream, here are a few more recipes to try:
And, of course, some cookies for making ice cream sandwiches (all vegan and gluten free):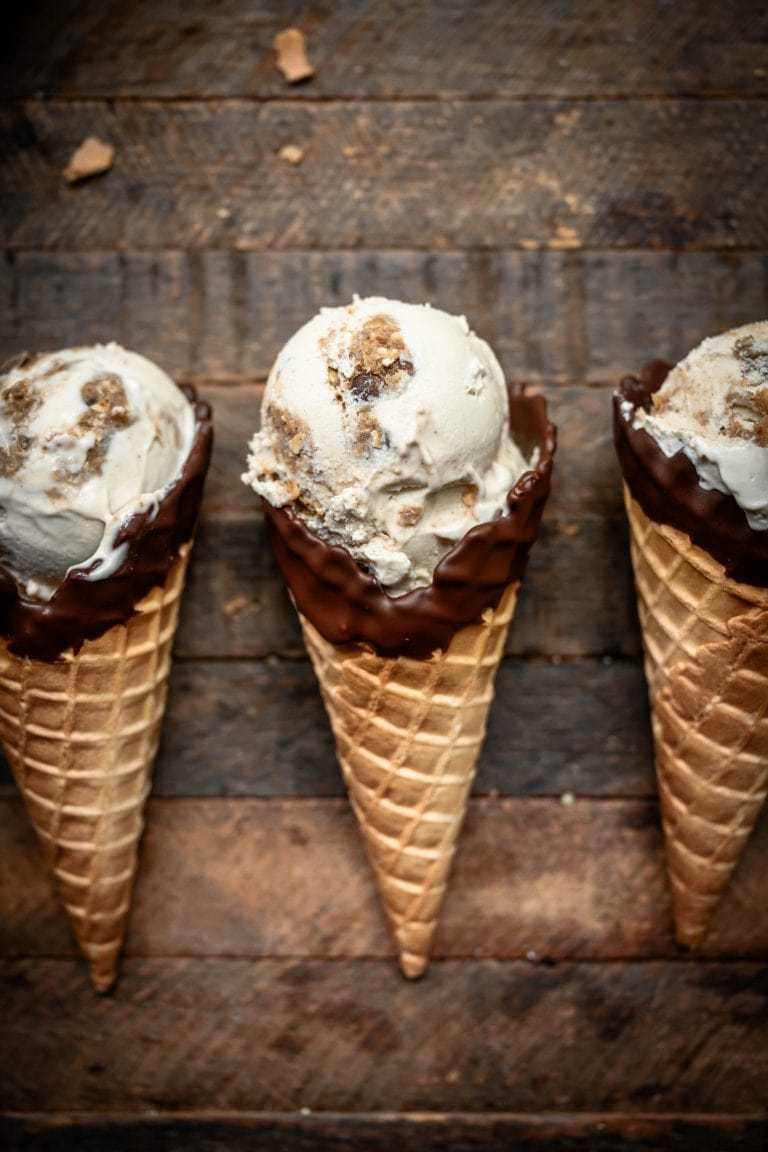 Print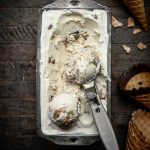 Vegan Cookie Dough Ice Cream
Author:

Prep Time:

10 minutes

Cook Time:

60 minutes

Total Time:

1 hour 10 minutes

Yield:

8

servings

1

x

Category:

Dessert

Method:

Frozen

Cuisine:

American
---
Description
There's nothing better than homemade ice cream. This homemade Vegan Oatmeal Cookie Dough Ice Cream really takes the (ice cream) cake, and it's also gluten free!
---
Scale
Ingredients
Ice Cream Base:
1

can full-fat coconut milk

1 cup

cashews, soaked for

1

–

2

hours in room temp water

1/4 cup

maple syrup

1 1/2 tsp

vanilla extract

1/4 tsp

fine kosher salt
Cookie dough:
---
Instructions
Ice Cream:
Soak cashews for 2 hours in room temp water. Drain and rinse. 
Cool ice cream maker. 
In a blender, combine all ice cream ingredients. Blend until smooth and creamy. 
Pour into ice cream maker and start cycle. 
Meanwhile, prep cookie dough. Roll into small balls and freeze while ice cream is finishing. 
When ice cream is finished, transfer to a bowl or freezer container and fold in cookie dough pieces. Transfer to freezer container and freeze until set – about 2 hours. 
---
Notes
You can substitute agave nectar for maple syrup if preferred.