We're out of town this weekend and had to use up most of our produce before leaving. Hence two recipes featuring rhubarb in a row. I'm a bit partial to this sweet rhubarb berry smoothie bowl though. My fiancé and dad will be at home all weekend. But last time we left them alone, they only cooked twice in the entire two-week span and didn't use anything we left them, of course.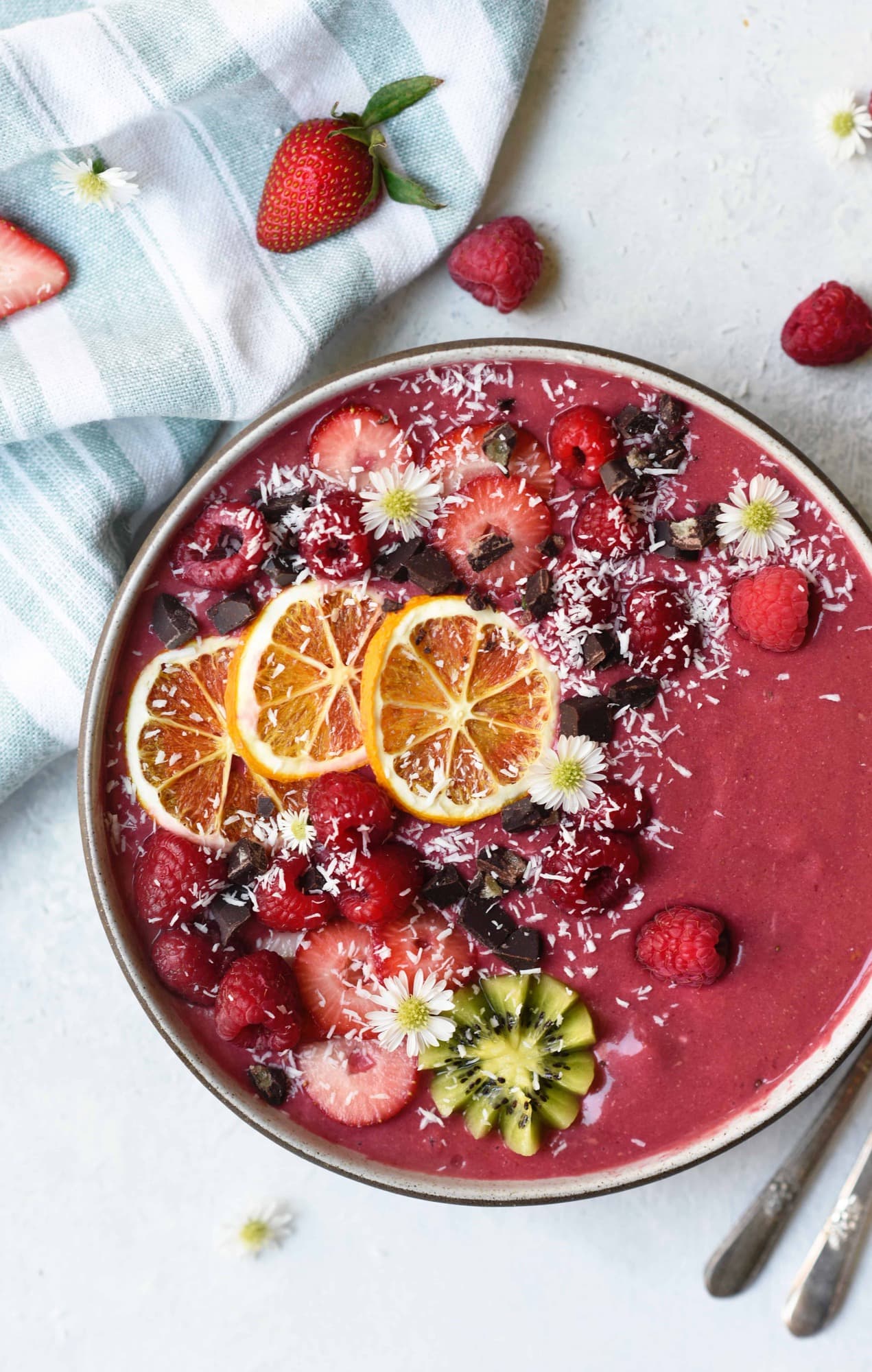 We were super excited to see rhubarb in our local market this week! Even though the current weather doesn't scream Spring, seasonal produce gives us hope. Earlier in the week, we went to pick up rhubarb for this smoothie but someone had just come in and purchased the store's entire stock. Clearly there's someone out there in West Bloomfield, Michigan that's even more enamored with rhubarb than us. Rhubarb Lady, if you're reading this, please bring us a pie!
To use up the rest of our rhubarb supply, we had to get a bit creative. We'd already made a strawberry rhubarb crumble, strawberry rhubarb salsa (probably my favorite!), yesterday's Strawberry Rhubarb Daiquiri, and a few other random applications. But we'd never tried it in a smoothie (until now, of course). You'll need to steam the rhubarb before using. To be fair, we didn't test it raw, but something tells me it wouldn't be all that tasty.
We almost always add a healthy fat to our smoothie bowls since we eat them as a meal. My typical smoothie bowl situation includes frozen bananas, frozen berries and an assortment of #superfood powders. Plus, I always add an extra large* serving size of nut butter (usually peanut) and granola for topping. (*Does anyone actually follow the serving suggestion when it comes to nut butter??) We topped this rhubarb berry smoothie, with dehydrated Meyer lemon, fresh berries, coconut, and FlavaNaturals dark chocolate for antioxidants. But it's really up to you and your preferences.
Print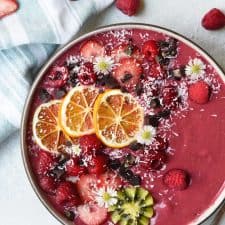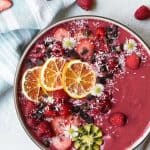 Rhubarb Berry Smoothie Bowl
---
Author:

Prep Time:

5 minutes

Cook Time:

5 minutes

Total Time:

10 minutes

Yield:

One serving
Scale
Ingredients
1

banana (frozen or fresh

1 cup

fresh rhubarb, sliced

1 cup

frozen strawberries

1 cup

frozen raspberries

2 tbsp

coconut water

1 tsp

lemon juice

1 1/2 tbsp

cashew butter (or other nut butter)

1

-

1/2

tsp green powder (optional)

2 tsp

agave or maple syrup (optional)
pinch sea salt (optional)
---
Instructions
Steam 1 cup sliced rhubarb for 2 minutes to soften so it blends better.
Add all ingredients to blender and blend until smooth. Pour into bowl and top with whatever your heart desires!
---