These Vegan Zucchini Fritters topped with a dollop of dairy-free Lemon Cashew Cream sauce are an easy way to use up your (or your neighbor's) zucchini bumper crop. Bonus: they're gluten-free thanks to chickpea flour!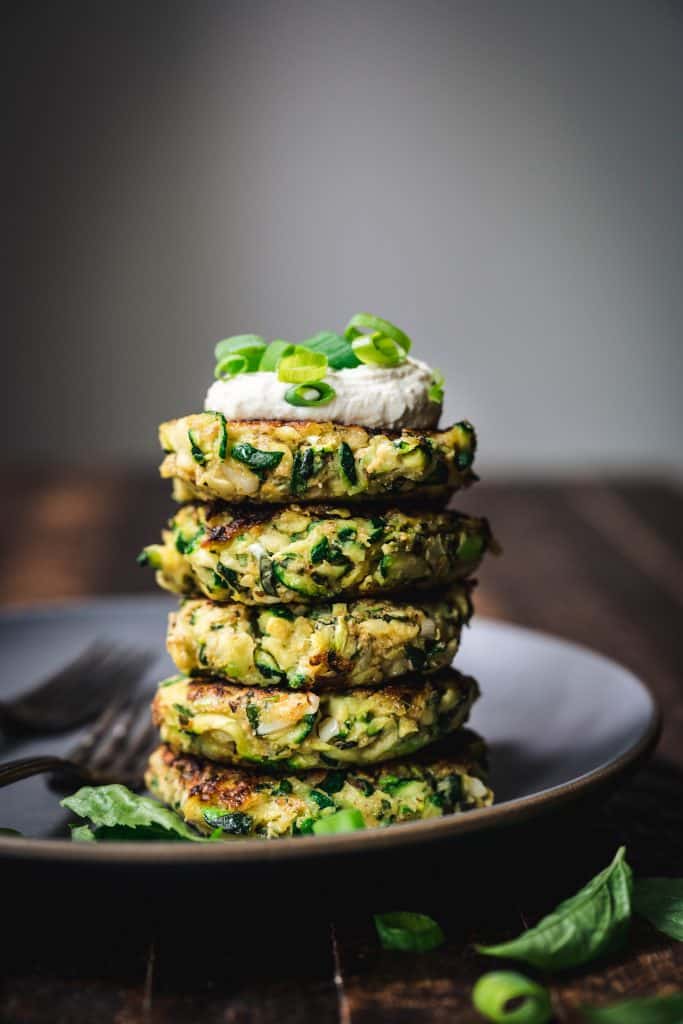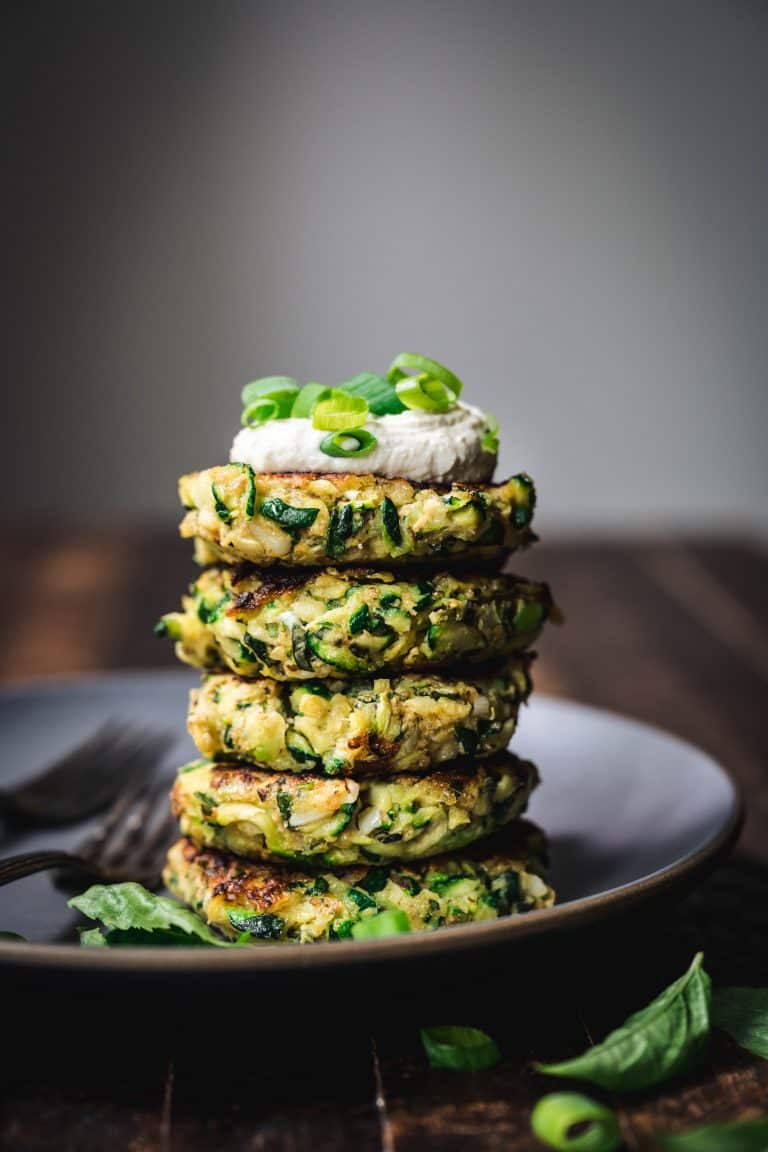 Summer means that gardens across the US are bursting with deep green zucchini. In Vermont, my mom grows a pretty large vegetable garden. By July, we're feasting on peppers, sweet tomatoes, onions, garlic, you name it. But two of the most prolific crops every year are cucumbers and zucchini.
If you grow zucchini, you've probably had this experience. You go out early in the morning to harvest everything. There are a few good medium-sized zucchini. You keep searching, but decide that the rest are a little too small to pick.
The next morning, you do it all again. Except searching through that zucchini plant, suddenly there's a MASSIVE baseball bat sized vegetable. How did you miss it yesterday? It's huge!
Big might be better when it comes to fat and juicy tomatoes or thick onions. But it's not always the best sign of a flavorful squash. Big often means watery. And full of large seeds. These aren't the zucchini you want to spiralize into zucchini noodles (but save your smaller ones for these Zucchini Noodles with Almond Butter Sauce).
However, big zucchini still make excellent meals. When we have a really large one, we like to shred it up. Then, we'll use it for zucchini bread, muffins, or this simple and crispy vegan zucchini fritter recipe.
Here's how to make the most of your giant zucchini.
First, salt your zucchini and soak your cashews
These vegan zucchini fritters come together quite quickly. However, for best results you'll do a bit of pre-work for the batter and lemon cashew cream.
How to soak zucchini for crispier fritters
As with most zucchini recipes, we recommend salting your squash and wringing out as much moisture as possible before cooking. That's especially true if you're working with a huge one. The bigger the squash, the more liquid it contains. And the more liquid, the less crispy your fritters will get.
For these fritters, you'll first grate the zucchini on a box grater or in your food processor. Then, you can add all the grated squash directly to a clean dish towel and sprinkle it liberally with salt.
Let it sit for up to 30 minutes, and at least 10 minutes. After that, simply fold up the dish towel and wring out as much liquid as possible over the sink. You might be surprised by how much water comes out. All of that is liquid that won't be sogging up your fritters!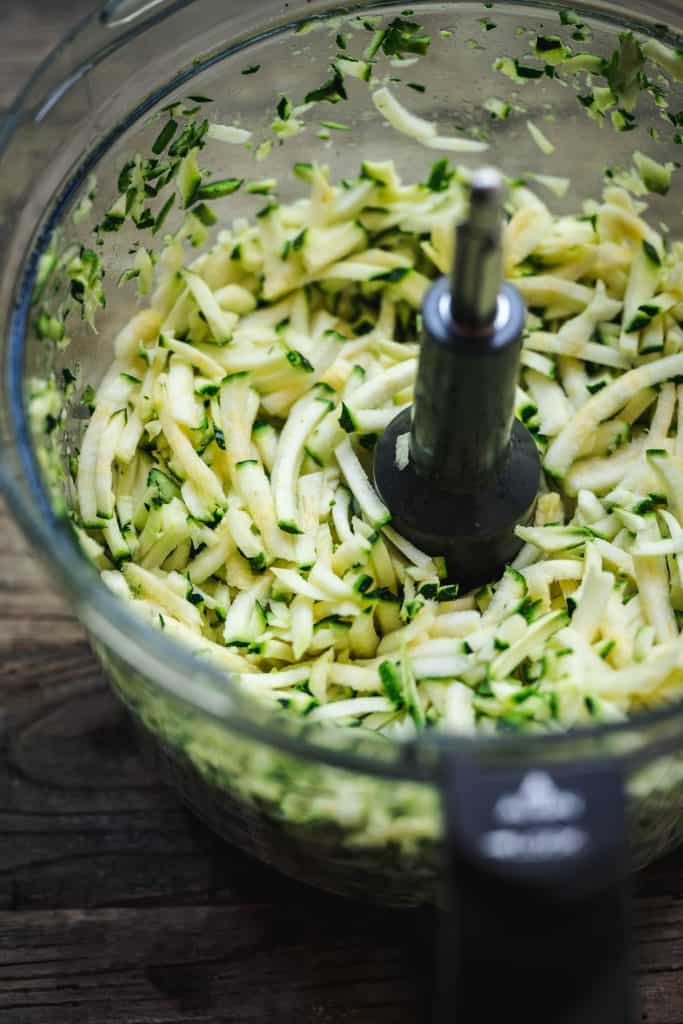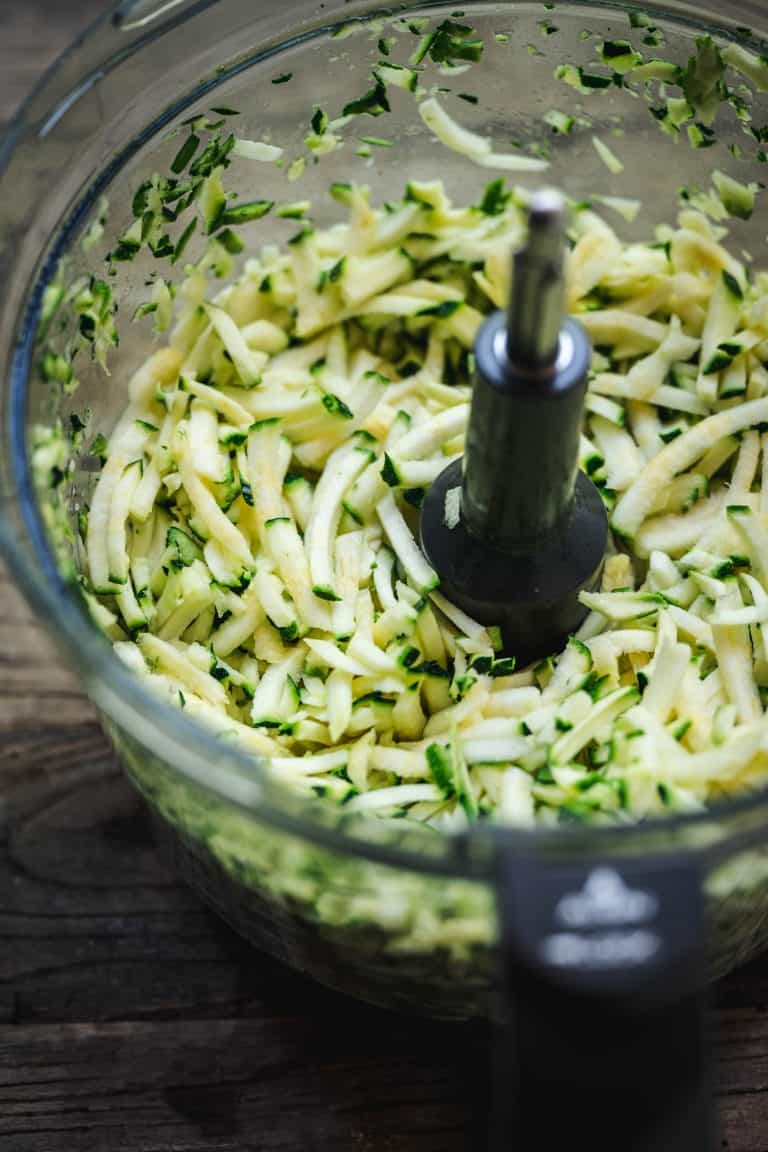 How to prepare cashews for vegan cashew cream sauce
The vegan lemon cashew cream in this recipe also needs a bit of prep. Luckly, it's mostly hands-off. Simply soak one cup of raw cashews in room temperature water. The longer you can let them soak, the creamier your lemon cream sauce will get. We recommend soaking your cashews for at least an hour, and up to four.
Soaking softens up the nuts so they break down into an ultra creamy whipped dip to top your fritters.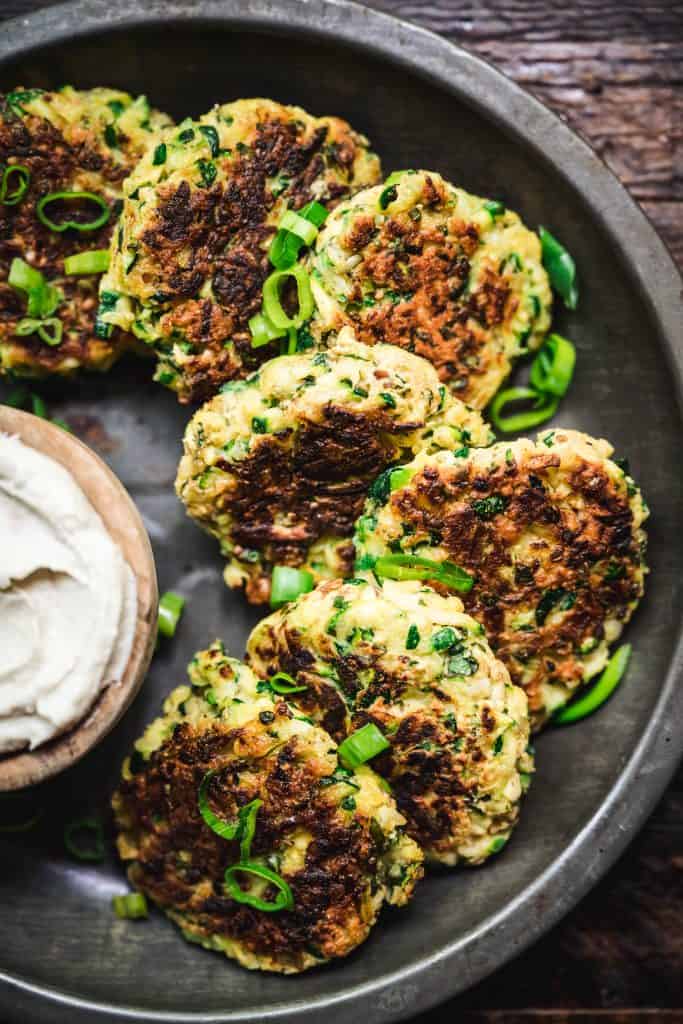 How to make the best vegan cashew cream sauce
If possible, we recommend blending your vegan cashew cream sauce in a small blender or food processor. We use this one from BlendTec.
Or, you could make a double batch of cashew cream in a regular-sized blender. If the blender is too large for the amount of cashews, the sauce won't thicken up well. It might be a little chunky. However, a double (or larger) batch is never a bad idea. The vegan cream sauce freezes well and it's great to have on hand to top weeknight dinners.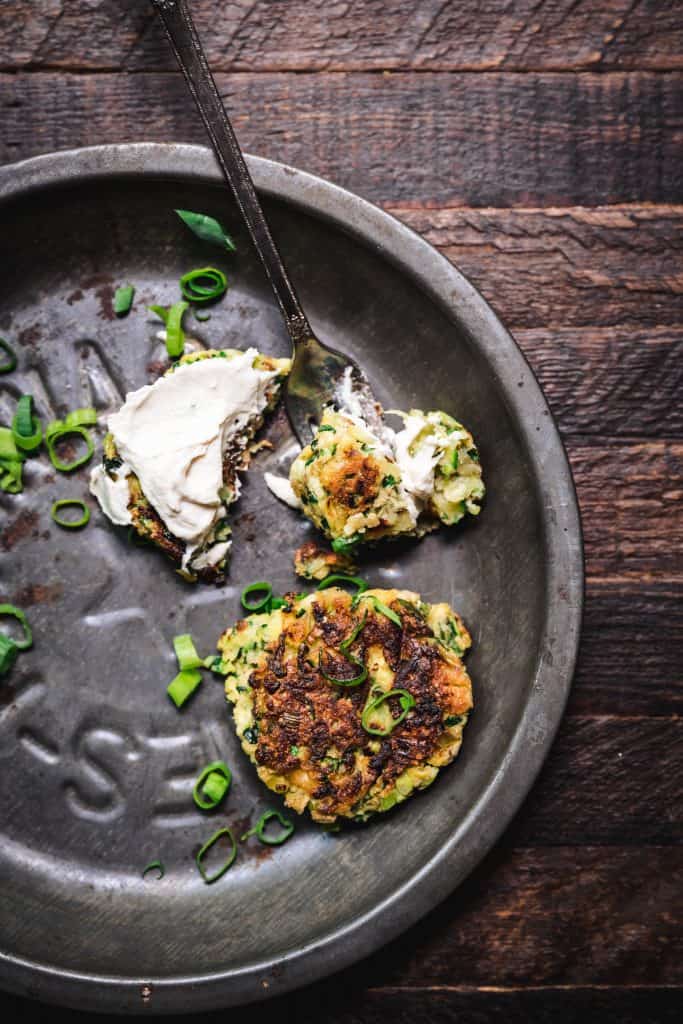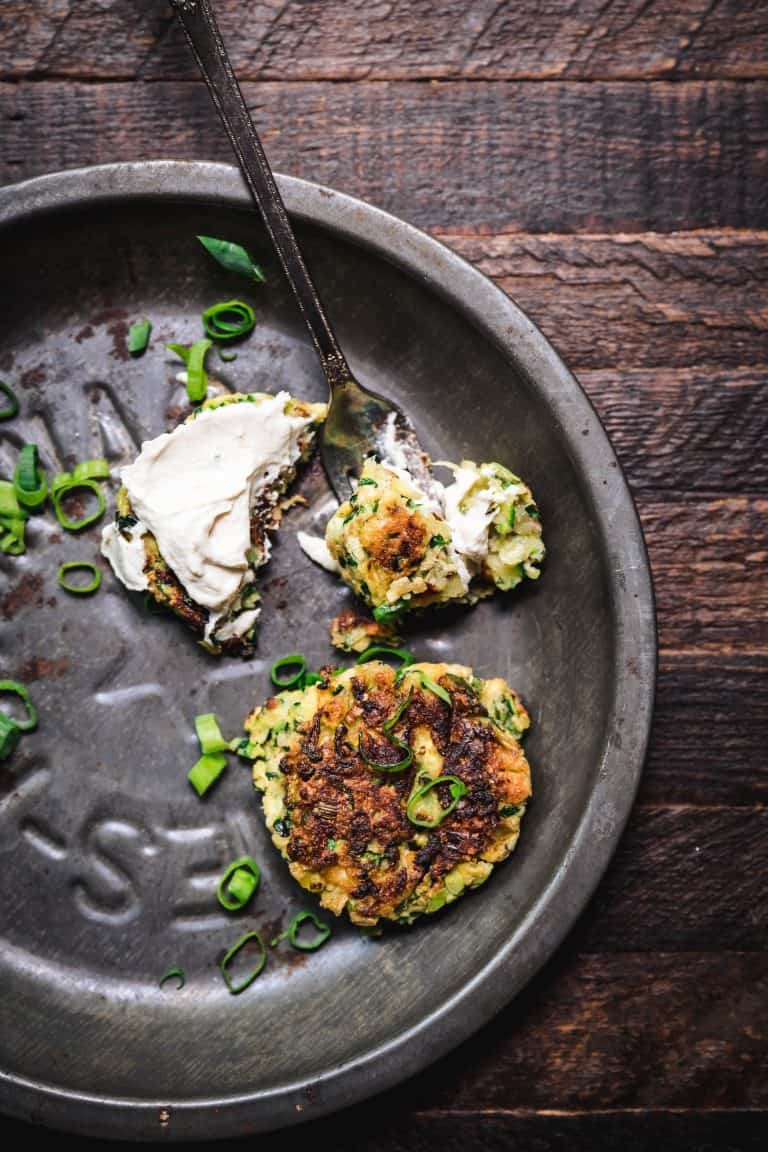 There are dozens of ways to mix up the flavor of your cashew cream sauce. We went with lemon and garlic to accompany the pesto flavor of our zucchini fritters. However, you could throw in any of your favorite fresh herbs, dried spices or spice blends. Our secret is a bit of miso for the ultimate umami kick to make the best vegan cashew cream.
Finally, Pan Fry your Zucchini Fritters
The final step, the actual cooking part of this recipe, is the quickest. First, make a simple flax egg. You can read more about why and how to use flax for plant based recipes in our guide to flax eggs.
Then, combine the rest of your batter ingredients, give everything a thorough stir, and form your fritters! It helps to keep them on a parchment paper-lined baking sheet before frying. This gives them enough room so they don't stick together. And it's easier for you to cook in batches.
before

after
These little guys fry up nicely into golden brown cakes. Thanks to gluten-free chickpea flour and that flax egg keeping everything together.
More ways to top your vegan fritters
You could also skip the vegan cashew sauce and try some new fritter toppings. Here are some we love:
Vegan sour cream. You could make your own with this recipe from Cookie + Kate. Or find great store-bought options.
Hot sauce. Drizzle these cakes with your favorite store-bought or this 15-minutes homemade hot sauce.
Quick Pickles. These cakes go well with all kinds of pickled vegetables. Make a jar of your favorite veggies using our guide to all kinds of quick pickling.
Enjoy these zucchini fritters with easy plant based dinners
Here are some our favorite vegan and gluten-free entree recipes to accompany your zucchini fritters and lemon cashew cream: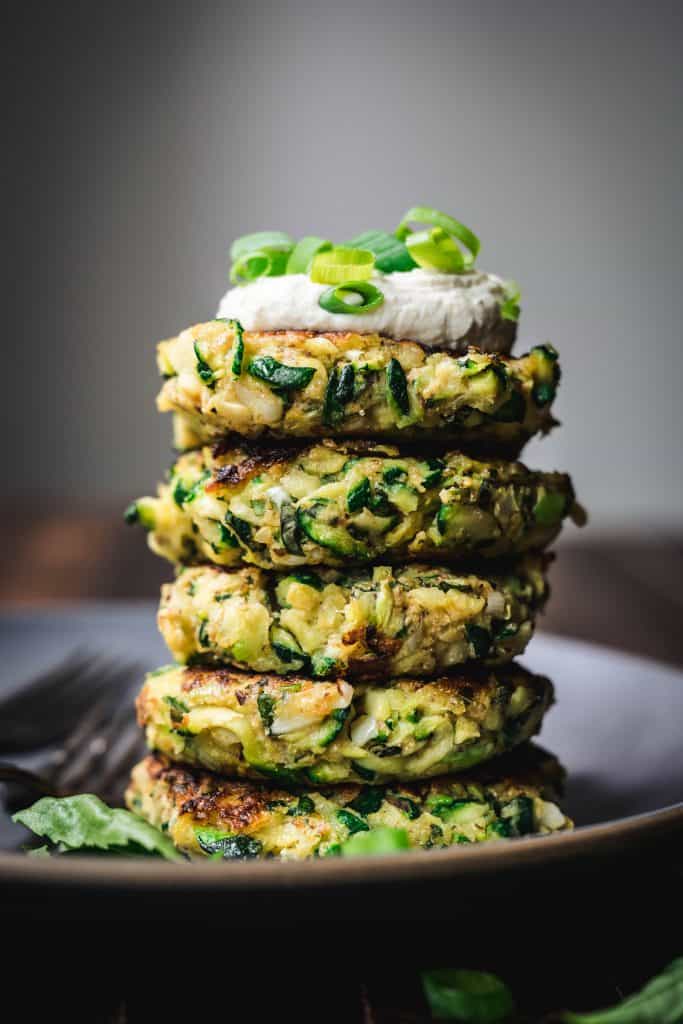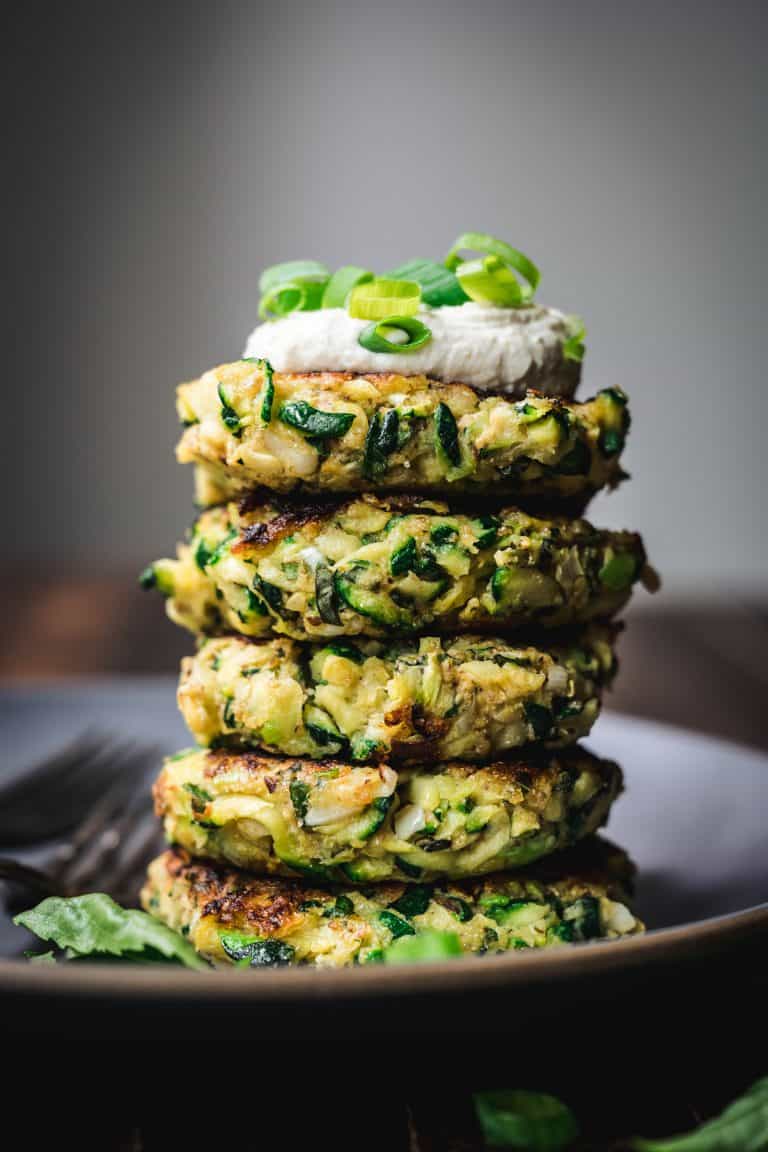 This post contains affiliate links, which means that Crowded Kitchen may be compensated for purchases at no additional cost to you.
Print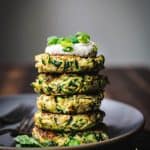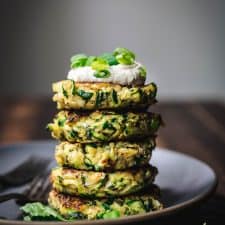 Vegan Pesto Zucchini Fritters with Lemon Cashew Cream
Author:

Prep Time:

20

Cook Time:

10

Total Time:

30 minutes

Yield:

Makes

8

fritters

1

x

Method:

Pan Fried

Cuisine:

American
---
Description
These Vegan Pesto Zucchini Fritters drizzled with dairy-free Lemon Cashew Cream sauce are a delicious way to enjoy your summer bumper crop of zucchini and basil for a satisfying vegan side.
---
Scale
Ingredients
For the Lemon Cashew Cream:
1 cup

cashews, soaked for at least 1 hour and up to 4 (the longer the better)

3

garlic cloves

2

lemons, zested

½ tsp

salt

2 tsp

white miso paste
You may need ¼ cup cashew soaking water or more, to blend
For the Pesto Zucchini Fritters:
1 tbsp

ground flax meal

2

medium zucchini, grated

3

scallions, thinly sliced, divided between green and white parts

1

garlic clove, minced

¼ cup

basil, minced

1 tbsp

nutritional yeast

1 tsp

baking powder

¼ cup

chickpea flour
Salt and black pepper
---
Instructions
For the Lemon Cashew Cream:
Drain the cashews, reserving soaking water in case you need it to blend the sauce. 
Combine the cashes, garlic, all the lemon zest, juice from one lemon, salt, and miso in a blender. Blend until smooth, adding cashew soaking water one tablespoon at a time if necessary to achieve a creamy sauce.  
To make the fritters:
Put the grated zucchini in a clean dish towel and sprinkle liberally with salt. Toss well and let sit for at least 10 minutes and up to 30. After sitting, wring out the dish towel over the sink to remove as much water as possible. Put zucchini in a large mixing bowl
Make a flax egg by combining the flax meal with 2.5 tablespoons water in a small bowl. Let sit for at least 5 minutes, and up to 20, until it thickens.
Add flax egg, scallion whites, minced garlic, basil, nutritional yeast, baking powder and chickpea flour to the bowl with the zucchini. Mix batter thoroughly.
Heat a drizzle of olive oil in a large nonstick skillet over medium heat. When the oil is hot, add a few cakes of zucchini batter mixture. Cook until crisp and brown, about 2-3 minutes per side. Transfer to a paper-towel lined plate and sprinkle with salt and pepper. Continue cooking fritters in batches, adding more oil as necessary.
Top with scallion greens and serve with lemon cashew cream sauce for dipping. 
---
Keywords: vegan zucchini fritters, zucchini fritters, vegan cashew sauce
Updated September 7, 2019