I've said it before and I'll say it again: I don't really like salads. To clarify, I don't really like 95% of restaurant salads, and at home, I'd much rather enjoy my veggies roasted or sautéed. I do, however, make a few exceptions for salads like this one, which combines a wide variety of flavors, textures and nutrients.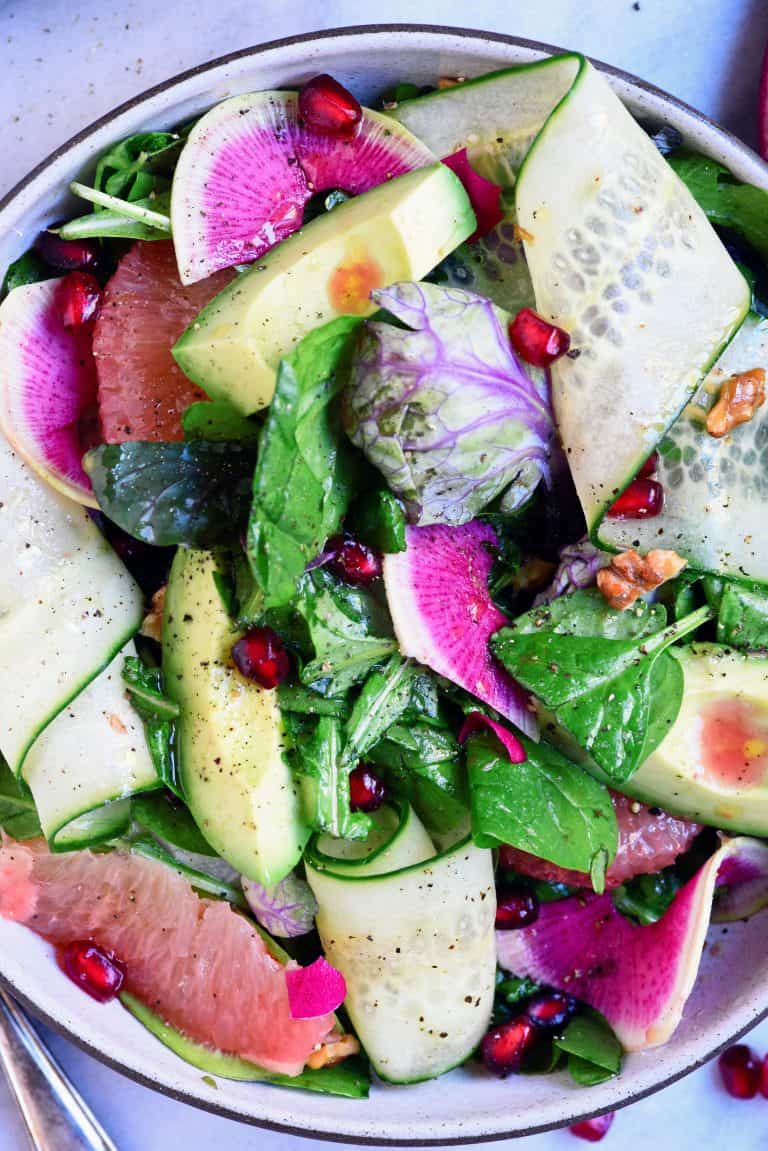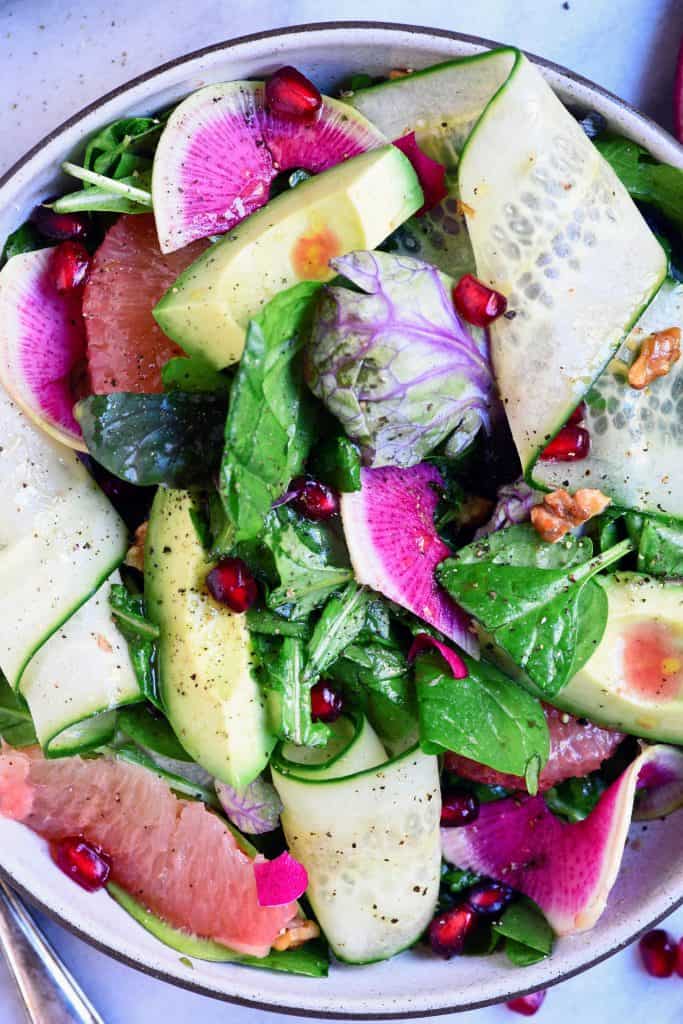 My biggest complaint about most conventional salads is that they're often difficult to eat; huge, raw chunks of vegetables like carrots and cucumbers make it tough to get through a sizable portion. In this salad, we've taken the raw components and either spiralized or peeled them so you can get a little bit in every bite without having to chew for 30 seconds. Radishes, particularly, are one of our favorite veggies to add to raw salads, but if they're not thinly sliced, they can really overpower the rest of the salad.
It always feels a little funny writing down a concrete recipe for a salad, as we never actually measure out ingredients when we make one at home (other than for dressing), so in addition to the recipe, we wanted to give you a few fun styling tips!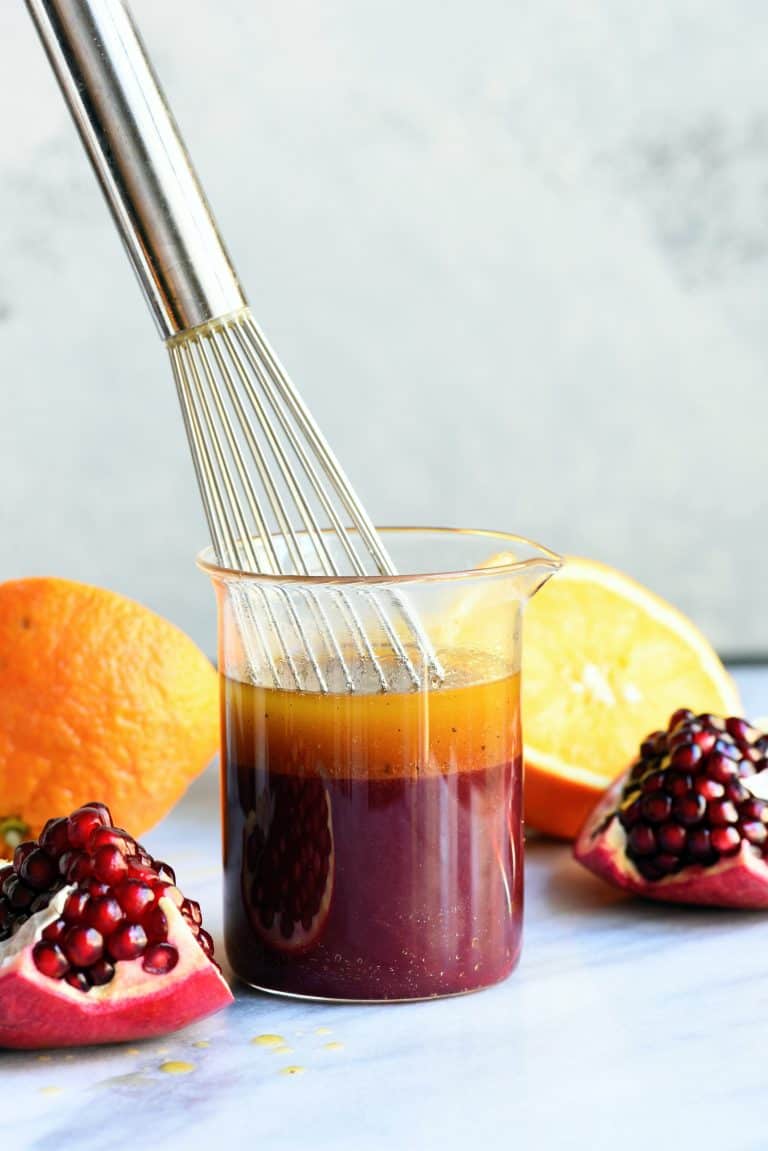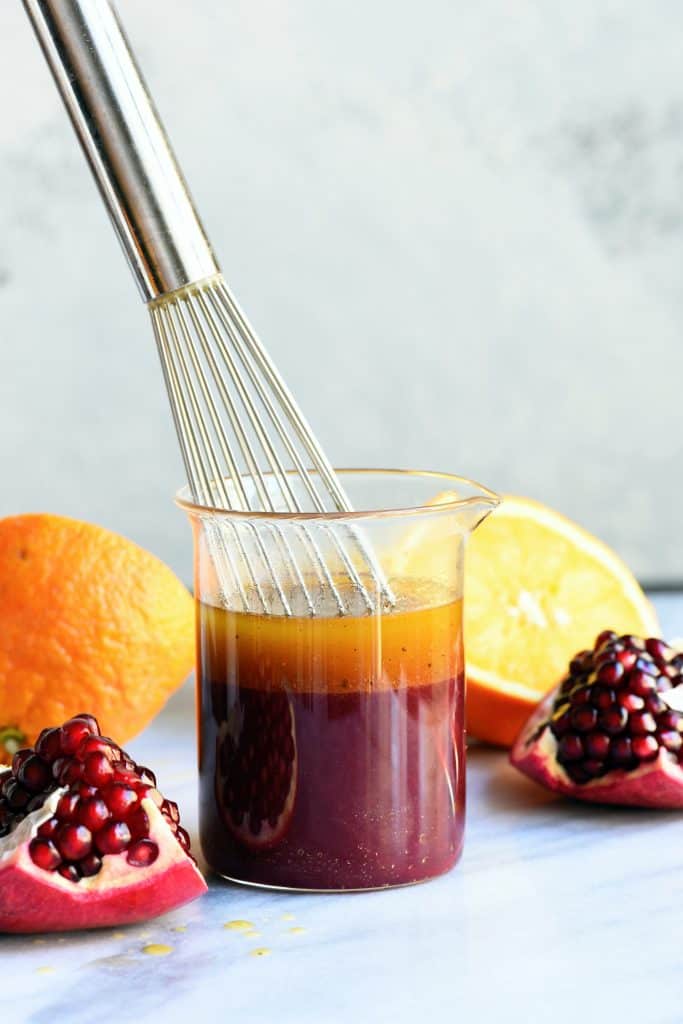 Over the last few years, we've taken a few online courses, including a beginner food photography course back when we started our account in 2015. Through their classes, we were able to drastically improve not only our photography skills, but also our styling (which in our opinion, is more than half the battle!). In our courses, we were often tasked to style salads, and here are a few great tips we picked up along the way:
1. Always style in layers. For a natural-looking salad, it's best to style the salad in at least two layers instead of just adding extra ingredients to the top. This will give the salad more depth and will help achieve the right balance of organic & styled. For example, to make this salad, we added one small layer of greens (lightly tossed in the vinaigrette), then a layer of additional ingredients, then another layer of greens, and finished with another layer of additional ingredients.
2. Oil/dressing is your friend (sometimes). We always toss our greens in oil, salt and pepper before styling so they give off a nice sheen and don't appear dry. If we were eating this right away and not photographing, we'd toss everything in dressing right away, but for purposes of the photo, we dress the greens first separately, then style the other ingredients without dressing. If the photo turns out nicely, we then add more dressing in stages so we have multiple photo options. (See below!) For this particular salad, we really love how crisp the veggies look without the additional dressing (photo #1), but we also like that photo #2 is more realistic. Which do you prefer?

3. Individual servings vs. one large platter or bowl. It's almost always easier to style smaller, individual plates or bowls instead of one large bowl. Additionally, we tend to use wide, shallow bowls (or plates) instead of deep bowls, which allows each ingredient/color ample surface area in the photo. If we do style the salad all together, we typically use a long platter, like this, which allows for nicer styling. This all depends, of course, on the type of salad – if you're photographing a potato salad (or something similar), you'd want everything mixed evenly together, in which case a larger bowl works well.
As always, please feel free to reach out with any food photography/food styling questions…we'd love to hear from you!
Print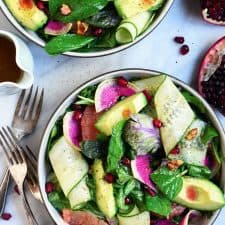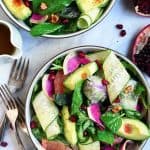 Cucumber, Grapefruit & Avocado Spinach Salad with Pomegranate-Citrus Vinaigrette
Author:

Prep Time:

15 minutes

Cook Time:

5 minutes

Total Time:

20 minutes

Yield:

4

servings

1

x
Category:

Salads
---
Description
A simple, refreshing, and gorgeous recipe that will actually make you enjoy salad.
---
Scale
Ingredients
Vinaigrette:
3 tbsp

olive oil

3 tbsp

pomegranate juice

1/4 cup

freshly squeezed orange juice

1/2

lime, freshly squeezed

1 tsp

balsamic vinegar
Salt & pepper to taste
Salad:
6

–

8

cups arugula/spinach mix

1

large cucumber, peeled/shaved using a mandolin

1

medium watermelon radish, spiralized or thinly sliced

1

large, ripe avocado

1

large grapefruit, peeled and supremed

1/3 cup

pomegranate seeds

1/3

–

1/2

cup toasted & chopped walnuts
---
Instructions
Combine all vinaigrette ingredients in a medium bowl and whisk vigorously until well combined.
Prepare all salad ingredients, toss with vinaigrette and enjoy!
---