This week, I'll break down everything you need to know about calculating the marathon training paces to run your best race. If you missed the recap of the first 4 weeks of Berlin marathon training, see here.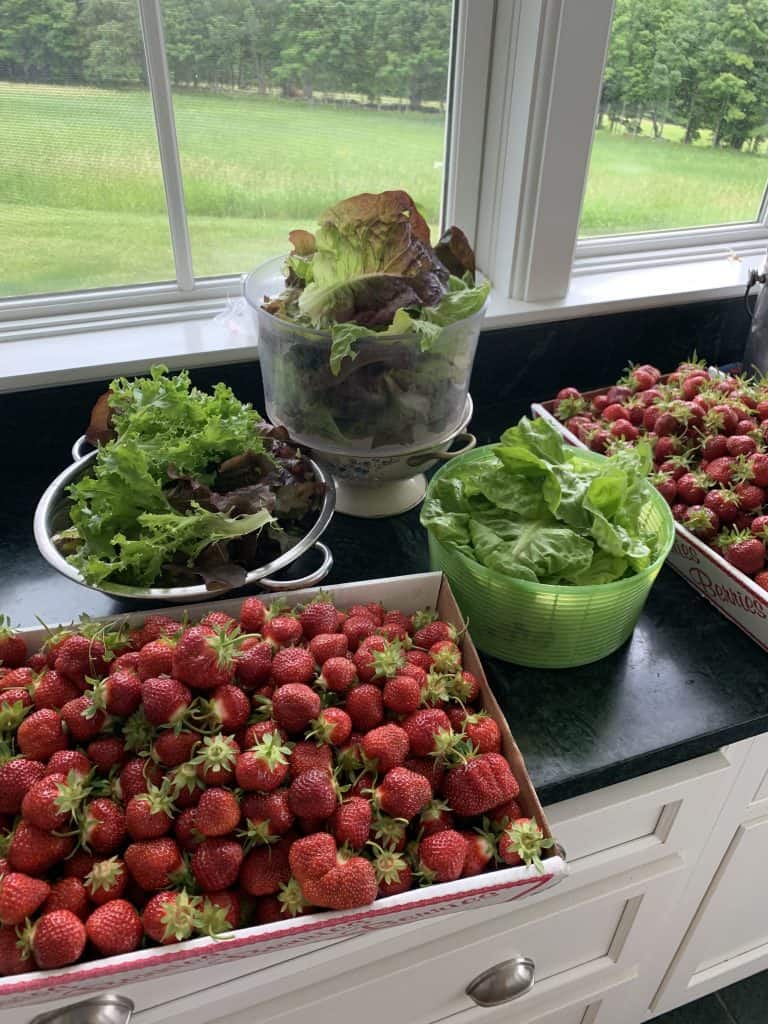 The first week of July means fireworks, sunshine, and when you're training for the Berlin marathon, a long run of 18 miles! I was lucky to spend the week of the 4th in southern Vermont. Lucky because of the gorgeous weather, quality time with my dog Phoebe, and delicous produce from the garden (see above for the bounty of lettuce and 25 pounds of strawberries). The only unlucky aspect of the week were the inescapable hills.
Embracing the hills
My house sits 2.5 miles up a hill. Going down is always a delightful way to start a run. Not so much on the other end, however. I'm known to coerce others into driving down the hill to give me a ride back up after I do the bulk of my run on the somewhat flatter valley roads. That strategy worked well this week, as my training runs got longer and my financé Scott could accompany me on his bike. The Vermont setting, surrounded by those signature green mountains, really makes the miles fly by.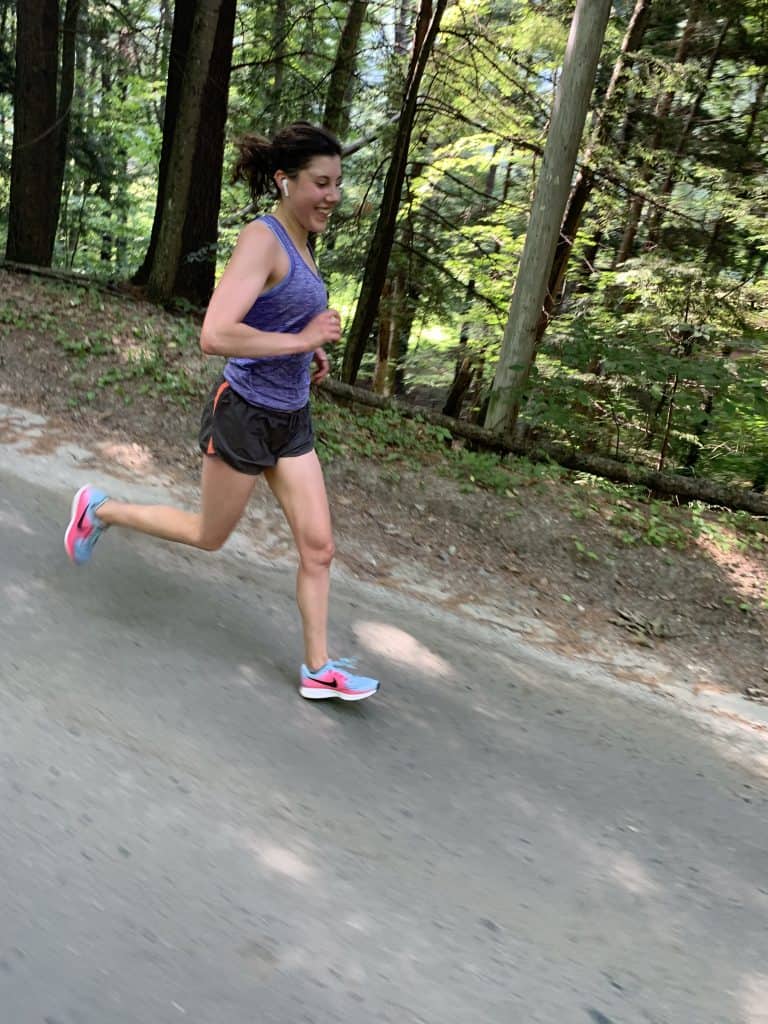 Despite traveling down the hill in search of some flatland, hills are pretty much inescapable in Southern Vermont. Running in Boston, I generally follow the Charles River, which is almost entirely flat. In Boston, my paces are easier to track and compare across runs. Vermont's hills complicate things a bit, but also provide great terrain training.
The Five Major Marathon Training Paces
Each run on my training schedule includes a specified running pace. Depending on the purpose of the training day, these paces fluctuate, but they are all calculated based on my goal race pace. I'll go over how to calculate your own paces for the various types of training runs a marathon requires. The first step is to identify a goal time you'd like to run in a marathon. If you've never run a marathon before, Runner's World has a cool tool that helps you predict your marathon time based on another race. Then, you'll take that goal pace to calculate your VO2 max pace. To do so, multiply your goal marathon pace by 0.85. For example, if you want to run a 3:45 marathon, your race pace is 8:34 per mile. Multiplied by 0.85, your VO2 max pace is 7:17 per mile. I use this race pace calculator.
Next, I'll cover the how to calculate each of the important marathon training paces. These paces are called regeneration, aerobic sustained, marathon simulation (also known as tempo), long tempo, and VO2 interval pace.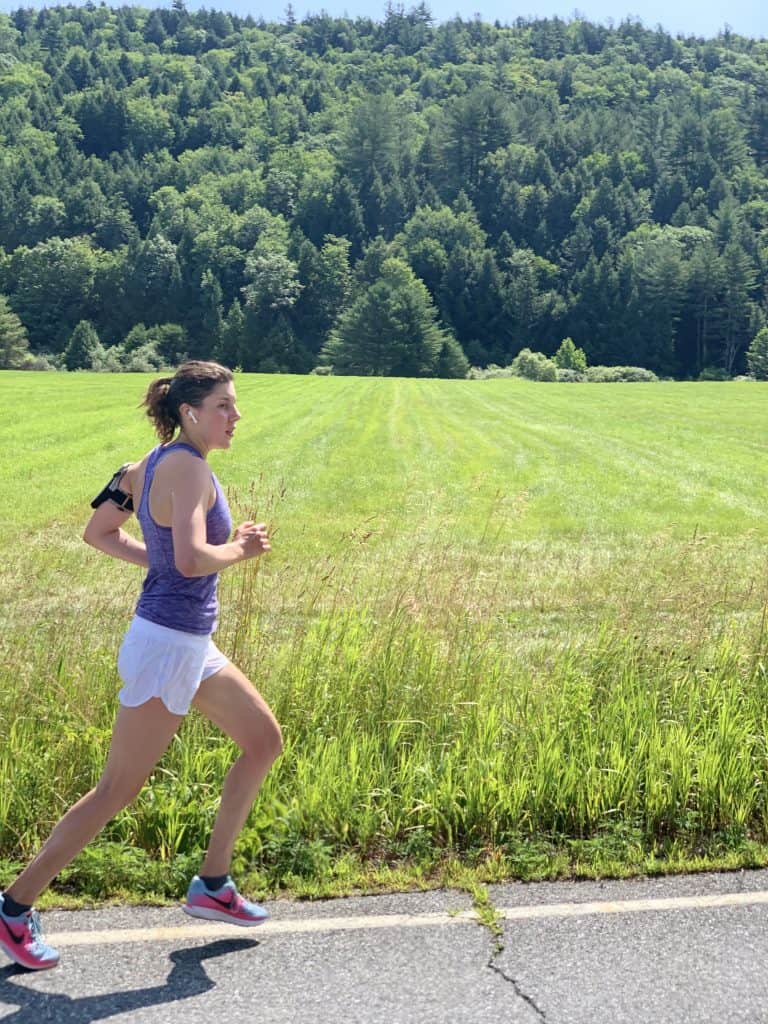 1. Regeneration Run Training Pace
Regeneration pace is the most relaxed pace. I generally do one regeneration paced run a week, of 4 to 5 miles. It's often after my faster track workout and before my long run each week. This pace is important to hit as it gives your body some time to recover, stretch out and get loose. It can sometimes feel strangely slow, which takes some getting used to. But the only way to get stronger is to give your muscles a chance to regrow and repair after all that faster, longer work you're putting in for a marathon. To find your regeneration pace, multiply your VO2 max pace by 1.65. For the 3:45 marathon example, you would do regeneration runs at 12:01 minute miles.
2. Aerobic Sustained Run Training Pace
Aerobic sustained training pace is your natural pace for short to longer distance training runs. It's comfortable, at about 70% of your max heart rate. This is the pace you'd hit if you were running with a friend and chatting. You shouldn't need to calculate this exactly, as you can find it more by feel than anything. But if you do want to narrow down an aerobic pace for yourself, you can multiply your VO2 max pace by 1.3 to 1.34. Four our 3:45 marathoner, this would be around 9:30 minute miles.
In my Berlin training, I usually do one longer run at this pace (right now, in week 7, up to 12 miles) and one shorter (currently 6 miles) every week.
3. Marathon Simulation/Tempo Training Pace
Now, we'll get into more of the speed-oriented training paces. Marathon simulation, or tempo, pace is at about 85% of your max heart rate. In training, you may hold this pace for up to 15 miles at your peak. It's often used for intervals during a long run, with slower breaks in between. To calculate your tempo pace, multiply your VO2 max by 1.2. This comes out to 8:44 minute miles for a 3:45 goal marathon.
4. Long Tempo Run Training Pace
The next step up is your long tempo training pace. This is a bit faster than your marathon simulation pace. Marathon training generally calls for this pace during shorter intervals than marathon simulation pace, up to 8 miles at a time. Again, these intervals may be within a long run or as part of a speed workout. To find your goal long tempo pace, multiply your VO2 max by 1.15. In our example, that's 8:22 minute miles.
5. VO2 Interval Training Pace
The final important running pace to use during marathon training is the VO2 interval pace. This is your fastest effort, at up to 95% of your max heart rate. It's for short intervals during speed workouts on a track or road. I do one such workout a week during this Berlin training cycle. To find your VO2 interval pace, multiply your VO2 max pace by 1.08. Our 3:45 marathoner would hit 7:52 minute miles during VO2 interval training.
The key to successful marathon training: listen to your body
While there will always be dozens of calculations you can make when it comes to marathon training, at the end of the day, its your body, not the calculator, putting in the work. Remember that all of these paces fall in a range, none is an exact target that you need to hit to train correctly. Marathon training is exactly that–a marathon, not a sprint, so it's important to take time to find the paces that feel right to you, and to see how you can push yourself from there. For first-time marathoners especially, I don't recommend calculating each run down to seconds. Instead, train in a way that prepares you but doesn't wear you down. Run your race, and then you'll have a good gauge for what you can do in the future–there are always more marathons!