Since running brought Lexi and me together in college, it's only fitting that we bring a little more of that passion to these pages. Afterall, ask any runner, there's no denying the direct tie between the running trails and the kitchen (crowded or not!). I'm in the midst of training for the Berlin marathon in September 2019, and will be tracking my weekly marathon training schedule, including planning, recovering from and, of course, fueling for weekly runs.
For now, I'll give you an overview of where I'm coming from and my first four weeks of marathon training. Check back here every Thursday for an update!
My Marathon History
Berlin will be my 3rd marathon. My first was in May 2017 in Providence. My goal for this first race was to qualify for the Boston Marathon, or "BQ". The marathon was super flat, pretty (along the ocean) and generally a low-key and friendly race. I strongly recommend seeking a flat, smaller race for a first marathon if you're looking!
I did end up BQ'ing at Providence and I ran Boston the following April in total monsoon conditions. Luckily, for that marathon I'd spent a lot of my training in the pool. Little did I know how close to swimming I'd come on race day!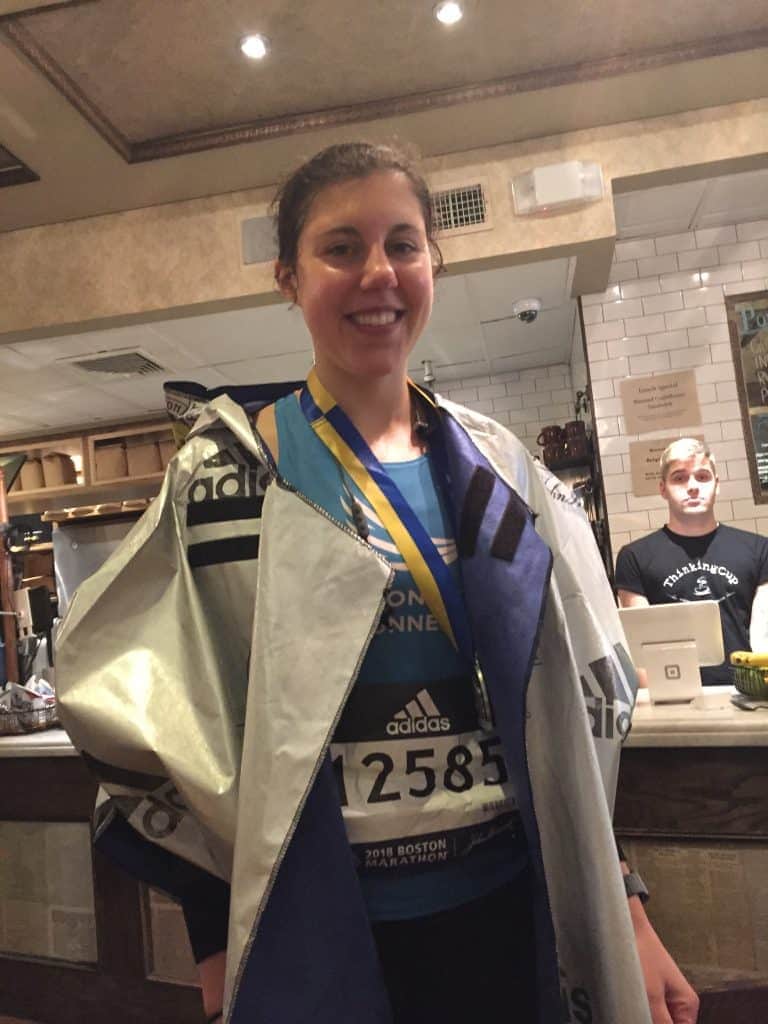 Despite the freezing conditions, I managed to eke out a requalifying time for Boston 2019. And as I was in the midst of what felt like my best training cycle yet, a hamstring/back injury sidelined me this past December. I was walking (basically) fine within a week, but ended up not running for the next 4 months.
Needless to say, the 2019 Boston Marathon wasn't in the cards for me. However, long before my injury, I had on a whim put my name into the Berlin Marathon lottery. I knew little about my chances of winning the lottery. Really, I didn't know much about the race at all other than that it's one of the fastest in the world. So I was surprised to receive my acceptance into the race for September 2019! I quickly got over the disappointment of missing a year of Boston knowing that I had my *international debut* (hah) to look forward to in the fall.
To Self-Coach or Not?
After a few sports medicine treatments for my strained hamstring and lots of rest, I finally got back on my feet this past May. Though I ran throughout college and since graduating, experience showed that my self-coaching for marathons hadn't worked out as well as I'd like. I researched options for some marathon training guidance. I eventually settled on a coach my chiropractor recommended.
Via email, my coach sends me two weeks of training guidelines at a time. Each week includes easy runs, a long run, a track workout and a rest day. I then update him on my progress following his plan and any questions. During this first month of Berlin marathon training, I found that a coach keeps me accountable to the training. He also keeps me from going overboard and getting injured again.
Please note that the training I describe is tailored to my own goals and running history. Running, especially in a way that prevents injury and maintains love of the sport, is a very personal thing. I'm thrilled to share my training journey, but note that runners of various abilities, experience and goals are suited to different training guidelines.
Berlin Marathon Training Weeks 1-4
Because I was coming back from an injury, I started off marathon training just by building a base for the month of May. That meant starting with short, easy runs 3 days a week and progressing to 5 runs a week. By the beginning of June, I was ready for my first solid month of true marathon training under my coach's guidance.
Marathon Training Week 1: Starting off Slow
My first week's mileage was 39 miles. Due to travel to New York City, I ended up skipping my first assigned track workout. I definitely had fear about returning to the track and speed work. The first time I pulled my hamstring was on a track. I had tried to run faster than I was ready for, and the last thing I wanted was a rerun of that (no pun intended). In the end, I did mostly shorter runs that first week to get in the full 39 miles.
Marathon Training Week 2: Finally Hitting the Track
Come week two, however, I couldn't avoid the track any longer. My assignment for track Tuesday was 4 1000's at "long tempo" pace. I still get pre-workout nerves, despite hundreds of laps around various tracks since high school. But after much anticipation, the workout ended up going better than expected. There's nothing like a successful track workout to give you some confidence to keep training!
Marathon Training Week 3: The Heat Takes Hold
Because both of my previous marathons were spring races, the bulk of my training took place in the cooler months. As bad as Boston winters can be, I'd always rather run in the cold (just add a few layers!) than the inescapable summer heat. Since Berlin is in September, I have no choice but to get used to the heat. I'll admit that this adaptation is taking longer than I'd like. Though this summer hasn't been the hottest ever, the sun definitely presents a daily challenge to getting out the door. By week 3, I was up to 45 miles and another successful track workout of 3 sets of 1200 meters, 800 meters, and 400 meters. The interval started at "long tempo" pace and got progressively faster as they got shorter. That was an especially hard one that certainly felt good to finish!
Marathon Training Week 4: Finding my Stride
The last week of June came faster than I expected. I finished the month with a week of 47 miles and feeling good. One tough part of marathon training can be the amount of time it takes. Now that my long runs are over 15 miles, I have to factor in a full two hours (sometimes more) to run. I'm also doing "medium" length runs every week up to 11 or 12 miles. All of this has been a juggling act to schedule, but it's forced me to wake up earlier and get in some miles before that sun heats up.
Next week, I'll go more in-depth on the first week of July training, finding time to run despite travel and holidays, and my favorite recipes for recovering from hot summer runs. Preview: there are definitely smoothies involved.