In the midst of summer, summer squash options at the store blossom from your standard zucchini to dozens of different shapes and sizes. This week, we're covering the best ways to cook with summer squash, including using the whole plant. And a new report outlines how we can all work to reduce emissions while feeding our growing population.
Produce of the Week: Summer Squash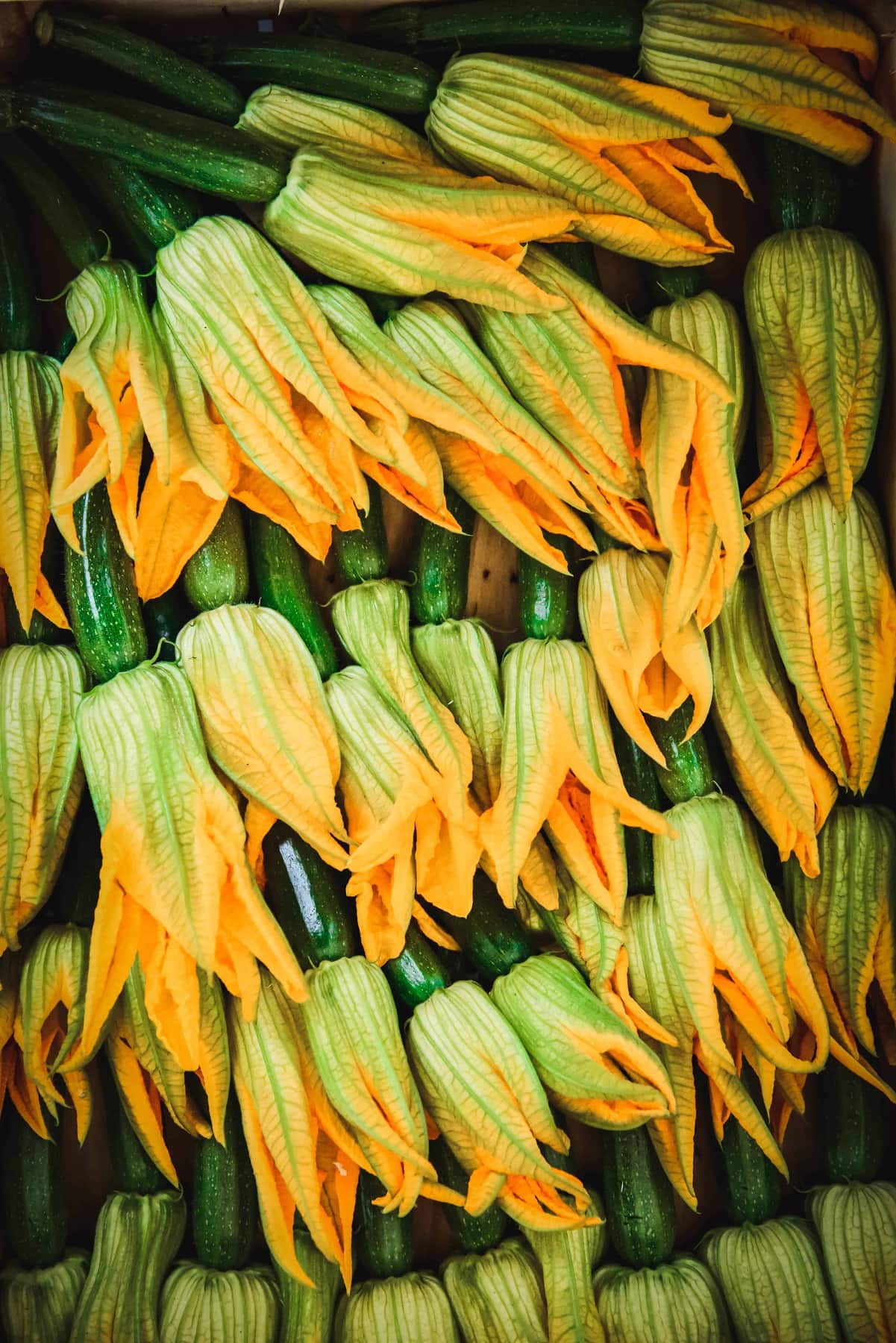 What is summer squash?
The name "summer squash" actually refers to the short shelf life of these squash, relative to winter squash, which lasts quite a while after harvest. The summer squash family includes:
Pattypan, those squat and round yellow and green squash with scalloped edges
Crookneck squash, which are often yellow and have a long neck that, you guessed it, crooks!
Zucchini, the ubiquitous green summer squash acts as a blank canvas to all kinds of flavors and cooking styles, from pasta to fritters to baked goods
Straightneck squash, which you'll never confuse with crookneck, despite its similar yellow coloring
Despite their various shapes, sizes and neck positions, summer squash have a fairly similar taste profile across the board. They're mild and contain quite a bit of water. For that reason, we let our squash sit in a liberal sprinkling of salt for up to half an hour before cooking. The salt brings much of that internal moisture to the surface. After sitting, you can wring out a lot of water with a dish cloth before adding the squash to the rest of your ingredients.
Removing the water helps your summer squash crisp up nicely and keeps it from watering down your meal. Just don't forget, when it comes to seasoning that you've already added a fair bit of salt, so taste your dish before adding more.
Of course, that natural moisture can also be beneficial in some summer squash recipes. It makes zucchini and its cousins ideal to add to baked goods, for example. If you're baking a quick bread or muffins, there's no need to salt and wring out your summer squash.
What are squash blossoms?
You may have seen some gorgeous shots on Instagram earlier this summer of squash blossoms. They certainly make for a stunning photography subject, but they're also completely edible and vastly underused!
Squash blossoms (also referred to as zucchini flowers) are (as you may have already guessed) the edible flowers that grow on squash plants. They're typically soft yellow, orange and green and come from any type of squash. They taste mildly of squash, and they're extremely delicate.
In recent years, squash blossoms have most definitely increased in popularity (likely due to social media!). You may be able to find squash blossoms at your local farmers market or specialty grocery store from late Spring to early Fall. If you're lucky enough to find some, we highly suggest frying them! These fried, stuffed squash blossoms via FeedTheSwimmers look UNREAL - we need to try them ASAP!
You can also add squash blossoms to frittatas (this shiitake mushroom and squash blossom frittata is right up my alley), pizzas, salads and more. Have you tried cooking with squash blossoms? What did you make? If you're looking for more squash blossom inspo, scroll down to see a few more of our favorite recipes!
Beset summer squash recipes
Summer squash is a fantastic addition to plenty of savory summer dishes, but we also love adding it to desserts. (Zucchini bread, anyone?!) Below are a few of our favorite recipes + a few we want to try soon!
Because these veggies are so mild, they work in recipes that span cooking techniques and global flavors. Though indigenous to the Americas, summer squash have been adopted by cultures as far as India. Here are some of our favorite ways to cook with summer squash:
Food Waste Tip: Use the Whole Squash Plant
If you grow summer squash, you may be fortunate to be overwhelmed by a prolific summer squash vine or two. Count yourself lucky. Not only can you try all of the best summer squash recipes listed above on repeat, you also have easy access to coveted squash blossoms. Of course, non-gardeners can often find squash blossoms at farmers markets or specialty grocery stores in the summer. However, they're not always easy to find, nor cheap.
They are, however, a delicious way to use more of your summer squash plant and reduce food waste. Fresh summer squash blossoms make excellent vehicles to stuff with your favorite fillings. From grains to delicate ricotta to more veggies, that signature mild squash flavor again makes blossoms easy to cook with. Here are some of the recipes that use the full summer squash plant at home:
Currently Happening in the Food Industry
A new 568-page report 6 years in the making by the World Resources Institute has some astounding findings. If worldwide agricultural practices continue growing at their current pace to feed Earth's enlarging population, by 2050, total emissions from farming would grow by 70% from their current levels. We would also require farmland twice the size of India to feed the global population. We will need to produce 50% more food than we currently do to feed that future world. Considering the significant carbon emissions that conventional agriculture practices produce, increased food production has to be countered by reducing emissions. This new report outlines 22 steps we can take globally to both achieve these resource needs and reduce emissions to an amount that would avoid global warming over 1.5 degrees Farenheight.
And the World Resources Institute's number one recommendation? Reducing food waste.
Dozens of promising new technologies help preserve fresh produce between harvest and when it arrives on your plate. From plant-based packaging to dog foods that turn the less-savory animal and vegetable parts into nutritious pet meals, innovation is happening. Of course, there is still rampant food waste in our homes, stores and restaurants. So while you may not be able to personally take steps to accomplish all 22 actions the report proposes (many are linked directly to how farmers handle the land), we bet you can commit to producing less food waste in your daily life.
For an informative and brief synopsis of the 21 other important steps in the report, see this article from Fast Company.
We love sharing our favorite tips for reducing food waste every week, and would love to hear yours! Let us know what you're doing to use more of your produce, preserve food longer, and plan ahead to avoid losing food to spoilage. Together, we can make progress towards feeding our growing population while reducing emissions.